If you are a fan of hair extensions but yet to try the Senegalese twist hairstyles, you are missing out on a lot of fun and volume. There are various hair extensions available on the market today, it's up to you to choose how to braid or twist it.
Senegalese twists look amazing on dark-skinned girls but can also be used on any type of hair. Depending on how thick or thin your mane is, you can choose suitable hair extensions to make your image as bright, exciting and vibrant as you wish.
Are Senegalese Twists Healthy For My Hair?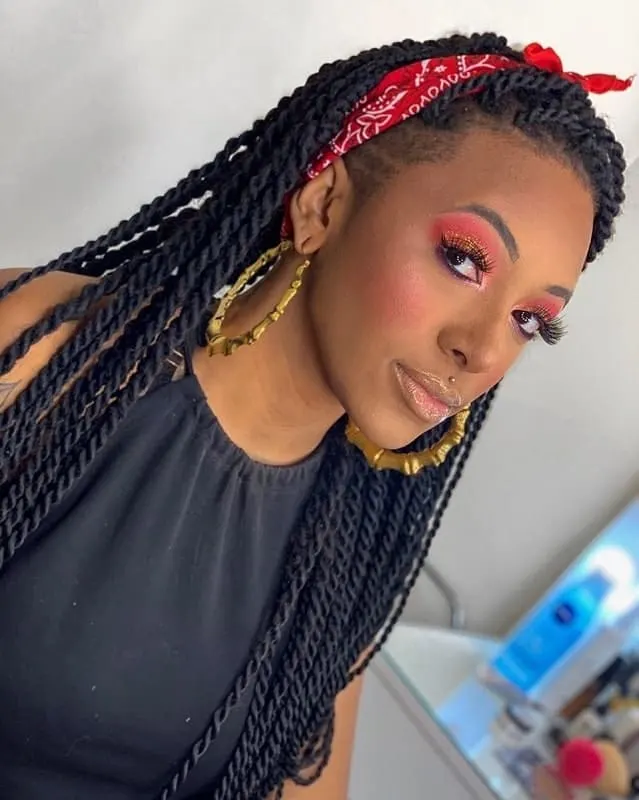 They definitely are! Whenever you comb, brush, and style your hair, you inadvertently damage it. Senegalese twists help you avoid touching your hair too much, which means you will allow it to grow long and healthy.
Many women report that Senegalese twists made their own hair grow much faster than before. The best part about the Senegalese twists is that your hair always looks neat and styled so you don't have to spend too much time caring for your own locks.
How To do Senegalese Twist Hairstyles
Attaching Senegalese twists is easy. You can do it on your own. The main part of creating the hairstyle is making sure your hair is at least 1 inch long, otherwise, you'll have trouble attaching the hair extensions.
Wash your natural hair with a moisturizing shampoo and follow with a moisturizing conditioner
Use a wide-tooth comb to detangle your natural locks. Use detangling cosmetics if needed.
Use a blow dryer to stretch your hair a little before braiding. This way the process will be simplified.
Use a small amount of leave-in conditioner but not too much so the hair doesn't become too slippery
Separate the hair into neat sections. The size of the sections depends on how big you want your twists to be.
Start attaching the hair extensions at the nape of your neck.
Take one section and separate it into two same-sized sections.
Coil each section of the extensions over the two section of your hair about one inch down from the base.
Join the two sections to create a twist.
Repeat the same process until all the sections are done.
Dip the ends of the extensions into boiling water so they fuse and don't unravel.
Watch the below video tutorial to clarify how to prepare and install Senegalese twists.
The Trendy Senegalese Twists in 2023
If you are not sure which hair extensions to try, consider a few Senegalese twists hairstyles. Take a look at the 55 various Senegalese twist hairstyles and pick one that'll go well with your personality.
If you hate your unruly mane and feel tired of cornrows and other braids, twists are the way to go. You can easily attach them at home or go to a hair salon for a more complicated style.
Many women are trying Senegalese twists right now and coming up with fashionable variations. Why don't you join them today?
1. Mohawk with Senegalese Twists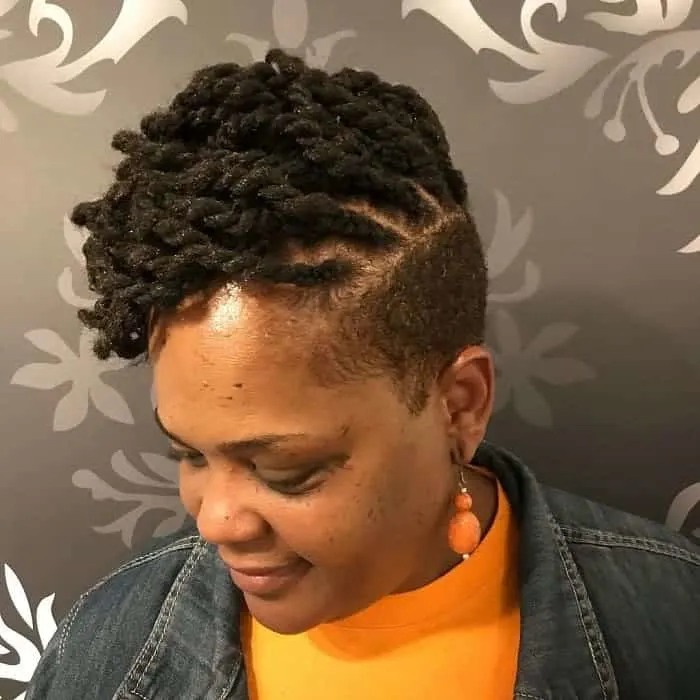 The basic attitude of Senegalese twist hairstyles is funky and modish. To maintain the spirit, tie your twist in a Mohawk just above your crown area.
2. Vermillion Twists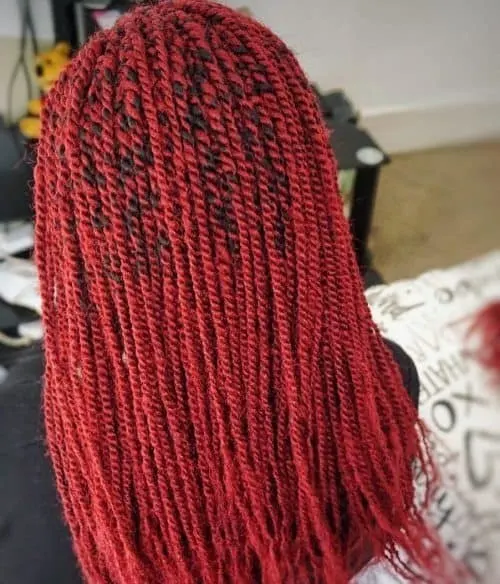 Vermillion is not a commonly practiced hair color. The eccentric combination with Senegalese twists makes the color more audacious.
This hairstyle is a must-try for the daring and adventurous. It is for those who want to take their style to another level.
3. Side-parted Twist Hairstyles
Regardless of the hairstyle, side parting always looks neat and settled. It is an everyday casual hairstyle which is mostly preferred by young girls.
Senegalese twist with side parting is a low maintenance hairstyle allows free mobility, saving time and money both.
4. Unicorn Twist with Undercut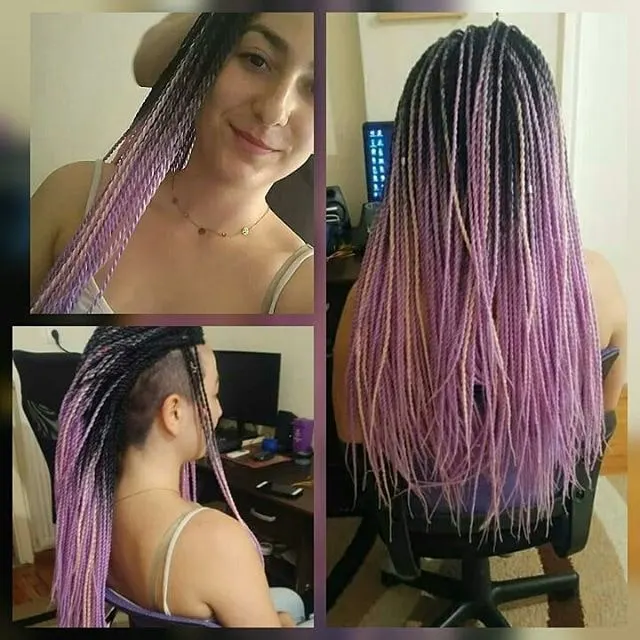 The emerging hair trends are a result of futuristic evolution in the fashion industry. Unicorn hair is one great example of such developments.
The unusual combination of pinks and lavenders becomes more interesting when done with Senegalese style hair twists. Moreover, a well-defined undercut for women looks exceptional with unicorn wist.
5. Rectangle Twists Hairstyles
The twists styles give you a fertile ground to showcase your creativity. Numerous designs can emerge by shuffling traditional designs with modern techniques.
Simple rectangle sectioning can make a basic twists hairstyle for Senegalese people into extraordinary. Try to combine different techniques to maintain your individuality.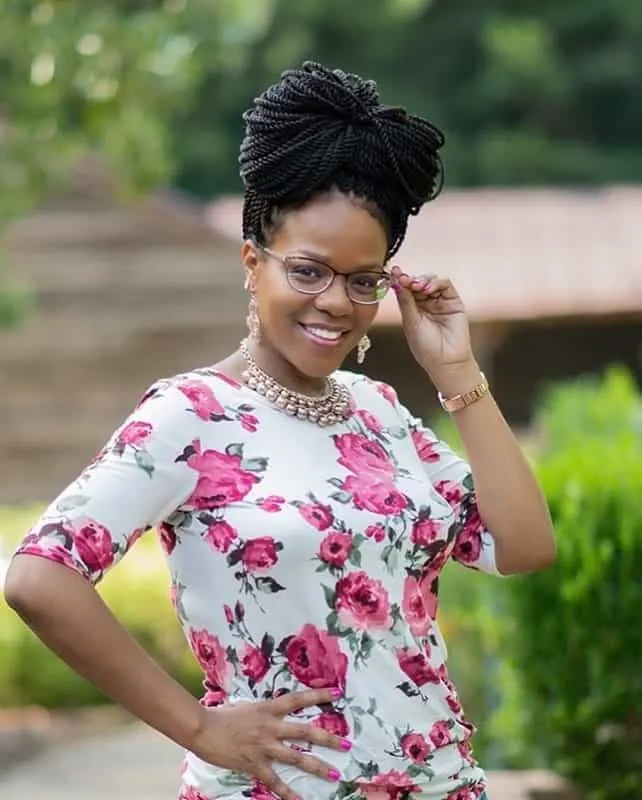 Gather up your Senegalese twisted hair into a high ponytail and tie them in a bun. A voluminous bun will be like a huge hairball on your head.
It is an extremely voguish hairstyle, which can be practiced casually as well as formally. The typical ramp hairdo can make you enjoy high fashion, even in your comfort zone.
Are you looking for some variations in your twisted hairstyles? Simple blonde long extra-long twists are one of the popular tweaks combined with the ancient art.
The Goldilocks look is just the right choice for your inner fashionista. Some loud makeup for lips and eyes will pop the look.
8. Fine Cornrows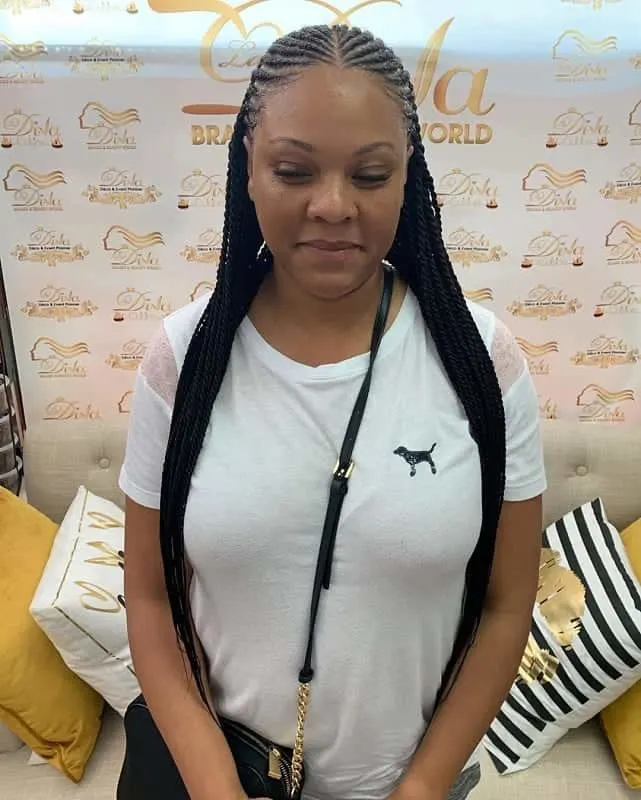 Cornrows are the fundamental component of all traditional Afro coiffure. Combining it with Senegalese twists can come up with extraordinary results.
To style your Senegalese jumbo twists hairstyles, let them fall on one side. It will allow maximum control on your heavily weaved twists. Wrapping the thick braids with golden beads will make them look fancy!
10. Twists with Heavy Beads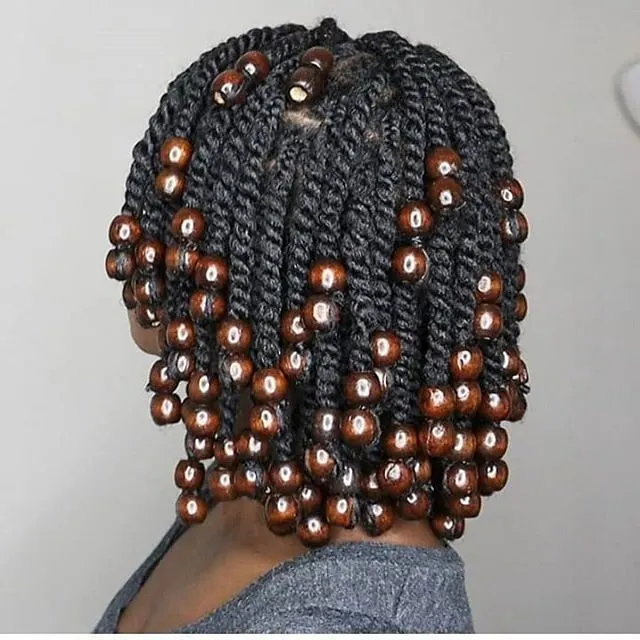 Adding a jumbo wooden-bead to the twisted Senegalese hairstyle is a popular way of ending it up. Such a hairstyle can be spotted even from a distance, in a crowd.
The use of wooden beads brings about an enigmatic impression. The rhythmic movement creates soft music, which is also a source of happiness and joy.
11. Runaround braid
Senegalese twists are a wonderful opportunity to make voluminous styles you were unable to create before. Using large strands to make braids will result in a neat and attractive image.
Difference Between Senegalese Twists and Box Braids
12. Beautiful buns and braids
Two side braids are the classic hairstyle many girls sport. Your voluminous twists allow you to make formidable braids and leave some locks for making a pretty bun on top. Give it a go!
13. Asymmetrical styles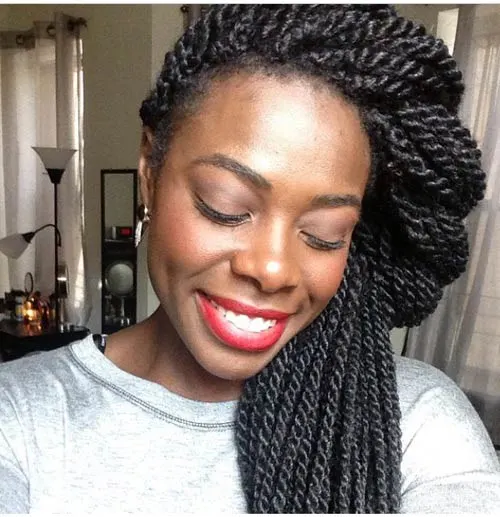 Flaunting your Senegalese twist hairstyle is easy. Sweep all your hair to one side and create several knots. No matter how you decide to arrange it, the hair will look truly stunning and attractive.
14. White extensions
When using hair extensions to create various braids and twists, consider using different colors. White looks the best when coupled with black. So if you are ready for a few synthetic twists, give them a try.
15. Burgundy beauty
Burgundy hair looks amazing on dark-skinned girls. Take the opportunity to change the color of your hair. Sweep the locks up top and create an asymmetrical bun in a shape of a hat to diversify your image.
16. Cornrows and twists
You can achieve a beautiful Senegalese twist hairstyle by adding a few cornrows on the side. This way you can be sure to have a neat style for weeks in a row without too much hair care.
17. Top Knotted bun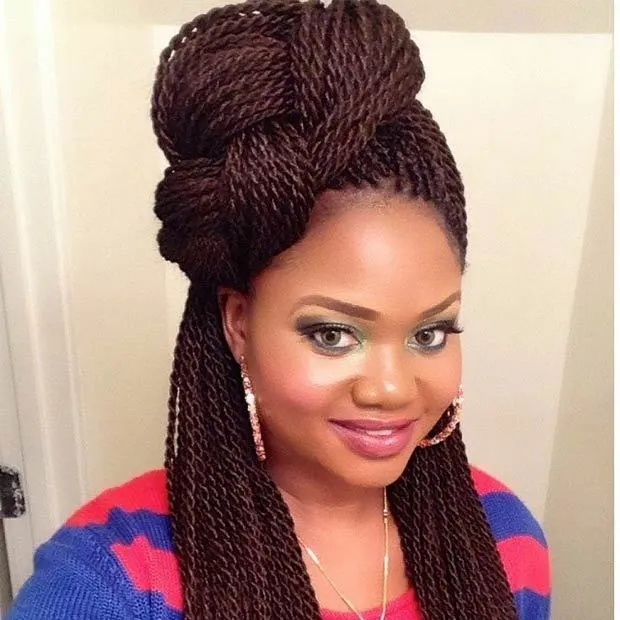 A knotted bun is one of the most popular hairstyles that women do with their Senegalese twists. Don't be afraid to experiment with the volume. The bigger the bun, the more impressive it looks.
18. A simple braid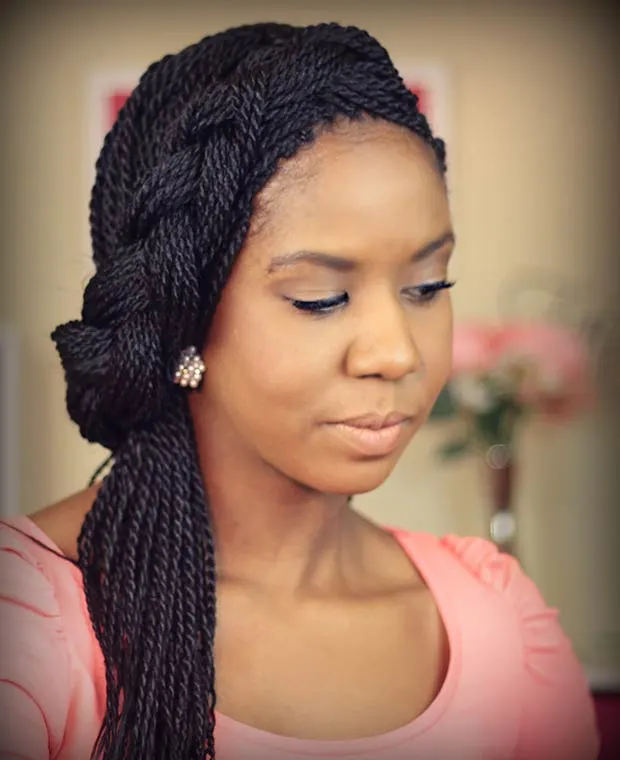 Just a simple black braid on one side can make your overall image soft and attractive. If you try to make your hair look less voluminous then you'll achieve a more delicate and romantic appearance.
19. Twisted bangs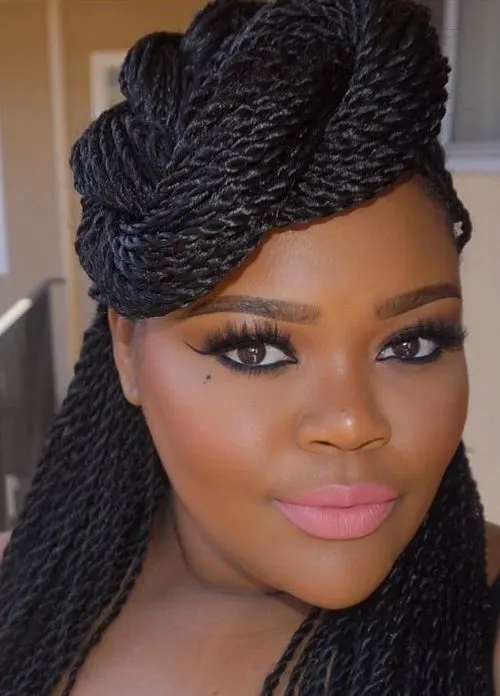 If you are a fan of braided hair extensions, you must have forgotten what bangs look like. Use your hair and your imagination to create bangs using the twists. This Senegalese twist hairstyle is a perfect way to achieve it.
20. Thin twists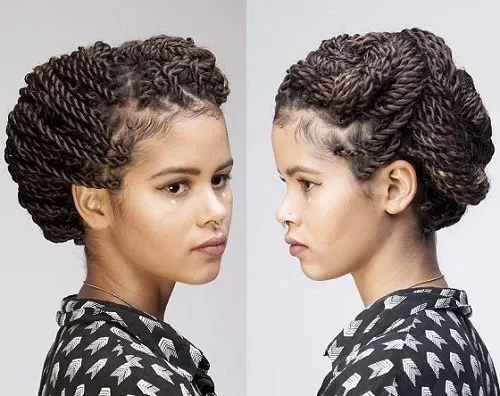 If you want a more delicate hairstyle and are not afraid of spending several hours making it, you can create magnificent thin twists. You'll need to use smaller sections of hair to do them.
21. Highlights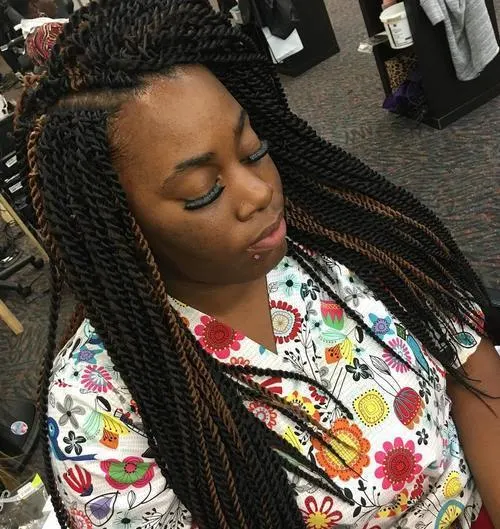 If you want to play around with your hair color, you can create a few highlights. All you have to do is buy differently colored extensions and weave them into a few strands. The number depends on your preferences.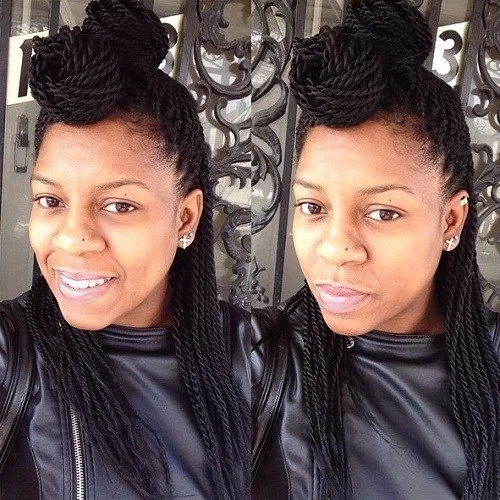 When it comes to making buns with your Senegalese twists, allow your imagination to run wild. You can make double or even triple bun with the help of a few elastic bands and pins.
23. Stacked Senegalese Twists Hairstyles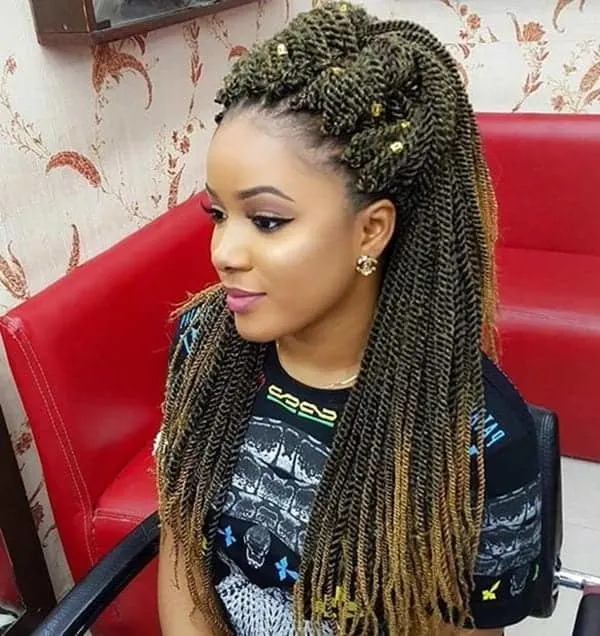 Nothing looks more stylish then back stacked front twisted Senegalese hair. Designed simply with front hair weaved in multiple rows, whereas the back hair is loosely spread.
Adding beads to the Senegalese twist will make it fancy and highlights the details as well.
24. Red Twists with Graphic Undercut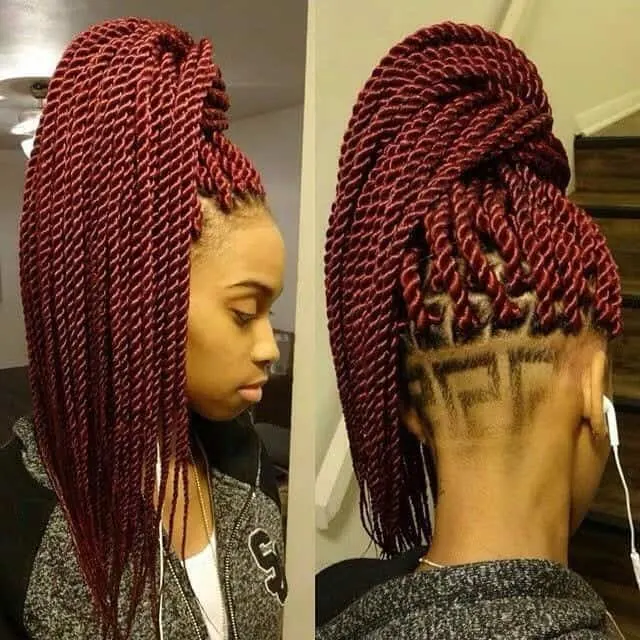 To transform your traditional Senegalese twists hairstyle, play with some color and designs. Red-colored Senegalese twist looks truly stunning.
A bold graphic undercut design on the nape area makes them groovier and happening. Tie them up in a ponytail, preferably high, and show your wild side to the world.
25. Burgundy Senegalese Twists Hairstyles
Carrying a single hair color might look boring. Try to highlight it with some bright colors of the same group. Simple burgundy Senegalese twist can be perked up with some ruby red highlights.
A little bold color will create beautiful-dimensions to your occurring Senegalese twists hairstyle. The daylight brings out the color beautifully, which makes it perfect for beaches and outdoors.
26. Loose Senegalese Twist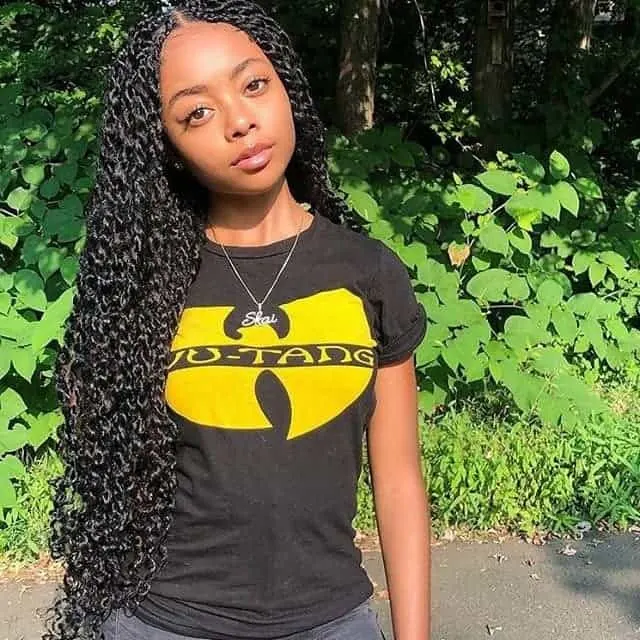 Not everyone is comfortable with the dense and compact look of Senegalese twists hairstyle. But that does not mean at all that it cannot be adopted.
Try them in loose form this will give, a soft and relaxed impression. And it is also an easy to carry Senegalese twist for a fresher.
27. Senegalese Twist Quiff Chignon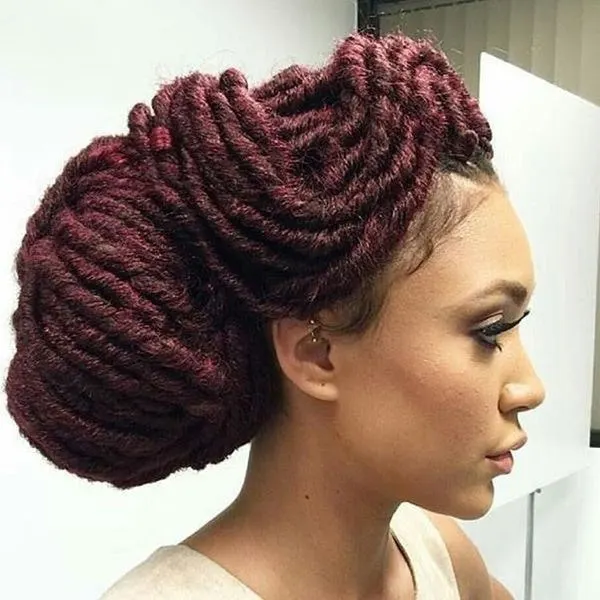 Who says that you can not create classic vintage hairstyles with Senegalese twists? A quiff chignon created by Senegalese twist is a perfect example of such a distinctive fusion.
It is a perfect choice for formal evenings and occasions. Even brides can carry this updo to dazzle their big day.
28. Everyday Senegalese Twist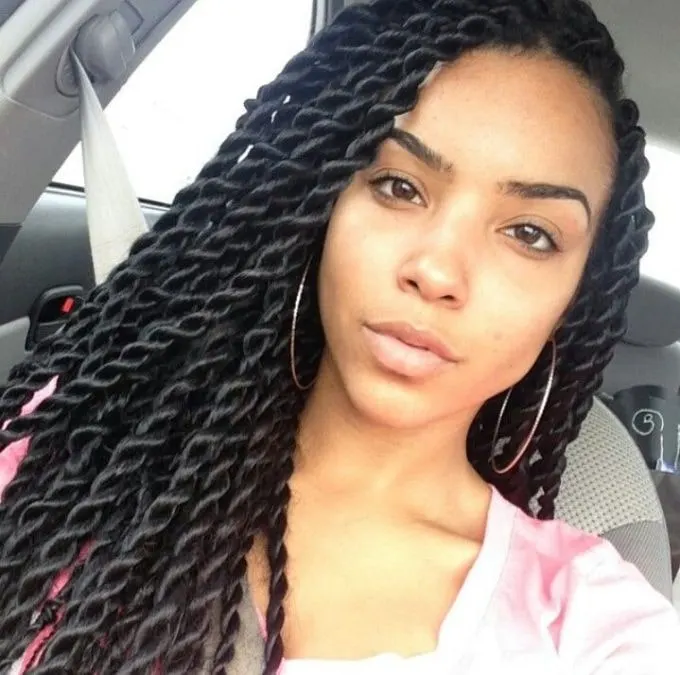 It's not important to strive for extraordinary all the time. Sometimes a simple look works equally well.
It is a light and airy hairstyle, which gives a comfortable look. You can even classify everyday Senegalese twist as a decent approach towards minimalism.
Didn't get an appointment from your hairstylist? Don't know what to do with your twisted hair for the upcoming occasion? No need to worry! Just tie up your twist real high and let the lengths fall on your face.
It will surely get along with your festive outfit. Pair it up with some fancy jewelry and subtle makeup, and you are good to go.
30. Super High Bun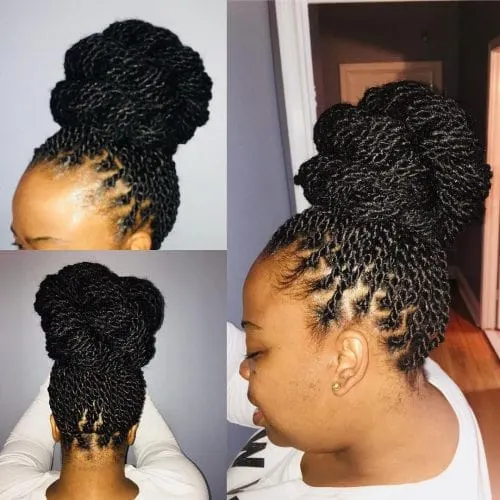 It is a universal fact that hairstyles can alter your physical appearance. A high bun will make you appear taller.
So, if you intend to add some height to your physique, then try this double knotted, super high Senegalese twist bun. It will instantly add height, which will help to boost your confidence.
31. Simple Middle-parted Twist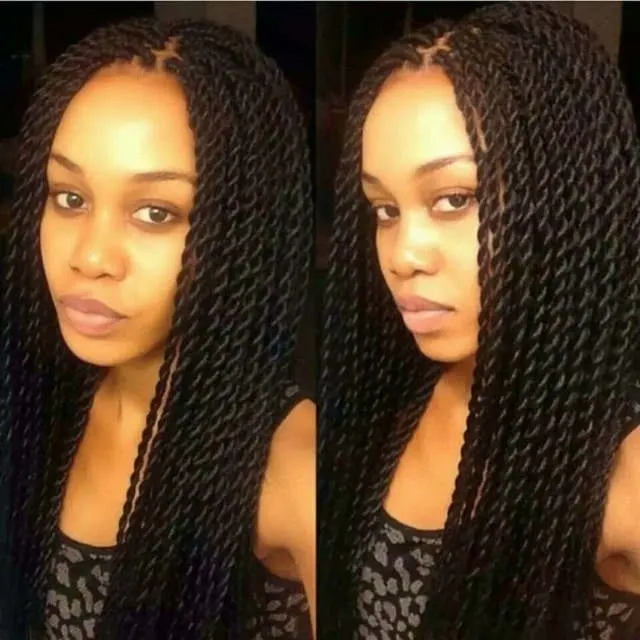 One of the easiest ways of contouring your face is to let the front-hair frame it. The long lengths will hug the face and make it appear slimmer while middle-parting ensures an equal amount of hair twists on both sides of the face. It is suitable for all age groups.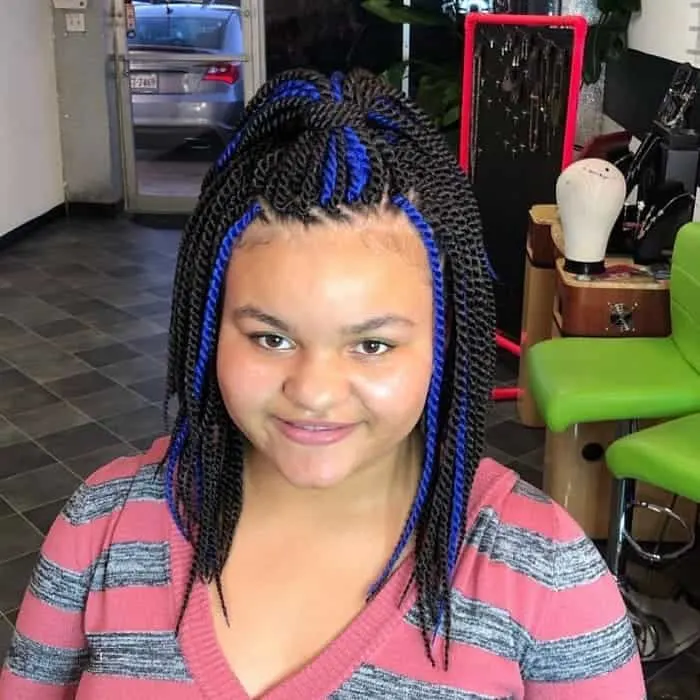 Are you running late for work or going out in a hurry? Half-up and half-down twists hair is a life-saver in such a chaotic situation. Save your valuable time and effort by styling up your twisted hair in an easy manner.
Just tie them in half and let the remaining hair loose hanging on your shoulders. You will surely observe admiring gestures on the way to your destination.
33. Classic Twist Updo
Even the most vulnerable of Senegalese style twist will look decent in a classy updo. The one-sided quiff blended with a low bun looks ravishing when carried with an evening gown.
A little headpiece made of rhinestones will dazzle the look. Save it up for your special occasion and feel like a queen.
34. Front Twisted Hair
A thick twist on the front from ear to ear looks theatrical. Thick strands twisted in a rope style will look stunning when tied on one side of the face. It is the perfect form of Senegalese big twist braids for working women. To upgrade the look, wear hoops or small-sized earrings.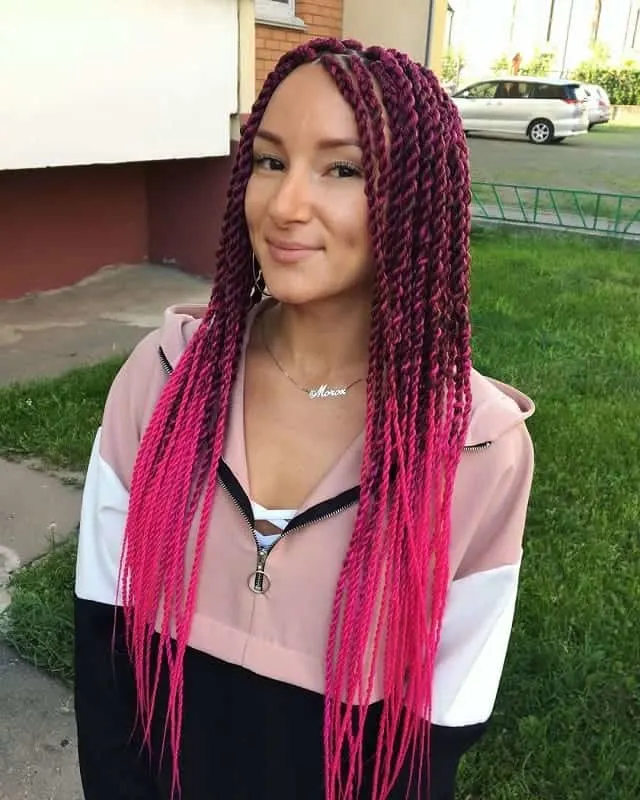 Vigor is the essence of Senegalese twists hairstyles. So, go with the flow and play with some bold colors. The deepest tone of red will spice up the look.
Some piercings, tattoos, and metallic jewelry will surely add more style. Thus, giving a clear message for the spectators not to mess with someone who has such a peculiar taste.
36. Night Out Twist Style
To look appealing is every woman's desire, especially when partying with friends. Use some basic tricks to make your night out apparel look great like customizing your outfit, using appropriate accessories for your hair twists and by carrying a suitable prop.
37. Jumbled Up Twists Hairstyles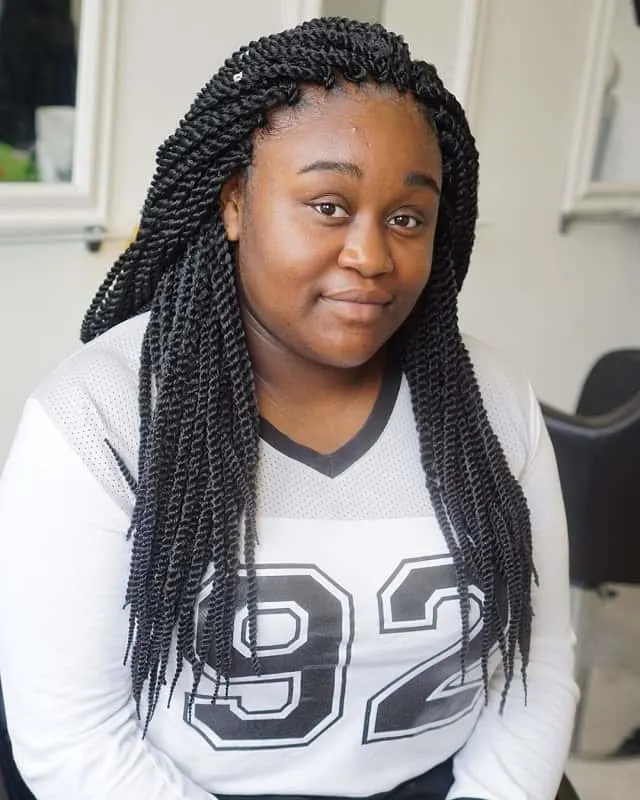 Whether you're headed to a shopping spree with your girls or perhaps, attending a formal gathering with your mates, these jumbled-up twists will certainly glam you up for the night.
The Senegalese jumbo twists will add a weighty and voluminous touch to your overall look.
38. Half Braid
Perhaps, this is the most delicate version of Senegalese twists styles. Finely twisted hair dyed in pastel colors looks fabulous.
To enjoy a more intricate version of this exquisite hairstyle, make a loose half braid leaving a few strands swinging on the sides.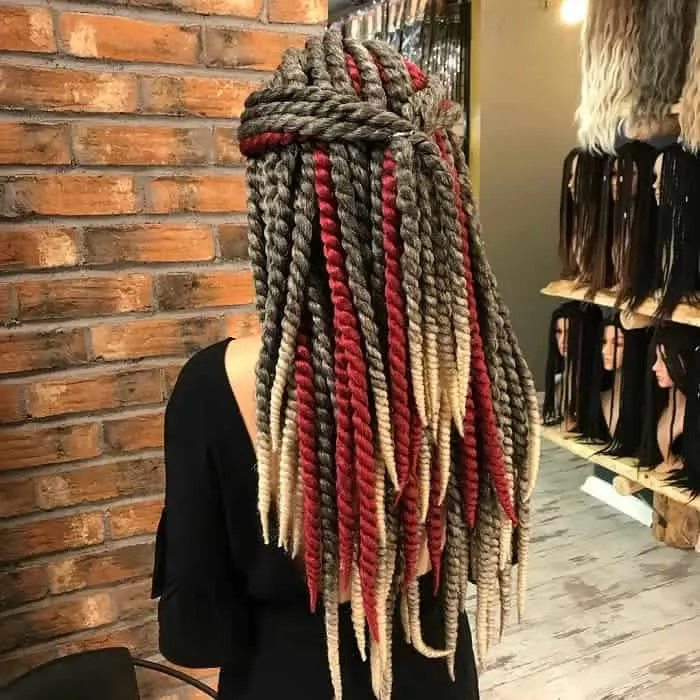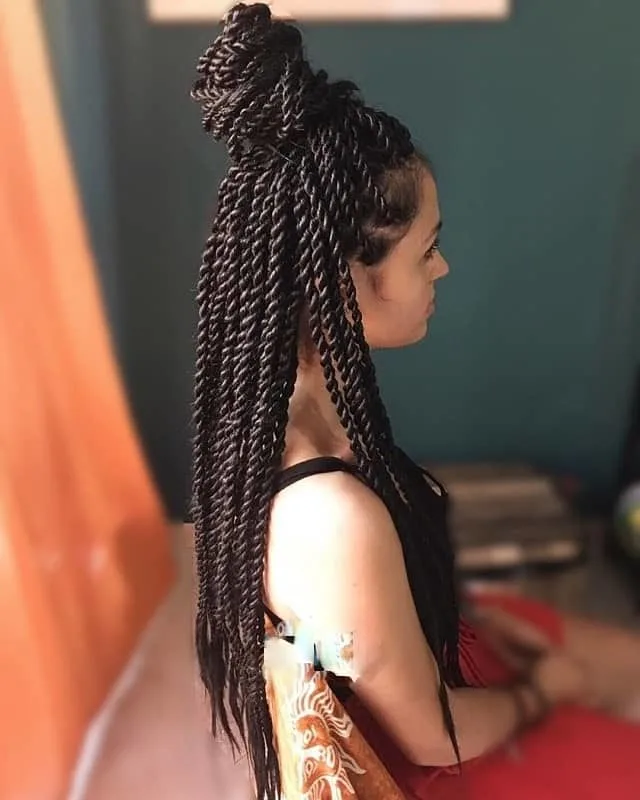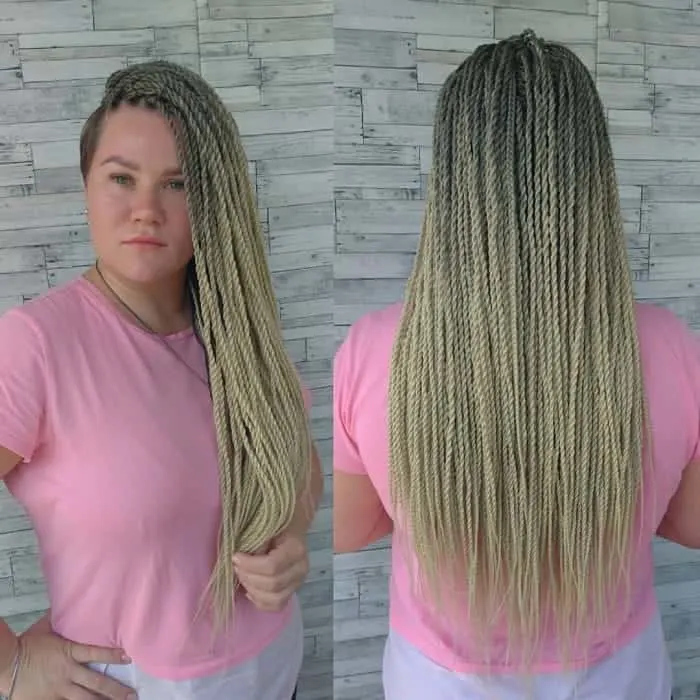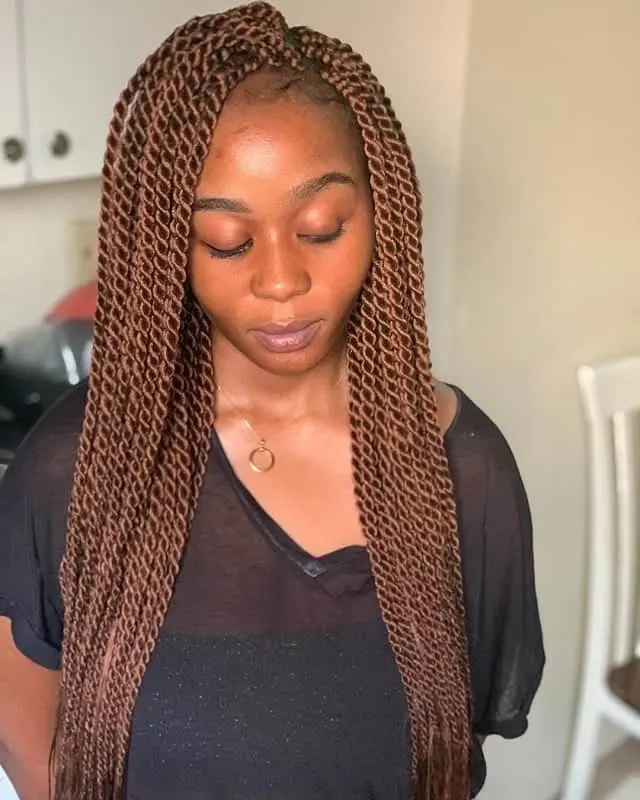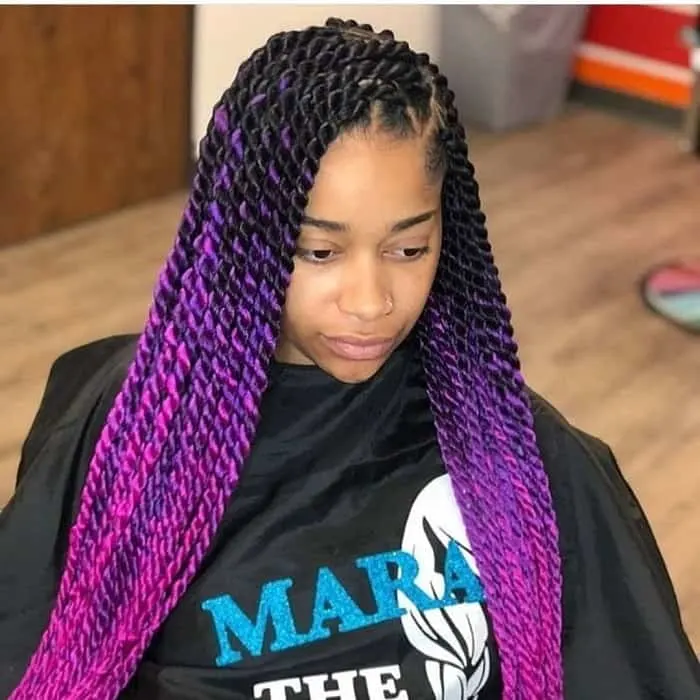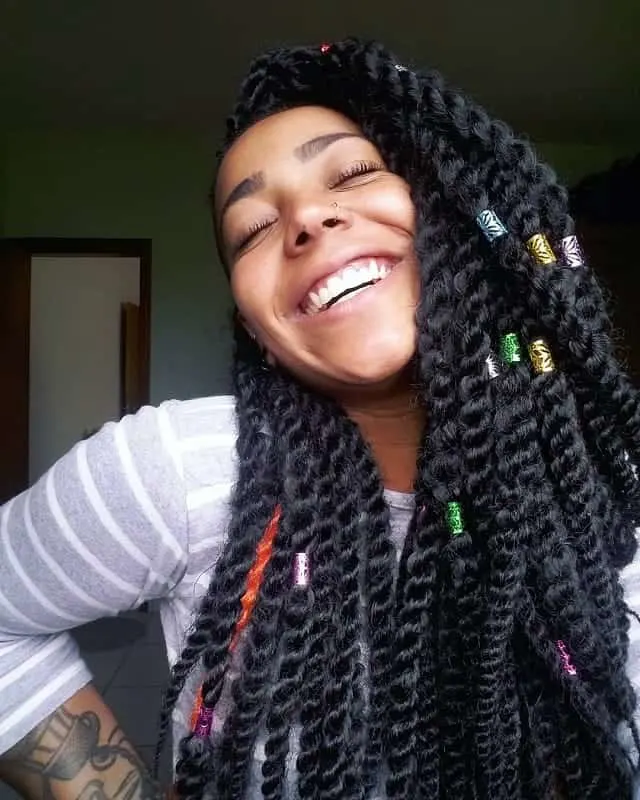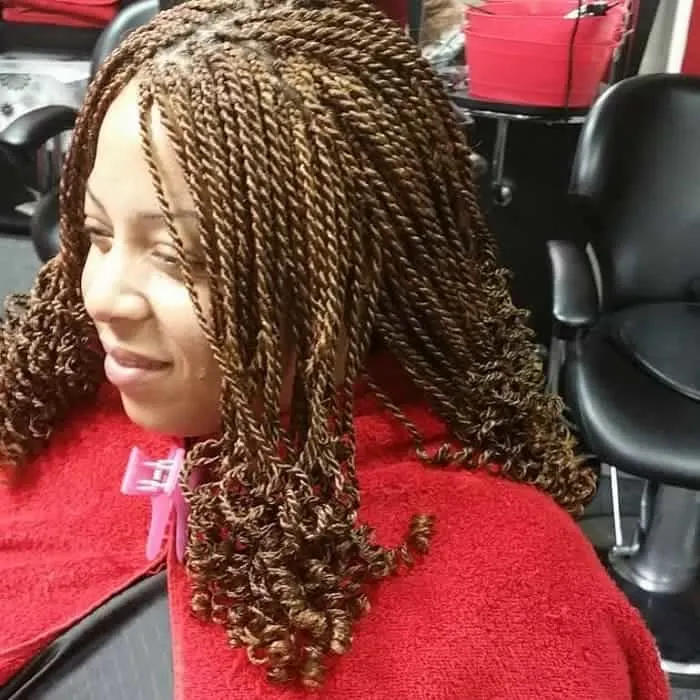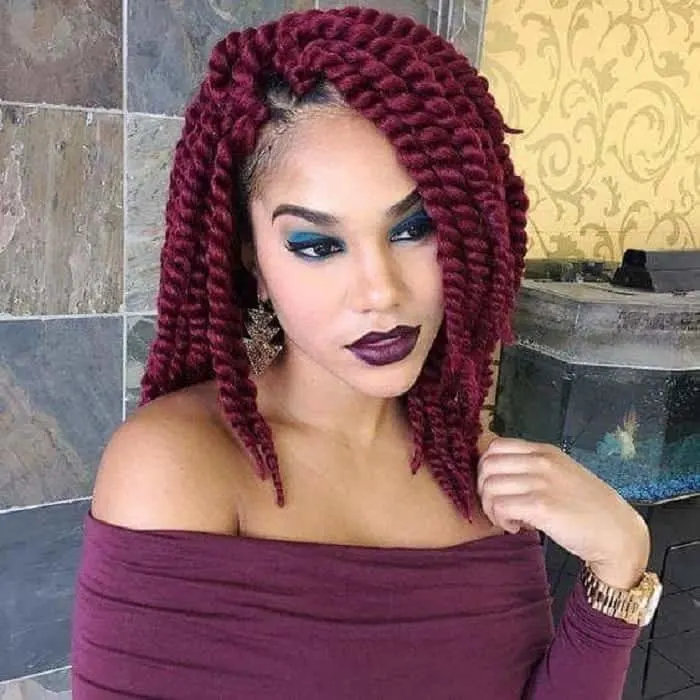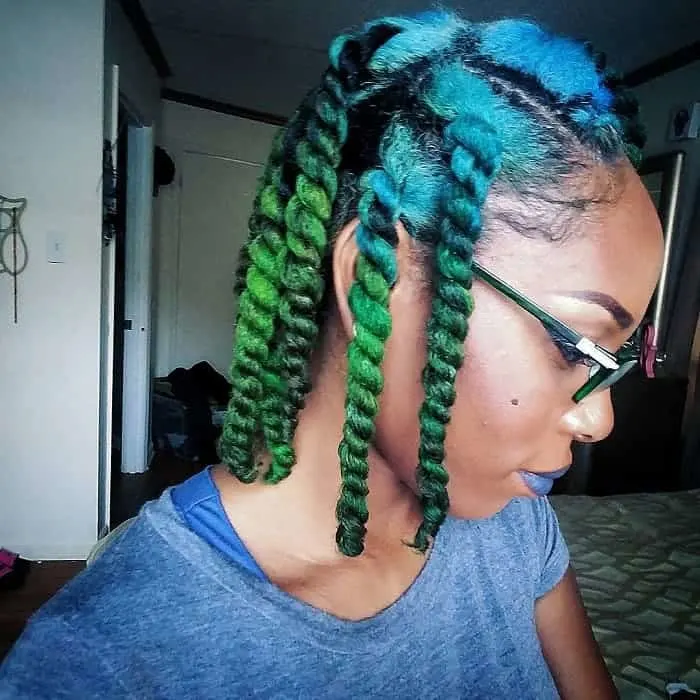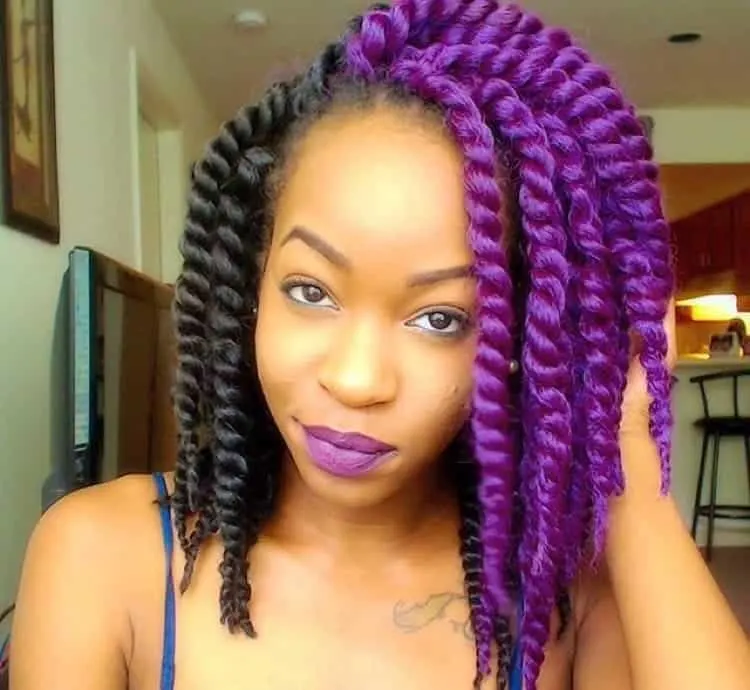 Senegalese twists hairstyles can help you always look your best no matter how lazy you are feeling in the morning. We hope the above options gave you an idea of how many different ways to style your amazing twists.