Hair extensions are the word of the modern fashion. If you haven't tried Senegalese twist hairstyles, you are missing out on a lot of fun and volume. There is so many various faux hair available on the market today, that it's up to you to choose how to braid or twist it. Senegalese twists look amazing on dark-skinned girls but can also be used on any type of hair. Depending on how thick or thin your mane is, you can choose suitable hair extensions to make your image as bright, exciting and vibrant as you wish.
Are Senegalese Twists Healthy For My Hair?
They definitely are. Whenever you comb, brush, and style your hair, you inadvertently damage it. Senegalese twists help you avoid touching your hair too much, which means you will allow it to grow long and healthy. Many women report that Senegalese twists made their own hair grow much faster than before. The best part about the Senegalese twists is that your hair always looks neat and styled so you don't have to spend too much time caring for your own locks.
How To do Senegalese Twist Hairstyles
Attaching Senegalese twists is easy. You can do it on your own. The main part of creating the hairstyle is making sure your hair is at least 1 inch long, otherwise, you'll have trouble attaching the hair extensions.
Wash your natural hair with a moisturizing shampoo and follow with a moisturizing conditioner
Use a wide-tooth comb to detangle your natural locks. Use detangling cosmetics if needed.
Use a blow dryer to stretch your hair a little before braiding. This way the process will be simplified.
Use a small amount of leave-in conditioner but not too much so the hair doesn't become too slippery
Separate the hair into neat sections. The size of the sections depends on how big you want your twists to be.
Start attaching the hair extensions at the nape of your neck.
Take one section and separate it into two same-sized sections.
Coil each section of the extensions over the two section of your hair about one inch down from the base.
Join the two sections to create a twist.
Repeat the same process until all the sections are done.
Dip the ends of the extensions into boiling water so they fuse and don't unravel.
Watch the below video tutorial to clarify how to prepare and install Senegalese twists.
Senegalese Twist To Rock Your World
If you are not sure which hair extensions to try, consider a few Senegalese twists hairstyles. We are giving you a chance to take a look at 12 various approaches to making your hair stunning. If you hate your unruly mane and feel tired of cornrows and other braids, twists are the way to go. You can easily attach them at home or go to a hair salon for a more complicated style. Many women are trying Senegalese twists right now and coming up with fashionable variations. Why don't you join them today?
1. Runaround braid
Senegalese twists are a wonderful opportunity to make voluminous styles you were unable to create before. Using large strands to make braids will result in a neat and attractive image.
Difference Between Senegalese Twists and Box Braids
2. Beautiful buns and braids
Two side braids are the classic hairstyle many girls sport. Your voluminous twists allow you to make formidable braids and leave some locks for making a pretty bun on top. Give it a go!
3. Asymmetrical styles
Flaunting your Senegalese twist hairstyle is easy. Sweep all your hair to one side and create several knots. No matter how you decide to arrange it, the hair will look truly stunning and attractive.
4. White extensions
When using hair extensions to create various braids and twists, consider using different colors. White looks the best when coupled with black. So if you are ready for a few synthetic twists, give them a try.
5. Burgundy beauty
Burgundy hair looks amazing on dark-skinned girls. Take the opportunity to change the color of your hair. Sweep the locks up top and create an asymmetrical bun in a shape of a hat to diversify your image.
6. Cornrows and twists
You can achieve a beautiful Senegalese twist hairstyle by adding a few cornrows on the side. This way you can be sure to have a neat style for weeks in a row without too much hair care.
A knotted bun is one of the most popular hairstyles that women do with their Senegalese twists. Don't be afraid to experiment with the volume. The bigger the bun, the more impressive it looks.
8. A simple braid
Just a simple black braid on one side can make your overall image soft and attractive. If you try to make your hair look less voluminous then you'll achieve a more delicate and romantic appearance.
9. Twisted bangs
If you are a fan of braided hair extensions, you must have forgotten what bangs look like. Use your hair and your imagination to create bangs using the twists. This Senegalese twist hairstyle is a perfect way to achieve it.
10. Thin twists
If you want a more delicate hairstyle and are not afraid of spending several hours making it, you can create magnificent thin twists. You'll need to use smaller sections of hair to do them.
11. Highlights
If you want to play around with your hair color, you can create a few highlights. All you have to do is buy differently colored extensions and weave them into a few strands. The number depends on your preferences.
12. Double bun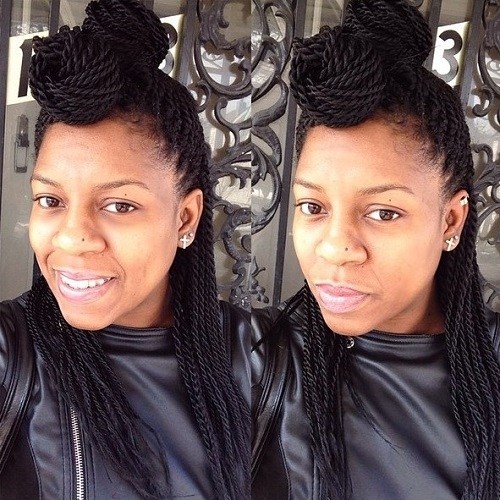 When it comes to making buns with your Senegalese twists, allow your imagination to run wild. You can make double or even triple bun with the help of a few elastic bands and pins.
Senegalese twists hairstyles can help you always look your best no matter how lazy you are feeling in the morning. We hope the above options gave you an idea of how many different ways to style your amazing twists.