Flower girl hairstyles are a great way to bring out the princess to the surface and make any girl or woman look her best. There is a great variety of such hairstyles out there, depending on the length and type of the hair and the available flower accessories.
New Ideas of Flower Girl Hairstyles
Flower girl hairstyles come in all shapes and sizes and are often quite complicated. Some of them can easily be made at home, while others should only be entrusted to a professional.
The accessories for such hairstyles should be carefully chosen with the consideration of how long they should serve. Natural flowers look better, however, they quickly loose their freshness, so if the hairstyle has to last for a long time, artificial flowers are usually chosen.
However, there are some techniques, which allow natural flowers to stay fresh longer. We have handpicked 70 flower girl hairstyles for your little girl to choose from.
No matter which occasion you want this style for or maybe you just feel like being a princess for a day, you will definitely find a suitable option here.
1. Curly Flower Girl Hair With Tiara
Curls are often a compulsory part of the hairstyles for flower girls. A tiara is a great addition to the hairstyle, especially for the bridesmaids. Make a partial high ponytail and curl the strands to cascade down the neck. Curl the rest of the hair. Attach the tiara so it looks as though it is holding the curls in place.
Top 15 Toddler Girl Hairstyle Ideas
Make an encircling braid. Keep each strand in place by small elastics. Then attach flowers to each of the elastics in order to make them invisible. Make soft waves on the rest of the hair and a sweet flower girl wedding hairstyle is ready!
Most amazing baby girl hairstyles in 2022
3. Flower Girl Hair With Headband
If your hair is short and there aren't many hairstyles you can play around with, don't forget about the headbands. Flower girl hairstyles usually means curls, so curl your hair as much as you can and use a flowery headband to complete the look.
4. Encircling Braids
Encircling braids always look very festive, so they are great for any special occasion, especially a wedding. Make two encircling braids and attach small natural flowers in between to make an amazing flower girl look.
5. Flower Girl Hair With Accessories
Large flower accessories can look great if they are needed to complete a certain style. If your dress is voluminous, try to avoid large accessories. However, a simple dress can easily be worn with large flowery headband.
6. Messy look with flower pins
Messy styles might be a little hard to keep intact but they always look very cute on girls and sexy on women. In order to add a festive feeling to the hairstyle, pin a flower anywhere you wish. It will look great regardless the place. You might will love these sweet sixteen hairstyles for teen girls.
7. Flower Girl Bun Hairstyle
The flowery bun is achieved by making a tight ponytail near the nape. Thin strands (about half an inch) are separated and attached to each other with invisible pins to create a flowery look. Add some flowers to the elastic, which holds the ponytail in place.
8. Cute Waves
If your hair is not naturally wavy you can make easy waves by applying some hair gel and arranging them in waves while the hair is still wet. You will be a great wet wavy look, which can be improved by adding some flower accessories.
9. The Braid Blast
If your hair is long enough to create an encircling braid, it would be a real blast. Unfortunately such hairstyle is impossible to create on your own, so a visit to the salon is a must. This flower girl hairstyle is sure to be a hit.
10. Flower Girl Wedding Hairstyle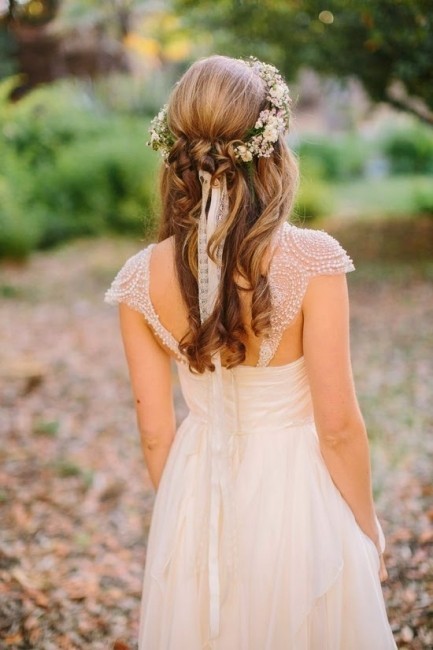 Whether you are a bride, a bridesmaid or a flower girl, you will look fantastic with this hairstyle. Tie the flower wreath into an encircling braid and curl the rest of the hair to cascade down your back. You can attached a ribbon or a veil to this hairstyle if you wish.
11. Flower Girl Hairstyle With White Flowers
Flower wreaths look great with any hairstyle. Keeping them on your head is another story. In order not to lose your beautiful wreath at the most unexpected moment, tie it into your hair and fasten with pins and elastic bands.
12. Flowers in your braids
This flower girl hairstyle deserves special attention since flowers are attached to the braids so intricately that it seems as though nothing is holding them. This style will require large artificial flowers and some professional work.
13. Curls and wreath
Young flower girls look especially cute with curls. There is no need to go for complicated hairstyles, simple cute curly hairstyle will do. A small wreath will be a great addition to the flower girl look, especially if it is fastened properly.
14. Simple and natural
There is nothing more natural than long straight hair and a well-chosen wreath on top of it. Pick the natural flowers for such wreath and fasten it to the hair with invisible pins. Make sure your dress is as simple and natural as the hairstyle.
15. Artificial wreath
A wreath made out of artificial flowers is a great idea for special occasions, such as weddings, which last for a long time. There is always a risk that natural flowers will wither and lose their charm, while artificial ones will keep looking great until the day is over. Checkout new wedding hairstyles here.
16. Wispy style
Light and wispy styles are great for flower girls of all ages. Don't bother with complicated braids, just let your hair be windblown and charming. You can choose any type of wreath to complete the look and keep the hair in place.
17. Flower Crown for Curly Haired Girls
A crown made out of flowers will make any girl look like a real princess. Make sure to attach the flower crown properly, so it doesn't fly off at the wrong moment. Do whatever you like with the rest of the hair. The crown up front will be the centerpiece.
18. Creative flower girl hairstyle

You can get creative by attaching natural flowers anywhere you see fit. Make several ponytails or braids and attach bundles of flowers everywhere you like. This style will look amazing if you don't overdo it.
19. Wide headband
There are at least two reasons why wide head bands can become a part of your style. They create a very special and festive look and they can be used to keep your hair together. Whatever the reason, you should give one a try.
20. Nothing extra
Simple flower girl hairstyles are popular among younger girls. If you have long hair, nothing extra is needed. Choose any kind of wreath you like, slide it on and your style is ready. Play around with the colors and sizes of the accessories.
21. Braids and ponytails
This creative style is actually very easy to make. Create two braids (one on each side) and tie them together with an elastic band in the back. Perhaps you will need some help to get the hairstyle centered. Curl the rest of the hair and your wonderful hairstyle is ready to be used.
22. Complicated braided bun
This hairstyle will look great on a bride. It is created so anything from a flower pin to a veil can be attached to it. This style should be made with a help of a professional. All the time you will spend on it is definitely worth the result.
23. Interlaced strands
This special hairstyle for flower girls is easily achieved by interlacing two wide hair strands and keeping them together with flower pins. You can try to make this hairstyle with the help of a mirror, however, you might need some assistance.
24. Intricate curls
This hairstyle might look complicated at first, but in fact it is pretty easy. Brush the hair away from your temples and fasten the two wide strands with an elastic on the back of your head. Use the flat iron to make as many curls as you wish and add some pretty pins. You are done!
25. Wedding tiara
Tiaras are a great choice for flower girls. So attaching one to your hair is a wonderful idea. Make it seem a part of the hairstyle and you are sure to keep some heads turning your way.
26. Delicate Decorations
Tiny flowers can be made into gorgeous delicate flower crowns for your little flower girl hairstyles. Choices such as Hawthorne flowers are perfect for a Spring wedding, because they are small and white.
27. Cute Afro
A little Afro is a really gorgeous choice for African-American Flower girl hairstyles. Accessorize her hair with beautiful white flowers or leave the look completely natural.
28. Braid Crown and Tiara
Start this flower girl hairstyle by putting her hair up into a gorgeous braided crown. Choose a beautiful Tiara that matches the colour scheme of your wedding. Leave a few strands of hair down to frame her face if you want.
29. Triple Crown
Gorgeous waterfall braids are a brilliant choice if your flower girl has a long haircut. Make a diagonal braid crown close to the top of her head, then let this feed into a similar braid further down her head. Carry on until you have as many braid crowns as you want.
Really long hairstyles lend themselves to gorgeous loose curls. Leave your flower girl's hair down so that she can show off the style, but top her look with a beautiful crown of flowers.
31. Single Flat Braid
Thin flat braids are a very subtle choice for a wedding hairstyle for your flower girl or bridesmaids. A single braid can help to transform any hairstyle into something that is really special for a wonderful day.
32. Gerberas
Gerbera flowers are a very trendy choice for wedding hairstyles for flower girls. They are big, bold and fun. These gorgeous flowers are available in lots of different colors so you should be able to find some that match your color scheme.
This gorgeous Fishtail braid has been laced with delicate flowers. Because the flowers have been placed at irregular intervals throughout the hairstyle, it looks as though there is a beautiful waterfall of flowers.
34. Chunky Braided Bun
A single chunky braid can be pulled back and then wrapped around to create a bun hairstyle. Make sure that her hair is super sleek before you braid it, so that the bun will be really neat.
35. Messy Curls Bun
Although you don't really want a messy style for a wedding or a formal event, these messy curls hit the nail on the head for a flower girl hairstyle. Pin most curls up into a bun, but leave a few bits hanging loose in a very controlled 'messy' way.
36. 1920's Inspired Style
For a retro wedding, give your little flower girl a retro-inspired hairdo. A short bob hairstyle teamed up with a low headband is really reminiscent of the 1920's hairstyles.
A sleek low bun style is an ideal choice for a wedding hairstyle for a bridesmaid or a flower girl because it is a timeless look. Use a little hairspray to make sure that she doesn't have a single hair out of place.
38. Twisted Braids
Mix things up by swapping a classic braided hairstyle for twisted braids. These twisted braids help to give hair a funky modern style. Throw in a few flowers for added effect.
39. Perfect Curls
This flower girl hairstyle could take a long time to do, so it might only be a good idea if you have a lot of helping hands on the day of the wedding. A hairstylist might have to curl every section individually to make sure that every curl is perfect!
40. Curls with Foam Flower
Fresh flowers might not look so fresh if they are in your hair for a full day. Classy foam-style flowers are an excellent alternative to fresh ones, and they look perfect in a curled hairstyle.
41. Hair Bow with Perfect Pipe Curls
Create a big bold bow using her own hair, then curl the ponytail that hangs down so that it forms two perfect pipe curls. Artificial hair bows are also available but it can be hard to get a perfect color match.
42. Hair Lattice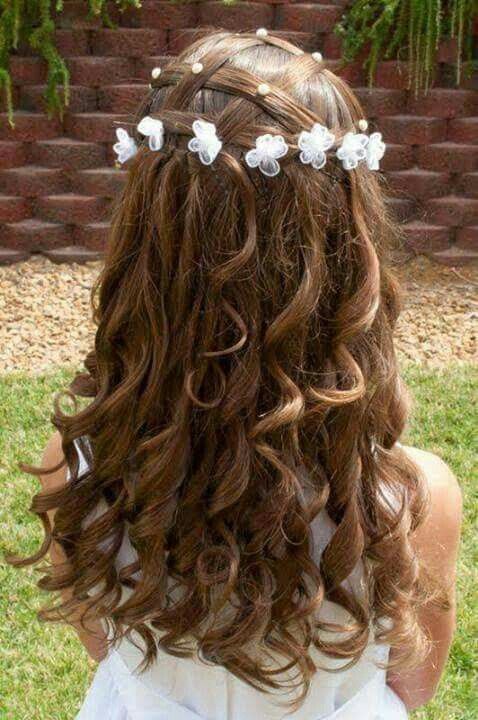 Hairstyles can be changed into works of art by people who have a keen eye and a steady hand. Criss-cross the hair over and under in a Lattice formation. Pop a decoration (such as a diamante) at each crossover point for added effect.
43. Pastel Shades
Pastel shades are perfect for a wedding scheme and they look great as part of a flower crown. For a really cute pastel style for your little flower girl hairstyle, you can finish off the crown with a white or cream ribbon.
44. Diagonal Plait with Plaited Bun
Start this plaited hairstyle at the front of your hair then move diagonally towards the back of your head. Plait all of the ways down the back of the hairstyle and then wind it all upwards into a really cute bun hairstyle.
45. Side Braid with Mini Beehive
A proper Beehive hairstyle is a classic diva look. A mini Beehive is a far more subtle wedding hairstyle for a young flower girl. Braiding the front of the hairstyle will make it superb for a special occasion.
46. Thin Braid Crown with Curled Ends
A thin braided crown is a really subtle choice for a wedding hairstyle for your attendants. This delicate style will really suit a cute flower girl! Curl the ends of the braids to make this style a little more unusual!
47. Chunky Braid with a Side Pony
Braided styles look great for wedding hairstyles but lots of little braids can be quite time-consuming and difficult to pull off, especially if your flower girl doesn't like to sit still. Instead, do one thick braid around the back of her head and let hang down freely in a side pony.
48. Greenery Headband
A headband made of various types of greenery is one of the most inspiring choices for a woodland wedding. Make sure that you don't destroy any plants when you are taking foliage for this little girl hairstyle.
49. Braid Bun with Two Flowers
It is easier to make a braided bun if your flower girl has really long hair. Braid it and then twist all of the hair into a secure bun. Clip her hair securely into place using two beautiful flower hair accessories.
50. In and Out Bun
This super complicated hairstyle is a great choice for your flower girl if you have the assistance of a competent stylist. Sections of hair are woven in and out to create an eye-catching lattice bun style.
51. Fresh Flower Accessories
Well, we know, you too got completely mesmerized with this cute doll's attire. The natural white and pink floral crown is adding an ultra-pleasant feature to flower girl's appearance. This refreshing floral color reflects more radiance on golden blonde hair.
52. Dreamy and Lovely Look
If your toddler has long and thick hair then, a high bun can be a cool hairstyle to make her tresses organized. No need to overburden the hair of little girls with heavy accessories as at this age as kids can easily get irritated with uncomfortable pieces of jewelry. An adorable outfit and elegant bun are enough to complete the flower girl hair look.
53. Princess Vibes
In this regal attire, your little flower girl will surely drive the people attention from the bride to herself. The royal outfit with half up half down hairstyle looks ultra-attractive on girls. Finish the look by wearing a head crown.
54. Side Parted Braided Style
If you want to keep the innocence on your girl's face rather than transforming her looks into glamorized appearance, go for a simple side-parted braid hairstyle. You can let the opened half-down hair to fall over the shoulder or keep the tresses at back for an understated look.
55. Twirling Hairstyle
Wavy hairstyle always looks striking on young girls as well as older ladies. This little flower girl looks extremely enticing with these natural locks. The attractive floral crown will give your princess, real royal vibes.
56. Side Swept Hairstyle with Floppy Hat
Many brides want to have their flower girls in the same dress as their own wedding outfits. In such case, the flower girl hairstyle must also match with the brides as well, but with a cute and innocent slight alteration, such as a round vintage hat with the side-swept hairstyle would be a classic and decent choice for girls.
57. Short Hair and Floral Head Band
The lovely floral headband looks ultra-adorable on little girls especially when they have shorter hair. To get this look, side part the hair and sweep the front bangs to add extra innocence to her face.
On dark black hair, the hairstyle is hardly noticeable. So, to make the half up twist hairstyle more visible, incorporate the pearly hair comb at the conjoining point of the twisted hair. Wavy hair gives the whole flower girl's hairstyle an effortlessly natural aesthetics.
The side fishtail braid with beach wave hairstyle will make everyone buzz about the flower girl's cute attire. It is a fresh and relaxed hairstyle that can be an epic choice to wear for weddings that are going to be held in the summer season.
Cornrows may take plenty of time and effort to be done professionally, but once you achieve the cornrows hairstyle, it saves you from the hassle of styling the kinky hair on a wedding day. It features spiral cornrows that are tied into a high flat bun. A sweet flower at the corner of the bun completes the pleasing look.
61. Flower Girls Twisted Locks
We think there is no other cuter hairstyle than the above one to be worn by black flower girls. These adorably styled twists on the natural afro hair are further adorned with a fresh floral crown to pop up the comely element of the whole hairstyle.
62. Flower Girl Boho Hairstyle
Flower girls are meant to represent the childhood memories of the bride while the colorful petals crown symbolizes the youthfulness and innocence. Keep the hair open and turn the locks into loose waves to let hairstyle goes perfect with a boho outfit.
This fascinating waterfall braid starts from both sides of the head and unites at the back in the form of a ponytail. The untied falling strands are turned into tight curls and left at the back to add a classic element to the flower girl hair styles.
64. Three Floral Buns
Aren't these three mini buns are super cute? Not only, these are lovely but easy to carry for your little flower girl as well. It is unique updo that you can achieve on your little girl hair by making three plaits and then, twisting the plaits to create three floral buns. The floral accessory is incorporated in these buns to make the entire look even more amazing.
65. Mini Braids and High Bun
Flower girl's updo styles involve so much fun that no one can get bored styling the little angles. This high bun hairstyle also contains some twist which makes the hairstyle lively and fresh.
Create three mini braids from the backside of the head, which is untied into a round high bun, later. A bow matching the outfit creates awesome vibes.
66. Halo Braid and Flower Crown
Another benefit of adorning the hairdo for flower girl with a floral crown is that it is easy to pull off when your toddler got tired or want to feel cozy.
To achieve this hairstyle, start braiding from both sides of the hair and conjoin these braid at the back. Embellish it further with a crown containing wild floral bloom for bohemian vibes.
If your little girl is a brunette then, you should give a big shout out to this gorgeous hairstyle for her as a flower girl hairstyle, as this satin ribbon color blends with natural brown hair flawlessly. The elegant four-strand braids when swept on the side, looks lovely on gowns.
A bow is highly irresistible whether it is achieved artificially or executed on natural hair. If your princess has fine hair texture, you can use a faux bow. The beach waves add more movement and dimension to the long mane.
This stunning hairstyle is ideal for flower girls with shoulder-length hair. To achieve this look, turn the top hair into two braids and tie these braids into a topknot. Turn the remaining hair into loose curls to give it a natural captivating look.
It is quite distinctive and creative than other Updos, which feature a Dutch braid bun starting from one side of the head and ends at the other corner side of the head. This bun is quite big and thick, and its beauty lies within its simplicity and well-organized structure.
Take some time to pick the flower girl hairstyle that makes you look like a real princess. Make sure to pick the right accessories, since they are a big part of any hairstyle. You can start by choosing the wreath and go from there. Don't forget that when all else fails, curls are the easy way out.