Ready for a new haircut? Well, you might have decided on the final hair length and texture but there's still one more thing to think about; razor cut or scissors cut, which one's the best for you?
Gone are the days when hairdressers used shears only. Now they use razors to thin down a thick mane by achieving wispy feathered tips and a messy finish. Scissors, on the other hand, produce a blunt, rather, neat and clean result.
Don't worry as we're here to explain the differences between these two along with some hairstyle inspirations to make things easier for you!
Razor Cutting vs. Scissors Cutting: The Key Differences
Deciding between a razor cut and a scissors cut depends on your preferred haircut and hair type. You need to understand how each method affects your hair's texture, style, and maintenance before choosing your tools.
If you're in a hurry, below is the razor cut vs. scissors cut comparison table to help you take a quick look.
Topic
Razor Cut
Scissors Cut
Tools Used
Straight-edge or feather razors.
Multiple types of scissors.
Result
Soft, textured edges with a feathered appearance.
Clean, neat, and defined edges.
Hair Type Suitability
Ideal for thin or fine hair. Not recommended for textured or coarse hair.
Suitable for various hair types including straight, wavy, curly, and coiled.
Skill Required
Requires a high level of skill and precision for flawless results.
Allows for more control, making it easier to achieve precision cuts.
Maintenance
May result in unwanted choppiness without regular maintenance.
Long-lasting style with minimal day-to-day maintenance.
Popular Hairstyles
Razor fade cut, razor cut shag, feathered razor cut, pixie razor cut.
Blunt haircut, butterfly haircut.
Pros
– Effortless texture and softness
– Adds volume and bounce
– Makes thin hair appear thicker
– More control and definition
– Suitable for various hair types
– Long-lasting style
Cons
– Not suitable for coarse or frizzy hair
– Requires mastery
– Potential for bluntness or weight
– Limited in texturizing abilities
Razor Cut
Razors aren't only good for shaving; they're wonderful for sculpting hair too. During a razor haircut, the stylist uses the razor to glide through sections of the hair and create varying lengths and angles.
Cutting hair with a razor can produce numerous looks, from subtle textures to dramatic layers. It's great for short and tousled hair, like razor bobs and pixie cuts, but it also works well for longer locks.
Just a heads up: If you're new to getting a razor cut, the first moments might surprise you. You might hear a distinct scraping sound when the stylist uses the razor to trim your ends.
Types of Razor
Hairstylists use two types of razors: straight-edge and feather razors.
A straight-edged scissors features a naked blade that folds neatly into its handle. It offers precise control but requires a steady hand and much getting used to.
Fortunately, its wedge shape can guide the stylist to an efficient cutting angle.
Meanwhile, a feather razor has a safety guard between the stylist and the blade. This feature helps them make quick snips without accidentally taking off too much hair.
Pros of a Razor Haircut
Should you get a razor cut? These reasons might convince you:
Effortless Texture and Softness: A razor haircut produces softer, more textured edges. This process thins out the hair for a feathered appearance and a sense of movement.
Volume and Bounce: Razor haircuts reduce excess weight that can make your hair look flat or lackluster. With soft, feathery edges, these styles can give your hair a lifted or voluminous look.
Ideal for Thin or Fine Hair: How a razor cut thins out certain sections of your hair can make it appear thicker overall. This effect is especially noticeable if you have fine hair.
Cons of a Razor Cut
Before you go all in with a razor haircut, here are a few things to keep in mind:
Not Recommended for Textured or Coarse Hair: We don't recommend razor cuts for coarse, frizzy hair. These haircuts can disrupt the natural curl pattern and add more frizz to textured hair.
Requires Skill: Executing a flawless razor haircut requires skill and precision, and not every hairstylist is adept at this technique. If not done right, you might end up with uneven layers or unwanted choppiness that's anything but edgy.
Razor Cut Ideas
Razor cuts offer chic and contemporary options for different hair lengths and patterns. Consider these looks for your next salon visit:
1. Layered Razor Cut
Layered razor cuts work well for a range of hair types, from short to long and straight to wavy. The technique is fantastic for adding volume to thin hair and enhancing the texture of thicker hair.
It's perfect for when you want to maintain length while enjoying the benefits of layers.
2. Razored Shag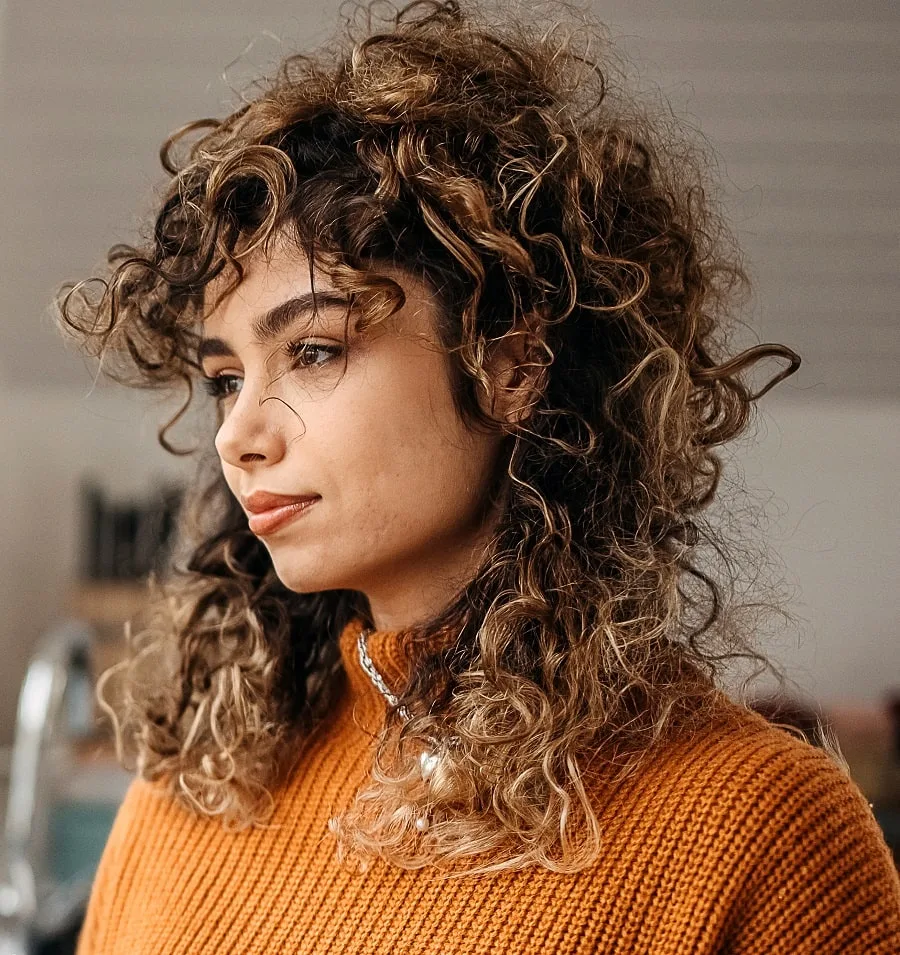 The shag is equal parts chic and rebellious and gives a nod to the 70s. It's a heavily layered cut, often with a face-framing fringe to enhance different face shapes.
The style has seen fresh updates over the years, from mullet shags to wolf cuts. You can even give it your own stamp. Short shag, curtain bangs, choppy layers—simply tell the stylist what you have in mind when you're in the chair.
3. Feathered Cut
This style is characterized by softly layered, feather-like strands that cascade down the back.
It creates movement and gives your hair a luxurious feel. The ethereal effect complements various face shapes and adds volume to your mane.
4. Pixie Razor Cut
This is a short razor cut style for women. The short pixie requires tons of texturizing to avoid hard lines and create soft edges.
An iconic example is Charlize Theron's strikingly short blonde pixie, which made its debut at the Oscars.
Scissors Cut
When it comes to hair styling, the classic scissors cut is a staple choice that has stood the test of time.
During a scissors cut, the hairstylist carefully trims the strands with scissors to create the desired length, shape, and style.
Types of Scissors
There are different types of hairdressing scissors each designed for the specific task. These are some common haircutting scissors and their use:
Short-Blade Scissors: Ideal for detailed styles and great for people with small hands.
Long-Blade Scissors: Preferred by barbers for over-the-comb techniques and blunt cuts.
Thinning Shears: Used to reduce bulk and weight in thick hair, providing a softer look.
Texturizing Scissors: Designed to add volume and texture to hairstyles.
Wide-Tooth Chunking Shears: Used for removing large sections of hair quickly.
Swivel Shears: Designed for comfort during prolonged use, reducing fatigue and cramping.
Using the right type of scissors is crucial for achieving the desired hairstyle and texture while also considering the comfort of the stylist.
Pros of a Scissors Cut
Here are a few upsides that make a scissors cut worth a shot:
More Control and Definition: The scissors cut allows hairstylists to exert precise control over the shape and length of your hair. Whether you're after a clean bob or flowing layers, the scissors cut can bring your vision to life.
Suitable for Various Hair Types: It suits various hair types, from straight and wavy to curly and coiled. Regardless of your natural texture, a skilled stylist can manipulate the scissors cut to bring out the best in your hair.
Long-lasting Style With Minimal Upkeep: Once shaped with precision, a scissors cut maintains its structure for longer. This makes the scissors cut appealing for those seeking a lasting look with minimal day-to-day maintenance.
Cons of a Scissors Cut
Now, let's talk about the downsides of a scissors cut:
Potential Bluntness or Weight: While the scissors cut delivers clean lines, it might fall short in texture. Without careful technique, the ends can also look weighted, lacking the dynamic movement that razoring can achieve.
Limited Texturizing: The scissors cut doesn't offer the same texturizing and layering possibilities as a razor cut. If you're looking for a hairstyle with extensive movement and depth, you should explore other techniques to achieve your desired effect.
Scissors Cut Ideas
Here are some scissors-cut hairstyle inspirations to take to your stylist:
1. Scissors Fade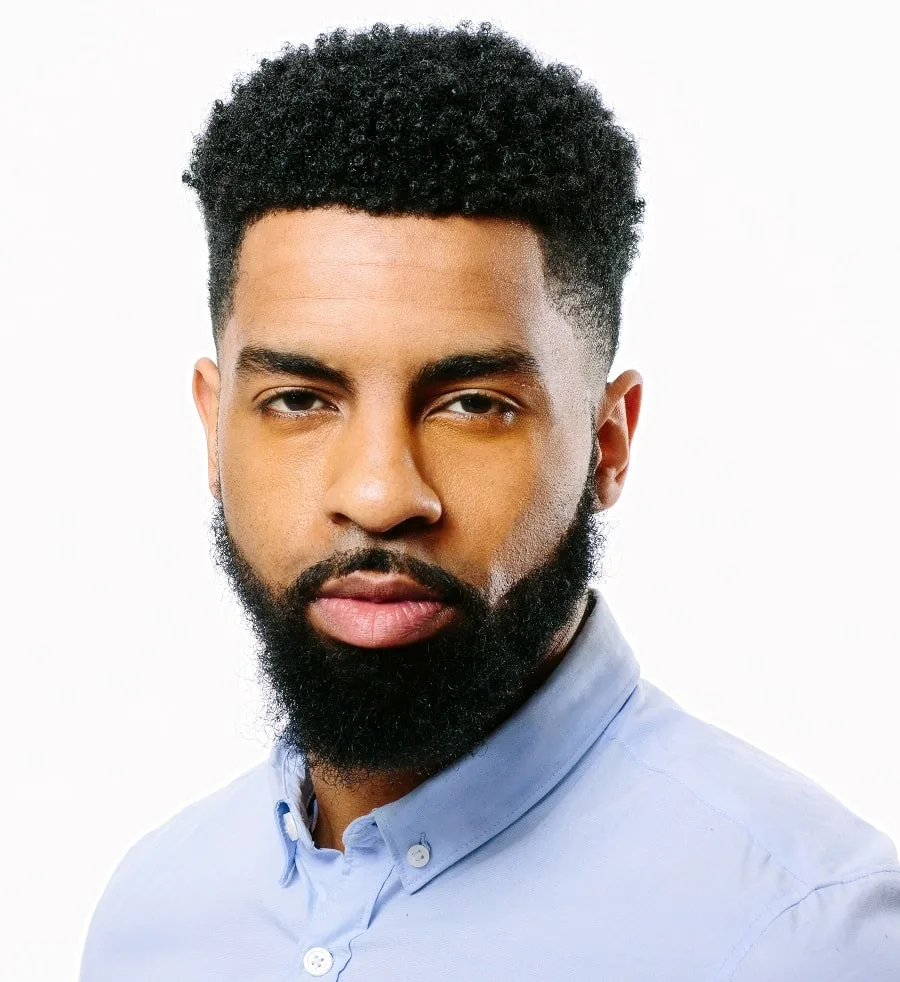 The scissors cut for men is a modern twist on the classic scissors cut. It involves creating a seamless transition between shorter sides and back, gradually blending into longer lengths on top.
This style proves it is possible to get fade hairstyles with scissors that are as cool as razor fade hairstyles.
2. Blunt Cut
The blunt haircut means business. With razor-sharp lines achieved through shears, the look is clean, strong, and precise. The best part? You don't need to give up your length for a blunt cut.
While we often see the style on bobs or lobs, you can rock the look even if your hair is longer.
3. Butterfly Haircut
This hairstyle has lots of soft layers that flutter away from the face, like butterfly wings. It's a modern take on Farrah Fawcett's feathered 'do in the 70s and the 90s blowout.
The short, top layers skim the cheeks and chin, while the longer layers fall below the shoulders.
So, Razor Cut or Scissors Cut: Which One Is Better for You?
From all the details and descriptions of each method, certain things have become clear. Both razor and scissors cuts have their unique benefits and potential downsides. Here are some tips to decide which is better for you:
Hair Type
If your hair is on the thinner side or straight, a razor cut could be a better choice for you. It's awesome at adding some cool texture and making your hair look a bit thicker.
But if you've got curly or frizzy hair, maybe stick to a scissors cut. It helps keep everything in check and reduces the wild frizz.
Length
For short hairstyles, razored haircuts are pretty popular. The textures and layers add a real kick to shorter locks. They provide an edgy and messy look.
But if your hair flows down your back and you wanna keep it long and lovely, scissors cuts are the way to go. They keep everything even.
Maintenance
Consider how much time you're willing to invest in maintenance.
Razor cuts are super cool, but they need a bit more maintenance to keep the look fresh. If you're all about changing things up and don't mind a few extra trips to the salon, this one's for you.
Now, if you're more of a set-and-forget kind of person, scissors cuts might be the better choice for you. They stay nice for longer and don't need as much fussing over
In the end, choosing between a razor cut or a scissors cut depends on what you like, your hair type, and how much time you want to spend taking care of it. So, choose your haircutting method accordingly.