Frizzy hair can be tricky, but the right hairstyle turns that challenge into a unique style statement. If you're concerned about the frizz, pick one of our listed hairstyles that're ideal for frizzy hair.
This guide is here to help you embrace your natural texture with a range of hairstyles that tame the frizz while accentuating your personal style. Whether it's for an elegant event or everyday wear, we've got you covered.
Lovely Hairstyles for Curly Frizzy Hair
Curly frizzy hair can be such a hassle! But, the good thing is that you can do so many things to prevent and deal with it. These frizz-friendly hairstyles will give you fresh insight on how to be on-trend while also having a frizz-free mane.
Here are some ideal hairstyles for women with frizzy hair.
1. Ponytail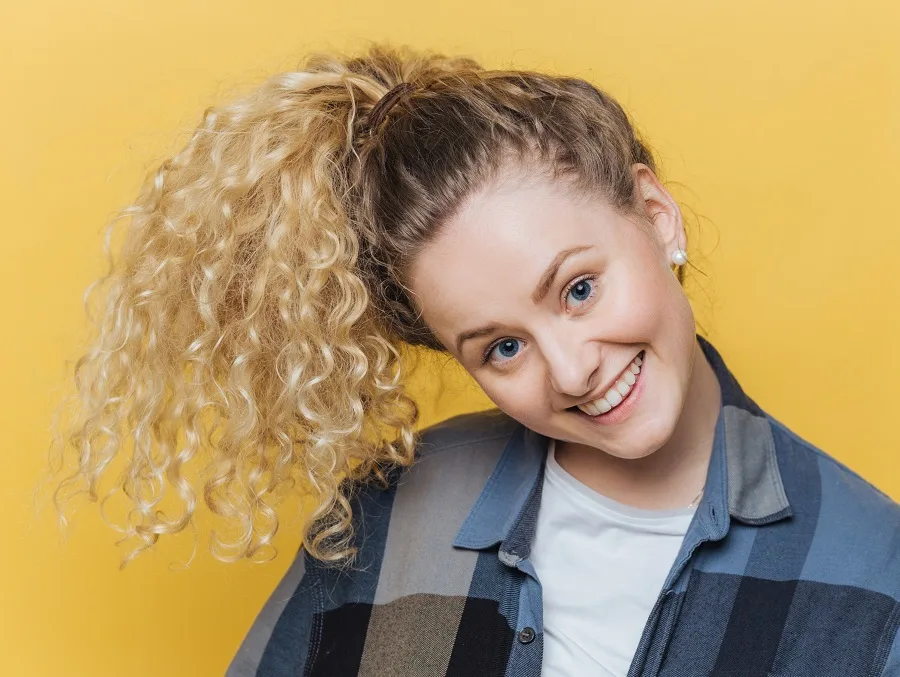 A ponytail isn't just a go-to style; it's a fashion statement. It's perfect for your curly, frizzy hair, balancing both sophistication and convenience.
Ideal For: This style is an absolute winner for every setting – from your morning workout session to an evening out.
How to Style: Pull your hair back, wrap it up high or low with a hair tie, and there you go! Feel free to jazz it up with a stylish hair clip or a ribbon.
2. Bun
The bun screams elegance. It's chic, tidy, and perfect when you're aiming for a classy appeal.
Ideal For: This style is a hit at formal events, business meetings, or even when you just want to exude a professional aura.
How to Style: Twist your high or low ponytail into a neat bun, secure it with bobby pins. A hint of hairspray will ensure it stays put.
3. Braid
Embrace the free-spirited vibe of braids. They're versatile, romantic, and a brilliant way to tame frizzy curls.
Ideal For: Coffee catch-ups, shopping sprees, or even music festivals – braids are always a cool choice.
How to Style: Be it a simple three-strand braid, a French braid, a Dutch braid or a fishtail, just weave your hair, secure it with a hair tie, and let the compliments roll in.
4. Half-up, Half-down
This style marries the best of both worlds. It's chic yet playful, perfect to show off your wild curls.
Ideal For: When you want to show off your luscious curls while keeping hair away from your face.
How to Style: Grab the top half of your hair, tie it up, and let the rest cascade down freely. It's the perfect look to showcase those beautiful waves.
5. Pigtails
Who says pigtails are only for school kids? They're cute, and carefree, and add a youthful charm.
Ideal For: Weekend outings, theme parties, or just a casual day out.
How to Style: Divide your hair into two sections, braid each, and secure them with hair ties. Feel like a kid again!
6. Twisted Hairstyle
Twists are fashionable, easy, and fabulous for adding a unique flair to your frizzy curls.
Ideal For: A casual day out with friends or a glamorous event, twists work well.
How to Style: Section your hair, twist each section, and secure it with bobby pins. Get ready to make heads turn.
7. Layered Cut
Layers give your frizzy curls an appealing structure, turning them into a luscious cascade.
Ideal For: When you want to add depth and dimension to your curls.
How to Style: Get your hair cut in layers by a professional, then let those curls tumble down freely, and watch as they form a naturally beautiful pattern.
8. Shag Cut
Shag cut gives you a rockstar vibe, it's edgy and suits curly hair like a charm.
Ideal For: When you want to add a bit of a rebel twist to your style.
How to Style: Get a shag cut from a professional stylist and enjoy the edgy yet effortless look it brings.
9. Bob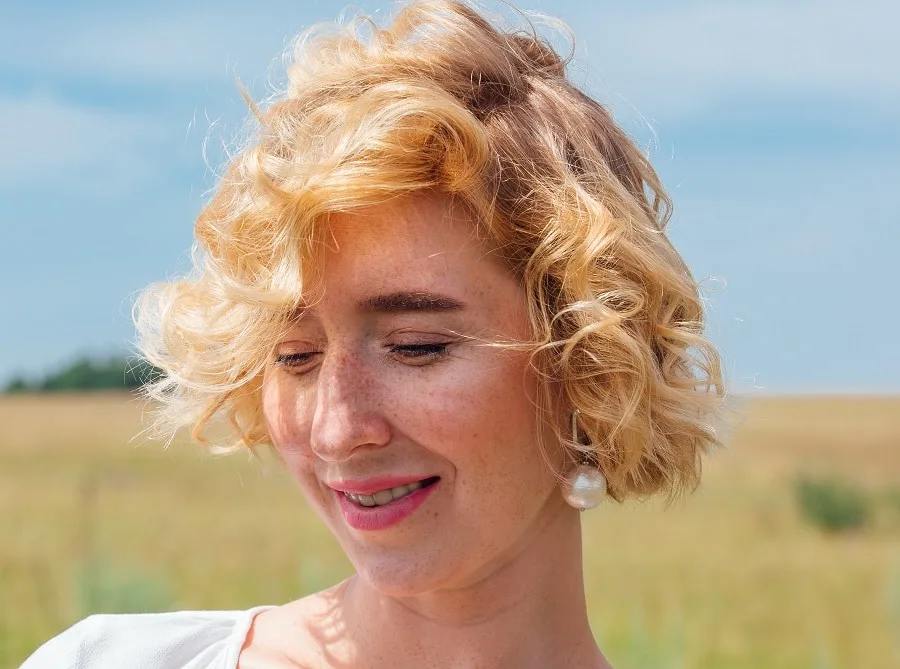 A bob is sleek, elegant, and can be stunning on curly, frizzy hair.
Ideal For: Formal events or work settings where you want to look chic yet professional.
How to Style: Get a bob cut from a professional stylist, then just let your curls do their natural dance.
10. Pixie Cut
The pixie cut is bold, ultra-chic, and a breeze to maintain on curly hair.
Ideal For: When you're in the mood for a drastic change and want a no-fuss style.
How to Style: Get a pixie cut from a stylist, and let your curls naturally fall into place to frame your face.
11. Updo with Accessories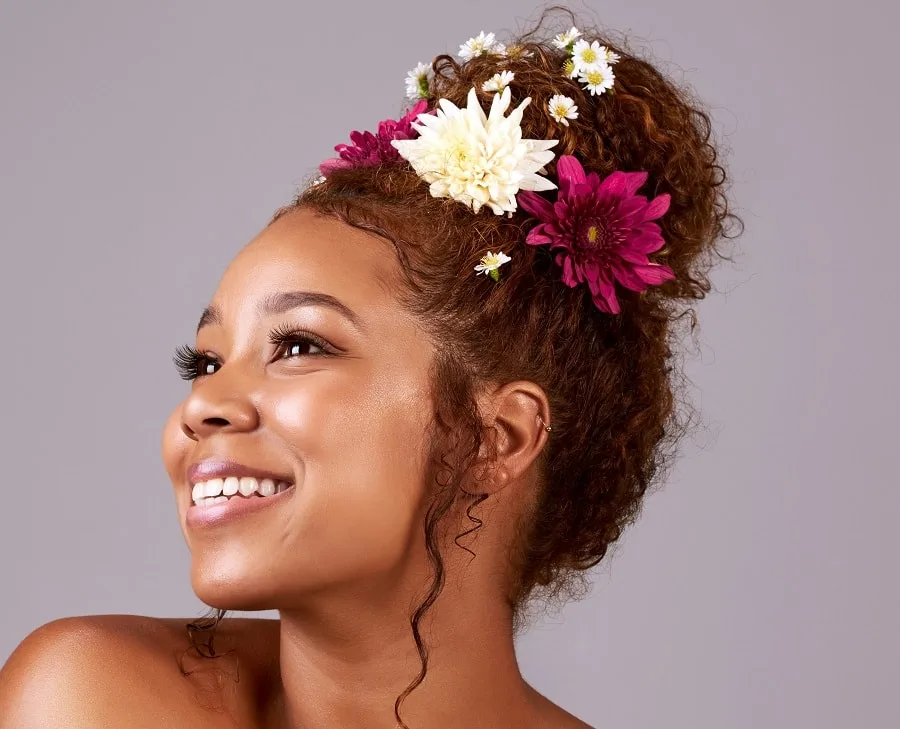 Sprucing up your curls with accessories adds an element of fun and creativity.
Ideal For: When you want your hairstyle to match your vibrant personality.
How to Style: Put your hair up in your favorite updo style, then add accessories – a sparkly headband, some decorative hair pins, or even a flower!
12. Natural Afro
Show off your natural, gorgeous texture with a bold Afro.
Ideal For: Any occasion, especially when you're feeling confident and bold.
How to Style: Let your curls grow out naturally. Regularly moisturize and detangle to keep your Afro looking its best.
13. Crown Braid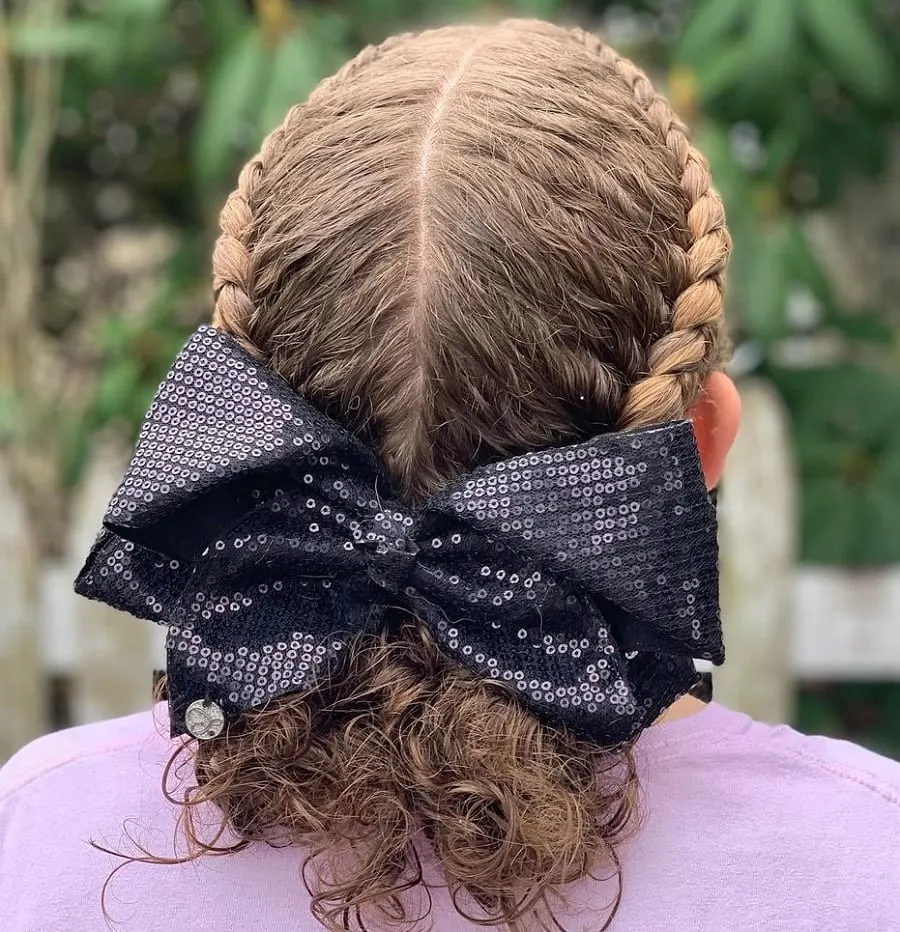 A crown braid gives you a regal look, making your curly hair look like a piece of art.
Ideal For: Weddings, fancy parties, or whenever you feel like looking extra special.
How to Style: Braid your hair around the crown of your head and secure it in place. Voila! You're ready to rule.
Get to braiding, because that's one of the best ways to tame frizzy hair.
Ideal For: This is the perfect hairstyle for if you have a special occasion to attend.
How to Style: Fishtail and French braids are the two best alternatives for a messy updo. Create one or two on the side, and put the rest of the hair in a low bun.
These braids will really help you stand out.
Ideal For: This is one of the coolest hairstyles for curly frizzy hair. It's great for both short and long hair.
How to Style: Start by dividing the hair in two with a middle part. Begin braiding the Dutch braids from the front and finish where the neck starts. Secure the rest of the hair with ties.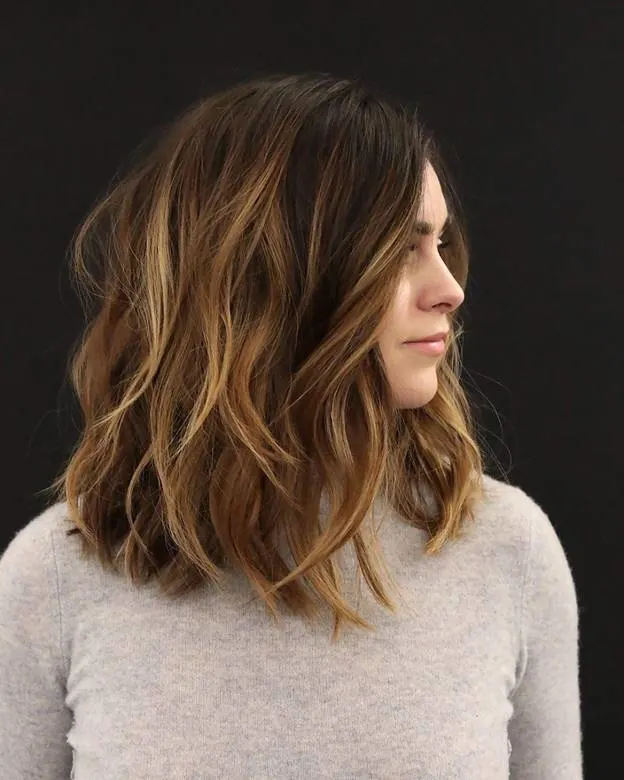 The bob is so chic, but it becomes even better when combined with waves or frizzy curls.
Ideal For: Women who prefer short manes will really benefit from a bob haircut.
How to Style: You can either leave your natural or create messier waves with a flat iron.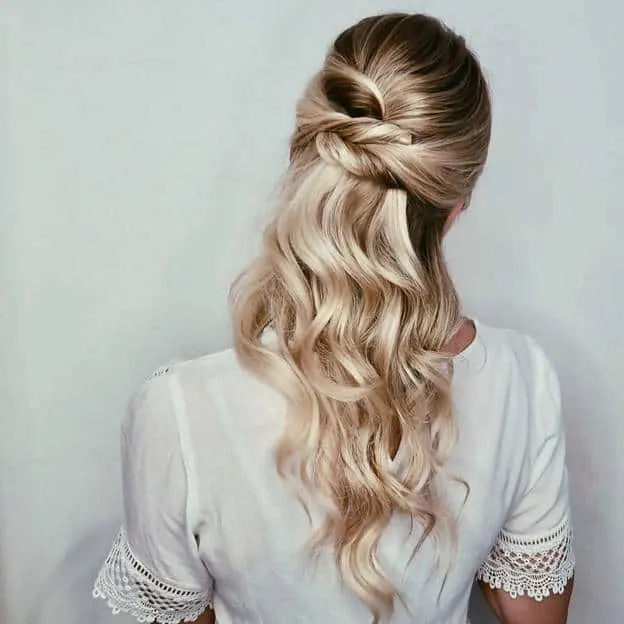 When you don't want to put your static curls completely up, you can recreate this look.
Ideal For: Perfect for second-day hair.
How to Style: Take the top part of your hair, twist two strands from both sides and do several knots.
The elegant chignon will really compliment your fancy outfit.
Ideal For: This is one of the glamorous frizzy curly hairstyles for that you can rock at a wedding.
How to Style: You will need many bobby pins and start creating twists with the hair to recreate the chignon.
When you want to tame down the static, simply use a headband or a hair scarf.
Ideal For: Great for all women with curly hair who need an easy way to upgrade their looks.
How to Style: Put the curly hair up in a updo or bun, then add the accessories.
Curly hair looks so stunning when in a high messy pony.
Ideal For: A day at the office can become better when you're flaunting this hairstyle.
How to Style: Get a hair tie, and put the hair up in a very high pony.
Hair Care Guide for Naturally Curly Hair
How to Prevent Curly Hair from Getting Frizzy
You really need to do your research if you want to solve the problem with frizzy curls.
Let's start with the choices of hair products. Always avoid shampoos and conditioners that contain sulfates. These are ingredients that can take away to moisture from your curly do and lead to extra frizz. Instead, opt for hydrating and natural ingredients. These are definitely the more expensive alternatives, but you will notice a big change.
Less shampoo- This means that you can feel free to shampoo the hairless, but never forget about the conditioner. One of the most important tips for ladies with curly hair is that they should sometimes not use shampoo at all, and go straight to conditioner. Also, deep conditioning once a week can be of huge help. Once again, go for natural, moisturizing ingredients such as oils and more.
Use a wide-tooth comb- Getting a hairbrush is not the best idea for frizzy hair. Instead, buy a quality wide-tooth comb and you'll feel reborn. Start combing the hair while you're still in the shower. Do it right after you've applied the conditioner, it will help with better distribution.
Find the right haircut- Find a hairstylist that will help you understand which haircut works best for you. Don't forget about the regular trims. It's recommended that you get the hair cut every 6 to 8 weeks.
Sleep on a silk pillowcase- Yes, this will make a huge change in your frizzy mane. Silk is not only amazing for the skin, but also for the hair as well. First of all, you avoid all that static that forms when you toss and turn during the night. It will also help you secure the shape of those curls overnight. Satin is great as well.
Use pomade- So many people with curly hair swear on pomade. You should definitely include it in your routine. It does not only reduce static, but it helps with shaping the curls or waves.
Reduce the use of heat tools- Embrace your naturally curly hair, you don't need any styling tools. The heat can interfere with the cuticles, and lead to hair static. If you still need to use them, lower the heat to the minimum.
Try DIY natural masks- There are so many amazing recipes online that you can try, all of them feature natural ingredients.
Irish Hairstyles for Curly Hair
Don't ever be scared of frizzy curly hair. There is a solution to every problem, and this one can be handled with such ease. If you follow all the tips we mentioned above, you will find it so easy to control the static. Start with quality shampoo, hair mask, conditioner, and continue with some of these frizz-free hairstyles.