Roman Reigns has always been the talk of the town ever since he joined the WWE world. His wrestling techniques aren't the only thing that caught the attention of his fans; his hairstyle is something that people love to talk about. But what is so special about Roman Reigns' hairstyles?
His long wavy hair and fade haircut are surely something special but when he puts his hair in a man bun, it looks damn good. Many people want to know about his hairstyles to get a similar look.
In this article, we will discuss everything you need to know about Roman Reigns haircuts. So, let's start.
Roman Reigns Haircuts That Are Fit for The WWE Champion
Roman Reigns is mostly seen with only one type of manly hairstyle, which has become his signature. When you have nice hair, there is no need to change your hairstyle every other day.
Roman has black wavy hair but when he puts them in a bun, they appear silky and smooth. When he brushes back his hair, the neat fade on the sides of his head appears. The fade haircut gives him a clean and proper look.
Some people say that it is a buzz cut but it looks more like a fade cut. It starts from his temples, goes towards the side of his head, and stops at the neckline.
To better understand Roman Reigns' haircut, you should check out the following pictures where he proudly flaunts his hairstyles.
Half Man Bun
Roman Reigns is gathered in a half man bun highlighting his perfect haircut. You can see the fade on the sides of the head up until the temple where it is shaved to give a perfect inverted L shape.
The fade is then joining his beard. You can use some gel to give your hair a slick look like the one on Roman Reigns in this picture.
Sleek Front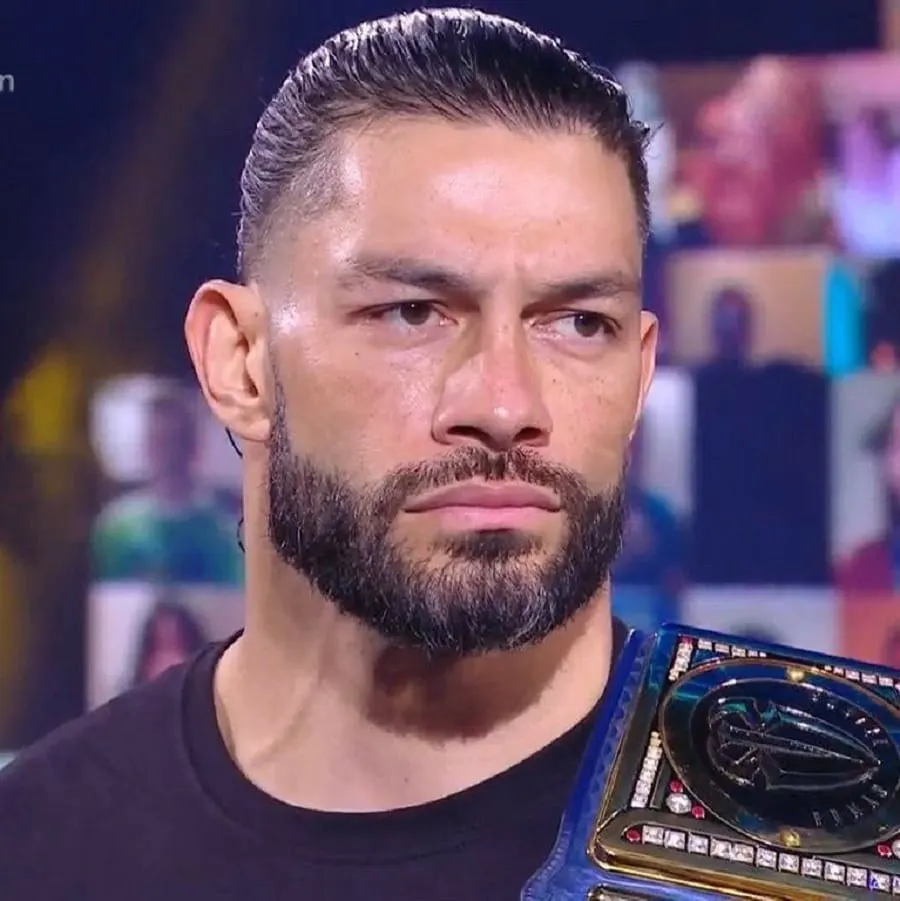 It is impressive that Roman Reigns has no baby hair that could come in the way of his slick back bun. His face shape plays an important role in giving his haircut a nicer look.
If you have a slender face, Roman Reigns hairstyle is perfect for you. If you have a round face, this haircut may won't suit you.
A Perfect Bun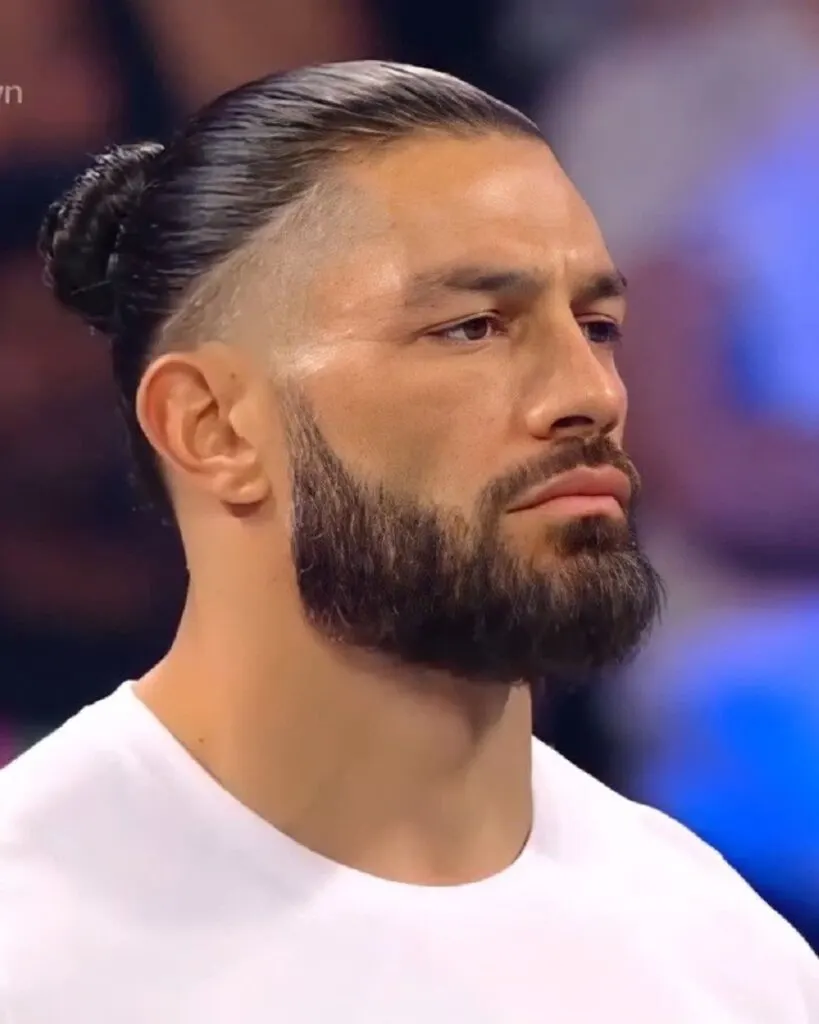 Having long hair comes with some pros, one of them being able to make a bun. Roman Reigns is known for his perfect buns when he is not wrestling.
This gives his fans a great opportunity to praise his looks and haircut, which isn't seen much when he is in his element– aka wrestling. Look how perfect the line dividing his shaved head and long hair is!
Wet and Open Hair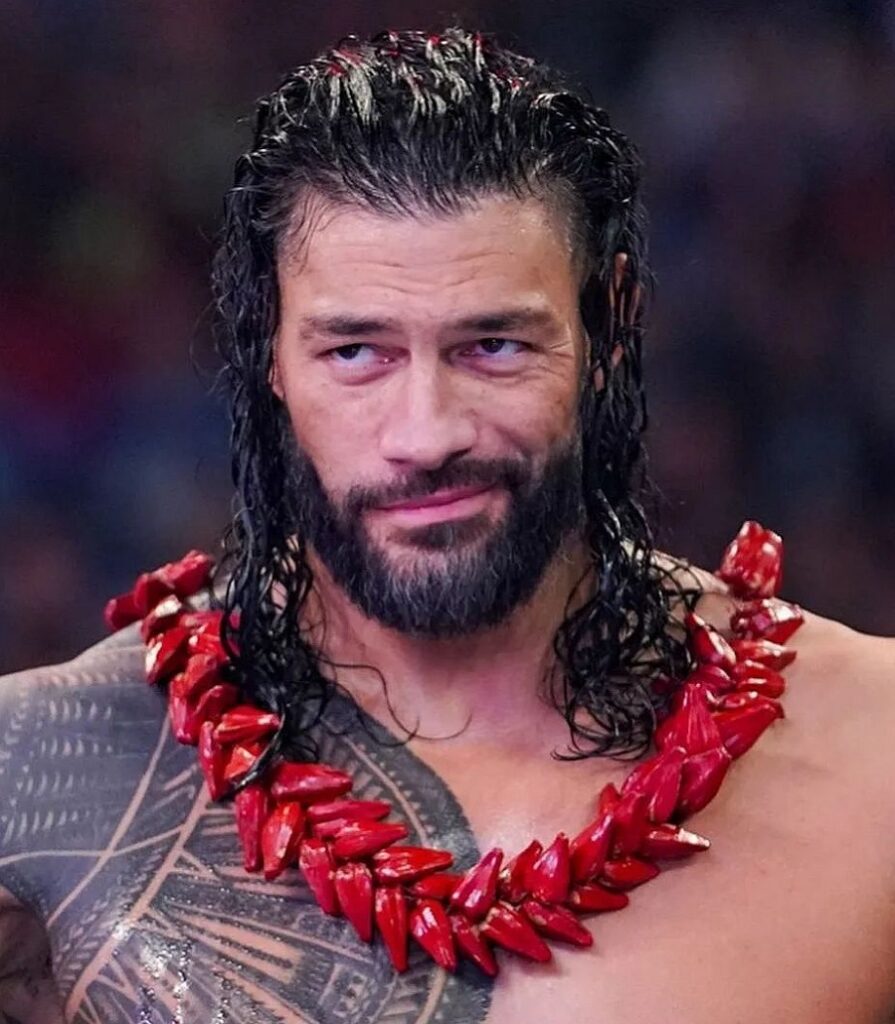 See how his open hair hides his haircut and only let us see his wavy and wet hair! Most wrestlers prefer making their hair wet during the wrestling to give a look like they have just left the gym.
This is just a psychological power ploy to make your opponent weak. Roman Reigns is good at making his hair look properly ready before a wrestling match.
Roman Reigns Haircut With Goatee Beard
Here is a closer look at how you can get a Roman Reigns haircut if you like having a goatee beard.
His shaved hair from the sides of his head only reaches up to his ear in a perfect shape while his facial hair is trimmed, except on his chin and upper lip. Hair is wet and open; this means Roman is ready to wrestle!
Before styling your hair like a Roman Reigns, don't forget to consult a hairstylist about whether the haircut will look good on you or not. Growing your hair isn't as easy as it seems and you have to take extra care of it if you want them to be smooth and shiny all the time.
If you think you can care for them, grow your hair as much as you want and get a Roman Reign haircut as soon as possible.