The shaved head with a beard makes a powerful combination that really stands out among the crowd. The style and length options are virtually endless, but there are a few styles for a beard with a shaved head that pair exceptionally well.
Shaved Head With Beard for Your Face Type
Choosing the right beard for a shaved head is easy with some simple tips.
Bald Men with Beard for Round Faces
Men with round faces will look best if they have either stubble or diamond-shaped beards. The use of sharp lines to accentuate the cheekbones will help balance the look. If you are looking for haircuts, these hairstyles will suit men with a round face.
Shaved Head With Beard for Diamond Faces
Men with faces that are wider at the cheekbones than at the jaw or the crown of the head will look best with beards that are on the short side of a full beard. You can also go with a chinstrap beard or let your beard grow underneath your chin and to your neck. Read our blog post on suitable hairstyles for men with long face here.
Beard for Bald Men With Long Faces
Men with long (not sad!) faces will look great with stubble beards. They can also wear short beards that are full on the sides with an extended goatee.
Beard for Shaved Head with Square Faces
If you are square-faced, you can try a full beard that is short on the sides to complement your strong and manly appearance.
Ideal Shaved Head with Beard Looks
Have a look at our favorite shaved head beard style combinations.
1. Wide Stubble
The wide stubble beard is one of the easiest beards to grow and maintain. Simply allow your facial hair to grow out for a few days without shaving. Once they've reached a length you like, you can trim them with a razor blade to touch up the final product. While this is an easy look to create and maintain, it may not work for all professions.
2. The Scruff
The scruffy beard is another easy one to grow and maintain. All you will need is a pair of scissors to trim the final product. Having a bald head will make the scruffy beard really stand out from your face, giving you a more memorable appearance.
3. The Bruce Willis' Beard
The Bruce Willis beard with a shaved head look is well-known among those who follow this popular actor. For the ultimate in the stubbly, rugged look, this beard style for those with shaved heads is perfect for the guy who does not want to spend a whole lot of time maintaining his facial hair but still wants to look attractive. If you are interested in celebrities, try these celebrity beard styles.
4. Full Beard with The Shiny Bald Head
If you are blessed with full, dark facial hair, you will really make a statement with that thick beard and mustache. To keep it looking professional, you will need to maintain a regular grooming schedule, but the results will be well worth it. If you don't have naturally dark hair, you can always dye the beard, although another variety on this style is to opt for a dyed light beard as a complement to darker skin.
If you have naturally wavy facial hair, this full beard style will be relatively easy to maintain with the proper products and shaving equipment. If you have naturally straight hair, the wavy look can be achieved with the application of certain hair products. This style will need significant grooming to keep the hairs from becoming brittle and tangled.
Here are some of our other blog posts you might find interesting.
6. Twisted Mustache
A shaved head with a beard look can be adapted to suit all preferences. Whether we're talking about hipster styles, retro or old-school appearances, a long beard and a mustache can be transformed and adapted to your liking.
7. Thin Stubble Beard
Not all guys can brag about dense facial hair, but that doesn't mean you can't pull off a great stubble beard look. You can go for a beard that only accentuates the jawline, chin, and mustache, and even keep those thin patches on the cheeks.
8. Ultra Long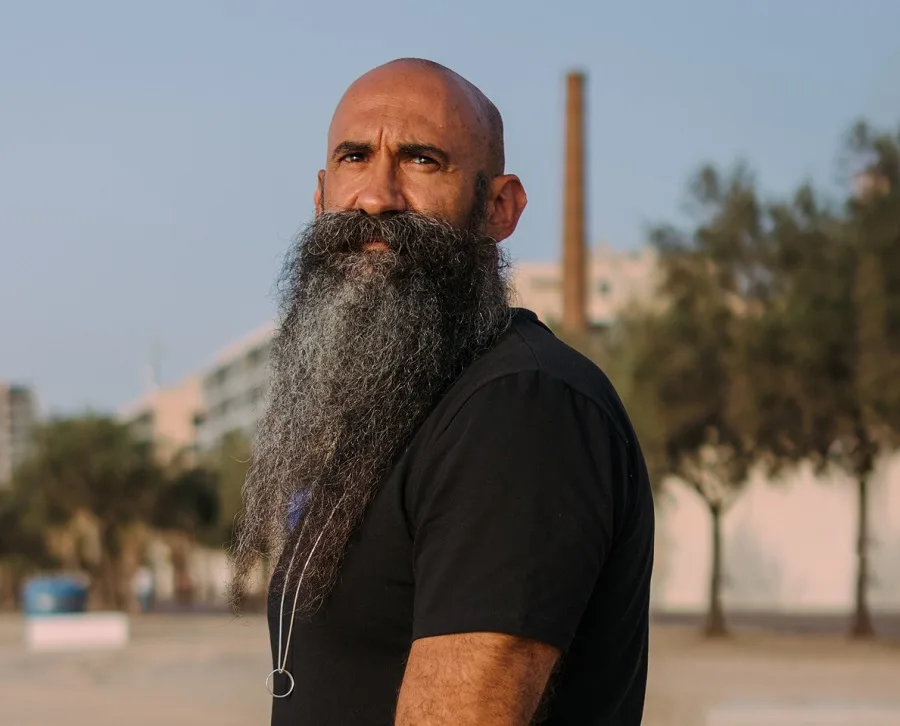 Some men were not blessed with a rich mane but do have a very thick and dense beard. If you want to reach this ultra-long length, you will need to grow it for a couple of years and use proper products to maintain its health.
9. Fancy Beard
When your beard is not as thick as you want, you can keep it just a little bit messy. Define the mustache, extending the shape until reaching the corners of the mouth. Go for an unusually shaped pair of glasses.
10. Garibaldi
You'll love a shaved head with a beard when you want to look like a badass. Opt for a Garibaldi beard, define the shape and keep a shaved head. This way, the receding hairline and the balding won't be so prominent.
11. Full Beard
Full beards create a beautiful contrast between the facial hair and the scalp. Depending on the frames you're using for your glasses, you can encapture certain styles like geek, modern, glammy, etc.
12. Short Balbo
A sort Balbo is subtle and a great trimming style for men who just want to highlight some of their features in a better way. As for the hair, when you're starting to get bald, you might want to consider a short cut or a shaved head.
13. Beard for Black Men
Black men look awesome with beards. Whether they choose to show off their curly or coarse hair, braids or shaved head, the result is truly amazing. You don't need to think twice before doing this transformation, it will look absolutely stunning on you.
14. Goatee
When having a round face, you must create an illusion. You can do so by shaping a small Goatte and keeping the rest of your face shaved, and clean. Also, if summer is here, you might consider shaving your head. Bear in mind that this practice might come with other problems, like scalp burns. Cover your head during sun exposure because you might get sunburned.
15. Mustache and Goatee
A shaved head with a Goatee beard is one of the most low-maintenance looks a guy can have. After shaving the head and styling the Goatee, your look is done. It requires almost daily shaving, depending on how fast your hair grows.
16. Rounded Long Beard
When you have such thick and dense facial hair, it would be such a shame not to sport a long beard. Concentrate it on the lower part of the face, covering only the jawline. Keep your head bald and the mustache short.
17. Verdi
Verdi types of beards focus on creating a great framing for the face, highlighted jawline, and longer front hairs. The mustache must be short, with extended corners that are twisted and lifted.
18. Extended Goatee
An extended goatee beard with an ultrashort mustache and shaved head is a look that suits men of all ages. It creates a rectangular frame for the mouth and chin. The length of your chin beard should be an inch or two.
19. Triangle Shaped
When you want to accentuate your bead, shaving your head and your cheeks is the proper way to do it. However, that means that your facial hair must be perfectly shaped, with no longer threads sticking out. Trimming your hair every few days is necessary.
20. Long Stubble Beard
A shaved head with a medium beard trim is a great idea when you want to look professional and have a hairdo that doesn't occupy too much of your time in the morning. Keep a thin shortly trimmed mustache.
21. The Disconnected Beard and Mustache
The shaved head look can be made even more imposing with the disconnected beard and mustache. Both the beard and the mustache will need to be neatly trimmed to pull this look off successfully. You can either keep the mustache thick or trim it down to be a thin line above your upper lip.
Celebrities With Shaved Head and Beard
Dwayne Johnson
To get such a clean, nice bald head, we definitely recommend you to shave as often as you can, even daily. You can incorporate this in your routine and do it each morning, before going to work. A short, edgy, salt and pepper beard like Dwayne Johnson will look great if it's also trimmed regularly.
Ben Kingsley
If you are an older man that loves Ben Kingsley's look, get ready for a routine that involves shaving your head and your cheeks each day. This way, the goatee beard and the mustache will get all the attention they deserve.
Nick Offerman
Nick Offerman is one of those lucky guys who have a gorgeous beard color and very thick, dense facial hair. At first look, you would be tempted to say that it's quite messy, but, in fact, it has an excellent round shape that frames his jawline and cheeks.
Tyson Beckford
When you are bald, that doesn't mean you can just easily ignore your scalp. You still need to wash it, exfoliate, moisturize, shave or trim. Also, even if the beard is shortly trimmed, just like Tyson Beckford's, hair oil should certainly be included in your hair and facial care routine.
Tait Fletcher
When you are an eccentric guy, you need a look that suits your tastes and that flamboyant personality. A loosely braided beard and a long mustache that is styled upwards is certainly a combo that will catch all eyes.
Howie Mandel
Howie Mandel's look is something you can easily recognize anywhere! A short goatee with a mustache is his trademark and he loves to wear accessories such as diamond earrings.
Travis Fimmel
The Viking series star, Travis Fimmel, sports a long ducktail beard with a mustache that is shorter on the sides and features a soul patch. The blonde and longer threads from the chin make his face look elongated and slimmer.
John Travolta
John Travolta has powerful facial features and a bald trim with a three days stubble beard makes him look manly and hot.
FAQs
What is a suitable beard length for a shaved head?
A shorter beard is often best for a completely shaved head, so it doesn't overtake your entire head and face.

But if you like the look of a longer beard and feel confident that you can keep it well-maintained, try it out! The worst thing that can happen is you don't like it and can trim it shorter.
Does a shaved head and a beard look professional?
Yes, a shaved head and a beard can look professional if they are well kept, neatly trimmed, and clean.
Should I go for a beard or no beard with a bald head?
This is entirely personal as either can look good on a bald head. Being able to rock a bald head exudes confidence; adding a beard to it brings in personal style.
Can I style sideburns with a shaved head?
Yes, as long as you keep them neat and trimmed. We think the best style for sideburns into a beard is a taper fade.
Where should a beard start for a bald head?
Generally, a good place to begin is the middle point of your ears. This helps to maintain a symmetrical cut on both sides.

But you may want to try a different style of beard like a goatee, which frames the chin. A goatee can stand alone as a frame of the chin, connect to a mustache, or fill the chin.

Having a beard may thin out or make your face look fuller, depending on the trim. Experiment with more beard and trim it until it gives you the look you want.
Try some of the shaved head beard styles listed above and make sure you take proper care of your beard. When in doubt, consult a barber to determine the shape of your face and the beards that will go best with your build.