Are you a fan of wrestling and want to copy the hairstyle of your favorite wrestler? From the big wild hairstyles to the practical buzz cuts and buns, wrestling hairstyles have always been over the top!
Even with functional styles for matches, wrestlers still express themselves through their hairstyles when making dramatic entrances to pump up fans.
Their bold, ever-evolving hairstyles have become a part of wrestling. If you're looking to liven up your look, wrestler's haircuts provide endless inspiration.
Bold Wrestler's Haircuts and Hairstyles
Give your hairdo an update with a cool wrestling haircut! Here are 17 cool hairstyles sported by popular wrestlers you can copy.
1. AJ Styles – Messy & Swept Back
AJ Styles has long blonde hair that he sweeps back with his fingers during his entrance. The messy style is easy to do and is very low maintenance, meaning you don't need to worry about using any extra product.
2. Kevin Owens – Short Mid Fade
If you're willing to spend a bit more time on your haircut, consider copying wrestler Kevin Owens' short spiked look. Its mid-fade keeps things clean-cut and fresh.
3. The Rock – Shaved Bald
It wouldn't be a complete list of wrestling haircuts without including the ex-WWE wrestler and celebrity actor The Rock.
If you're okay with having no hair, go completely bald and shave your head to smoothness.
4. Randy Orton – Buzz Cut
A buzz cut is as low maintenance as it gets without being bald, and Randy Orton is a wrestler who loves the haircut so much it's his trademark. Wear it with a full beard trimmed short for the best look.
5. Seth Rollins – Man Bun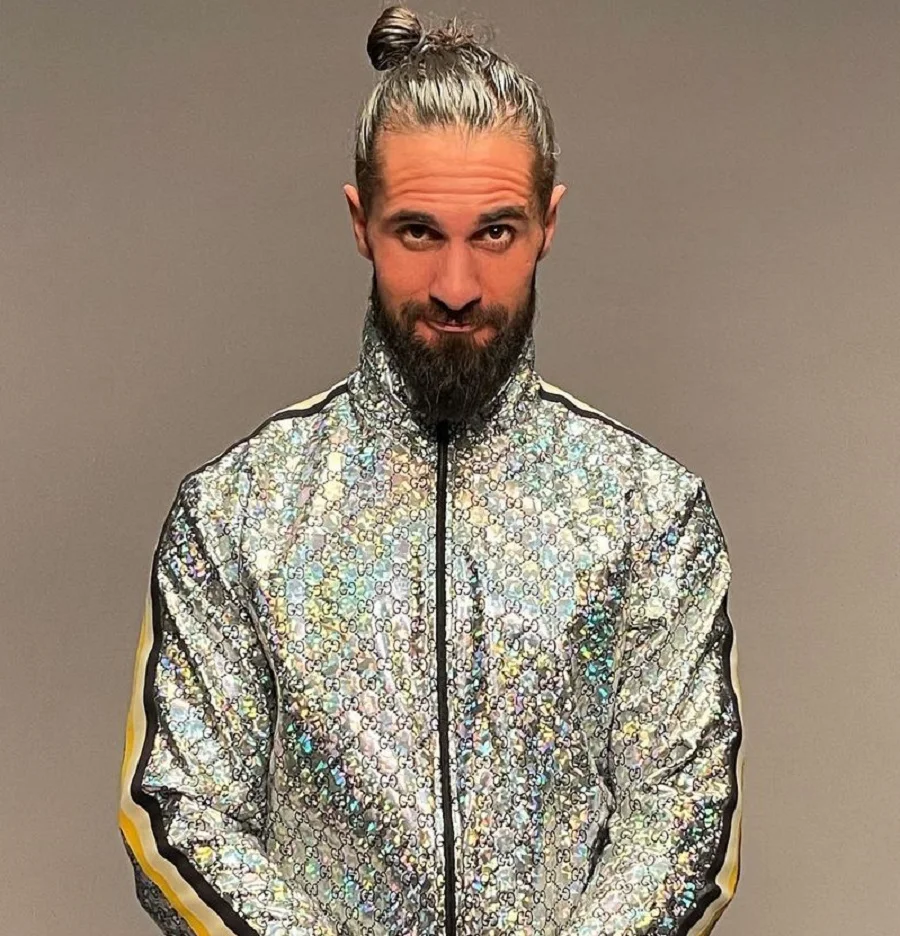 When wrestlers with long hair need to get it out of the way, they rock a man bun like Seth Rollins. Comb in a bit of product to make it sleek or use your fingers to casually comb it up.
6. Becky Lynch – Side Braid
We love a female wrestler who is all about girl power, so we're paying homage to Becky Lynch's long ginger hair.
She parts her hair off-center and flaunts a beautiful fish braid to keep her locks pinned back on one side.
7. Charlotte Flair – Blonde Waves
You would never guess from her bleach-blonde waves that Charlotte Flair is a wrestler. She rocks sporty hairstyles on the ring and stunning hairstyles off the ring.
She probably uses a curling wand to make the swirls in her long hair, but you can also braid your hair overnight and spritz in sea salt spray in the morning for the texture.
8. The Miz – Simple and Short
Let's start with a classic wrestling haircut. Buzzed sides give wonderful framing to a square face.
Leave the top part slightly longer but keep the buzzed look. Use your fingers to push the hair forward toward your forehead.
9. Finn Balor – Crew Cut
Irish wrestler Finn Balor is well known, aside from his swift wrestling moves, for his sexy crew cut.
He has a gradual fade, which always looks clean-cut and handsome. It's easily styled with a little product on the fingers to give hair up top some texture.
10. John Cena – Buzz Cut + Shaved Sides
Can you see him? No, you can't because It's John Cena. Just kidding but you can see the cool buzz-cut hairstyle by John Cena.
The sides and back are short, and the transition of hair length is seamless. You can style the front by pushing it up a little with your fingers.
11. Hakuhō Shō – Sleek Topknot
Another great haircut for guys who have hair that is at least medium length is a Sumo hairstyle. The hair is smoothly combed into a high knot ponytail, keeping it off the face and out of your eyes.
12. Tyler Bate – Messy Wavy Hair
Does your hair have a natural wavy texture? Resist the urge to chop it off or buzz it short.
A tapered side paired will not only keep those waves tamed but will frame them so everyone notices that gorgeous head of hair first.
13. Damian Priest – Half Ponytail with High Fade
For men whose hair is much longer than shoulder length, try this edgy wrestling haircut, which features a half ponytail with a high fade.
You can either use a comb to sweep the hair away from your face or fingerstyle and smooth it with gel.
14. Edge – Middle Parted Wrestling Haircut
Adam Copeland aka Edge has long shoulder-length hair with layers. This is one of the best hairstyles in wrestling.
Grow your hair long enough, then part it in the middle. After that, all you have to do for styling is sweep it to the side with your hands.
15. Roman Reigns – Slick Ponytail
If you're a fan of American WWE wrestler Roman Reigns, you've no doubt noticed he keeps his hair wet for matches.
He previously revealed he prefers the 'cool' look and finds a half ponytail with a temple fade easy and convenient.
16. Brok Lesnar – Mohawk Ponytail
American-Canadian wrestler Brock Lesnar is one beefy dude who appreciates the detail in a mohawk ponytail.
This clean-cut wrestling haircut is great for guys who like to keep their hair long, and the edgy high fade is easy to maintain on your own.
17. Umaga – Twist Braids
Here is a celebrity wrestler with braids. If your hair is long enough to do braids, make twist braids on top of your head directed away from the hairline.
Use tiny hair bands to secure the braids. Shape up your sides with a tapered undercut that emphasizes your strong bone structure.
The next time you're on the hunt for a trendy new look, look at these wrestling haircuts for inspiration. Braids, fades, ponytails, and short textures it's all there. So, no matter your hair length, you're bound to find a look that suits you.
Trending Topics