If you think that mahogany hair color can't change your image, you haven't seen all the amazing mahogany options. Don't spend all your life going for simple brown, blonde, and red hair shades. Mahogany has something special to offer you, no matter what kind of natural hair color you have or what you've done to dye your hair earlier.
This interesting shade looks very natural regardless of the hue you choose. There are mahogany brown, mahogany red, and even mahogany black to try. There are also mahogany violet, mahogany blonde, and even mahogany chestnut. Take your pick!
Flowery Mahogany Hair Color Approaches
Mahogany hair color is not just great for all of your locks, it looks fantastic when used as highlights. Mahogany highlights on dark and light hair look truly impressive. If your locks are naturally light, mahogany strands will give them an exciting new look. If your tresses are naturally dark, the mahogany highlights will turn the overall image into something truly unique.
Mahogany can also be used in ombre, balayage, sombre and all other hair coloring approaches. Don't overlook the mahogany color. Embrace it! We prepared 71 different ways the mahogany hair color can be taken advantage of.
1. Cherry Mahogany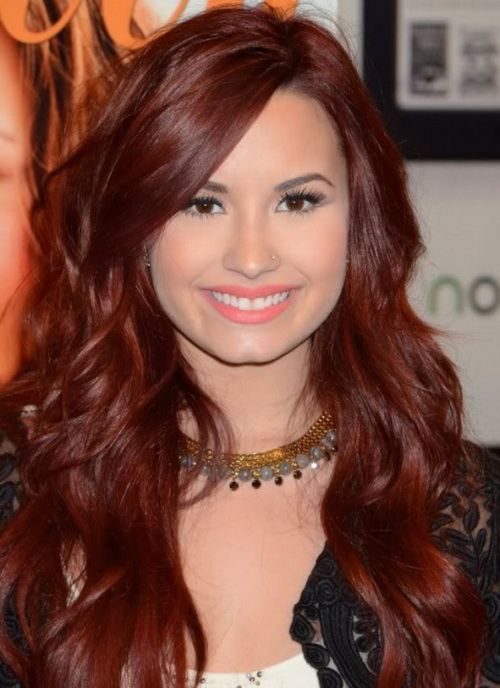 This soft cherry mahogany shade is easily achieved by the girls who have naturally blonde hair. Ask your hairstylist for the lightest cherry mahogany hair dye. You can also achieve this color if your hair was previously dyed blonde.
2. Brown mahogany highlights
If you are not ready to do a full-time dyeing job on your brown hair, consider making brown mahogany highlights. Pay special attention to the front strands that frame your face so the impression is the strongest.
3. Purple mahogany
Adding some purplish shades to your mahogany hair color is the surest way to stand out of the crowd. While purple highlights might seem outrageous on blonds and brunettes, they look amazing with mahogany tresses.
Trendiest 50 Hair Colors for Women in 2022
4. Mahogany red
Redheads are conquering the world so why not become a conqueror? A full-blown red color might not be what you are looking for since it's a tough image changer. But red mahogany is a simple way to become a redhead.
5. Light mahogany brown
Light brown hair often seems boring to young girls. They are always looking for simple ways to change it. One of the approaches is to add some mahogany brown highlights that will help make an impression.
6. Auburn mahogany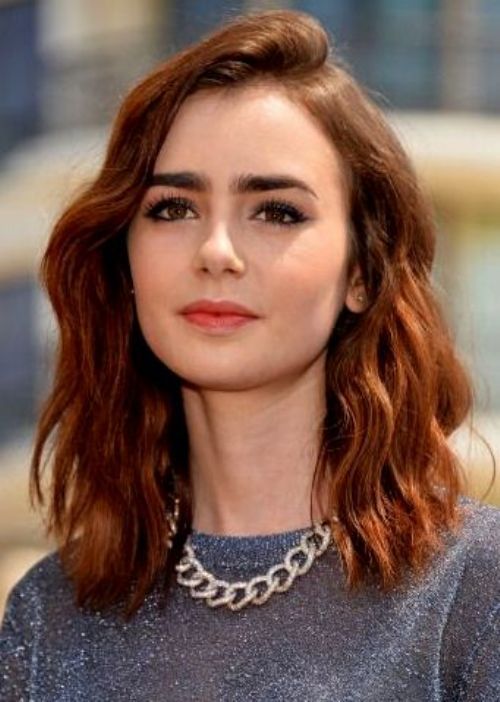 Mixing auburn tresses with mahogany hair color is a simple way to create a copper shade. Redheads often try to get away from the fiery hues and mahogany hair dye is what can do the trick.
7. Going mahogany blonde
This is the way your locks will look if you use the mahogany blonde hair color on your brown tresses. If your hair is naturally dark, then the effect will be darker but a red hue will stay.
8. Purplish highlights
Purplish mahogany highlights can make your dark hair look truly stunning. If you are tired of simple black or dark brown locks, brighten them up with mahogany shades and your image will immediately change for the better.
9. Dark mahogany brown with red highlights
Making an impression is easy when you have the right hair dyes in your hands. Brown mahogany hair color on top and fiery red highlights on the bottom create a long-lasting and unique hair shade.
10. Mahogany shades
Sometimes you don't need a mahogany dye to get the mahogany shade you want. Dark brown mixed with honey blond and fiery red hues can create an impression of completely natural mahogany color.
11. Dark mahogany highlights
Dark mahogany highlights are a perfect addition to simple brown hair. Consider making asymmetrical highlights either in the front or the back. Such unconventional methods are gaining popularity.
12. Natural mahogany
Natural mahogany hair color looks truly impressive but is very hard to achieve. Usually, it requires a mix of several shades. Ask your hair stylist for his or her special approach to mahogany.
13. Blonde-based mahogany
This is the mahogany shade you will get if your hair was initially blonde. The lighter your tresses are, the brighter the end result will be. If you want a darker hue, you'll need to dye it one more time.
14. Cherry mahogany approach
Cherry mahogany is always a wonderful choice for women who want to make a statement. Take a look how various shades of a mahogany look completely different and how amazing the cherry-purple option is.
15. Mahogany hair extensions
If you are not sure about the way bright mahogany hair color will look on your dark tresses, consider getting hair extensions. The modern technologies of attaching a weave allow you to use it anywhere on your head.
16. Mahogany chestnut
While this mahogany chestnut shade is easy to achieve, it looks very natural. This hair color is perfect for girls whose hair is naturally dark red or brown. No touch ups will be needed for a long while.
17. Black and brown
A well-chosen mahogany shade can become a great tool for a transition from black to brown hair. If you want to add some color to your tresses but aren't ready for drastic measures, mahogany can help.
18. Soft mahogany brown
Another completely natural shade that will appeal to girls with dark hair. Mahogany can turn your raven black tresses into soft brown locks in no time.
19. Subtle mahogany highlights
Use subtle mahogany highlights to brighten up your image. You can create them below your natural brown hair or just dye a couple of strands in the moist unexpected places. They'll make a great impression!
20. Dark and rich
Make your brown or blonde hair rich brown with the help of mahogany shade. You'll be amazed at how deep the color can be. Make a statement with deep brown mahogany hair color!
21. Copper and mahogany
Copper and mahogany hair color mix can create a great redhead impression while keeping the maintenance to a minimum. Keep the roots dark mahogany so when your own grow out, they won't be as visible.
22. Dark brown mahogany
If you have a dark mane and want to brighten it up a little, consider using mahogany brown hair color. Girls with black hair will truly appreciate the way their image will change with these mahogany hues.
Beautiful Chestnut Hair Colors
23. Dark golden mahogany
The golden mahogany color is very bright. Unfortunately, such an effect is not too long-lasting. Even though over time, the hue will start to dim, the color will stay rich and impressive.
24. Copper lady
Dark copper shades are exactly what you might be looking for. No matter if your skin tone is dark or light, this rich hair color will always be a good choice. Only copper mahogany can give such undertones.
25. Mahogany with pink hues
Some girls believe that mahogany hair color is too close to brown and there is nothing impressive about it. If you are looking for a way to brighten up your mahogany locks, add a few pinkish highlights.
26. Mahogany with honey highlights
Mahogany hair looks amazing when mixed with blonde shades. Consider creating thin honey highlights to make your image truly magnificent. It's a great way to brighten up your mane.
27. Mahogany hair extensions
If you want to see how mahogany will match your face type and tone, consider getting mahogany hair extensions. They won't just help you make a decision but will allow you to play around with long hair.
28. Natural mahogany
Girls with natural mahogany locks often don't value them. This is unfortunate since natural mahogany tresses look truly magnificent. If you want to brighten them up a bit, add highlights.
29. Partial highlights
If your hair is naturally dark and you are looking for a highlight mix, consider partial mahogany and honey highlights. They will do wonders for lighting up your face.
30. Medium golden mahogany
Medium golden mahogany hair color is the hue you can take advantage of if your natural locks are light. This is a truly impassive choice and you can emphasize it with blonde highlights.
31. Dark blonde mahogany
Dark blonde mahogany is exactly what you need if you are going for the redhead image for the first time. There is nothing outrageous about the hue. It looks soft and natural.
32. Cherry on top
While this cherry color is not exactly natural, it surely makes a magnificent impression. The brightness and the richness can't be overlooked. Make a great statement with this cherry mahogany hue!
33. Unexpected highlights
While some people view mahogany hair color as dull brown, there are many ways to make it truly shine. Consider creating unexpected highlights anywhere on your mane. Think about pinkish and purplish hues.
34. Black and purple
If you want to make a truly grand impression, consider creating and outrageous ombre. Start with dark mahogany top, slowly change the hue to dark purple and end with light purplish shades.
35. True mahogany ombre
Mahogany hair color is a great choice for many types of ombres. You start with dark mahogany brown on top and then can use any shade of blonde on the bottom. Mahogany and honey blonde look really well together.
36. Reddish mahogany
If you have dark skin tone, dark reddish hues will look amazing. Consider dyeing the top part of your mane with reddish hair color and the bottom part with darker mahogany shades.
37. Mahogany highlights for black hair
Mahogany highlights look especially magnificent on black hair. The black and mahogany mix create this special natural impression that no other two colors can. Make sure to give it a try!
38. Burgundy fun
Use balayage technique to create the most amazing burgundy impression. You can add some mahogany hair color which looks stunning mixed with burgundy and cherry hues.
39. Sun-kissed mahogany
Did you ever think that your seemingly dull brown hair can be sun-kissed? Everything is possible with the right mahogany hue. Add some golden blonde to the mahogany shade and enjoy a bright image.
40. Light brown highlights
Light brown highlights look very interesting on mahogany hair. They brighten up the image without seeming unnatural. If you highlight thin strands, then your overall appearance can surely make a statement.
41. Burgundy and cherry
This impressive burgundy and cherry ombre will surely help you stand out. Become the most fashionable diva on the block by using outrageous colors for your next special occasion.
42. Soft and beautiful
The most impressive thing about the mahogany hair color is that it can differ from outrageous and wild to soft and beautiful. This is the softer and more natural option for you to enjoy.
43. Shiny and extravagant
Shiny and extravagant light mahogany locks look great on girls with any skin tones. This color is not easy to achieve and requires regular touchups. However, the result is truly worth the effort.
44. Goldilocks
Did you ever think that bright mahogany highlights can make your mane look golden? If your hairstylist is a real professional, he or she can use mahogany hues to brighten up and outline any color.
45. Mahogany brown partial highlights
Mahogany brown partial highlights are often used to brighten up the image a little without completely changing the hair color. They are a good choice for raven black locks.
46. Burgundy and blonde balayage
Burgundy brown and blonde balayage is a wonderful choice for any woman who wants her hair color to make an impression. It doesn't look 100 % natural but all the attention will be yours.
47. Mahogany flames
Consider adding your dark and beautiful locks an extra oomph with mahogany hair color. You'll need to use the lightest partial highlights technique to get an effect of flames shining through the dark.
48. Be outrageous
Mahogany hair color gives you a chance to become truly outrageous and extravagant. Mix simple dark mahogany with purplish or even bluish shades. Don't be afraid to stand out of the crowd!
49. Take care of the bangs
The key to the right partial highlighting is the bangs. No matter if your bangs are long or short, wispy or blunt, make sure to dye them the same light color you use for the partial highlights.
50. The real deal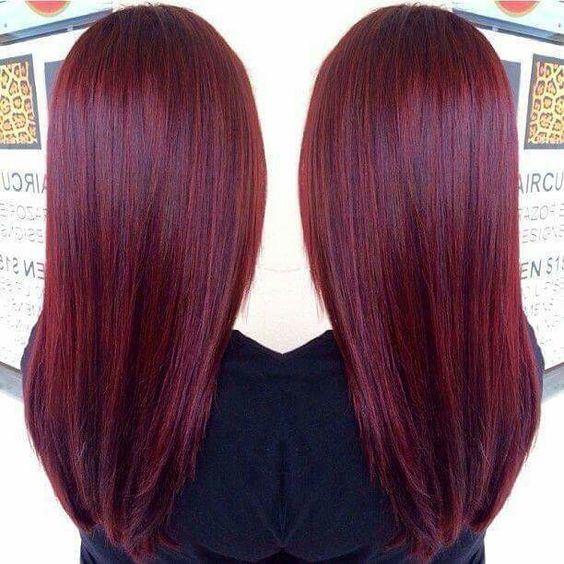 Have fun experimenting with different mahogany hues for highlights. You can highlight just the thinnest strands and still get the most impressive effect.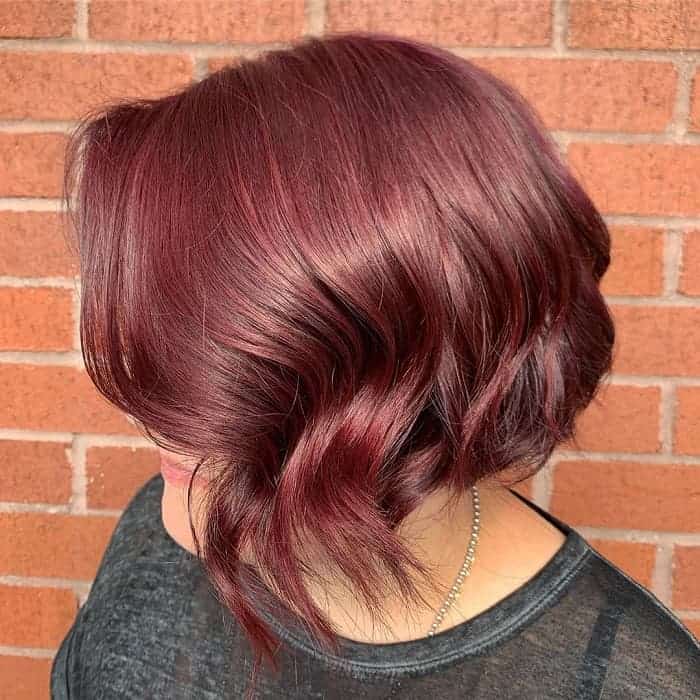 Mahogany hair color is a great tool that you can use to change your image anytime you wish. Now that you've seen how many various hues mahogany has to offer, go ahead and take advantage of at least one.