If you think that mahogany hair color can't change your image, you haven't seen all the amazing mahogany options. Don't spend all your life going for simple brown, blonde, and red hair shades. Mahogany has something special to offer you, no matter what kind of natural hair color you have or what you've done to dye your hair earlier.
This interesting shade looks very natural regardless of the hue you choose. There are mahogany brown, mahogany red, and even mahogany black to try. There are also mahogany violet, mahogany blonde, and even mahogany chestnut. Take your pick!
Flowery Mahogany Hair Color Approaches
Mahogany hair color is not just great for all of your locks, it looks fantastic when used as highlights. Mahogany highlights on dark and light hair look truly impressive. If your locks are naturally light, mahogany strands will give them an exciting new look. If your tresses are naturally dark, the mahogany highlights will turn the overall image into something truly unique.
Mahogany can also be used in ombre, balayage, sombre and all other hair coloring approaches. Don't overlook the mahogany color. Embrace it! We prepared 71 different ways the mahogany hair color can be taken advantage of.
1. Cherry Mahogany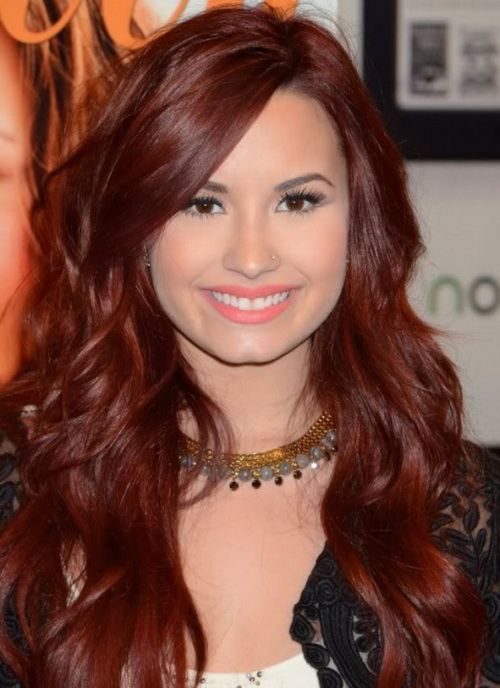 This soft cherry mahogany shade is easily achieved by the girls who have naturally blonde hair. Ask your hairstylist for the lightest cherry mahogany hair dye. You can also achieve this color if your hair was previously dyed blonde.
2. Brown mahogany highlights
If you are not ready to do a full-time dyeing job on your brown hair, consider making brown mahogany highlights. Pay special attention to the front strands that frame your face so the impression is the strongest.
3. Purple mahogany
Adding some purplish shades to your mahogany hair color is the surest way to stand out of the crowd. While purple highlights might seem outrageous on blonds and brunettes, they look amazing with mahogany tresses.
Trendiest 50 Hair Colors for Women in 2021
4. Mahogany red
Redheads are conquering the world so why not become a conqueror? A full-blown red color might not be what you are looking for since it's a tough image changer. But red mahogany is a simple way to become a redhead.
5. Light mahogany brown
Light brown hair often seems boring to young girls. They are always looking for simple ways to change it. One of the approaches is to add some mahogany brown highlights that will help make an impression.