Mahogany hair color or auburn – which of the two hues should you go with? While the two colors might look the same, they're not. They have subtle differences that each work incredibly well to bring your hair color to life.
Their rich, vibrant hues aren't just versatile; they are remarkably flattering on most people. Here's everything you need to know about picking the appropriate hair color for your skin tone.
Difference Between Mahogany and Auburn Hair Color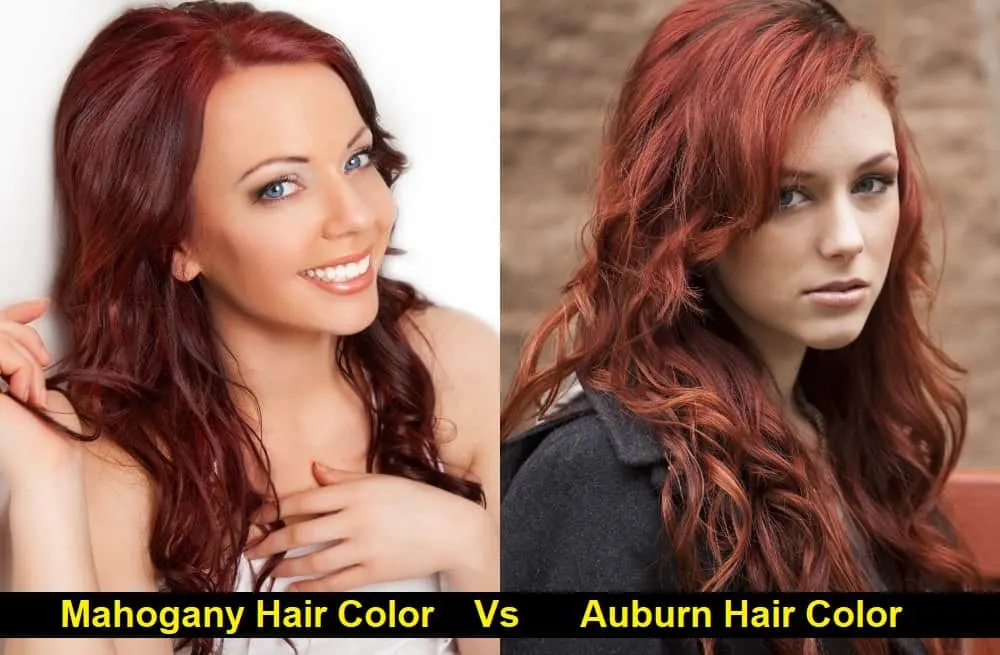 The best way to describe mahogany is – a deep, dark, reddish-brown shade. It has purple-based red undertones, which often occur in darker brunette hues.
One of our favorite things about mahogany is that it has both warm and cool undertones, making it one of the most versatile hair colors on the spectrum. If you're looking to achieve a deep dramatic look, mahogany would be the way to go.
Auburn is also in the reddish-brown family of colors but gives off an orange-reddish tinge, making it appear brighter than mahogany.
One of the most outstanding features of auburn is its warmth. Its face-flattering hue complements a wide range of skin tones, all the while making your hair look glossy, bouncy, and healthy.
Who Should Go for Mahogany Hair?
Mahogany hair compliments all skin tones, from fair to dark. Even personalize the look for warm or cool undertones by adding highlights or lowlights.
People with naturally dark brown or chestnut-colored hair suit mahogany best. While mahogany suits everyone, people with blond hair may want to consider auburn for a more natural look.
How to Get Mahogany Hair
Blondes
When you turn blonde hair into a red hair color, getting that deep tone out is where things get tricky. You need to approach the color conversion process the same way you would any other light-to-dark shade transformation.
It all comes down to layering the color gradually to build up pigment and depth over time. Ensure you use a product that delivers the purest mahogany pigment.
The technique involved in transforming brown hair into a mahogany hue depends on how deep the base color of the underlying hair is. The conversion process is fairly easy. Apply the deep reddish-brown shade over the hair.
If the base color is a deep dark brown, you may have to lift a few levels off before color application. Ensure the toner you use after is tailored to the undertone of the base color.
Redhead
The rules for turning red hair mahogany are the same as those for brunettes. If you have a lighter base – like a strawberry blonde or copper blonde – apply the mahogany toner directly over the hair. To create a sufficient amount of depth and saturation, you'll need to layer the red hues.
On the other hand, if the base red color is deeper than mahogany, you'll have to lift a few levels off to allow the new shade to show up.
Who Should Go for Auburn Hair?
Auburn hair flatters a variety of skin tones and looks. Fair to medium skin tones may pull off the look better than others because these complexions unlock a wide range of complimentary red hues.
Auburn works with both warm and cool undertones. This red shade, in particular, also pairs well with people with hazel, green, or blue eyes. The auburn color makes them pop.
How to Get Auburn Hair
Blondes
To get a brighter, lighter shade of auburn, you'll need a blonde/brown hair color base to begin with. Alternatively, you can lift your existing hair color a few shades before you add the hair dye. Ginger-toned auburn works best for this category of hair.
Brunettes
If your current hair color is a medium to dark brunette hue, layering a warm, rich auburn color over your existing hair will work like a charm.
Copper tone auburn is a safe bet for darker brunette hair. There's no need to lift dark hair. Otherwise, you'll have more of the reddish-orange tones shining through.
Redheads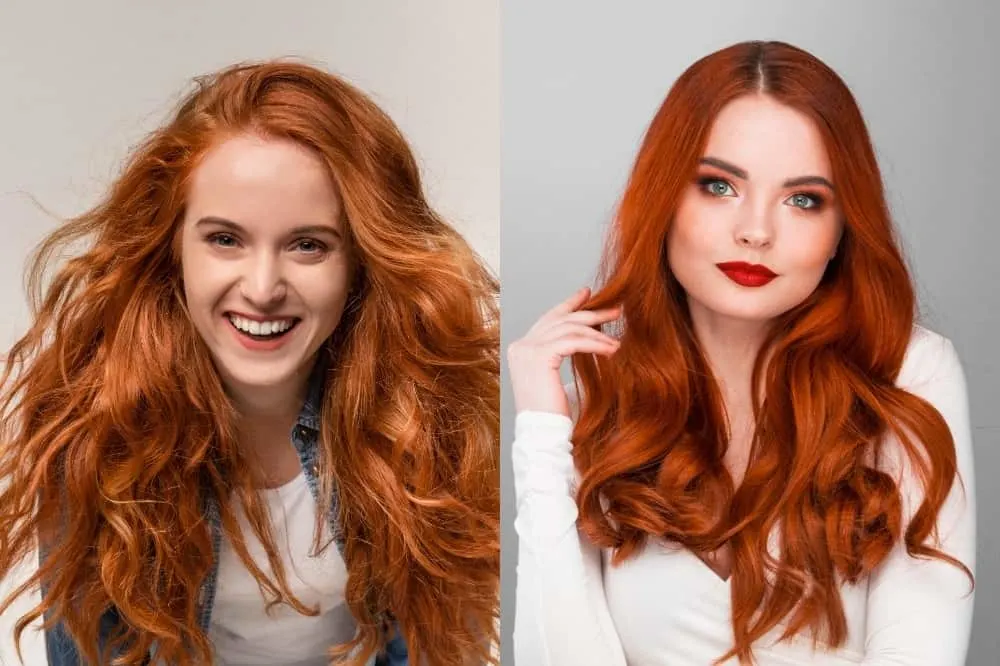 If you're already a redhead, apply the color over your hair. To achieve deeper saturation levels like auburn red hair, layering the hues gradually should do the trick.
FAQs
Below are answers to frequently asked questions about auburn and mahogany hair.
Is auburn hair color darker than mahogany?
Auburn and mahogany have different color bases and undertones. Mahogany is a shade of red mixed with purple, while auburn is a red mixed with coppery orange.

The purple undertones in mahogany hair color make the shade appear darker in hue and deeper in saturation. This darker appearance means mahogany tends to be a cool red.

Auburn usually appears brighter against mahogany because of its orange undertones. These undertones also make it warmer in color than mahogany
Are auburn and mahogany hair both red shades?
Both auburn and mahogany are varieties of red hair color. In certain lighting, these two hair colors may also appear brown because of their undertones.

While mahogany hair appears darker, auburn tends to look more brown instead of red because mahogany contains more red pigment. Mahogany is a deeper red color, and auburn is a natural ginger hue.
Mahogany or auburn hair color — which lasts longer?
Dyeing your hair a red shade requires more maintenance than other hair colors. Red hair dye fades faster because the molecule is larger than other color molecules, meaning it does not soak into hair deeply.

Expect to return to the salon every 4-6 weeks for a touch-up with either auburn or mahogany hair. If you naturally have darker hair, mahogany color may last longer and fade softly. Brunettes might only head to the salon every few months for touch-ups.
Auburn or mahogany — what's better for covering gray hair?
Both auburn and mahogany work well for covering gray hair. The best option for you depends on your skin tone and undertones. Light to medium skin tones benefits best from using mahogany to cover their gray hairs.

Mahogany is a cool red that works to compliment your complexion and hide your grays. For darker skin tones, a coppery red like auburn is ideal for covering gray hairs. Its subtle warmth gives your complexion even more brightness.
Does warm skin tone suit auburn or mahogany hair color?
Auburn color looks beautiful on warmer skin tones because of its orange-red base. This coppery base compliments warm undertones well.

Mahogany can also work for warm skin tones. It's deep red-brown color contains both warm and cool undertones. While many mahogany colors veer cooler, you can ask your stylist to mix a warmer hue.
Choosing mahogany hair color vs auburn hair color is all a matter of preference. They both belong to a complex color category, and that's part of their charm. They are stunning and ultra-versatile – qualities that make them ideal for a wide range of skin tones. You can't go wrong with them.