Are you tired of your long locks that require so much maintenance? Then maybe that's a clear sign to cut them off and opt for something bold and cute like an undercut pixie!
The trim is versatile, leaves plenty of room for styling, and is the perfect canvas for color blends. Also, if you love razored designs, undercut pixie will be a great fit for you.
Undercut Pixie Cut Ideas
If you're not convinced to chop off your locks, check out this article and discover cool ways to style your undercut pixie!
1. Undercut Pixie with Blonde Ombre
For this undercut pixie, the crown hair must have enough length so you can style loose full waves and also build some height.
Choose an ombre that keeps the roots in a light brown color that gradually transits into a blonde nuance.
2. Galaxy Highlights
Keep the hair from the sides and back short, with an extended length for the top. Add a pop of color by creating purple and dark blue highlights.
Comb over the top and add some hair clay to define the area better.
3. Temple Undercut With Asymmetrical Pixie
For this undercut with pixie hairstyle, you will create an asymmetrical trim for your bangs. Swipe them to the side, and on the other part use a trimming machine to build the undercut.
Keep the shorter side hair in its natural color and dye the hair in a beautiful blonde nuance.
4. Curly Pixie with Blonde Highlights
If you want an elongated look, then you should definitely get an undercut next time you go to the salon.
The hairstyle is very low-maintenance and keeps the sides and back shortly trimmed while the attention is directed on the curly top.
5. Duo Tone Pixie
If you don't want to go through the bleaching and dyeing process that might damage your hair, you can easily change your hair color with colored hair spray.
Go for a pixie haircut and lift the top. Use the pink spray for the crown area and the blue one for the sides.
6. Multicolored Pixie With Razored Lines
This unique undercut pixie can't be created at home, so you better find a great colorist who can do this stunning color blend.
First, create a layered top with asymmetrical bangs. Secondly, on the side, create a colored highlighted section, framed by two razored lines that make it stand out.
Opt for an icy gray nuance for the rest of the hair and integrate faded rainbow highlights.
7. Tomboy Pixie
This tomboy look suits women with strong personalities who are not afraid to experiment and go for bold haircuts.
To copy this pixie haircut, do an undercut and keep your hair in its natural color for the sides, back, and top roots. Transit to a lighter brown color and style the ends towards the center of the crown.
8. Platinum Blonde Pixie with Glasses
If you love creating contrast, then you should mix your natural dark color with a bright blonde. Do an undercut and keep the top long.
Part it on the side and lift up the roots by using a rotative brush towards the back. The hairstyle is a combover that creates height and dimension. For a more professional look, choose a pair of glasses with a rectangular shape and thick black frames.
9. Copper Pixie for Older Women
Are you a woman over 50 with greying hair? When you're embracing your white hair but still want to add a pop of color, you can dye only the top hair.
Choose a copper color for your pixie undercut as it suits women with fair skin with pink undertones.
10. Blue Pixie with Rounded Glasses
Straight blunt bangs are perfect if you want a haircut that highlights your facial features. Go for a vivid color like a slightly dark blue shade.
Use hair foam to define your strands and keep unruly pieces in their place.
11. Dark Red Asymmetrical Pixie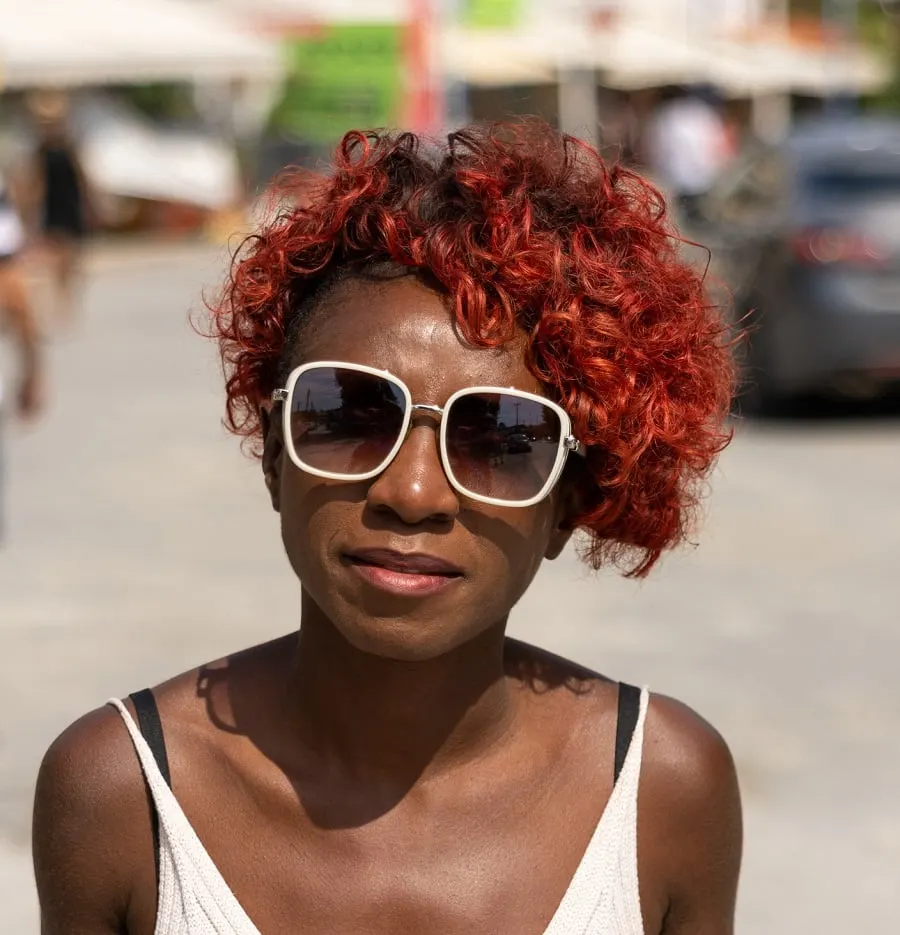 If you have dark skin, then a bold red color is the best choice, especially when you want your curls to gain all the attention they deserve.
Choose an asymmetrical pixie, with long, side-parted, and swooped bangs. Also, keep your roots in their natural shade.
12. Bright Purple Pixie with Side Undercut
When you want your hair color to be bright and vivid, you will need to prep your hair. Bleach your strands and always use shampoo for colored hair to maintain the dramatic shade.
Go for an undercut pixie and swipe the top to the side. Tease the roots to give your hairstyle more height.
13. 3C Curls Pixie
When your hair is this curly and you crave a low-maintenance haircut that keeps your kinky hair in its place, a pixie undercut will definitely become your best friend.
Style blonde highlights that will enhance the texture of your hair. You can wear them as they are or add some hair mousse to define each curl better.
14. Messy Pale Magenta Pixie
Black women love pixie cuts! Women with darker skin tones will look beautiful with a pale magenta hair color. Dye only the long and curly pieces, so your ringlets will stand out even more.
If you're going for a day at the beach, just run your hands through your hair and let the wind play with your locks.
15. Triangle Side Razored Design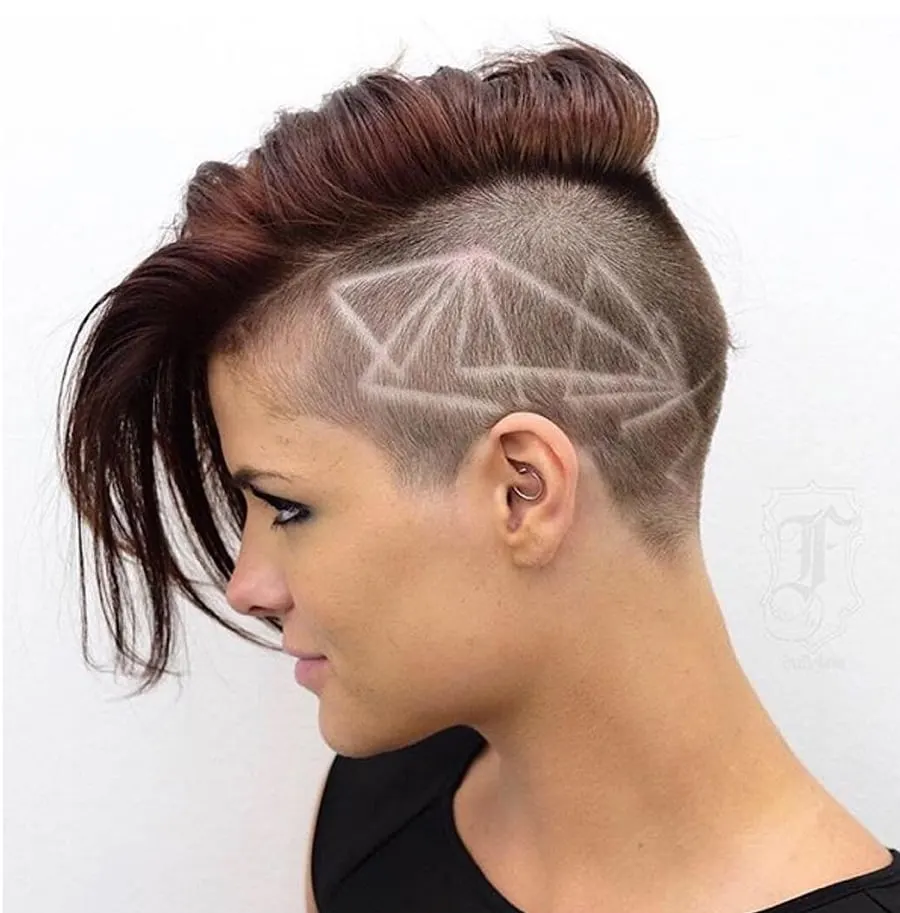 As a woman with a strong personality who doesn't mind people staring with admiration at you all day, you can definitely pick an undercut pixie with a razor side design.
Keep the top long and swiped to the side, revealing the shorter section. With a razor pen, define your triangle design and make it stand out.
16. Pixie with Side Bangs and Headband
Such thin blonde highlights can have multiple purposes, such as masking the white and gray hairs or giving your hair more texture.
If you want to make this hairstyle look more romantic, you can wear a headband with a plaid print and a bow.
17. Pixie with Top Waves for Women over 60
Who said that if you're getting older, you can't opt for a look that matches your young spirit, looks modern, and makes you feel cool and funky?
An undercut pixie is both low-maintenance and hip and will create all the volume you need for the crown area. Lift the top and create waves that fall over each other towards the back, building more dimension.
18. Red and Orange Bangs
Rock your new pixie undercut with a messy top and colored bangs. Also, on the sides and back, you can pull off a medium fade.
As for the fringe, create orange, red, and magenta pieces that beautifully blend.
19. Platinum Blonde Pixie with Braid
Platinum blonde colors with an icy gray coating are pretty fastidious. They require frequent touch-ups, depending on how fast your hair grows and its natural color.
But if you don't mind redoing the roots quite often, the hairstyle is a true attention-grabber. Spice it up with a loosened cornrow braid that delimits the longer pieces from the undercut.
20. Layered Pixie with Razored Line
Layer the top of your undercut pixie and on the shorter side, do an arched razor line as a design.
Straighten your hair and don't forget to apply heat protection sprays or products. Because your hair is blonde, it will quickly gain a damaged aspect if you ignore this hair-prepping step.
21. Mohawk Pixie
This hairstyle with an undercut is a mix between a pixie and a mohawk. The hair has the same length on the top and in the nape area, while the sides are shortly trimmed.
The trimmed parts are smaller than for a regular mohawk and go around the ears.
22. High Top Pixie
A taper fade for the sides and back will better highlight the rich crown hair.
Straighten the top pieces and lift up the roots. Additionally, you can shortly trim half an inch from the forehead hairline.
23. Sleek Icy Gray Pixie
Gray short hairstyles are still in trend and gaining more followers. If you love wearing makeup that highlights your features, a greatly styled undercut pixie won't make you look washed out.
Do a side part, swipe the crown to the side to reveal the short trim, and add some hair gel to gain that sleek look.
24. Blunt Bangs Pixie
This pixie cut slightly reminds us of the bowl cut or Caesar's cut, with short straight bangs that cover the forehead.
The fringe looks extended to the sides, but here the hair pieces are layered and blended.
25. Salt and Pepper High Top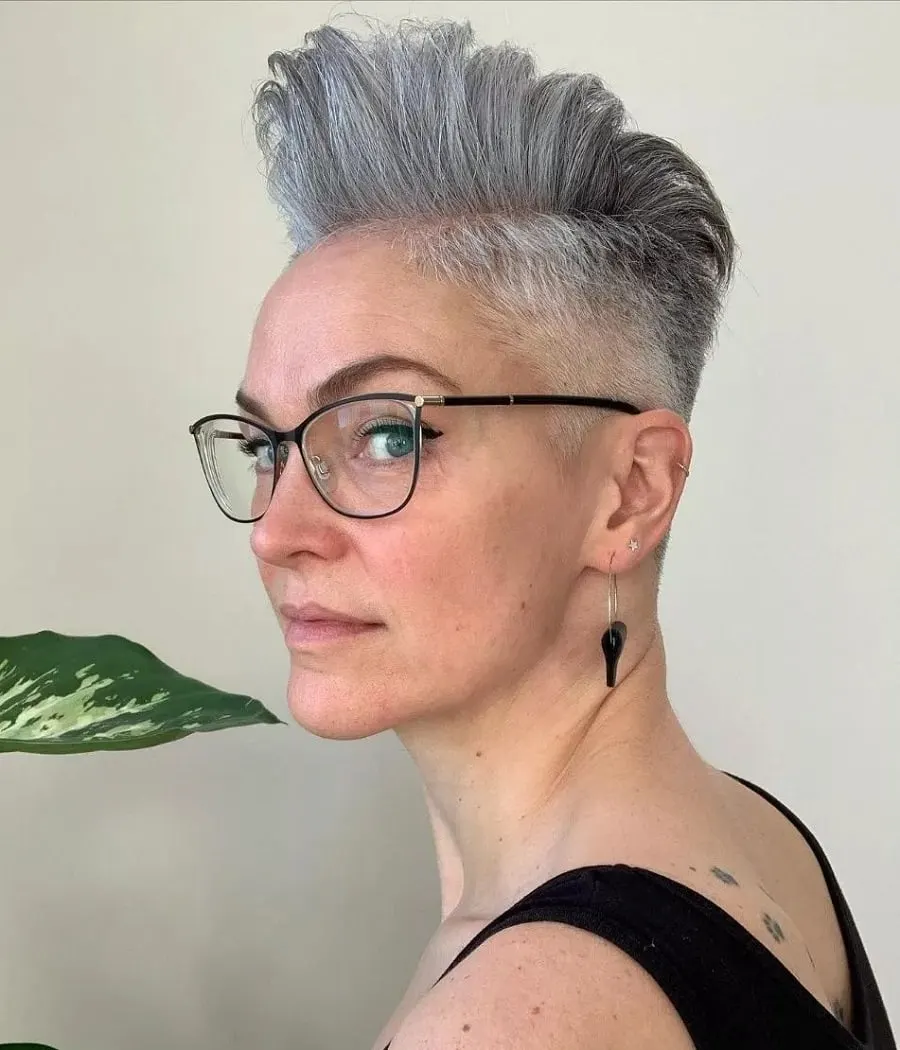 To give your hair more height, you should choose an undercut pixie with a long hair crown that you can style up.
The hairstyle is ideal for nonconformist women who are not afraid to draw all looks upon their new hairstyle. Tease the hair and add some hairspray so the styling lasts all day.
26. Retro Pixie with a Twist
This cute mix between the classical Audrey Hepburn pixie and modern side designs transforms this cut into a must-have in 2023.
It has the romantic vibe from the 30s combined with a cute twist for the sides, that makes the look anchored in our times.
27. Texturized Pixie
As your hair starts to lose its pigment and gray and white hairs start popping here and there, you need a hairstyle that is low maintenance, cool, and blends these unwanted threads.
Go for blonde highlights and cut the top straight so when you lift it up it resembles a box cut.
Undercut pixies are cool, fashionable, and versatile. Even if the hair is short, you can pull off braids and designs and create stunning color blends. Just pick the style that suits you and make a dramatic change!