Weavon hairstyles are one of the most popular hairstyles among women in Nigeria. If you took a walk down a busy Lagos street, you are most likely to find Nigerian women wearing most, if not all of these hairstyles. So if you're looking for the best weavon style inspiration, you are at the right place.
Best Weavon Hairstyles for Nigerian Women
Nigeria has seen the hairstyle fashion trend in recent years, especially in 2023. Young women are becoming aware of various hairstyle options and trying to be creative with their hair. The hair weaving hairstyles are one of the commonly seen hairstyles among Nigerian women. Here are 20 beautiful short and long weavon hairstyles to help you get your inspiration.
1. Pixie cut
Pixie cuts are bold and edgy. They have been rocked by many famous people on the Nigerian entertainment scene, including veteran actress Genevieve Nnaji and Afro-pop singer, Tiwa Savage.
2. 360 Frontal
The 360-degree frontal creates the illusion of natural hair that grows out of the head. This weavon hairstyle for Nigerian women is perfect for achieving a ponytail look especially if your hair is too short to do so.
3. Curly Centre Part
The curly centre part is a no-fail style that flatters the faces of all Nigerian women. You can achieve this look with both synthetic and non-synthetic weaves. You can use a closure or an invisible part style to get the look.
4. Full Afro
Natural hair is the current trend. But if you're yet to join the team natural bandwagon, a big afro weave like this can give you the look without having to ditch your relaxer.
Best Hairstyles for Nigerian Women With Round Face Shape
5. Sleek Straight Center Part
Nothing says class and elegance like a bone straight center-parted weave that lays flat with no strands out of place. To achieve this Nigerian weavon look effortlessly, use a closure rather than leaving your hair out. For the straightest look, use a good flat iron to make the weave stay flat or a yaki straight weave.
6. Blunt Bob
Bobs always seem to go out of style and come back better with a bang. The blunt bob is a good weavon style that many Nigerian women ought to try.
7. The LOB
The LOB is a long Bob. Much like it's shorter counterpart, it angles inwards towards the neck and it's also a chic style to wear. A lob can be as long as shoulder length and is perfect for women who want the bob look but do not like short hair.
When you think of a blunt fringe cut, think Nicki Minaj circa 2009. This is one of the easiest weave-on styles to make in Nigeria. And it works well with both synthetic and non-synthetic weaves in case you do not want to ruin your expensive weaves by cutting them to achieve the fringe.
9. Layered Fringe
A layered fringe is the softer version of the blunt fringe. Rather than having the bangs cut straight across, they are layered and usually symmetrical, starting short at the middle and increasing in length at the sides.
You don't need to shave the sides of your hair to sport a Mohawk. By sleeking the sides of your hair with a gel and braiding it down the center, you can sew in a weavon to the braided part to get the same look, no scissors or clippers involved.
11. Barrel curls
Who doesn't love a weave with the body? Never met anyone. This Nigerian weavon hairstyle got popularized by the Kardashian clan and haven't gone out of style since then. You can achieve this with pre-curled weaves or by using supersized flex rods or roller sets to get the look. Either way, you'll love it.
12. Half-shaven
This weavon hairstyle is for the Nigerian women who have some parts of their hair shaven. Having short hair doesn't mean you can't rock longer styles. And you can have fun with it by trying different colors, lengths, and textures to match the look you are going for.
13. Invisible part
The invisible part style is very common for those who can't afford to get lace closures or frontals. It gives the illusion of a part by sewing or gluing down bits of weavon down on a vertical line to create a part. This is done without making the track visible. Invisible parts can be used on any styles that require a part and suitable for women who would rather not leave out their hair or use a closure.
14. Gelled Ponytail
The weather all year round in Nigeria is hot and sticky even during the rainy season, so this weavon style for Nigerian women like the high ponytail are convenient and still make you look fab. Although you can achieve a ponytail by packing up your weave if it is long enough to be packed, there's something about having a ponytail that has been slicked back and laid beautifully with a gel.
15. Gelled Bun
Similar to the slicked-back ponytail, the gelled bun is just as classy, but the ponytail is wrapped in itself to create a bun. Although some stylists create this in a permanent fashion that does not allow restyling, you can also ask to have it styled with versatility in mind so you can rock it as a bun or a ponytail; two in one!
16. Ombre Weaves
The ombre weave is a good way to jazz up any weavon style. It's convenient for Nigerian ladies who might find the lighter color too much for them, especially in cases where the lighter color is blonde. The ombre look can be achieved by dying your weave yourself but these days there are pre-colored weaves you can find in your nearest market or beauty store.
17. Slicked Back Low Puff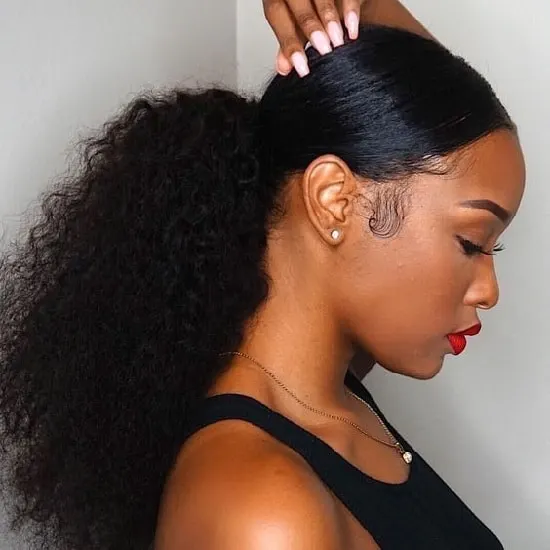 While a high puff says carefree, cute, and chic, the low puff, on the other hand, says classy, exquisite and elegant. And if that's the look you are going for, you would do right to try a slicked back low puff. The weavon for the puff can range from kinky curly hair to loose curls, waves and so on. You can also use straight hair but it would no longer be a puff, just a low-do. Either way, you would be looking like a million bucks.
Bangs and fringes aren't always front facing. The side bangs can be blunt or layered as described above. But for the best and most natural look, they ought to be layered. This style is great for those who love to flatter and bring attention to one side of their faces over the other.
19. Ponytail and Bangs
What's better than a ponytail? A ponytail with bangs. Not everyone is comfortable with having their hair away from their face. In that case, you can try adding some faux bangs, either the blunt cut or the softly layered bangs.
Unlike the conventional bob, the angled bob is shorter behind and slants longer towards the front. It might be considered a dramatic weavon style, but it is also chic.