On its own, a ponytail is fun and casual, but a ponytail with bangs is glamorous, mysterious, and you'll be amazed at how young they make you appear. Bangs are like the fountain of youth, and they pair particularly well with ponytails, which are youthful anyway. You can get baby bangs, blunt bangs, long bangs, wispy bangs, side-swept bangs. You can even fake bags if you want—all you need are a few bobby pins.
It's so much more fun to experiment with an authentic fringe that you can play with and style. Besides, in addition to automatically making you look younger, bangs give you the opportunity to frame and flatter your face.
Add Ponytail With Bangs for a Next-Level Style
Long, short, and medium-length ponytails with bangs evince a high-fashion aesthetic that wouldn't look out of place on the catwalk, and never mind if you're just going shopping at Target. The onion-with-ears phenomenon that all too often occurs when you pull back your hair is no longer an issue. Bangs give your ponytail a different shape and silhouette. It takes on depth and new dimension.
Besides, just as you can use bobby pins to fake a fringe, you can also use them to pin back your bangs if you get tired of them. That happens, usually, two or three weeks after you get them. Don't let the fear of regret stop you, though, especially fear of something that has an effortless fix. Just think about the style of bangs you'd like to try.
#1: Bettie Bangs
With the right combination, you can evoke another era simply by wearing a ponytail with bangs. For example, this long, sleek ponytail and those darling Bettie bangs call back to an age of glamorous pinup girls and saucy appeal. Named after Bettie Page, legendary pinup queen, these bangs are longer than baby bangs but shorter than traditional blunt bangs.
Braided Ponytail For Every Occasion
#2: Parted and Swept Up
You don't have to wear your bangs straight across your forehead, you know. Side-parted bangs are almost like a short layer, so you can part them just as you do the rest of your hair. They're a bit messy and tousled, making them an ideal complement to a high, up-swept pony.
#3: Thick and Arched
Arched bangs like these are shortest in the middle, and gradually get longer the closer they are to your temples. They emphasize the curves of round faces and add softness to angular features. They tend to make you look 5-10 years younger, too, because they draw attention to your eyes while simultaneously making your peepers appear wide and kitten-charming.
#4: Bettie and Baby
I adore everything about this ponytail with bangs, including the color—gray is my jam. The sloppy side ponytail morphs into an enchanting, downright glam hairstyle with that fabulous fringe. Bluntly cut, they're the perfect hybrid of Bettie bangs and baby bangs, which flatter high, rounded foreheads.
#5: All the Bangs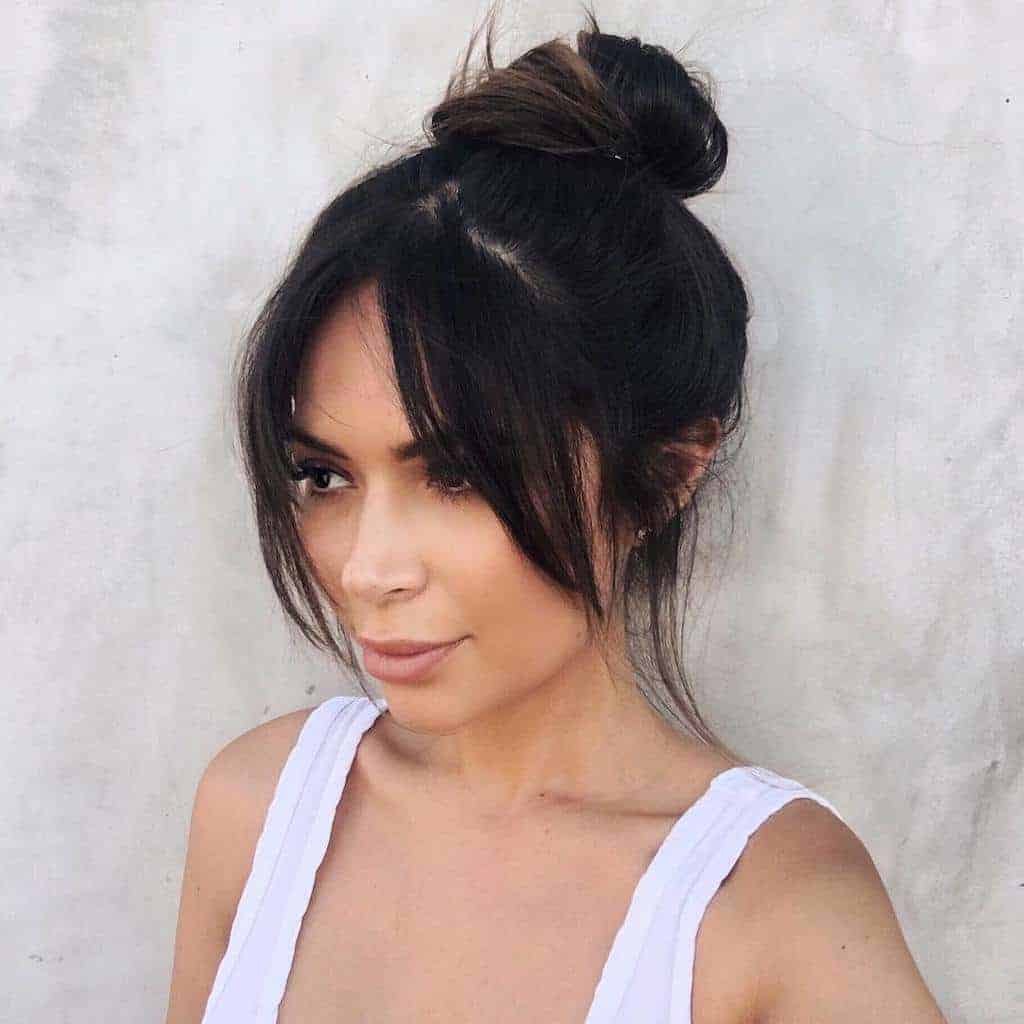 What's that you say? Can't you decide on one style of bangs? Who said you have to pick one? What you see here are wispy but arched bangs that just so happen to be center-parted at the moment. For the record, you can side-sweep this style, as well. This type of fringe is remarkably versatile.
Best Hairstyles with Bangs for Women
#6: Pinup Perfection
Blunt bangs with a retro-inspired updo create a solid signature coif that's ideal for no-shampoo days. You can even hide your roots this way. It's a fun twist to a regular ponytail, too, plus using a wrap saves you from putting too much strain on your hair.
#7: Schoolgirl Style
The ponytail with bangs combo is a classic schoolgirl look. Middle school, high school, college—a high, perky ponytail paired with messy side-swept bangs strikes a carelessly cool note that works well on those mornings when you barely want to roll out of bed.
#8: Pony Puff
Curly bangs, curly ponytail, curly everything! Don't straighten your hair before you put it up in a ponytail. Love your natural spirals. Let your coils fall over your forehead.
#9: The Eyes Have It
The best bangs frame your face, your forehead, and your pretty peepers. Notice how your eyes are automatically drawn to this beautiful woman's gaze. Notice, too, that at the right length, you can use your bangs to hide your eyebrows anytime you're off your brow game.
#10: Bun with Bangs
This is more of a bun with bangs than a ponytail with bangs, but let's not be pedantic. I'm a massive fan of center-parted angled bangs, particularly with those tendrils of hair pulled free from the bun.
Trend Alert! Weave Ponytails Style
#11: The Classic Bangs with Pony
Bangs are a lifesaver in many ways and a ponytail with bangs is just perfect! They add that extra oomph to every hairstyle you choose to do. Bangs help you frame your face and automatically soften your features. If it's a hot sunny day outside, pull your hair back into a medium-high ponytail and give it some volume by losing the hair at your crown area. Let your bangs down to complete this look.
#12: The Low Rise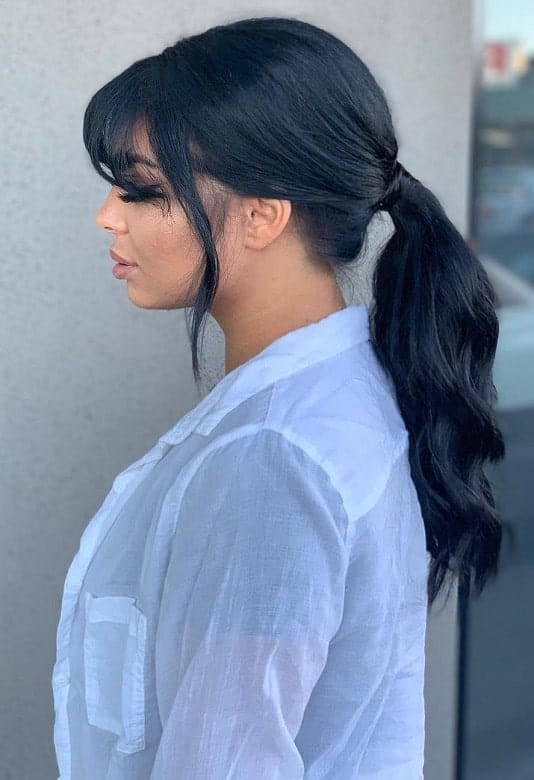 A subtle, but significantly noticeable way to style your hair is by adding loose curls to it. You can achieve this by using a broad barreled curler. After you do that pull your hair backward into a low pony and secure it with a hair tie.
#13: High Top Ponytail
Perfect for a day in the sun or a formal event. Sleek your hair back into the highest point on your head and secure it. Hide the hair tie by using your hair to cover it and then add some hair accessories.
#14: Lazy Low Pony
This is perfect for days when you don't want to put in too much effort and yet still look presentable. Tie your hair at the lowest point and secure it with a hair tie of your liking. Take a medium sized curler barrel and curl the ends of your hair to complete this look.
#15: Messy Pony
This look isn't half as complicated as it looks. Start by teasing your hair at the crown and then curling the rest of your hair. Tie it up into a low pony and secure it. Take a curled strand and wrap it around in a messy fashion. And there you have a perfect ponytail with bangs for any and all occasions.
#16: High Pony and Unique Bangs
You will need gel or hair wax for this look. Tie a really high pony and gel your crown to comb it back and make it look sleek. Take your side fringe or fringe and gel it towards your right, use bobby pins to secure it if needed.
#17: The Unique Side Sweep
This hairstyle will work perfect if you have a layered haircut. Part your hair towards the side and then pull the rest back into a sleek pony. This hairstyle is perfect for second-day hair.
#18: Back Sleek Low Pony
This pulled back sleek low pony is perfect for any day. It's fast, and you can always do it all the go.
#19: Short Blonde Pony with Bangs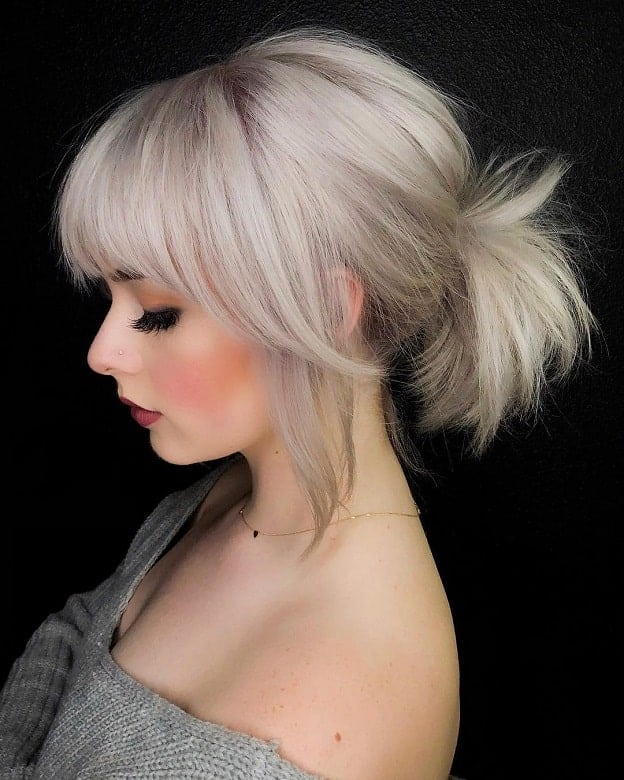 Who said you couldn't tie your short hair into a perfect ponytail? Gather all your short blonde hair and secure it in a mid-pony and leave the fringe and a few strands of hair loose to frame your face. A perfectly styled ponytail with bangs is your go-to style!
#20: Short Bangs with Ponytail
Securing your hair with a hair tie is not the only way to achieve a pony. Another way to achieve a low pony is to clip it with a nice statement clip. It looks dressy and leave your fringe and curl some stray strands to frame your face and keep the bangs short.
#21: Rock It Old School
Polka dots and headbands are back in style, so make the most out of it. Tie your hair in a high pony and curl your hair ringlets style. Add a headband for some extra pop of color and curl your fringe inwards a pin it. This hairstyle is such an old school beauty, guarantee you will be turning some heads.
There's something fresh and youthful about a ponytail with bangs, but the combo can get surprisingly sophisticated, too. How do you wear your hair when you have bangs?