Slicked back hair is one badass hairstyle that gives a serious and a don't-approach-me vibe to its wearer. Although we see a lot of men of all group ages going for such a style, women too regard it as one of the styles they can go for. And this hairstyle just doesn't seem to disappoint.
In fact, the slicked back hairstyle has more variations for women than for men!
Best Slicked Back Hairstyles for Females
Whether your hair is long or short, you can always achieve this style as long as your top hair is at least 3 inches in length. Here are 45 slicked-back hairstyles for women, so make sure to give it a look.
#1: Blonde Bob
To give your blonde bob a more polished look on special occasions, just use a little hair product to slick the hair back. This will also nix any frizz and fly aways!
#2: Long Brunette Hair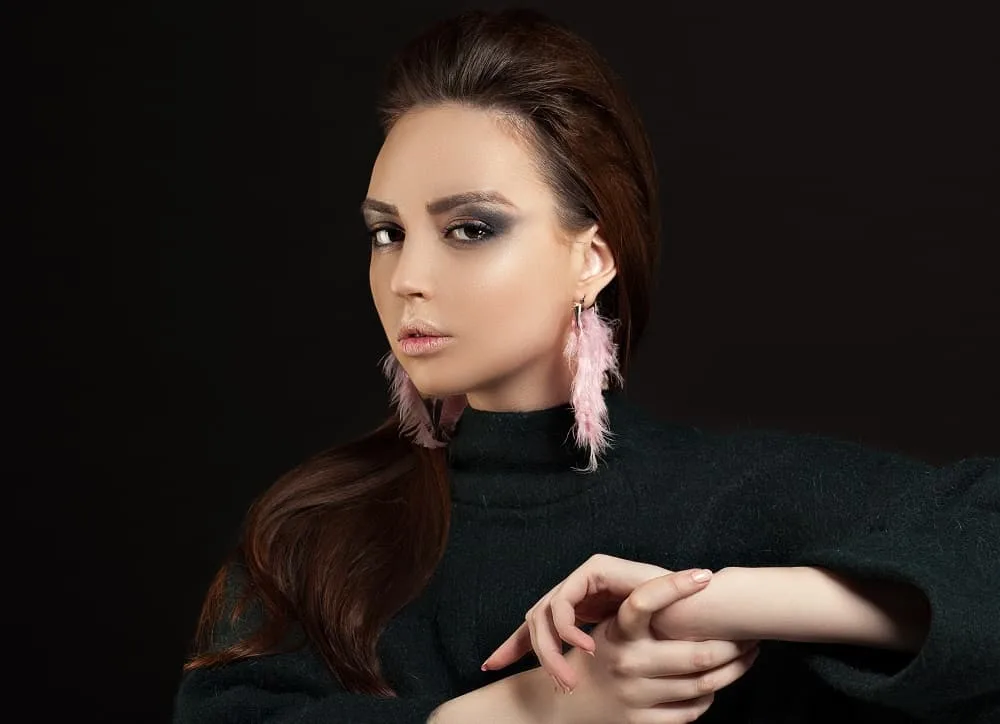 Not only does slicking back your long hair make for a more sophisticated look, teasing it at the hairline will give it a little volume too! When hair is off the face, you can feel free to dazzle everyone with your favorite dangly earrings!
#3: Textured Slicked Back Pixie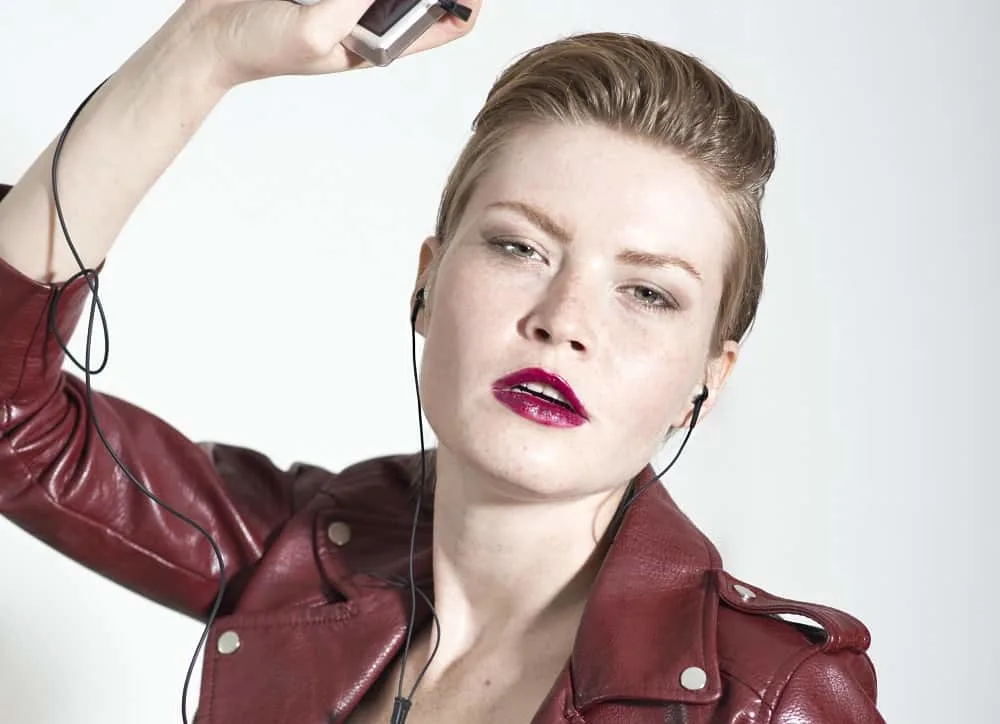 The short sides on a pixie better stand out when the long top is slicked back. Prevent it from looking too flat and smooth by using fingers to give it a natural textured look.
#4: Slicked Back Updo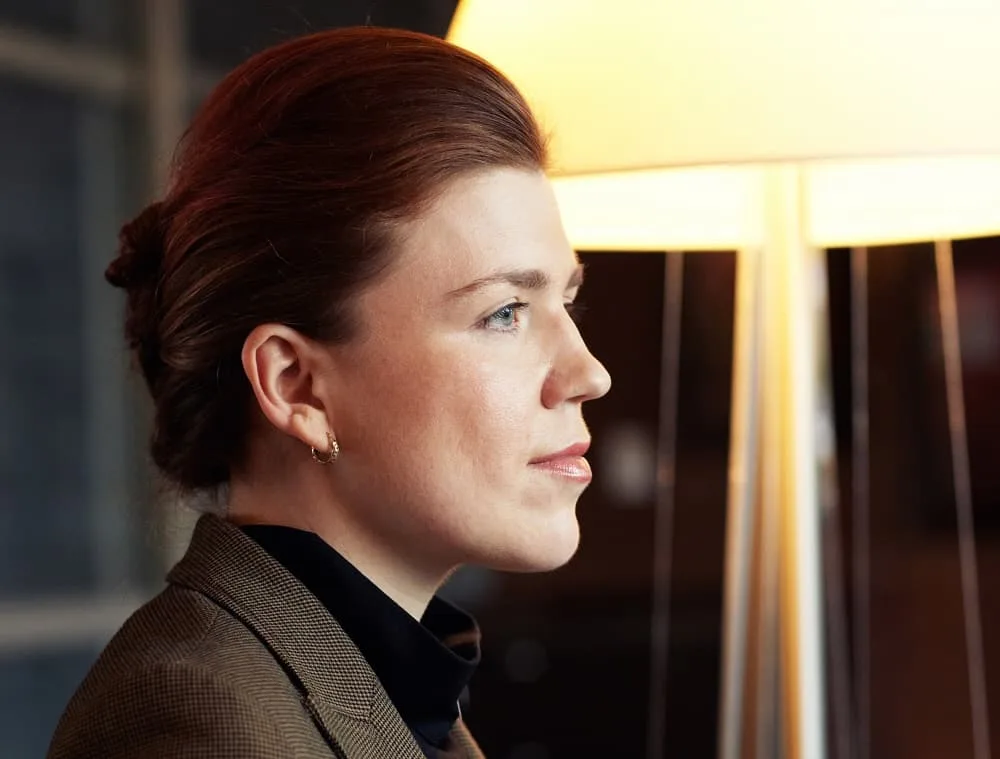 Whether you're heading out for a date or you're just going into the office, using a hair claw to clip your long locks back is never a bad updo. Using a little hair product on fingers will help smooth the hair back.
#5: Long Platinum Pixie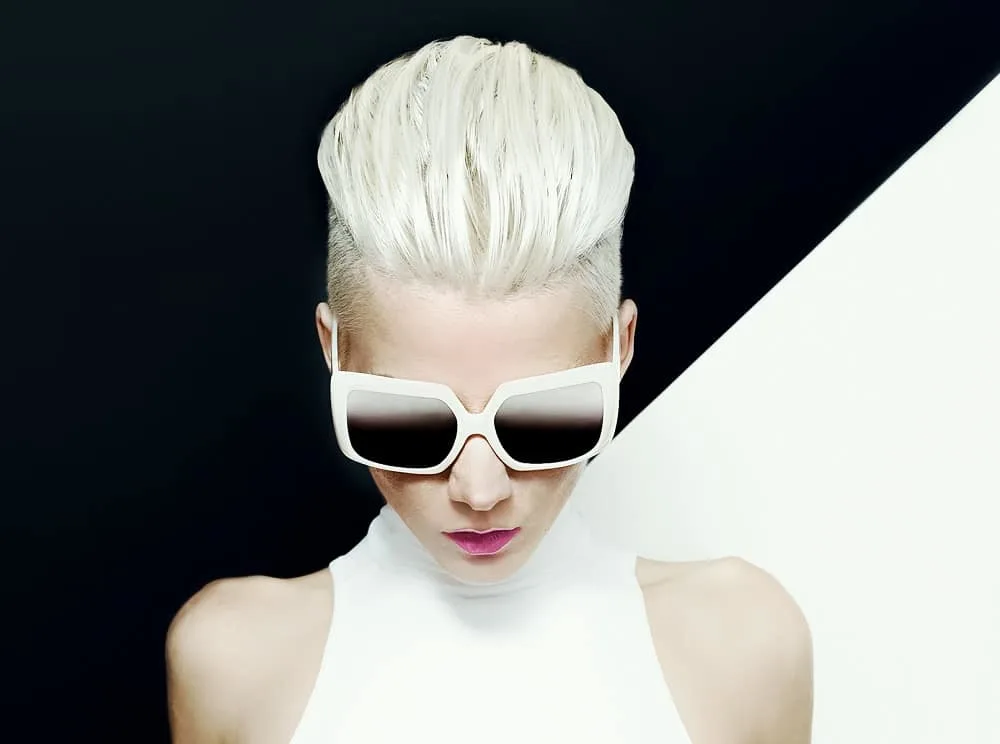 To take a long pixie hairstyle from flat to fly, give it a bold color. Platinum is bright, edgy, and will stand out easily with a little teasing for volume. Hairspray will ensure it stays perfectly slicked back all day.
#6: Long Black and White Hair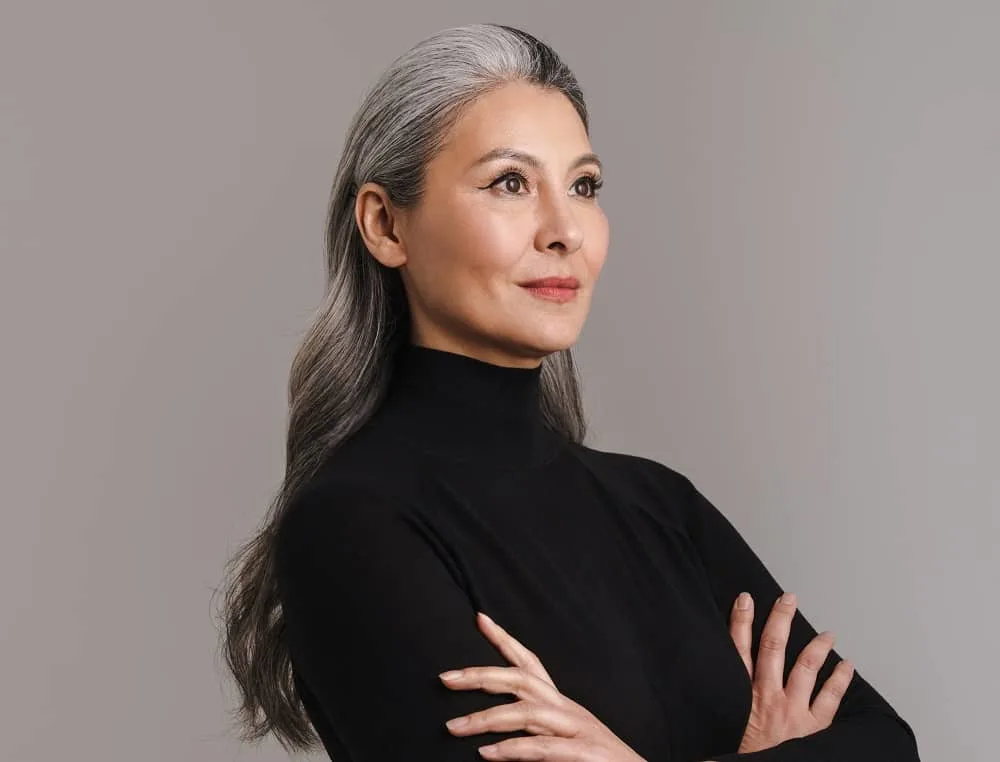 If you're an older woman still rocking her long hair, more power to you! Complete your power pose by sporting a stunning slicked back hairstyle with black and white coloring.
#7: Wet Hair Slicked Back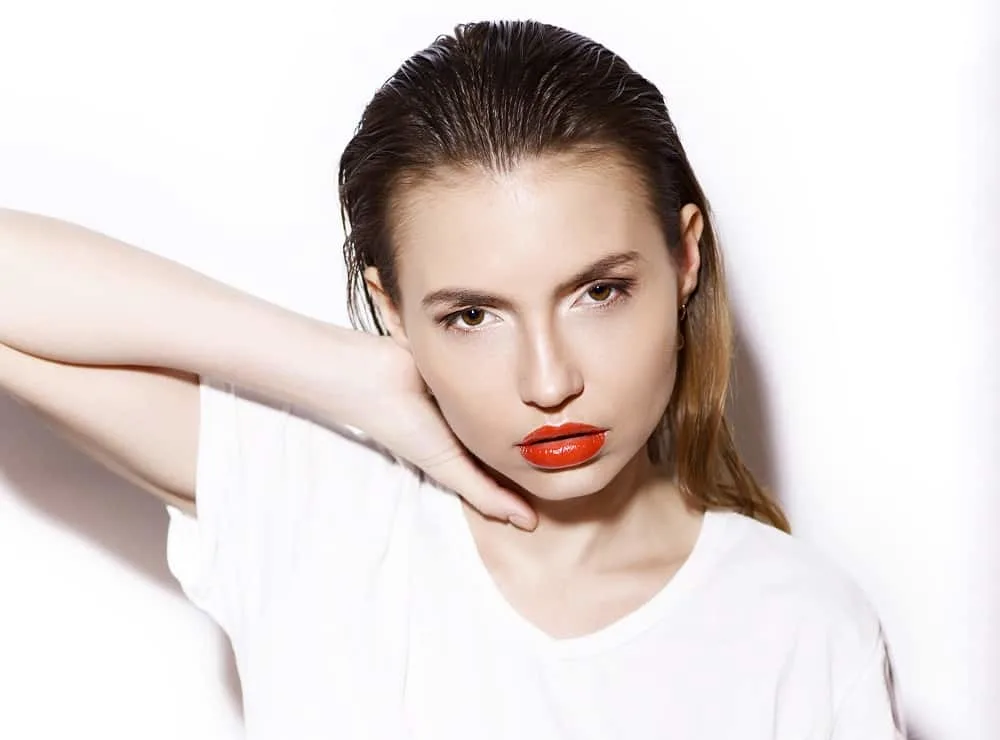 A slicked back hairstyle that is obviously still wet can be an edgy look to rock at the clubs or concerts. Use extra product like mousse to work in with fingers on just the top section of your hair, leaving the bottom half dry and loose.
#8: Thin Bob Slicked Back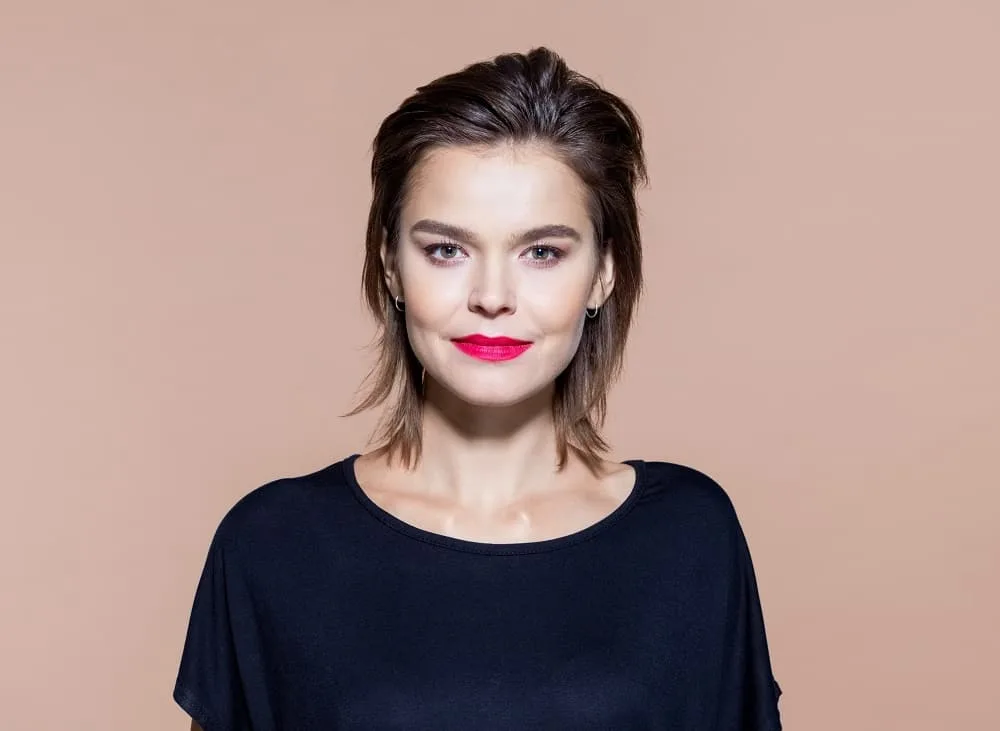 We love layers for many reasons: they give hair shape and style, and look fabulous when softly slicked back. Lots of short layers will ensure your thin bob looks thicker and more voluminous.
#9: Slicked Back Half Updo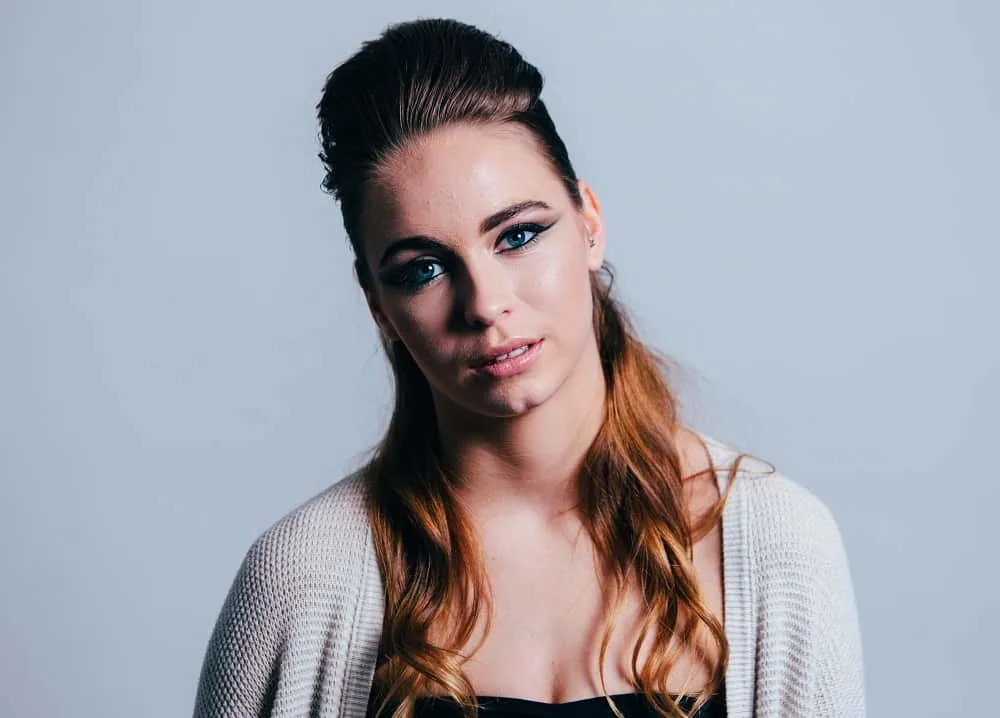 Another winning slicked back hairstyle for evenings out is this half updo. The bottom half of the hair is curled and worn loose over the shoulders, while the top half of the hair is gathered in a high teased ponytail.
#10: Colorful Low Braids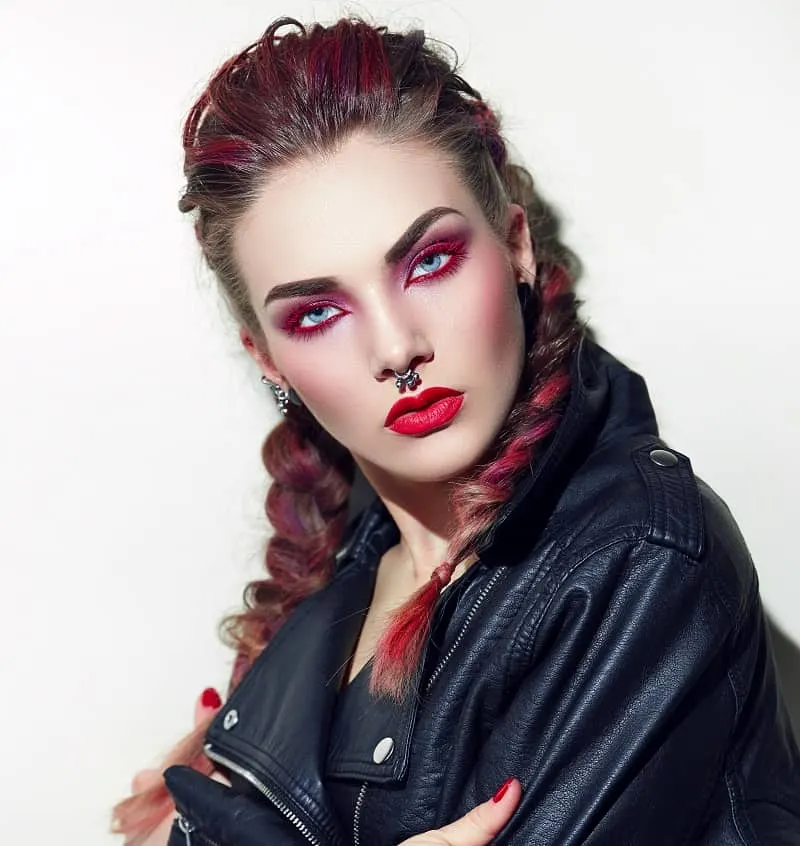 We don't think there's any other way to make these two low braids more edgy than with a bold, feminine color like magenta and lots of gorgeous slicked back texture up top.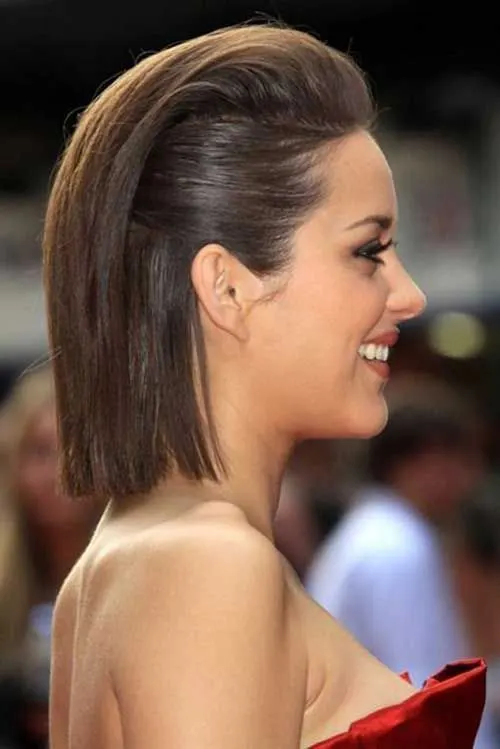 Bob cuts look best when they're slicked back. With the sides of your head held tightly in place, slick back your top hairs except more loosely than the sides. This style plays with the contrast and balance of your look.
Delightful Short Stacked Bob Haircuts
#12: Vintage Slick Back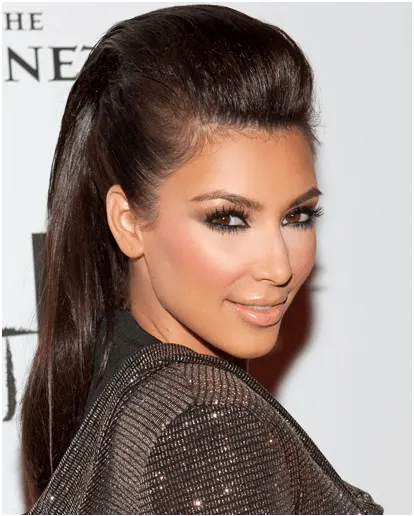 Long wavy hair often creates a soft edge to your look. Slicking it back though makes your look more daring and chic in its own twisted way.
#13: Jennifer Lawrence Inspired Slick Back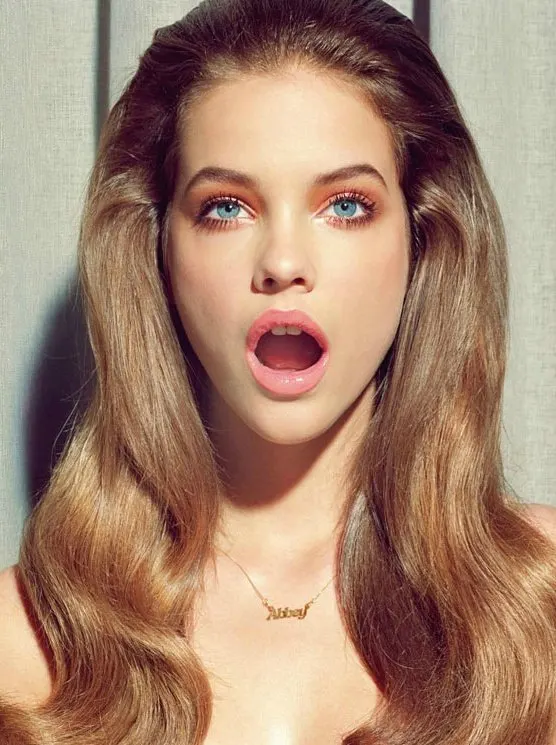 Jennifer's boy cut provides a variety of short hair lengths. With her hair slicked back loosely, a voluminous look with different golden shades creates a chic and an elegant appearance.
#14: Slick Backs and Ponytails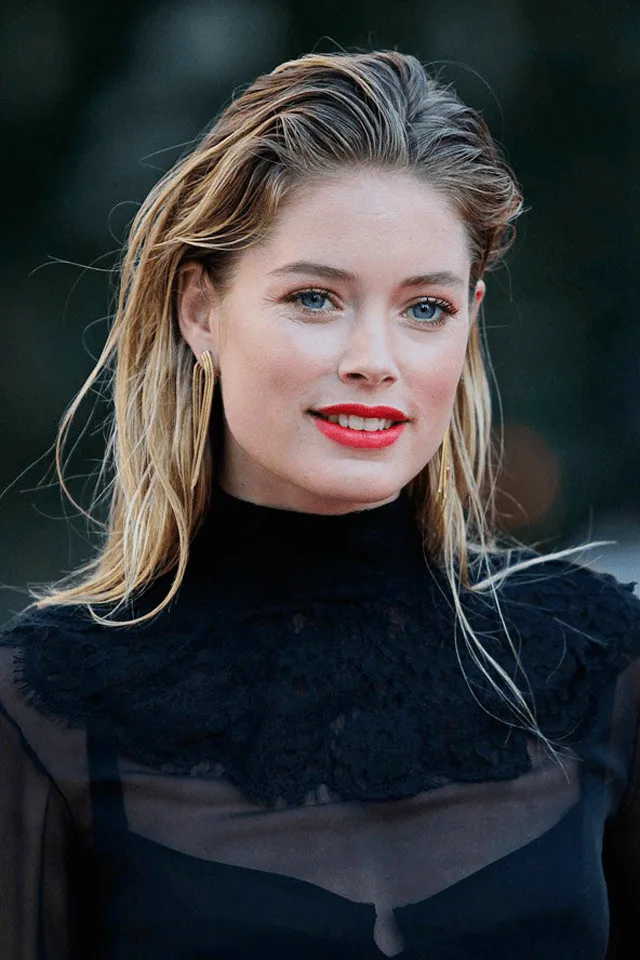 If you've got medium length hair that you simply don't want to let loose, consider tying it into a ponytail. With your front strands slicked back tightly, you'll get a neat and sleek look as an outcome.
Easy and Stylish Hairstyles for Teenage Girls
#15: Know the Occasion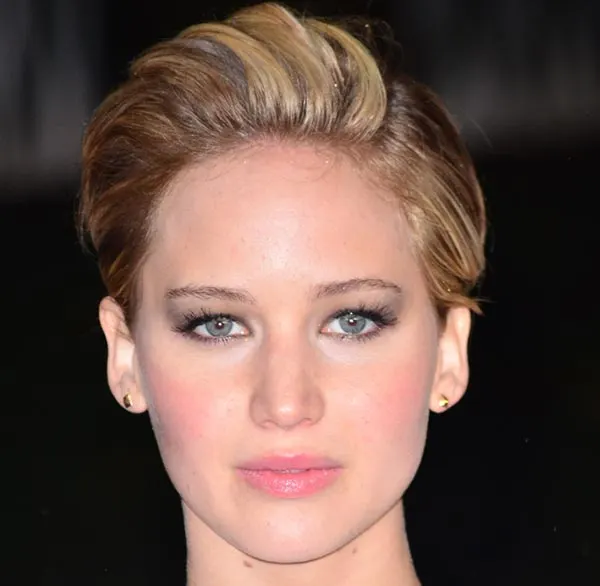 Slick backs tend to provide a serious aura instead of a vibrant and friendly one. They are not your everyday day style to go with, so when you do, make sure it's for a special occasion.
#16: Red Locks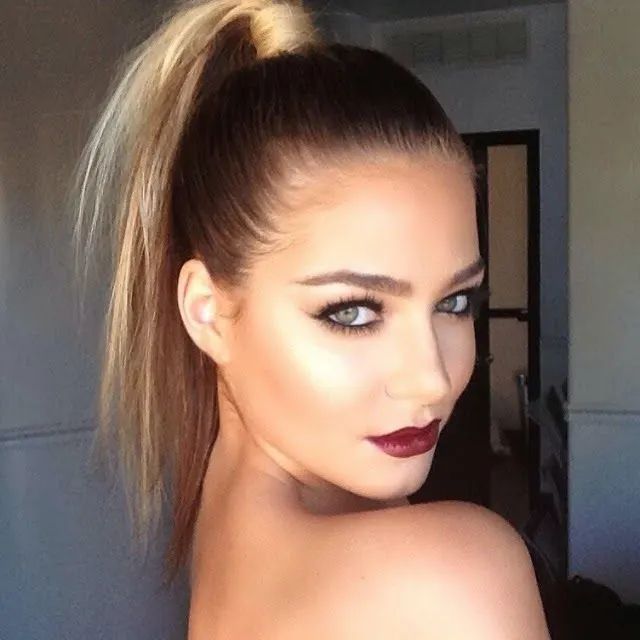 Different hair colors provide different impressions, just the way different hairstyles do. Varying the combinations between the two plays a huge part in changing the aura around you.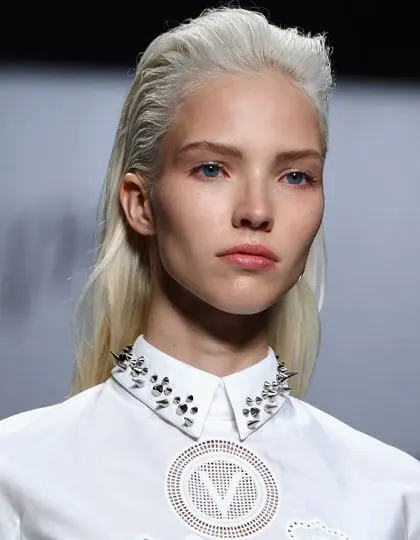 This style looks like a Mexican slick back since it goes tight on the head and provides a wet look for the hair. If your hair is long enough, you might want to twist it into a low bun. This style certainly doesn't pass as casual especially if you play it smart and wear the right makeup.
#18: Seasoned and Dangerous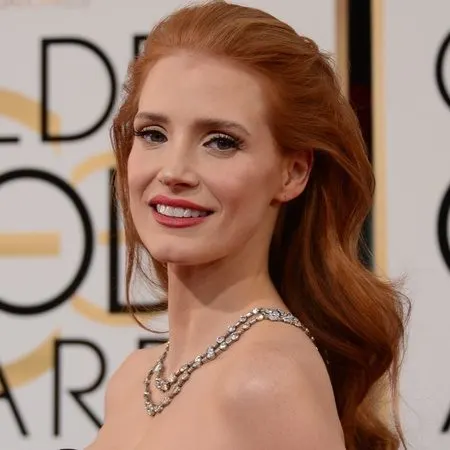 With your boy cut slicked back, people will get a clearer look of your face and so, it will get all the attention. Here you get to choose whether you want a dark sexy look or a light and a simple one by the choice of your makeup and accessories.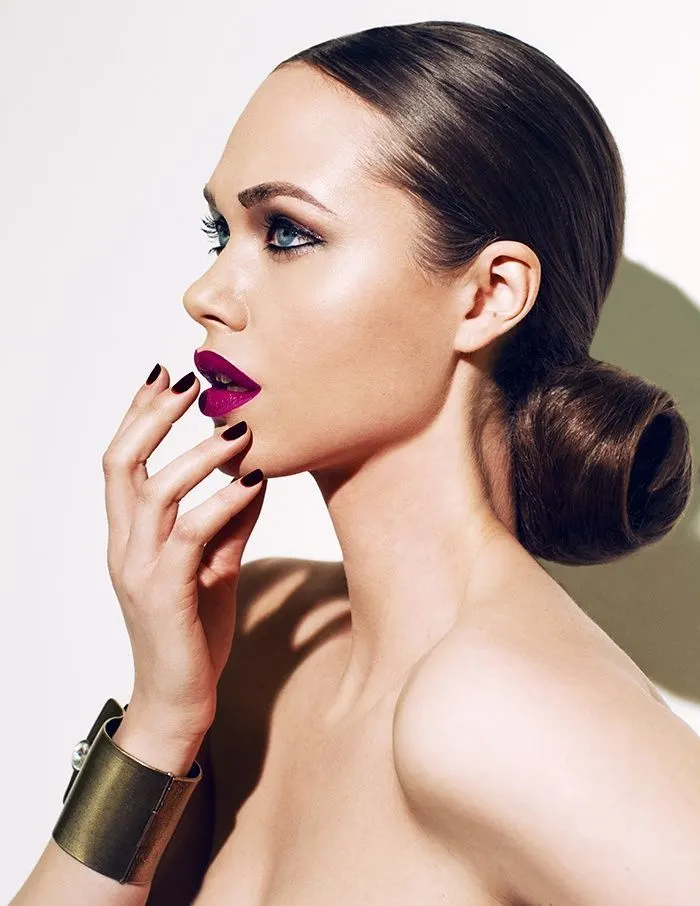 With your hair slicked back, create a bun at the nape of your neck. Such buns are usually elegant and neat, making them suitable for formal events or special occasions.
#20: Pompadours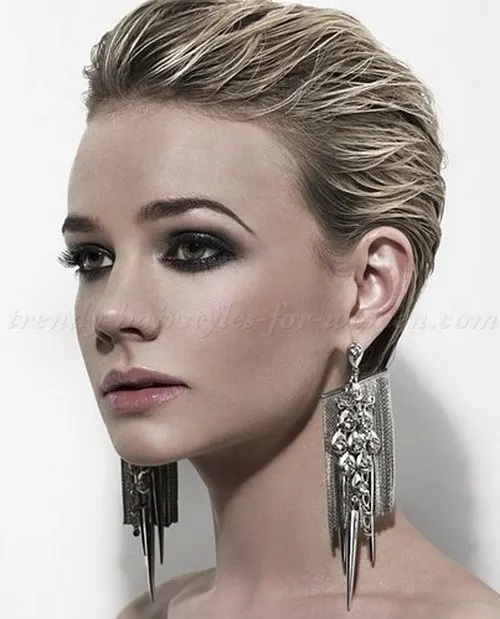 When some slick backs go tight over the head, some are slicked as pompadours for the sake of the volume they provide. Pompadours create a contrast in the balance that slickness provides resulting in a chic appearance.
#21: Kim Kardashian's Slick Hairstyle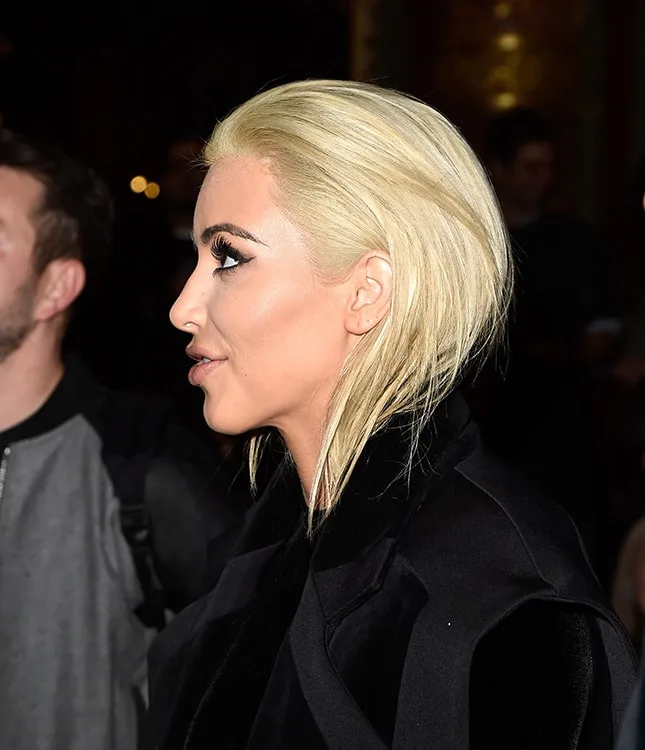 This sleek back variant with a slight pompadour on top and tight slick backs on the side is one of the hairstyles Kim is mostly known for. It is a style that almost resembles a faux hawk but keeps the look moderately feminine.
#22: Slight-Volume Slick Hair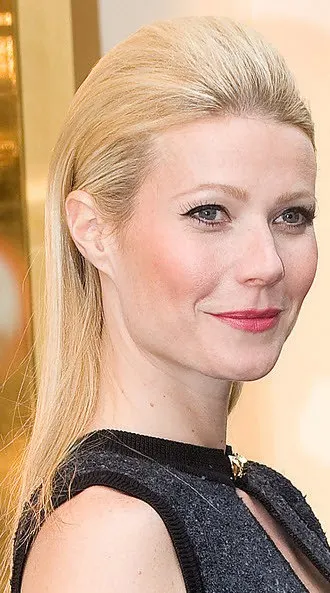 Gigi's style suggests a slight volume slick back hair, with minimal makeup. The combination of those two creates a simple overall look worth giving a try.
#23: Luxurious Looks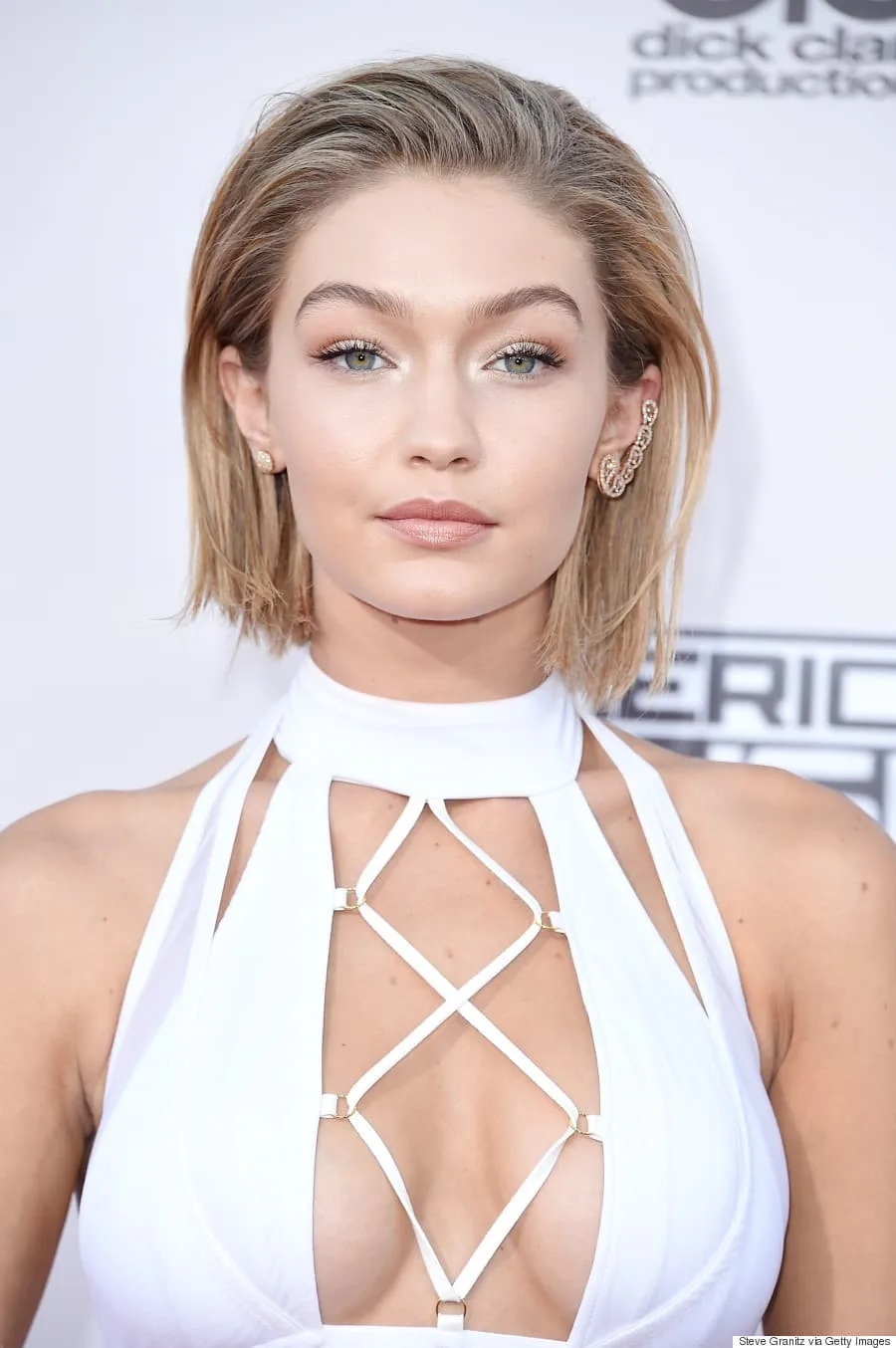 For an astounding look, the flabbergasting combination of a slick back hairstyle and a bright red lipstick is something you should go for. You definitely won't regret it.
#24: Tough Looks
Add a touch of masculinity to your voluminous and glossy hairstyle to go with your personality. Jazz it up with a jeans jacket to complete your look.
#25: Braided Sides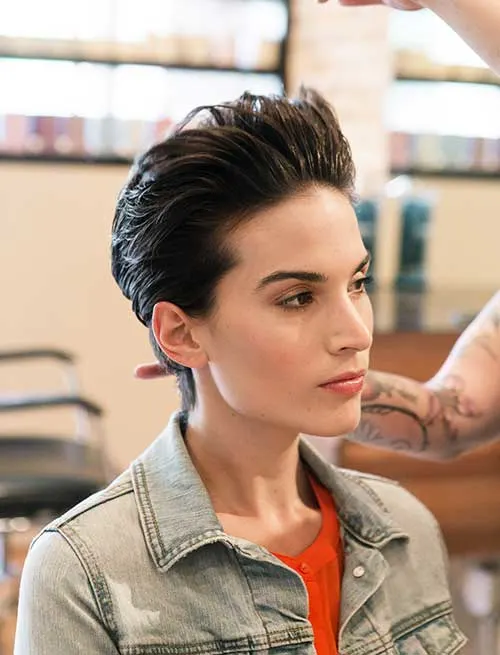 To add some variation to your slick style, you can braid up the sides and make it more personalized, or you can choose to go with the normally slicked sides.
#26: Retro Feel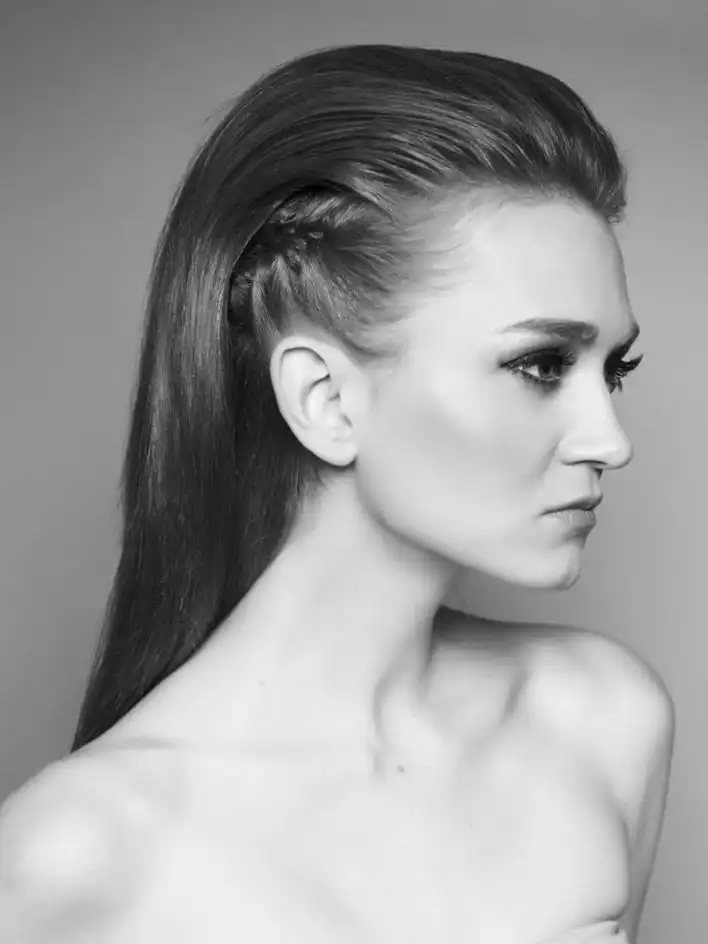 This is a hairstyle that might not go with our modern-day trend, but in some occasions, you might want to acquire it. With your hair parted at the side and slicked only from the top, curl the ends of your hair to get this voluminous look.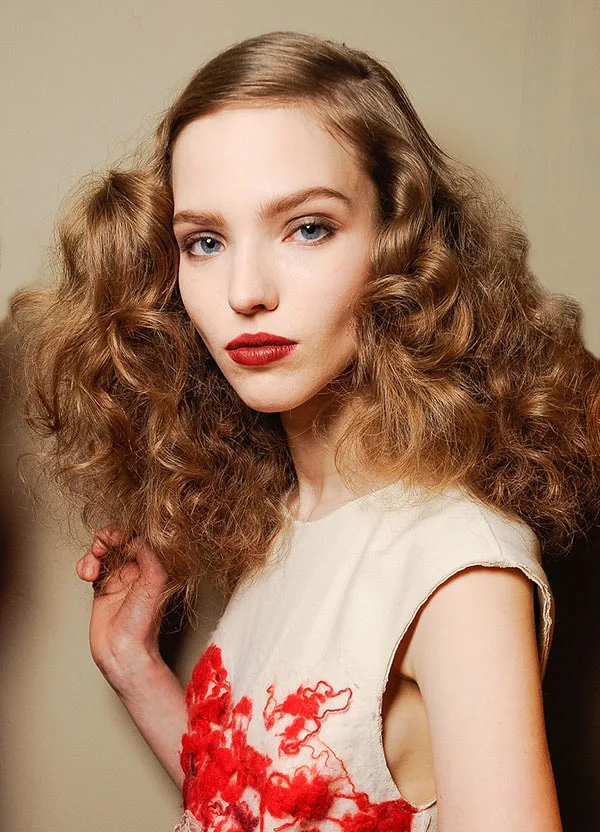 With the sides of your head tightly held in place, lightly slick back your top hair and use some bobby pins to hold them in place. When your hair reaches the nape of your necktie it into a ponytail.
#28: Runway Style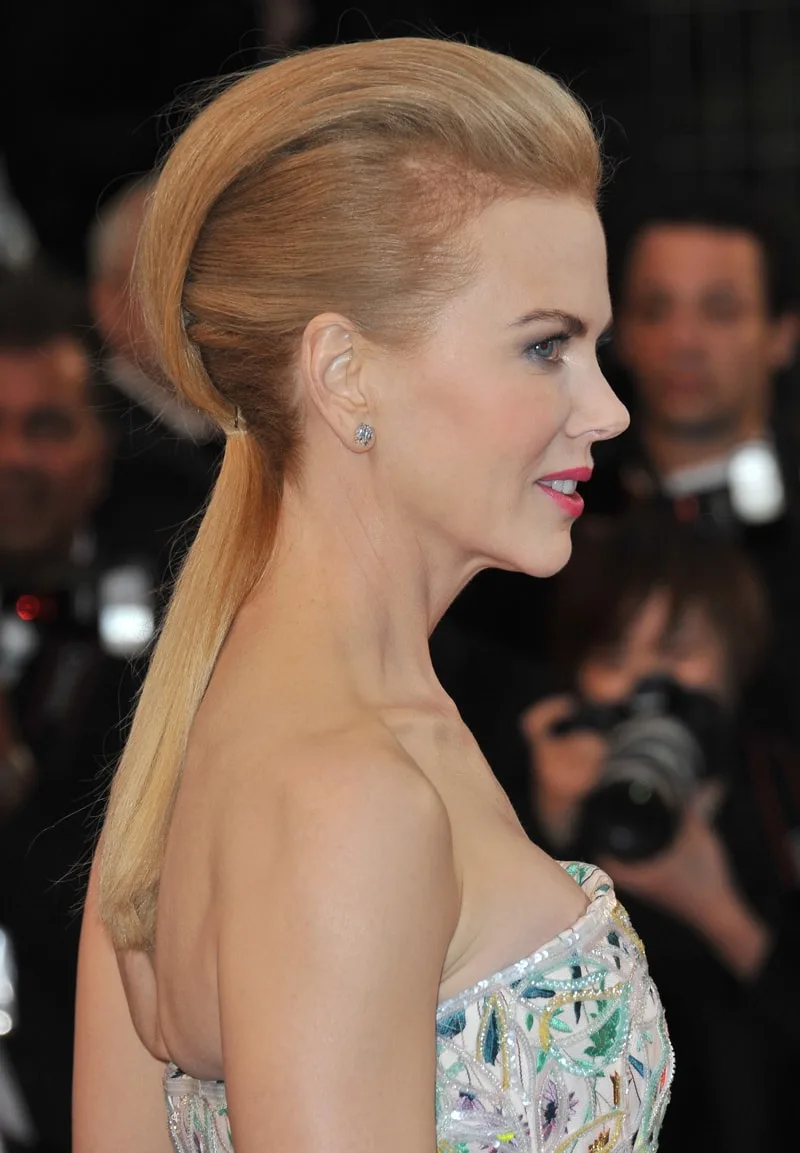 Unlike the others, this style has the hair lightly slicked back at its roots and then curled into messy stuff. Although it's not as neat as the others, the volume in this style makes it fit for a runway model.
#29: Messy Slick Back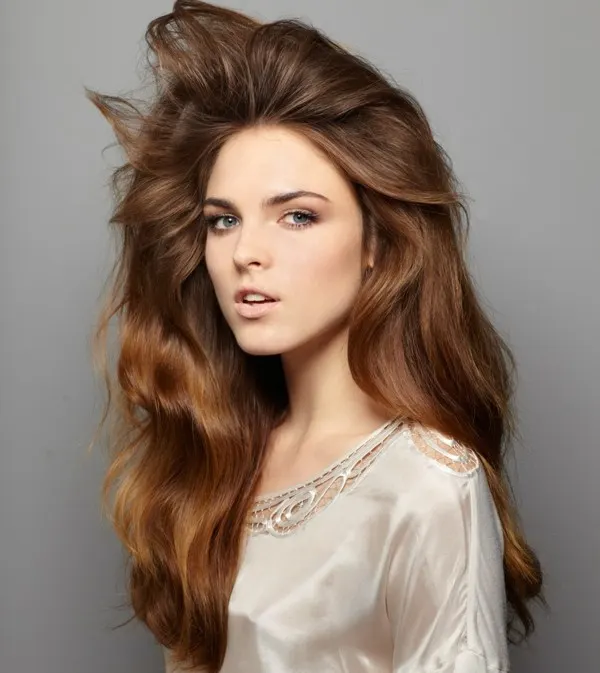 If you're wondering what style to go with on a casual day, then you might want to try a messy slicked-back style. Although slick backs aren't made for casual outings, messy ones look quite good.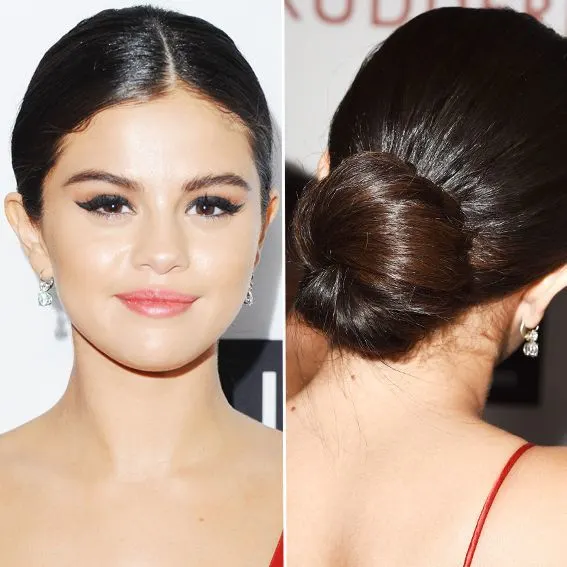 Part your hair at the center of your head and then slick it to the back. Create then a neat bun if you want your hair off your neck.
#31: Slick Back with Curly Hair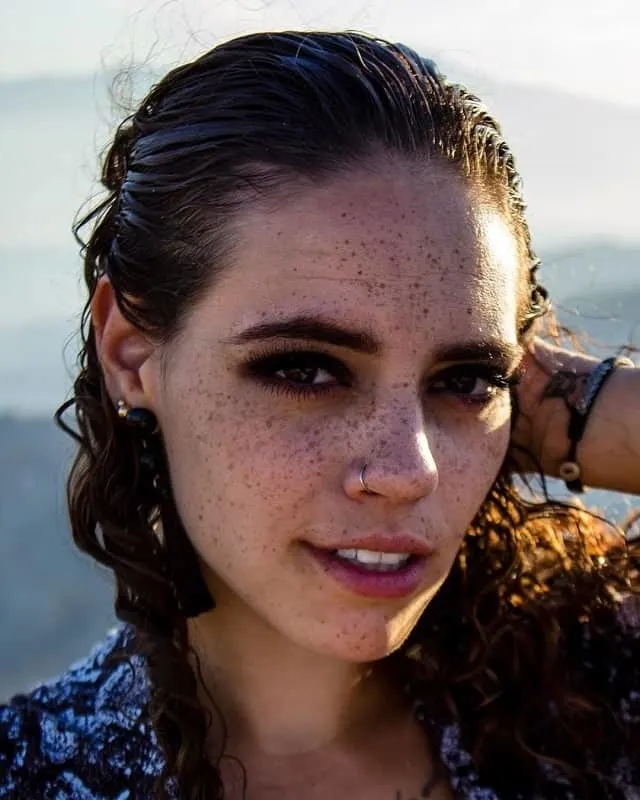 Slick backs are usually paired with straight hair and are done so neatly. However, that isn't the only way to go about it. If you have curly hair, slicked back hair can cause a contrasting look making the hairstyle unique and bold.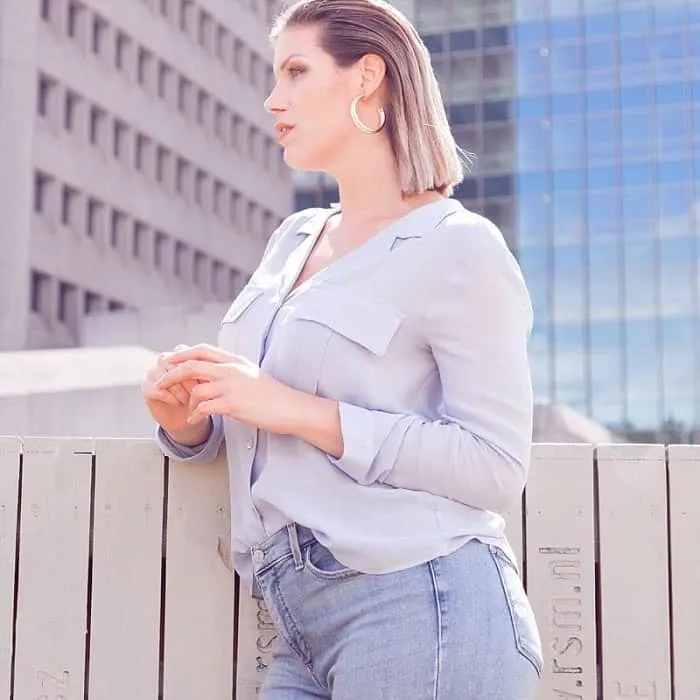 Long bobs have recently been gaining momentum as one of the most convenient yet chic looking hairstyles. The only disadvantage about them is- limited ways to be able to style this particular haircut!
Slicking it back can be one out of the box way to do it. This sends out a more serious and confident vide yet at the same time is an unexpected fashion statement.
#33: Minimalistic Slick Back
If you have your long hair colored in ombre and are looking for a different yet magnificent way to style it, slicked back hairstyles for women is a great hit. The reason behind this is having your color on the hair changes so does the wet texture of the hair fade, it's a great combination and looks like everything amazing.
#34: Bold Slick Back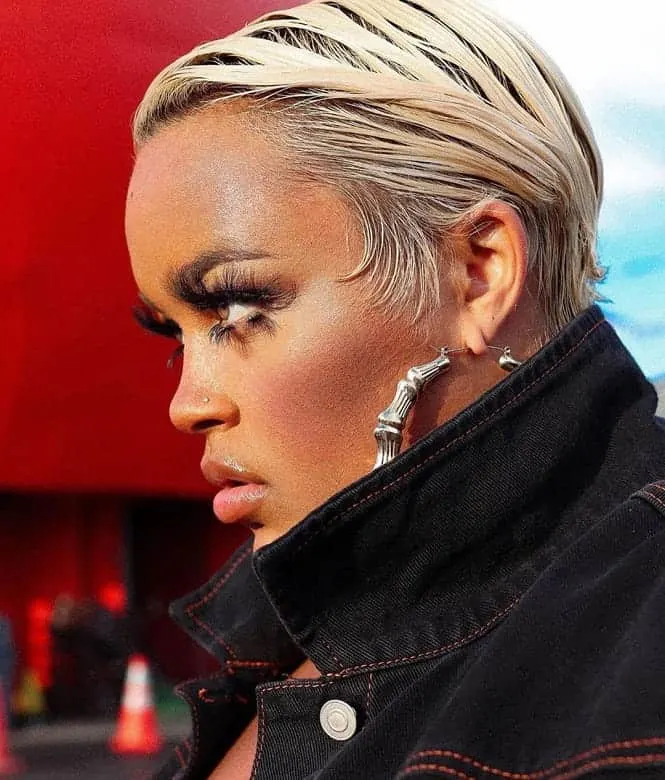 This ice blonde hair look is much more towards the bold side, instead of a clean slick back. The hair is rather swept towards the side in this cut. This hairstyle looks precious with a bold makeup look as both elements flawlessly compliment each other.
#35: Unkempt Slick Back Look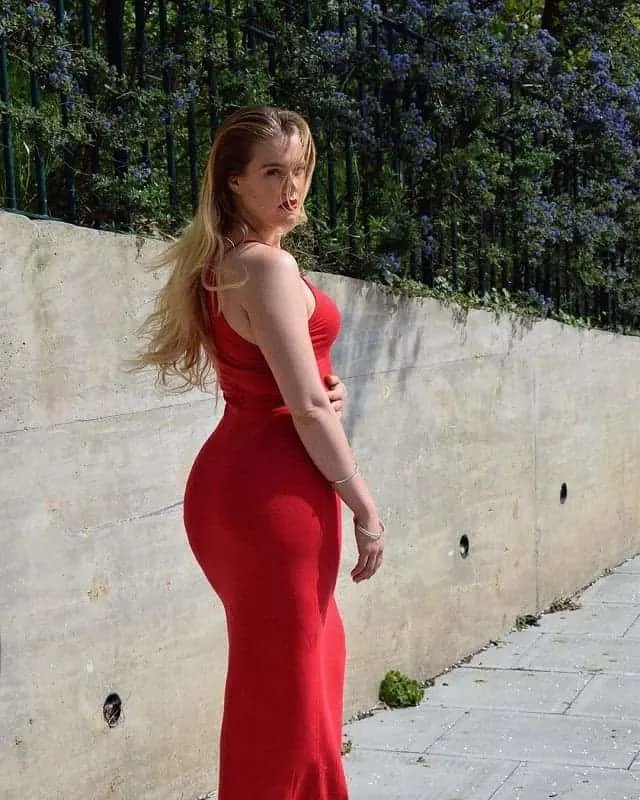 Slicked back hair can be styled in several ways even though most people don't believe so; this blonde balayage hairstyle is an example of the same.
Instead of having all the hair slicked back, a strand of hair has been let loose to frame the face. It is a perfect way to add a subtle touch that makes a significant impact on the look.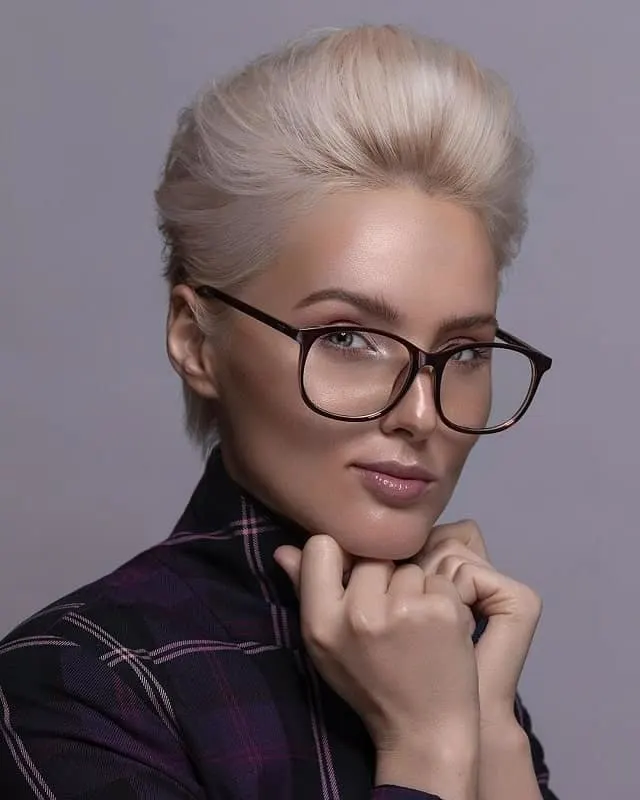 If you aren't a fan of the wet flat hair pulled-back look, this women with slick back hair variation is the one for you! The puffed-up slick back is a very eighty's vibe that has an everlasting impact even in the fashion world as of now.
#37: Slightly Parted Slick Back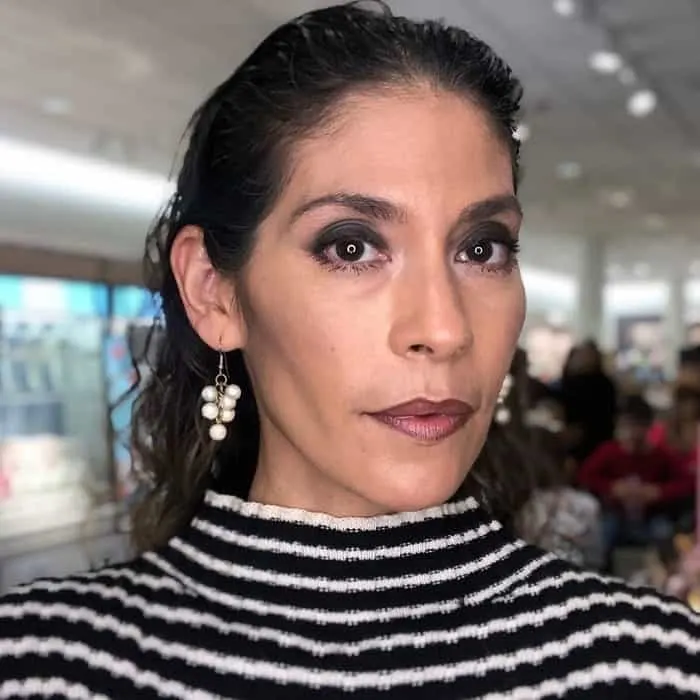 We understand that some people are used to having parts and can feel a bit lost without it. This can make changing up hairstyles more challenging and better. Yet, a sleek hairstyle can be a perfect win. Women's slicked back hairdo complete justice with their hair parting and look classy too.
#38: Slick All The Way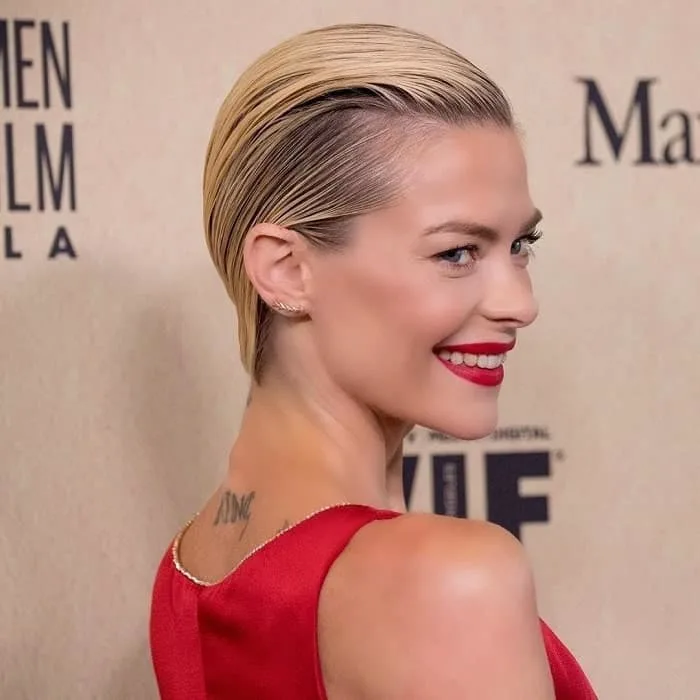 If you are aiming for something more sophisticated and red carpet ready, you can choose to style your hair this way. Instead of the slick back only focusing towards the front, the look has been covered to the ends of the hair.
This is one of the most commonly opted for women's hairstyles screams nothing but chic, confident and sexy.
#39: Vintage Inspired Slick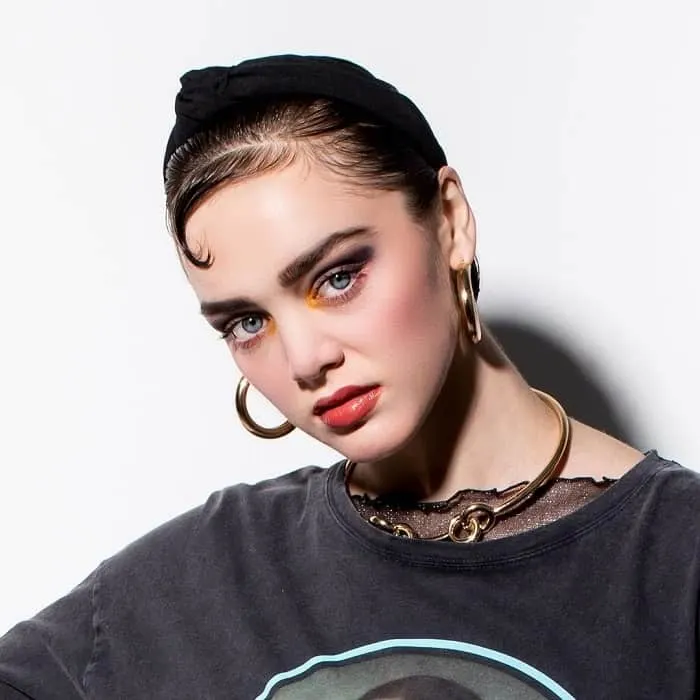 If your hair has bangs cut with it, this slick back is right up your ally! This vintage, one of a kind, bold sleek look is nothing but sexy and classy at the same time. Paired with the right clothing and a bold lip, this look is just off the charts and has fashionista written all over it.
#40: Slicking to Braid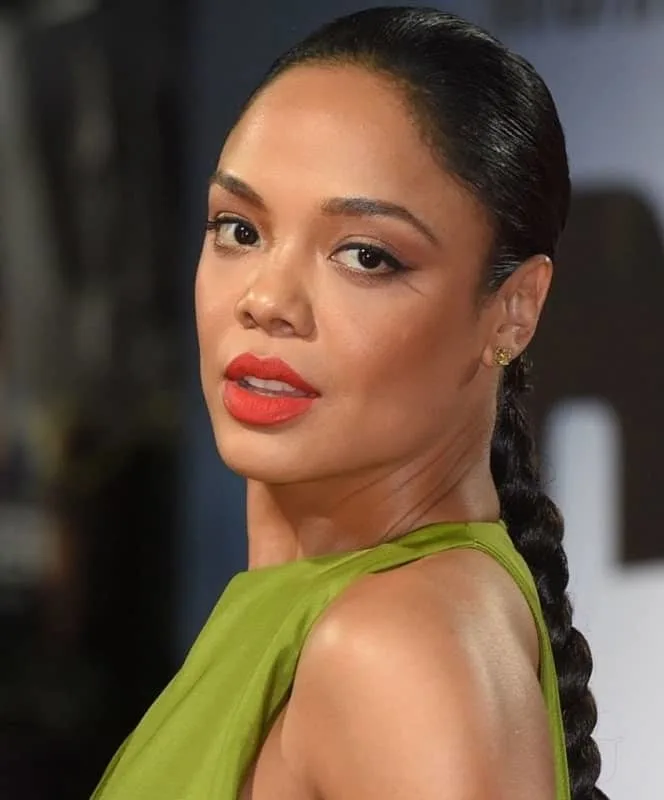 Slick hairstyles don't necessarily mean that they have to be let loose, this women's braid with slick back hair that fuses into a braid is a great change. This way, you get the look and additionally also have the opportunity to have your hair secured in a slick braid.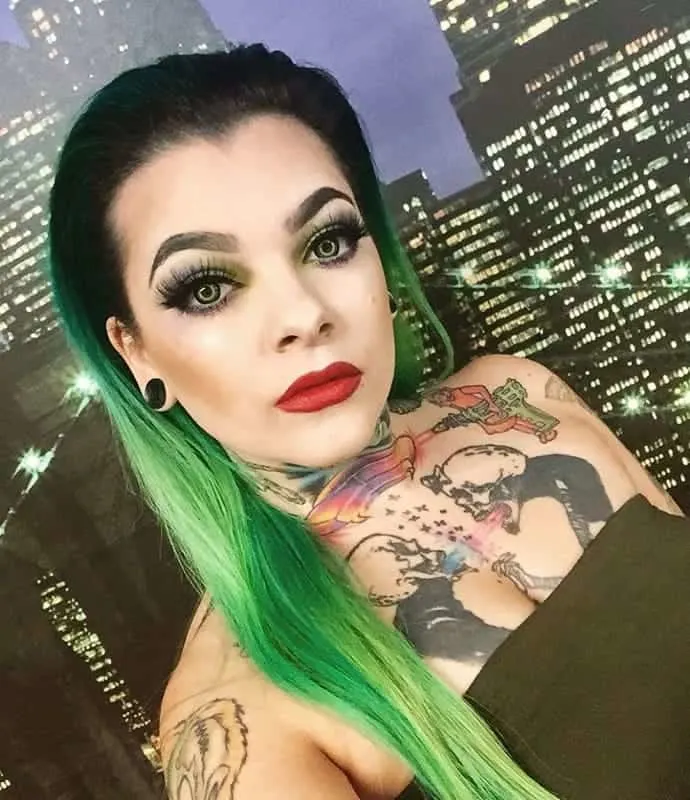 If you have your hair colored in a hue that stands out and has the intention of opting for a hairstyle which doesn't draw attention away, the slick back is great. You can have your natural roots combed back neatly and the color of your desire be even more a part of the spotlight.
#42: Pin It Up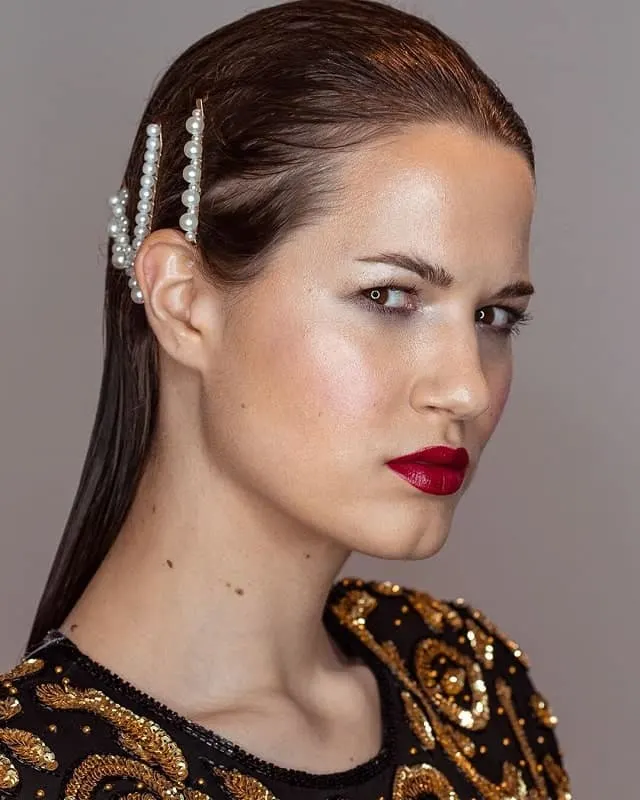 As soon as you refer to any social media about hairstyle inspirations, one common element that will pop up right now is a bold hairpin. Slick back and gold pins go hand in hand, they can be bold accents you can add when you want to turn the look up a notch.
#43: Artistic Slick Back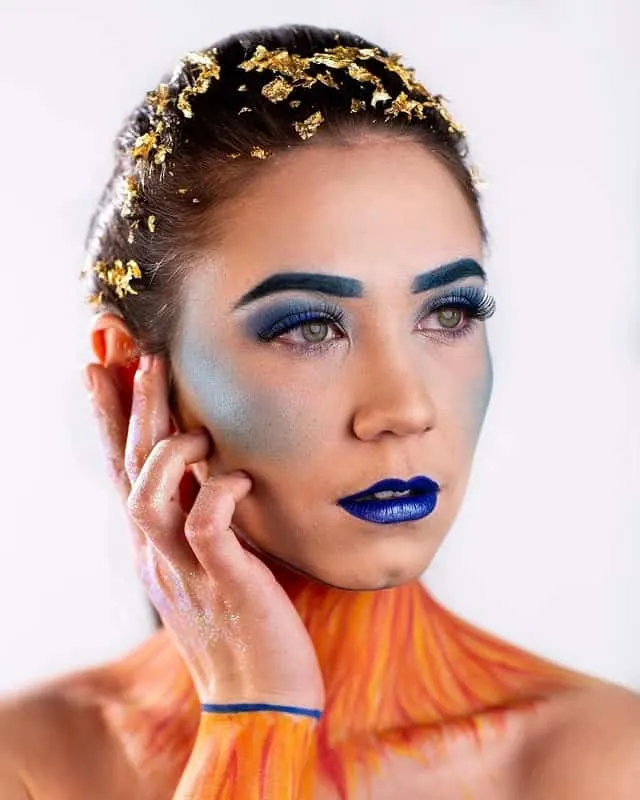 If you are looking for artistic references for photoshoots or otherwise, this hairstyle is perfect. This slick back hair look for women is a great way to add a chic fashion statement, especially when complemented with gold specs on the crown area.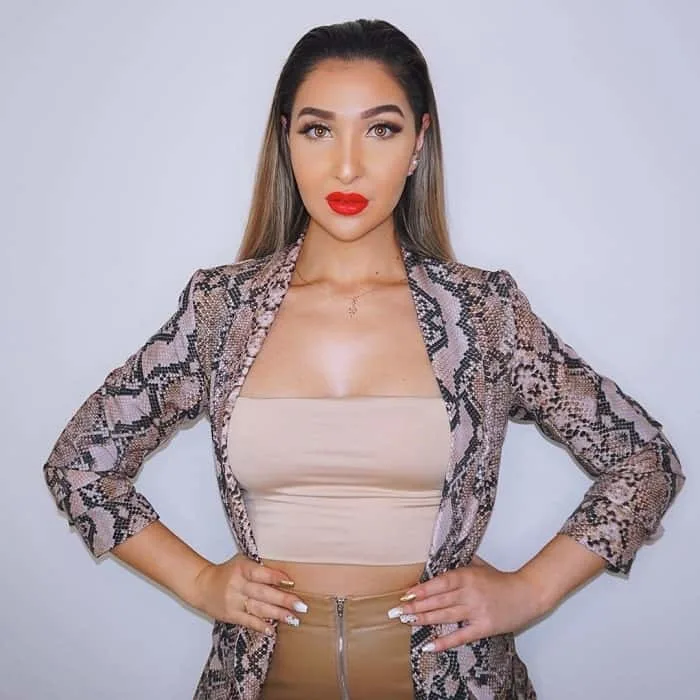 Slick backs can be perfect for a business meeting if you work in the media of the fashion sector. Put on a blazer and slick your hair back and look like you came straight out of a movie.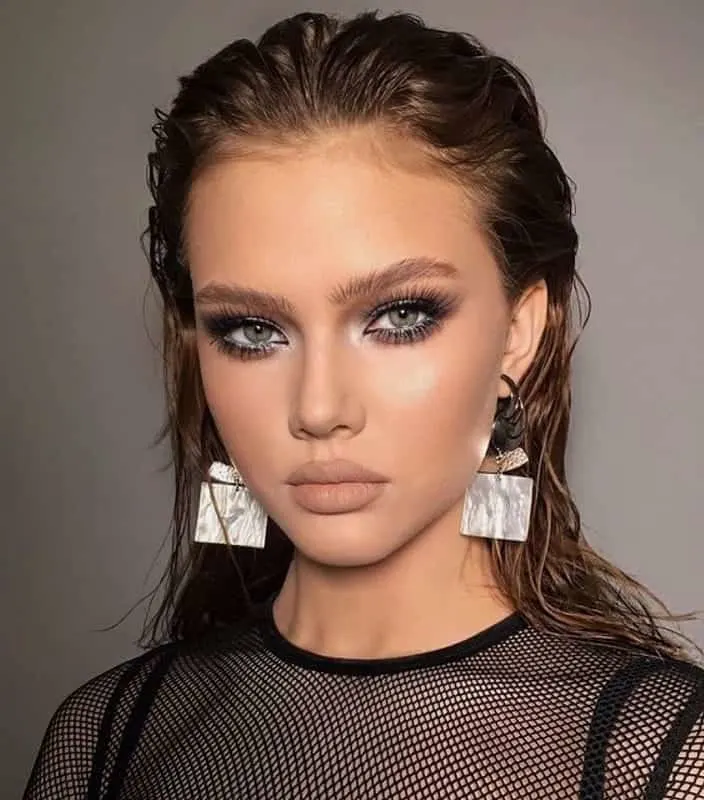 This slick back hairdo for women is more towards the textured side that the clean side. This look is different yet equally mesmerizing and sexy.
Slick back hairstyles are very versatile and chic, which makes them apt for formal occasions and special outings. Although they might not be everyone's preference, you might want to give them a try to see if they suit you well.