Faded haircuts are really popular among guys nowadays who want to try short haircuts. A zero fade is one of the shortest possible haircuts as 'zero fade' cuts the hair down to the minimal length. There is usually still a slight shadow, so it is not a completely clean shaved look, rather a little stubble look on your hair.
How to Get A Zero Fade Haircut
Most men will go to a barber if they want a zero fade. It is quite hard to do this cut on yourself, because of the level of precision that is required. It is easiest to get a zero fade by using a special type of hair trimmer. These trimmers are improving all of the time to give shorter and shorter fades. Zero fades require regular maintenance to keep the hair nice and short.
High Haircut with Tramlines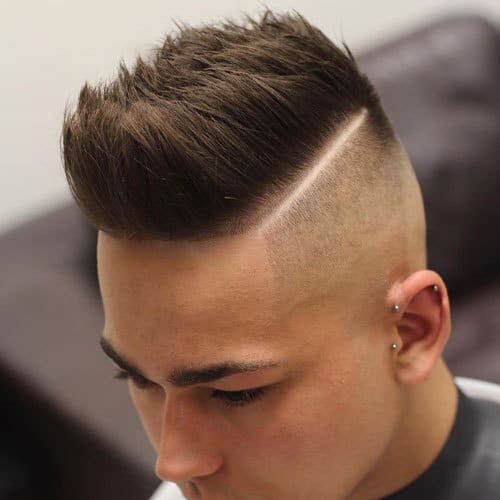 Clearly, separate your hair from your face with a thin razor sharp tramline. Pull your hair upwards from the roots to give your style extra height.
Afrohawk
It is really easy to style African textured hair into a Mohawk style because the hair is strong enough to hold the shape with additional hair products. Some people call this style an Afrohawk.
Long Fade with Peaked Fringe
A long fade goes a long way over the head. You may even start fading from the middle of the head.  Keep the fringe portion of the hairstyle much longer so that you can pull it up into a peak.
Line-Up Cut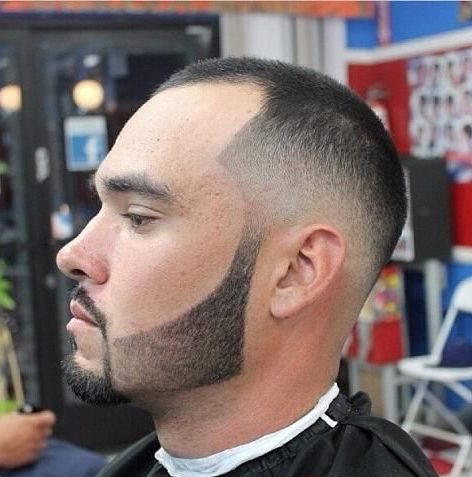 Give yourself a very masculine look by shaping your style into a line-up. These line-up cuts have a lot of distinctive curves and angles.
Comb Cut Pompadour
A pompadour is a very popular retro hairstyle, which has height at the front. Apply a lot of hairstyling product and then use a fine comb to cut lines into the style.
Waved Tramline
Hair art can be distinctive and cool. Cutting a tramline in as a light wave instead of a straight line can be an interesting and unusual take on a classic style.
Extreme Widow's Peak
Guys who have a widow's peak shaped hairline might want to take it to the extreme by cutting in some fade hair art. Curved shapes really enhance the style.
Spiked Up Style
A zero fade can be used as a great way to make the hair on your head look thicker and fuller. Spike it up with gel to give even more volume.
Frosted Tops
Change up your style with some caramel colored frosted tips. Caramel colored frosted tips really stand out against natural black roots.
Classic Hightop
An angular hightop is a really classic hairstyle for guys with Afro-textured hair. You can make your style bigger and bolder with a zero fade which shows off your shape.
Soft Fauxhawk
Cutting a zero fade into your hairstyle is the perfect way to get a Fauxhawk. Soft and flicked back hair is an interesting alternative to traditional hard and spiked up Mohawks.
Yellow Blonde Highlights
A unqiue zero fade haircut you can try. Yellow blonde highlights are very distinctive. They look great on black roots because the dark color helps the vibrant blonde color to stand out even more.
Floppy Hair with High Fade
Keep the hair in the center of your hair mid-length with a zero fade cut. Comb through your hair regularly to keep it soft and foppish.
Thick dark hair looks intense as part of a style which integrates a zero fade cut. The fade makes a high and tight cut look even more intense.
Slick longer hair back in a fauxhawk style. This works best if you keep the hair at the center of your head longer and bring the fade up high and tight.
Zero fade haircuts s are a great way to change any current haircut. In fact, most men can use a fade technique to totally refresh an existing hairstyle. Why not try it with your hair?