Faded haircuts are really popular among guys nowadays who want to try short haircuts. A zero fade is one of the shortest possible haircuts as 'zero fade' cuts the hair down to the minimal length.
There is usually still a slight shadow, so it is not a completely clean shaved look, rather a little stubble look on your hair.
How to Get A Zero Fade Haircut
Most men will go to a barber if they want a zero fade. It is quite hard to do this cut on yourself because of the level of precision that is required.
It is easiest to get a zero fade by using a special type of hair trimmer. These trimmers are improving all of the time to give shorter and shorter fades.
Zero fades require regular maintenance to keep the hair nice and short.
Messy Top
Opt for a high zero fade on the sides and style a longer back and top. If your hair is naturally straight, lift it into a messy voluminous hairstyle.
If you want a more glamorous look, you can dye your hair dark burgundy which will be more noticeable when you step into the sunlight.
Wavy Hairstyle
Inspired by Ceasar's cut, this hairstyle features a zero fade haircut for the back and sides. On the top, the hair is long and wavy.
Use hair gel to style it and arrange the bangs on the forehead. Keep a clean, hairless face.
Braided Top
The zero fade haircut will help you get a gorgeous contrast between the hairless sides and back and the thick long braids from the crown area.
If you don't have long hair in the top section, you can always order braided extensions or Jumbo hair online to create long knits.
Afro Hair with Zero Fade
This hairstyle is so easy to maintain and style. The top is longer, and you can create those look-alike Afro spikes by using your fingertips.
Take small sections of hair and roll them with your fingers. Repeat the procedure several times.
Man Bun
A man bun looks so much better if the sides combine designs and fades. Firstly, opt for a zero fade haircut for the lower back, temples, and years.
In the midsection of the sides, the hair should be longer so that you'll be able to create razored designs.
High Top with Highlights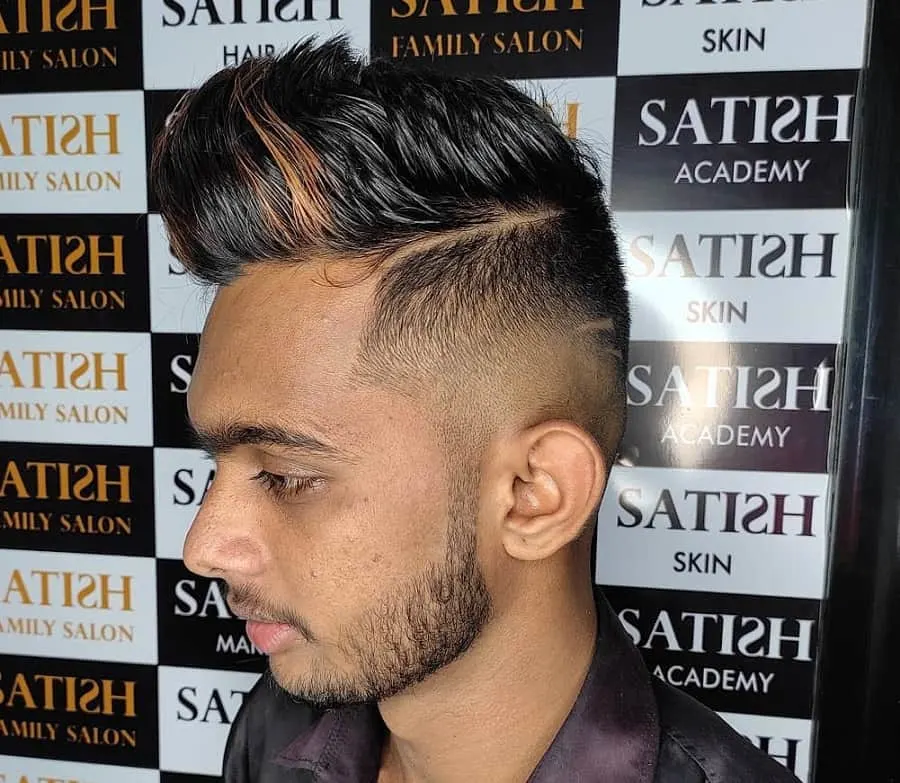 Start with a medium zero fade and keep the hair short until you reach the crown. The top should be much longer. To spice things up, create a single copper highlight that will fabulously match your skin tone.
Zero Low Fade
A zero fade haircut for the lower sides is perfect if you want a haircut with more volume on the top. Layer the hair and keep the bangs longer so the curl can form. For the top, apply hair gel and tousle the hair.
Zero Fade with Design
If you love designs, this zero fade haircut is the perfect canvas. Go for a very short trim in the back and around the temple.
Create that fade, maintaining the hair longer towards the top. In those sections, when hair is longer, you can use the machine or the razor to create your design.
Sleek Hairstyle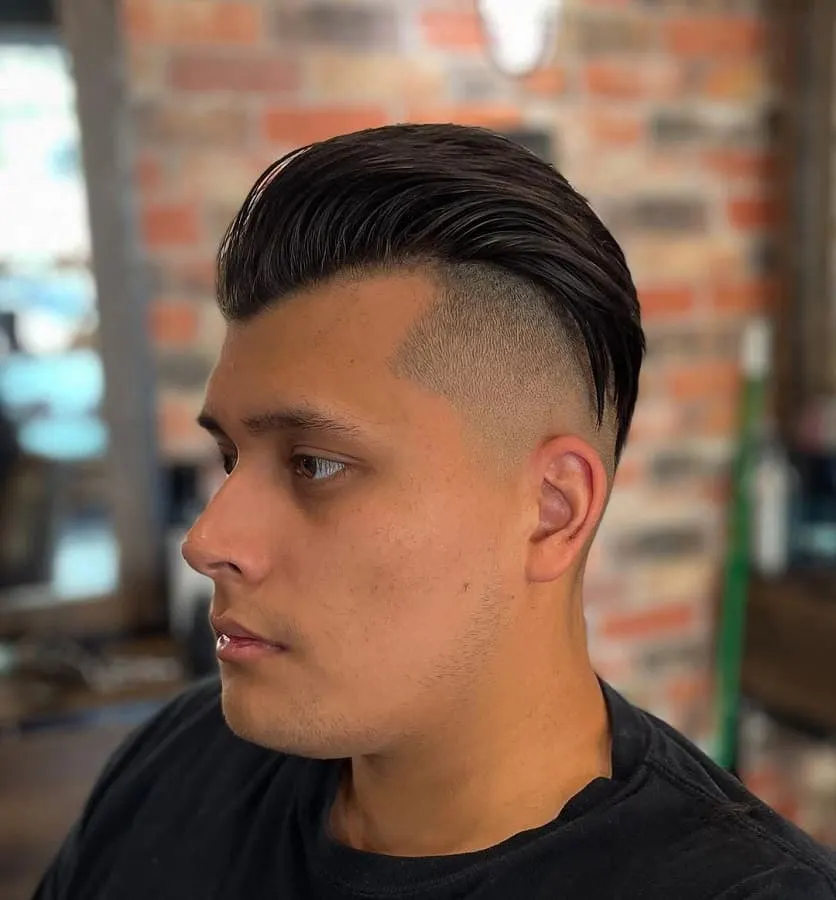 Zero fades are great haircuts for men who have thick, dense hair. They create great contrast, especially if you opt for this short trim on the sides and a longer top.
Opt for a sleek style for the crown and recreate that wet look. Comb the whole top to the back and give it height.
Zero Temple Fade
You can play with different lengths and styles when having curly or afro hair. This zero fade temple haircut also goes around the ear.
The hair is longer towards the top and ends up in a curly mohawk that gorgeously stands out. Pair this hairstyle with a rich beard.
High Haircut with Tramlines
Clearly, separate your hair from your face with a thin razor sharp tramline. Pull your hair upwards from the roots to give your style extra height.
Afrohawk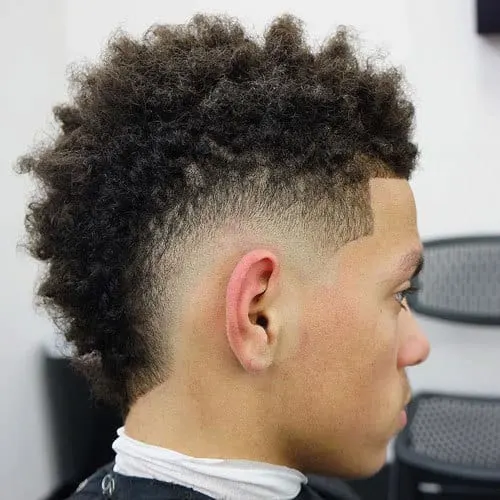 It is really easy to style African textured hair into a Mohawk style because the hair is strong enough to hold the shape with additional hair products. Some people call this style an Afrohawk.
Long Fade with Peaked Fringe
A long fade goes a long way over the head. You may even start fading from the middle of the head. Keep the fringe portion of the hairstyle much longer so that you can pull it up into a peak.
Line-Up Cut
Give yourself a very masculine look by shaping your style into a line-up. These line-up cuts have a lot of distinctive curves and angles.
Comb Cut Pompadour
A pompadour is a very popular retro hairstyle, which has height at the front. Apply a lot of hairstyling product and then use a fine comb to cut lines into the style.
Waved Tramline
Hair art can be distinctive and cool. Cutting a tramline in as a light wave instead of a straight line can be an interesting and unusual take on a classic style.
Extreme Widow's Peak
Guys with a widow's peak hairline might want to take it to the extreme by cutting in some fade hair art. Curved shapes really enhance the style.
Spiked Up Style
A zero fade can be used as a great way to make the hair on your head look thicker and fuller. Spike it up with gel to give even more volume.
Frosted Tops
Change up your style with some caramel colored frosted tips. Caramel colored frosted tips really stand out against natural black roots.
Classic Hightop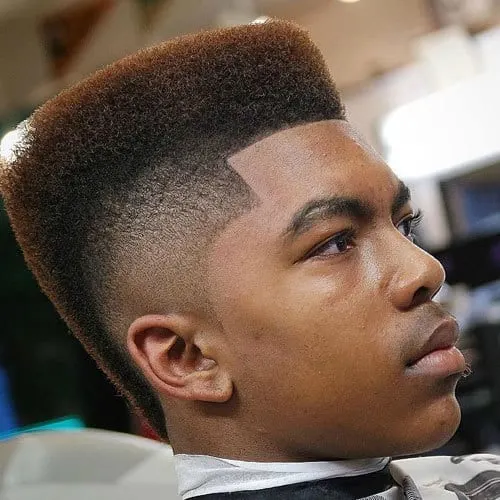 An angular hightop is a really classic hairstyle for guys with Afro-textured hair. You can make your style bigger and bolder with a zero fade which shows off your shape.
Soft Faux Hawk
Cutting a zero fade into your hairstyle is the perfect way to get a Faux Hawk. Soft and flicked back hair is an interesting alternative to traditional hard and spiked up Mohawks.
Yellow Blonde Highlights
A unqiue zero fade haircut you can try. Yellow blonde highlights are very distinctive. They look great on black roots because the dark color helps the vibrant blonde color to stand out even more.
Floppy Hair with High Fade
Keep the hair in the center of your hair mid-length with a zero fade cut. Comb through your hair regularly to keep it soft and foppish.
Thick dark hair looks intense as part of a style which integrates a zero fade cut. The fade makes a high and tight cut look even more intense.
Slick longer hair back in a faux hawk style. This works best if you keep the hair at the center of your head longer and bring the fade up high and tight.
Conclusion
Zero fade haircuts are a great way to change any current haircut. In fact, most men can use a fade technique to totally refresh an existing hairstyle. Why not try it with your hair?
FAQs
Here are some frequently asked questions for the zero fade haircut.
What is a zero fade?
A zero fade is a tapering fade haircut for men, where you shave your hair down to next-to-nothing on a gradient. The final part of the gradient is usually little more than a shadow.
How long will zero fade last?
It depends! The fade generally last 3 to 5 weeks, depending on how quickly your hair grows.

The messier your zero fade is before it starts to grow out, the better it will look as it grows out, and the longer you can go without visiting a barber.
Is zero fade and skin fade similar?
Not really. A zero fade is very similar to a skin fade, but they are not the same thing! A zero fade shaves hair down on a gradient leaving only a shadow of stubble at the end. As the name suggests, a skin fade shaves the hair down until only skin remains.

While there might only be a millimeter difference between both fade, that small amount makes a big difference in appearance.
What's the difference between zero fade and half fade?
A zero fade ends its gradient from bald to stubble. A half fade uses a 0.5 guard (approximately 1.5 millimeters) as its ending gradient making a half fade slightly longer than a zero fade.