While frosted tips hairstyles were all the rage throughout the late 1990s and early 2000s, these days, it is making a comeback.
The look was popular with preppy guys and was often seen on teen idols like Justin Timberlake. There is no doubt that this style will help you embrace your inner '90s kid and get a new unique look.
Note that frosting and highlighting are different, you can read the differences here.
Men's Hairstyles with Frosted Tips
Whether you're looking to add a little spice to your look or want to go all out and get frosted tips, there are plenty of ways to rock this trend.
1. Frosted Waves
The short sides help to frame the face, and the wavy brush back with frosted tips adds a touch of glamour.
This look is perfect for guys who want to have a short elegant hairstyle without spending a lot of time on their hair.
2. Hard Brush Up
It is a great way to add a little edge to your look. Start applying a generous amount of hard hair gel to your dyed hair to get this look.
Then, use a vented brush to style your hair into place. Be sure to focus on the roots and top of your head for maximum lift and volume.
3. Longer Top
To achieve this style, start by sweeping your hair to the front of your forehead. Then, use your fingers to tousle your hair and create a messy, undone look.
This style is perfect for those with short sides and a longer top, showcasing your face and hair texture. For an extra touch of style to your pink tips, you can add a few amounts of gel.
4. Wavy Sweep Over
First, apply some gel to your damp hair and comb it through. Next, use your fingers to sweep your hair over to one side. You will see the waves on your hair.
5. Moderate Side Part
This men's hairstyle is perfect for those who want a stylish yet professional look. It features medium hair parted to the side, and the rest of the hair is left natural while the tips are frizzy.
This style is easy to maintain and can be worn in both casual and formal settings.
6. Salt and Pepper
This salt and pepper hairstyle is perfect for those with medium to thick hair, as it can help to add volume and texture. The frizzy tips add a touch of personality and style, while the sweep forward ensures that your face is framed perfectly.
7. Blonde Frosted Tips
This popular hairstyle consists of blonde frosted tips combing forward with faded sides. Start by applying a small amount of gel to your dry hair tips.
Then, use a fine-toothed comb to distribute the gel through the edge and comb forward evenly.
8. Mohawk + Undercut
This hairstyle features a wide mohawk trimmed down the sides and an undercut visible at the nape of the neck. For a more customized look, you may highlight the tips.
9. Silver Brush Up
The key to this silver hairstyle is to keep the sides and back short and tidy while allowing the top to be a little longer and brushed up.
To get the look, start by applying a small amount of gel to the top of your head. Then, use a brush to sweep the hair up and to the side.
10. Messy Sweep
This frosting highlighted hairstyle is achieved by sweeping the hair back and to the side, with a bit of a messy, unkempt look.
It's an excellent choice for men with medium to long hair and can be styled with or without product. Make sure you use a blow dryer while sweeping to create volume.
11. Frosted Afro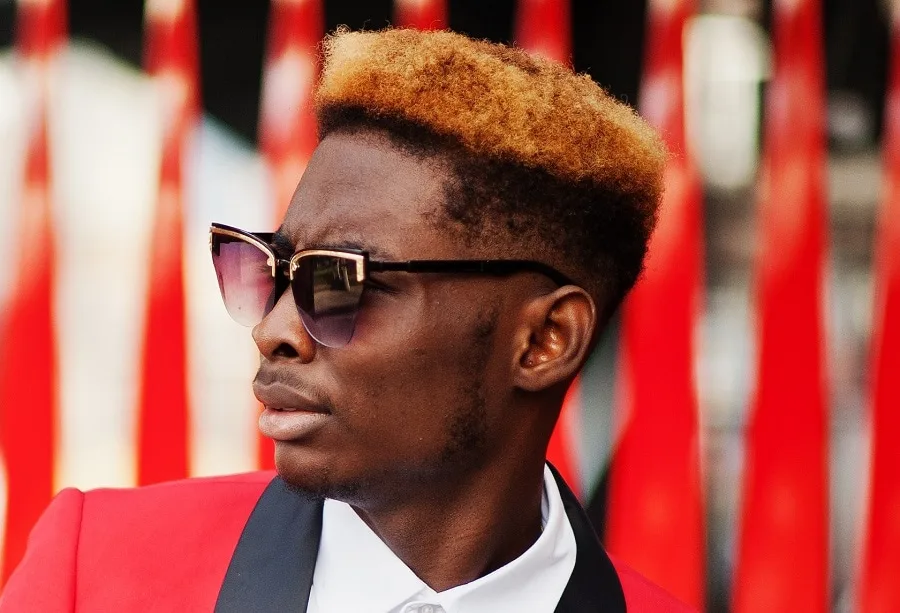 A flat frosted top with faded sides is a great hairstyle for those with curly hair. The flat top gives the hair a sleek and stylish look, while the faded sides help to keep the hair from looking too wild.
To get the ultimate result, use some hair spray on the top to get the frizzy look.
12. Colored Edge
The long spikes add an edgy look to the hair, while the short sides help to keep the face looking clean and sharp.
This colorful tips style is perfect for those who want to make a bold fashion statement. Make sure you use a hard-holding gel to crate long spikes.
13. Messy Faux Hawk
This look is achieved by combing the hair back and to the side while shaping the messy top using your hands. The best thing about the Messy Faux Hawk is that it can be worn on different occasions.
14. Frosted Curly Tips
This silver frosted tips look is achieved by curling your hair with a curling iron and then spraying it with a light coat of hairspray.
After your hair is completely dry, use a small amount of styling gel to define your curls and give them a nice shine.
15. Strawberry Blonde Curls
This hairstyle is perfect for those with naturally curly or kinky hair, as it can be styled into a neat and tidy afro that looks great on top of the head.
To style your hair into a hard afro, apply a generous amount of hair gel or pomade to your hair and leave it like that. Finally, mist your hair with a light-hold hairspray.
16. Uneven Messy Hair
An uneven, messy hairstyle with a front sweep is a bit more relaxed and carefree. Plus, it's much easier to achieve than a polished look.
You're good to go with just a little product, a quick brush-through.
17. Quill-Pig Style
This style is characterized by spiky hair in different directions giving your hair a quill shape. Just add a generous amount of hard-holding hair gel and spike up all of your hair.
While you can use any color, the blonde tips one will give you a cosmopolitan look.
18. Spiky Sweep
It is characterized by its long, thick, and curvy ends at the top. Just add hair gel and brush up the hair while sweeping the top part. You can blow dry during the sweep to get a firm hold.
This frost style looks great with beige-blonde highlights and a clean, shaved face.
19. Frizzy Curls
The hairstyle has become so popular because it can make you look like you have a lot of layers and curls.
Use a thin curly barrel to make the curls on your golden frosted tips, and then put some hair gel or mouses to keep the curls in shape. This style looks good on rectangle-shaped faces.
20. Allover Frosted Tips
This frosted hairstyle is a fantastic look when you have medium caramel highlighted tips and want to have a funky look. Add hair wax all over your head, and use your fingers to pull the hair out to get this look.
No matter which men's hairstyle you choose, there's no doubt that you'll look absolutely fabulous with frosted tips. So go ahead and embrace your inner fashionista.