If you have done your homework and identified your face type, you are ready to choose the right hairstyle. If you have a long face and like short haircuts, there are many interesting options for you to choose from. In most cases, women with long faces should try to make their face seem a bit more oval. Short hairstyles do a good job helping them achieve just that. Choosing the right hairstyle is not an easy task. That's why it is a good idea to find some ready options to browse. Once you choose two or three hairstyles that seem suitable for you, you can ask for further advice from your stylist. Getting an amazing looking haircut is easy when you know what you want. But when you are not sure some choices will be of great help.
Fashionable Short Hairstyles for Long Faces
Short hairstyles for long faces vary greatly. They start with amazing pixies and go on to bobs of different length. Girls with long faces are not limited to any special haircuts. Almost any available style is suitable for a long face with some small alterations. We have prepared a concise list of 20 most fashionable short hairstyles to help women with long faces find their best option. Take some time to browse the choices and take your best pick!
1. Raven black bob
This is a great choice for women with all face types. Women with long faces will appreciate the volume it creates on top to make the face seem a bit shorter. Consider getting wispy side swept bangs as well. The raven black color does wonder for highlighting your facial features.
2. Bob with blunt ends 
If you are not ready to get a very short haircut, make sure your medium length bob has blunt ends. Wispy ends will cause your face to look even more elongated. Consider getting long wispy bangs as well. Blond is a great choice of color for women with long faces.
3. Round bob with inverted ends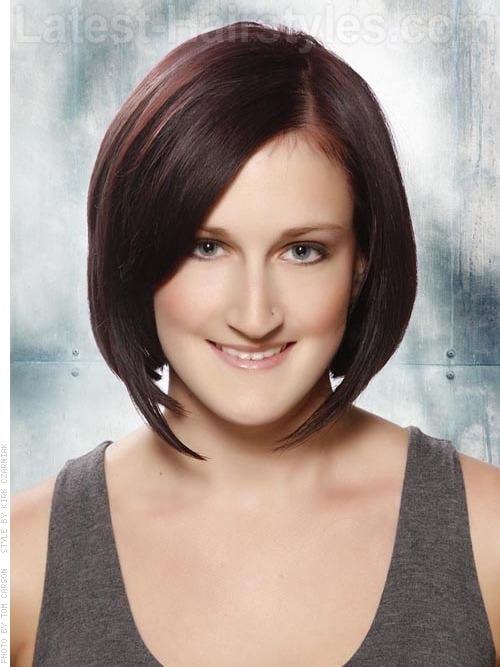 If you want to get inverted ends for your bob, then make sure not to overdo the length of your hairstyle. The shorter your bob will be, the better job it will do making your face seem rounder. Either get short bangs or make them long enough to blend in.
Oval Face? Try These Hairstyles
4. Voluminous pixie with long bangs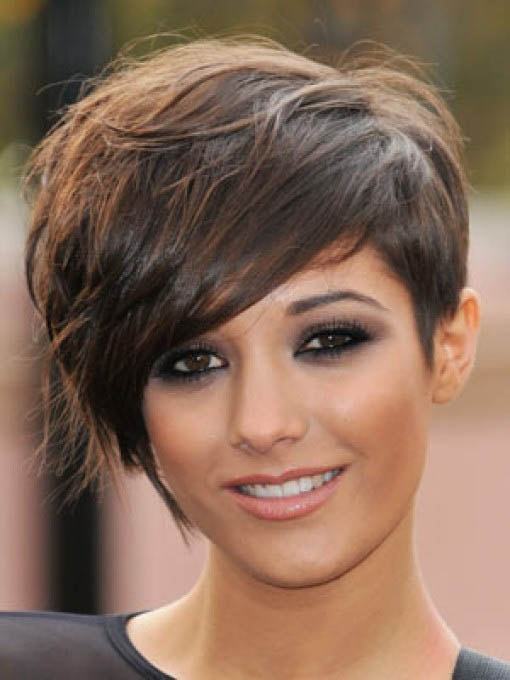 This is one of the best options for women with long faces. The back is cut short while the top is left long enough to create some volume. Such hairstyle will look amazing on women with thick and wavy hair. Long asymmetrical bangs are a must.
5. Shaggy bob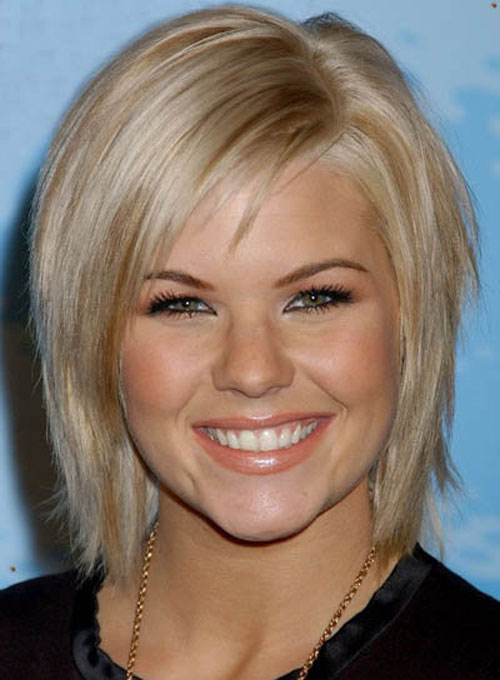 If you are a fan of wispy ends and have a long face, you will love this shaggy bob. It is probably the only hairstyle that uses wispy ends as an advantage. Make sure that the fringe is short and wispy and the hairstyle is not too sleek.
6. Textured pixie 
Women with fine hair will love this high and textured pixie. Ask your hairstylist for such a haircut only if you are sure you can take care of it properly. It will require daily maintenance in order to look as fashionable as possible.
7. Neat bob 
This neat bob is great for girls with fine hair who don't want to spend too much time styling their manes in the mornings. It is quite neat and just long enough to allow you to make a ponytail whenever you wish.
8. Cute waves
Women with long faces will love the way they will change with a wavy hairstyle. These amazing waves will give their hair some volume. This will help the face shape appear more oval. If your hair is straight, consider getting a perm.
9. Weave
If you have a long face and are tired of the short hairstyles, consider getting a weave. Make a nice medium length bob and try some hair extensions to get a taste of a long mane. While looking amazing, it requires a lot of maintenance which not many women are ready to follow through with.
10. Classical bob with short bangs
This classical bob is perfect for all face shapes except the round one. The rounded ends help the long face look more oval. Just make sure the bob ends near your chin. This bob must be styled daily to maintain the shape.
Recommended Hairstyles for Heart Shaped Faces
11. The boyish look 
This boyish bob will be a hit for women with long faces. The front is arranged as a short bob, so the shape doesn't look too elongated. The back is left longer to provide a nice boyish look. This is a low maintenance cut you will surely love.
12. Bright colors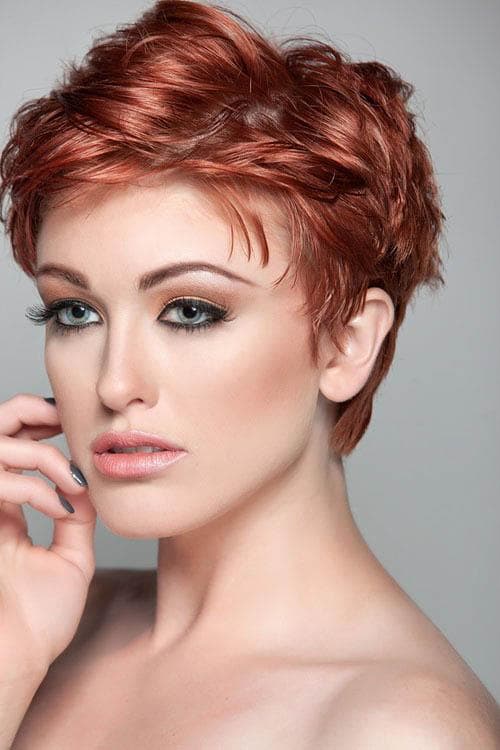 Women with all hair types need to make a choice of hair color. Sometimes we all want a change and it is not always connected with the hairstyle. Choosing the right hair color will make you look truly amazing.
13. Long pixie
Want a real beautiful hairstyle? Arrange your hair in this long pixie. The bangs have to be styled upwards to create a rounded shape which will make your face seem more oval. This is another low maintenance cut for girls with thick hair.
14. Neat asymmetrical bob
This neat asymmetrical bob will do a great job outlining your facial features and hiding your face length. This is a wonderful option for women with thin hair. It is easily styled and makes a great impression. Give it a try!
15. Spiky pixie
Spiky pixie is one of the best short hairstyles for long faces. You can style the spikes any way you like to make your face look more oval. Spikes are in style now, so you can't go wrong with them! A great haircut for girls with thick and unruly hair.
16. Soft blond asymmetry
Asymmetrical haircuts are very stylish and can be a great help for women with all face types. This elongated bob is great for girls with straight hair. Add some side swept asymmetrical bands and your image will be complete.
17. Short graduated bob 
If your face is long and you still want a graduated bob, it must be short. Otherwise, it will just elongate your face even further. Make sure that the frontal strands don't go beyond your chin length and you will look truly amazing!
18. Windblown pixie 
Messy hairstyles are preferable for girls who hate hair hassle. This short windblown pixie will not require you to spend any time in front of the mirror. You can even forget to brush. If you like the look, go for it!
19. Wild curls
A bob with wild curls is another perfect short hairstyle for long faces. It adds your face some volume which helps it appear more oval. If your hair is naturally curly, then this hairstyle is what you've been looking for.
20. Messy bob 
Got fine hair and a long face? A messy bob can be the best choice for you. It will outline the round part of your face and allow you to forget about too much maintenance. You can get layers to add some much needed volume.
No need to keep worrying about your long face shape! These amazing haircuts are a wonderful solution. Take a long look at these useful options and choose the one that appeals to you the most. These bobs and pixies are all wonderful. Don't wait to make the right choice!