Have you ever considered how exciting silver blue hair could be? Most likely, you didn't dream about this color when you were young. However, fashion evolves along with the times.
Blue colors are usually used by girls trying to make a statement. However, there is no one best way to approach the blue.
There are many shades and colors you can choose from, including silver blue. You don't have to dye your whole mane blue in order to look stunning. Many girls choose highlights or even partial highlights.
Things to Consider Before Getting Silver Blue Hair
Silver-blue hair color is perfect for you if you're a fan of subtle effects of blue or purple hues.
The lifting process can be intense. So, this color is not for everyone, particularly for those with dark base colors.
Choosing the Perfect Shade
Work closely with your hairstylist to determine the ideal shade that complements your skin tone.
If you have a warmer skin tone, lean towards silver or violet shades, while cooler or olive-toned skin should opt for more blue shades.
Consider your personal preference when deciding on the intensity of the pastel or silver color.
High Maintenance Level:
Be prepared for a high level of maintenance with silver-blue hairstyles.
To achieve the desired style, you will need to significantly pre-lighten your base color.
Establish a dedicated aftercare regimen to prevent the blue from fading and the blonde from becoming brassy.
Versatile Aesthetic
Silver-blue hair pairs well with both bold and neutral makeup looks.
Your choice between blue or silver shades will impact the makeup styles that work best with your hair color.
Explore Similar Shades
Consider related shades such as mushroom blonde, dark lavender blonde, violet-silver, and teal-silver.
Budget for Price
Prices can vary depending on your base color, your chosen salon, and your stylist's expertise. In Los Angeles, for example, expect to pay between $300 to $1,000 for silver-blue hair.
Fashionable Silver Blue Hair Color Ideas
You can buy silver blue dye and create the silver blue hair on your own. However, such wild colors should be taken care of in the salon. A professional hairstylist will apply the color evenly, and you will have a better chance of keeping it fresh for a longer period of time.
If your hair is too dark, you might need to go through a hair-lightening procedure in order for the blue color to stick.
1. Multicolor Undercut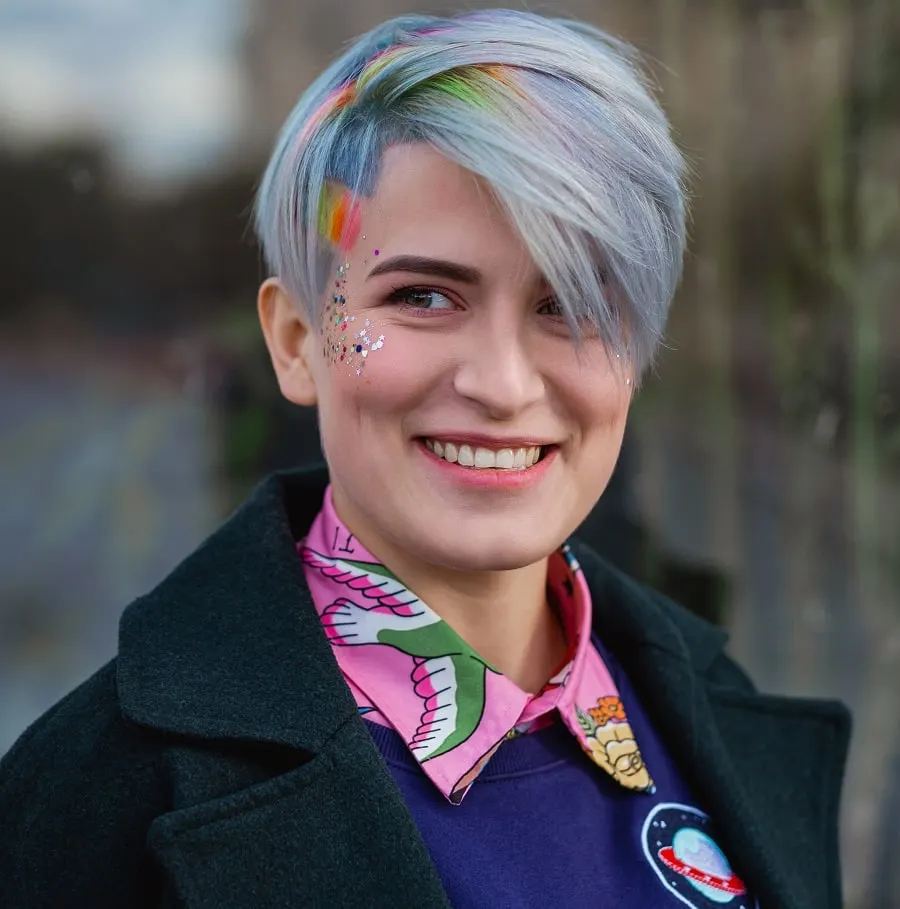 If you love anything out of the ordinary, this multicolor undercut is the right hairstyle for you. Perfect for outgoing, daring, and happy-go-lucky women, this hairstyle will allow you to express yourself in the most creative way possible.
After all, it has all the elements of a head-turner– a short pixie cut, a badass undercut, and lots of colors. What more can you ask for?
2. Blonde Hair + Silver-Blue Highlights
Do you know what's more fun than being blonde? Being a blonde with silver blue highlights!
These fun-loving highlights will provide a good contrast against the warmth of your blonde hair and will make your pale skin tone look more striking.
3. Messy Updo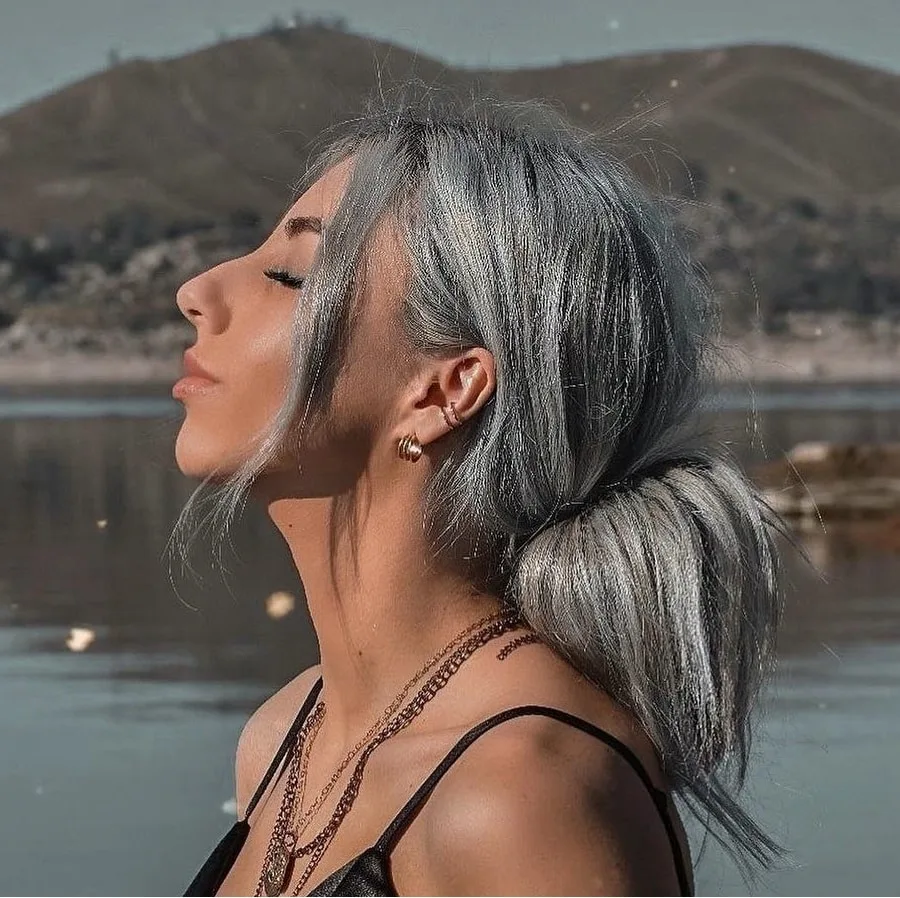 No other hairstyle can look as carefree and high-spirited as a loose updo. This simple hairstyle keeps hair away from your face but in the sexiest way possible.
Add in a bluish silver hair color and you get yourself a hairstyle that will definitely have heads turning.
4. Playful Pigtails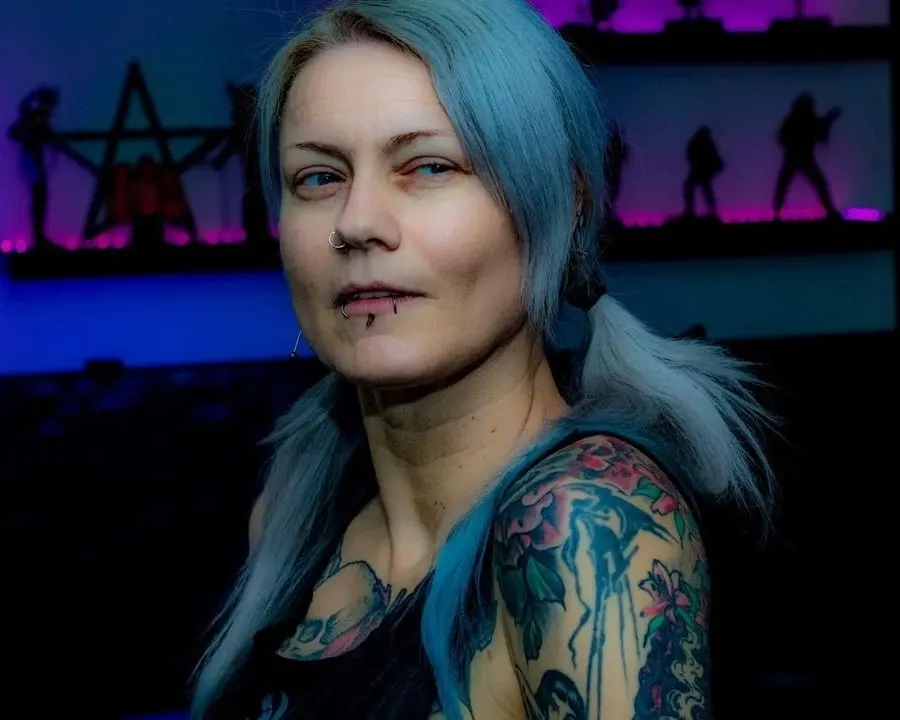 Unleash your inner rock star by coloring your hair a vibrant shade of blue. Also, pull your hair into playful pigtails for a hairstyle that screams badass yet fun.
5. Silver Blue Balayage
Make your mermaid dreams come but in a unique way. Instead of going for pinks, purples, and other common feminine shades, try this gorgeous silver shade that looks mesmerizing and avant-garde at the same time.
6. Dusty Blue Bob
Do you want to soften your sporty bob without looking overly feminine? Silver-blue hair in a dusty shade is the key.
This pastel number is perfect for women with angular jawlines as it draws the attention into the cheekbones and away from the jaw area.
7. Face-framing Highlights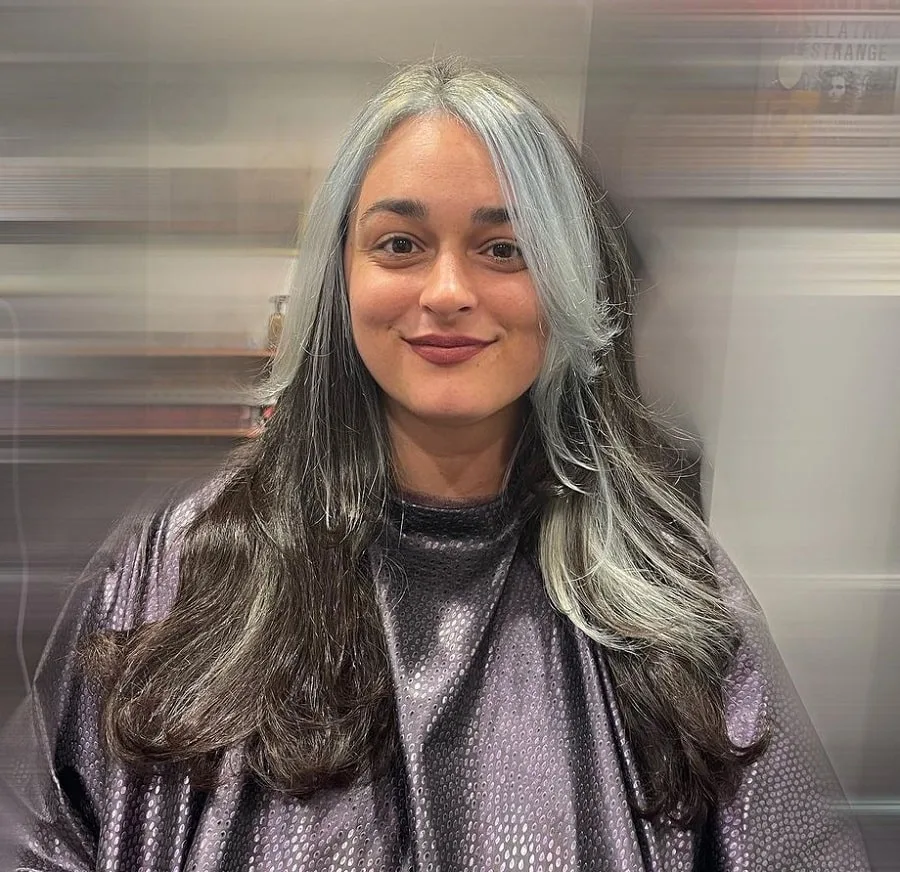 You don't need to go all-out to enjoy silver-blue hair. If you want a subtle yet eye-catching hairstyle, go for face-framing highlights. This type of highlight brightens round faces and makes them look slimmer and softer.
Bonus point– it's low maintenance as well!
8. Metallic Mullet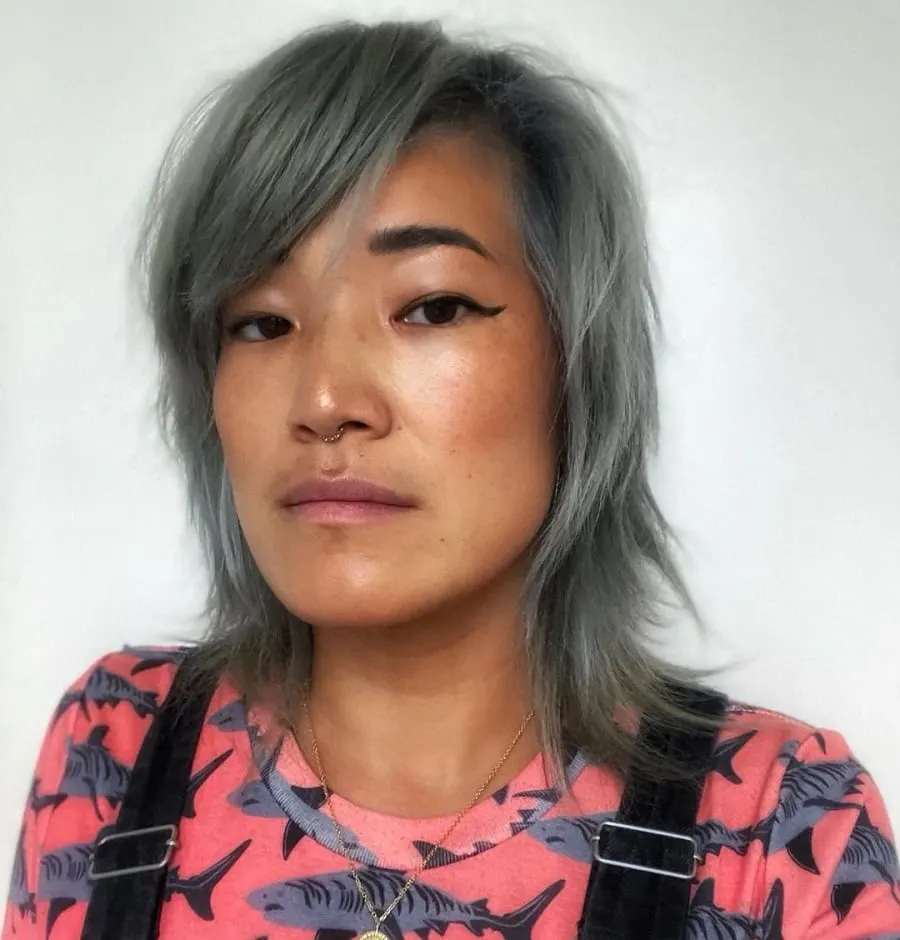 Mullet is already a fashion-forward haircut, but you can make it extra edgier with the platinum silver-blue shade. As compared to a vibrant hue, this ashy hue makes the look more mysterious and perfectly complements her fair skin tone.
9. Highlights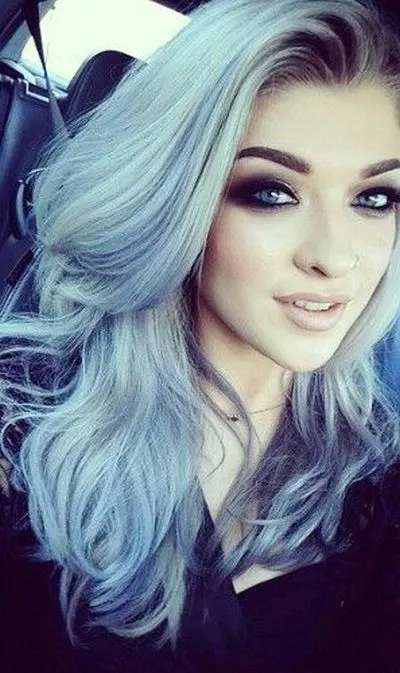 Highlighting your blue hair is the best way to go. If you are starting out with blonde hair, try several shades of blue when dyeing the strands. You'll get a great blue extravaganza.
Midnight Blue Hair Color Ideas
10. Ashy addition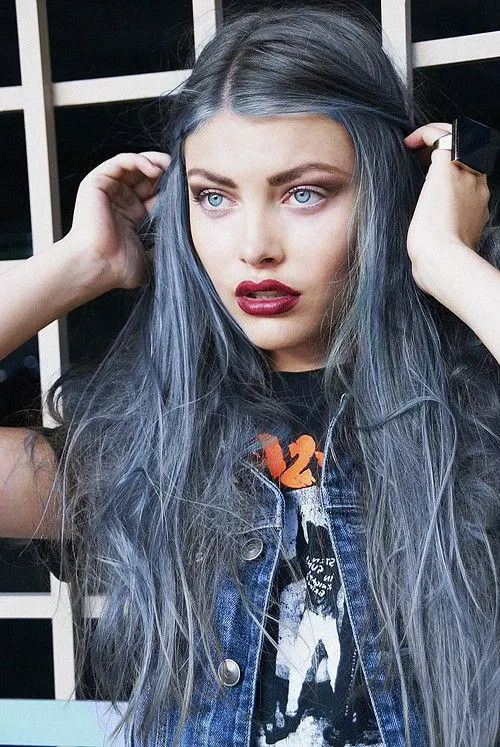 Besides using the silver blue hair color, you can add ash blonde locks to the overall image. Because blue is your main color, you can easily complement it with other colors.
11. Violet ombre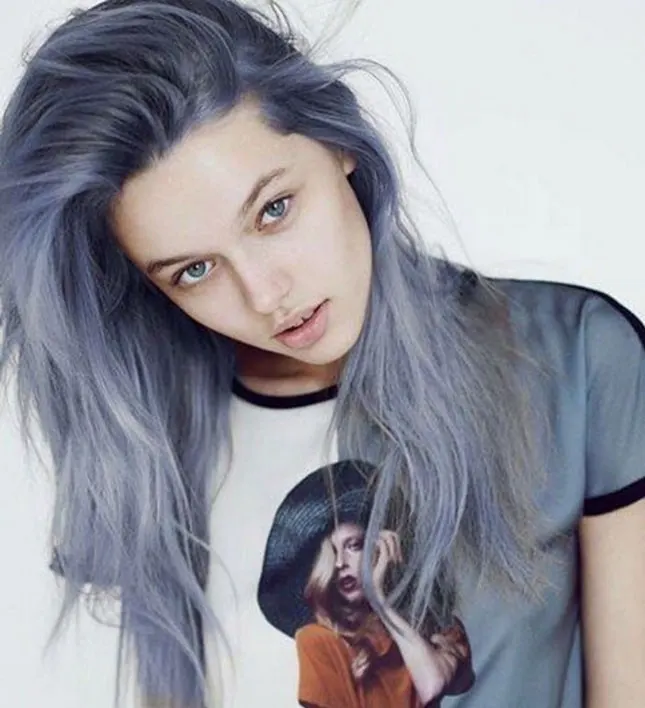 Besides using silver and blue for your highlights, consider bringing the violet shades into the picture. The top half of the ombre can be light violet, while the bottom half can be blue and silver.
Dark Blue Hair Colors for Women
12. Simple color blend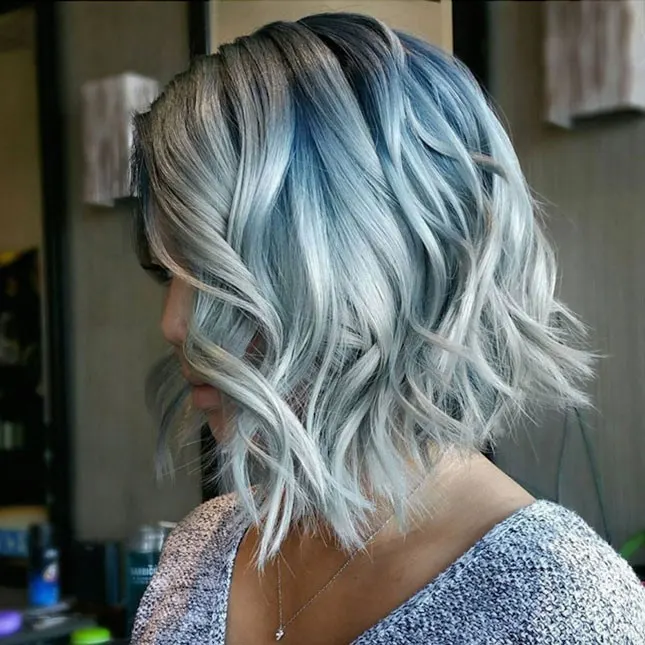 If you are planning to highlight your hair blue, try to choose a simple color blend. Blue is drastic enough for a hairstyle, so the rest of the colors should be subtle, such as blonde or silver.
13. Metallic blue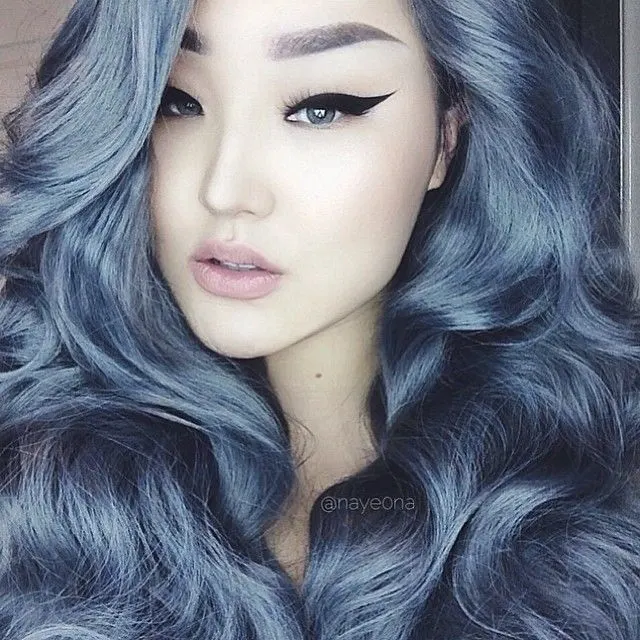 Metallic blue shades look especially effective. If you are willing to keep this color up, you can take advantage of how beautiful it looks. The longer the hair is, the more stunning such a hue will look.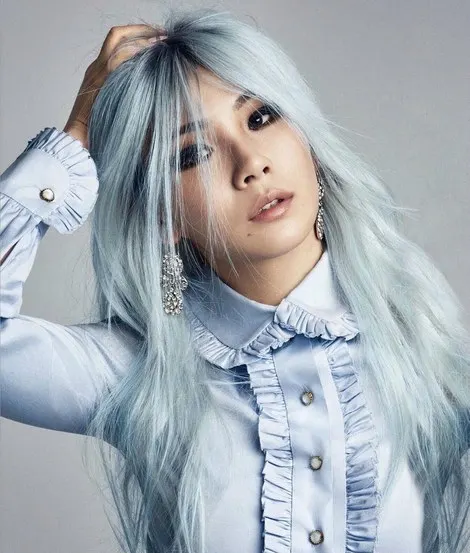 The lighter you make the silver blue hair color mix, the more natural it will look. Remember that if you have fair skin, this type of hair color is not for you. Even if your skin is olive, you'll need to use some prominent makeup.
15. Partial highlights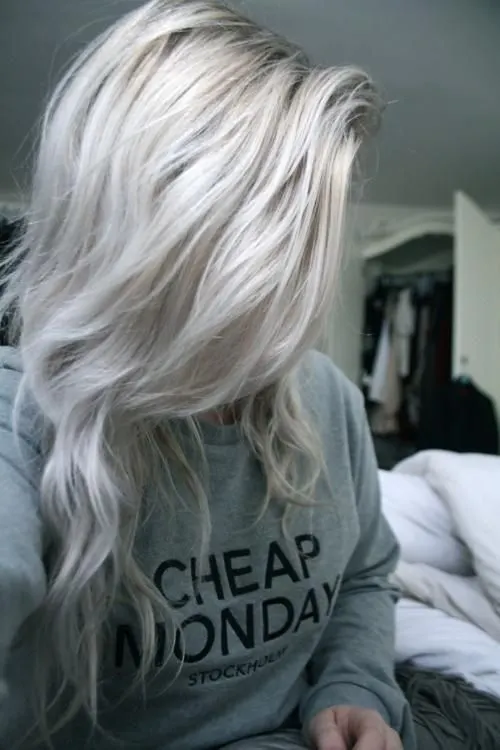 Give your hairstyle a subtle boost by adding partial silver blue highlights. Don't be afraid of coloring a few strands. They will only improve your overall appearance and give you some extra oomph.
Creative Light and Dark Auburn Hair Colors to Try Now
Silver blue hair is uncommon. You can be sure to have a distinctive hairstyle if you choose it because of this. Take another look at these 15 options and make a good decision about your new image.