Have you ever considered how exciting silver blue hair could be? Most likely, you didn't dream about this color when you were young. However, fashion evolves along with the times.
Blue colors are usually used by girls trying to make a statement. However, there is no one best way to approach the blue.
There are many shades and colors you can choose from, including silver blue. You don't have to dye your whole mane blue in order to look stunning. Many girls choose highlights or even partial highlights.
Silver Blue Hair for Making a Statement
Making a statement with silver blue hair is easy. It's much harder to maintain the color. You need to be ready for the color to wash out and to stop looking as silver as you wish. That's why you need to consider partial dyeing or be ready for constant touchups.
Silver blue is a wonderful color for special occasions or cosplays. That's why you might want to consider semi-permanent dyes in order to check out the way the blue looks before making it your permanent choice.
How To Get and Maintain Sliver Blue Hair
Watch the video below to learn how to achieve stunning silver-blue hair:
Maintaining silver blue hair is a hassle. So you need to get ready for a fight. You can ask your hairstylist for some advice, but you'll most likely hear a sigh instead of a reply.
Here are the simple steps you should follow to keep the color intact for as long as possible.
Buy special hair care products for dyed hair (shampoo and conditioner)
Apply special hair masks to your locks at least once a week.
Try to avoid washing your hair every day
Don't use hair dryers and curling irons
Go for color touchups at least once a month
Popular Silver Blue Hair Color Ideas
You can buy silver blue dye and create the silver blue hair on your own. However, such wild colors should be taken care of in the salon. A professional hairstylist will apply the color evenly, and you will have a better chance of keeping it fresh for a longer period of time.
If your hair is too dark, you might need to go through a hair lightening procedure in order for the blue color to stick.
1.
2.
3.
4.
5.
6.
7.
8.
9. Highlights
Highlighting your blue hair is the best way to go. If you are starting out with blonde hair, try several shades of blue when dyeing the strands. You'll get a great blue extravaganza.
Midnight Blue Hair Color Ideas
10. Ashy addition
Besides using the silver blue hair color, you can add ash blonde locks to the overall image. Because blue is your main color, you can easily complement it with other colors.
11. Violet ombre
Besides using silver and blue for your highlights, consider bringing the violet shades into the picture. The top half of the ombre can be light violet, while the bottom half can be blue and silver.
Dark Blue Hair Colors for Women
12. Simple color blend
If you are planning to highlight your hair blue, try to choose a simple color blend. Blue is drastic enough for a hairstyle, so the rest of the colors should be subtle, such as blonde or silver.
13. Metallic blue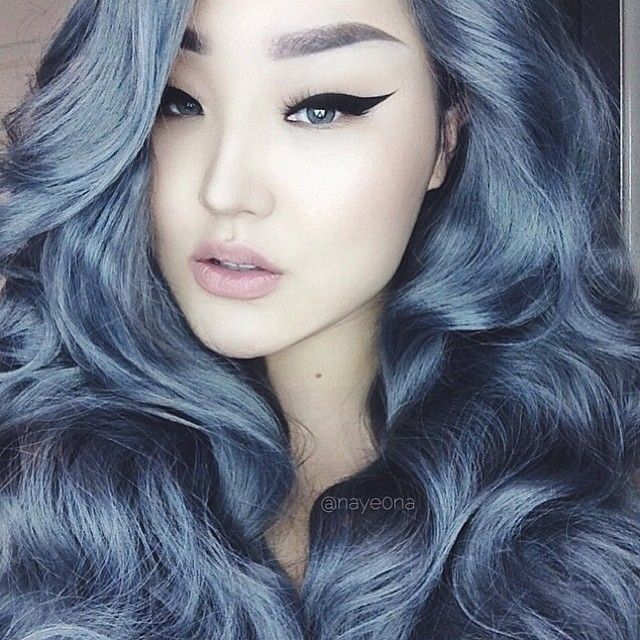 Metallic blue shades look especially effective. If you are willing to keep this color up, you can take advantage of how beautiful it looks. The longer the hair is, the more stunning such a hue will look.
The lighter you make the silver blue hair color mix, the more natural it will look. Remember that if you have fair skin, this type of hair color is not for you. Even if your skin is olive, you'll need to use some prominent makeup.
15. Partial highlights
Give your hairstyle a subtle boost by adding partial silver blue highlights. Don't be afraid of coloring a few strands. They will only improve your overall appearance and give you some extra oomph.
Creative Light and Dark Auburn Hair Colors to Try Now
Silver blue hair is uncommon. You can be sure to have a distinctive hairstyle if you choose it because of this. Take another look at these 15 options and make a good decision about your new image.