Do you really remember what it feels like being 9,10 or 11 year old boy? Probably you have forgotten how much fun this age can be. That explains why young boys between 9-11 years old ask their parents for a haircut that is funky. So before shouting that "no" to your little boy, think again about being a kid.
It is a one-time passage, and you should take advantage of this fun age. Opting for something funky for your boy's hair is a great idea to give him a funny, crazy and a fantastic look.
Crazy Haircuts for 9,10 and 11 Year Old Boys
Being either 9,10 or 11 years old boy is all about having unlimited fun. Before your boy is fully grown up to be faced with different adolescent issues, try one of these haircuts for 9,10 and 11 year old boys.
9 Year Old Boy Haircuts
#1. Side Swept Hair with Side Fade
You can give your little boy's hair a perfect style, especially if he has fine hair that can be tailored to various styles and shapes you want. This style is a typical look that can be created by styling the sides faded with short trimmed hair on the top swept to the side.
#2. Slicked Back Hair with Shaved Sides
This 9 year old boy haircut never exits the fashion niche. The shaved parts match pretty well with the entire look, and the neatly combed back mane is just exciting on top.
#3. Kinky Locks with Surgical Design
If your little boy has frizzy locks, trim them short to the skin and throw a bit of drama of the haircut by including a subtle cut at the front.
Exclusive short Haircuts for Teen Boys
#4. Spikes with An Undercut
When spikes are incorporated with an undercut, it can turn to be a glam combo. Just include a neat and clean cut to your 9 year old kid's hairstyle and let him rock everywhere he goes. You may need some styling product to achieve this final look.
#5. Slicked Back Hair with Hard Part
This hairstyle for 9 year old boy is always in fashion. The hair is slicked at the back using a styling product, and a hard part is incorporated with an undercut for a smooth finish of the look.
#6. Simple Side Swept Haircut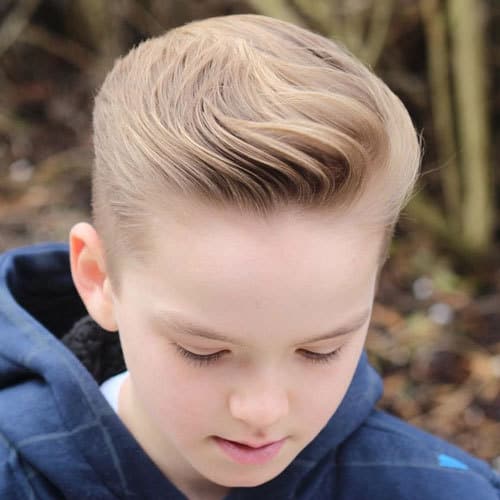 This is a fun and formal style that is all about side-swept hair and simplicity. The hair is messed up at the lower side of the nape. Overall, it showcases all the handsomeness of your kid.
10 Year Old Boy Haircuts
#7. Forward Swept Spikes
One of the cute 10 year old boy haircuts. It presents a gorgeous sporty look to your boy. However, you will need some styling product to hold your hair in place. Finger comb the hair to the front and raise them to get the final spiky look.
#8. Long Side Swept Hair with High Fade
Want your kid to have a crazy yet stylish look? This is the ideal style to go for. Let him allow the hair to grow long. Sweep it to the side and finish the entire style with a cute high fade. The hard part further compliments this look.
Coolest Long Hairstyles for Boys
#9. Long Forward Swept Spikes
This long forward swept haircut is all you require for your little boy to flaunt the style. It gives him a more than just a normal party look. It seems stunning and feels tenderizing. The blonde hair is let to grow long, and then side swept to the front to create this glamorous look. Besides, the sides are maintained to medium length.
#10. Curly Mohawk With Surgical Design
If you are facing challenges trying to get the right 10 year old boy hairstyles for your boy's curly hair, this curly mohawk should be definitely your hot pick. The hair is let to grow to a medium length and chopped into an elegant mohawk style. The sides are shaped and then its beauty accentuated with surgical designs.
#11. Short Spikes with Surgical Design
To create this haircut, the hair is cut short, and finger combed to come up with a spiky style. The surgical design suits cricket fans who are obsessed with having cricket everywhere in their life.
#12. Curly Mohawk With an Undercut
This is defined by its beautiful undercut with a different surgical design. The design resembles a flash sign that seems cool for your kid.
#13. Medium Length Mohawk Haircut
Swirling all the hair to the centre is a fun and sophisticated trend that is currently being adopted by most mothers for their boys and increasing its popularity among little boys. If you are looking forward to making your 10 year old boy look handsome, this will be a good style to rock with.
11 Year Old Boy Haircuts
#14. Mohawk With Patterns
If your boy needs some shaving, then you can have his stylist give him some pattern experiments. They can change from simple lines or geometrical figures to phrases or even letters as seen in this boy's cut.
Have A Look at These 5 Year Old Boy Haircuts
#15. Dye It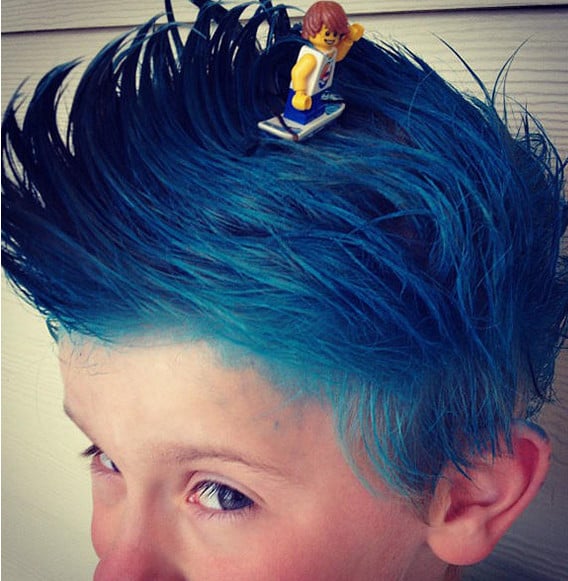 Outrageous hues might give you a shock as a parent, but your kid will surely like it. Allow your 11 year old boy to be a real Rockstar with this stunning color. You can begin with blue and proceed to red and green. It is a sure way to make your little boy shine in style and pleasure.
#16. Make an Explosion
This 11 year old boy haircut doesn't look too outrageous. If your kid has an elongated hair, let him rock with this real messy haircut. Utilize some styling gel to hold it up.
#17. Wild Curls
If your boy has wavy hair, create some unruly curls by using some styling gel on the wet hair and give it some time to dry. It is a simple hairstyle for 11 year old boy that will provide a sense of satisfaction to both you and your little lad.
#18. Rainbow
Experimentation with colors is possible and fun especially when you are a little boy. So, don't deny your 11 year old boy this precious opportunity to have fun with shades. Use some temporary hair dye and let her personality run wild. The outcome can be astonishing, and you will like it.
#19. Short Side Swept Hair with Surgical Design
This is a gorgeous haircut that actually defines itself by the short manes on the sides. They are perfectly styled into an excitingly exhaustive surgical design. The top hair is beautifully styled into a side swept look adding a neat texture with styling product.
Easy Preschool Haircuts for Little Boys
#20. The Army Man Hairstyle
This truly resembles an army man. The top hair is maintained to mid-length, and a medium fade is created on the sides that make this haircut one of the best for 11 year old boys, representing a commando look. This haircut looks great on straight and silky hair.
So, those are some of the best and trendiest 9,10 and 11 year old boy haircuts ideas that you can consider for your kid. You need to ensure that you select the right haircut that will look great on your kid and importantly that which will be in line with his personality.
Little boys love to be listened to, so his opinion on the type of style he wants shouldn't be taken for granted. Regardless of choice you go for, you and your lad will surely love it.