Preschool boy haircuts or any other hairstyle do say a lot about one's personality. We all go for different kinds of hairstyles, for different kinds of the occasion; men and women alike. But why we all grownups should have all the fun? What if the toddlers to want a style of their own? They too can look smart and handsome, even better than us!
Best Preschool Boy Haircuts
Let's have a look at these 30 preschool haircuts for boys that our experts have carefully chosen for your baby boy.
Adorable isn't it? This preschool boy haircut will make your baby look so cute that none can turn eyes from him. But how do you get this style? Well its quite simple, you have to shave up your little man's head bit sideways, as you see in the picture and let the remaining hair in the middle.
Now brush up the hair in the middle and voila your little man is all decked up!
Get Inspired by These Baby's First Haircut
2. Side Blown Undercut
The undercut is absolutely stunning as it looks. By keeping the maximum hair in the front and shorter on the back and sideways it makes your kid look trendy. Cool isn't it?
3. Long Comb Over
Yeah, you know what he's looking cute in this! The long comb-over is just the style you want to give to your young man. Not much of a problem, just shave up a bit from any one of the edges and then comb the rest of the hair to the opposite side you have shaved off. Isn't it a cool preschool haircut for your baby boy?
4. Spiky Fringe
Well, this preschooler boy haircut doesn't even require much of an effort to do. All you need is a proper hair gel to set it all right. Collect the hair in the middle and spike it up using your fingers and your spiky fringe is ready!
5. Wavy Shag
Now, this preschool hairstyle for little boys is a bit different from the rest of the lot. If your child is having a wavy hair, then this is the perfect preschool haircut for him! All you need is some good gel to bring in the desired look you want to give to your toddler. That wavy hair makes him go all cuter.
6.
7.
8.
9.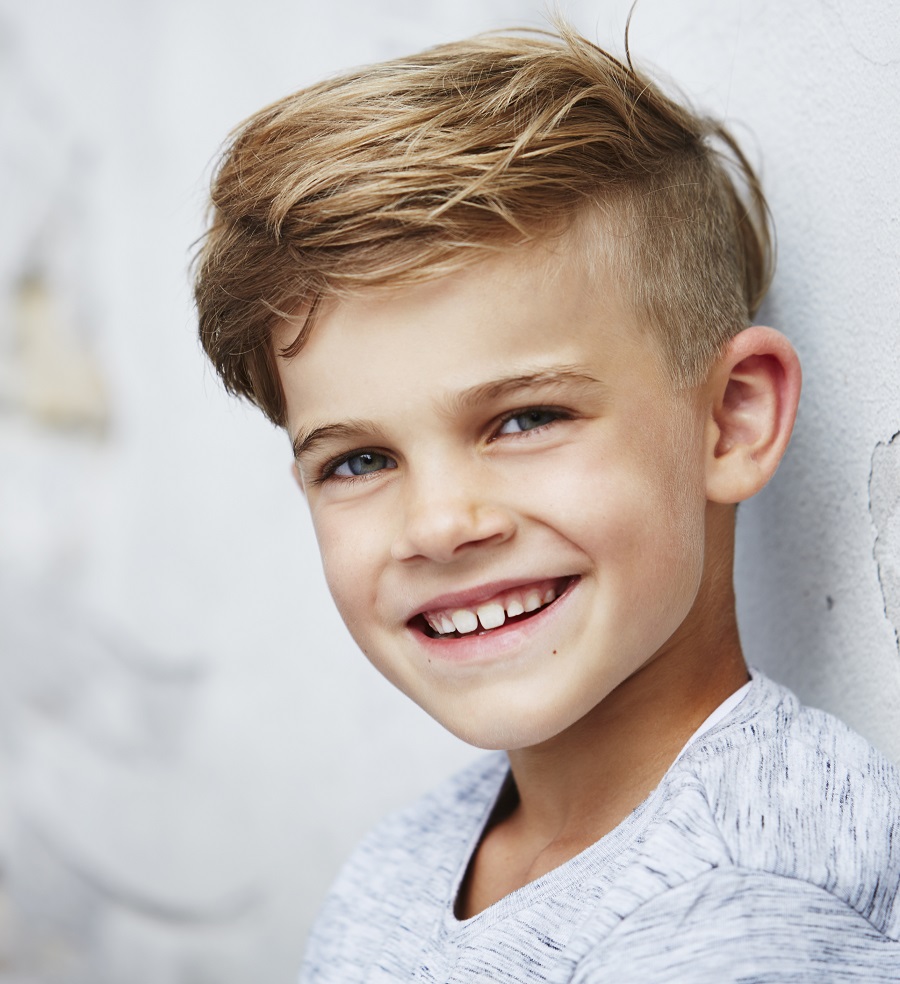 10.
11.
12.
13.
14.
15.
16.
17.
18.
19.
20.
21.
22.
This preschool boy hairdo can be a bit tricky, but you still can manage it if you want. All you have to do is that take little sections of hair and start making tiny braids, make sure that the braids remain near the scalp. This African hairdo will be a unique preschool haircut for your little man.
24. Tousle Haircut
Well, this is a very simple one, anyone out there can go for it. not much needs to be done for it, just make sure that this preschooler haircut for your boy, has got sticking ends after he has got the haircut.
Haircut Ideas for 5-Year-Old Boys
25. Classic Fringe
All you have to do is to cut fringes and part the hair in one side. To maintain the fringes on you have use hair gel. Easy to do and easy to maintain preschool boy haircut.
26. Blonde Curls
Your little boy will look like a little angel if you get him a medium-short haircut. He will get tight ringlets that are bouncy and real pleasure to see. Such a wonderful coiffure to match his eyes!
27. One-sided Wavy Bangs
If you have a preschooler boy at home, this haircut with bangs swept on one side will make him look absolutely adorable. If those bangs get in his eyes, you can even style a top knot.
28. Bowl Cut
Bowl cuts are ideal hairstyles for preschooler boys because his bangs won't get in his way, making this hairdo one of every mom's favorite. It is also so low maintenance and quite common among these little gents.
29. Faux Mohawk
Your little man already found his role models among his relatives and friends, and he will definitely want this stylish faux hawk haircut that men get all the time. He will feel so fancy!
30. Short Haircut With Bangs
This medium hairstyle with bangs for preschoolers looks so adorable on your baby, and at the same time, it's low maintenance and doesn't get in your guy's way while playing. Give it a try and enjoy this period when your small man is not fastidious.
Thus, these are preschool haircuts for boys you can give to your toddler and make him look smart and handsome.