Preschool boy haircuts or any other hairstyle do say a lot about one's personality. We all go for different kinds of hairstyles, for different kinds of the occasion; men and women alike. But why we all grownups should have all the fun? What if the toddlers to want a style of their own? They too can look smart and handsome, even better than us!
Best Preschool Boy Haircuts
Let's have a look at these 30 preschool haircuts for boys that our experts have carefully chosen for your baby boy.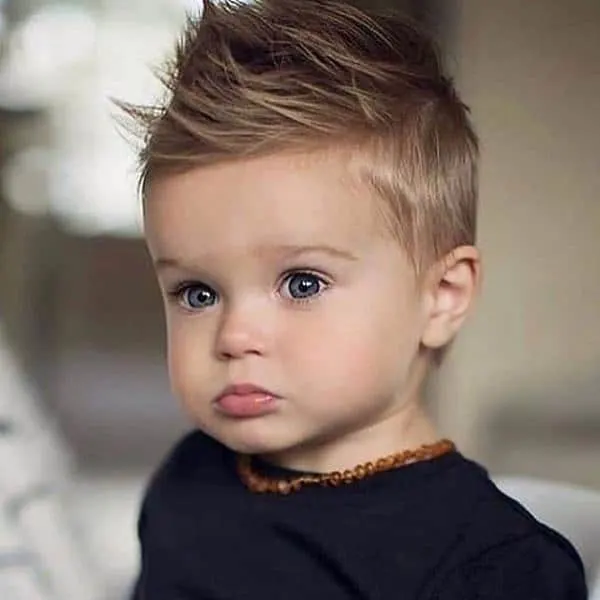 Adorable isn't it? This preschool boy haircut will make your baby look so cute that none can turn eyes from him. But how do you get this style? Well its quite simple, you have to shave up your little man's head bit sideways, as you see in the picture and let the remaining hair in the middle.
Now brush up the hair in the middle and voila your little man is all decked up!
Get Inspired by These Baby's First Haircut
2. Side Blown Undercut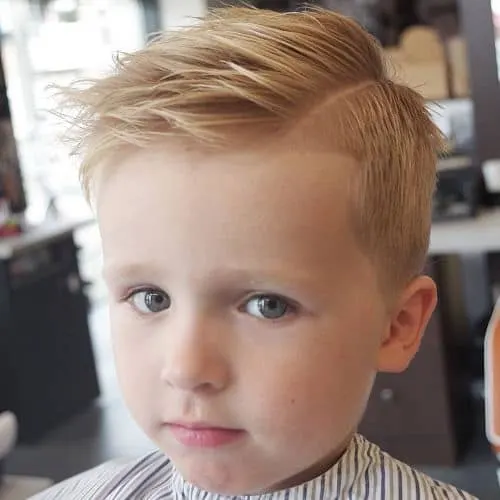 The undercut is absolutely stunning as it looks. By keeping the maximum hair in the front and shorter on the back and sideways it makes your kid look trendy. Cool isn't it?
3. Long Comb Over
Yeah, you know what he's looking cute in this! The long comb-over is just the style you want to give to your young man. Not much of a problem, just shave up a bit from any one of the edges and then comb the rest of the hair to the opposite side you have shaved off. Isn't it a cool preschool haircut for your baby boy?
4. Spiky Fringe
Well, this preschooler boy haircut doesn't even require much of an effort to do. All you need is a proper hair gel to set it all right. Collect the hair in the middle and spike it up using your fingers and your spiky fringe is ready!
5. Wavy Shag
Now, this preschool hairstyle for little boys is a bit different from the rest of the lot. If your child is having a wavy hair, then this is the perfect preschool haircut for him! All you need is some good gel to bring in the desired look you want to give to your toddler. That wavy hair makes him go all cuter.
6. Thick Bangs
Does your young man have a thick mane? Flaunt it with perfection by going for eyebrow-skimming bangs with a layered haircut falling on the shoulders. If you don't mind using some hair dye, add blonde highlights to recreate this charming look exactly.
7. Brushed-Up Front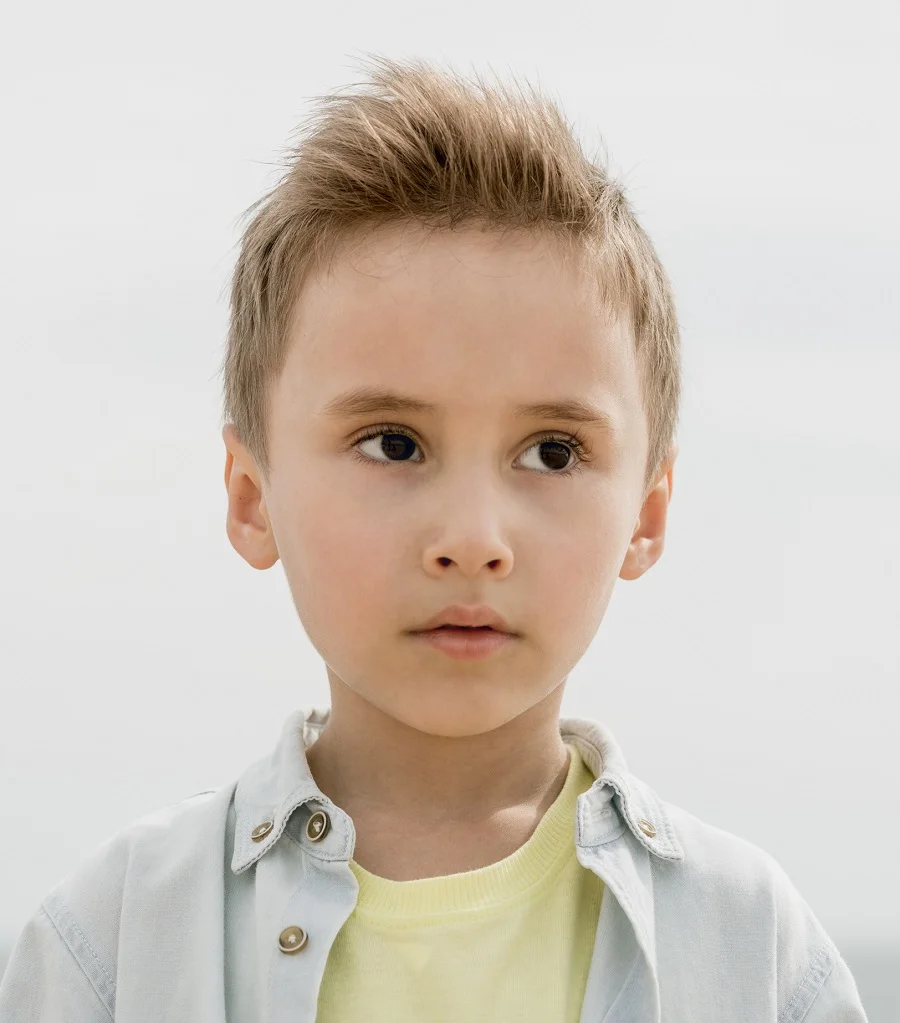 Little guys love to brush up their hair into spikes. Clip the sides short with a slightly longer top that is brushed forward and then upward creating a chic appeal. Another way to wear this simple haircut is to brush it sideways creating a classic comb-over style.
8. French Crop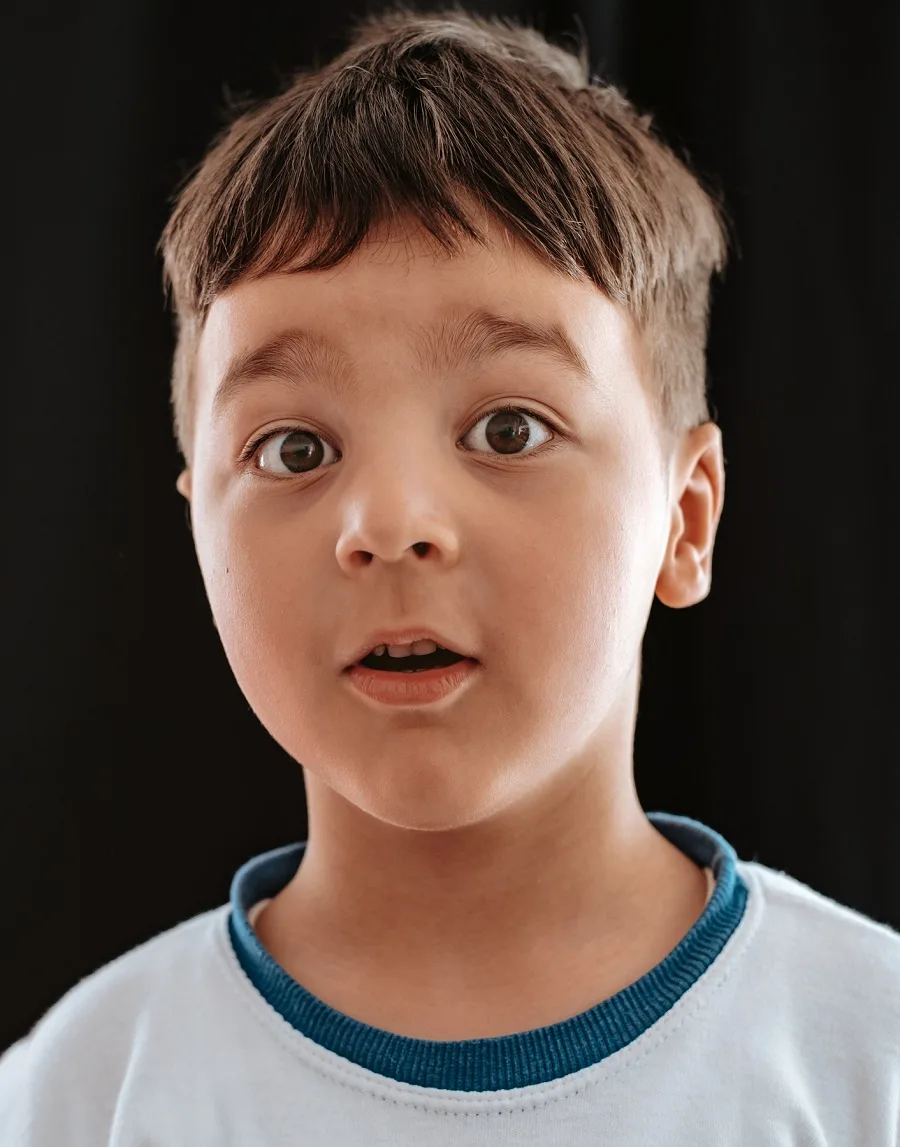 Here is another cute haircut for preschooler boys that is easy to maintain. It is defined by an undercut along the sides and back with a disconnected long top and a noticeable fringe at the front. Tousle the strands forward and the style is done.
9. Side-Swept
A simple side-swept hairstyle looks dashing whether worn by a young boy or a mature man. Trim the sides short to keep all the attention on the top that is long enough to be swept on one side. Run your fingers through the hair or use a comb for a more neat finish.
10. Short and Spiky
This short haircut is ideal if the little one has straight hair that does not settle down easily. The top tapers towards the sides while the strands create natural spikes that don't even need a comb for a well-groomed look making it low-maintenance and easy to handle.
11. High and Tight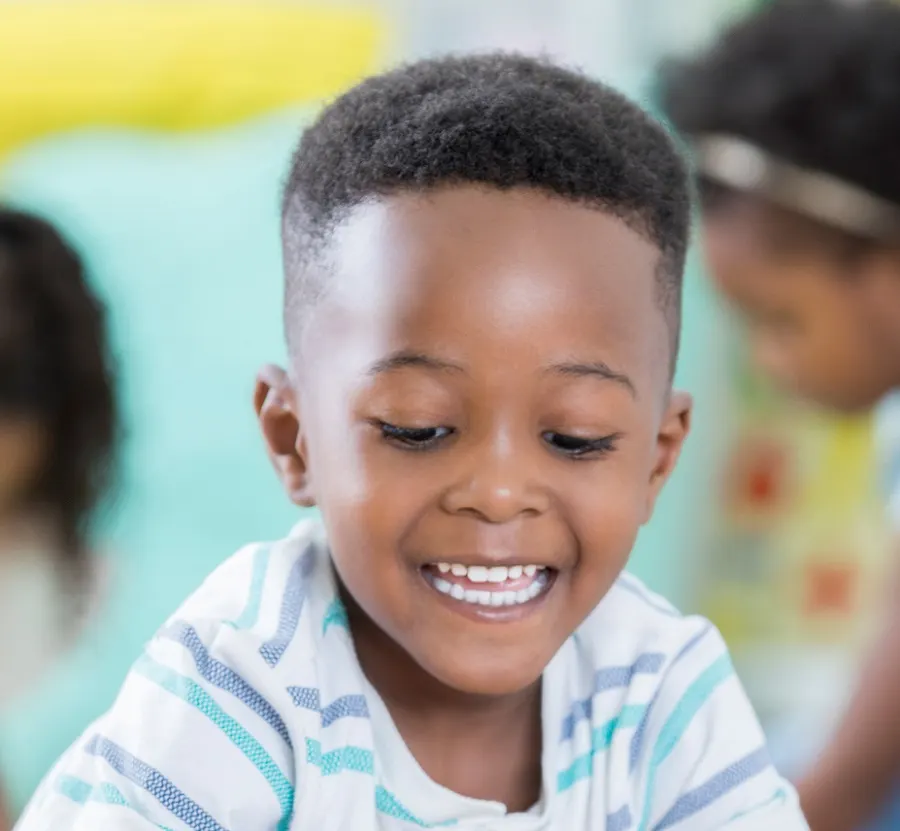 Save yourself and your preschooler from the hassle of styling his kinky afro curls daily by going for a close-cropped haircut. The sides are buzzed with short fluffy curls on the top. This style can be touched up at home saving the time and cost of visiting the barber.
12. Curly Bob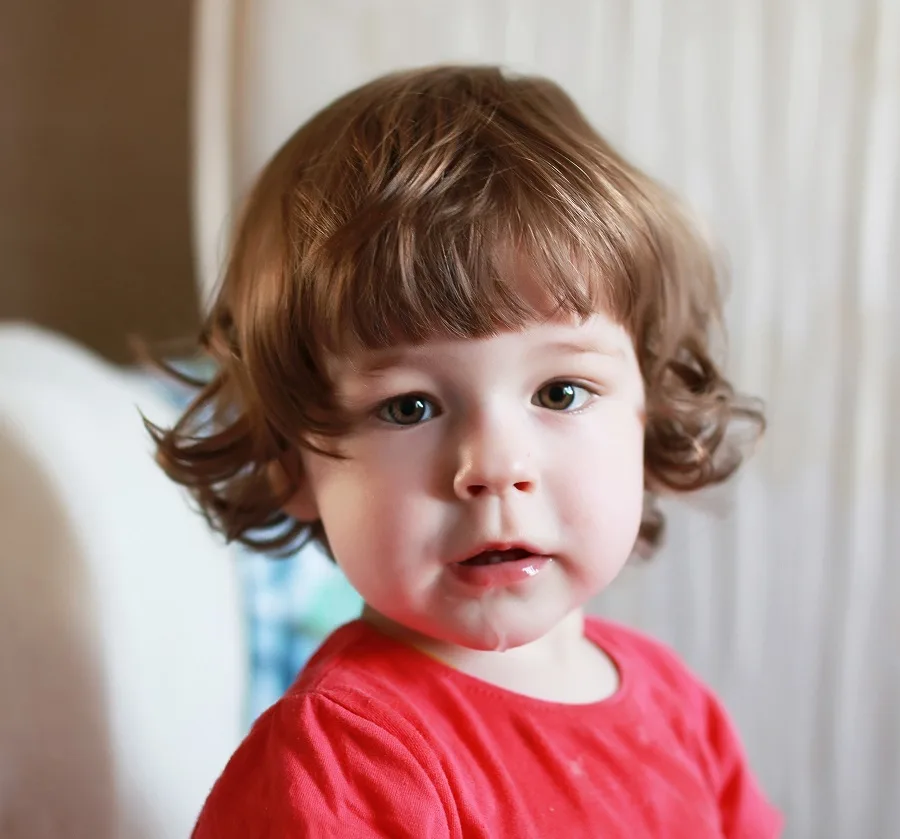 Curls on a baby face just look undeniably adorable. Flaunt them with confidence by chopping them into a layered bob haircut and bangs cut straight across the forehead. Leave the rest to the natural curls as the messier it will get the better they'll look.
13. Tousled Top
Turn around some heads by contrasting two hair lengths to show off those messy curls with style. The neat undercut along the sides stands against the heap of curls on the top. The natural texture sets this carefree look apart from others.
14. Modern Caesar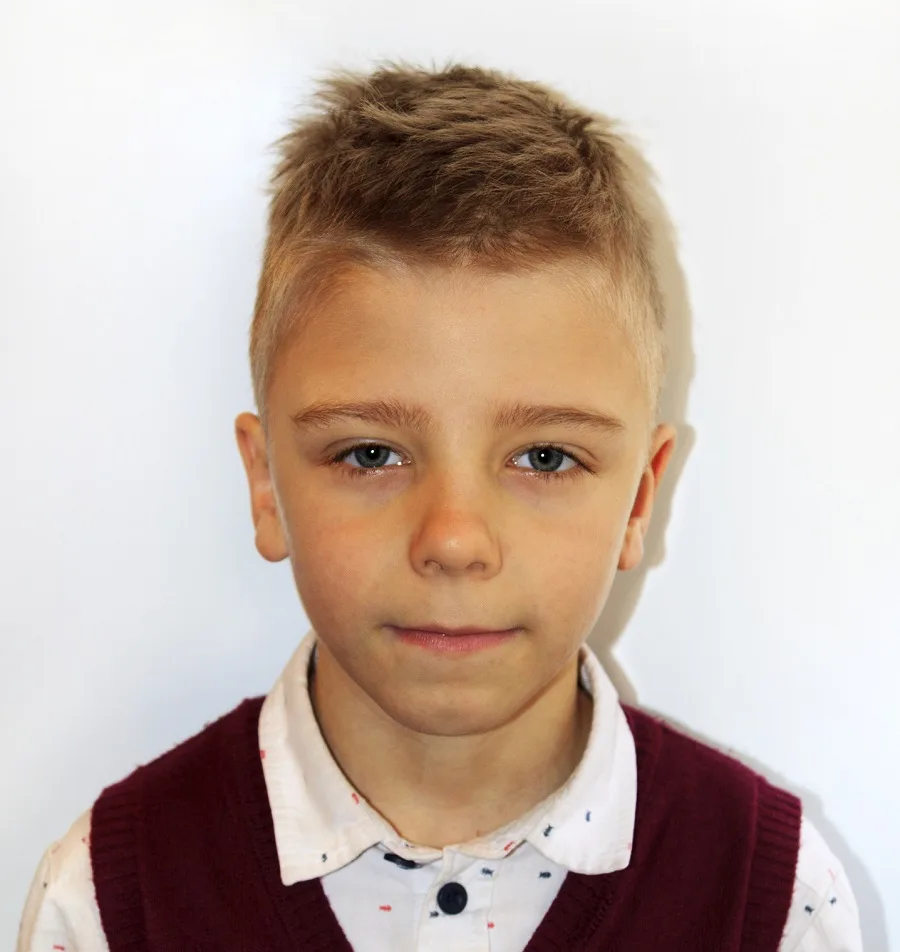 The Caesar haircut has stood the test of time and can be worn with some variations to suit all face shapes. Your kid will surely sport this hairstyle with confidence defined by visibly shorter sides and a textured top that can be swept forward or sideways.
15. Crew Cut
If your child is afraid of trimmers ask the barber for a crew cut using scissors. The long top shortens towards the sides and back. The wispy strands falling forward at the front creating a short fringe silhouette are the key to this look making it ideal for thin hair.
16. Unruly Top with Tapered Sides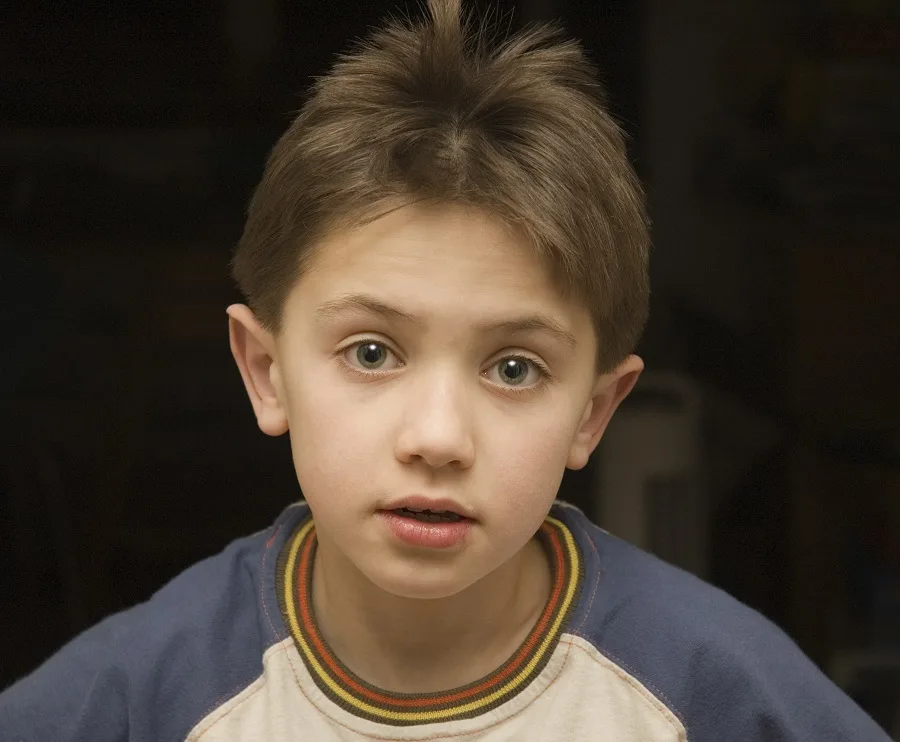 Straight hair can be difficult to tame sometimes. If that's the case with you, where your toddler's hair is tricky to settle down, try out this long top with neatly tapered sides. Even if the strands remain standing they look stylish enough to be accepted!
17. Short Curtain Cut
Inspired by the 1960's, the curtain haircut is a classic bad boy hairstyle that is still popular today. Keep the sides and back short for the long top to fall over them. A sharp parting along the middle with the strands falling on both sides of the forehead completes the look.
18. The Mushroom Look
Have a look at this no-fuss preschool boy haircut that is suitable for those with thick hair. The sides reach the ears with eyebrow-grazing bangs covering the forehead. Go for subtle layers on the top to create some movement for an edgy yet cute finish.
19. Sleek Buzz
Why complicate a hairstyle when a sleek buzz cut like this makes a young boy look like a gentleman. Clip the strands all over the hair in uniform length and comb them forward. This look is effortless to maintain making it ideal for the laid-back ones.
20. Straight-Back Braids
Black boys can keep their untamed curls away from the face for a change with straight-back braids. Detangle and straighten the front to be plaited tightly while leaving the back messy for a contrasting appeal. Accessorize or not depending on your little one's choice!
21. Mohawk + Fade
Punk styles are not only limited to adults only. Young lads can sport them equally well. Curly coils and a mohawk make a deadly combination. The high fade extends from the nape to the sides of the head leaving a strip of curls in the middle. A subtle line up adds up to the look.
22. Carefree Curls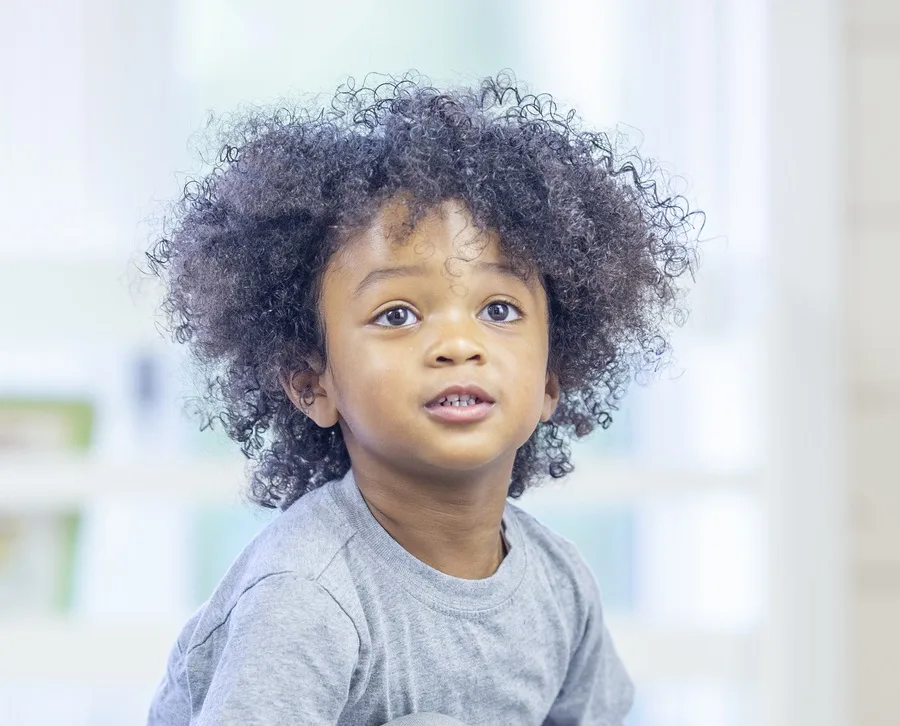 Preschoolers should be taught to carry their natural kinky coils with utmost pride from the very start. Try out a deva cut styling each individual strand to fall around the face with some covering the forehead as curly bangs. Just hand-tousle the pile and voila!
This preschool boy hairdo can be a bit tricky, but you still can manage it if you want. All you have to do is that take little sections of hair and start making tiny braids, make sure that the braids remain near the scalp. This African hairdo will be a unique preschool haircut for your little man.
24. Tousle Haircut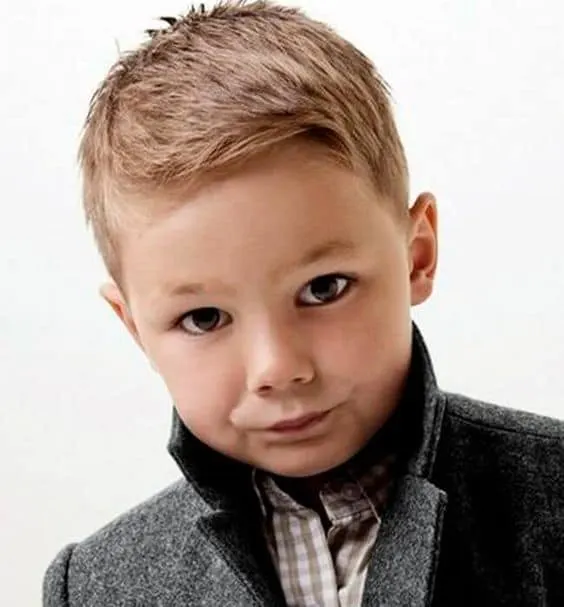 Well, this is a very simple one, anyone out there can go for it. not much needs to be done for it, just make sure that this preschooler haircut for your boy, has got sticking ends after he has got the haircut.
Haircut Ideas for 5-Year-Old Boys
25. Classic Fringe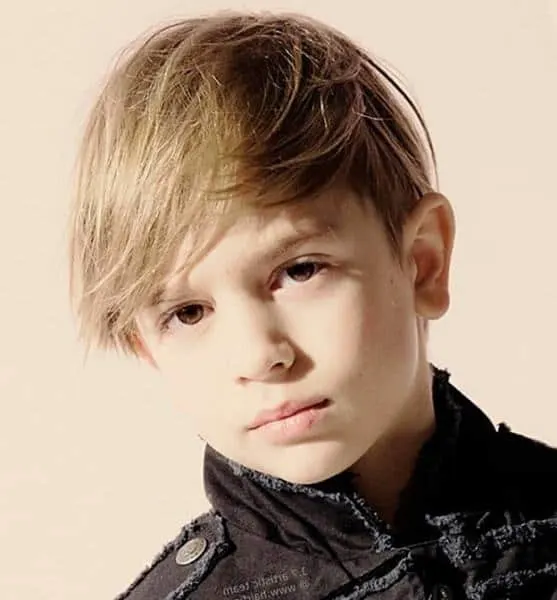 All you have to do is to cut fringes and part the hair in one side. To maintain the fringes on you have use hair gel. Easy to do and easy to maintain preschool boy haircut.
26. Blonde Curls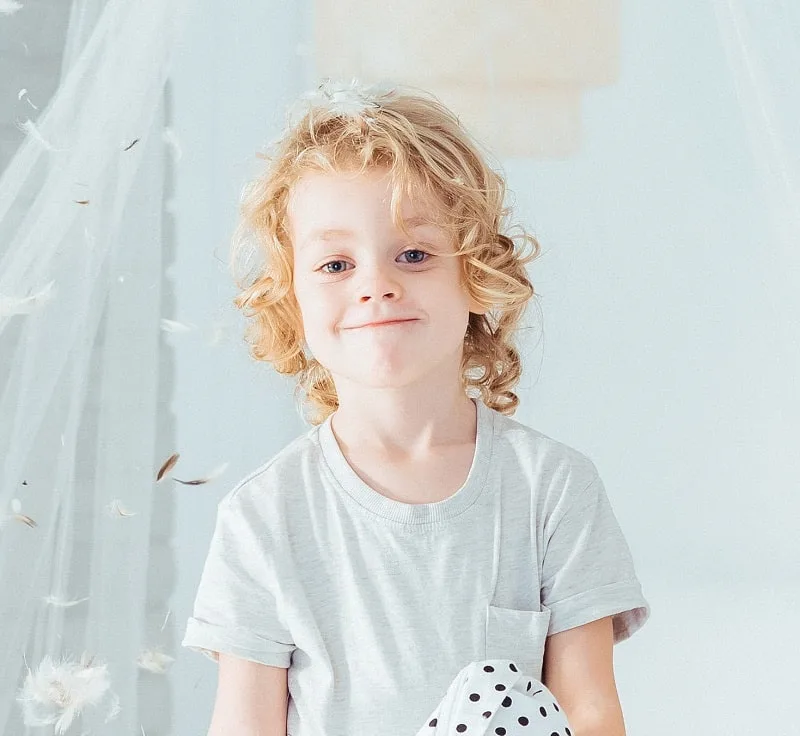 Your little boy will look like a little angel if you get him a medium-short haircut. He will get tight ringlets that are bouncy and real pleasure to see. Such a wonderful coiffure to match his eyes!
27. One-sided Wavy Bangs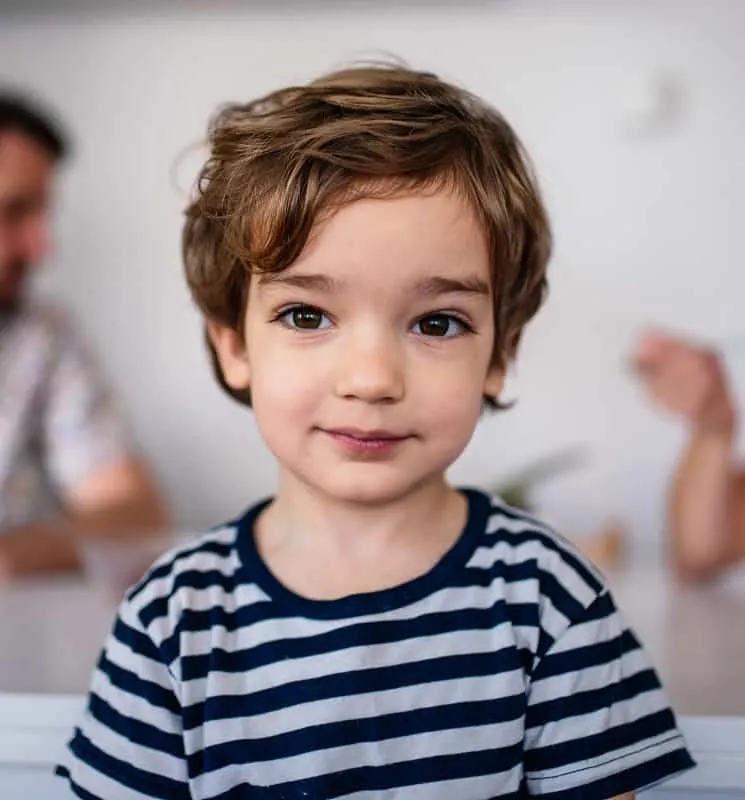 If you have a preschooler boy at home, this haircut with bangs swept on one side will make him look absolutely adorable. If those bangs get in his eyes, you can even style a top knot.
28. Bowl Cut
Bowl cuts are ideal hairstyles for preschooler boys because his bangs won't get in his way, making this hairdo one of every mom's favorite. It is also so low maintenance and quite common among these little gents.
29. Faux Mohawk
Your little man already found his role models among his relatives and friends, and he will definitely want this stylish faux hawk haircut that men get all the time. He will feel so fancy!
30. Short Haircut With Bangs
This medium hairstyle with bangs for preschoolers looks so adorable on your baby, and at the same time, it's low maintenance and doesn't get in your guy's way while playing. Give it a try and enjoy this period when your small man is not fastidious.
Thus, these are preschool haircuts for boys you can give to your toddler and make him look smart and handsome.