Professional beard styles describe a lot about men's personalities. A neat, tidy beard is an assurance of men's healthy lifestyle.
Growing a beard may be challenging for those guys who are going for an interview, are businessmen or the office guy working under the supervision of an austere boss who hate his messy-looking employees.
But, what's about your passion and love for a beard? Will you sacrifice your beard for a job? No, not at all when we have the solution to your problem.
What Is A Professional Beard?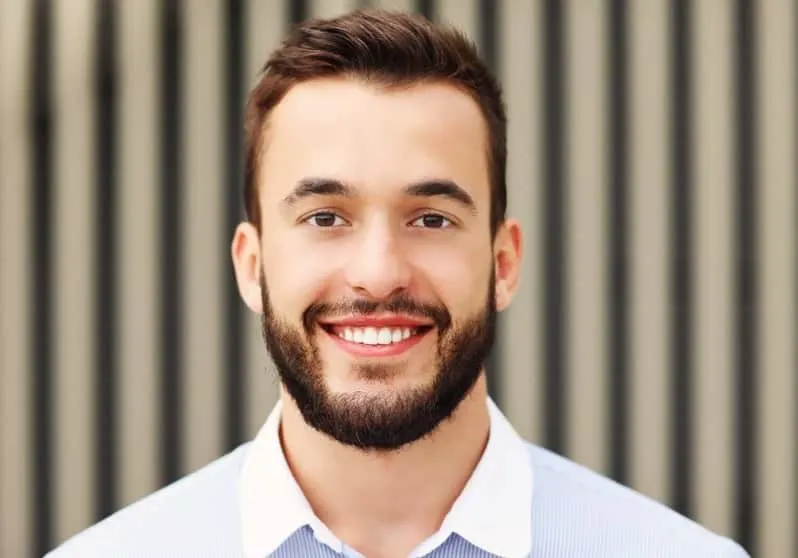 The beard that is kept tidy and clean, is known as a professional beard. It is set well-groomed, polished and brushed daily if larger in size. Whether it is short, medium or large in length if you keep it well-trimmed and in well-shaped it becomes professional.
How to Style a Business Beard
Decide Beard Shape: When you grow a beard, you must determine the shape to style it accordingly. A professional-looking beard can be styled in any shape and length you want.
So, first decide whether you should go with a bouncy, slightly pointed shape or a bit scruffy looking. We recommend you to visit a professional salon to get the beard shape of your desire.
Apply Salt Spray: Apply beard salt spray and massage it with your fingers to distribute it evenly in each part of the beard.
Blow Drying: Shape the beard by blow-drying and brushing the beard with a roller brush. Blow-dry the beard from upward to downward direction. If you want to shape it like full beard or Verdi, blow-dry and gather the hair underneath the chin.
Apply Beard Balm: Once, you achieved the shape, apply beard balm to fix the shape in its place. You can also use beard oil for a more glossy appearance.
Comb: After beard balm application, comb the mustache and beard again for a finishing touch. Use wider and short comb for this purpose.
Watch The Following Video to Learn How to Style Your Beard to Get Professional Look
Popular Types of Beard That Men Love
How to Maintain The Bearded Professional Look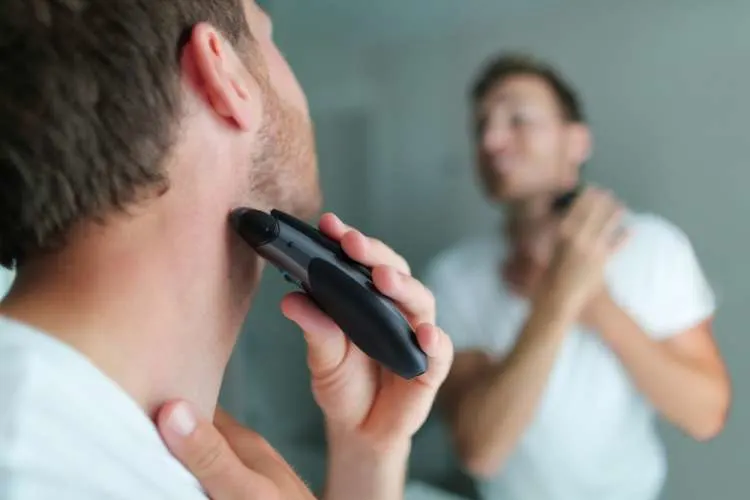 Decide Beard Length: First, decide the most suitable beard length that you prefer and that will suits you the most. If you want an ultra-masculine look, grow a medium or long beard.
Let it grow: Once you decide the length, let the beard grow. Have some patience and wait till you get thick and even beard. Take proper diet and supplements if necessary or if you are facing patchy beard problem.
Washing: Now, you have reached almost near to final stage i.e. trimming. Before trimming, wash your beard thoroughly with a good quality shampoo to remove the dirt and to make it clean. While maintaining the professional beard, washing is a must step as messy or dirty beard obviously will not look professional.
Conditioning: After washing, condition your beard with a conditioner containing jojoba oil. It will help you to soften your beard and make the trimming process easy.
Trim Carefully: We recommend you to go to a skilled barber to trim the beard professionally. Notice your neckline and trim it carefully. Do not trim above the neckline zone as it will not give a perfect shape. If you trim above the jaw it may reveal a double chin reflection.
While trimming, comb your beard in an upward and downward direction for an even and uniform trimming. Trim the sideburns in such a way that these blend into chin hair smoothly. Shape your beard in the square, round or any other shape to give prominence to your chin and facial features. Now, apply beard oil for a polished and glossy look.
Best Beard Styles for Professional Look
Here, we will explore a stunning compilation of 35 business beard styles that will get you to hire for a job, can captivate your employees, or get a pat of appreciation from your boss for being well-groomed and presentable. So, have a look and give your passion a next level charm.
It is one of the most mature professional beards looks. It is thick, slightly rugged and bushy.
For a unique and stylish look, you can disconnect the beard from the sideburns and blend the sideburns with a fade side part hairstyle. Trim the beard into a rounder shape.
It is the best beard choice that a black man can choose to look professional. Trim the cheek area and shape it into line up shape. Blend the sideburns with taper fade, Mohawk or line up hairstyle.
It is one of the stylish and mannish beard looks for professional men. Thick long mustache and full dense beard along with side part or comb-over hairstyle have the power to change men's overall look. It looks better with cleaned cheek lines.
Refined Mexican Mustache & Beard Styles to Copy
It is well-groomed and easy to maintain a professional-looking beard. It is the best choice for those guys who have no time to maintain a long, bushy beard or do not want to grow a full beard but want to look mature. But, you still have to take time in trimming it regularly for an even length.
This beard style looks extremely graceful and professional on men. It fits perfectly on buzz cut, crew cut or other hairstyles.
6. Garibaldi Beard
You can grow trimmed or thick mustache with this short beard style, but a thick mustache gives a more professional and manly appearance to men.
7. Long Stubble
Long stubble looks professional when trimmed regularly and maintained with all possible efforts. You may face severe itching as it is a growing stage of beard. You must apply beard oil to fill the bald patches in beard to make it dense.
Quite an attractive business beard look. It is a striking combination of circle beard, soul patch, and cheeks hair. Cheek line and the neckline look flawlessly trimmed for a corporate look.
Ginger beard always wins people heart because of its unique color and texture and when it is groomed and maintained on a regular basis, nothing can beat the charisma of this professional beard style in looks. The pompadour hairstyle is additional icing on the cake.
Want to try something bold that looks formal as well. Try out the bandholz beard that is known for its splendid masculine features. Do not forget to trim the cheek lines and neck hair to look professional.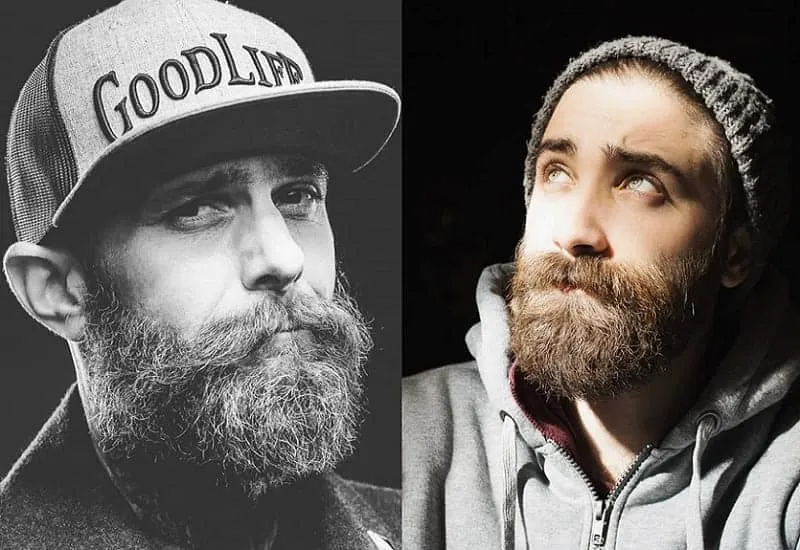 Really an impressive example of professional-looking Viking beard. It is looking bushy, the mustache is also covering the lips of the man, but the way it has styled and groomed; it is looking polished and delightful.
The perfect jawline and cheek lines look impressive on men with the slick back hairstyle. The mustache looks trimmed in such a way that it completely blends into the beard. Comb and moisturize it regularly.
It is a unique and innovative way of styling a professional beard. You can trim it to the thinner strap or make it a bit thicker.
Trim the mustache into a pencil shape and turn the hair around the mouth into a circle shape. Trim the cheek lines entirely, keep thin strap of hair outlining the jawline and blending with chin hair.
Classy, masculine and professional, this beard really makes an impeccable statement. Full beard or 3-day stubble look awesome with a full man-bun and undercut hairstyle.
Beards can look professional when grooming smartly. Here is the visual example of medium length beard with curve cut cheek lines and slick back and crew cut hairstyle for a motivation. You can choose any of these both avatar that you like the most.
16. Gentlemen Look
It is a tame and polished beard look for professional guys. It is perfect for those guys who want mannish, but not a virile look. It resembles chin strap goatee along with a mustache.
Despite its unkempt cheek area, it is looking very professional on the man because of the way he is carrying it with a short hairstyle. The cheeks area does not look trimmed but has well-defined cheek lines and neckline.
It is just like a full beard, but slightly thinner than it. A slick back hairstyle is the best choice to go with this corporate beard style. Trim it imperceptibly below the jawline to give your chin an impactful look.
It is notably a great choice to wear for an office look. Your boss will also not have a problem with your beard.
The cheek area is entirely clean-shaven. Slight mustache, soul patch, and chin hair give you engaging features along with a buzz cut hairstyle.
It is an impressive way to style a beard for businessmen. It gives a mature and professional look to men. It is just like medium stubble, but it two-toned that makes it ultra-distinctive from the stubble look.
21. Thick White Beard with Gray Hair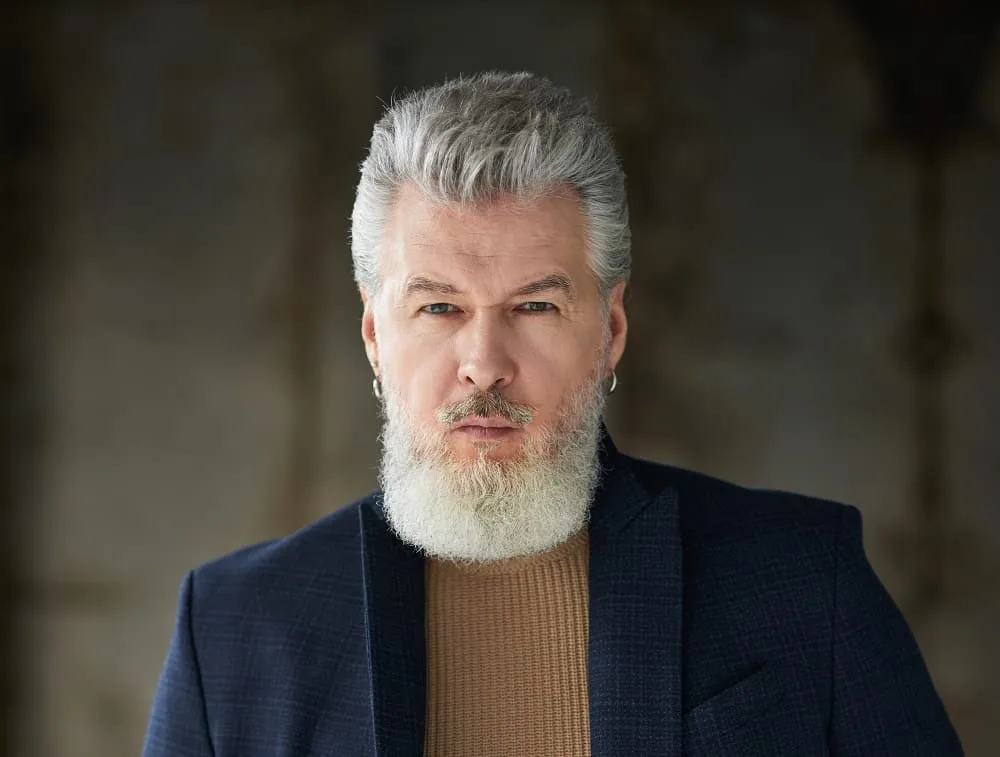 A thick white beard is just the style to accompany a thick head of hair! For older men with silver or graying hair, this short, rounded beard style will show the world you're not afraid to embrace your natural color.
Some man experience issues growing out beard hair right below the mouth. If that's you, make it look purposeful by shaving in a clean line under the bottom lip, keeping the surround hair short. It's a great beard style for men rocking a short haircut.
23. Side Combed with Handlebars
No one can say you aren't polished and dapper when you've styled your hair smoothly to one side! Pair the hairstyle with a short to medium-length beard complete with a handlebar mustache and you'll be the most clean cut guy in the room!
24. Scraggly Chin Strap Beard
For the guy who wears his hair medium to long in length, play matchmaker with a longer beard style as well. This chinstrap style is a bit scraggly in texture, but it works with a long ponytail!
25. Goatee Braid
A more quirky style of beard is this goatee braid. We wouldn't necessarily pair this style with a suit at work, but if you're out and about on the weekends, the style is great for casual settings and takes only seconds!
26. Verdi Beard
It is a royal combo of handlebar mustache and medium length beard. Despite its style, its Irish beard features are making it a heart-throbbing style that every man wants to adopt.
It is surely revealing the ultra-mannish features of the man. This business beard requires regular maintenance and attention.
It is trimmed to square shape for a more dominant look. The sides of the face look more trimmed than the chin area. Chin's hair looks more voluminous and bulky in appearance.
28. Quiff and Beard
It is a masculine, well-groomed and clean thick beard for professional men. Trim the cheek lines and shape the beard into a round shape. You need to maintain it daily.
29. Thick and Even Look
Men who have narrow chin area and undefined jawline must go with this circle beard style. The neck hair looks trimmed away from the neckline as playing a role of contouring his face and hiding the double chin.
Beyond perfection! The professional beard looks trimmed from a highly skilled profession. Curve cut cheek line and perfectly trimmed neckline along with Quiff and disconnected undercut hairstyle really complimenting the man's personality.
Want to look funky and professional at the same time. Go with this avatar while going to the office. Blonde well-trimmed beard with sideburns blending into an undercut hairstyle and ear studs is a complete package itself.
32. Manly Look
What an incredibly sophisticated and manly beard look. Glossy comb-over hairstyle along with full blonde beard is giving professional attire to the man.
It is such a mannish and super-charming professional beard style. It is enough for men to impress people by his beard look.
It alone has the ability to make your narrow chin to look a bit broader and gives yours wider or round face an edgy look. It is a powerful combo of handlebar mustache and anchor goatee.
Most Famous Celebrity's Beard Styles
34. Modish Business Beard
It looks a bit scruffy, but the way that guy is carrying it with a comb-over hairstyle making him extra-ordinary charming. Mustache looks shorter and extra trimmed than the beard.
A goatee is simple but revealing strong features of the guy. It is a unique combo of very slight stubble and prominent chin hair that looks trimmed, but dense. Wear a short afro haircut for a distinctive look.
FAQs
Are beards professional?
Beards may be professional and unprofessional depending on the way how you groom and maintain it. If you grow a beard because you do not have time to shave, it may look unprofessional as you do not spend time in grooming it.

If you grow a beard intentionally, you take care of it and maintain it regularly then, it may look professional on you, and because of the hard work and time, you give to your beard.
What is the best length for a professional beard?
According to studies, the best and most preferred length of a beard is long and thick stubble as it is neither shorter than light stubble nor longer like a bushy or full beard.
Which beard style is perfect for a professional look?
Short and full beards that are kept properly trimmed with clean cheek line and neckline areas look professional on men. Always go for short hairstyles with these beards for a tamed look and a more impressive personality.
All these aforementioned professional beard styles give a professional look to guys if kept and groomed appropriately. Follow the above-given maintenance steps carefully, we guarantee you will get inspiring results.
Choose the styles according to your facial features and combine the beard with the most suitable hairstyles for perfection.