Beard styles are evolving as days go by and gaining popularity among the population. And facial hairstyles such as chinstrap beards are catching the attention of many.
If you're looking for a shaving style that will make heads turn, look no further—the benefits of the chin strap style cut across all ages. You can manage the size of sideburns and showcase the jawline according to the shape of your face. And there are different variations to choose from depending on your style of preference.
What Does Chin Strap Beard Mean?
It's an evergreen beard style among men. The facial hair pulls out from both sides of the face and extends to the jawline.
Usually, sideburns are kept thin while the size of jowl hair varies from style to style. Mustache can or cannot be attached with jawline but keep the mustache thin if you are getting thin sideburns.
Who Should Try Chinstrap Beard?
This beard style knows no age limits as anyone can look good on it as long as it is well-shaven. It's a style that looks good on most men, but it is best and often recommended for men with robust facial features. It is a masculine option that defines features such as the jawline. Also quite flexible in thickness and shape.
Chinstrap beard is best for guys looking to point out their valor with little effort. The style also favors those who were not lucky to win the genetic lottery of dense and thick hair. A thin chin curtain looks good as well.
It's also a good way to have people focusing on our mouths—which is useful for men such as TV presenters, singers, public speakers, or politicians. Those looking for a remarkable and more textured appearance should try out the jawline beard style.
A percentage of men run out of beard shaving styles because they have patchy beards. With a chin strap, it is hard to notice the patchy beards since the style makes them look more defined by making them look dense.
This beard style has the advantage of being compatible with most hairstyles and is appropriate in any ambiance.
How to Grow Chinstrap Beard
Chinstrap beard is good for both thick and thin facial hair. Grow 2cm facial hair to get a perfect style. However, if you have a double chin or fat face, then never go for it, as it will give a faster impact. Pull out excessive hair as neat and clean edges and shape are the basic requirements of a chinstrap beard.
A thin strap beard is only for those who want a long-term relationship with their beard style. It's pretty shallow, and even a few hairs can make a big difference. Massage with oil if you like a thick goatee and dislike think chin hair.
How To Shape Chinstrap Beards
Below are a set of steps that will get you the evergreen chinstrap beard style:
Choose a Trimming Comb That Is of Fixed Length
Selecting the right comb is the first step to styling your look.
Even Out Your Facial Hair
Trim your facial hair using a trimmer. Trimming will help reduce hair clogging on the blade while shaving.
Define the Shape of Your Beard
Use the trimmer's comb attachment to trim your beard and bring out the chinstrap beard shape.
Check for Proportionality As You Continue
In this step, you should make the hair even but be careful not to trim it all, trying to achieve a symmetrical look.
Prepare Your Face
Hydrate your hair in preparation for shaving by rinsing it with warm water. After rinsing, lather the parts you plan to shave bald with shaving cream. Using cream prevents irritation and cuts.
Shave With Light and Gentle Strokes
Attach the blade onto your trimmer, then shave slowly to prevent any cuts. Using a razor to trim helps you capture minor details and achieve neat and sharp edges.
Rinse Your Blade
Rinsing the blade helps keep your blade off the build-up of shaving cream and hairs on the cartridge and edges. It keeps your blade performing at its best.
Define the Chinstrap Shape Using the Precision Trimmer
Achieve clean edges using a precision blade.
Rinse, Pat Dry, and Moisturize Your Face
Rinse your face using cool water, then towel it off. Apply a hydrating after-shave lotion to ensure your face is soft and comfortable.
Watch the Following Video to Learn how To Shape Your Chin Strap
Tips Not to End up Having an Ugly Chinstrap
Chinstrap beard style demands great care from the barber, and one should only visit an expert if he wants a perfect shape. Never trust a newbie or see his work first.
Whether you are doing it yourself or hiring the services of a barber, good trimming tools are essential for ideal chinstrap beard. Don't rely on blunt and low-quality tools unless you want to ruin your looks. Choose branded tools that are sharp and can make perfect edges.
Never use the trimmer on dry facial hair. Make them wet so they get soft and easy to trim. Dry hair is hard to cut due to its roughness and hardness. Always stand straight and in front of a mirror so you can see what you are doing.
Chinstrap beard styles need guard size number one and two clippers for short facial hair while thick and large goatees with larger clipper size numbers are used.
You can get appealing looks only when you choose the right style of chinstrap beard for you. Select a style according to your face shape and or conditions of your facial hair. Consider your personality rather than blindly following celebrities and other people.
A long and thick mustache requires a comb before trimming in order to let you know the right idea of the length and give the perfect shape to every strand.
Top 30 Chin Strap Beards
We have made a list of the chin strap beards for different face shapes which will be really helpful for you to select the best one according to your face.
1. Jawline Beard
Chin strap beards look great on men who keep a perfectly shaved face and a bald head. This way, the jawline beard is the only facial hair and it stands out more than any other alternatives. Also, it provides a great contour for the lower area of your head.
2. Edgy Strap Beard
If you have a strong jawline that you want to emphasize better, we recommend you go for a thin beard that highlights it. Make it thicker towards the chin area and connect it with a very thin mustache.
3. Thick Beard
Thick beards that have the same length from one ear to another are highly popular among young men. You can even go for a mustache that connects with the beard. To follow this modern approach, you will also need a hat and black earrings.
4. Abraham Lincoln Beard
Abraham Lincoln still inspires men's hairstyles even these days. So if you are an old-school guy that values such looks, grow your beard, the chin beard, and the sideburns. Make sure you take good care of it by using special hair care beard products.
5. Rockstar Beard
You should certainly consider growing your beard if you want to look like your 90s grunge favourite band drummer. Make it thicker than regular on the sides by covering more than just the jawline. Keep it longer in the chin and double chin area.
6. Same Length Beard
If you want to look more manly, this type of beard is the thing to go for. It must have the same length on your cheeks, sideburns, and chin. Keep a clean face, well shaved, and opt for a platinum blonde hair color with silver touches.
7. Amish Look
Amish people are well known for their impressive and unique beards. Trim your facial hair to look thinner on the side and cover the chin. No mustache is required, but you need to keep a perfectly shaved area above the beard.
8. Long Beard
When you have long dreadlocks and prefer a more unique approach, your facial hair must suit the whole look. So choose a thick and voluminous beard connected with a short mustache. Match a pair of small glasses and a hat.
9. Chin Strap for Black Men
Chin strap beards work like a charm for black men with wavy buzz cuts. Keep the sideburns very thin and connect them with a thicker beard that only highlights the jawline. The goatee should also be extended and the mustache connected.
10. Pencil Chinstrap without Mustache
It's the best choice for guys with thin facial hair or who don't have much time to maintain their beards. Thin sideburns and thin pencil chinstrap evenly extend from the jaw sides. No mustache is required for this style, while sideburns are also connected with jawline.
11. Thin Sideburns and Thick Chin
Thin sideburns are connected with the thick beard. The thickness doesn't start from sideburns but rather around the jowl area and chin. Mustaches are trimmed and not linked with the jawline.
Always ask your barber to make sideburns thin but keep them linked with the lower part of the head hairstyle and facial hair on the jawline. It's simple and elegant facial hairstyle which requires a little maintenance.
12. Chin Strap Beard for Black Guy
Black guys often have to face difficulty in the selection of beard style due to the hard and excessively curly hair. Chinstrap beard with clear and thin style is the best option for black guys.
The beard goes well with high fades as a thick and noticeable line of sideburn is required for it. The thin and non-linked mustache is the part of this beard style, while the hair at the jowl gets longer and thicker.
13. White Short and Thick Stubble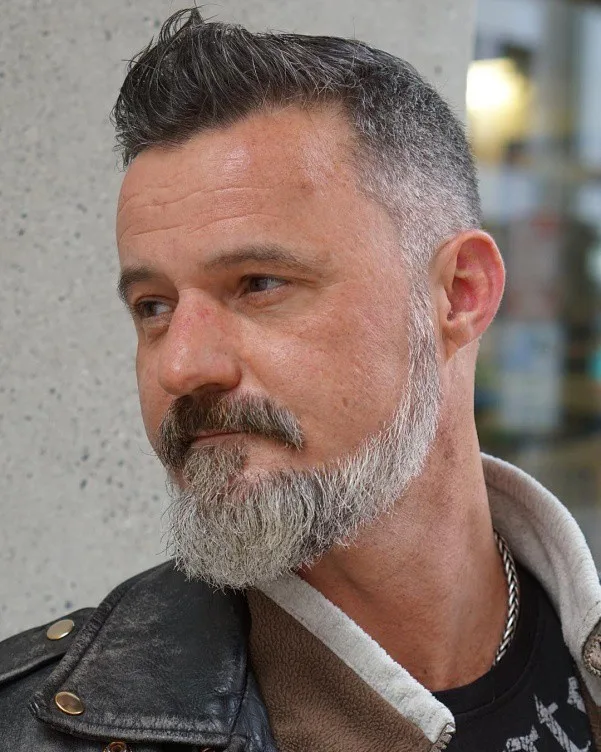 Choose white color if you want to stand out from the crowd and the same rule applies to beard style. The chinstrap beard style's beauty multiplies when it involves white color. It starts from the sideburns and drops down to the jawline.
The jowl is lower lip hair is also a combination of white and black hair. Thick and disconnected mustaches make the best combination. If you are a middle-aged man, then no beard style is better for you than white shorts and thick stubble.
14. Acute Trim and Strap with Mustache
The acute trim chinstrap beard style is ideal for mature guys who want to give a modern touch to their personalities. Sideburns are thin and get thick around the chin while the mustache is kept thin and slightly connected with the jawline. It defines the looks and gives an amazing appearance to the wearer.
15. Thick Chin Strap Beard
This chinstrap beard style has a thick connected mustache and chin goatee, which give an impressive and modish look. A thin chin strap and chin-connected mustache extend to the jawline, while sideburns are also thick and connected to the jawline.
Long face shapes should well trim the goatee, while square-shaped faces can grow it a bit to balance the overall shape. This stylish yet decent beard style answers to the needs of both youngsters and professional guys.
16. Connected Pencil Mustache
The chinstrap grows evenly from both sides and meets with a pencil-shaped mustache. It requires more maintenance as hair growth on the other sides affects the overall look and disturbs the pencil shape.
Thin lines require great precisions and even a slight mistake can ruin the entire look. Only an expert barber can do this job and give the right shape to the thin mustache and beard.
17. Designer Chinstrap with Connected Moustache
If you don't want to follow common chinstrap beard styles and find them boring, then bring out your creativity and opt for a designer chinstrap beard style with a connected mustache.
Mustache is trimmed and extended to the jawline while the beard design from the lower lip meets at the chin center. If you want to do it by yourself, use guide size one clipper and be very careful in using the trimmer.
18. Zigzag Thin Chinstrap with Light Connected Mustache
Are you a rock star or a musician? Synchronize your appearance with your profession without putting much effort. Zigzag thin chinstrap beard style with a light-connected mustache is what you are looking for.
A precise zigzag shape with incorporated with a very thin trimmed mustache, and this blend of design looks unusually appealing. Wear some accessories like a wristband and funky glasses to get a complete look.
19. Curved Pencil Chinstrap with Trimmed Goatee
It's the last but not least chinstrap of our collection. The mesmerizing style includes shaved mustaches while the pencil strap extends at both sides. Even curves of the goatee link with the lower jawline and make a shape at the lower lip.
Never keep sideburns thick as only thin sideburns balance the look with curved pencil chinstrap. This chic and stylish look will stun the viewers and give you an outstanding identity.
20. Ginger Chin Strap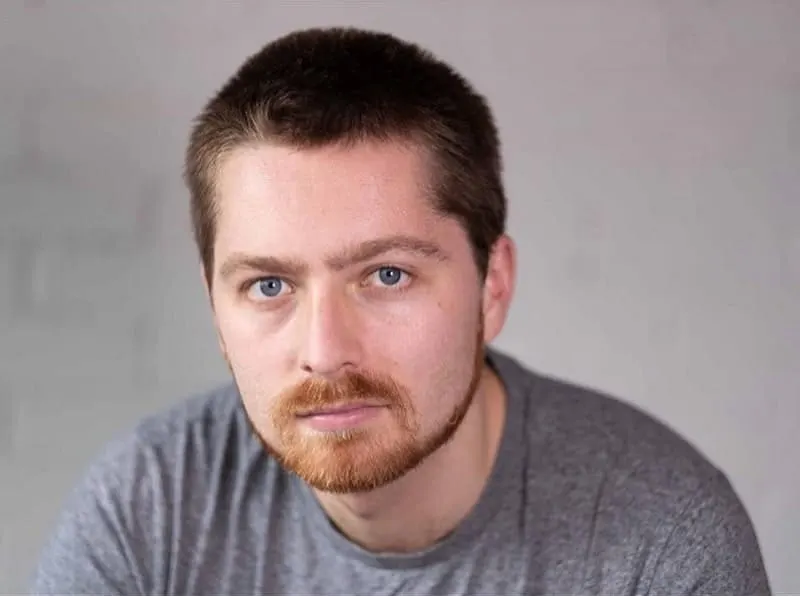 It is a startling combination that incorporates a circle beard, clean-shaven cheeks and thick facial hair strap around the jawline. This distinctive beard style fits on any face shape and easy to maintain.
21. Silver Blond Outlook
Men over 30+ ages can give this above style a big shout out as it will give them an ultra-stylish appearance that will scream about their masculinity as well. Ear studs and bald fade hairstyle give a whole look five stars. It features a circle goatee, low cheek lines, and faded sideburns.
22. Disconnected Chin Strap
Men facing facial hair problems such as bald spots or patchy beards can try the above inimitable beard style without any reluctance. It features a disconnected anchor goatee, pencil mustache, and an extremely thin facial hair strap that extends from sideburns and blends into a goatee. Shave off the neckbeard and hair under the chin for a neat look.
23. Edge Cut Chin Strap Beard
This sublime beard style features a thick, stylish chin strap without a mustache. The jawline looks shaped into an edgy pointed cut, while the chin area looks remarkably dense. It requires regular grooming to maintain the beard shape.
24. Bold and Professional
Chin strap beard style turns your personality from an average look to the graceful, manly features when styled with a handlebar mustache. Keep the cheek lines well-trimmed and shave off the neck hair for a professional look.
25. Wide Chin Strap with Stubble Mustache
It is one of the most rebellious chin strap beard styles that give guys bad boy vibes. Achieve this look by combining stubble mustache, unkempt hoary chin strap, and an eccentric Mohawk hairstyle. It is easy to maintain and does not involves regular grooming.
26. Chin Strap Outline
If you are looking for some light beard styles that will contour your chubby face or undefined jawlines then the given beard style is particularly for you. A pencil-thin facial hair strap outlines the upper lips, chin, and jawline. Keep the mustache connected with jawline hair.
27. Circle Beard and Chin Strap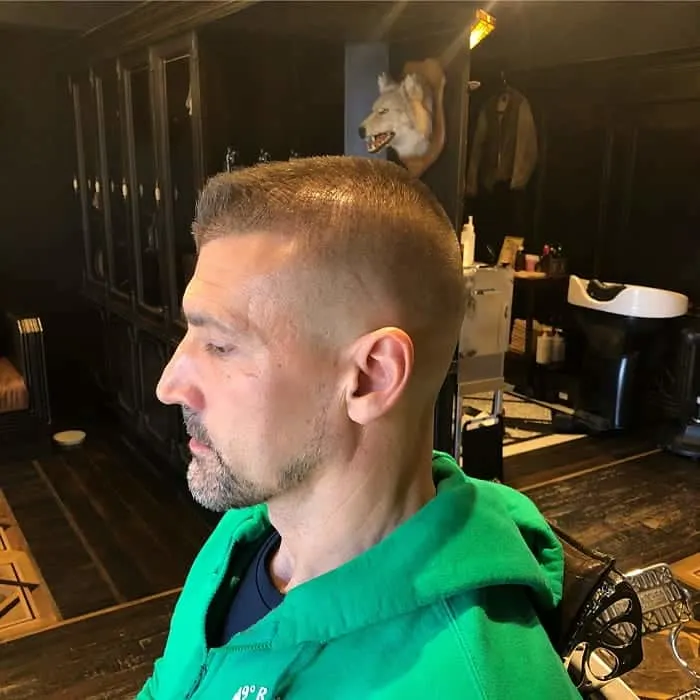 To achieve this look, grow stubble and shape the hair around the mouth into a circle beard. Clean-shave the cheeks and fade the sideburns to make it blend into a high bald fade hairstyle. Keep the patchy jawline connected with the circle beard.
28. Scraggy Sides and Thick Chin Beard
It features a Balbo beard, pencil mustache and skinny sideburns that connect with the Balbo beard ultimately to reveal a chin strap look. Guys with any face shape can try this beard style for an exceptional personality.
29. Undercut and Chin Strap Style
Wondering for something classy and sophisticated? Why not give this modish combo a shot to meet your purpose. Leave a soul patch under the lips and shave off the chin hair except for the hair under the chin. Give the chin strap a bit rounder shape if you have sharp facial features.
30. Thick Chin Strap and Circle Goatee
Having the ability to grow a thick beard does not necessarily mean you have to grow a bushy, long beard to look virile. Chin strap accompanying the circle goatee and crew haircut will surely give you the debonair personality.
Maintaining A Chinstrap Beard
Maintenance of chinstrap beard varies from stye to style. Some require more maintenance, while others require just a little trim. The time of maintenance also depends on the chinstrap beard style. Here are some simple yet effective chinstrap beard style maintenance tips for yours.
Before trimming, let your facial hair grow up to 1cm because hair less than this length are difficult to cut. It may demand more time but be patient to get perfect and clean results.
Close trim to the skin always gives optimal results by making a clear difference between a shaved and non-shaved area. So, let the trimmer go close to the skin and don't leave any hair unshaved. Otherwise, they will grow earlier and disturb the overall design of the chinstrap beard style.
Don't rely only on the edges made by a razor. Tide up edges with a good sharp razor or trimmer to achieve a clean appearance. For a professional and organized appearance, regular trimming is necessary as it clears out all flaws of the shave.
Everyone has a different face and jaw shape. Never copy others and maintain your beard style as per its requirements not just because someone else is doing so.
Handlebar Mustaches for Manly Look
Frequently Asked Questions
Because we want you to have all the information you need, here are the answers to some common questions.
Who invented the chinstrap beard?
Chinstrap beard style became popular through the US president Abraham Lincoln. The style has been there since the 18th century and early 19th century until recently. It has resurfaced and has become popular.
Is a chinstrap beard in style?
Yes. This beard style is one of the trending styles. It is an outgoing style among the top 10 common styles worldwide.
Are chinstrap beards and sideburns the same thing?
No. Both may appear alike, but there is a difference. A sideburn is a strip of hair that grows on each side of the face down to the ears. For a chin curtain, one must shave the beard and shape them to achieve the style.
Is a chinstrap beard attractive?
An attractive appearance varies from one person to another. What is appealing to one person may not appear so to another as it is a matter of taste. But if the chin strap compliments your appearance and adds to your self-esteem, it will do great.
Should I shave under my chin?
No. Shaving under your chin creates an impression of a double chin that is not attractive. If you have to, it is vital to ensure that the beard on your cheek is short so that the neckline is less noticeable.
How can I identify my neckline?
There are different methods to identify your neckline. You can do this by placing two fingers above Adam's apple, and then the top of this is the dividing line. You can also look down to form a crease, then mark where the crease has formed before raising your head. Where the crease has developed is the natural neckline.
Chinstrap beard comes in different styles and fits well on different face shapes. It's not necessary to strictly follow the above-mentioned style but you can bring variation and creativity according to your face shape.
Do different experiments with your facial hair and never let your life boring by following the footsteps of others. Good maintenance helps to maintain elegant looks but be cautious in the selection of the style to get desired results.