Men's fringe is becoming so popular right now among guys of all ages! From teenagers to guys in their 30s or even 40s, men bangs hairstyles are fashionable, famous, and so trendy right now.
Bangs Hairstyles for Guys
One of the main reasons for which we love these bangs hairstyles for men is that you can opt for it weather you have short or long hair, curly or straight. Man bangs haircuts involve cutting the sides of your hair and keeping the top longer, with fringe on your forehead. Looks astonishing, right?
1. Bangs for High Forehead
Ultimate hairstyle to hide big forehead for men is bangs. The ideal fringe cut begins with textured hair cut to form hair covering your forehead. The sides are shaved to flatter the look. This haircut solves your problem of the high forehead by covering the forehead with bangs to make it look smaller.
2. Short Curly Bangs
For an unparalleled bangs hairstyle for men with curls, let the curls go wild and to add some volume. It is a classic look that complements every face cut. Every time that you don't know what to do with your curls, do bangs.
To achieve this men's hairstyle, cut the front hair into bangs that cover half the length of your forehead. The hair on the side is trimmed into a taper fade for a divine style. With this cut, you can go everywhere with style, and that too, without breaking any rules.
If you are guy with blonde hair, it serves you as an opportunity to get beautifully textured bangs. Cut your hair into light caesar cut and work your fingers through your hair to add some texture. It makes you look modish and trendy at the same time.
This haircut is for the gentleman in you. Get a crew cut and leave short bangs for a classic look. The sides are trimmed into a mid-fade and add perfection. If you don't like to deal with the hassle of long hair, this classic short bangs hairstyle is made just for you.
6. Electric Blue Fringe
Let out the punkster in you with electric blue dyed hair cut into bangs. The temple hair is slightly trimmed to the skin. This blue haircut for men is a perfect combination of a bold look and a trendy appearance. Time to do something daring with your electric blue hair!
The French crop is a faultless bangs haircut and is an ultimate tool to add to style statement for guys. The mid-fade on the sides and back is for neat and clean demeanor. It gives you a refined look with elegance.
Ginger heads can easily flaunt this men's bangs style. The ginger hair is chopped into a French crop, and the side hair is styled with an undercut. This is an ideal look for everyday styling. You can flaunt this look when going for a party or you can go around the corner and make the heads turn.
If you are into funky hair, then this style is just for you. Cut your hair into uneven layers to get uneven bangs. Dye some random top hair red and leave the rest of the hair black.
Shaved sides build on a neat look to uneven top hair. This is a funky hairstyle for all the funky get-togethers you have been dying to go to.
10. Long Mullet with Curved Edges
The excellent way to style long hair for men is to get a haircut that will commend them. Outwards curved bangs with a side part are a sensational haircut. Curve back-hair outwards as well for a twinning front and back edges. The messier the hair, the cooler the look.
11. Messy Bangs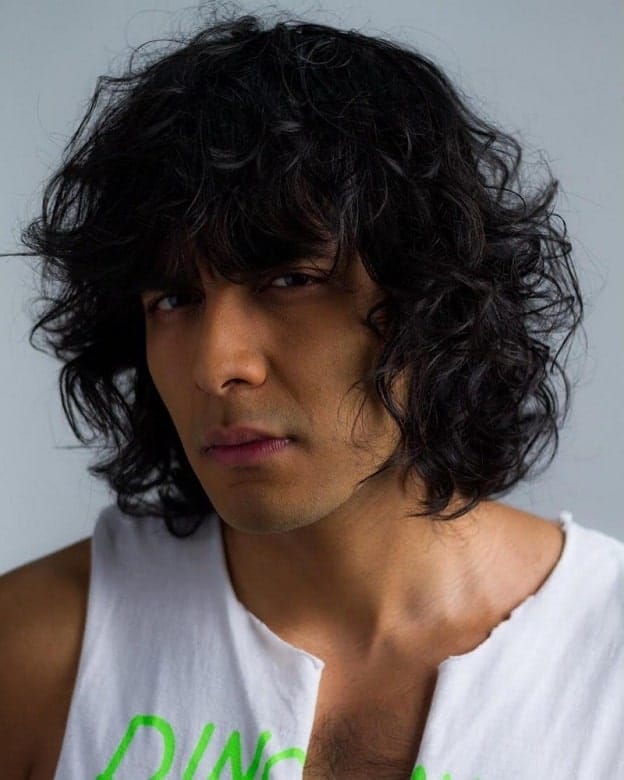 Messy hair is for a sexier look. Long messy hair with bangs is a marvelous haircut for men. Let your hair grow long to get this haircut. This haircut looks super stylish, and we don't see it going out of style any time sooner. This hairstyle definitely brings out the superstar in you.
If headbands are your favorite hair accessory, then it is time to use your best-loved headband. Cut your long hair to give them the shape of a mid-part fringe. Put on your headband to keep the straight fringes from going into your eyes and obstructing your vision.
Traditional monk haircuts are all about high bald fade and long hair around the crown. But, modern monk cut is for the contemporary world of 2021.
Trim your hair short for a shorter fringe on the forehead and shave the side hair entirely to the skin. This haircut gives men a traditional look with a modern hint of style.
14. Shag Hairdo
If you like choppy ends on your hair and you are also a fan of layers, then you can say that men's shag haircut is your personalized haircut. The choppy bangs are for a more modern look to your hairstyle.
If you need a change, then it is time to dye your hair. For a fresh look, cut your dyed hair into short mohawk bangs. Shave the side and back hair neatly to the skin to complete the look.
If you are in desperate want of a cool look, then cut your hair into a choppy fringe. Include an undercut to  for added style. Men can style this bangs look for any occasion they want.
17. Short Fringe + Long Sides
For a perfect combo of short and long hair, cut the top hair into short fringes and leave the side and back hair long. This 70s hairstyle for men is for an aesthetic attire and anesthetic you.
The bowl cut is for a cute look with style. Dye your hair turquoise and slightly trim your long hair for an even bowl cut. If you like to go for this fringe hairstyle, you can't compromise the length of your hair.
If even isn't your number then, uneven sure is. Apply that attitude to your hair as well. Cut your hair into uneven bangs and dye them a lilac color. This is a super stylish look for punk guys which goes well for every occasion.
20. Neat French Crop
The French crop is a stylish very short haircut for men which comes with a bangs appearance. Cut your hair into an elegant French crop and leave the top hair more textured. Slightly trim the side hair for a flattering hairstyle.
21. Bangs with Upturned Edges
A unique bangs style that boosts your confidence is the one with slightly upturned edges. The side hair is kept neatly trimmed for added excellence. For a more aesthetic and soberer look, modern guys can always opt for this haircut.
Bangs are a forever look which has been trending since the beginning of the time. It goes for men as much as it does for women. It can go with almost any face cut and is a guaranteed trendsetter if you carry the look well. These 21 bangs hairstyles will give the men plenty of ideas to play with their hair and get a fresh look.