We all want a special hairstyle for our 8-year-old daughter that will make her feel like a princess. African-American little girls, with their unique hair patterns, can rock a variety of hairstyles.
The most popular hairstyles for little Black girls are cornrows and box braids, but why stop there when there's an endless number of looks to try and even more ways to dazzle them up?
Try out intricate braids, contrasting hair textures, and fun accessories to make the ultimate fabulous hairstyle for the special girl in your life.
Cute 8 Year Old African American Girl's Hairstyles
Show your eight-year-old little girl just how special she is by giving her one of these super cute hairstyles!
1. Cornrow Braid Ponytail with Bangs
For African American little girls with long hair, separate out a section of bangs before making long cornrows that wind around the head in opposite directions. Straighten the bangs for a cool contrast.
2. Bun with Afro Curls
Instead of slicking back a ballerina bun, let those little curls fly free. Not only does the high updo look softer on eight-year-olds, but it also shows off her natural afro texture which she should be proud of!
3. Thin Braided Ponytail
Lots of thin braids make any hairstyle look thicker. Secure some braids right at the ends and leave others with an inch or two of unbraided length at the ends. Gather all the braids into a ponytail with a colorful scrunchie!
4. Highlighted Curly Hair
If there's any part of the hair world little Black girls should be introduced to right away, it's hair color. These beautiful caramel highlights will accentuate her curly hair.
5. Middle Parted Twists
Medium-sized twists are a great hairstyle choice for 8-year-old girls who are active and on the go. Style these into a short bob with a middle part, the perfect length for flaunting spiraled ends.
6. Dreadlock Half Updo
Dreadlocks are a popular protective hairstyle for Black women and girls. This half updo works whether the hair is long or short and can be secured with bright, colorful hair ties of your little girl's choosing.
7. Thick Hair Left Down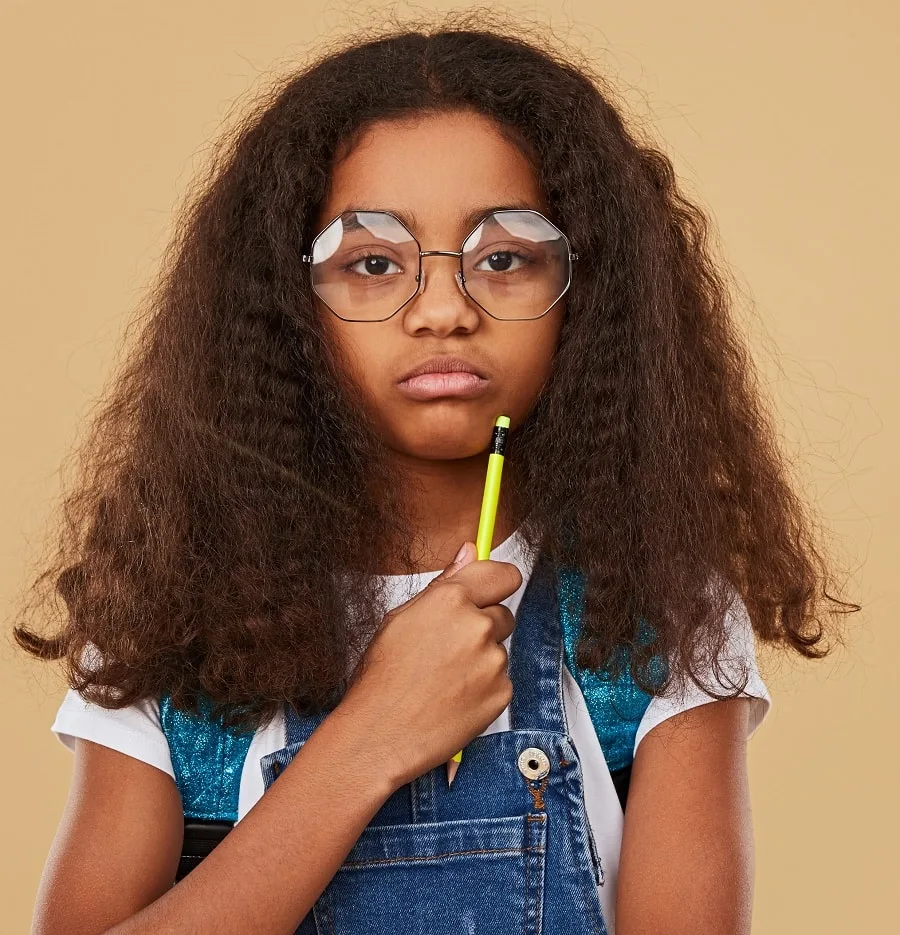 Not all hairstyles need to be styled fancy. Leave the hair down and loose with only a middle part for quick style that doubles as a beautiful way to show off thick black hair.
8. Braided Half Ponytail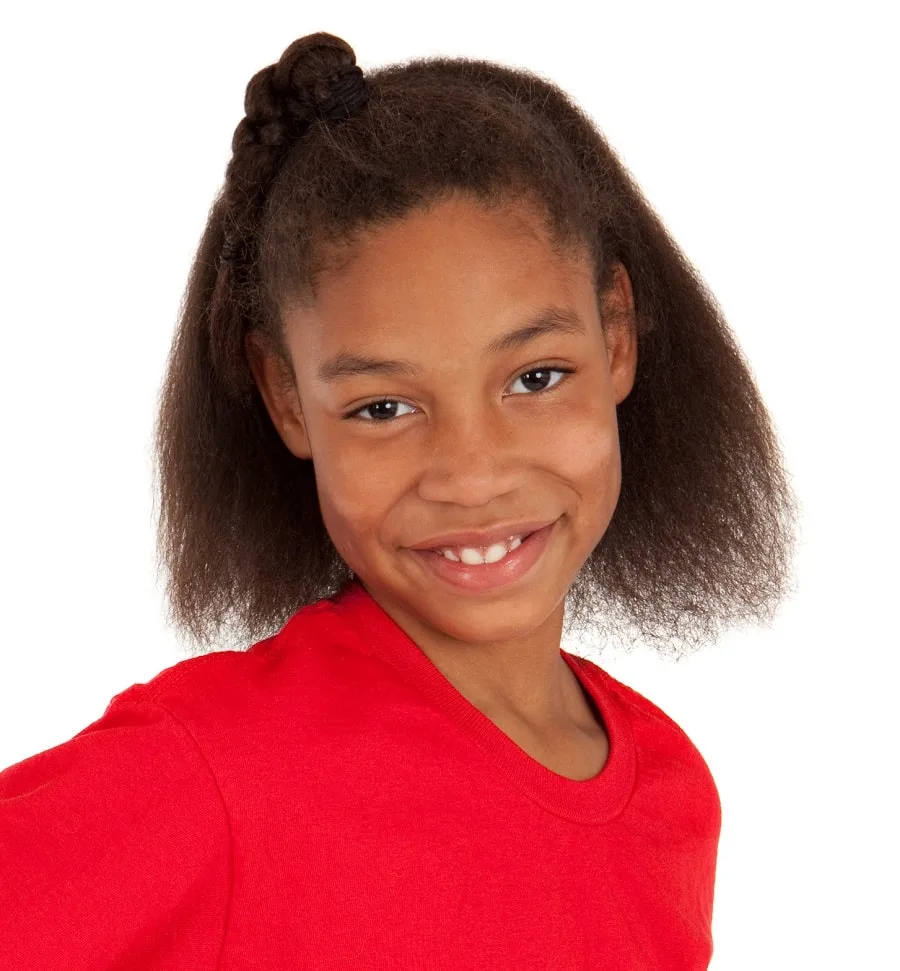 When your little girl learns how to braid, she'll be quite happy to make her own braided ponytail. We love how easily a short haircut can be dressed up just by braiding the top half at the side.
9. Fishtail Braid
If your 8-year-old is already rocking box braids, you're halfway to making this stunning hairstyle. Make a fishtail braid at the side and pull it over the shoulder to make her feel like Elsa.
10. Short Afro
Keep cool in the summer with a short haircut. This short afro is low-maintenance and a chic choice for little Black girls who want to feel like young ladies.
11. Afro Pigtails
Pigtails are the ultimate playful hairdo. Simply part the hair in the middle and make two ponytails at the sides of the head.
You can fluff up the hair with a little styling cream. Secure the ponytails with black hair ties or bright colorful ones.
12. Straight Hair with Thin Braids
The easiest way to make long hair look even longer is by straightening it to sleek perfection. Above the temples, make two thin braids and secure them loosely at the back for a 'crown' effect.
13. Long Curls with Side Part
Enhance the naturally curly texture on 8-year-old Black girls with long hair by scrunching in a little curl cream. This style will be easy for her to do on her own since it only needs a side part to be complete!
14. Side Cornrow Braids
Instead of making your cornrow braids go straight back from the hairline, start at one side of the head and wind them over to the opposite side. Use colorful rubber bands to secure each braid at the end.
15. Short Curly Hair with Bangs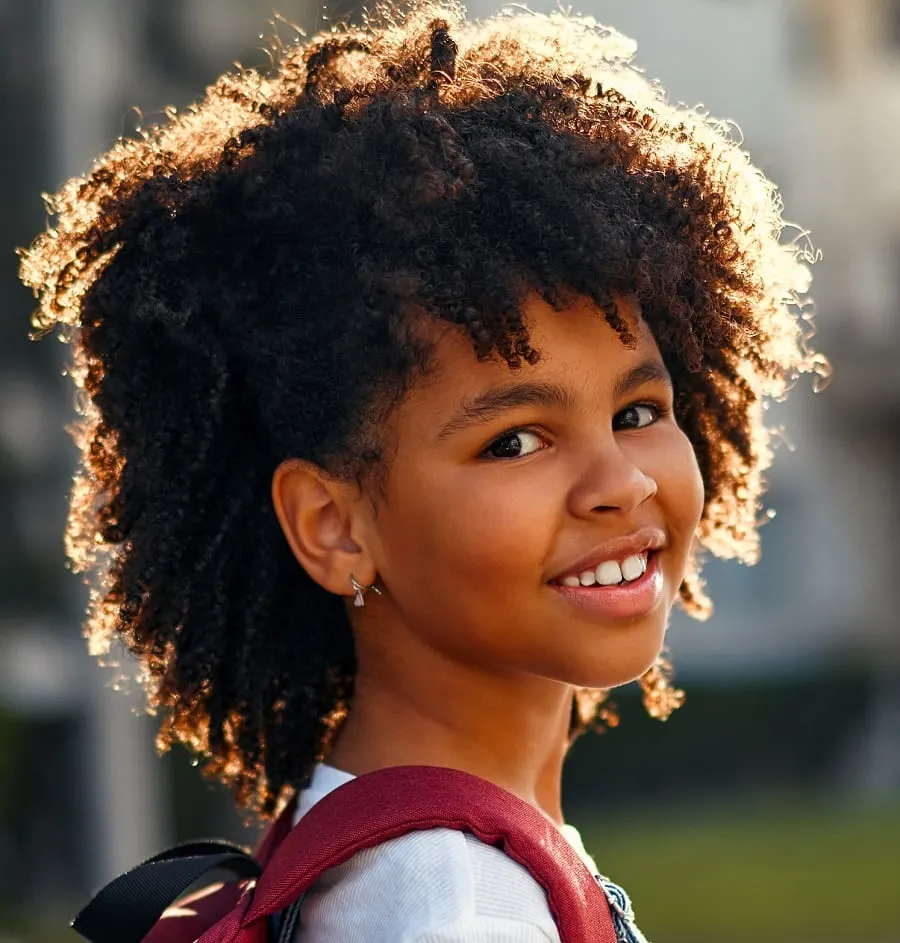 If your little girl is hating her thick hair, make it a cinch to style by having short layers added for shape. Add some shorter pieces around the forehead that can be arranged like bangs or pinned back to get them out of the way.
16. Bantu Knots with Color
As if Bantu knots weren't already a unique Black hairstyle, make them even better by adding color. These dark blue extensions are a great way for young girls to express themselves, as are the gold hair cuffs.
17. Afro Puff
Afro puffs are basically a smaller version of an afro, which makes them a nice understated option for 8-year-old Black girls. Plus, it doesn't need to be sleek or frizz-free to be super cute!
18. Low Ponytail with Middle Part
After working some smoothing curl cream into the hair, part it in the middle and gather it in a low ponytail. It can be styled with or without the thin braids that start halfway back from the hairline.
19. Flowered Space Buns
Even today, the space buns hairstyle is popular for Black women and girls. Wear them as a daily hairdo or slick them smooth and tuck in a few flower clips to dress them up for fancier occasions.
20. Curly Brown Afro
For 8-year-old Black girls whose brown hair is already lusciously thick, make it look its most gorgeous by styling it into a fashionable afro. Blowing out the curls will create these soft waves.
21. Short Curly Twists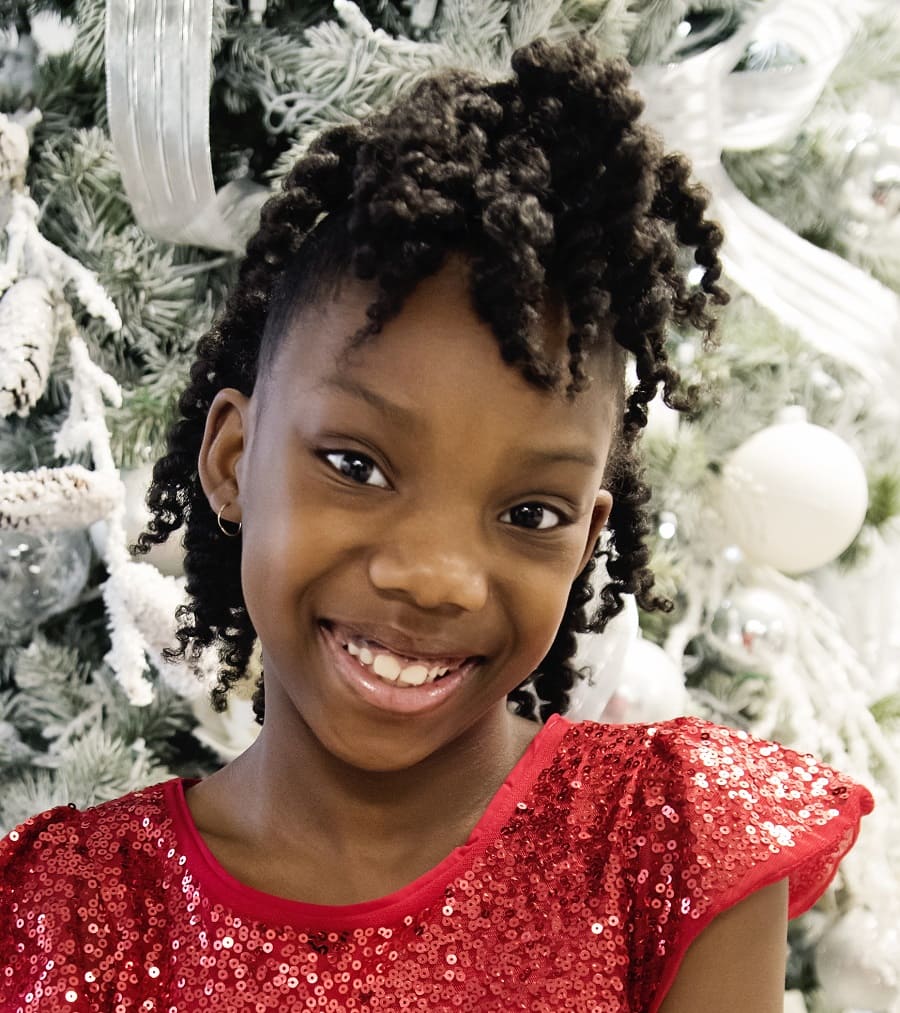 Create a trendy short hairstyle for little girls without sacrificing curly texture. These short layered twists feature beautifully curled ends that are front and center in a slicked-back half ponytail.
22. Box Braid Half Updo
Box braids are among the most versatile Black hairstyles. They can be personalized with different lengths, colors, and sizes. Style long medium-sized box braids into an easy low half ponytail.
Any of these hairstyles would be a beautiful choice for 8-year-old Black girls. And with so many ways to customize hairstyles these days, the looks above are easy for little girls to rock in their own way.
Whether it's with fun hair color extensions, extra long box braids, interesting shapes, or colorful hair accessories – work your way down the list to try them all!
Trending Topic