Long hairstyles look great on black men, and many choices are available. Black men's hairstyles are usually very different from the hairstyles sported by people of other races because African-textured hair behaves very differently. Many of the hairstyles that you can see have real cultural significance.
Long hair has many advantages as you can style them differently for a hundred days. It is almost like having your hairstyle closet full of various hairdos.
Attractive Long Hairstyles for Black Men
The hairstyles for black men with long hair incorporate the real significance of African traditions. Based on the texture of your hair, you can style your hair in as many ways as you want.
Dreadlocks are typically low-maintenance long hairstyles for black men. Once the dreads have locked, they require very little care and attention. On the other hand, Afros can be very high maintenance because they can become tangled and knotted up.
Dreadlock Ponytail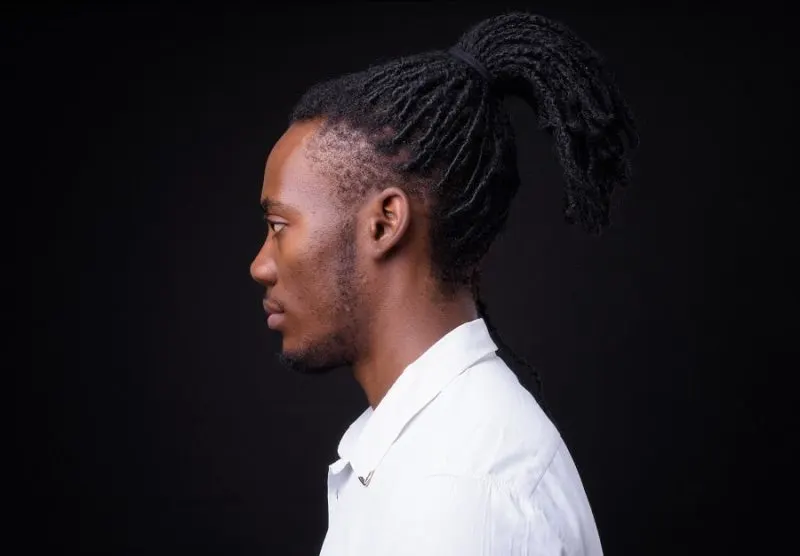 African American hair types are very kinky and curly. This makes them great for dreadlock styles, as matting the hair together is easy.
Here, many neat and skinny dreads form a thick ponytail. The sides are shaved down to stubble. The stubble is the same length as the facial hair. This creates a nice and subtle blend.
Unique Braided Style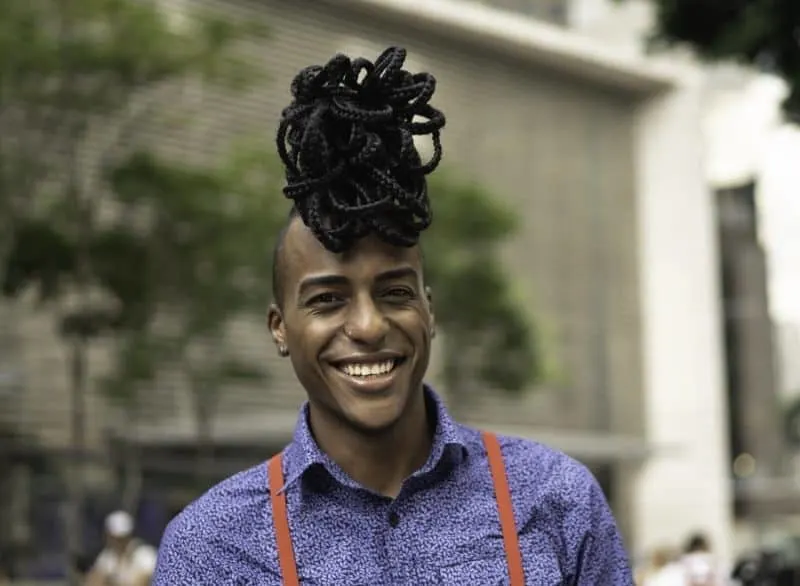 Black hair is also great for forming creative and unique looks like this. The braids are used to create a complicated and outstanding style. Most of the hair is shaved to help the style stand out further.
Long Curly Hair
One of the easiest ways to style your hair is by leaving it long and letting your natural curls stand out. This creates a very thick style that frames the face. Teasing the top out keeps it looking great. You can see lots of curl shapes towards the bottom where the hair is heavier.
Long Thin Braids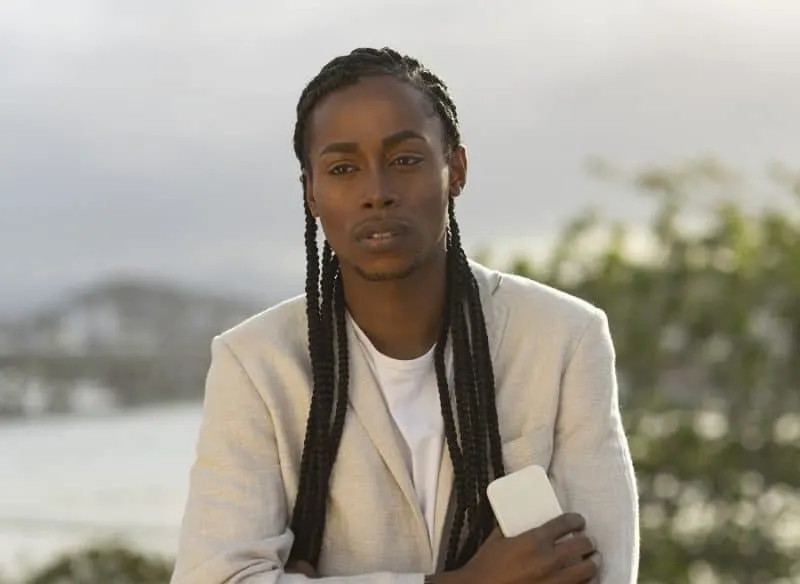 Braids are fantastic for black men with long hair. It's a protective style that stays looking good for weeks with very little maintenance. It's also super trendy and makes you appear very sleek and handsome.
Sleek Man Bun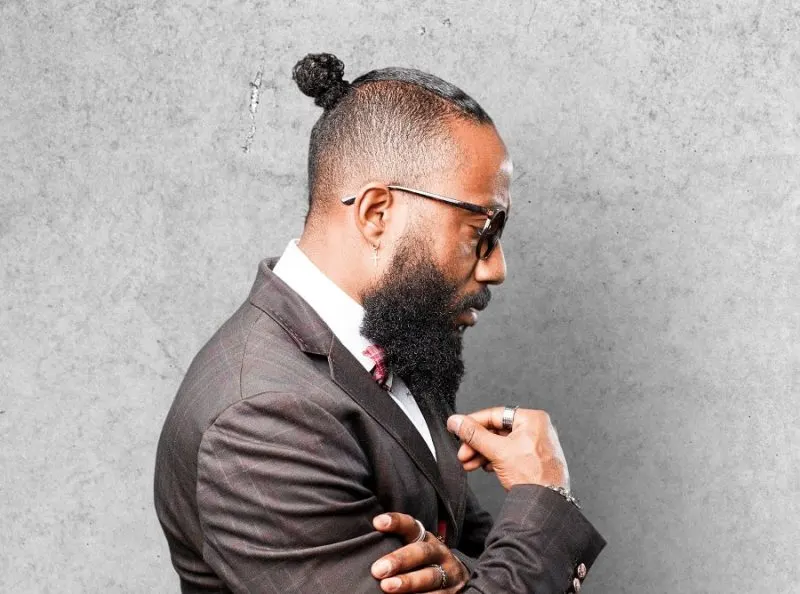 You can't showcase long hairstyles without including a man bun. It's a totally classic hairstyle that's always trending.
Most of the hair is shaved. The center is pulled back sleekly to form a textured bun. There's a slight fade on the sides of the head that looks really good. It's a very trendy hairstyle that suits everyone.
#1: Cool Corkscrew Curls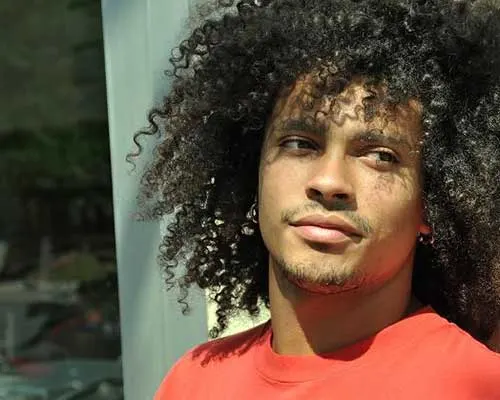 You are very lucky if your hair grows in natural corkscrew curls because it is quite hard to emulate this style. Only the most laid-back guys manage to rock this long hairstyle for black men.
#2: Spiked Afro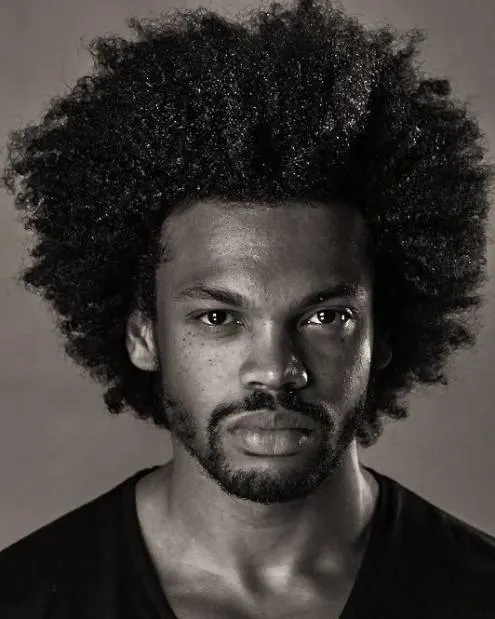 For a spiky looking afro hairstyle, leave each segment of your hair to grow at its own pace. Do not trim the hair into a rounded shape. You can also tease sections to help to give your hairstyle a spikier shape.
#3: Rounded Afro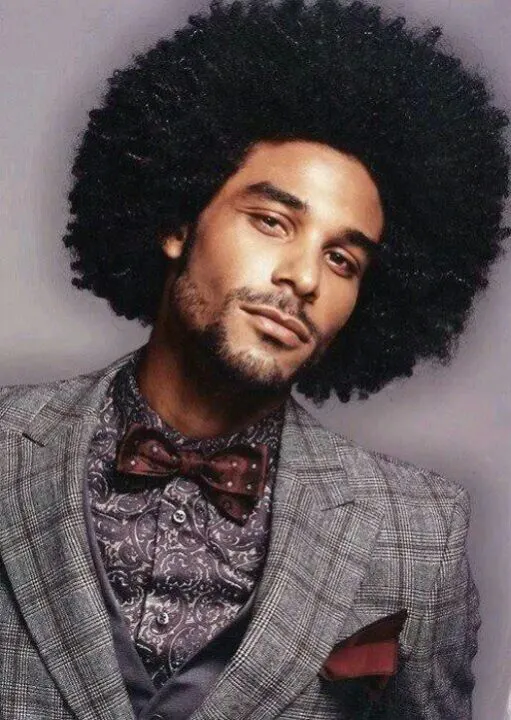 A rounded large Afro is an ideal style for black men with long hair. Trim your hair regularly to help it to keep its rounded shape in this timelessly classical hairstyle.
#4: Large Floppy Afro
You should only try this long hairstyle for black men if you have the wherewithal to pull it off. Softer Afro-textured hair will start to go floppy once it reaches a certain length, which creates this style. Keep growing your hair to increase the floppiness.
#5: Mid-Length Dreads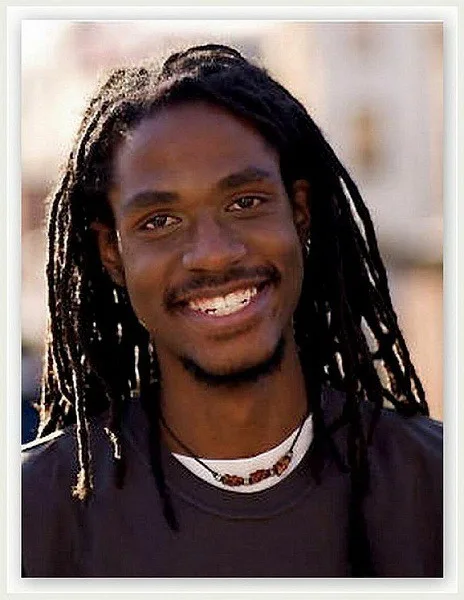 Dreadlocks are a great long hairstyle loved by black men. They are the perfect choice for guys who want to express their cultural heritage. Mid-length dreads are a stylish choice for a black men's long hairstyle because they can be worn down or pulled up into a high ponytail.
#6: Swept-Over Afro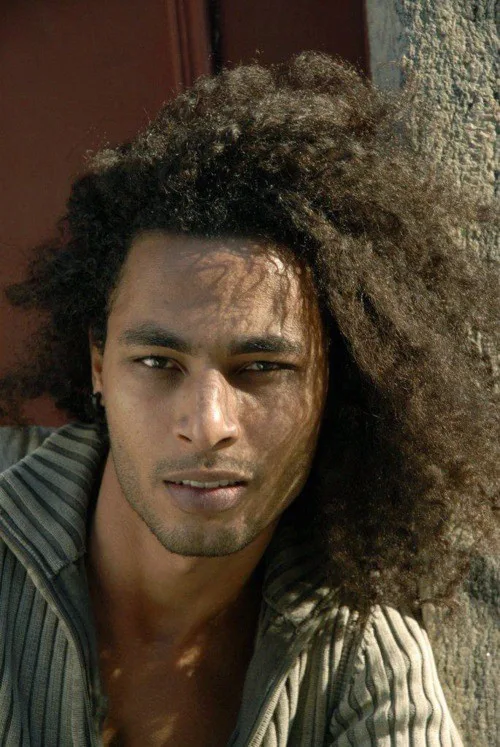 A swept-over Afro is not a classical hairstyle, however, it is a great choice for black men who want a different long hairstyle. It is much easier to sweep over thinner hair or hair which has been relaxed.
#7: Intense Tight Curls
Longer hair may automatically form into very tight curls on a black man with Afro-textured hair. This can produce a stylish but incredibly intense hairstyle for black men.
#8: Multi-colored Dreads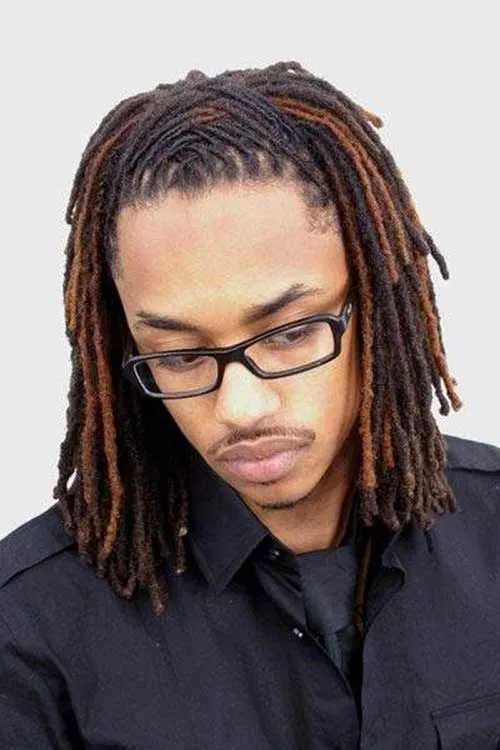 Create a unique mixed look by integrating two colors into your dreadlocks. Using multiple colors in a long black men's hairstyle will help you to introduce more variety into your look.
#9: Dreadlocks with a Hat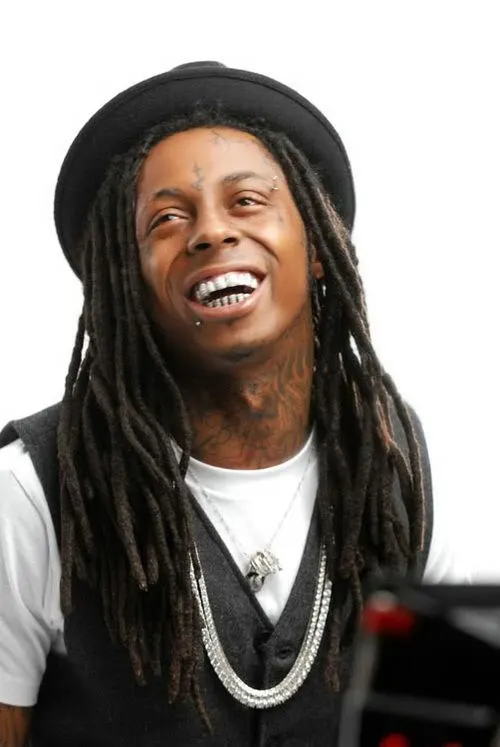 Dreadlocks look great with a hat because the hat helps to give the hairstyle a friendly and casual look. Change the style of the hat that you are wearing to add variety to your style.
#10: Big And Bold
If you really want to make a statement with your long hair, then you should grow your Afro as big as you can. People will never fail to spot you in a crowd and all eyes will be on you when you enter the room.
#11: Waist Long Hair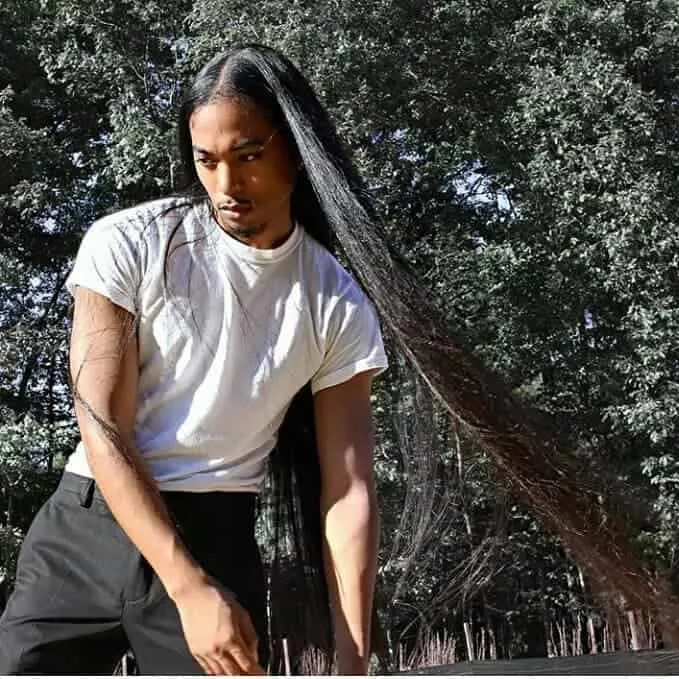 It's never a piece of cake to manage waist-long hair. But, if you are tempted by the idea that you'll be the odd one out in the perfect sense, then this hairstyle is just for you. You can also get extensions if you want.
#12: Artistic Hair
For black men with long hair, the sky is the only limit. Okay, no, it is yourself. Flaunt your long, twisted dreadlocks by coiling them into several rolls to. Everything is perfect with this artistic hairstyle.
#13: Dreads and Twists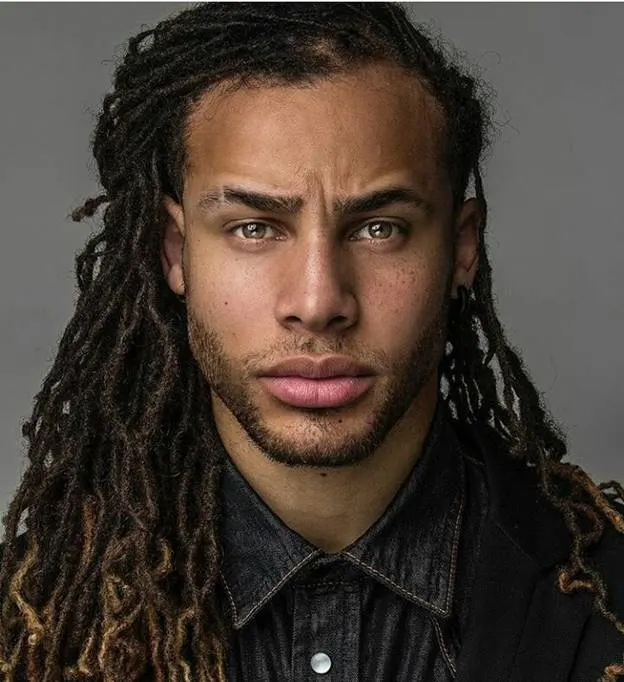 For this hairstyle, turn your hair into dreads and then spin them into twists. Tie them back into clean parallel lines. Leave the rest of the dreads flowing down for a more aesthetic look.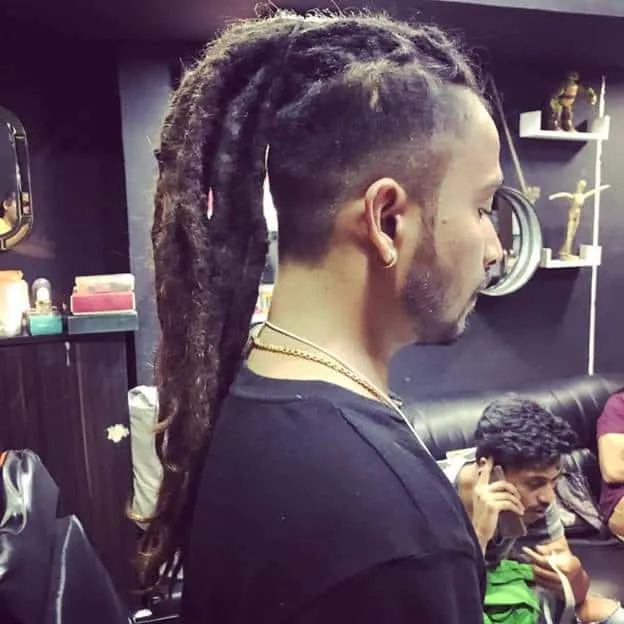 It is not necessarily dull if you have long hair and you sport long hairstyles. There are many ways in which you can style your long hair. Undercut with long dreads is such an example of the modern-day mohawk.
#15: Space Buns
We all know that long hair translates into perfect space buns. But space buns made of dreads are something out of this world and make you look unique like no one else. You can call them mickey mouse ears if you are a Disney fan.
#16: Jumbo Dreads
There are many shapes and sizes of long hairstyles but, everyone seems to be particularly fond of jumbo dreads. This hairdo for black men with long hair has all of the artistry and creativity incorporated in itself, which is very difficult to find in any other hairstyle.
#17: Ombre Long Hair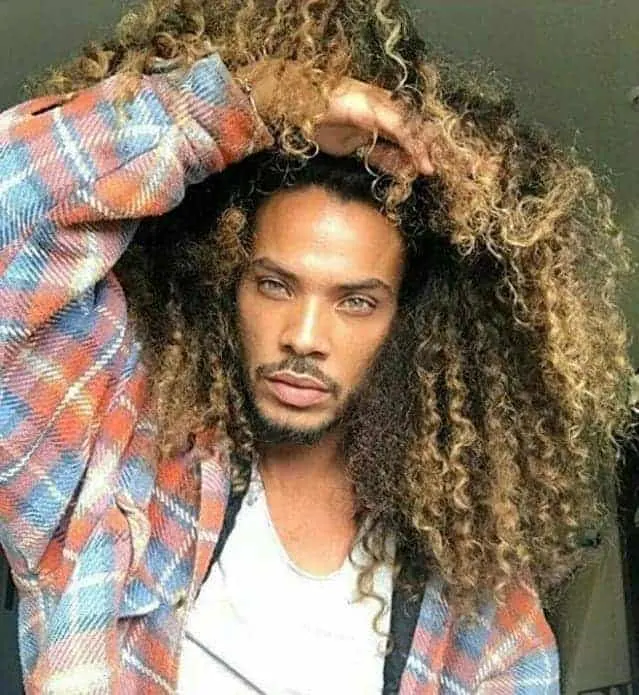 Ombre long hairstyles for black men have a vibe around them that is hard to beat. Dark cocoa curly hair which slowly drops down into a milk chocolate brown and at the tips, a deep honey blonde is our favorite.
#18: Classic Plaits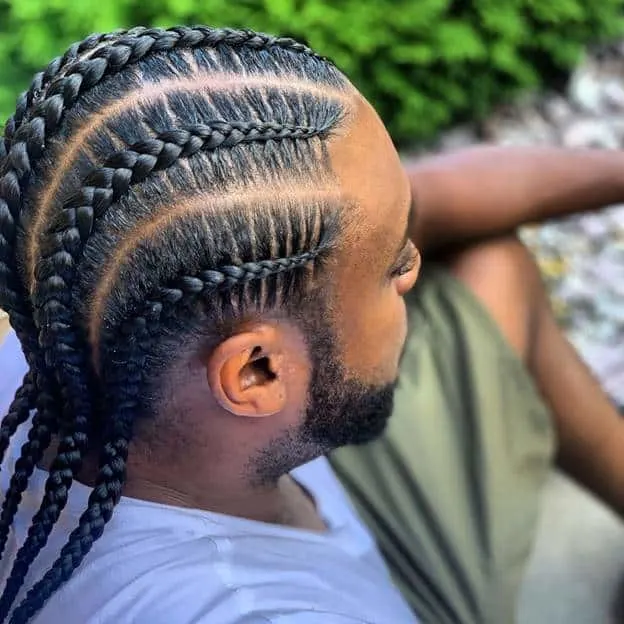 Twist your hair into jumbo three-strand classic plaits that are as trendy as vintage. Nothing can go wrong with this hairstyle for black men with long hair.
Man-bun is one of the super trendy looks right now. Tie your long hair into a bun on the top of your head to look cool. Add an undercut to the sides to complete the black men's long hairstyle look.
#20: Modern Long Hair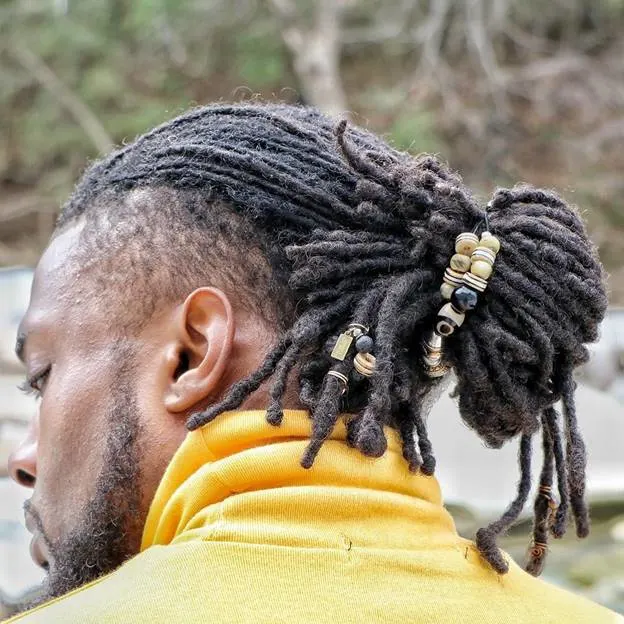 Inspired by traditional African American haircuts, this long haircut for men is super edgy with a modern touch. You can also add stylish accessories and beads to style your hair.
#21: The Headscarf
When you have no time to set, style, and secure your hair, the headscarf becomes your ultimate rescuer. Just wrap the headscarf around your head, and you are all set to go.
#22: The Flower Crown
For your next festival look, go with this aesthetic flower crown and look stunning. Hop on the trend of getting beautiful flowers into your long hair.
#23: The Messy Buns
Where ever you are, messy buns can be your look of the day. Follow in the footsteps of space buns but don't forget to get messy in the process.
#24: Retro Hairstyle
Past years have flamed a love of the retro in all our hearts. It began with the hipster subculture and has come this far. Retro hairstyle is a perfect example. Time to go a little retro with your long hairstyles for black guys.
#25: The High Bun
Long hair allows you to wear traditional high buns without a problem. Take all your locks, twist and wind them up on your head to give them the look of a high bun.
Black men with long hair are consistently among the trendsetters. Long hair can be challenging to manage if you don't know the right hairdos. Take out some time and learn how to style your long hair.
There are various black men's long hairstyles that you can wear every other day without looking boring. Go to the salon and get one for yourself too. Style them however you want, pull off whatever look you like, and your long hair will never fail you.
Try looking at some of our other fantastic lists for long hairstyles for other hair types. We also have a master collection of inspirational taper fade hairstyles for black men.