Men of African descent usually have thick and curly hair, which means their hairstyles differ from what the Caucasian population is used to. If you are a black man who is following the hair trends in 2020, we have handpicked some of the greatest black men haircuts and styles that are a hit this year.
Some really like their black and unruly curls and do everything they can to flaunt them. Others get tired of taking care of these unruly spirals and choose hairstyles to minimize the effort. Regardless of the situation, all black men wish to have modern and fashionable hairstyles.
Sometimes it is very hard to choose the right haircut for yourself and that's why it is absolutely imperative to browse as many options as possible to find the perfect black men haircut.
Best Haircuts and Hairstyles for Black Men
Tired of dealing with unruly locks and want to find the most amazing haircut to stick with? There are many ways to make your dream come true. Our stylists have spent long hours looking for the perfect black men haircuts to make your life a little bit easier.
Look at the list of amazing cuts for black men, which are popular in 2020 and take your best pick!
1. Undercut with beard
When we are looking for a perfect haircut, we often forget about an amazing style addition our facial hair can make. A simple undercut is diversified by a neat beard with short mustache. You can flaunt your hair both on top and on the bottom.
2. Neat upper dreadlocks
Dreadlocks don't always mean long hairstyles. This haircut is very neat. All you need to do is get a classical undercut while leaving enough hair on top to make dreadlocks. Your hairstyle will become truly fashionable.
Best Taper Fade Cuts for Black Men
3. Shaped up undercut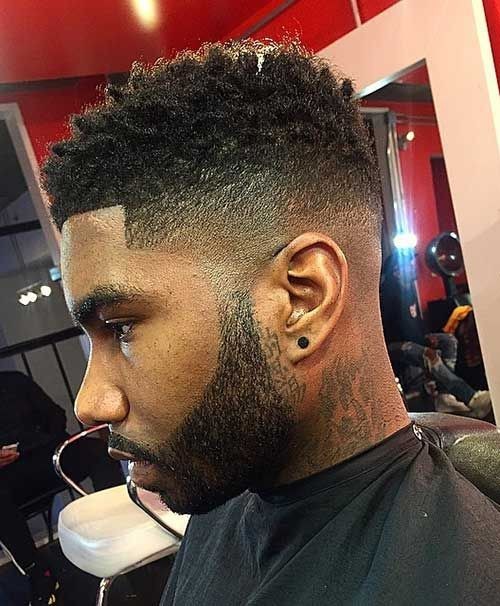 If you like your curls, but don't want to face all the hassle that comes with it, you will need to minimize the effort by leaving just about 2 inches on top. The rest of the hairstyle will be a shaped up undercut, which is easy to take care of.
This is one of the most stylish haircuts for black men out there. The fashion is in its simplicity. It is shaped up to make a circle on top. The rest of the hair is shaved off. This hairstyle will allow you to forget about the barber's chair for a while.
This haircut dates back to 1990s but still hasn't gone out of style. Bold black men, who are ready to deal with their amazing long locks should try this haircut. It will surely turn a lot of heads and cause envious glances.
Black men have the perfect hair for cornrows. There is so much you can do with them! Check out this funky hairstyle to lift your mood. Make cornrows on the sides only, tie them in a ponytail and leave the top part free.
7. Dreadlock blowout
Dreadlocks are a wonderful way to deal with unruly black men hair. Once you make them, you can forget about hair care for several days. If you want a stylish haircut to go with it, take a look at the popular blowout.
The simpler, the better. You have probably seen this popular black men hairstyle many times. Even though it is rather old, it is still quite fashionable. The hair is left a certain length on top and then fades in layers down the sides.
9. Grown out taper fade
If you like your curls and ready to flaunt them, then you will like this grown out taper fade style. It is rather neat and short, so the only thing you will need to do is brush it. Curls don't need any hair products to look neat and natural.
10. Buzz cut for black men
Tired of the curly hair hassle? Why not get rid of it? The buzz is a great summer haircut, which will let your skin breathe and allow you to forget about hairbrushes. Every black man should try a buzz at least once in their lives.