Black culture is always evolving, and the trendiest black men haircuts evolve with it. However, there are also many that have stood the test of time and been popular for decades.
Some of these styles work to help you embrace your natural hair texture and make it look its best.
Other styles are better for controlling the hair and making it looik sleeker, so there's something for everyone in the styles below.
Best Haircuts and Hairstyles for Black Men
Tired of dealing with unruly locks and want to find the most amazing haircut to stick with? There are many ways to make your dream come true. Our stylists have spent long hours looking for the perfect black men haircuts to make your life a little bit easier.
Look at the list of amazing cuts for black men, which are popular in 2023 and take your best pick!
1. Young Men Haircut
If you are an African American student, you will certainly want a hairstyle that is cool and suits your style and personality. Use a mid fade for the sides and keep the top hair longer to be able to create twisted braids.
2. Black Men's Fade
Faded sides and backs are ideal for black men who don't want to worry about their Afro hair daily. The most low maintenance option is a marine cut that keeps the hair from standing in your way. You can also grow a beard to complete the look.
3. Drop Shag
Famous rappers like Trapboy Freddy and Yella Beezy brought back in trends the 80s hairstyles, the drop shag. Acting as a mullet for black guys, this hairstyle is ideal for Afro American men who want to look modern.
4. Balding Haircut
If you have receiving hairline, a short haircut will certainly make you look amazing. Keep your beard as short as the hair, and complete the look with a pair of glasses that will make you look professional.
5. Hairstyle for Older Men
If your gray hair starts popping out day after day, don't worry about it. You just need to find the proper haircut. A short trim that leaves room for coils to form will be ideal, and it will fabulously work with the beard and mustache.
6. Professional Cut
A short buzz cut can look so professional and is ideal for every day at the office. It will suit your personality and if you opt for a suit, be sure you'll look amazing. Also, a pair of black glasses with thick frames will certainly complete the look.
7. Black Man With Bob
Who said bobs are only designed for women? If you are a black man with long hair, this hairstyle will suit you like a glove. To make it look even more modern, go for a deep teal highlight to make the hairdo look eye-popping.
8. Box Fade
The box fade was extremely popular in the '90s, and it seems it climbed back to the top hairstyles in 2023. A few improvements here and there and any black men with dense coils wants it. Make it look breathtaking with a bleached blonde strand.
9. Man Bun for Black Man
When you have long curly hair, a man bun may be a suitable hairstyle for you. It is easy to style, and you can make it look messy by pulling off a few strands of hair. Tie the bun on top of the hair, and keep it voluminous.
10. Haircut with Lines
Take the bus cut to a whole new level by combining it with a medium-thick beard. Define the hairline with a shaved cut and style a lined design on each side of the head. Also, opt for a fade in the temple are to disrupt the connection between the hair and the beard.
11. Mohawk for Black Men
Mohawks look a little different on black men. Instead of spiking up the hair, you can use its natural tight curly texture to your advantage.
Use a curl sponge to help define the middle section of your hair, and shave the sides, back, and around the hairline. Shaving around the hairline is very popular in black looks these days.
12. Bleached Curls + Fade
Making your hair lighter is a fantastic way to create contrast in your style. Let all the focus be on the hair on top of your head by shaving the sides.
If you want to modernize your haircut, get a skin fade. Let the transition from hair to skin be very gradual.
13. Short Dreadlock Ponytail
Dreadlocks are a go-to haircut for black men. They keep controlled and protected. There are many different ways to create the dreads, too. Here, we see they're very skinny.
Pull your dreads into a ponytail on the crown of your head if you'd like to keep them out of your face.
14. Bold Red Curls
Many black men opt to keep their tresses short as they're easier to deal with that way. But that doesn't mean you can't stand out! Wear your hair a short, uniform length and dye it a bold color.
Tomato red is one of the most eye-catching colors you can pick!
15. Textured Man Bun
Man buns suit absolutely everyone, but they can be harder to keep slick when you have a natural hair texture. Shave the sides and back of your head if you want to make it easier to style.
Take the hair from the very top of your head and pull it back sleekly to the crown. Form the bun, and make sure the hair texture remains visible.
16. Short Beaded Braids
Braids are always an excellent option to protect your hair and keep it healthy. Start at the hairline and braid down to the nape of your neck. Decorate with beads.
Beads can sometimes just be a fashion statement, but for some men, they can represent a part of their culture.
17. Tight Blonde Curls
Haircuts for black men who like to show off their natural hair texture often focus on the top of the head and shave the sides.
Create a rounded shape that slopes from the hairline to below the crown of your head. If you want to stand out further, dye your hair almost platinum.
18. Box Braided Bowl Cut
Box braids remain a staple of black hair culture. They're both protective and fashionable, and you can style them in many ways.
Forming the shape of a bowl cut with your braids can help you stand out. Keep a few strands shorter in the front to draw attention to your eyes.
19. Bald On Top
More mature men might find their hair thinning or balding. In these instances, it's often best to go fully bald on top.
Shave your head with a razor daily and leave the hair on the sides. To create a smooth transition, consider letting the hair grow thicker as it gets closer to the ears.
20. Long Braided Mohawk
As you saw earlier, mohawks can look pretty different for black guys! Shave/taper the sides and back, then braid the hair that grows right on top of your head.
Secure the braids at the crown of your head so you can control how they fall to the nape of your neck.
21. Two-Tone Frohawk
Frohawks are clearly one of the most popular black men haircuts, which is why we've included so many! Try this variation.
Shave the sides and keep the hair on top short. Dye all but the edges of the hair you have left behind.
22. High Top + Mustache
The high flat top is a staple that every black man should try out at least once. Style your hair upwards with gel that doesn't harden when dry. Tease the top and sides, so it's messier.
Round out your look with some facial hair to make your look manlier.
23. Pastel Pink Waves
Some black guys have the perfect hair texture to form 360 waves. Wear a durag at night to compress your hair, then experiment with brushing it in different directions to form waves.
Only the manliest men can rock pink dye. Try it out! Get a fade on the sides to further masculinize your look.
24. Side Rat Tail
The rat tail has been around for a long time and is usually worn at the center of the head. Try something near and wear yours to the side. Twist the top half and add sections to the bottom.
Use your fingers and a large curl sponge to create a lot of volume in sections on the top of your head to finish the look.
25. Protective Twists
Keep your hair shiny and protected by forming twists. Mix up thicker and thinner ones to create a variance. You'll look best if you enlist the help of a talented black barber.
26. Short Blonde Dreads
When most people think of dreads, they think of long ones. These super short ones can be effective too. Get lots of small dreads put in your hair, so they naturally stand.
Want to change things up? Dye your hair and beard blonde to keep your look interesting.
27. Curly Hair + Beard
When most people think of haircuts for black men, they don't think of mixed-race guys. Mixed-race guys often have a less coily hair texture and softer curls. Take care of your curls with gels and creams to define them.
28. Strong Side Part
Not many of these hairstyles have a side part. It takes a lot of work to make yours appear defined. Getting a hard line shaved into the part is the best way to do it.
29. Thick Barrel Twists
Do you want to make people jealous of your great hair? Get your barber to create barrel twists all across your scalp. Leave a little hair free all around your hairline, getting thicker towards the back.
30. Red Highligted Afro
Do you like big hair? Then an afro will work for you. Get red highlights to help draw attention to it. Carefully separate and define separated twisted sections within it to create some depth.
31. Pompadour
Keep the sides and back in a short trim and style a Pompadour for the top hair. It will make your face look longer, and you can wear a short thick beard to complete the look beautifully. All girls would love to be asked on a date!
32. Twists
Go for tapered sides and maintain the top hair long and curly. You'll get a lot of volume, and you can even create twists for those bouncy coils. Also, define the hairline by shaving the extra hair.
33. Big Afro
When your hair has its own personality, there's no reason to tame it. Visit your barber to give you the perfect trim, and your big thick full mane will certainly stand out in any crowd. Complete the look with a pair of thick squared glasses.
34. Grey Hair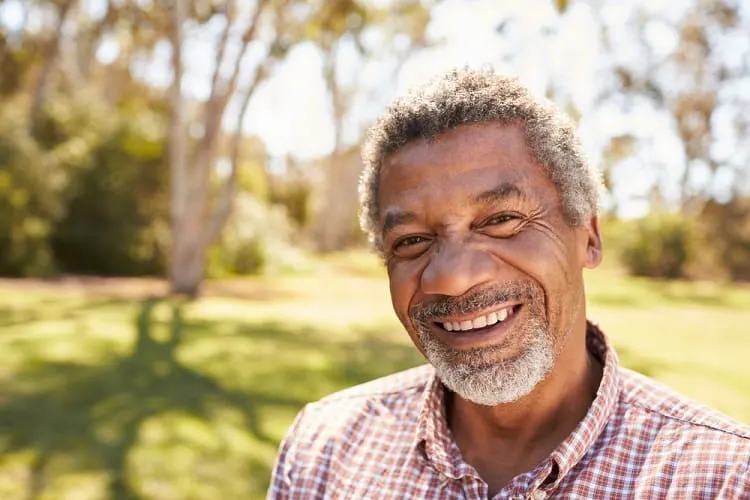 When you have great hair, you need a medium-short hairstyle that will beautifully complement your grey beard. It will frame the face, and you won't need to style your hair every day unless you want it.
35. Hard Part
Hard parts are classy and ideal for most men's hairstyles. In this case, opt for a buzz cut and make the razored cut on one side. The hairstyle is perfect for parties, days at the office, or men who don't want to spend their time styling the hair every day.
36. Undercut with beard

When we are looking for a perfect haircut, we often forget about an amazing style addition our facial hair can make. A simple undercut is diversified by a neat beard with a short mustache. You can flaunt your hair both on top and on the bottom.
Best Taper Fade Cuts for Black Men
37. Shaped up undercut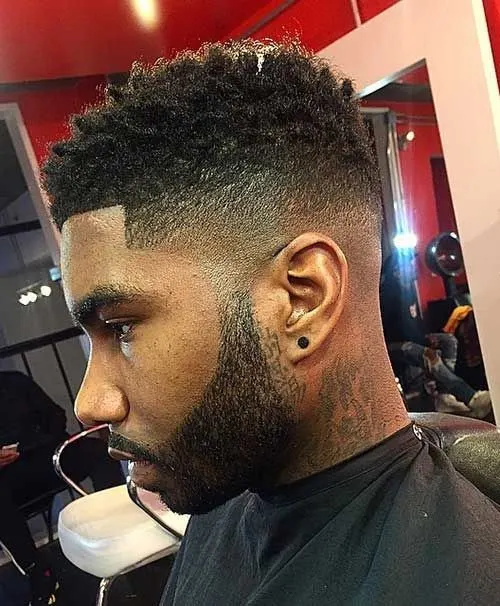 If you like your curls, but don't want to face all the hassle that comes with it, you will need to minimize the effort by leaving just about 2 inches on top. The rest of the hairstyle will be a shaped up undercut, which is easy to take care of.
This is one of the most stylish haircuts for black men out there. The fashion is in its simplicity. It is shaped up to make a circle on top. The rest of the hair is shaved off. This hairstyle will allow you to forget about the barber's chair for a while.
This haircut dates back to 1990s but still hasn't gone out of style. Bold black men, who are ready to deal with their amazing long locks should try this haircut. It will surely turn a lot of heads and cause envious glances.
Black men have the perfect hair for cornrows. There is so much you can do with them! Check out this funky hairstyle to lift your mood. Make cornrows on the sides only, tie them in a ponytail and leave the top part free.

41. Grown out taper fade
If you like your curls and ready to flaunt them, then you will like this grown out taper fade style. It is rather neat and short, so the only thing you will need to do is brush it. Curls don't need any hair products to look neat and natural.
42. Afro blowout
Got long and thick hair and want to do something about it? No need to get rid of all of it. You can go for a Pauly-D blowout with the top hair left as long as you wish. The longer it is, the harder it will be to take care of and the more amazing it will look.
43. Mohawk fade
This mix of a fohawk and mohawk is quite interesting and will be appreciated by men who really want to make a statement. Some hair is left on the sides to create an impression of a fade, however, the rest makes a perfect mohawk.

44. Neat curls
One of our favorite hairstyles for black men with round faces. If your curls are small and neat, there is no reason to cut them off. You can go for a classic haircut, which requires some maintenance. These curls will need to be properly brushed on a regular basis and smoothed with some hair gel.
If you are not afraid of challenges, you will appreciate this long and incredible haircut. It will require regular touch-ups and a lot of hair gel to look neat. Get ready for some tough times, but remember, then the result will be so amazing, you won't want to stop.
46. Neat and sweet
If the buzz is not something that's in your plans, consider getting something very close. Cut your curls as short as possible and make a low taper fade to accentuate a neat hairline. You will definitely be popular with the girls.
47. Long Cornrows
Black guys and girls are lucky to have hair that makes perfect cornrows. In fact, this is one of a few long black men hairstyles that look very manly. So, if your hair is long and you are ready for the best look in your entire life, make a barbershop appointment.
When it comes to shaved hair, there is always room for creative patterns. Ask your hair stylists for special designs on the shaved part of your head. Don't limit yourself to simple lines, there are so many options out there!
49. Creative shaving
If you are ready to become a canvas for someone's artistic creations, you will really look special. There are a few stylists who can create a masterpiece, so do some careful choosing. The result will pleasantly shock you.
50. Romantic look
Men with long hair always have a romantic air around them. So, why not use it? If your curls are not too tight, you can easily grow them long enough to achieve this hairstyle. However, get ready for some intense hair care.
51. Taper fade with a chin curtain

Beards are very sexy and extremely popular in 2023. So, you can diversify your old and boring taper fade by growing a long chin curtain. Be patient and wait for it to grow. The result will be truly fashionable.

This short and simple undercut is perfect for those, who don't want to bother with their hair, but are not ready for a buzz. This hairstyle for black men is easy to make, simple to maintain and looks very neat at the same time.
53. Short Bangs

It is hard to grow bangs when your hair is very curly. But it is still possible to make an impression of a fringe, by leaving the hair a little longer in the forehead area. The rest can be styled as you wish. This hairstyle looks especially well on men with high foreheads.
54. Creative undercut

This creative undercut can become one of the best black haircuts for men in 2023. Creativity is trendy, so if you go for shaving the sides, why not make them stylish? Ask your barber for some half moons to outline your haircut.

55. Black Men With Side Parted Curly Hair

If you are not up for too much change and need your haircut to make a neat impression, you can go for a side part. This will help you keep your spirals tidy without getting rid of most of them. Make sure to us a little hair gel to subdue the curls.

56. Modern afro

Afros have been in style for half a century, so why not make one now? These haircuts have changed over time, but the main point stayed the same. The hair is grown long enough to create a hat-like appearance. In the modern variation, the sides are shaved.


Want to forget about your hair at least for a couple of weeks? Go military! This hairstyle is appreciated by many black men for its simplicity. At the same time, it will allow your head to breath, which is often important for future hair growth.

58. High fade

High fades are very different. You can even make one with not much hair on your head. This is a great way to avoid a military look while getting rid of most of the hair. This is a wonderful hairstyle for men, who are tired of their unruly curls.
Difference between taper and fade
59. Fashionable shape up

There are a lot of ways to fashionably shape up and undercut. Take a look at this interesting option. The sides are shaved and a line separates the shaved part from the top curly one. These lines can vary in length and style to make the shape up even more unique.

60. Fresh Prince of Bel-Air

This haircut became popular in the early 90's thanks to young Will Smith, who played in a popular American sitcom Fresh prince of Bel-Air. While the show has come and gone, the hairstyle stays rather stylish and there is no reason to overlook it.
61. Buzz with a goatee

If you are getting rid of your curls, no need to shave as well. Buzzes look perfect with goatees. Especially if both are about the same length. Give it a try and you might become a real beard fan. But don't forget to keep it neat!
62. The wet look

If your curls are absolutely unruly but you don't want to get rid of them, you can go for a wet look. It is easily achieved by applying a big amount of hair gel and shaping your hair any way you wish. Make sure to wash it off in the evening.
63. Fohawk with a chinstrap

Fohawks is one of really fabulous black men hairstyles that look great on their own. However, adding a fashionable beard will only bring a modern tweak to the look. Don't be afraid to experiment. You will surely like it!
64. Curly short mohawk

Mohawks look great on black men of any age. Some prefer to leave a minimum amount of curls on top. This is not always a great idea. If you want a neat and short mohawk, leave at least once inch of hair on top to make a special impression.
65. Long Cornrows

Cornrows might be complicated to make, but the result is truly amazing. If your hair is long, thick and curly, cornrows will save the day. You can forget about styling for several days and look fabulous as soon as you get out of bed.
66. Drop fade

This tapered drop fade looks fabulous but is very hard to make. While it looks like a simple hairstyle, only a real master can work with such short hair to create a drop fade. An experienced stylist will make you look truly fantastic.
67. Creative side part

Who said that a side part should only be natural? Take a look at this photo and remember to show it to your stylist. It will take only several minutes to make and will keep you looking fabulous for several days or even weeks.
68. Interwoven cornrows

This fashionable hairstyle can only be achieved in a stylist's chair. These unique cornrows are interwoven and make an amazing impression. A great idea for a special occasion, a photo shoot or a wedding.
69. True mohawk

True mohawks are always in style, so why not make one? "Curls," you will say. No problem. There are many ways to straighten out your curls to get a really long and fashionable mohawk. Unfortunately, it will not last too long.

This hairstyle is perfect for someone who is not afraid of changes. If your hair is long and very thick, braids can become your best friend. No need to make them as unique as on the photo. Just use them to keep your hair neat.
71. Bad Haircut for Black Guys

If you want to make a statement, there is no reason to limit yourself to standard haircuts. Go wild! Here is an example of how you can really stand out of the crowd.
72. Classical afro

This classical black men haircut will surely look great on anyone. It hasn't gone out of style in 50 years, so it will surely stay popular for another 100. Give it a try to feel like you are back in the '70s. It is an amazing feeling.
We hope that browsing these hairstyles was not just fun but also educational. Now you can decide which one of these haircuts will suit you best. The more you experiment, the better the result will be. Don't be afraid to change!
FAQs
Here are some common questions about washing Black men's hair.
How often should Black guys wash their hair?
Most recommend washing hair once or twice a week. But it depends on the length of hair and style. For example, is it styled in braids, natural curls, a texturizer, or dreads? If it's past a half-inch, washing once or twice a month is fine.

If you're actively playing sports daily with a buildup of sweat, then wash your hair during each shower. Use shampoos and conditioners that do not contain harsh chemicals that strip the existing oils from the hair.
Do Black men need to moisturize their hair?
Yes, a daily moisture routine is essential! Without moisturizing hair, strands can become dry and brittle, making them prone to breakage.
What's the best look for Black men's long hair?
Many options are available based on the texture and length of the hair. The best look for long hair on Black men is dreadlocks.

Locs are flattering with the versatility to look sophisticated, pulled up into a man bun, in a sleek ponytail with lined-up edges, or a free-form dreads for an edgy look.
How often should Black guys trim their hair?
Generally, Black men should trim their hair every two to three weeks. But if you have a specific style, like a tight fade, every two weeks should suffice. If you have a completely shaved head, perhaps a cut every one to three days may be more appropriate.
What should be the hair care regimen for Black guys?
Ensuring the hair is moist, not over or under-washed, and using protective hairstyles is essential with Black hair.

It is best to follow the LCO method to keep the hair healthy and moist. For Black hair, it is crucial to wash it with conditioner, also called a "co-wash."
Is a fade for Black men professional?
Yes, fade haircuts offer a clean, professional look from all angles and may be one of the most flattering hairstyles for Black men with short hair.

From business meetings to church or black-tie events, a shortcut fade never goes out of style and is low maintenance. You can quickly apply moisturizer, then brush and go to start your day.