If you want a popular hairstyle but don't know which one to choose, take a look at stacked bob. This hairstyle is truly versatile. It looks amazing on all hair types from thin to thick and from straight to curly. If you are ready to cut your hair short and want a style, that will make it look amazing, choose one of the short stacked bob hairstyles.
This bob got its name from the way the hair is layered in the back. Each layer looks stacked upon the next one. This hairstyle always looks great regardless of the amount of time you have for styling it. It is perfect for women who like the "wash and go" haircuts.
Beautiful Short Stacked Bob Hairstyles
No matter what color, type or length your hair is, a short stacked bob hairstyle will make it look fantastic. This haircut is easy to care for. It requires almost no styling. You can experiment with the front part as much as you like, while the back will always stay neat and stylish.
There are many different ways to create a stacked bob, so we are offering you a list of popular short stacked bob styles for women. Choose the option which strikes you as perfect and gives your stylist a chance to make your hair truly beautiful.
1. Stacked Bob with Blonde Highlights
Short stacked inverted bobs are not only very low maintenance but also a great canvas for those who love playing with colors and highlights. However, the trickiest thing is to color a bob that has that graduation in the back. Make sure you don't use foils in that short area because it will look spotty, and that's something you should really avoid.
2. Blonde Ombre for Stacked Bob
A blonde ombre will pop the brightness in the face, enlightening it. The short-stacked ombre bob presented above is an attractive way to look modern with a simple, straightforward cut that reaches the jawline.
3. Wavy Caramel Stacked Bob
Messy but glamorous, this short-stacked wavy bob embodies all the features you need: modern waves, caramel, and mild blonde nuances, texture, and sharp edges. The hairstyle is ideal for women with round faces with prominent cheekbones because those bangs do a great job in diminishing the roundness.
4. Stacked Bob with Undercut
A short-stacked bob with an undercut gives any haircut a rebellious note. Adding eye-popping, vibrant colors such as this blend between purple, fuchsia, and red tones creates a playful look and won't pass without people noticing it.
5. Gray Stacked Bob
As a woman over 50 that already begins to struggle with those annoying gray hairs, a silver short stacked swing bob will dramatically change your look and help you embrace the natural transition to ashy tones. Create angles in front and build loads of layers in the nape area to help building the stacked effect.
6. Asymmetrical Bob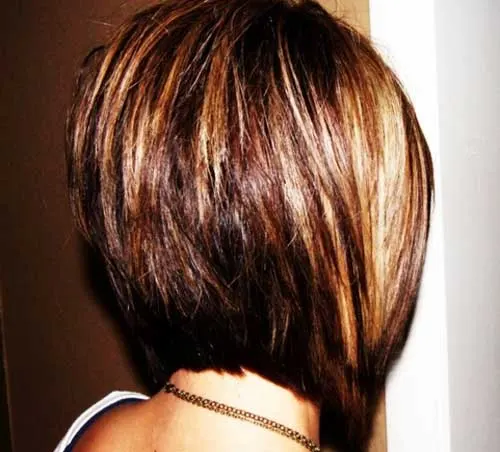 Asymmetry looks amazing on all bobs and short stacked ones are not an exception. While the back part is neatly stacked up, the front ends are made asymmetrical. Experiment with different colors to create an asymmetrical impression.
7. Short stacked bob for thin hair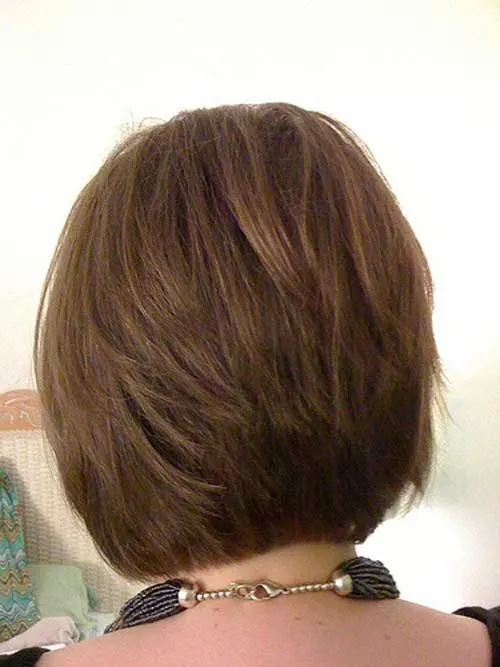 Stacked bobs are real saviors for thin hair. They can make even the finest mane look voluminous. So, if you are dreaming of volume, go for such bob, which ends in the middle of your neck. Make sure to brush it regularly in order to avoid a messy look.
The Best Bob Cuts Trending Right Now
8. Thick and high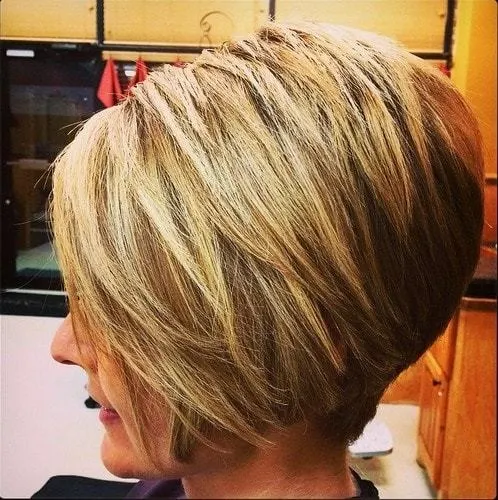 Women with thick hair can go for short & high stacked bob. This is one of the very fashionable variations of this hairstyle. The bob ends at the top of the neck, while the frontal strands reach the chin. Such hairstyle will look great even if you forget to brush it.
9. Blond and beautiful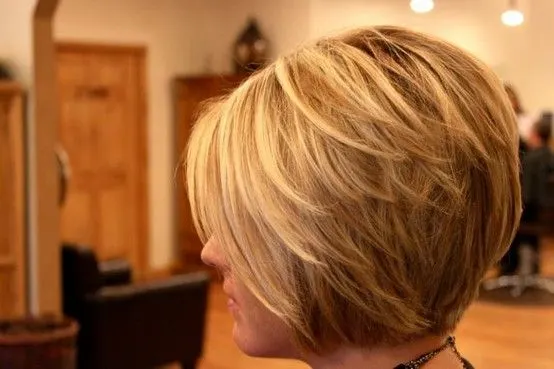 Layered bobs look great on blond hair. Light hair color makes them seem even more voluminous. Add some bangs to the blond bob to make it look even more special. Bangs can vary from short to eye-covering.
10. Violet streaks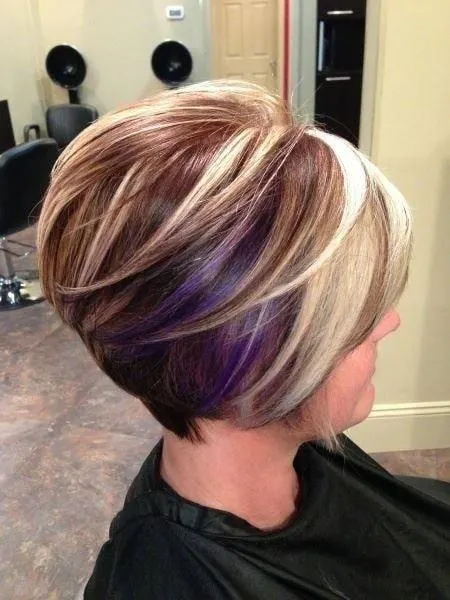 If you want to diversify your stylish bob, go for violet streaks. They look so unexpected, that you are sure to get a lot of attention. This is the easiest way to make your hairstyle different, without much change.
11. Ombre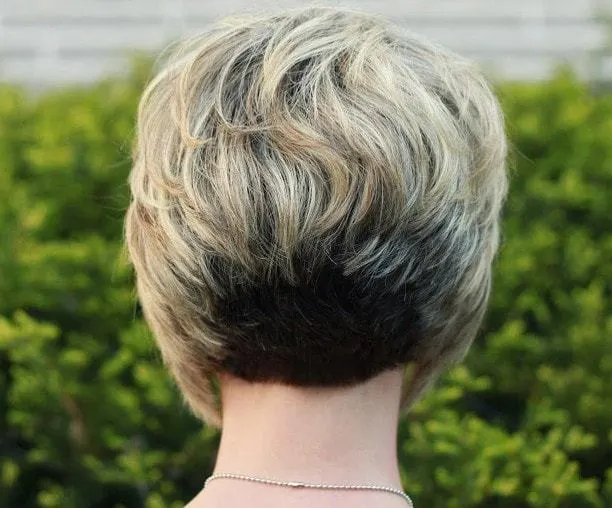 Ombre is the latest hit that is becoming more and more popular. So, why not try it on your bob? Ombre will look fantastic if the lower layered part of your bob is dyed brown or black, while the top part is blond.
12. Angled Bob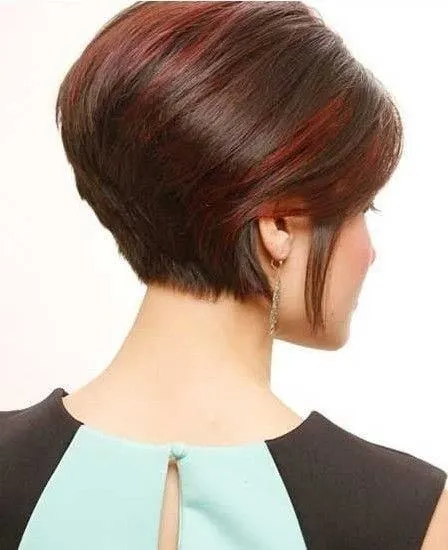 This neat angled bob hairstyle is hard to make and might be a little complicated to keep neat. But doesn't it look amazing? The back part is neatly stacked to create a smooth transition to the thin blunt layer on your neck. The frontal strands are long enough to tuck behind your ears.
13. Ombre splash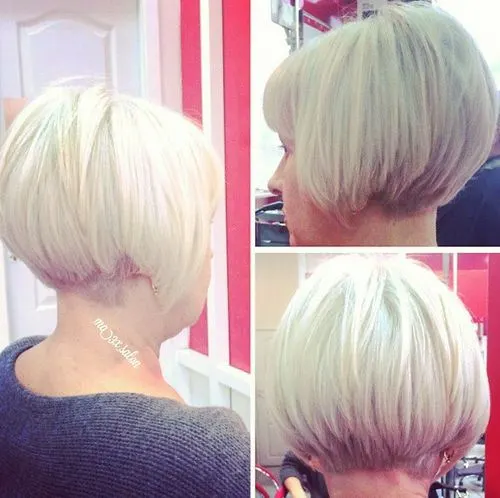 Like the way it looks? Don't try it at home. An ombre splash can only be trusted if done by a professional. It is achieved by carefully dyeing the lower and under part of your hair. Make sure to keep your hair brushed, otherwise the splash effect will be lost.
14. Very short and truly stacked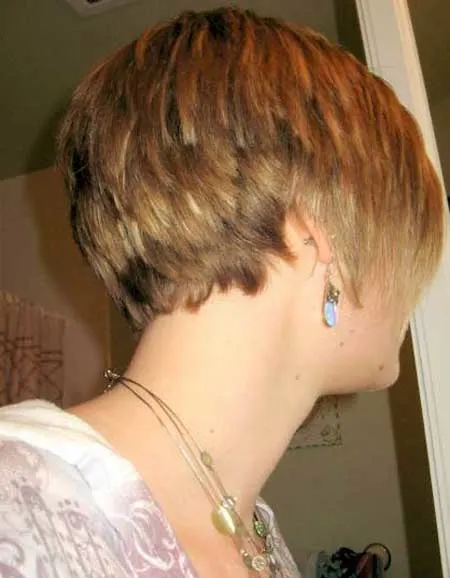 This short stacked bob hairstyle is perfect for women with thick hair, who are trying to avoid excessive volume. It is created by making short and blunt layers, each one of which is visible. The hair in front reaches cheekbones.
15. Short and shaved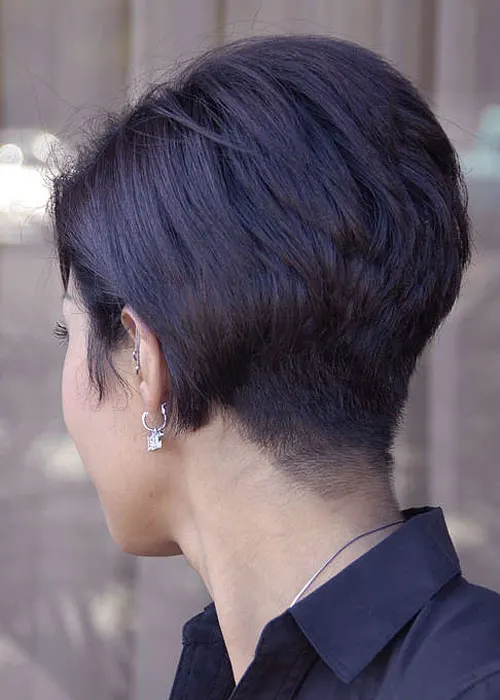 If you are going for a very short haircut, such as this, don't forget to deal with the lower part of your neck. High bobs look fantastic, but the hair on the bottom might ruin the look. Make sure to shave the neck to make your hairstyle look neat.
16. Stacked and angled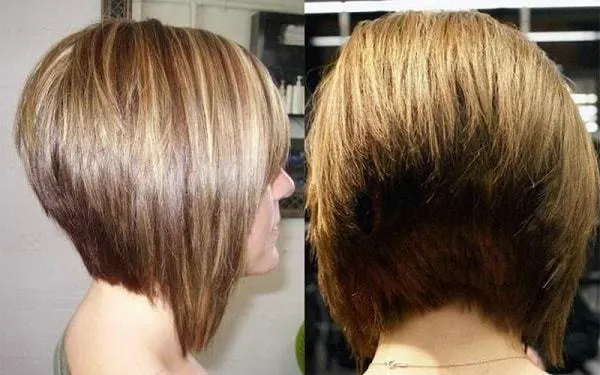 Layered bob will look even more fantastic if you add angles in front. They can go for short and neat to long and asymmetrical. Take your pick. Any angled style in front will become a great addition to the stacked cut in the back.
17. Office style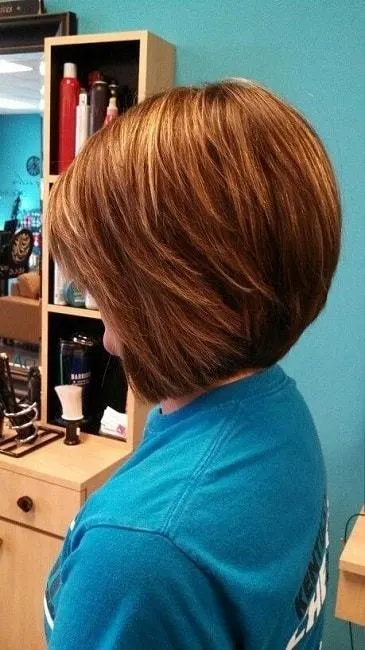 This is a light variation of a stacked bob. The layers are not too obvious, while the result is the same – more volume. This hairstyle is perfect for an office look. It fits businesswomen as well as teachers or doctors.
18. Round bob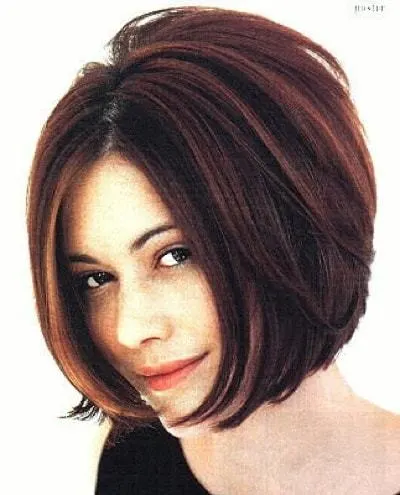 Women with triangular or square face shapes should take a look good at this bob. Its circular form will do wonders for making the face seem more rounded. Make sure to style the frontal strands to encircle your face.
19. Color experiment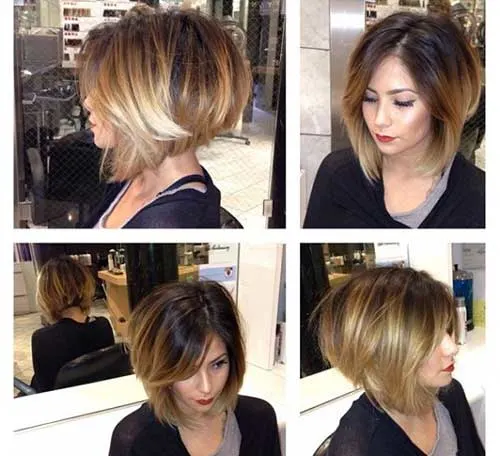 Short stacked bobs look fantastic when you experiment with colors. If you are not ready for bold violet strands or ombre splashes, go for regular highlights. This will add your hair even more volume and give you a fresh and new look.
20. Ear shape
This truly unique way to style your bob should be tried by women who are ready for a change. While the hair is stacked in the back, the front becomes a real experiment. One side is trimmed around the ear and another is left long. Give it a try!
21. Wavy stacked bob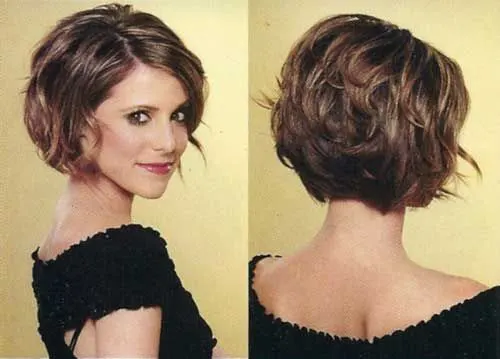 Layered bobs look fantastic with wavy hair. While such hair is often hard to manage, the bob will make it look very stylish and easy to maintain. If you go for a side part, make sure the hair is still the same length on both sides.
22. Straight and angled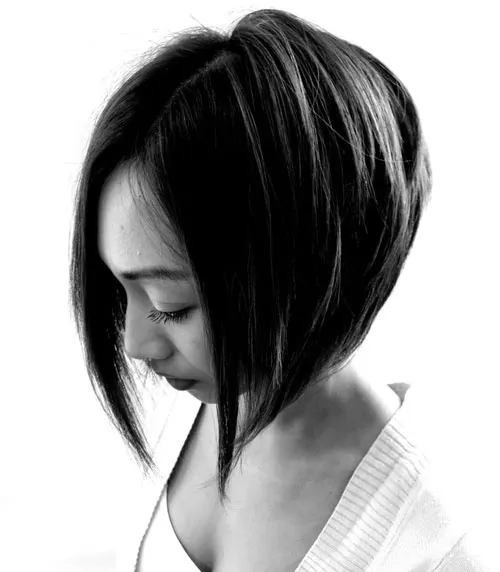 Women with thin and straight hair should go for angled bobs. The long angled part will look fantastic in front, while the stacked back will add straight hair some volume. This is a great hairstyle choice for Asian girls.
23. Platinum auburn mix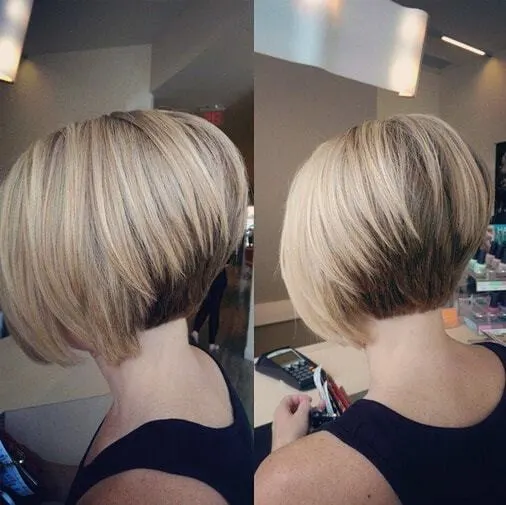 The platinum-auburn mix is a great idea for a short stacked bob. Take a look at the way the hair is dyed on a photo. The back and the middle is colored auburn while the sides are platinum blond. The overall appearance is fantastic.
24. Short side swept bangs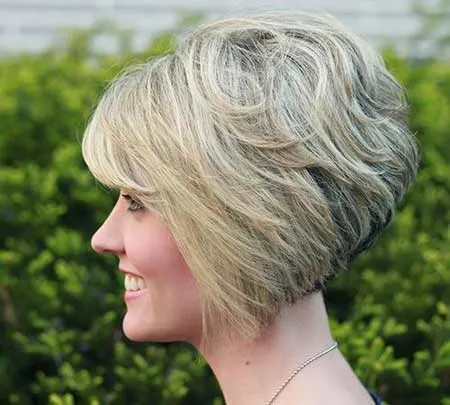 Short side swept bangs are a great addition to any bob. They look especially well with the stacked hairstyle. Make the bangs short enough not to get into your eyes. This hairstyle outlines any fringe very well.
25. Wild and angled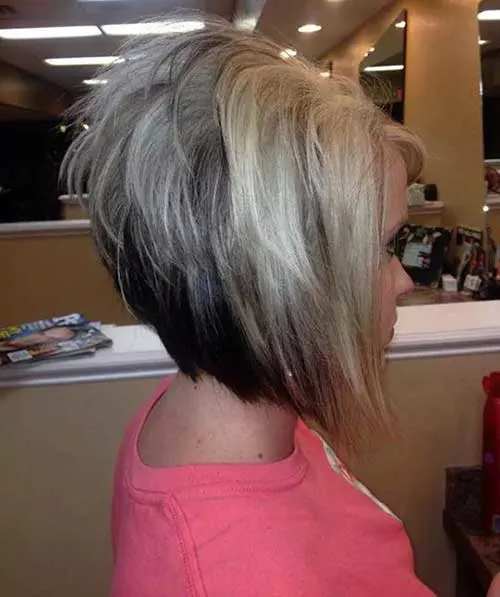 This fantastic angled hairstyle is a perfect way to style your stacked bob. Make several highlighted layers and style each of them in a messy fashion. This amazing look will really make you stand out of the crowd.
26. The puffed bob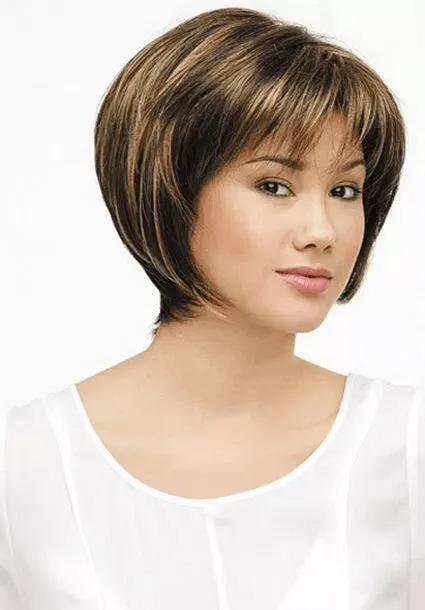 The puffed stacked bob is a great way to add volume to a simple bob cut. This particular style also has lovely face-framing bangs that add depth to the hair. The added honey highlights are a perfect way to make sure there's some texture in style.
27. Stacked black bob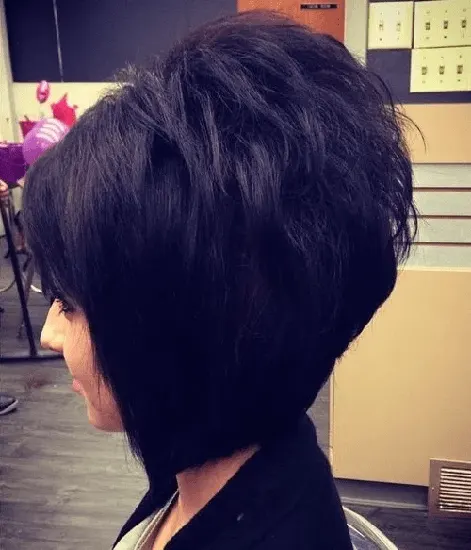 The stacked bob is a sure shot way to make your head a puffy but lovely mess. This long layered hairstyle keeps hair framing your face but gives you a real breather at the back of your neck. An amazing way to maintains a low-key hairstyle.
28. Asymmetrical funky bob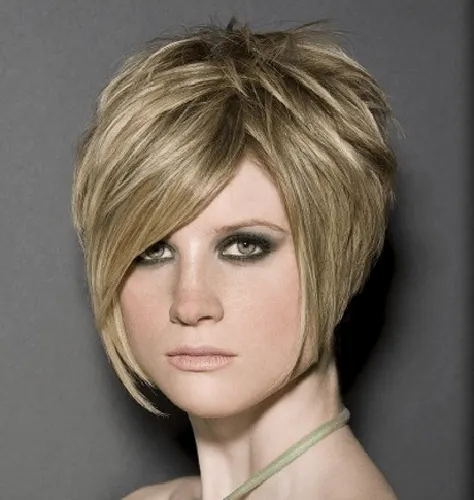 This funky asymmetrical bob is an attention grabber and probably one of the best bobs out there. They look luxurious, are easy to maintain and can be kept messy for a cooler look. It's a great cut for summer for anyone who wants to try out a bob.
29. The undercut bob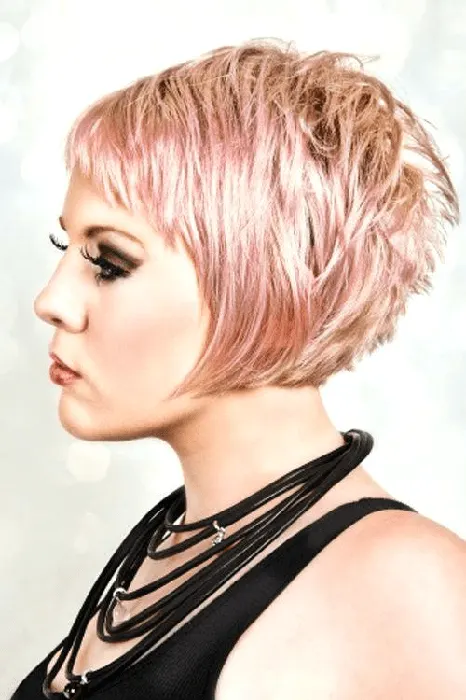 The undercut bob, especially this one on lovely rose gold hair can be a bold move. But it's one that you won't regret. This bob comes with short side swept bangs and a sweet dose of bad girl confidence.
30. The Weavon bob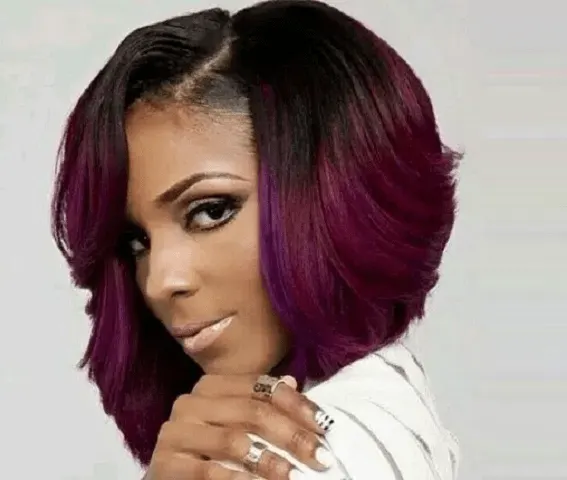 This lovely bob is a great look for anyone trying it out for the first time. The bobs almost there, touching the shoulders. This way if it's your first time trying out a bob but don't feel like going all in try this hairstyle out for once.
31. The sleek straight bob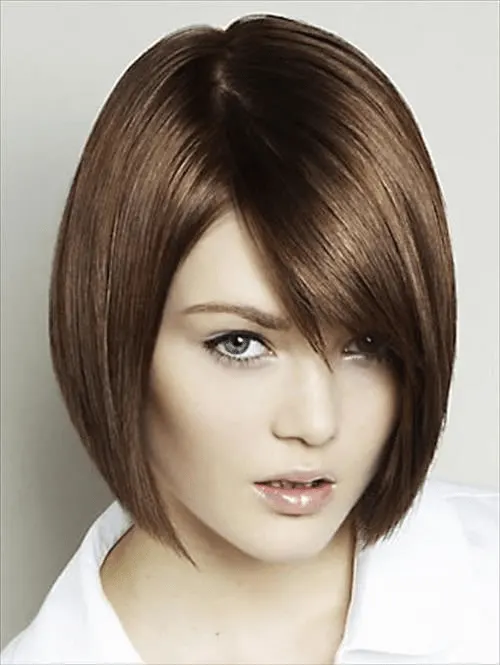 The sleek bob is a suitable bob for faces that are more on the oval side. Also if you have a big forehead, these kinds of bangs and sleek cut can be super beneficial for the structure of your face. It's a very classic bob that anyone can easily pull off.
32. Blonde wavy stacked bob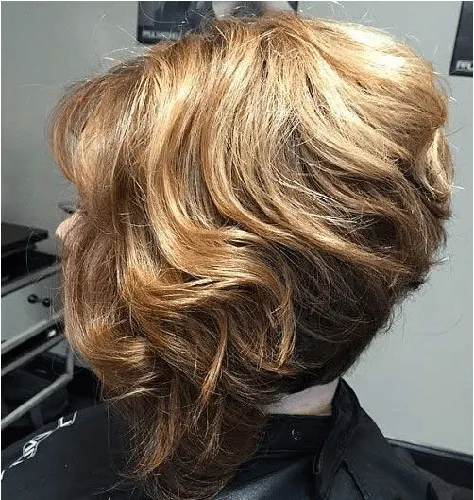 Bobs are a great way of keeping hair off your neck, but if you have a head full of hair, bobs can seem impossible. This Nape length wavy, rounded bob is proving that wrong. The right layers can create the perfect bob to suit your face.
33. Concave Bob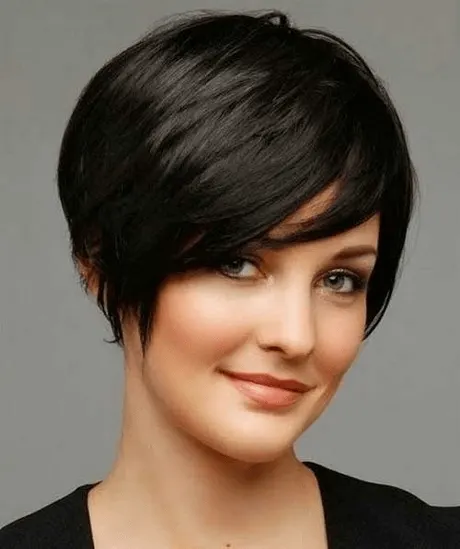 This seemingly casual hairstyle is exactly what it is. An effortless way to look chic and put together any time of the day. This concave bob has been sported by the bold and creative only. When it comes to really short stacked bobs, then this one is perfect.
34. Rounded Bob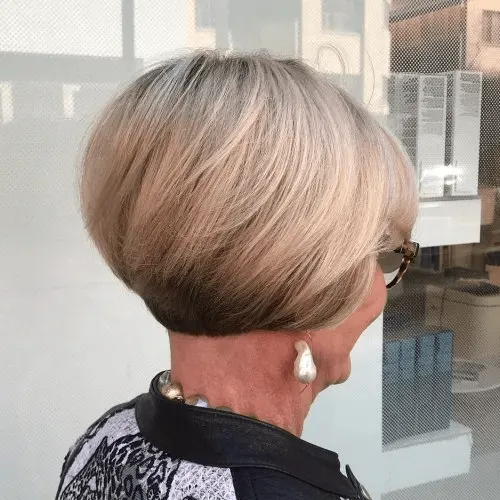 Rounded bob that looks sleek is actually a great style for women above fifty or sixty. It's the best way to make sure that your head looks shiny and voluminous if you're opting for a bob haircut. Maintaining this cut is also super easy.
35. Bubbly bob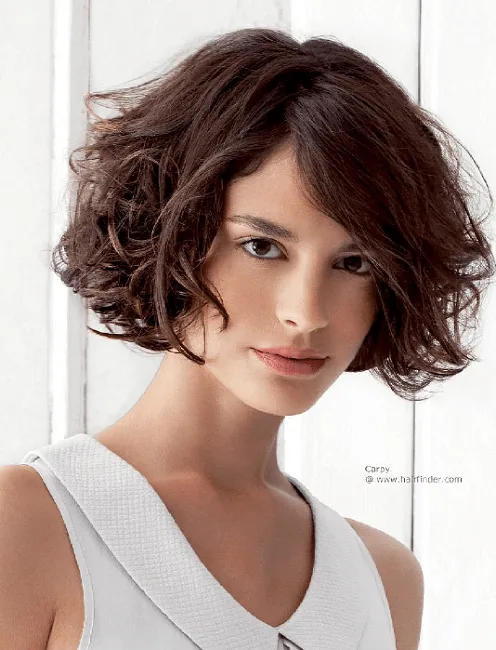 Want to look absolutely stylish and girly? Then this bubbly and curly bob is for you. It's funky and very stylish on a young girl.
36. The sweetheart bob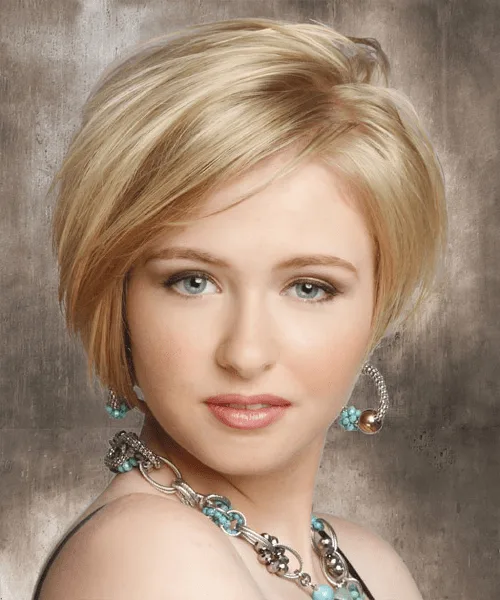 This bob is perfect for thin hair. Who said thin hair couldn't do a nice voluminous bob? When rightly parted this look is suitable even for a red carpet. After all, it was inspired by Adele's new look.
37. The classic concave stacked haircut
A very stylish and actually a little Grunge is the perfect way to describe this short stacked bob haircut. It's a has a very slight under-bob and some layers for volume and depth. It's a perfect choice for people with dark hair who want a classic bob.
38. Pink angular bob haircut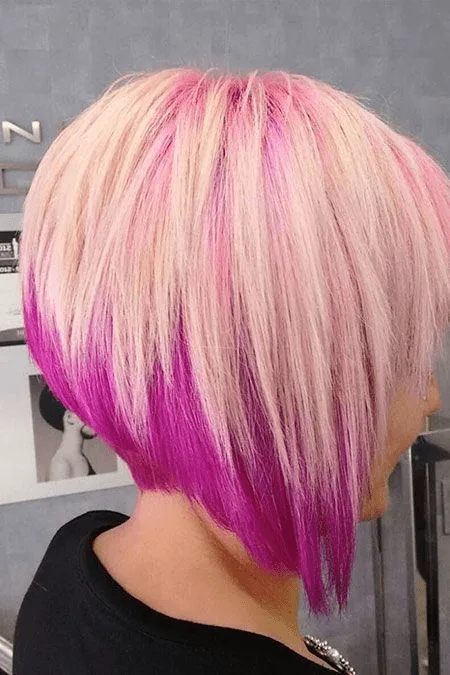 When it comes to angular bobs the one with a rounded nape provides a lot of subtlety. The pink color of the hair already takes up too much attention. So instead of creating a messy layered bob, this is a better option with colored hair.
39. The neat classic A-line Bob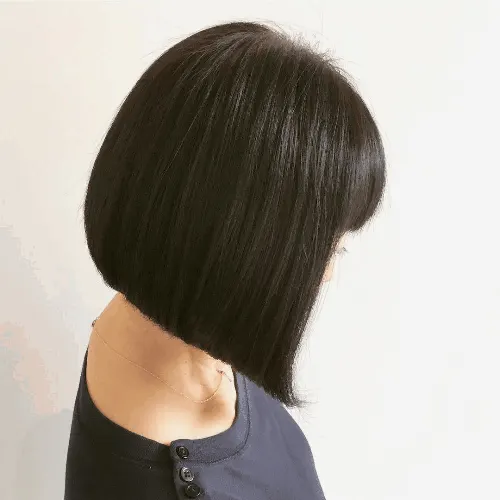 If there was an award for the most classic short stacked bob haircut, it would go to this one. If you straight and smooth hair that is voluminous enough, an A-line bob like this would look stellar on you.
40. The fabulous mess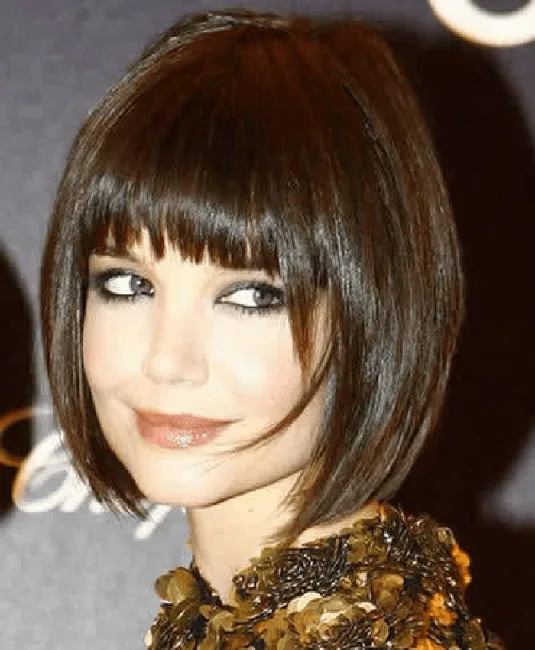 This fabulous cut is perfect for busy moms. It's the kind of cut that makes you look well put together even though you've just rolled out of your bed. The bangs are straight, and this makes it a perfect look for thin hair.
41. Chic short stacked haircut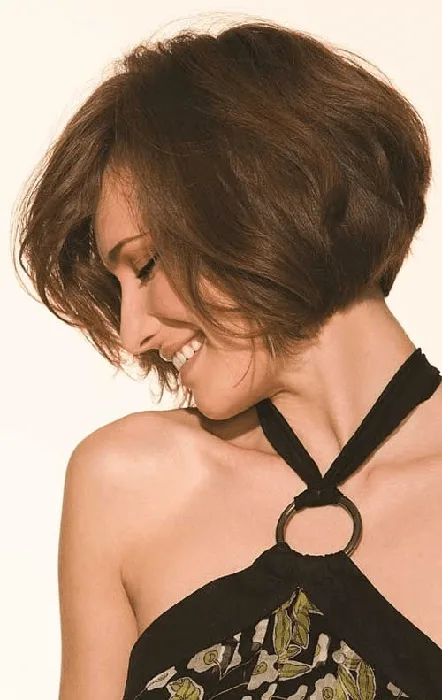 A stacked bob that needs absolutely no maintenance is here for you. The hair is fresh, and the style is chic and fun. If you love to wear your hair down, then this lovely style is for you.
42. Textured Bob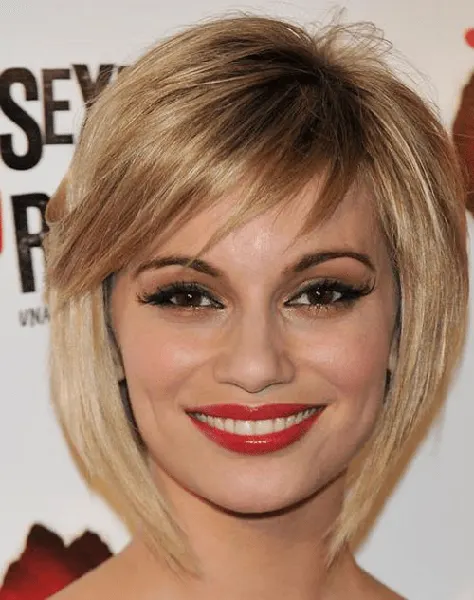 Short textured bobs are in this season. Especially if you have lovely blonde and thin hair. The darker Roots provides plenty of texture and depth. The bob with side bangs is a great way to frame your face too.
43. Layered curly bob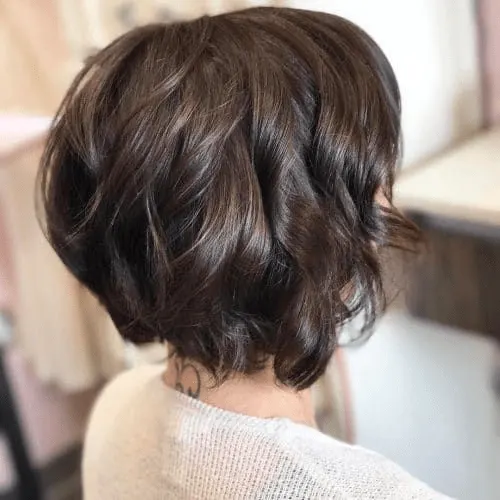 The layered curly bob is classic for curlier types of hair. The stack cut doesn't always have to be with straight hair, waves and curls work perfectly fine to create deep volume and lots of texture.
44. Permed short stack bob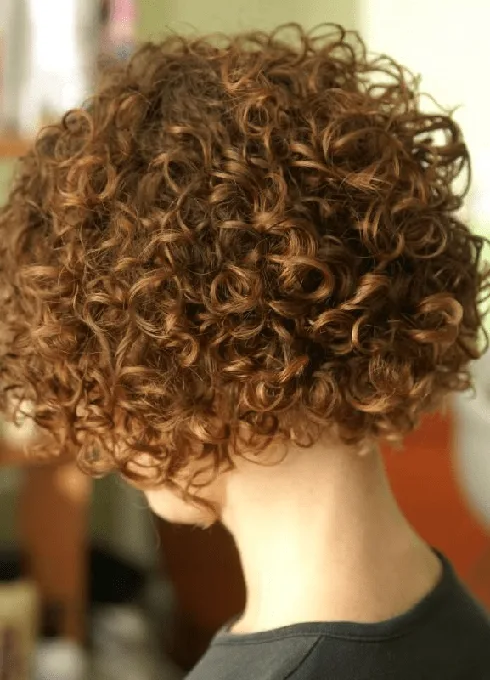 Like I said before, the stacked bob haircut doesn't always have to be with perfectly straight hair. If you naturally have these curls or you've gotten your hair permed, you can still opt for a perfectly rounded nape length bob.
45. Sassy redhead bob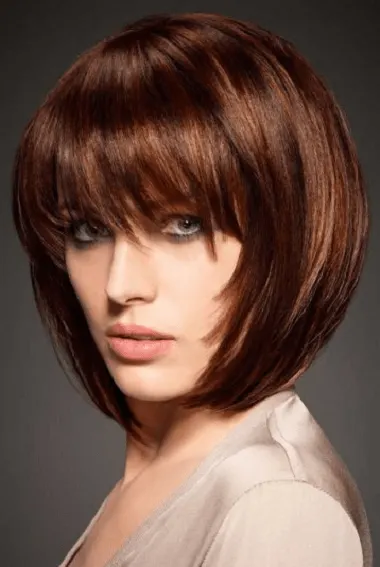 Another example of a classic sleek bob done well. Here the sheer amount of bangs adds immense volume to the forehead. While the side hair is framing the face perfectly. The color red provides a super amazing and earthy tone.
46. The ice queen
Looking to upgrade your style into the bag girl of everyone's dream? This icy bob is the one for you. If you're bold enough to try it make sure that your side hair is at a longer and sharper length than the hair on the nape of your neck.
47. The choppy bob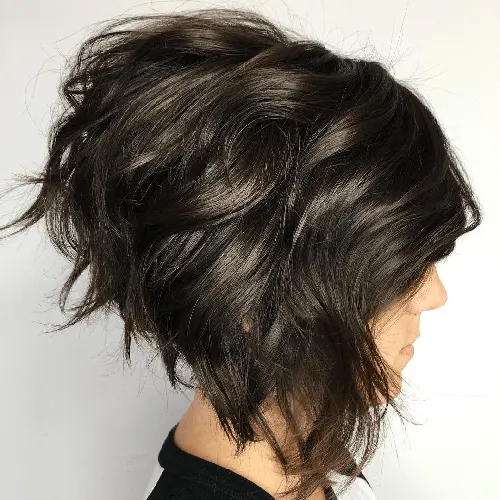 Choppy bobs are very popular mostly because they are fun, messy and so so easy to handle and care for. It's perfect for girls who have more volume than they know what to do with.
48. Chic highlighted stack bob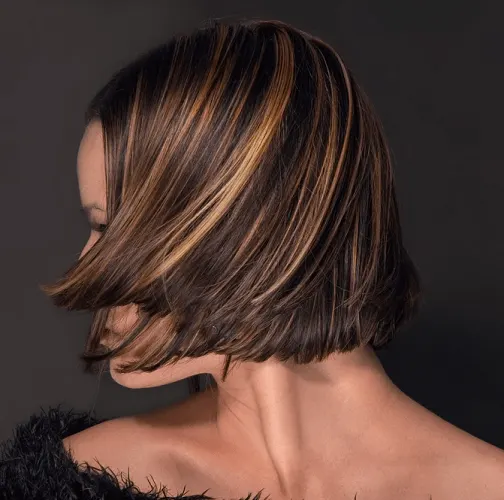 A bob with no bangs? Yes, that's possible. It's not only a thing, but it's also actually very easy to pull off. Make sure you've put in the right highlights for textures and depth.
49. Unicorn Stacked Bob Haircut
Unicorn hair or silver hair has been trendy for a while. But bobs with this bold hair color is altogether out of this world unique. The purple strand is the longest part of the hair making it easily the center of attraction.
50. Medium stacked bob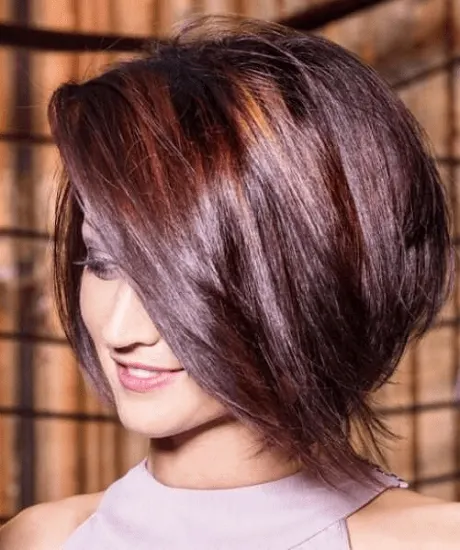 Lobs have been a thing for a while now. Many of us don't think that we can carry off a bob so if you're new to this, a medium length stacked bob is a perfect way to try it.
51. Mindblowing Textured Bob
Red carpet is the place to show off that brilliant hair texture and if you're not a Hollywood star, that doesn't mean you can't flaunt with a Hollywood look. Feathery, texturized, and in an earthy shade, this bob haircut is a true blast for women who crave attention.
52. Perfect Ebony Hair
One of the greatest things about short stacked black bobs is their versatility and low maintenance. If you're a wash and go girl, you don't even need much styling before getting out. However, if the always perfect hair is your goal, bob haircuts provide many styling opportunities such as waves and curls.
53. Fine Bob for Older Women
As an older woman, a short stacked bob for fine hair will provide all the volume you need in the back. While they gradually fall over each other, in front, the tresses are longer and create a great frame for the face. Also, straight blunt bangs will help with the framing.
54. Copper and Blonde Stacked Bob
Stacked pixie bobs are shorter than a regular bob haircut and have more layers. Lighten your face with a mix of blonde and copper highlights, and use a blow dryer to lift your roots to gain more volume.
55. Tapered Stacked Bob
Create a guideline for the stacking in the nape area. You will taper this piece and blend it with the longer hair above. Below the guideline, use the trimming machine to shorten the hair. The transition must be gradual if you want to get a gorgeous short tapered stacked bob.
56. Volumized Salt and Pepper Hair
You can observe that layers are more visible for this layered stacked bob than any other bob haircuts. The main goal is to produce a volumizing and textured effect. To cut those layers so beautifully, don't use the scissors; carefully handpick and razor the hairpieces.
57. Curly Purple Peekaboo Highlighted Bob
Peekaboo highlights are applied underneath the first layers of your hair and teamed up with a stacked bob, they create a wonderful blend. Also, if you have curly textured hair, apply some styling moose to get that bounce for each ringlet and the wet aspect.
58. Perfectly Straight Bob
As a woman with straight hair, work this feature into your advantage and get a gorgeous blunt line that will make the tresses look thicker. Go for a brunette look and incorporate some wide thick red highlights. Use fixing and volumizing spray to get that dimension.
59. Lavender Stacked Bob
Lavender colors skyrocketed the trends in the past years because they are so pleasant to the eye and look fabulous on various skin colors. When getting a stacked bob with layers in the back and a side-swept fringe, you might think about mixing different tones like lavender, purple and even blue hues.
60. Classical Bob
Short stacked bob with bangs. also known as the classical bob, has slightly rounded tips that reach and frame the jawline. Arrange the fringe with your fingers, slightly on one side.
You already knew that short stacked bobs are fashionable, now you know how the popular ones look like! Even if your hair is thin and hard to manage, this hairstyle is sure to become your favorite.
Take some time to consider the color of your new bob. The combination of a stacked hairstyle and a modern ombre or stylish highlights will make you look truly special.