There is a perfect hairstyle for every face shape, and a round face is no exception. When it comes to black women's round faces, the biggest challenge is to find a hairstyle that will accentuate the facial features without the plumping effect.
If you're a black woman with round face and looking for short haircut ideas, you've come to the right place. Scroll down to get 40 ideas that you can rock.
How to Style Short Natural Hair for Round Faced Black Women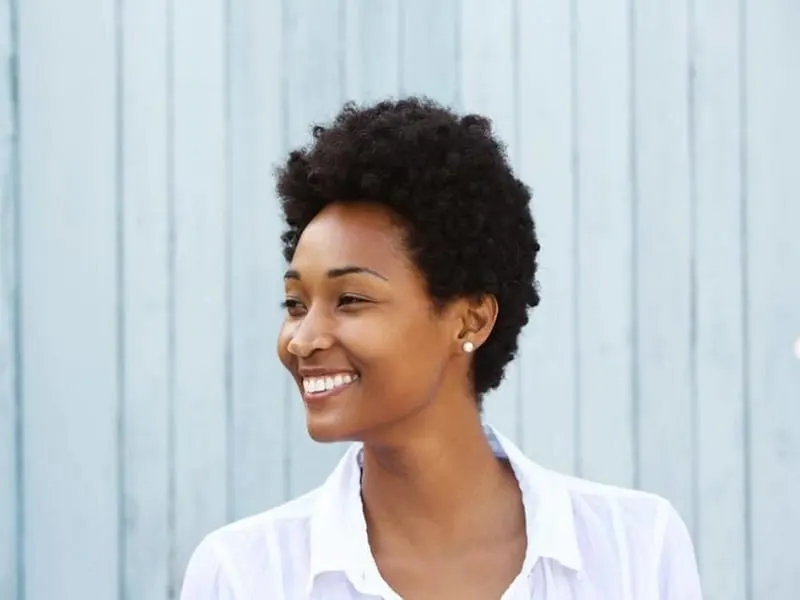 Thinking it's difficult to style hair if your face is round? Wrong! It can be incredibly easy to get the perfect look. When it comes to short hairstyles for round faces, options are numerous, actually.
For example, you can opt for a long bob, which makes your face appear slimmer. A straightened, sleek look is the best for this face shape because curls and waves can sometimes create extra volume where you don't need it.
Of course, you can still rock curls and waves, it's all about how you style them, and throughout this post, you're going to get plenty of ideas. Speaking of short natural hairstyles for black women, it's also useful to mention the short afro.
A short afro is ideal for women with round faces because the height automatically elongates your face and highlights your facial features, especially your eyes. The best thing about short afro is that it's easy to maintain.
A common misconception is that round faces shouldn't rock a pixie cut. But, you'll be happy to know it's one of the best options for your face shape.
How to Style Short Black Hair with Weave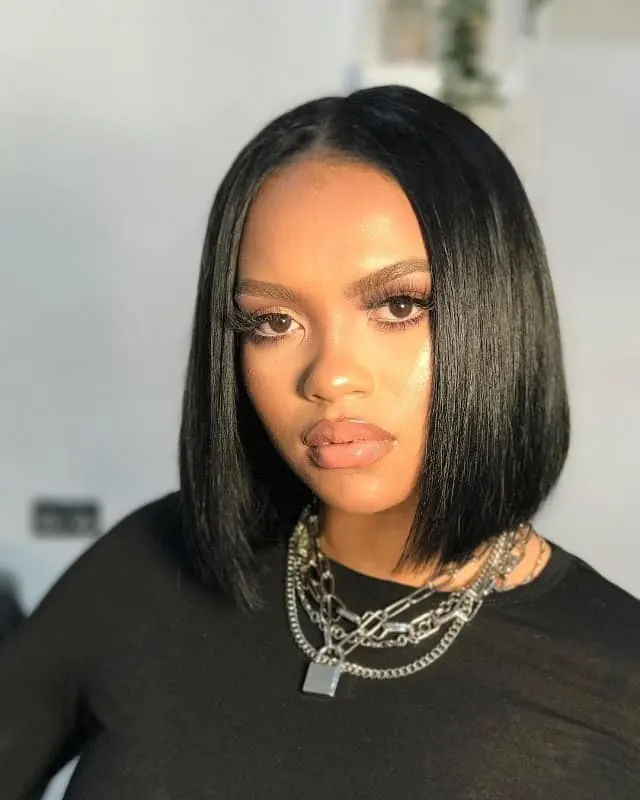 Weaves give you tons of opportunities to take your hairstyle to a whole new level. There are no rules here; it all comes down to your personal preferences. A little bit of creativity is all that's necessary for you to get a brand new look.
You can style your black short hair with weave in a longer or shorter bob with more volume, boost the fullness of your pixie, create braids, ponytail, keep it long and wavy; options are truly numerous.
Depending on the mood, your hair can be straight or curly, long or short. In order to get the best effects, make sure you get a high-quality weave that will blend in beautifully with your natural hair.
Best Short Black Haircuts for Round Faces
Curious about short haircuts for round faces? Scroll down to get 40 ideas that black women can try.
1. Blonde Pixie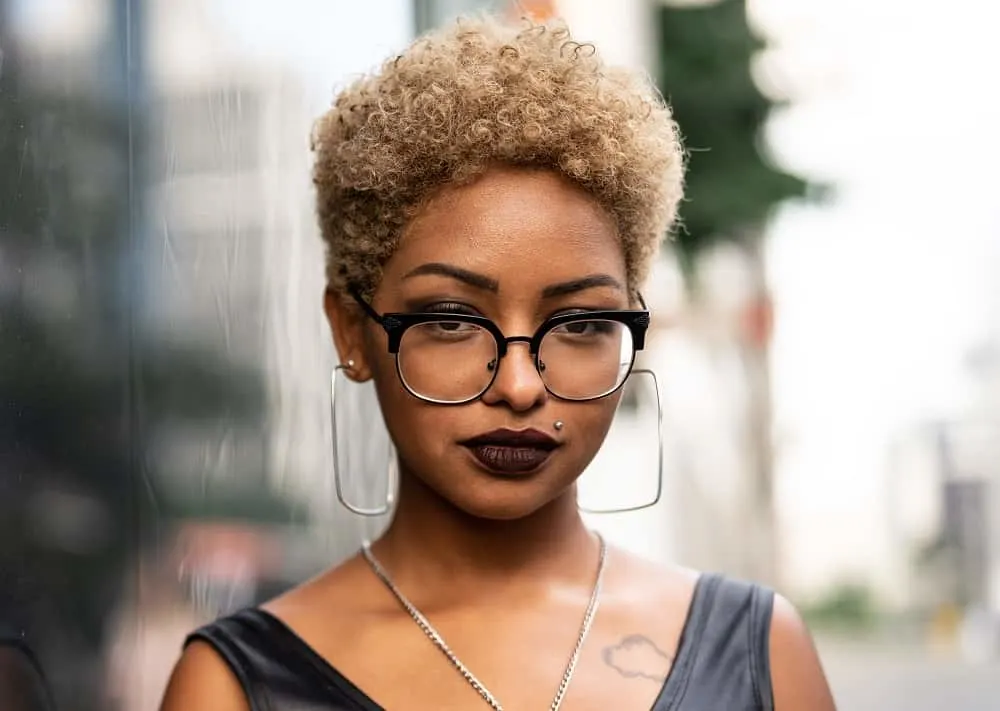 Popular since the 1950's, the pixie is still considered the chicest short haircut of all time. African-American girls can go for a long fluffy top tapering towards the sides and back. Dye the hair in a medium ashy blonde hue to turn around some heads.
2. Deva Cut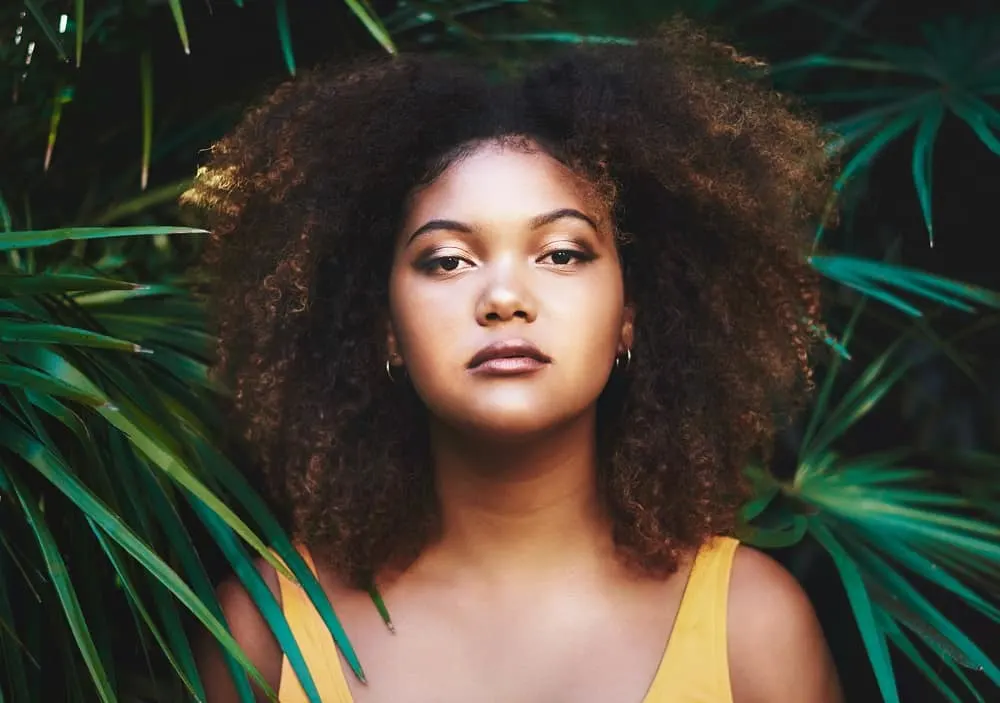 The deva cut is the best short haircut for black women with round faces. It involves cutting each curly strand individually for the coils to layer around the face gorgeously. Go for a middle part and spice up the look with highlighted ends.
3. Salt and Pepper Look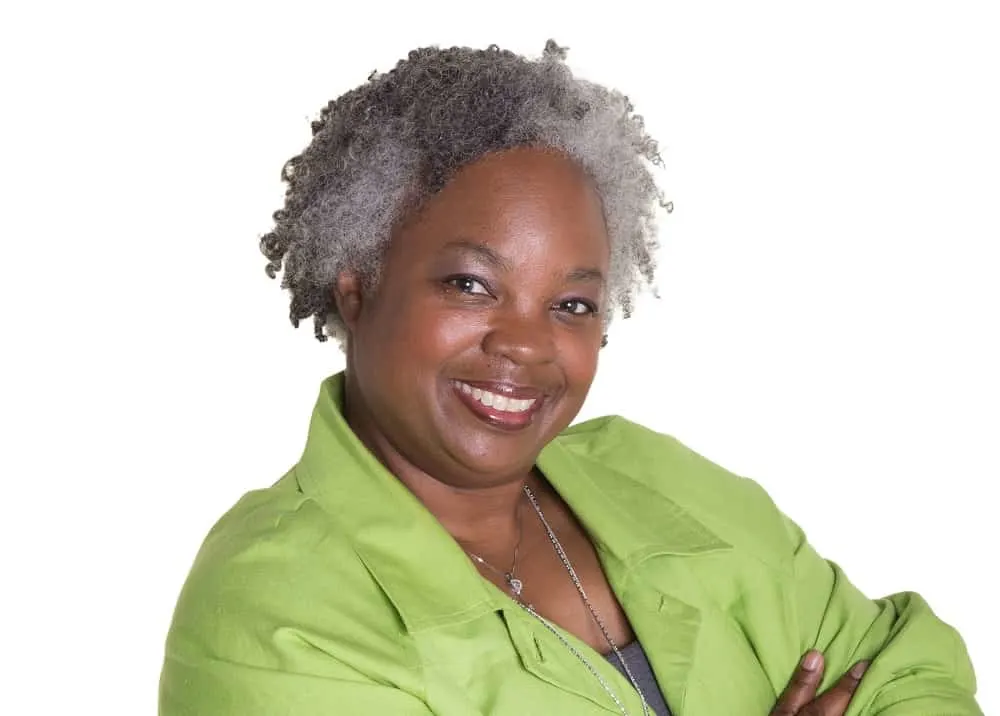 Elderly women can embrace their greys elegantly by cutting them short at jaw length and adding layers. Choose highlights or lowlights depending on the shade of the natural hair. This style is hassle-free to maintain and style.
4. Curly Top + Undercut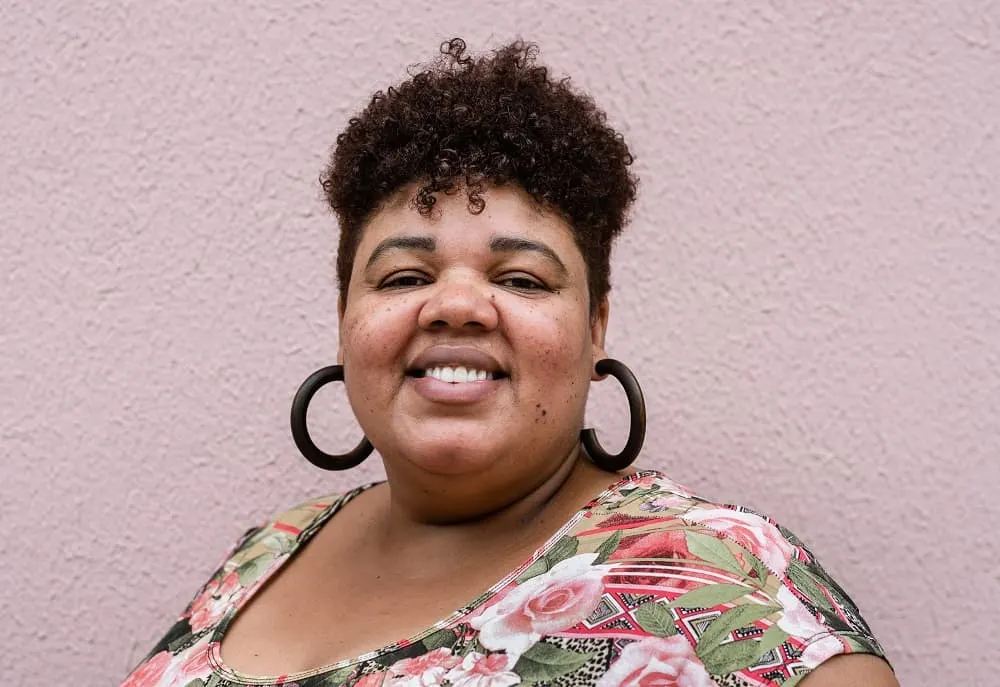 Consider this look to make that plumpy round face appear slimmer featuring a neat undercut along the sides while keeping the top long and curly. Tousle the strands away from the face or let them fall forward as a curly fringe for a stylish finish. Top off with hoop earrings.
5. Ginger Curls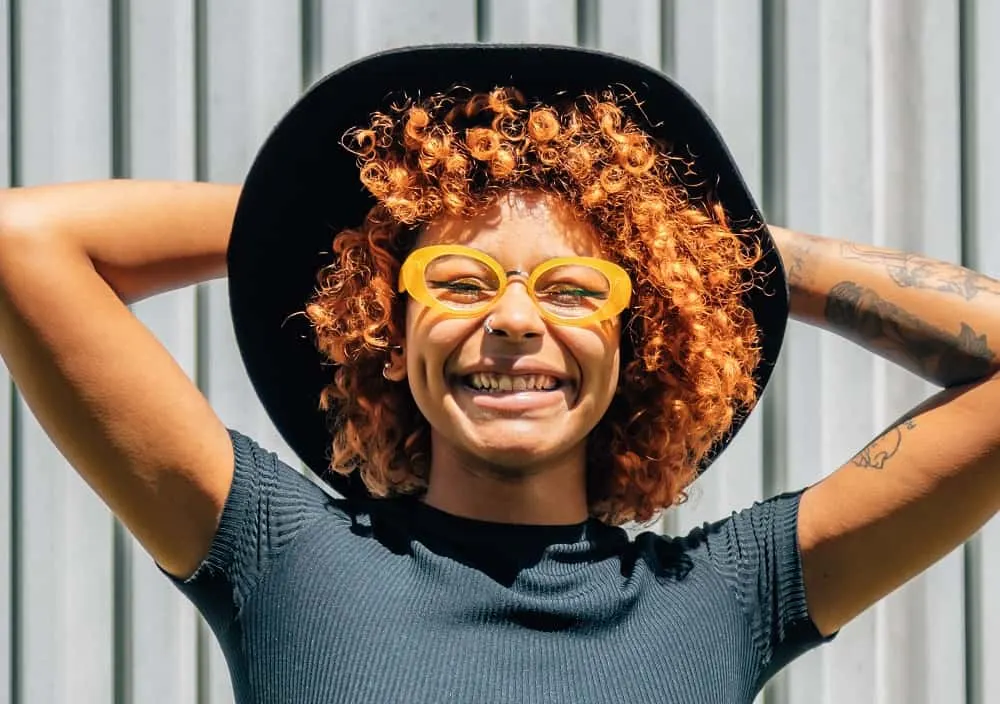 Be dauntless like Merida from Brave and pull off this hairstyle with confidence. The natural coils are layered to dangle just above the shoulders and are dyed in a bright coppery ginger hue for a lively appeal. Side-tousle the hair and wear a hat. Done!
6. Brilliantly Buzzed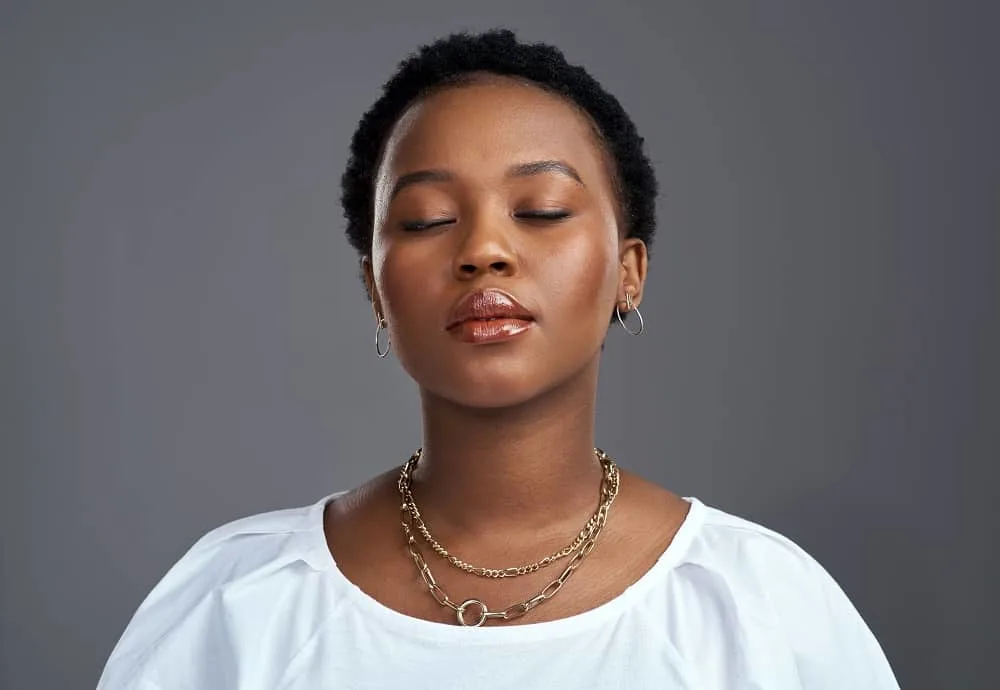 The buzz cut has two main benefits. Firstly, it allows you to start fresh with your hair, and secondly, it gives you a break from the hassle of styling the hair daily being extremely low maintenance. The strands are clipped at uniform length all over the head and off you go.
7. Highlights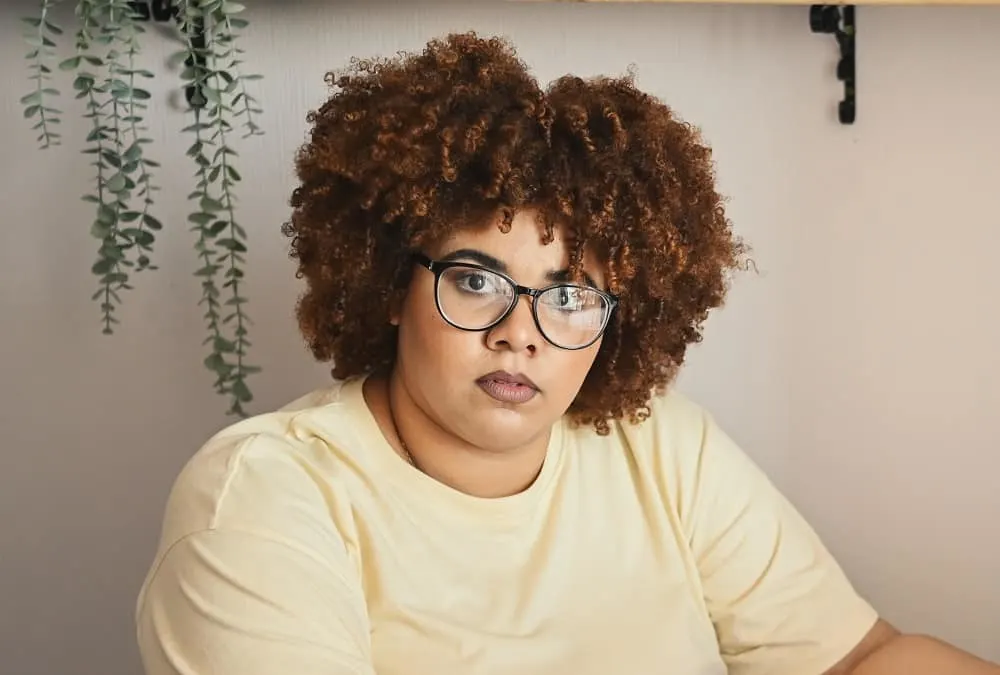 Dance around while showing off these gorgeous bouncy curls that are subtly layered and dyed in a dark brown hue. Amp up the look by going for caramel blonde highlights adding a soft glow to the face. Cut short some of the front strands creating a curly fringe falling on the forehead.
8. Fluffed Up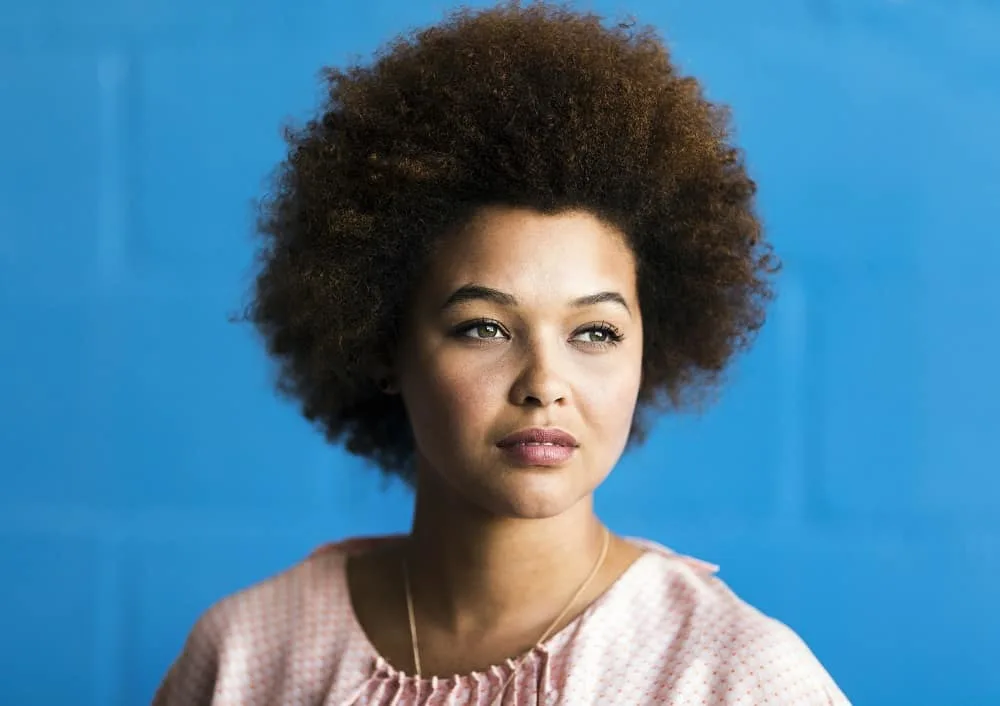 Learn to turn those kinky afro curls into a puffy cloud sitting on the head for a fun and carefree appeal. Ask the hairstylist to cut the hair into a perfectly round shape. Detangle the strands by running fingers through them and fluff them up using a hair pick.
9. Platinum Hair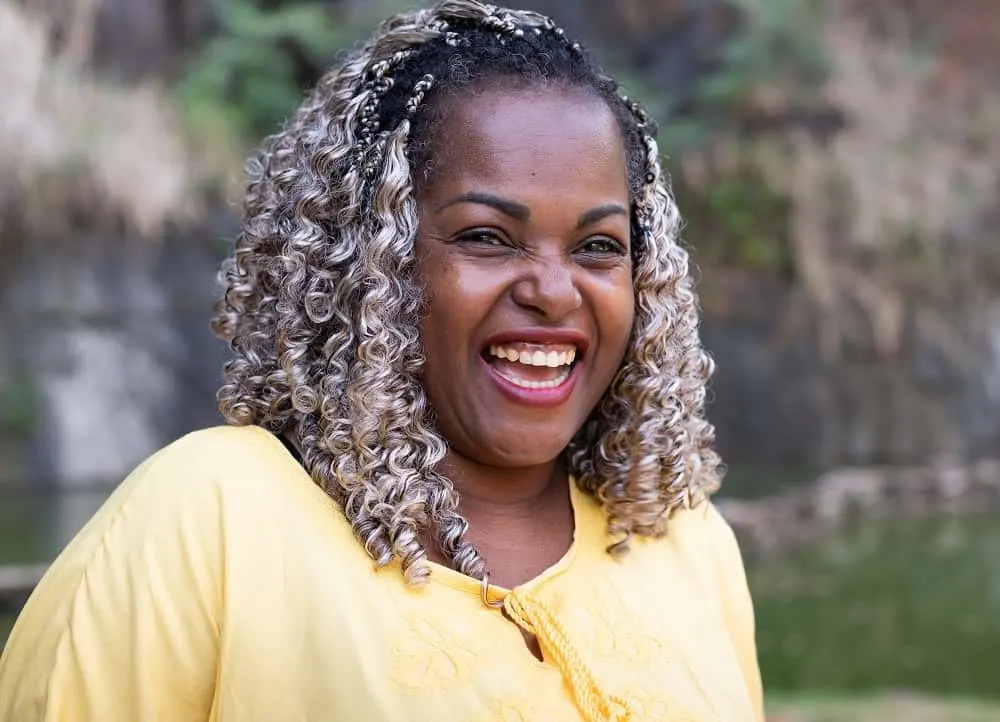 Dark-skinned ladies can try out a light hair shade to contrast with their skin tone beautifully. Those with extra short hair can get a long mane instantly using curly extensions. Incorporate the cool platinum blonde strands by braiding them 1-2 inches from the roots. Trim the ends creating a subtle A-line lob.
10. Short Bob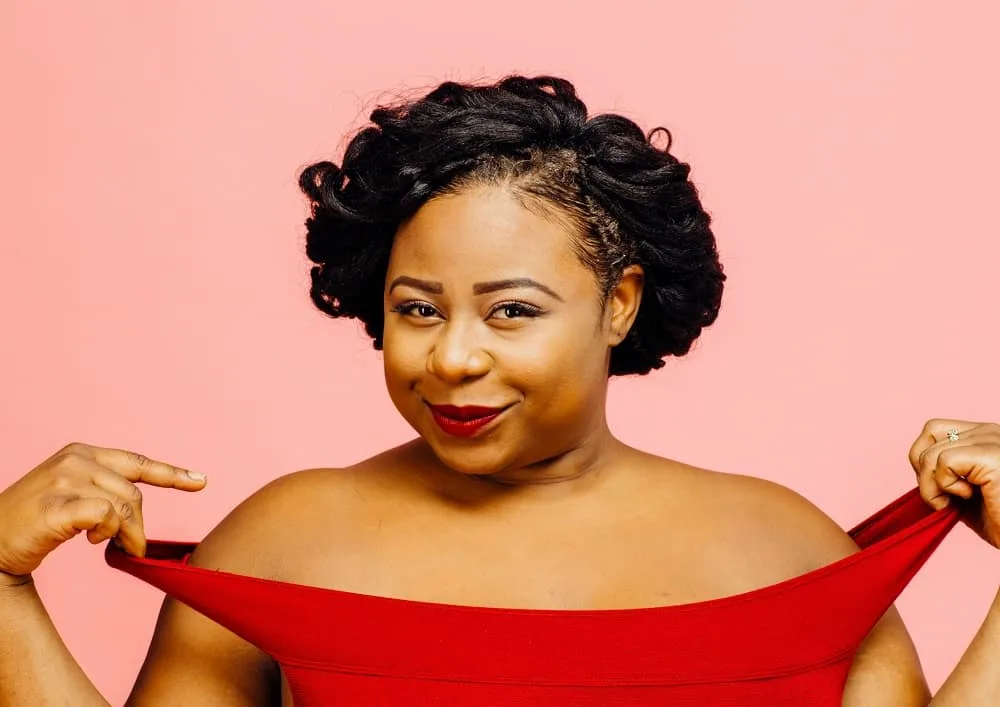 Another short haircut for round-faced black women is this sexy layered bob. Finger comb the loose and large curls away from the face with a side parting and keep them in place using hairspray. Couple it with an undercut for an edgy finish.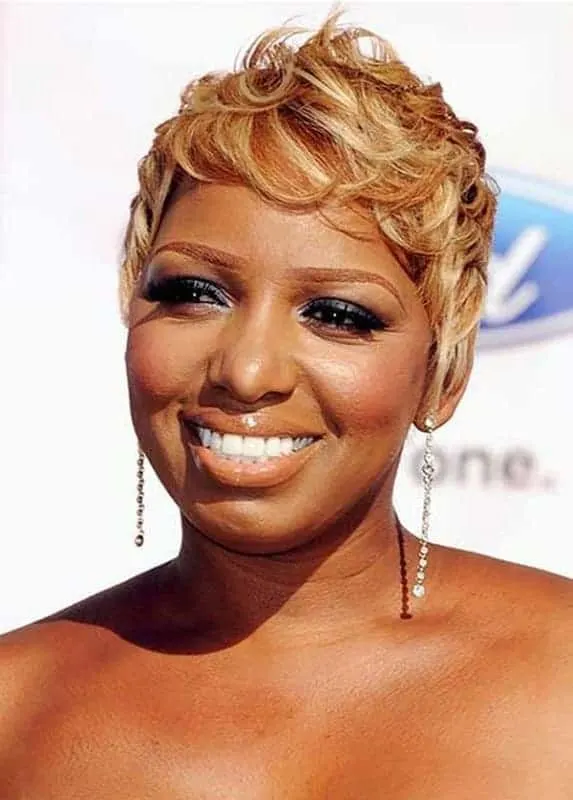 Black women and girls with a round face shouldn't avoid pixie cuts. This cute hairstyle is always IN, looks fabulous, and you can rock it in more ways than one.
In fact, pixie can flatter your face shape, accentuate cheeks and eyes, and also provide the slimming effect. Layered pixie is an ideal solution. It gives your hair more height and texture.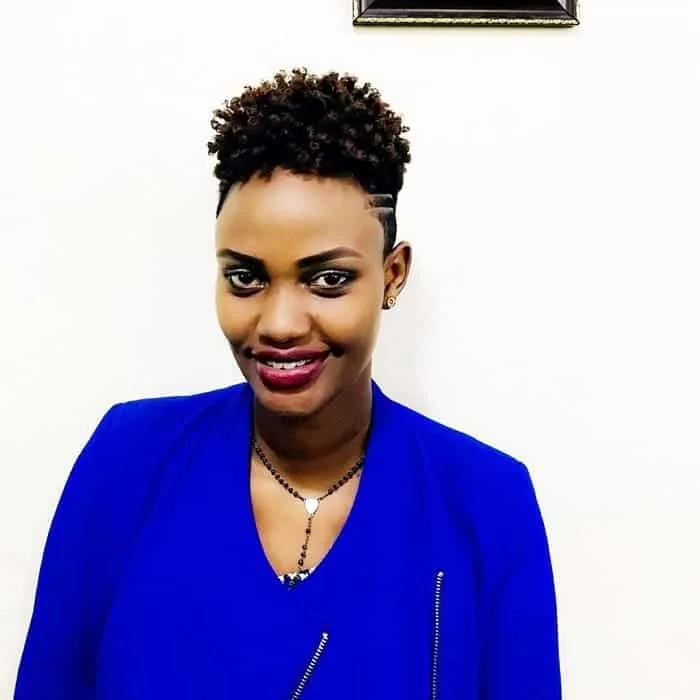 An easy way to get the perfect hairstyle for round face is to opt for short afro. You have plenty of options here as well. For instance, you can leave your short afro on top while sides are shaved or styled in a shorter manner. Adding precise lines gives your look a new dimension.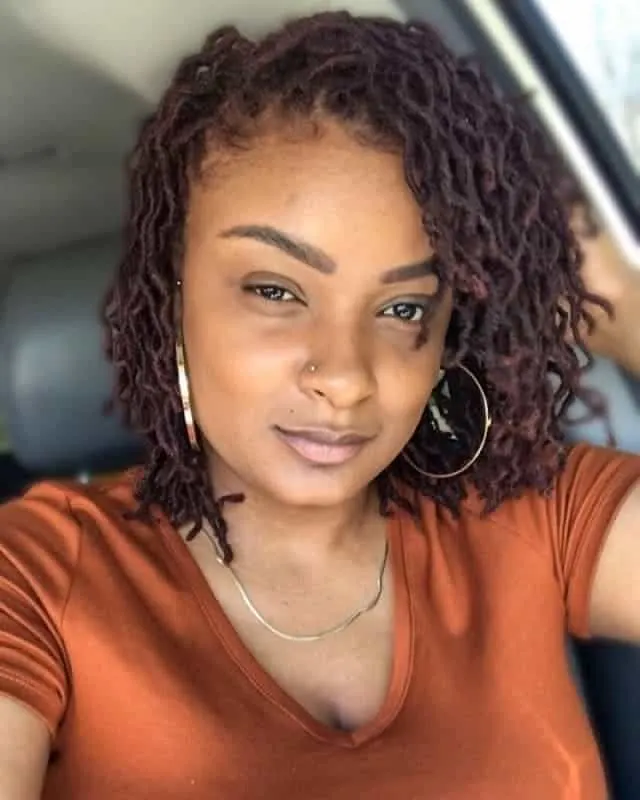 What we love about bob is its versatility. You can rock this short hairstyle in many ways, depending on your likes and preferences. Instead of braids, you can twist your hair and create a faux locs bob that will flatter your facial features.
If you're looking for round face haircuts for black women that will look amazing on your natural hair, this is the one.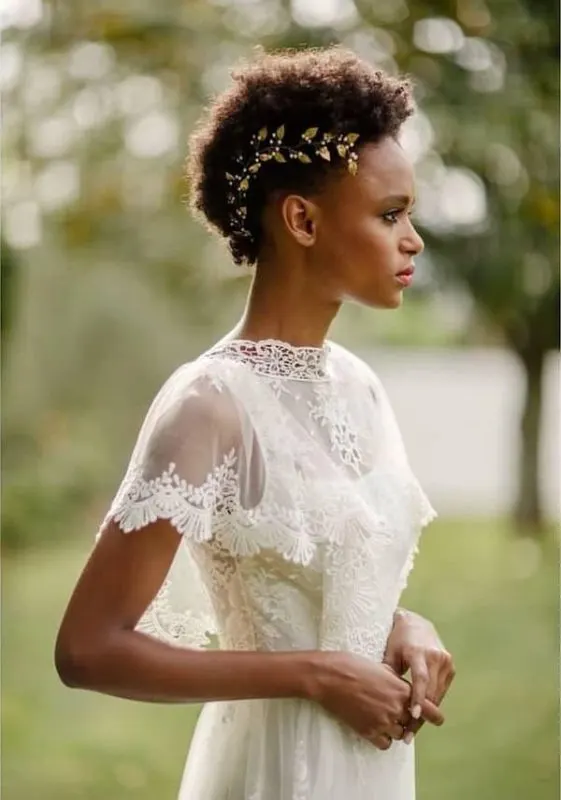 Updos are stylish, and due to the fact, they give your hair more height, the face appears slimmer. If your hair is short, you can use some quality weave to create a wonderful updo, and you're ready to go out.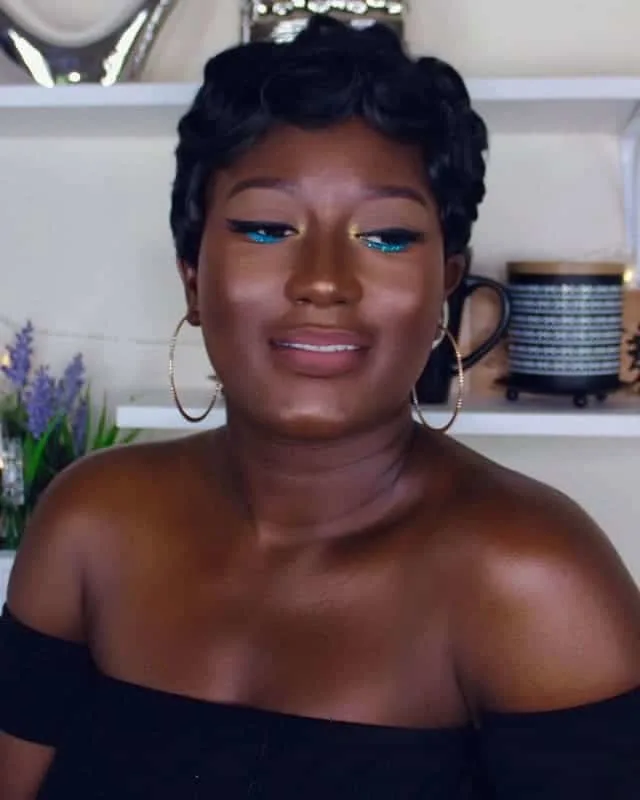 Styling your hair in wavy do can add more layers and texture to your haircut, but also flatters a round face.
The best thing about this short black hairstyle is that it requires almost no maintenance at all. This is a perfect hairstyle for those who are always on the go and have no time for long styling sessions.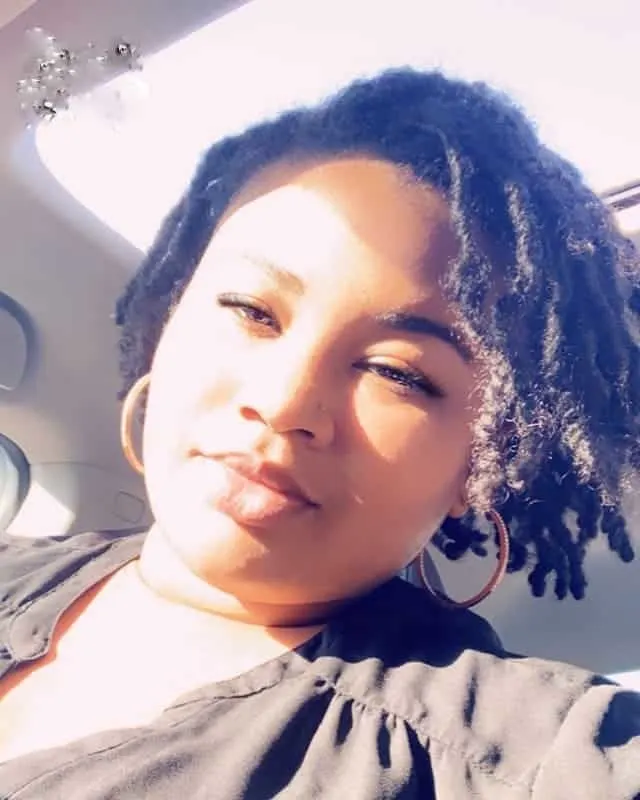 When it comes to short hair, it's useful to mention it doesn't have to be symmetrical all the time. Short and choppy haircut accentuates your cheeks and eyes, but it doesn't add unnecessary weight visually. Basically, it's a great option for black women with round faces.
17. Very Short Curly Hair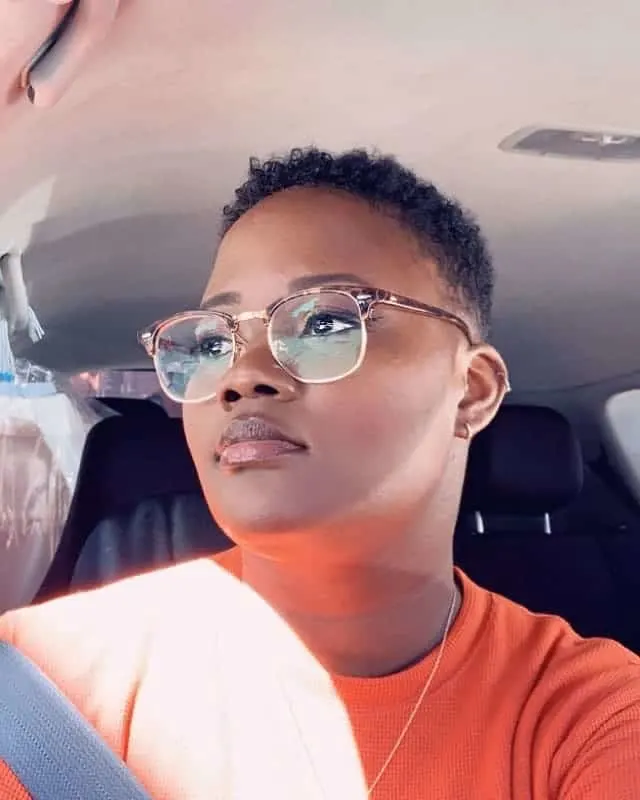 Looking for a short and practical hairstyle for hot summer days? If so, then you may want to try this one. Basically, cut your hair ultra-short, and that's it. No muss, no fuss!
We like hairstyles that require no maintenance. Busy women with their minds on the prize will love this option for sure.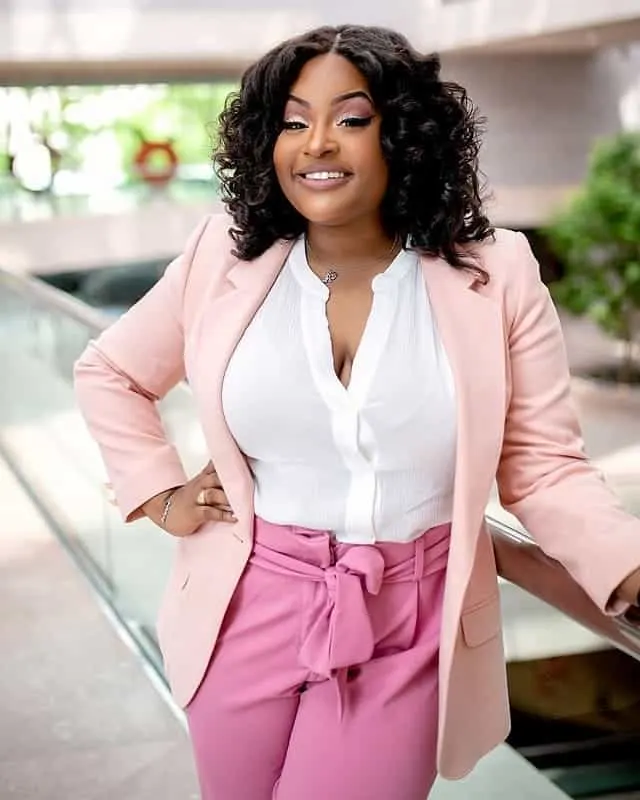 A common misconception is that curly hair will only make your face appear fuller. Black women with a round face can still rock short curls and look fabulous while doing so.
Take this hairstyle as an example. Medium-length hair is coupled with luscious locks, and the effect is absolutely stunning.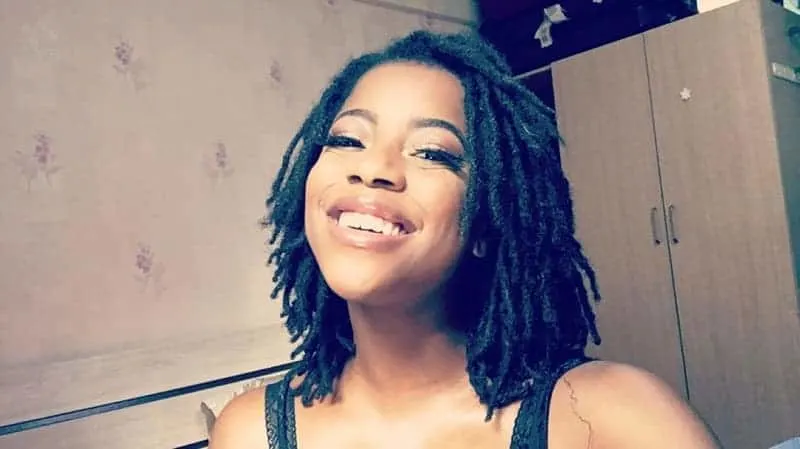 Hair length that changes gradually from short to long is a great solution for a round face shape, who wants to achieve the slimming effect. Plus, this hairstyle won't bother you while you're working, having fun, and whatnot.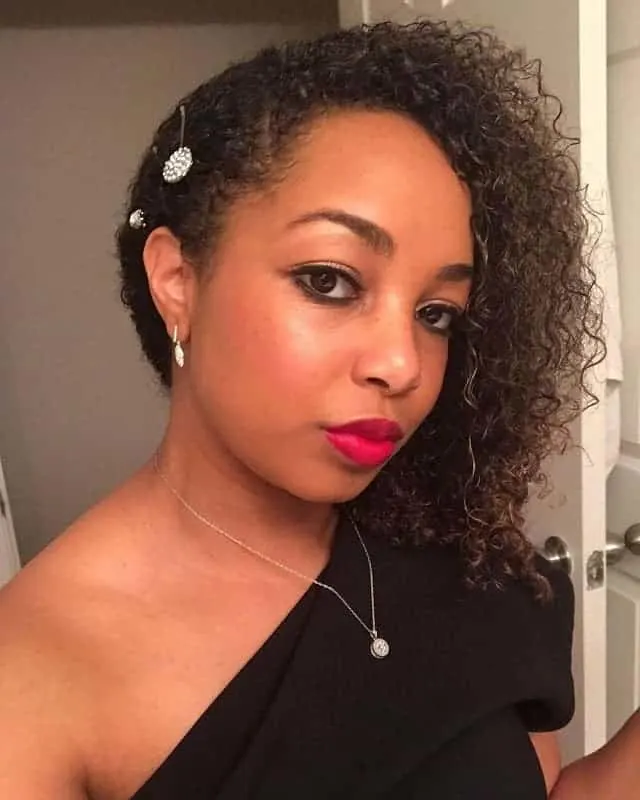 Short hair still gives you tons of styling options. All you need is creativity and your imagination to mix things up a little bit. One way to style your short hair to flatter round face for black girl is to brush it to one side only, just as it's done in the photo.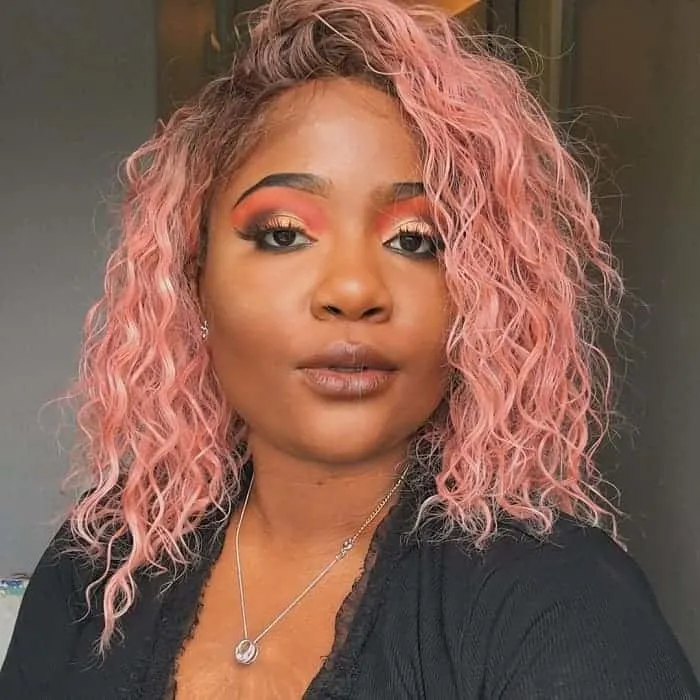 Why think pink when you can rock pink? Pink hair is unusual, edgy, and yet sweet, all at the same time. Style your hair in gentle beach waves for a perfect summer look for your round face.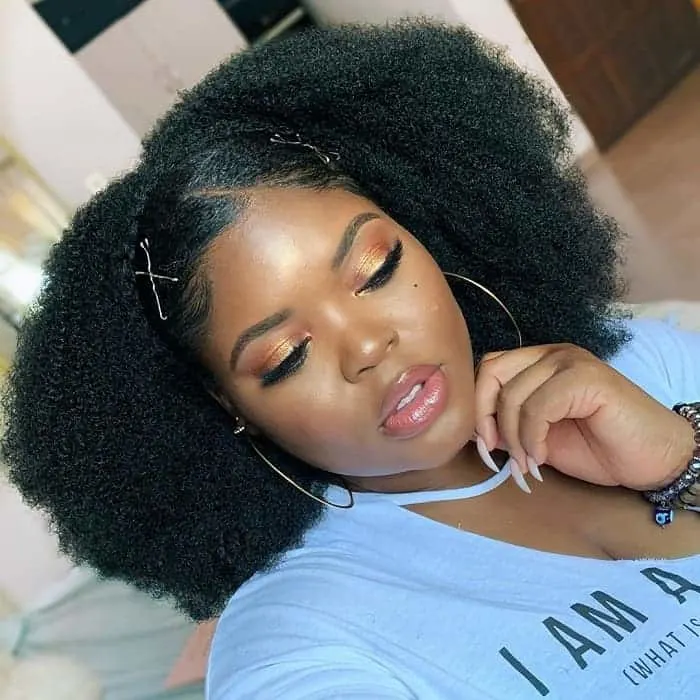 The truth is that you can choose any style you want for your face shape; it all comes down to how you style it. Let's take this look as an example; hair fullness still flatters round face shape and weave hair on top is perfectly styled to give you a unique vibe.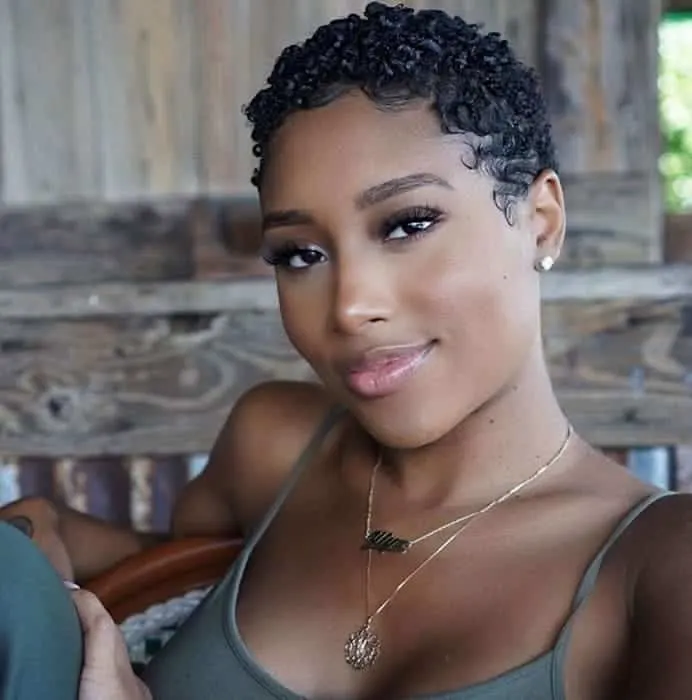 Your hair is naturally curly, and it's, definitely, a good thing. Keep your hair short and allow your curls to give you more texture and vibe. Not only this is one of the cutest hairstyles for black women, but it's also hassle-free.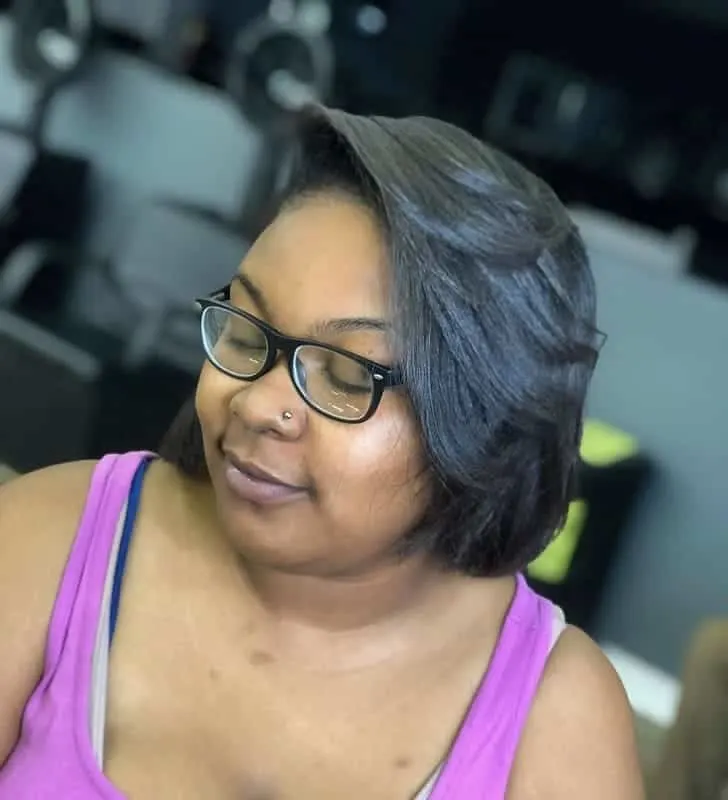 Layers give your hair more texture, but they also flatter women with round faces. Rock layered bob or brush your hair to one side to achieve this black hair look. Plus, glossy looks are elegant and mesmerizing. Try it out.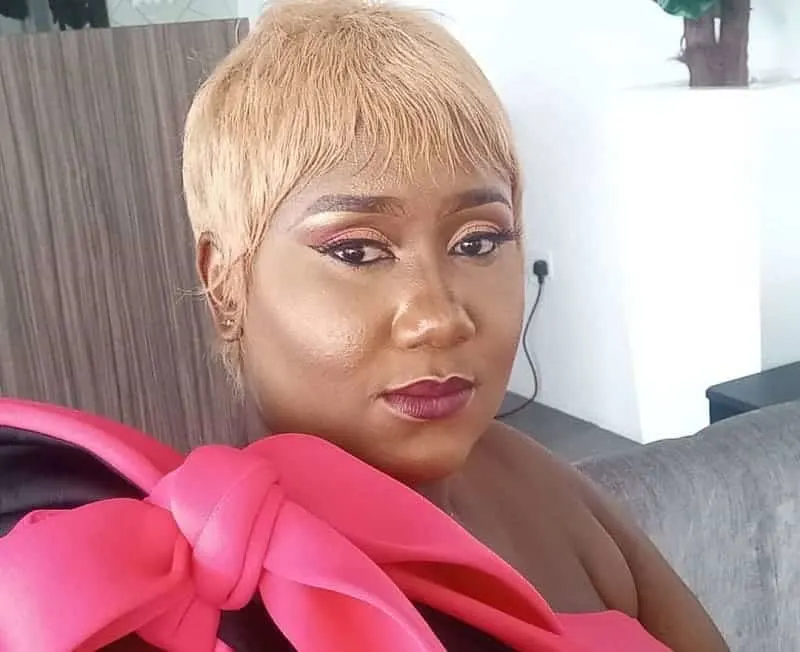 How many times have you come across tips and recommendations that you should avoid bangs if you have a round face? But, that's not quite true.
Take a look at the photo above. A combination of a pixie cut and short bangs frames your face perfectly and makes it appear slimmer.
26. Natural and Free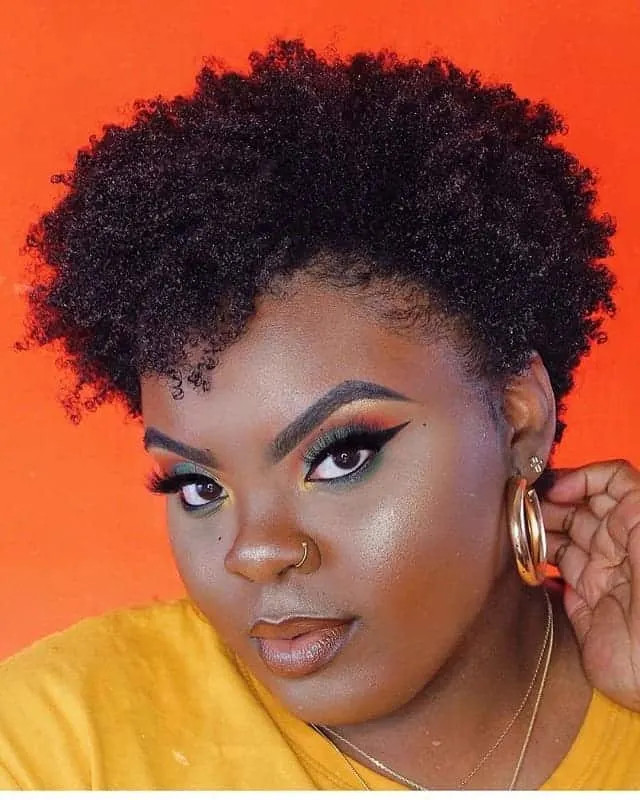 Allow your beautiful curls and locks to remain free while styling them in a shorter 'do. The extra height will flatter a round face while allowing you to make your eyes pop even more with beautiful makeup. Fabulous!
27. Simple and Easy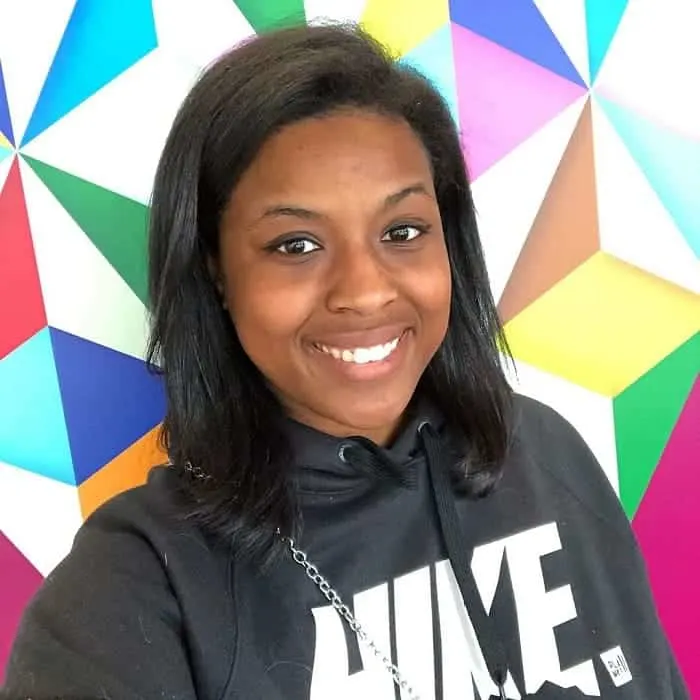 Sometimes the simplest look can do wonders for the vibe we want to achieve. After all, simplicity is always the best policy if your goal is to rock a hairstyle you can pull off on different occasions and settings. Keep your hair straight, short, and simple, and you'll be amazed by the results.
28. Voluminous Hair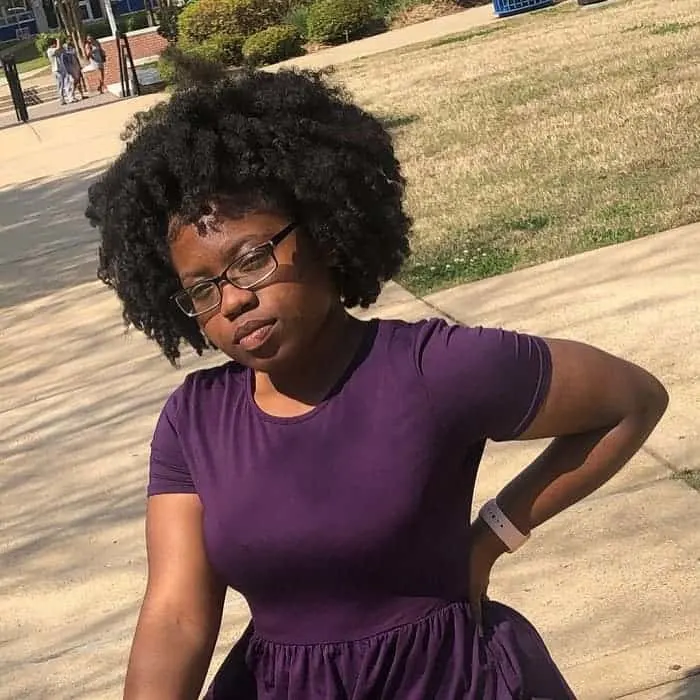 If you're a black girl who simply loves big and voluminous hair, we have a perfect style idea to try. Instead of shorter curly hair, you can opt for a longer alternative and let the height of this style frame your round face. Look how cute it can be!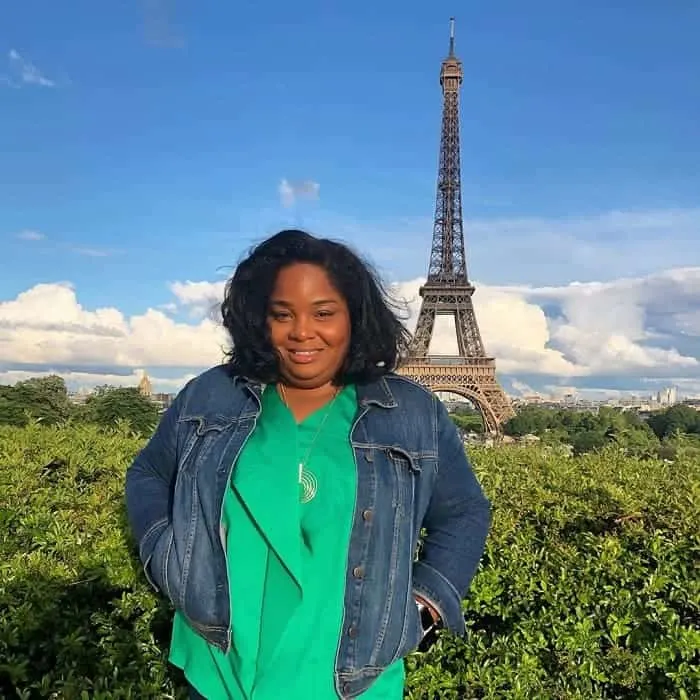 Every woman wants to rock a hairstyle that appears effortless, yet sophisticated and elegant. Now you can do it easily. Keep your hair at chin length and use your brush to give it more texture.
That's it, and you're good to go. Your hair will be light as a feather and effortlessly fabulous. This is a perfect short haircut for women with round faces and double chins.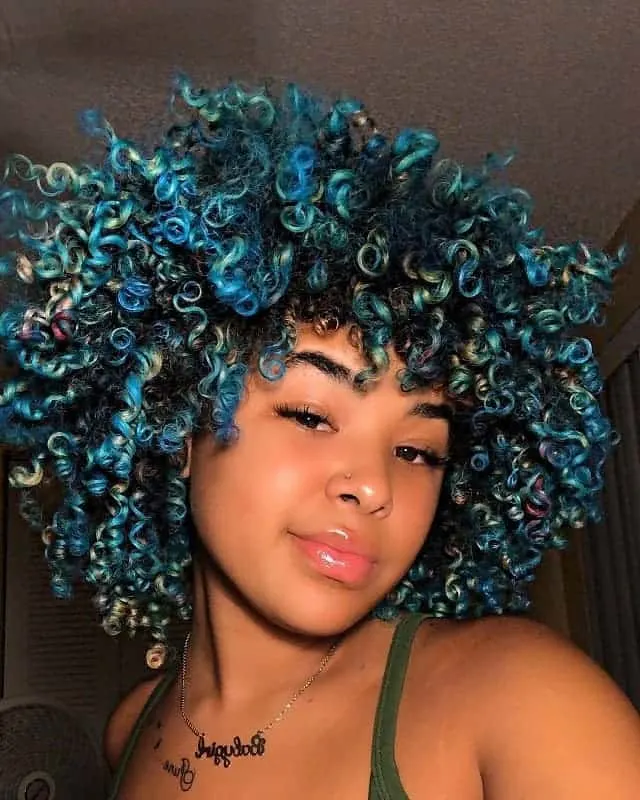 Do you want a youthful and quirky hairstyle that will flatter round face? Here's an amazing idea you can try. Keep your black hair voluminous, and instead of short, you may want to sport bigger curls. Give them a new dimension with unusual colors such as blue.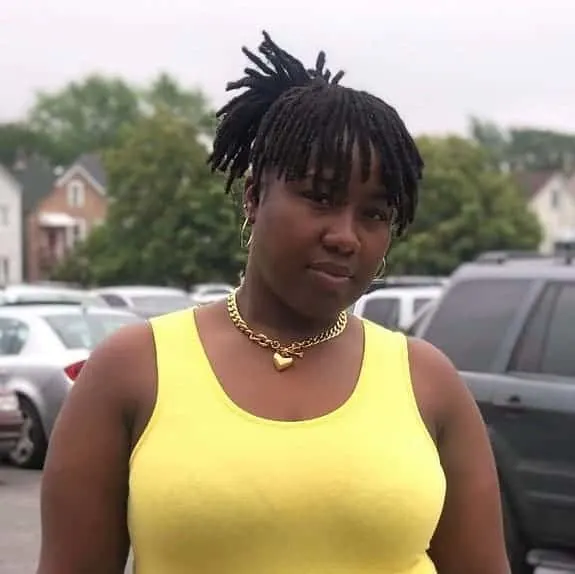 Ponytails are not just for long hair, and you can rock them with shorter lengths as well. Pull up your twisted or braided hair in a ponytail, and you're good to go. To frame your face and give it more definition, you may want to rock bangs.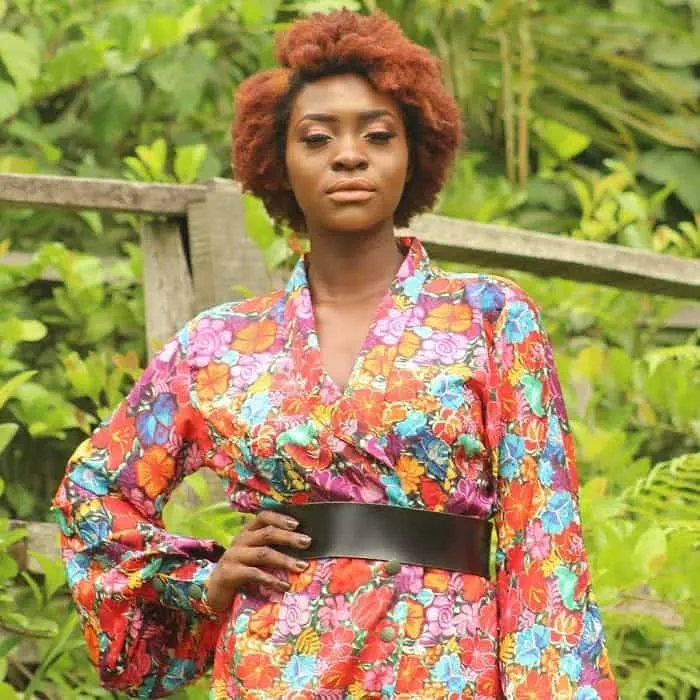 Experimenting with different hair colors gives black women tons of styling options. For example, you can style your two-toned hair in a cool 70s style short afro and look chic. When playing with colors, make sure you find a reliable hairstylist who will make sure your lovely curls aren't destroyed.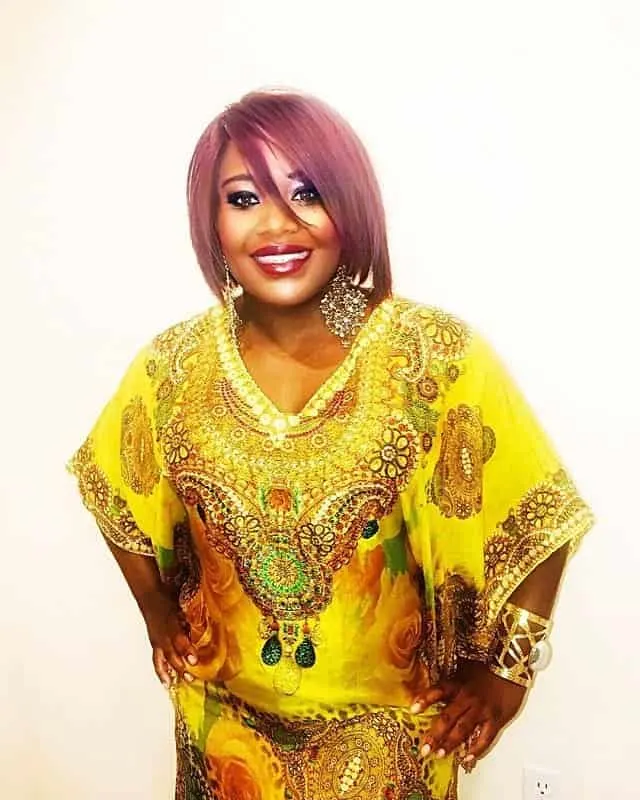 Long gone are the days when only symmetrical cuts were seen on women across the globe. Asymmetrical styles give your look more texture, bring edginess, and their versatility allows us to rock them with any outfit.
That's why one of the coolest short hairstyles for black women with round face shape is this one – straight, asymmetrical, and fabulous.
34. Casual and Carefree
Are you more into casual hairstyles? We've got you covered! This short dreadlocks for black women is all about those carefree moments when you don't have to worry about messing up your hair. It requires almost no maintenance, and it also produces a slimming effect for your rounder face shape.
35. Proper Afro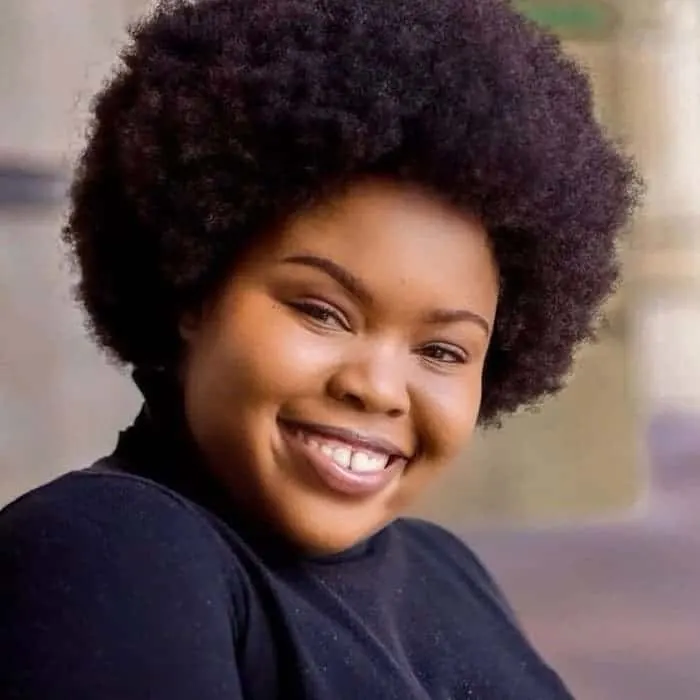 Black women with natural hair can easily sport afro to frame their face, accentuate the cheekbones and eyes, and look absolutely fabulous. Your afro has texture, perfect definition, and it's easy to pull it off.
36. Cute and Casual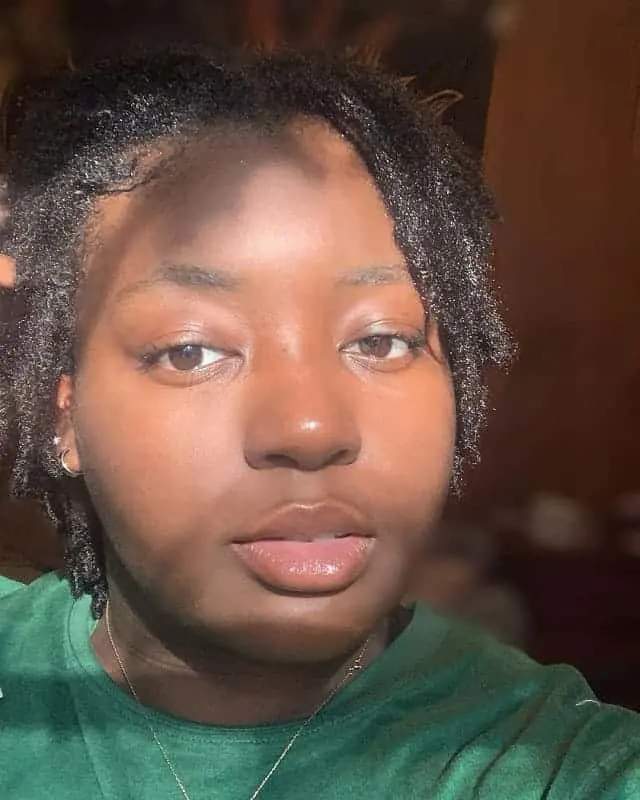 Want to rock a cute and casual hairstyle? Then you may want to try this one. It's short, choppy, cute, and pretty. The choppy and asymmetrical look makes it ideal for women and girls with a round face.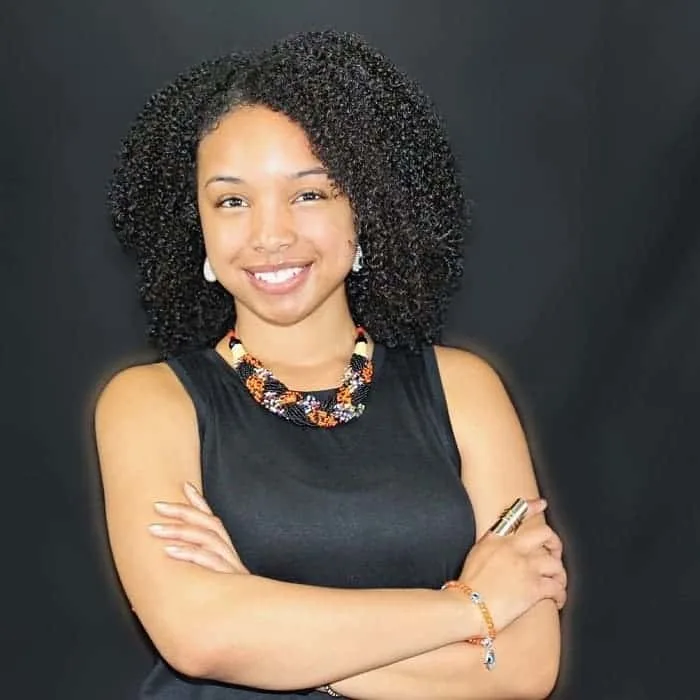 When it comes to short hair for the round face, you don't have to go super short in order to get the desired effect. Medium-length can be just as good.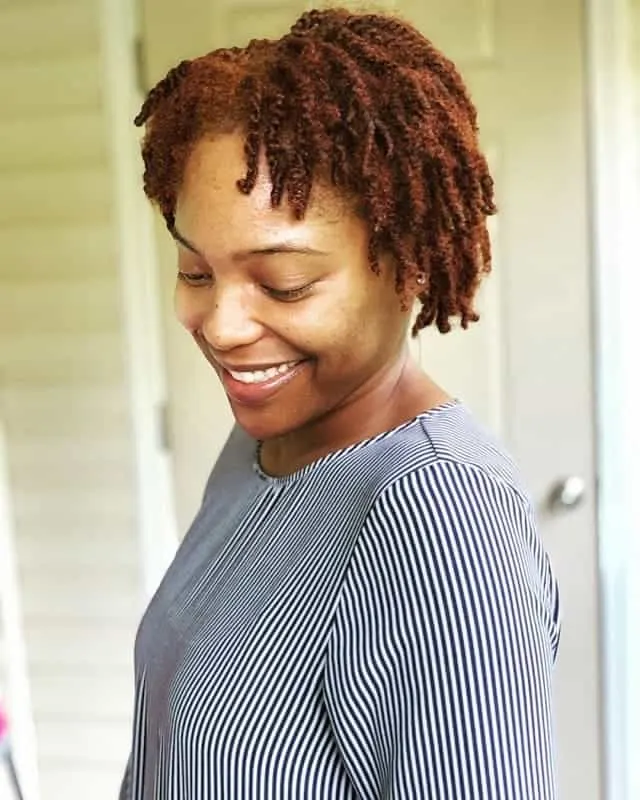 Give your hair summer makeover by opting for lighter hues such as copper. This hair color flatters your black skin tone while the asymmetrical cut brings liveliness to the whole look.
39. More Volume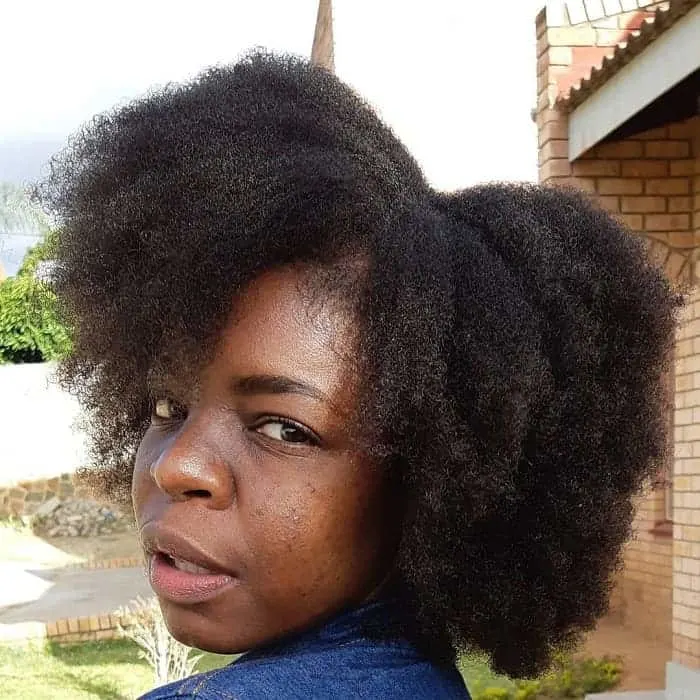 We love to see the fullness in our hair and chances are high, so do you. Try out this hairstyle for fun, feminine, and edgy vibe.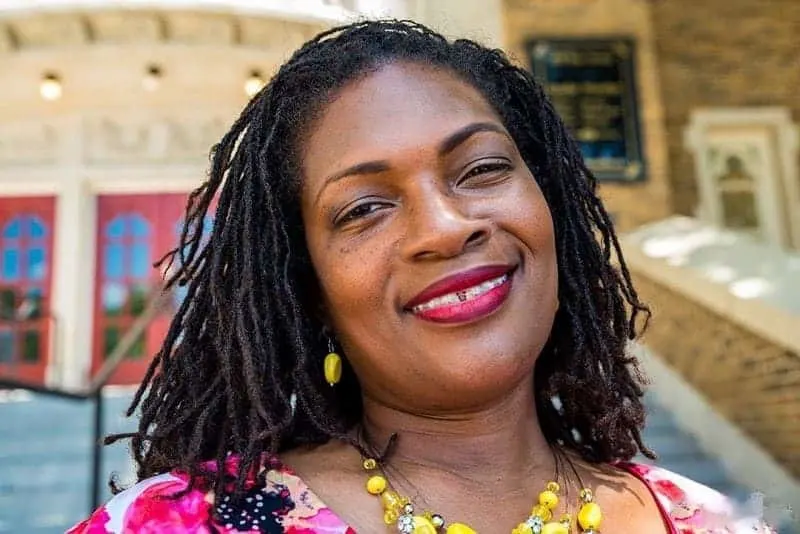 Natural black hair is awesome, and one way to celebrate it is to sport a classic short hairstyle such as this. Not only does it frame your round face, but it also celebrates magnificent hair such as yours.
A round face is indicated by fuller cheeks, a smaller chin, you already know how it goes. Many women think it's difficult to find the right hairstyle for this face shape. Sure, it can be a challenge, but when you know what works for your face shape or not, it becomes easier to style it.
This post featured 40 amazing short haircut ideas that round-faced black women can try. Dare to experiment with in order to see what works best for you.