Women who are over 60 years old and wear glasses are often searching for the right look to flatter their face shape, hair type, and goes well with their glasses style. That's where a bob hairstyle comes in.
The bob has been popular since the 1920s so we already know it's a classic. What makes it the ideal hairstyle for women over 60, though?
It's a universally flattering hairstyle when cut right, low maintenance, and can make you look 10 years younger.
With these perks in mind, it would be a crime not to consider a bob if you're on the hunt for a new look.
Chic Bobs for Women Over 60 with Glasses
These 23 styles of bob haircuts are all gorgeous options for older women who wear glasses.
1. Layered Bob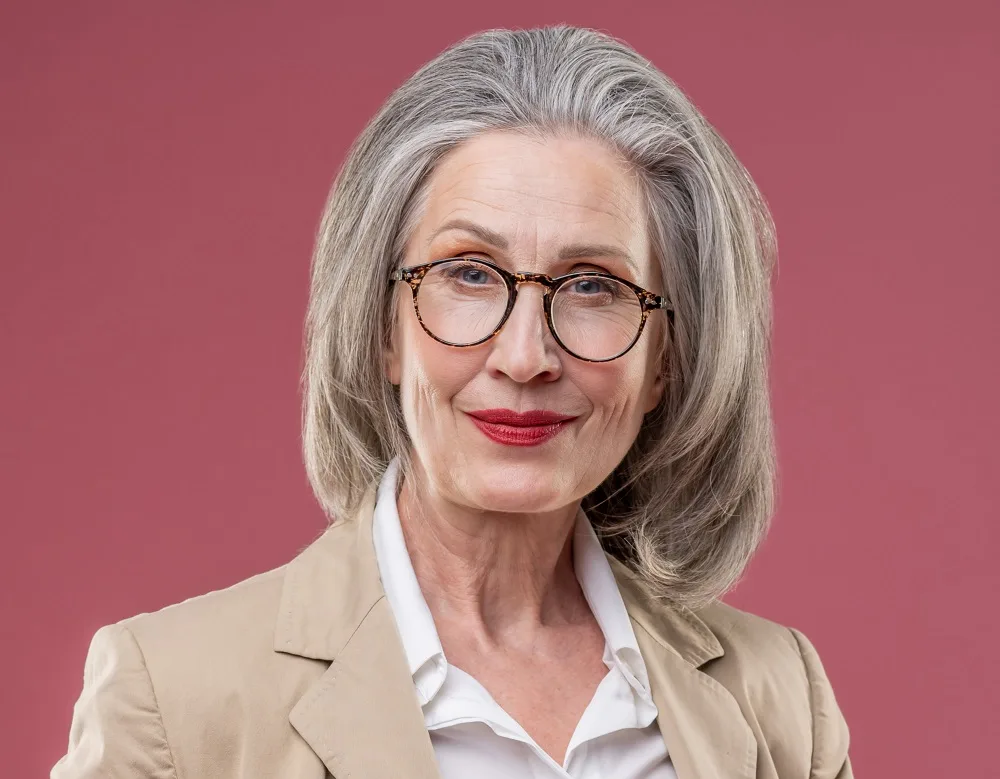 For women over 60 with glasses, a brushed-back layered bob hairstyle is very becoming. This style flaunts the thickness of the hair and takes only a few minutes to run your fingers through.
2. Brunette Waves
For older women with a darker skin tone, we like brunette hair color. Try a dark brown or a burgundy to highlight your eyes and natural wavy texture.
3. Curly Lob
A lob is the perfect length between long and short hair for older women. Fill your mane up with soft waves or curls by scrunching in a little mousse with your hands. Maintain minimal fringe to complement your glasses.
4. Asymmetrical Bob
If you want a little more shape to your hair, consider an asymmetrical bob hairstyle. The contrasting lengths on opposite sides especially flatters women with glasses who have a square face shape.
5. Salt and Pepper Curly Updo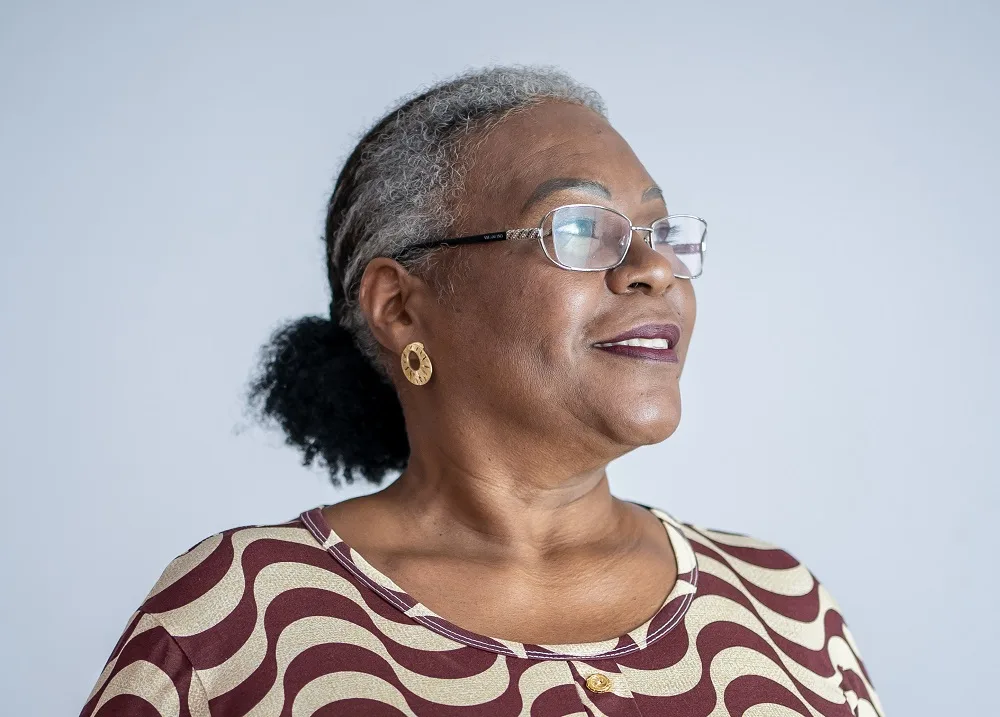 Don't hide your natural graying hair! If you are a black woman over 60, A bob will accentuate your beautiful afro texture even when styled in a low updo, like this sleek and chic low ponytail.
6. Straight Bob with Side Part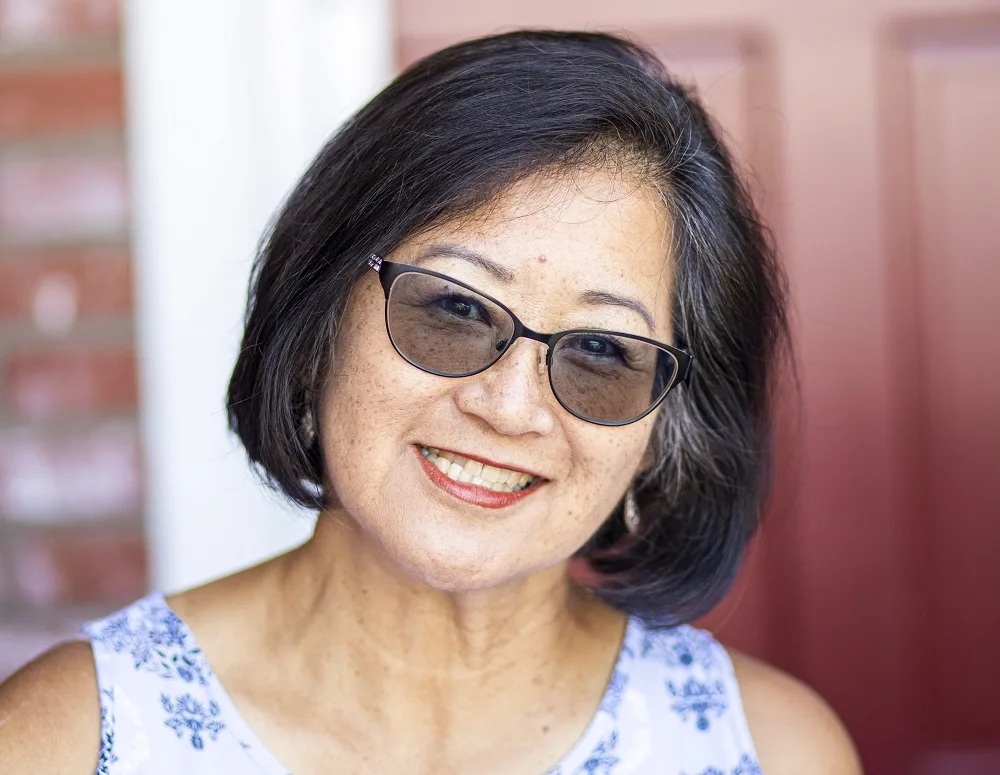 For Asian women over 60 with glasses and naturally straight hair, a bob is a great low maintenance haircut. All you need to do is comb in a side part and add a layered side bang to transform your look.
7. Wavy and Choppy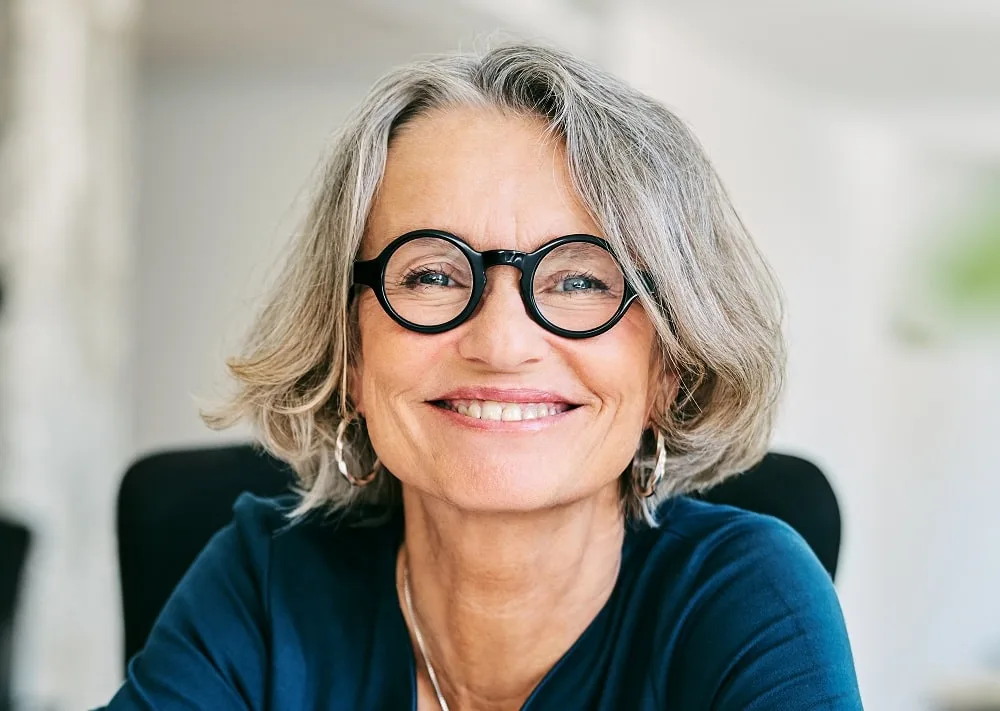 When you wear glasses, adding texture to your hair is a good idea to soften your hairstyle and flatter your specs. We love this short choppy bob with its gentle waves separated by a middle part.
8. Razored Bob
A razored cut is a technique hairstylists use when they're trying to give hair more movement and shape.
If you have straight hair, we recommend a razor-cut bob with thin bangs. You can even add a few highlights up front!
9. Feathered Bob with Bangs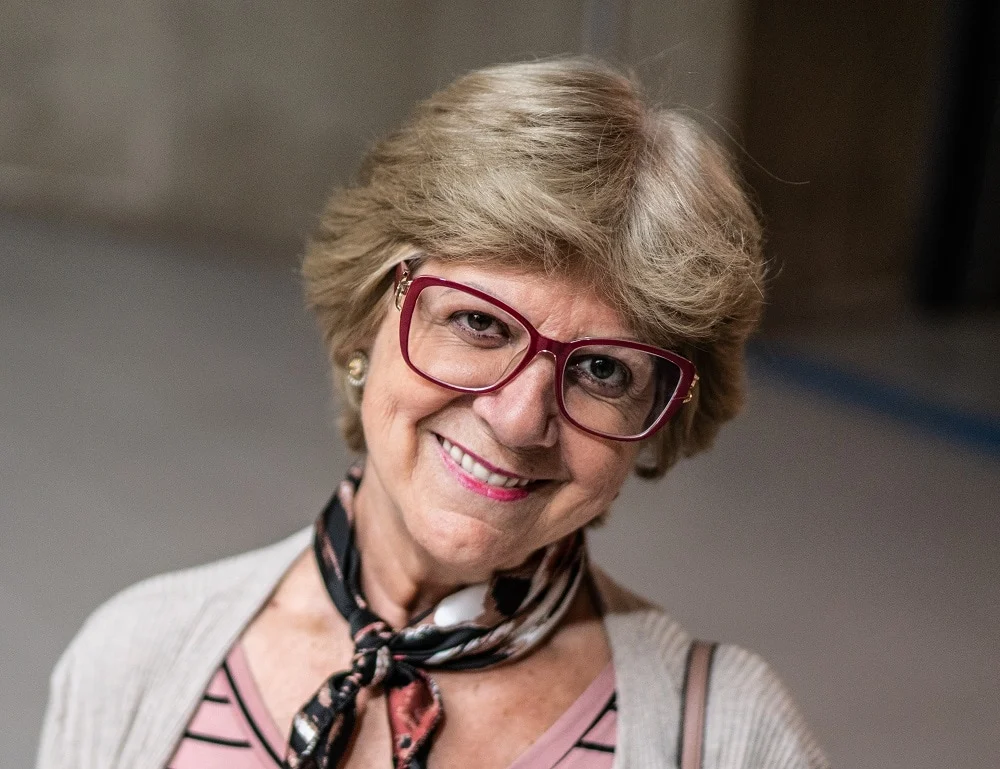 A feathered hairstyle is another great way to give your mane movement. On an older woman with an oval face shape and glasses, we like a feathered bob with bangs to draw the eye up and outward toward the full body.
10. A-Line with Side Bang
With an A-line bob, you don't need to worry about having a particular face shape, but definitely opt for this hairstyle if you have an oval face. To switch up your face dimension, also add a minimal side bang.
11. Wavy Gray Hair
Are you seeing more gray hair these days? A chic short hairdo will make you want to flaunt them! Fill your mane up with beautiful tight waves and part your hair off-center.
12. Colored Fine Hair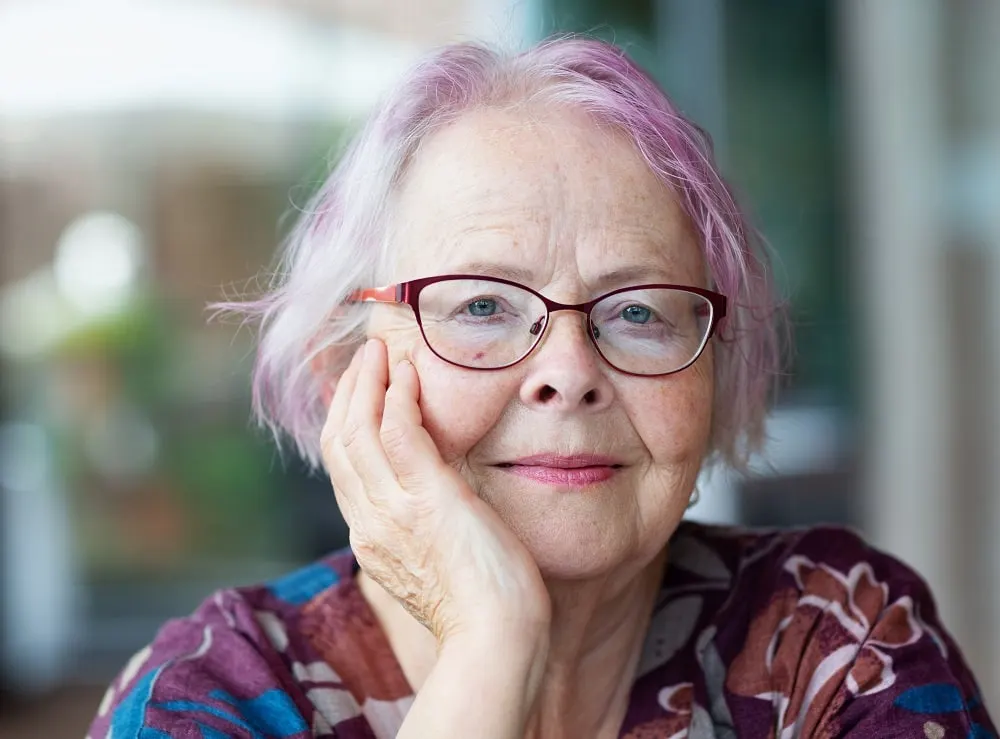 Being over 60 with fine hair can present its challenges, but you can overcome them easily with a fun hair color. Try light purple or pink over white hair with a pair of glasses in a color other than black or brown for a nice pop.
13. Purple Bob
Experimenting with hair color doesn't stop just because you reach 60! We love a bold older woman in a dramatic purple bob. You can even match your hair color to your glasses, like these tinted specs show.
14. Wavy Blonde Bob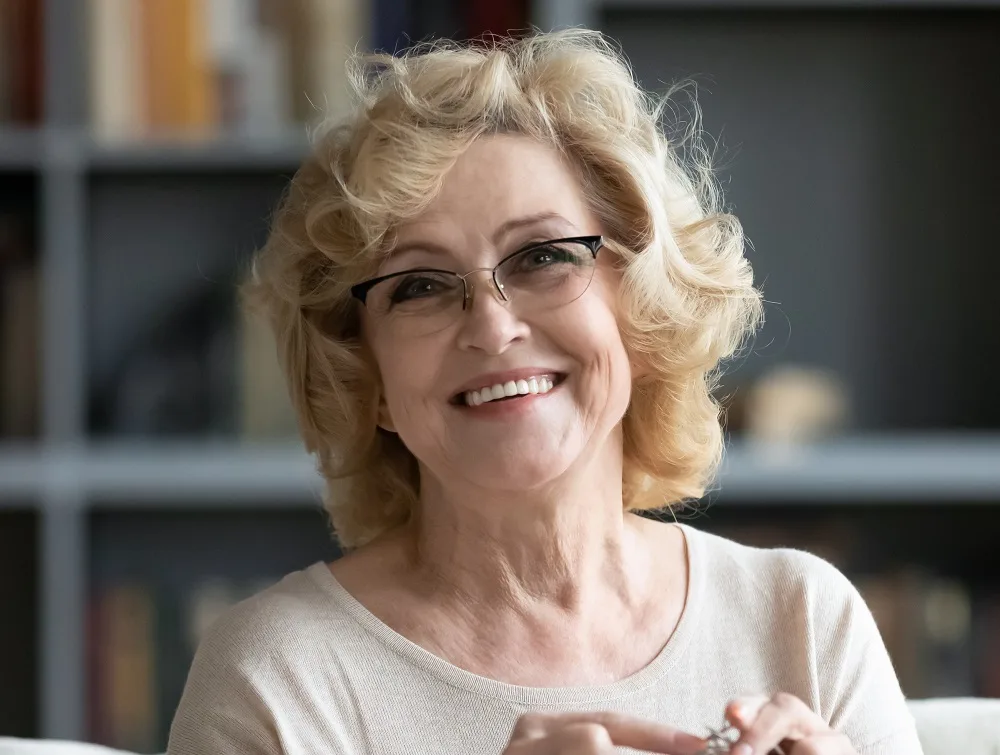 If you have thick hair in your older age, show it off with a short hairstyle with side bangs and large wavy layers. Part your hair off center and whenever you want a fuller body, give your mane a blowout.
15. Pinned Back
Trying to dress up your short hair or just wear it differently one day? Take a small section from either side near your temple and pin them back near the top of your head for a flattering look at any age.
16. Very Curly Bob
Sometimes as we get older, styling long hair can be a pain. So go shorter above your shoulders to a more manageable length that will still flaunt your naturally very curly hair and cute glasses at the same time.
17. Bangs and Face-Framing Layers
Instead of styling short hair with just a middle part, consider adding short bangs and face-framing layers. Both of these will make a big difference if you have an oval face shape and wear glasses.
18. White Bob with Bangs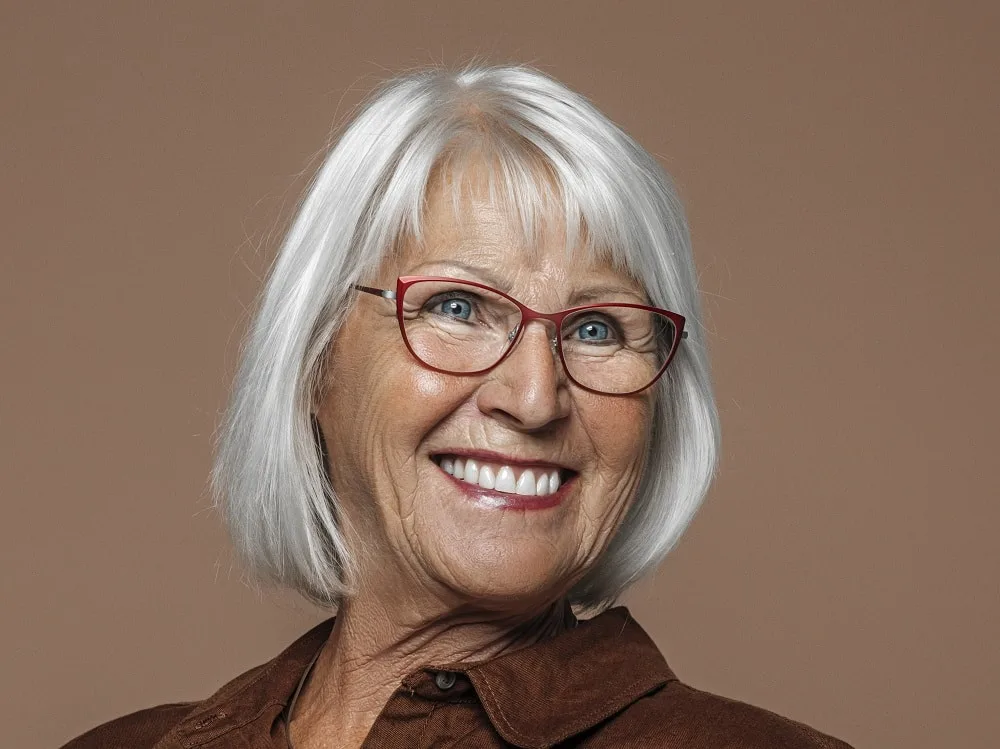 This short neck-length hairstyle proves you don't need to spend a lot of time on white hair to make it look chic as heck. With short thin bangs to help with framing, all you need to do is straighten your hair for sleekness!
19. Half Up Short Hair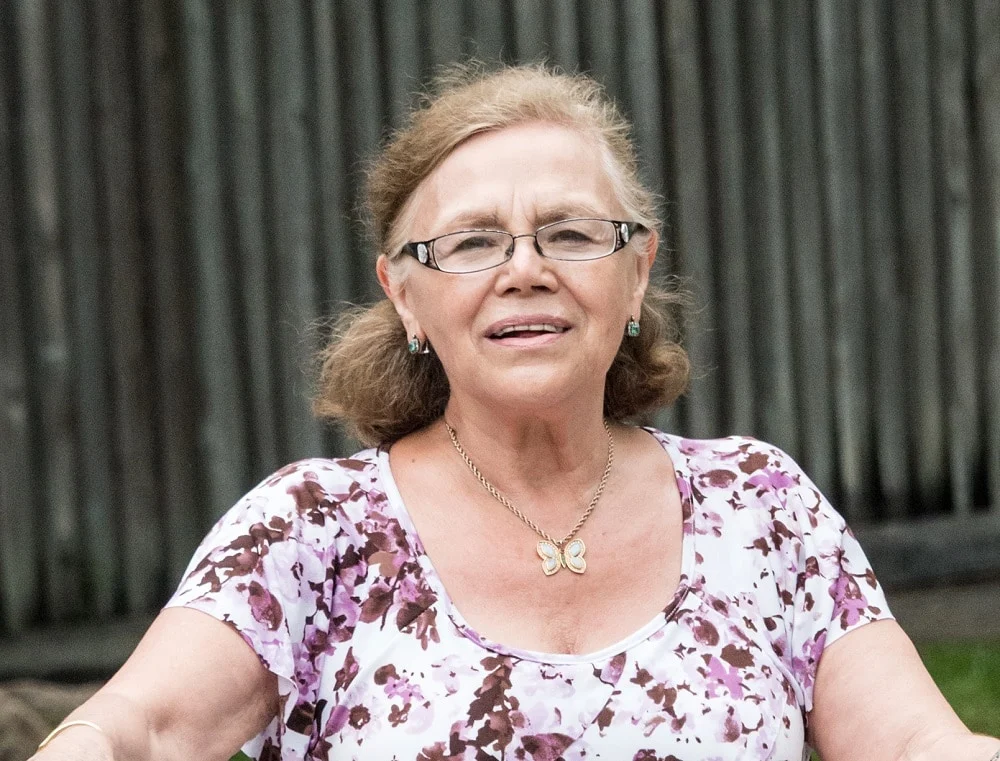 Another beautiful way to style your hair for special occasions is to wear it half up. Part your hair off center, then gather the top half or two medium-sized sections from either side of your face and secure them together in the back.
20. Straightened with Middle Part
Whether your hair is already straight or you're okay with taking a flat iron to it, this sophisticated bob is a must try for women over 60 with glasses. Just comb in a middle part and you're ready to go!
21. Blue Under Color
If you aren't comfortable completely dyeing your hair a different shade, trying an under color is a way to experiment for a little pop. On a blonde bob with bangs, for example, add blue underneath for an edgy detail.
22. Curtain Bangs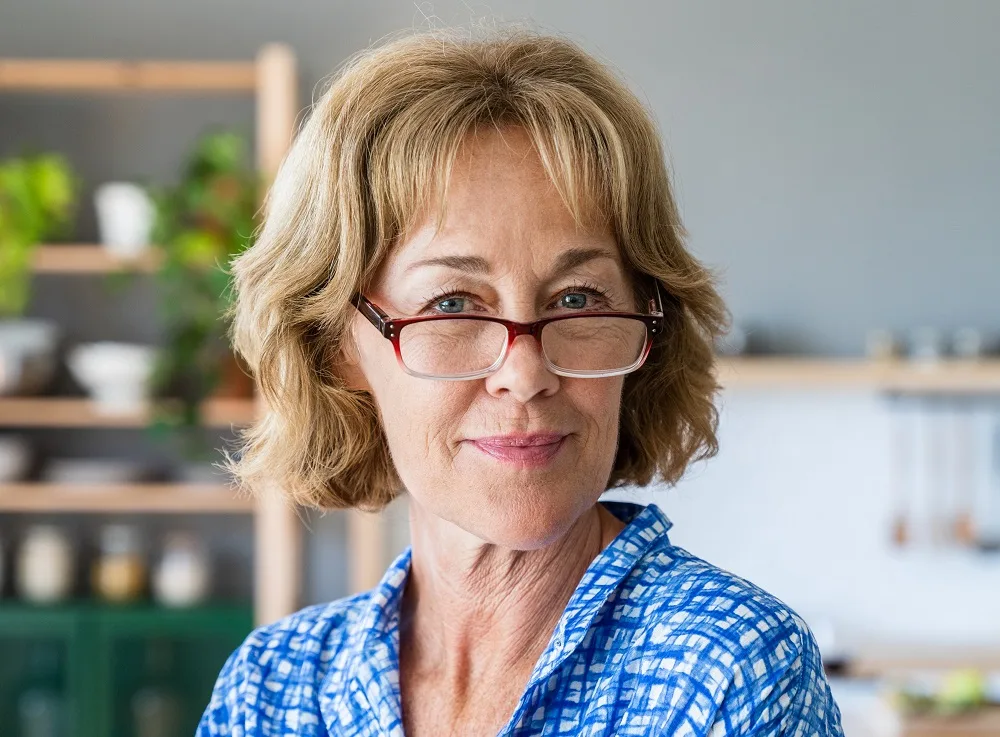 Between the curtain bangs and the soft waves of this short hairstyle, there's no reason not to try it for yourself! Keep the bottom one length, but add short layers up top for more shape and body.
23. Short with Thin Bangs
Do you have an oval face shape? Ask your hairstylist for thin bangs you can blow out to make a straight, and chin-length bob. Blonde highlights will brighten up your face and accentuate dark-colored glasses.
So, if you're like most women over 60 with glasses who choose to go shorter with their hair instead of maintaining long locks, you'll want to choose one of these beautiful bob hairstyles above. Remember to add bangs, full body, or bold hair color to truly make the style your own!