As you are getting older, keeping your hair looking young and cool is one of your main goals. And if your hair is getting thinner and rare, then you definitely have to choose a crop that gives it more definition, volume, and, why not texture.
A short choppy hairstyle for women over 60 can be a pixie cut or a bob, with waves, curls, or straighten locks, depending on your preferences. The cut is so versatile, so you have plenty of options.
Best Short Choppy Hairstyle for Women Over 60
You can mess around with different types of bangs, highlights, or colors that complement your face figure. To discover some of the best options for short choppy hairstyles for women above 60 years old, scroll down and read the articles below.
1. Messy Pixie with Lowlights
One of the best short choppy hairstyles for women over 60 is a pixie cut that you can style as messy. Keep your natural depigmented color and spice things up with a few brown lowlights, creating some contrast.
Using hair gel, lift and mess up the laterals and the top pieces. Woo said you can't be a rebel when you're 60?
2. Voluminous Top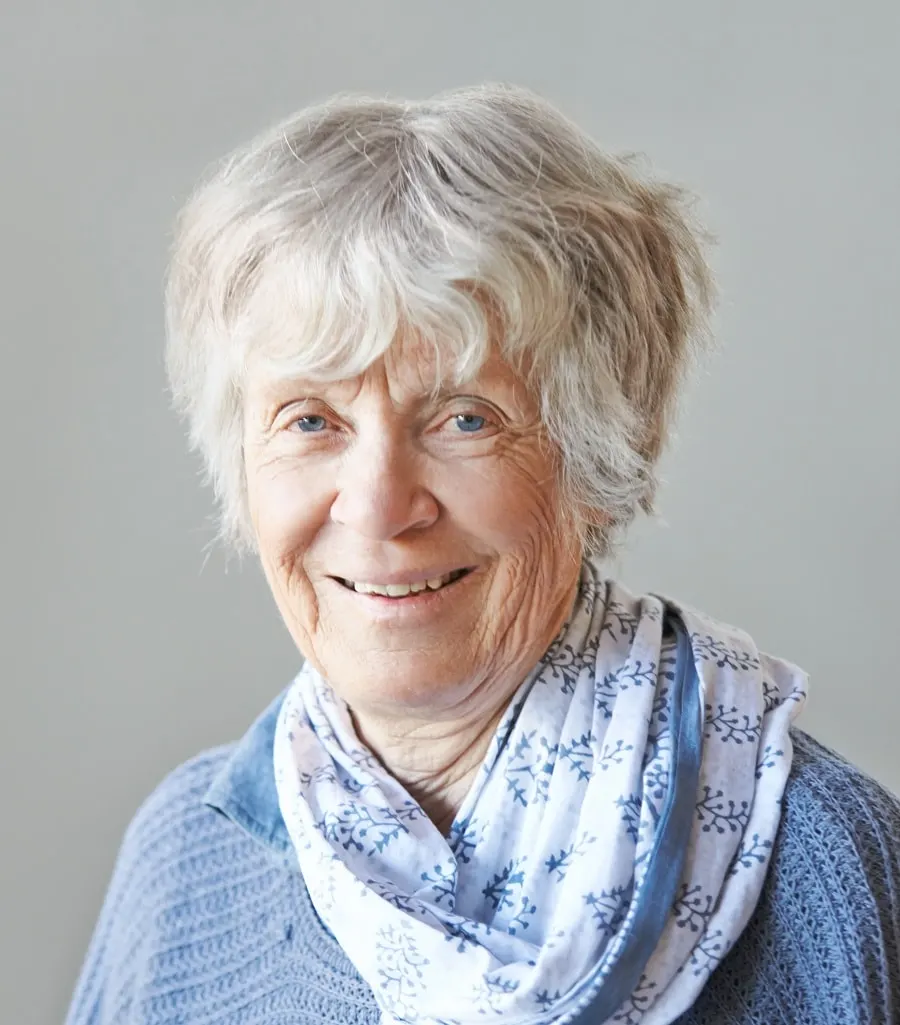 To gain that amazing volume for the top, you definitely need to build some layers. Keep the apex area rich and, starting from the sides, chop the hair so it will get less dimension, emphasizing the upper area and creating a contour for your face.
3. Classy Waves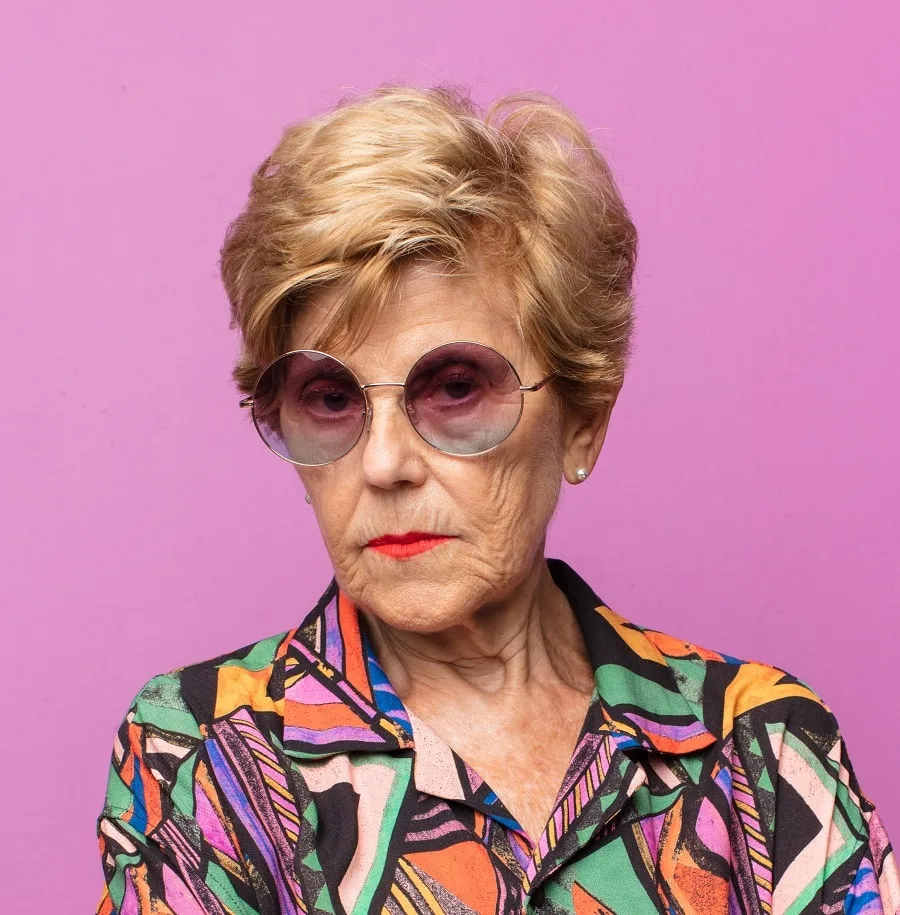 If you hate those white threads and you're up for a commitment that makes you look classy, then you must regularly dye your hair. For such an olive skin tone, one of the best color choices is a warm caramel color or a dark sandy blonde nuance.
Layer the hair to achieve more volume and do a middle part. Using a volumizing spray, define each layer and build more dimension for the top.
4. Side Bangs
As an older woman over 60 with a large forehead, side bangs are probably the most suitable choice. Extend their length in the corners and get a short choppy bob haircut that goes just below the ears. Tousle your strands and softly wave the ends.
5. Gym Appropriate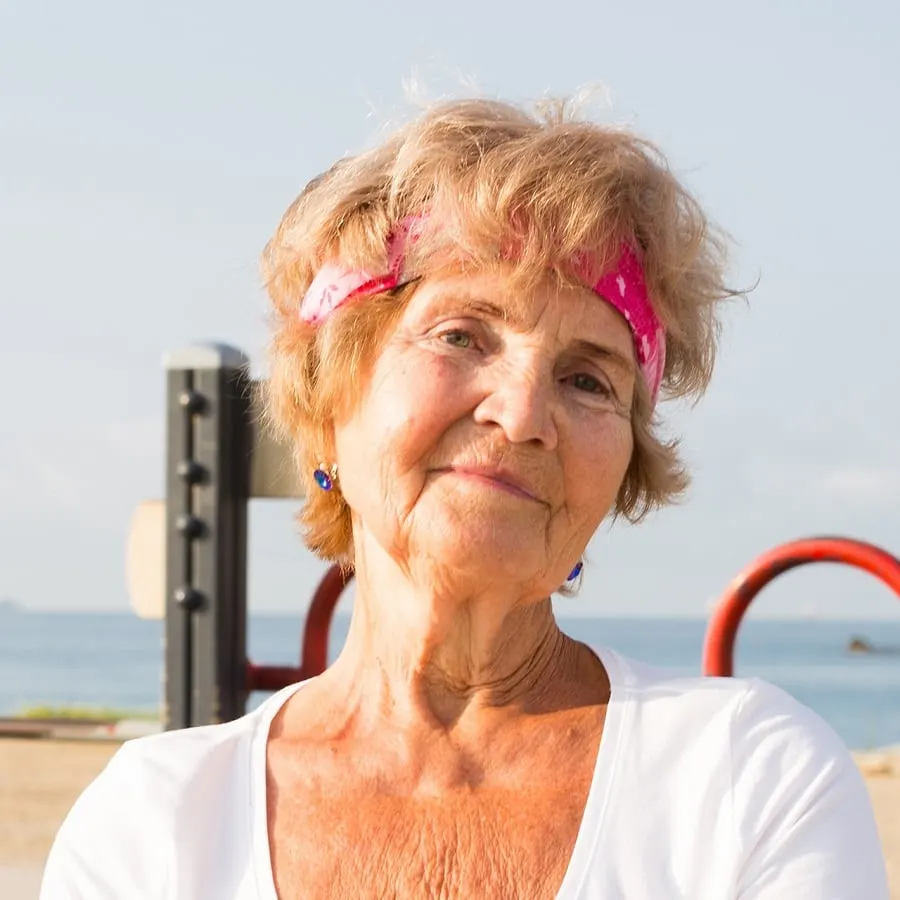 Loving a good workout, running at the beach, or going to the gym? Then you will certainly adore this hairstyle with a bandana! If your hair is short and with choppy layers, place the headpiece on the forehead and knot it in the back.
Pull off those bangs and some to the long apex strands and slightly cover the bandana. Choose a vivid color that suits your personality and skin color.
6. Burgundy Afro Hair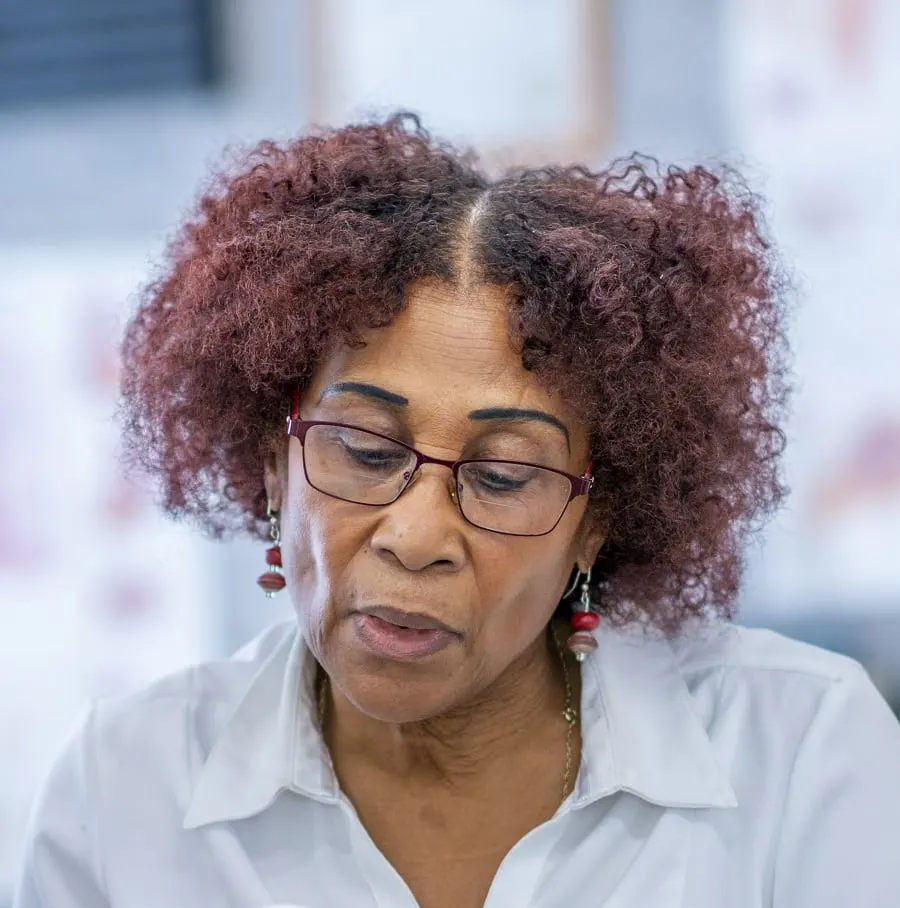 This short choppy haircut will be ideal for thick-haired women over 60. Thanks to those layers, your hair will have shape and dimension and those strands will preserve the curl.
As a black woman, a burgundy hair color will suit you wonderfully. Do a middle part and maintain your roots in their natural color.
7. Short Thin Pixie Cut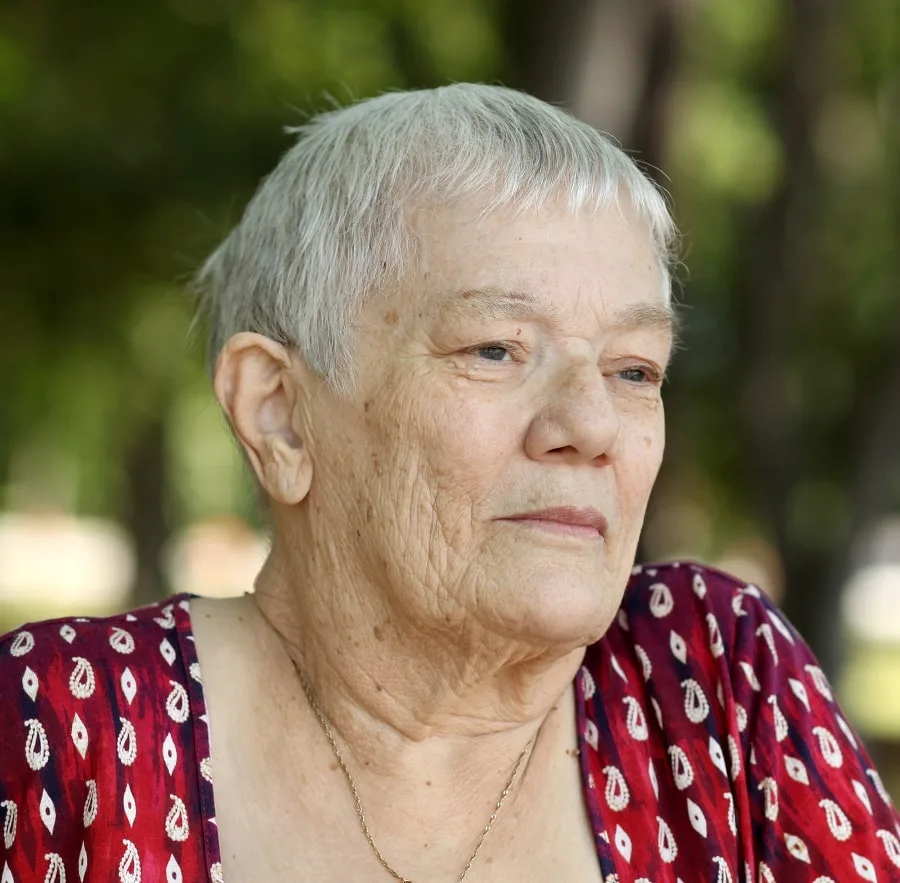 If your hair is thinner and has a dull aspect, you should undoubtedly consider getting a short haircut like this modern pixie. It will make you feel younger, stripping years off your face, and will certainly boost your confidence.
8. Feathered Cut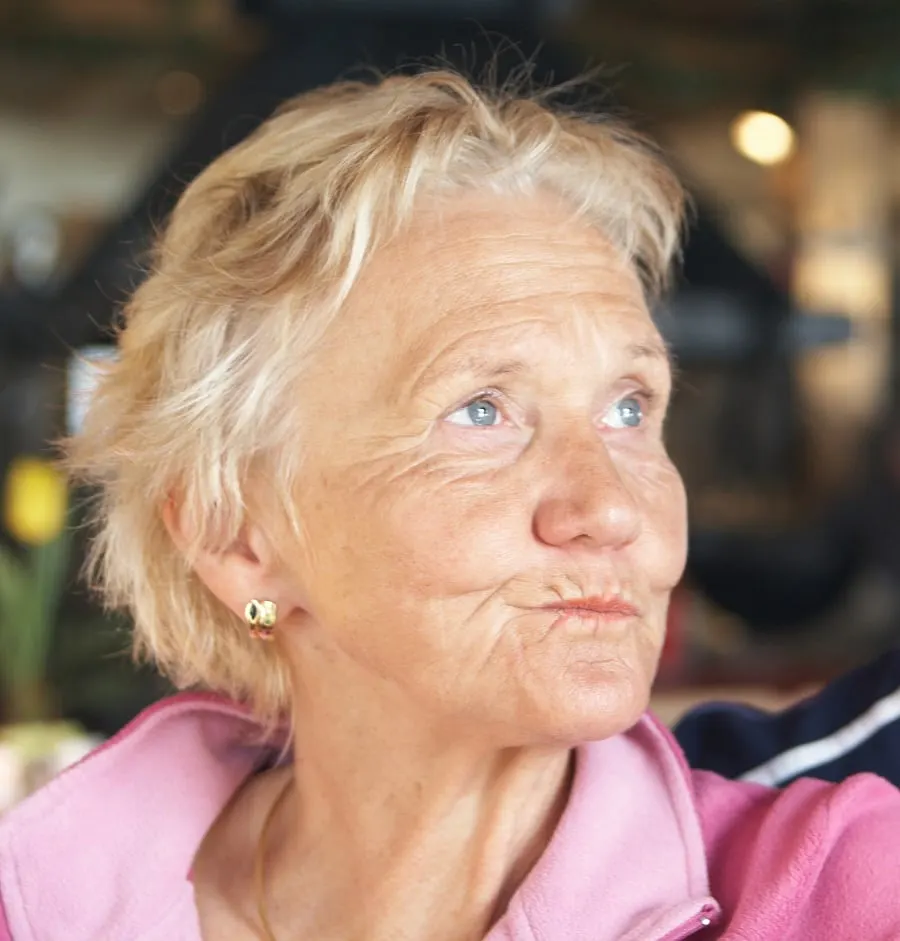 A feathered cut is perfect for women over 60 who have slightly textured hair. Get a platinum blonde nuance for the roots and some brown and dark blonde lowlights. Use a curler to lift up your roots.
9. Platinum Bob with Bangs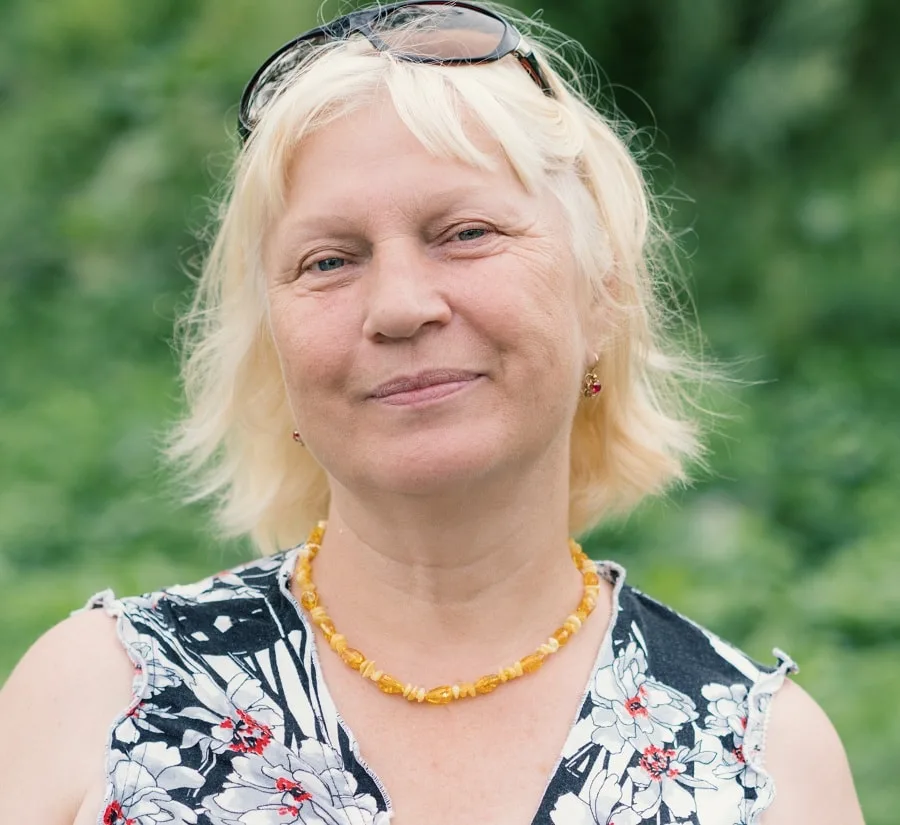 A choppy bob haircut for women over 60 that goes beyond the chin and jawline level is ideal for chubby older women who want to look slimmer. Get bangs that are one finger above the eyebrows and cut them slightly longer in the corners.
10. Full White Pixie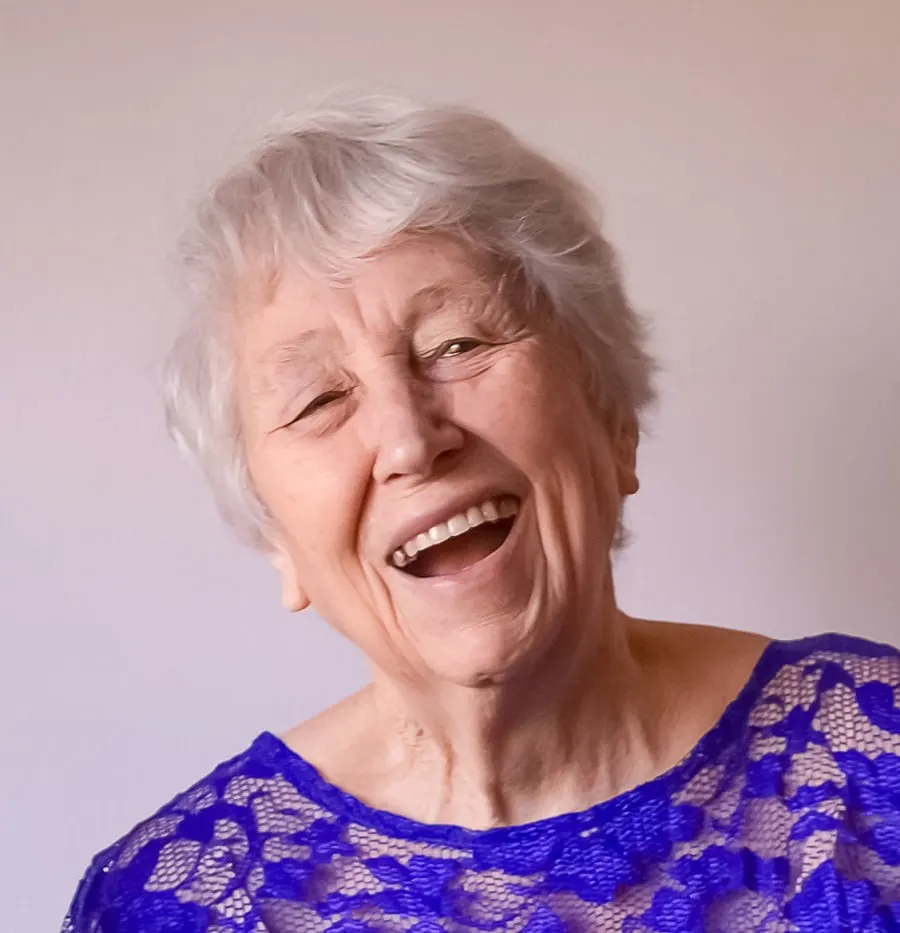 A full white pixie haircut is perfect when you don't want to spend too much time styling your hair each time you go out. Do a side part and simply tousle your short strands when using the blow drier.
11. Choppy Hair with Side Swept Bangs
If your hair is still thick and with a lot of volume, but it completely lost its pigment- no worries! You can still get a cool-looking trim that suits your personality and necessities. This choppy short haircut is practical, with layers and asymmetrical bangs on one side.
12. Layered Long Pixie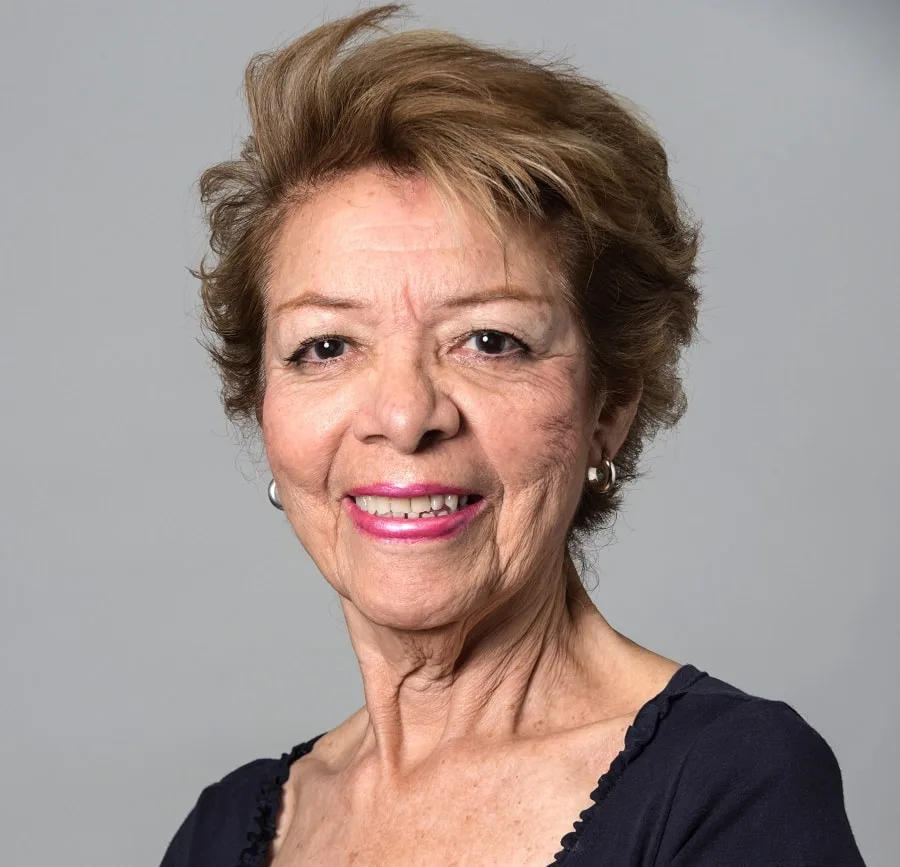 This short choppy haircut for women over 60 is quite popular because it reveals your face, is easy to style and gives your hair more volume. Comb the laterals to the back and tease those bangs to get more volume and height.
13. Salt and Pepper Look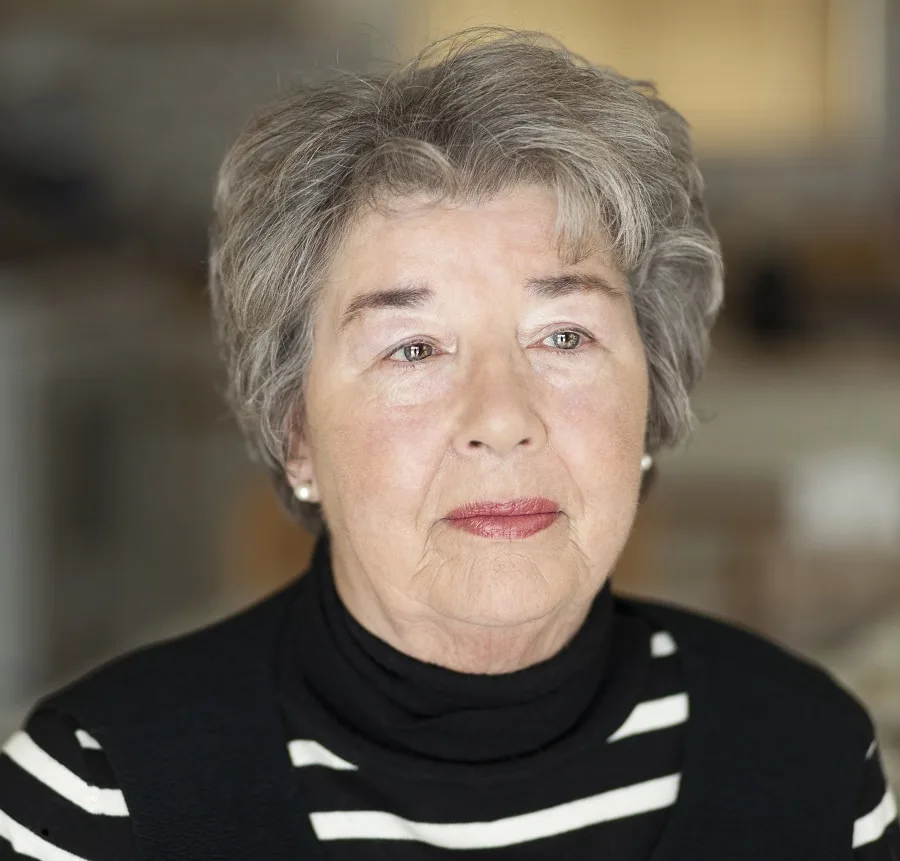 Styling this haircut is so easy! Use a rounded brush or blow dryer to get that volume at the roots and the curved aspect for the tips. Get layers that create that stacked effect on the sides and back and go for a side part.
14. Choppy Blonde Pixie
If you're over 60 and have thin hair, you might consider keeping it short, in a bright blonde color that suits your tanned skin tone. Get a feathered short pixie with bangs swooped on one side and give the hairdo a big tousle.
15. Shaggy Cut
This choppy hairstyle is all about layers and covering a large forehead. So if you want to draw all the attention to other areas of your face, this short cut with bangs will definitely do the trick for you.
Go for layers and a side part and keep your sideburns long, in front of your ears, allowing them to create a great frame.
16. Feathered Bixie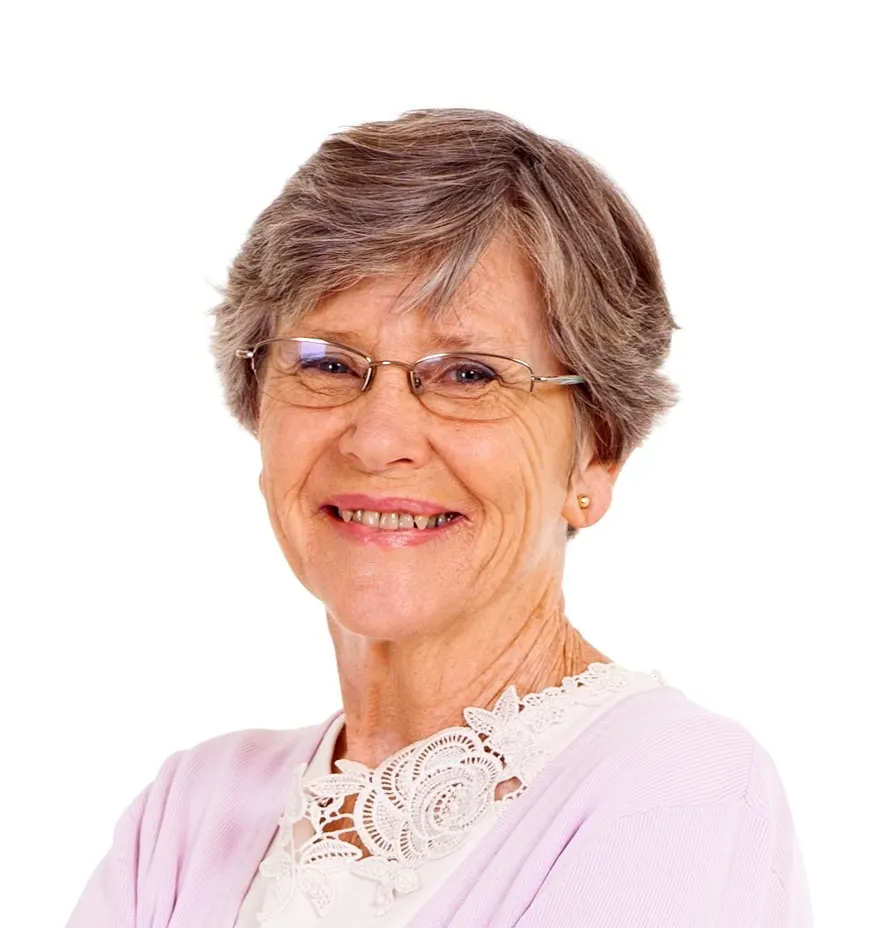 Start building those stacked layers right from the top, giving your hairstyle more dimension and creating that stacked appearance. Do a side part and get asymmetrical bangs that will cover most of your forehead.
17. Ultra Short Pixie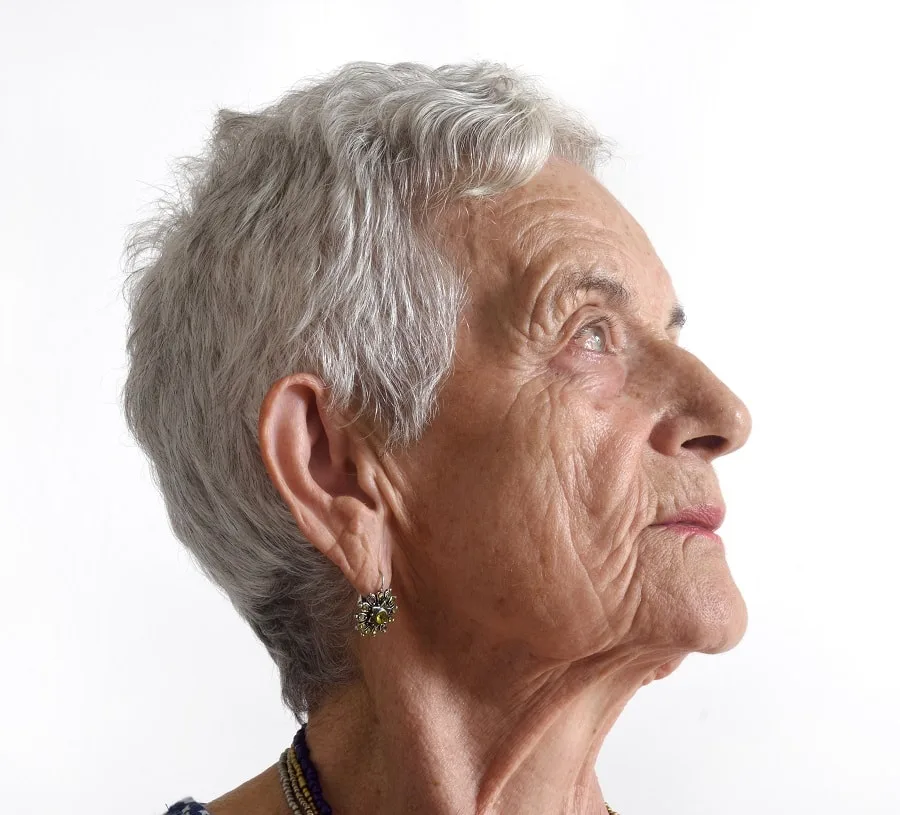 There's just something so special and elegant about these ultra-short choppy hairstyles! They make any woman over 60 look classy and are definitely so low maintenance.
Such wash-and-go cuts make you feel younger and have a modern touch, suitable for any lady who wants a brand-new look.
18. Long Full White Pixie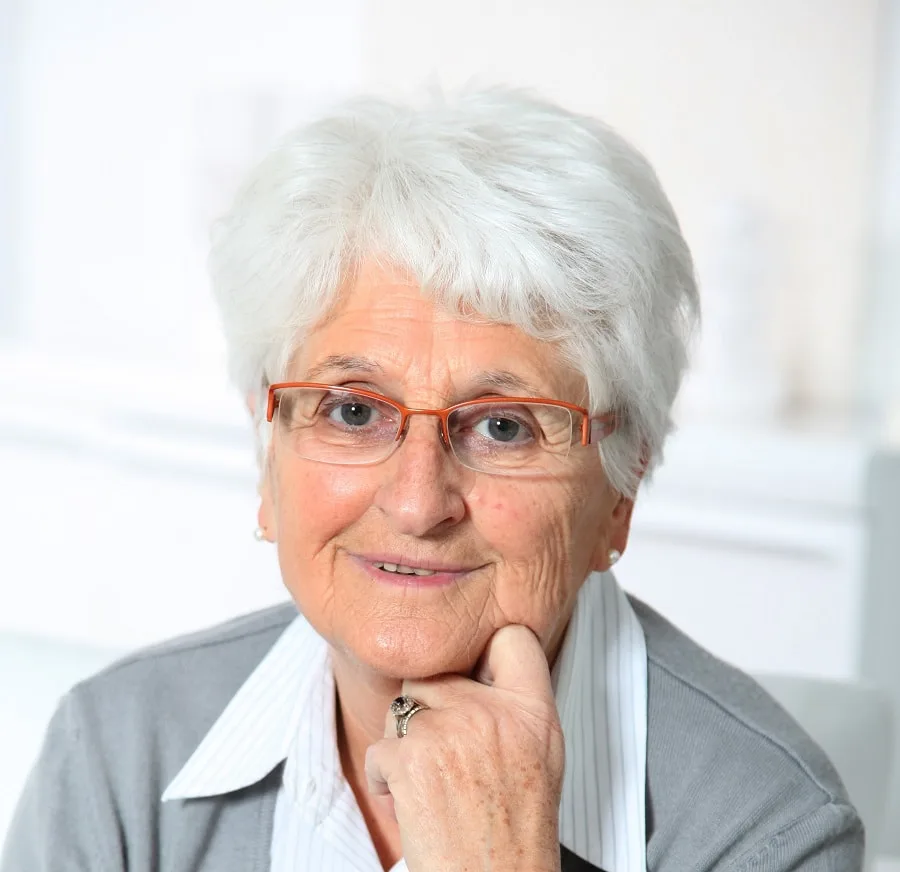 Embrace your fully white locks and wear them with pride. Get a tapered short pixie cut with layers, creating a fuller effect and texture. It is so low maintenance and requires just a little bit of styling for your bangs. And you can easily get that curl with a rod or curling iron.
19. Wet Pixie
If you're searching for an easygoing and low-maintenance hairdo for women over 60, this short choppy hairstyle will get you the desired results. Those lifted bangs will draw all the attention to your facial features, while the sideburns create a charming face frame.
20. Bouncy Short Bob
Craving for more volume? Then this is the look you need to try. Get a short bob haircut with bangs that you will swoop to the side and tease the roots for a lifting effect. Use a rounded brush to build that texture and inwards tips.
21. Spiky Cut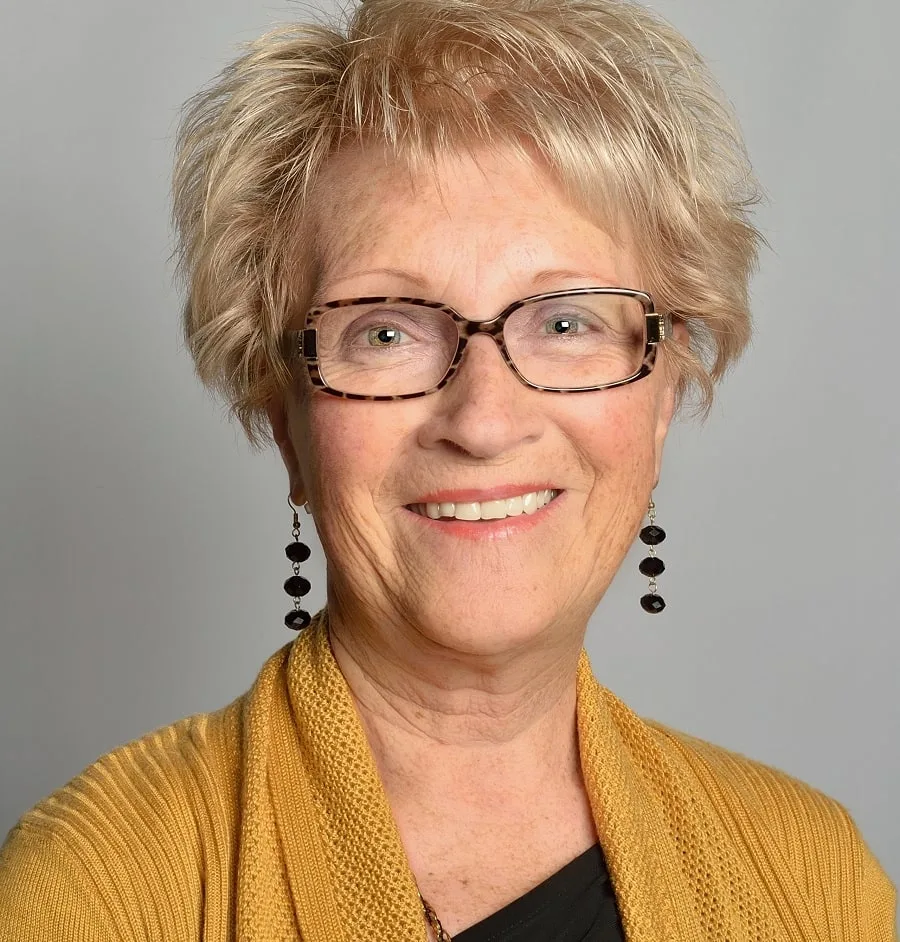 Not in the mood for another dull, old-school look? In this case, a good new modern choppy hairstyle should be on your to-do list next time you're going to the salon.
Moreover, one of the perks of this cut is its versatility because it allows you to create sleek looks or spiky hairstyles like the one above.
22. Razored Chop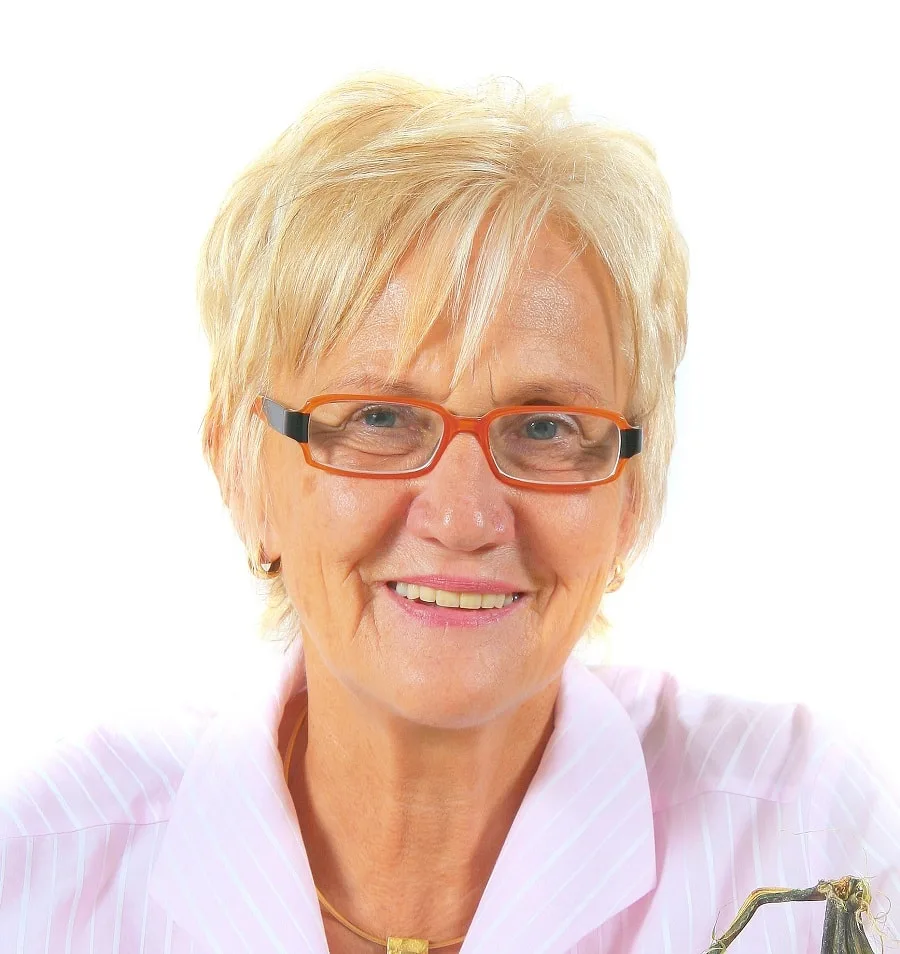 Dealing with fine straight hair at the age of over 60 that looks flat and dull? Then you should try this short choppy hairstyle with layers, long sideburns and bangs. Also, a bright blonde color is a must, especially if you have fair skin and want to look years younger.
Getting a short choppy hairstyle is one of the best decisions you can make as a woman over 60. They are cool, modern, versatile, and most important, so low maintenance. So if you are ready for a dramatic change, give any of these short haircuts a green light.