Turning 60 years old doesn't mean you should say goodbye to style. In fact, there are so many hairstyles for women over 60 that will make your head spin.
Trying new looks is always a great idea, regardless of your age. So the time has come to experiment with amazing pixies, blond bobs, long bangs and stunning perms.
You shouldn't waste your time thinking that younger women have better hair and a bigger choice of hairstyles. It's simply not true! You have a lot of fun ahead of you. You are mature and sure of yourself and can try any hairstyle you want now or have always wanted before.
How to Pick the Right Hairstyle for Women Over 60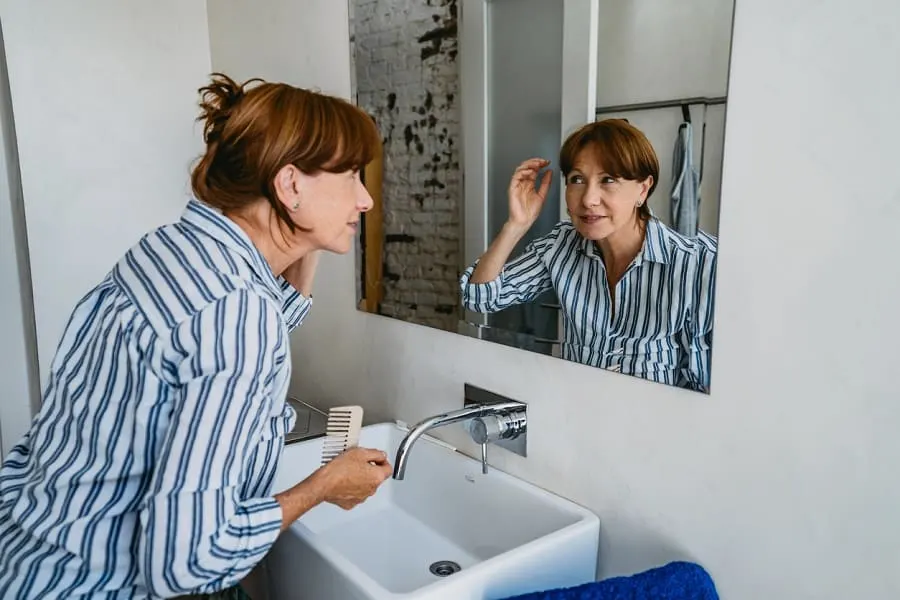 As we get older, we change our image to a more relaxed one. The hairstyle is a reflection of our way of life. But any hairstyle must match our unique facial features, regardless of age. And then to be combined with our style.
When you pick a hairstyle for women over 60, the main goal is to make her image younger. Here are some tips that may help.
First of all, it is asymmetrical lines. A good example is a haircut with sides of different lengths. And if you're not ready for an asymmetric haircut, you can create the illusion with a deep one-side parting.
The next trick is to have bangs that can hide the wrinkles on the forehead. Make it oblique and create an asymmetrical line.
It is common knowledge that shorter hair makes the entire look stylish and fresh. Styling for short hair takes less time and fewer products. Remember that it also exposes your features, in case you are trying to hide something. Luckily there is a big choice of short haircuts, from a short bob to a pixie cut.
A hairstyle for women over 60 is not complete without beautiful hair color.
Styling also plays a big part. Straight hair adds seriousness to the image, while wavy hair makes us look more romantic and mysterious.
If you prefer to keep the hair longer, you can choose a 'lob' – long bob. It looks feminine, and it's easy to maintain in everyday life. The length of the lob allows you to make a ponytail when you don't have time for styling. This hairstyle goes with any hair type. Looks good on straight or wavy hair with extra texture. Lob also works perfectly with any bangs. And if you feel like you need more volume, ask your hairdresser to add some layers.
Different face shape requires different lengths. But they say that if you are over fifty, your hair should not be too long. The maximum is just below the shoulders. Long hair is acceptable only if you keep it in an updo. Otherwise, there is a risk of looking untidy.
Suitable Hairstyles for Women Aged Over 60
Knowing what to do with your hair once you turn 60 is imperative. Let's face it, our locks are greying and thinning. But this doesn't mean it's time to give up. Just the opposite, haircuts for women over 60 should become even more amazing. Know you know which styles suit your face and the colors that suit your skin tone.
It's easier to choose the right hairstyle and even simpler to experiment. We are offering you a large and useful collection of amazing haircuts & hairstyles for women over 60 that you can copy and enjoy to the fullest extent.
1. Cheek length bob cut with asymmetrical bangs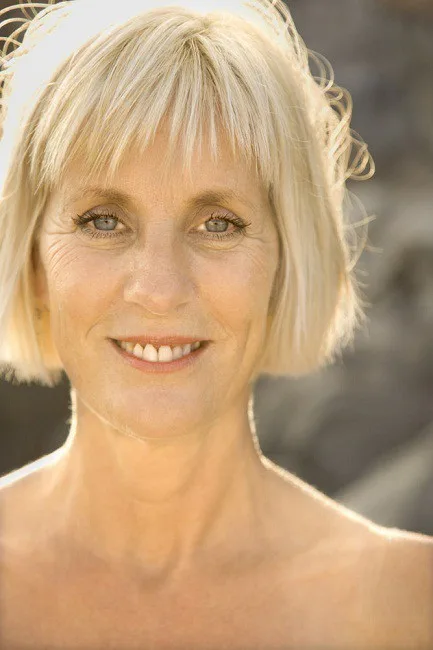 Plenty can be said about how fantastic bobs look on mature women. But don't make the bob too dull. Experiment with asymmetrical bangs, which are always in style and enjoy the result.
Women Over 50: Top Haircuts & Hairstyles
2. Blond highlights for women over 60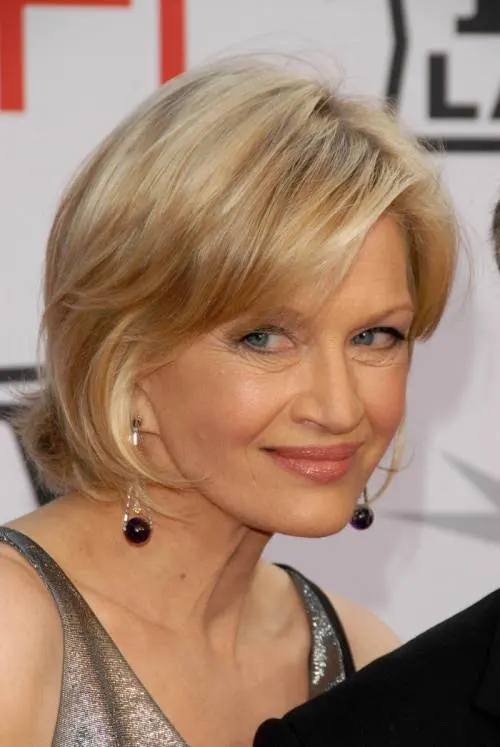 A blond is a no-lose option for your hair color. However, simple blond can be boring. So, why not experiments with different blond highlights. Go from platinum to yellow and see what you like best.
3. Short bob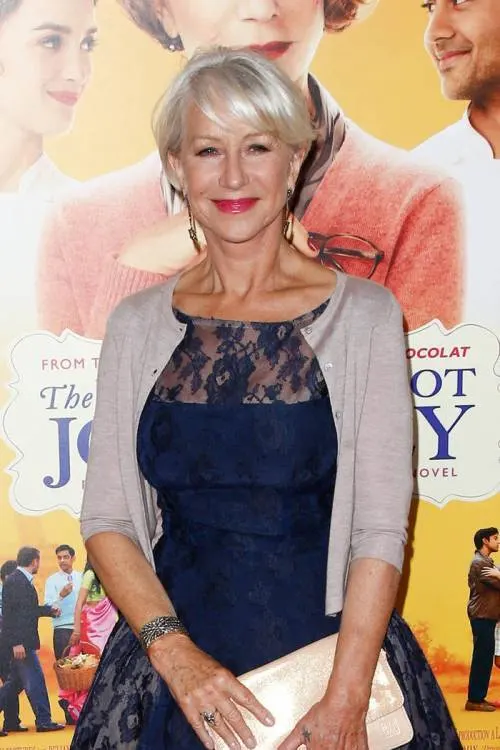 A bob which is bordering on pixie is a wonderful hairstyle for women over 60. The advantages are obvious: easy to style and more volume to sport.
4. Classic layered bob for old women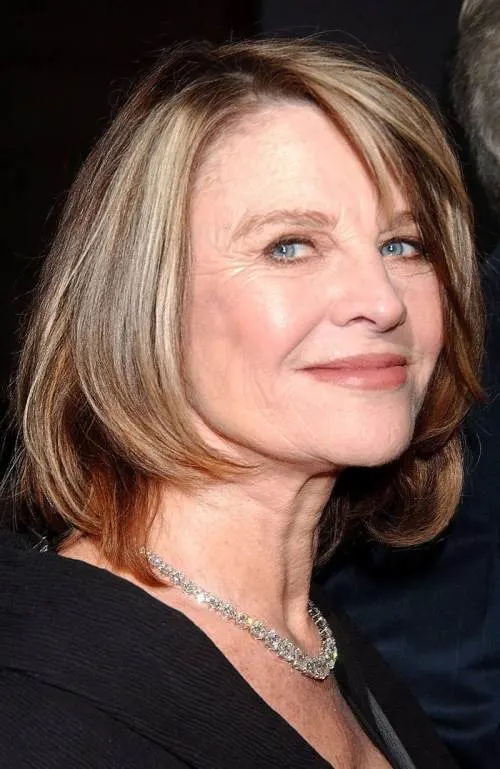 A layered bob is a great way to pump some volume into thin hair and make your style seem soft and sophisticated. Add some asymmetrical or regular bangs to compliment this wonderful style.
5. Windblown pixie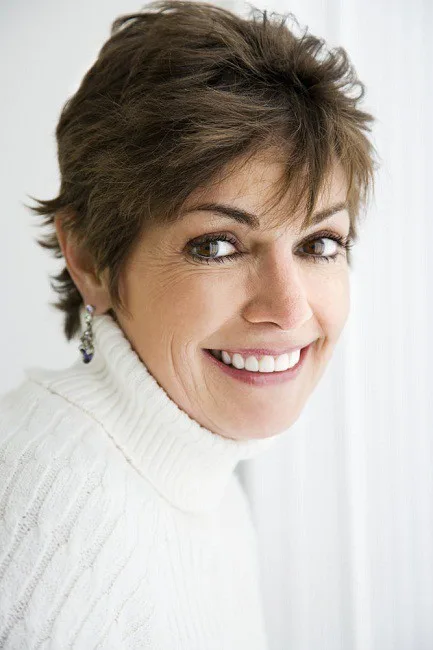 A windblown pixie is a wonderful option for women who still have sparkling eyes and a lot of energy. This is a low-maintenance cut that will breathe new life into any style.
6. Hiding grey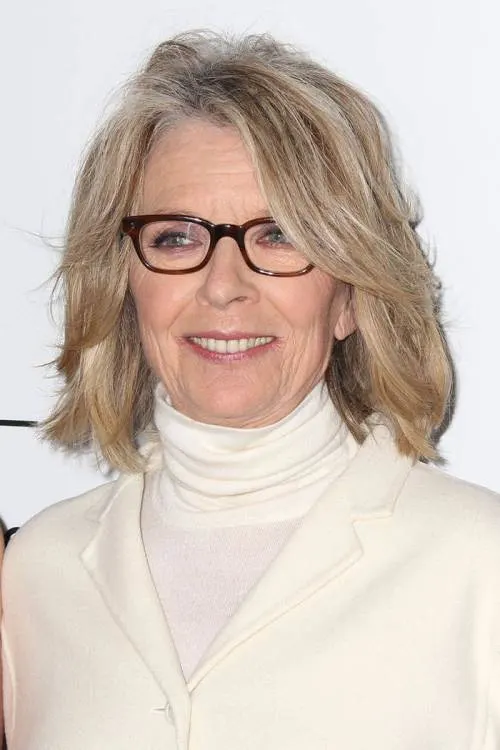 Greying hair is impossible to avoid. So if you haven't thought about it before, the time has come to hide the silver strands. Make sure to dye the roots on time. Any signs of silver ruin the style.
7. Outstanding black hairstyle for over 60 gorgeous women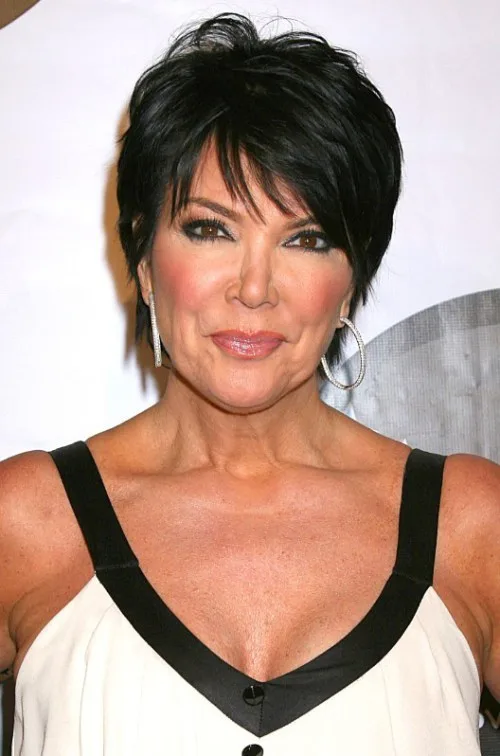 If you like bright makeup and have large eyes and long eyelashes, this outstanding pixie is great for black old ladies over 60. Make sure to make it layered to increase volume and don't forget to touch up the roots on time.
8. Soft auburn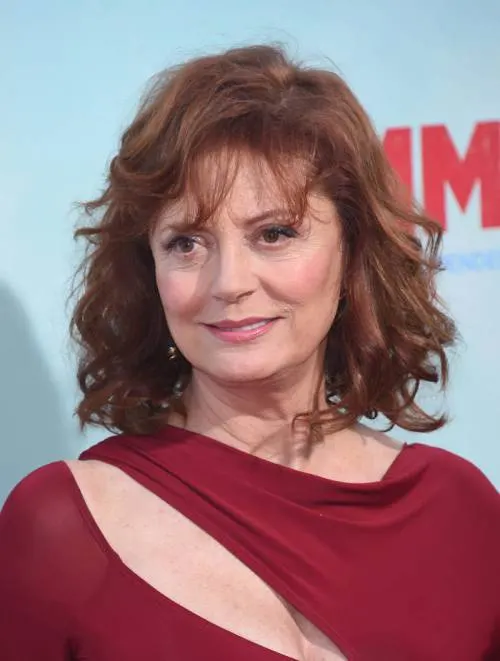 Your long and wavy bob will be pleasing to the eye if you choose the right color. This soft auburn shade will easily suit most complexions but will look best with the lightest ones.
9. Eye-covering bangs
Who said hairstyles for women over 60 can't be sexy! They most surely can. Eye-covering bangs coupled with smoky eye makeup will make your image as alluring as ever.
10. Medium-length tresses
While women over 60 usually opt for short hairstyles, there is no need to completely give up your medium-length tresses if they look good. Try a shoulder-length hairstyle like this and voila!
11. Lateral comb over haircut for women aged 60+
If you want to add some volume to your thin hair and already got a layered bob, another trick is to comb over your locks to one side to create a side part and high bangs.
12. Waves
If you are getting ready for a special occasion, you can make your long bob looks voluminous and stunning by curling just the bottom part of your locks. You will look amazing!
13. Permed bob
Trendy curly hairstyle for older women with oval faces. If you are not afraid of experiments and always wanted to sport curly hair that doesn't require daily maintenance, a permed bob is your way out. Just remember that the hair will get a bit damaged.
14. Stacked bob with highlights
A stacked bob is a wonderful haircut for women over 60 who have straight hair. You can experiment with different colors and hidden highlights. Anything goes with this hairstyle.
15. Feathered layers
If you are not afraid of new styles, try making feathered layers. This bob will require careful daily maintenance but the way it looks will sweep men off their feet. Give it a chance!
16. Stunning curls
If you are a fan of long hair, make it even more fantastic by creating curls. Give your hair some rest by curling just the ends. This way you will damage it the least and still look awesome.
17. Long bangs
A long fringe is not just a part of a terrific hairstyle; it also does a good job covering up your forehead wrinkles. Any woman over 60 should consider getting long bangs.
18. Curly extravaganza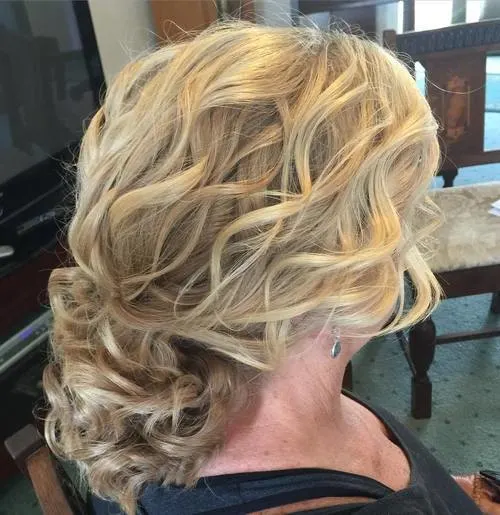 No special occasion should go without wonderful curly hairstyle. Ask your stylist for simple curly locks and you will become the queen of the party. Sweep it backwards into a loose ponytail so it doesn't get in your face.
19. The simpler the better
If you have straight and thin hair, then don't force it to become a thick curly mane. A simple chin-length bob is a wonderful hairstyle that's easy to maintain and simple to wear.
Women Over 70 Haircuts and Hairstyles
20. A-line bob with blunt bangs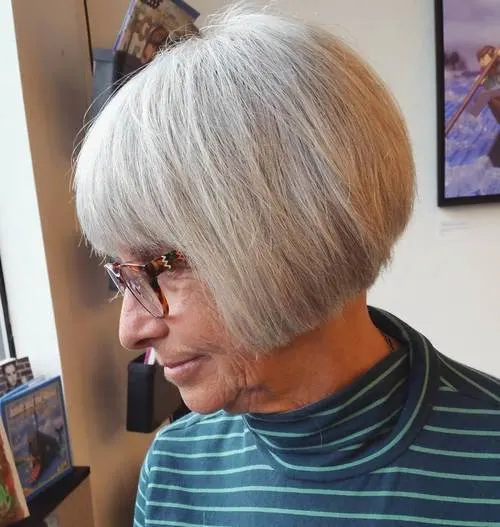 If you have thick hair, you will love this a-line bob with blunt bangs. This hairstyle for women over 60 will make your hair always look neat while giving it a lot of zest.
21. Spunky redhead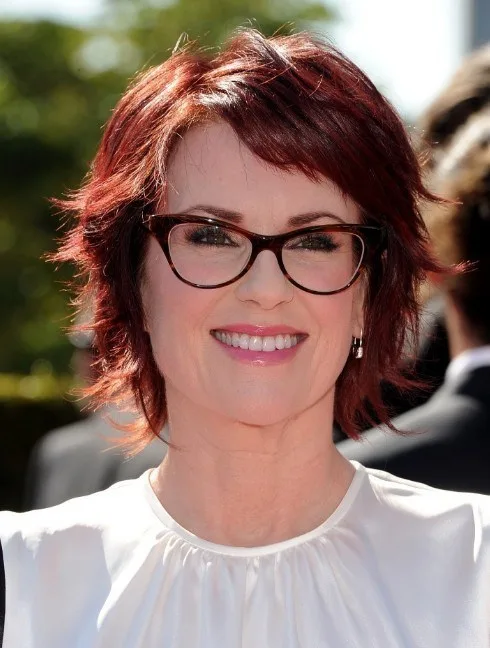 60 is the age when you can try the styles you were afraid to create before. For example, many women dream of becoming a spunky redhead. So why not make according to the above hairstyle now?
22. The right accessories
Any women can create a great hairstyle with a bit of imagination and a few right accessories. You can make a voluminous bun by pinning the hair in the back and decorating it with artificial flowers.
23. A weave
Hair extensions can help you create the hairstyle you've always dreamed of. So don't be afraid if long hair experiments with the help of a weave. You might even decide to keep it.
24. Black silver
If you have silver strands peeking from underneath your black locks, the time has come to dye your hair. No matter how thick and beautiful your tresses are, the silver in them will make you look older.
25. Proud asymmetry
Asymmetry is in style so ask your barber for some asymmetrical elements. A hairstyle for women over 60 needs to be interesting and prominent, so don't be afraid of new trends.
Hairstyles for Women Just Over 40
26. Layered waves
Looking for a suitable hairstyle for overweight women over 60? If you've got layered waves, you can enjoy this simple voluminous hairstyle without cutting your locks short. This is a great way not to bother about careful daily maintenance.
27. Wavy bob
Flaunt your waves in a cute yet stylish wavy bob that will make any women appear bright. Make sure to keep this bob as neat as possible since windblown styles don't suit everyone.
28. Curly sweep
Go all out for the next special occasions by curling your locks and sweeping them to the back in order to flaunt a beautiful hair clip. You will surely look like a queen while enjoying the party.
29. Asymmetrical bob
This simple asymmetrical bob will become your favorite hairstyle since it can make any women over 60 look younger than her age. Let one of the strands be longer than the other and keep the bangs neat.
30. Light and self-assured
A cheek-length bob with blunt bangs will make you feel as light and self-assured as possible. This is a great hairstyle for women over 60 who have straight and thin hair.
31. The right shade
Choosing the right blond hair dye is a skill, not every woman can master. Ask your hairstylist to help you choose the right shade of blond for your hair and skin type. No matter which one you choose, you'll look outstanding.
32. Jackie Kennedy
This wonderful Jackie Kennedy hairstyle is a win-win choice for your tresses. But you must understand that it will need daily styling, so make sure you are ready for the effort.
33. Trendy style for women over 60: The Partial Highlights
If you are ready for a style change but dying all of your hair seems too much to start with, opt for partial highlights. They will change your appearance with the least effort on your part.
34. Short and stylish haircut for women over 60 years old
If you are not a fan of experiments and like simple haircuts, this hairstyle for women over 60 will suit you best. A short pixie for older women over 60 with short bangs is a great way to avoid daily styling hassle.
35. Taper fade cuts for old women
A taper fade is a perfect choice for women who like short hairstyles. This is a stylish haircut that will make people believe that you are in tune with the times and are not giving up on fashion.
36. A ponytail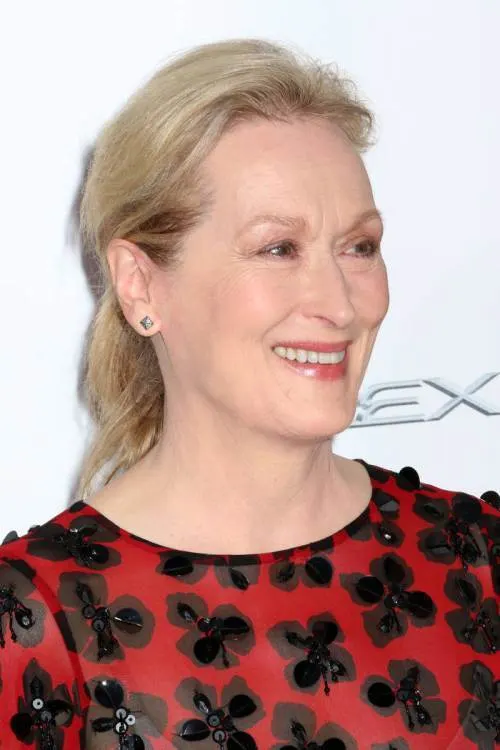 When all else fails and you are not feeling up to something special, go for a simple ponytail hairstyle. Just make sure to make it a bit more stylish by letting it fall down your neck.
37. Easy to wear
If you have thick tresses, opt for a hairstyle that is not just easy to maintain but is easy to wear as well. A short-stacked bob is a good way out to deal with unruly locks. Make sure to choose the right dye.
38. Sleek and chic
If you want to add some style to your haircut, consider sleeking the hair backwards. This unusual boyish style will take at least 10 years off your age and will make you feel young and sure of yourself.
A long pixie is a great idea for girls who don't want to get rid of the length but still want a short haircut. Leave some strands over your ear and consider creating long bangs.
40. Sew-ins
If your hair is thinning or the hairstyle is too short for your tastes, consider getting sew-ins. These hair extensions will allow you to make the hair experiments you've always dreamed about.
41. Spike it up
Spiky hairstyles are very trendy, so don't allow yourself to stop being fashionable. Turn a simple pixie into a stylish spiky fohawk by using hair gel and doing some work with your fingers.
42. Ear tuck
If you are a fan of tucking your hair behind the ears, we would recommend getting a hairstyle that won't allow you to do it. Switch your simple bob for a fabulous pixie and you will forget about the ear tuck.
43. Fun colors
Your favorite hairstyle for women over 60 should shine with fun and bright colors. Since you have to hide the grey anyway, why not experiment with different shades? Choose the one you always wanted but were afraid to try.
44. Short and smooth
If you have nice smooth skin at 60, why not flaunt it? Open up your forehead and enjoy a very short haircut. This is a good idea only for those women who are ready to apply makeup on a daily basis.
45. Feathered look for over 60 women
Feathered tresses are a perfect way to make your bob look as voluminous as possible. This haircut is also pretty easy to style and looks very original. Give it a try and you won't regret it.
46. Beware of the violet
A badly chosen hair dye can cause your silver locks to turn violet. Make sure to entrust your tresses only to the most experienced hairstylist and don't experiment at home. This color is hard to get rid of.
47. Wispy Bangs
Short wispy bangs are a great way to compliment any short hairstyle for women over 60. They are fun and spunky and add your image a lot of the much-desired youthfulness. They look great with silver hair too.
48. Long and lustrous
Got long and lustrous tresses in your sixties? Flaunt them. But if you don't, there are plenty of ways to arrange them. You can create waves or curls for a special occasion or attach hair extensions for long-lasting volume.
49. Open your eyes
If you have large and prominent eyes, don't allow the bangs to cover them. You can choose a short yet stylish haircut that will open up your forehead and outline your facial features.
50. Keep it neat
When you are choosing a bob and your hair is straight, your main goal is to keep it neat. Thin hair doesn't look very good when messy, so spend some extra time in front of the mirror dealing with it.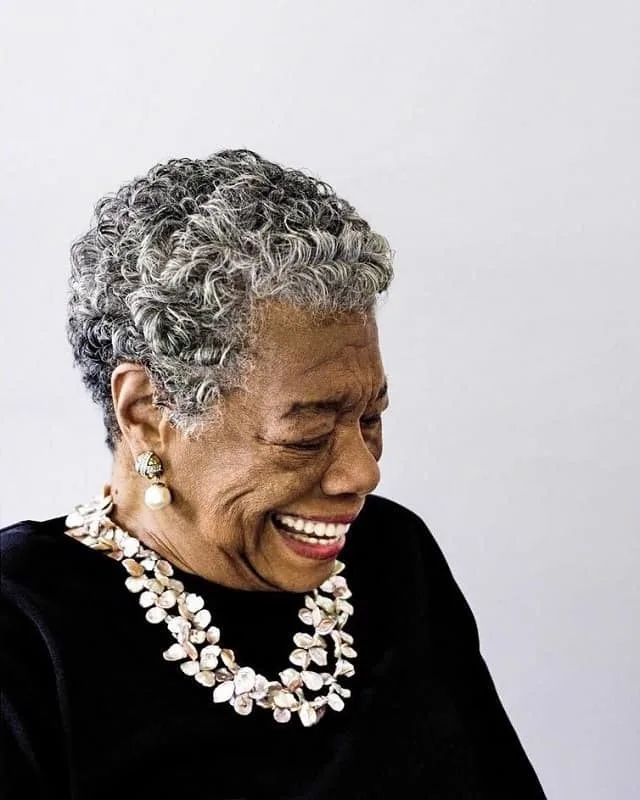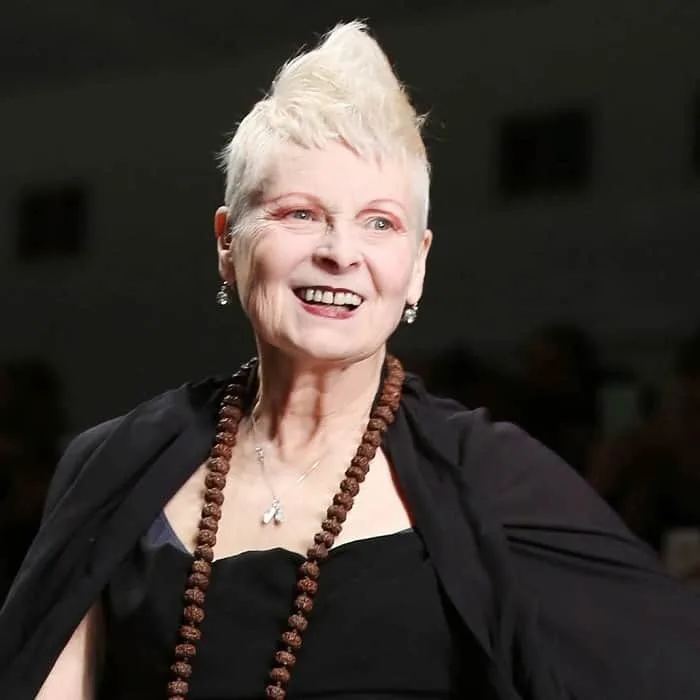 We hope these haircuts and hairstyles for women aged over 60 will allow you to make the right choice about the upcoming image change. Don't wait another minute. The time has come to give your hair a second chance and enjoy the result.