Layered bobs disperse the weight of hair all over the head creating volume where needed. They develop different shapes depending on the hair texture and can be easily customized accordingly.
The fact that these short haircuts are low-maintenance, easy to style, and frame the face beautifully made them one of the most sought-after hairstyles by elderly women.
Don't let your age interfere with your fashion choices, and refresh your hairdo with any of the following layered bob hairstyles for ladies over 60 all of which create the illusion of thicker tresses.
Lovely Layered Bob Hairstyles for Women Over 60
Breathe some life into those boring locks and instantly shed off a few years.
1. Flipped Short Bob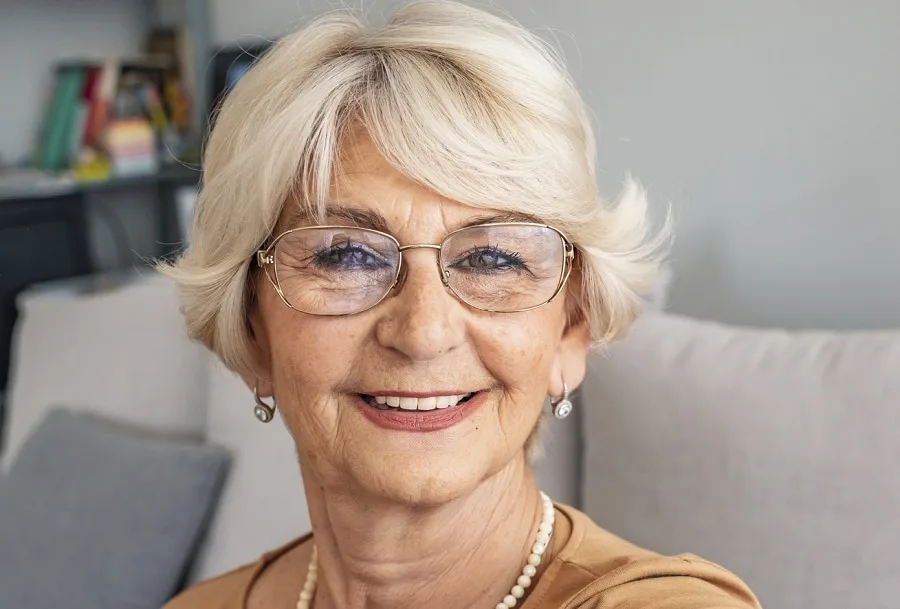 Short bobs ending at ear length are the go-to haircuts for senior ladies who want to achieve a youthful appeal without much effort. The layers are kept subtle with the ends flipped out for a retro feel. Frame the face with some soft bangs swept sideward and nobody will notice those forehead wrinkles.
2. Pageboy Style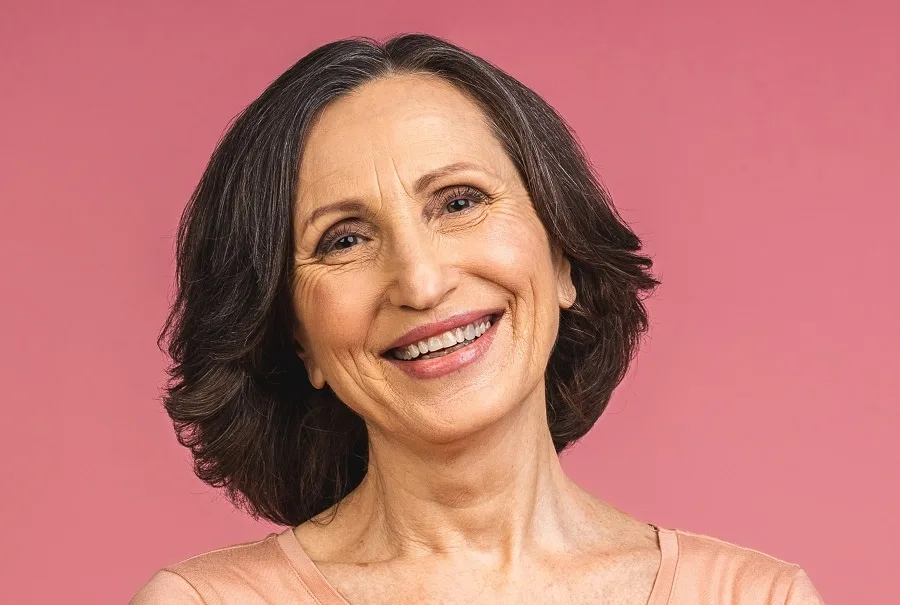 The 70's pageboy haircuts have stood the test of time. This one is more like a mushroom haircut but instead of the characteristic blunt bangs and edges, it features a long off-center-parted fringe that elongates towards the back in a smooth round shape. Throw in some silver babylights too.
3. Stacked Curls
This layered bob hairstyle is suitable for those over 60 with naturally curly tresses. The shorter strands on top fall over the longer ones beneath creating a stacked pile that imparts some body and movement in case of thinning tresses. Straight-haired ones can also recreate the look with a low-maintenance perm.
4. Flowy Layers
What is a bob hairstyle without some layers? Blunt and boring of course! Ask the hairstylist to create texture on the bangs and sides to frame the face while keeping the back comparatively straight. Set off the look with a good blowout whereas the chocolate brown hair color and soft highlights are worth a shot too.
5. Volume Boost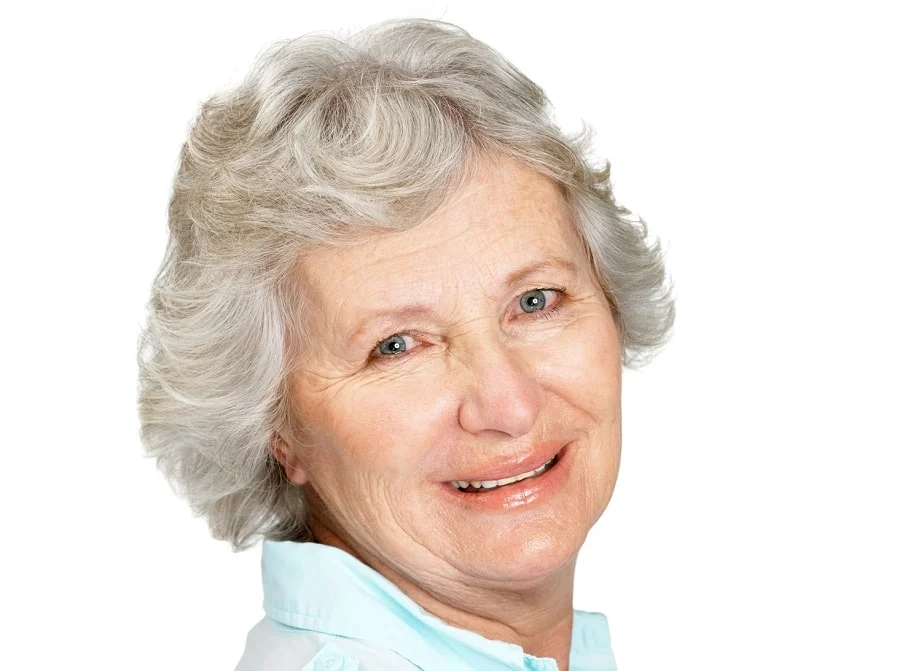 Instead of going for usual layers that end more or less at the same length, opt for short layers that are sure to boost the overall volume of your mane. The shorter pieces develop significant height on top with fluffy sides. Brush back the hair while blow-drying and you are all done!
6. Mushroom Bob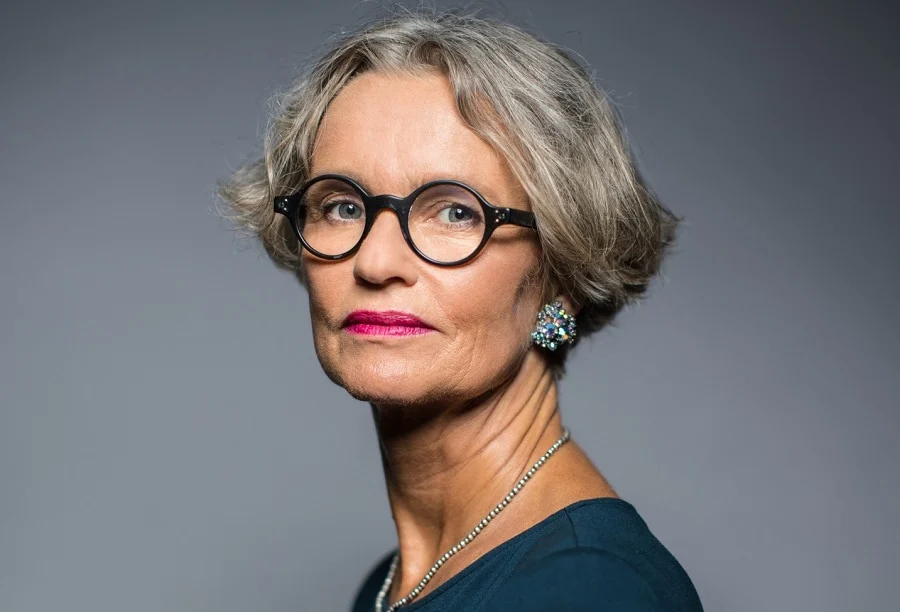 Go extra short when getting a bob and you will end up with a chic mushroom haircut. The one depicted here features long middle-parted bangs that are characteristic of a curtain cut. The back is tapered with some gloriously stacked layers that won't be ignored.
7. Layered Bob with Bangs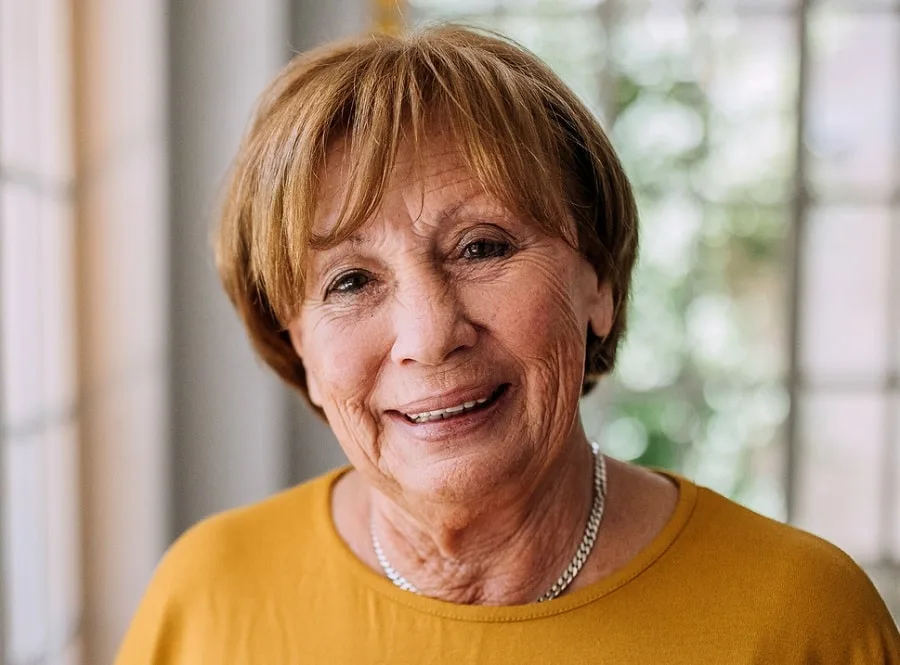 Those who find the mushroom cut mentioned above still too long can stay between a pixie and bob cut by chopping the strands in a round shape to fall barely on the neck. Couple the style with bangs grazing the eyes for a refreshed look that works best with a straight hair texture.
8. Middle-Parted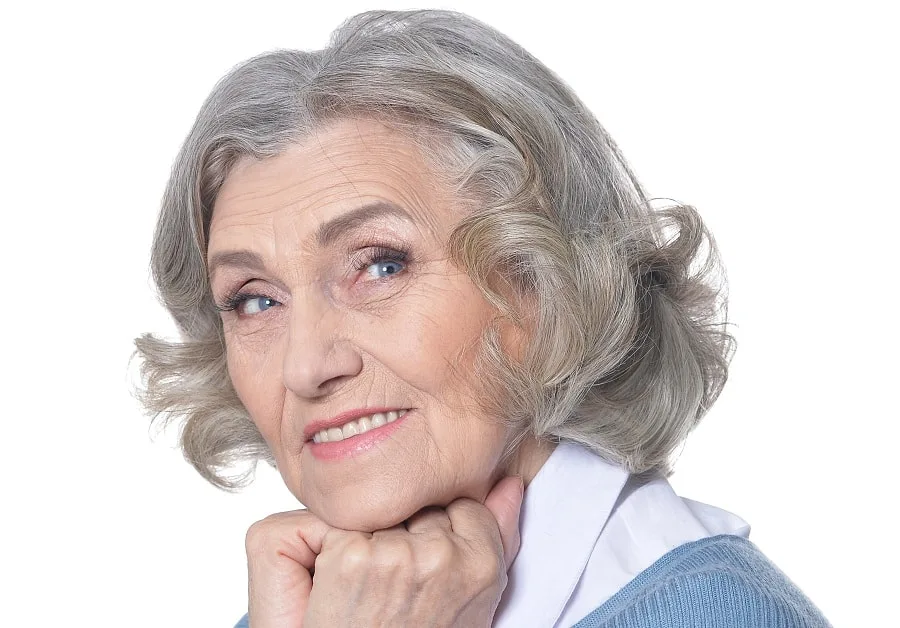 When getting a layered bob it is best to work with your natural texture avoiding daily heat styling. Use a curly mane to accent your face with front layers. Brush the hair with a middle part and leave the rest to those curls.
9. Tousled Crop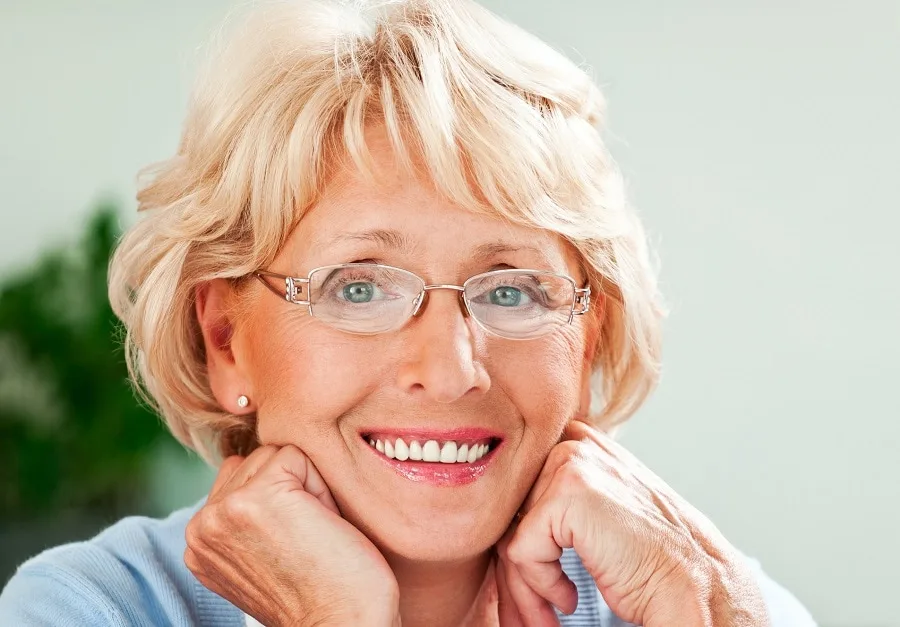 A cropped bob with choppy layers is suitable for women who want a polished look without much hair styling. Recreate the style on a wavy hair texture with the shorter chunks on top flowing into the ones below reaching just beneath the ears. Experiment with some baby bangs instead of a full fringe.
10. Deep Side Part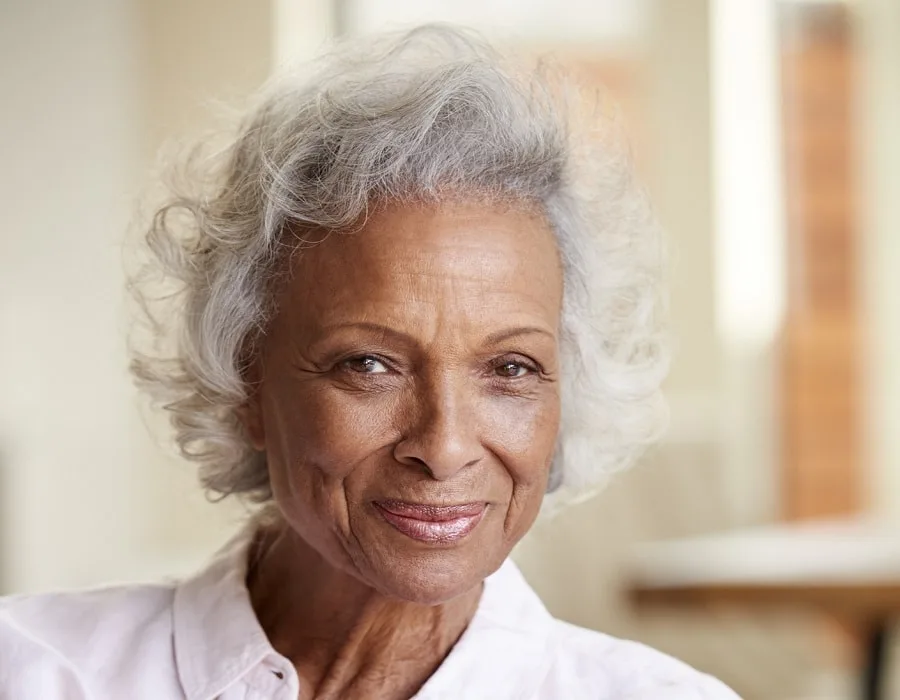 After years of hair straightening, African-American seniors can embrace their fluffy curls by snipping them into a short layered bob hairstyle that is perfect for women over 60. Air-dry the tresses with a deep side part creating volume on top to produce the illusion of a thicker mane. Easy-breezy!
11. Rounded-Off Curls
Asian ladies can enjoy their golden years with a soft round bob created with layers that elongate towards the back. Brush back the strands with a side parting and flip them out slightly bringing that feathered texture under the spotlight. Let your grey hairs shine with delicate silver babylights.
12. Graduated Bob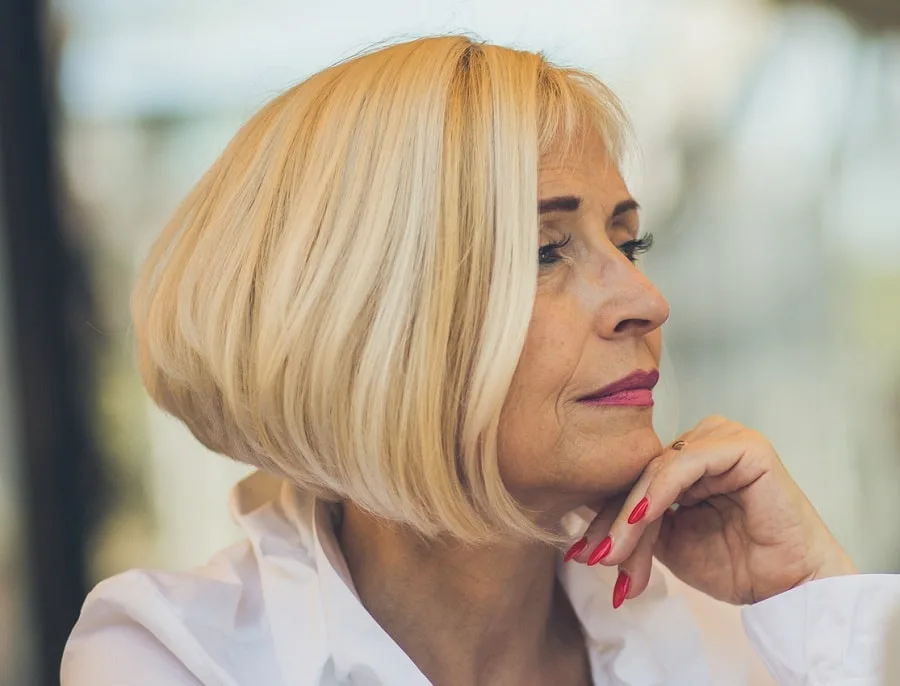 A graduated bob is, without doubt, the chicest among all. Shed off a few years with a voluminous back featuring stacked layers that elongate towards the front with the longest pieces framing the face. Keep the attention away from a wrinkled forehead with some micro baby bangs.
13. Fully Textured
Bobs can be personalized in countless ways resulting in a different look each time. In the case of coarse hair, ask the hairstylist to incorporate as many layers as possible on a long pixie or, in other words, an extra-short bob. Such multiple layers add a lot of movement to the hair.
14. Thin Hair, Don't Care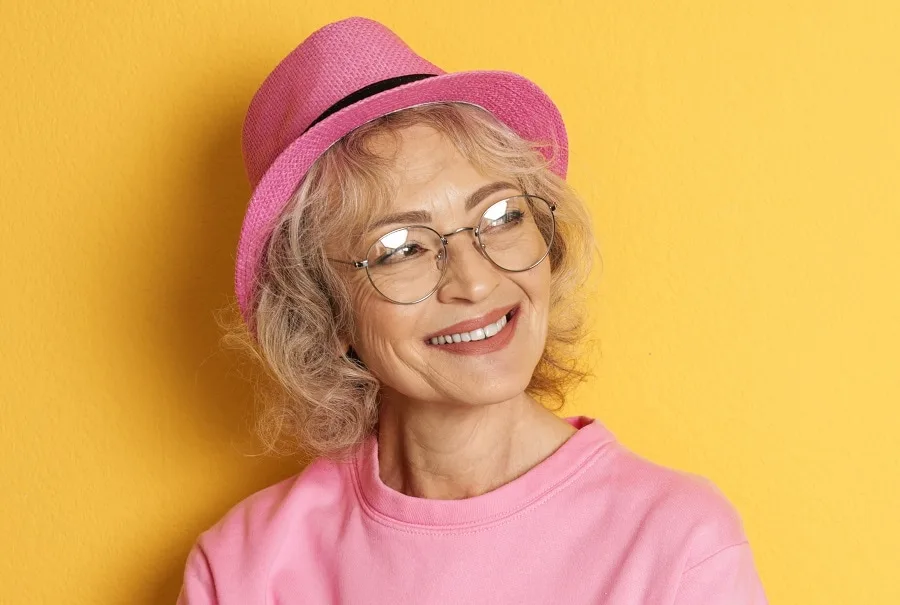 Layered bob hairstyles are a lifesaver for ladies over 60 with thinning tresses. Layers can add significant volume to fine locks but should be kept soft to avoid taking off excess hair. Opt for some wispy bangs or a deep side part at the front. Whatever works for you!
15. Salt and Pepper Lob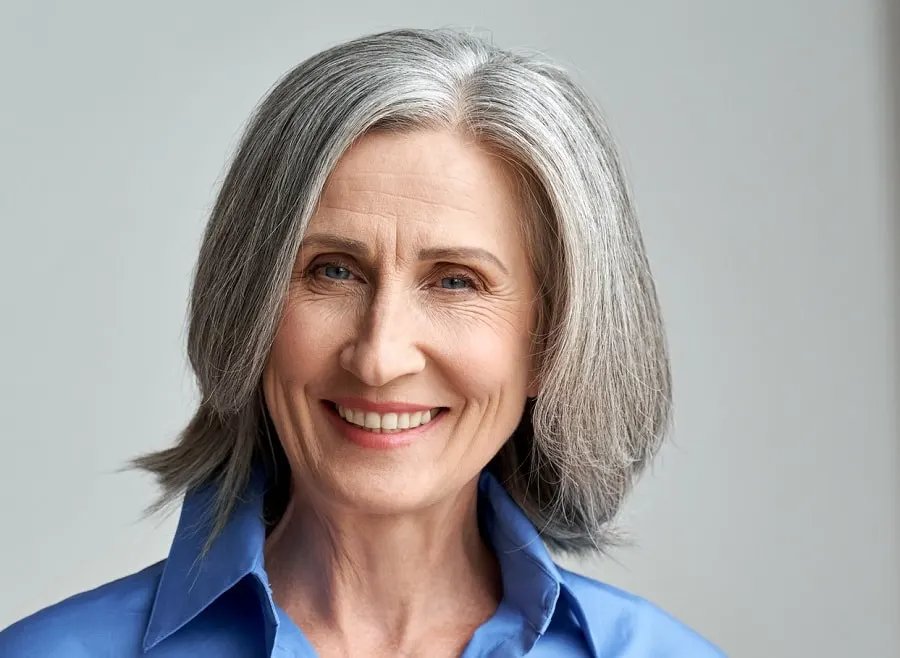 Seniors, 60 or above, who are still blessed with thick locks can make a style statement worth remembering with a long bob, commonly known as a lob, dangling just above the shoulders. Transition to a salt and pepper mane by getting grey highlights or black lowlights and you'll still look young and fresh.
16. Pixie-Bob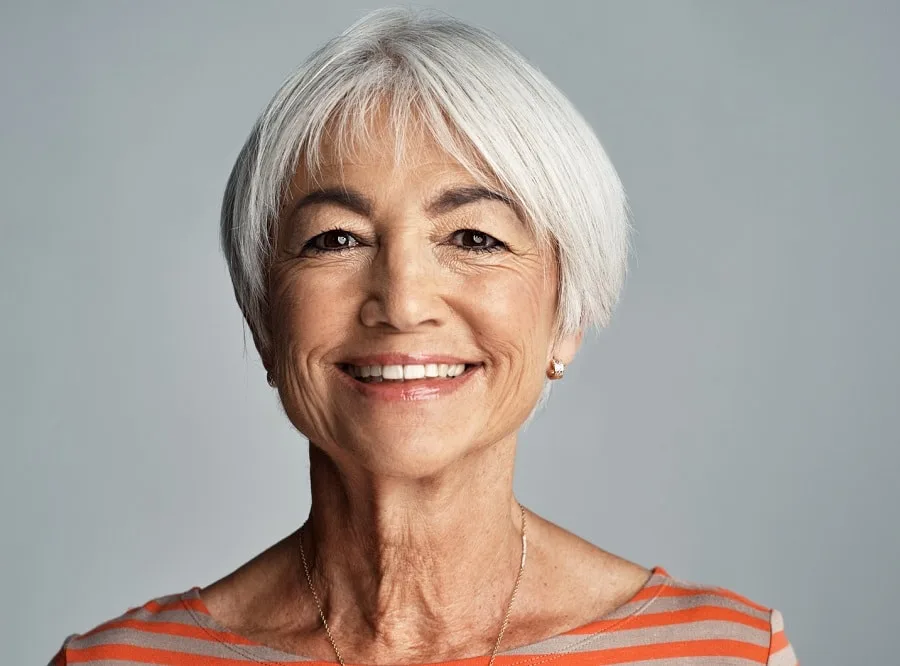 Pixie-bobs have been trending for a few months and it is not difficult to understand why. These haircuts offer a choice to those who can't decide between a pixie and a bob. The strands are layered at ear length with the airiest baby bangs at the front. Low-maintenance and chic, what more to ask for?
17. 80's Look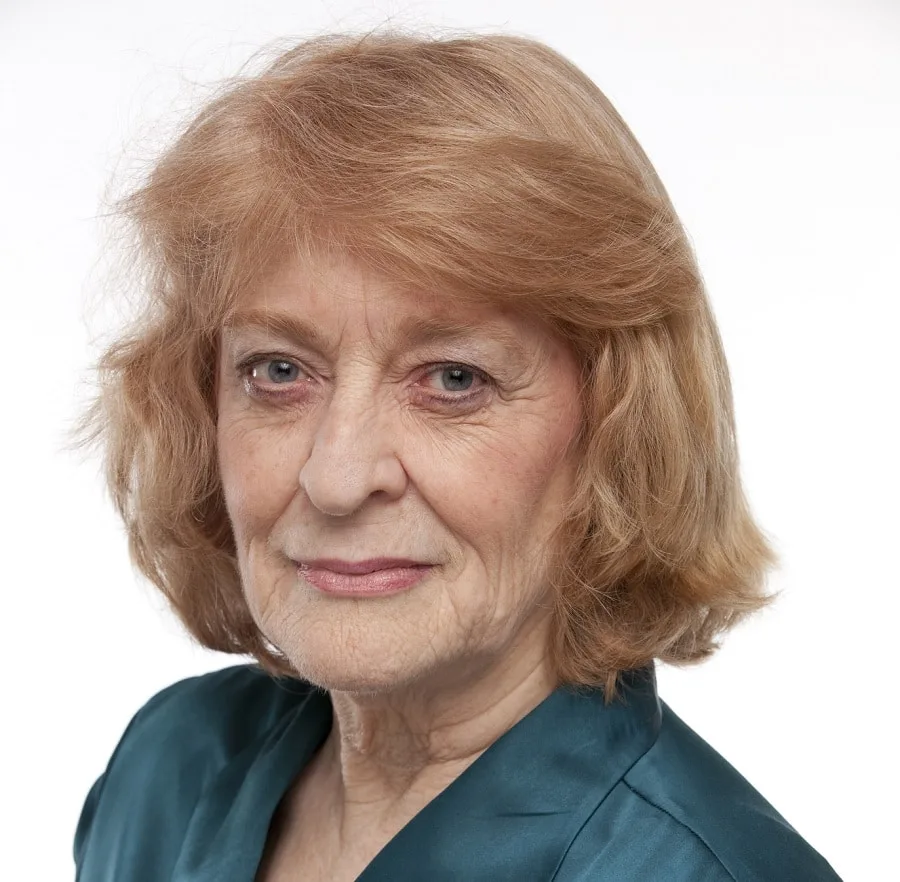 Elderly women with a natural wave in their hair can recreate this 80's look without much effort. The strands are kept at neck length with layering done near the ends only. Complete the style with feathered bangs at the front that are swept backward with a barely-there side part.
18. Blunt Cut
Blunt bob cuts still have some layers to avoid a boring look. Make your hair appear fuller with a straight chop for the strands to fall somewhere between the neck and shoulders. A long soft fringe is ideal to develop a mature yet elegant appeal.
19. Sleek and Straight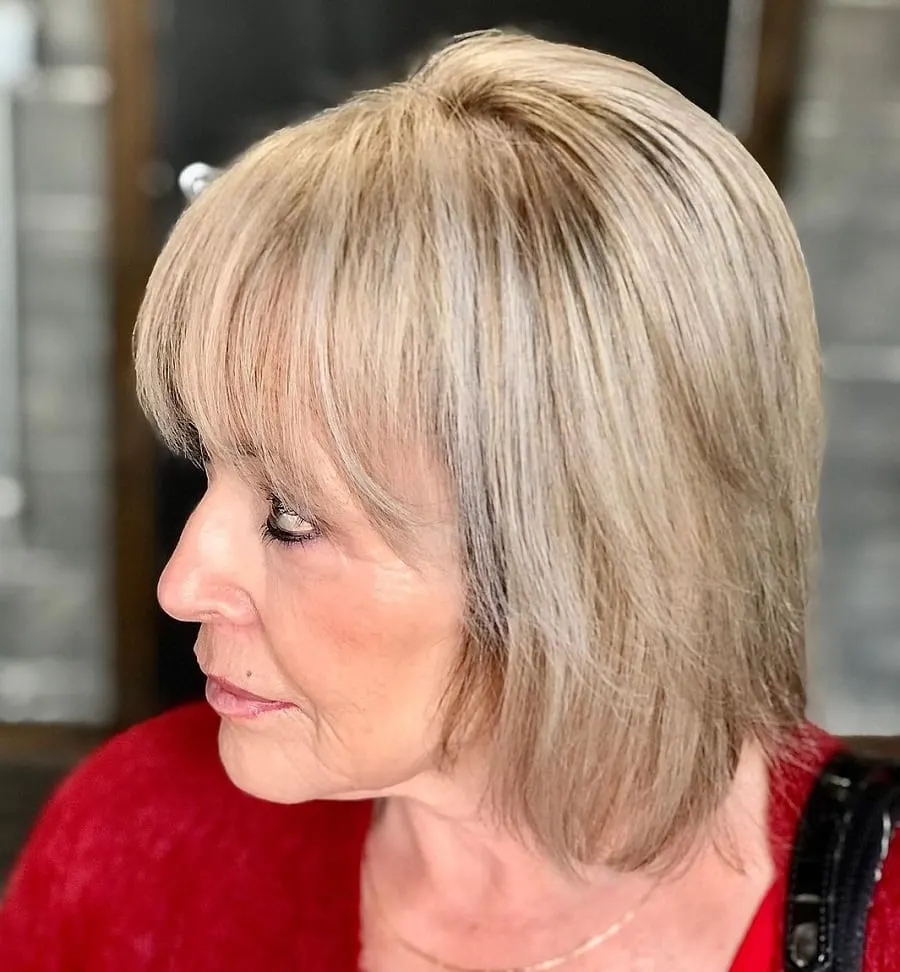 Refresh those lifeless straight locks with a shoulder-length bob cut straight across the back and ask the hairstylist to add some subtle layers along the length. The wispy bangs at the front are kept significantly short without any blending for a disconnected feel.
20. Classic French Bob
French bobs are a classic and never get old. The hair is kept at chin-length for the strands to hug the head and face naturally. The choppy layers with uneven fringes at the front add a modern touch to the otherwise sophisticated hairdo.
21. Purple Pleasure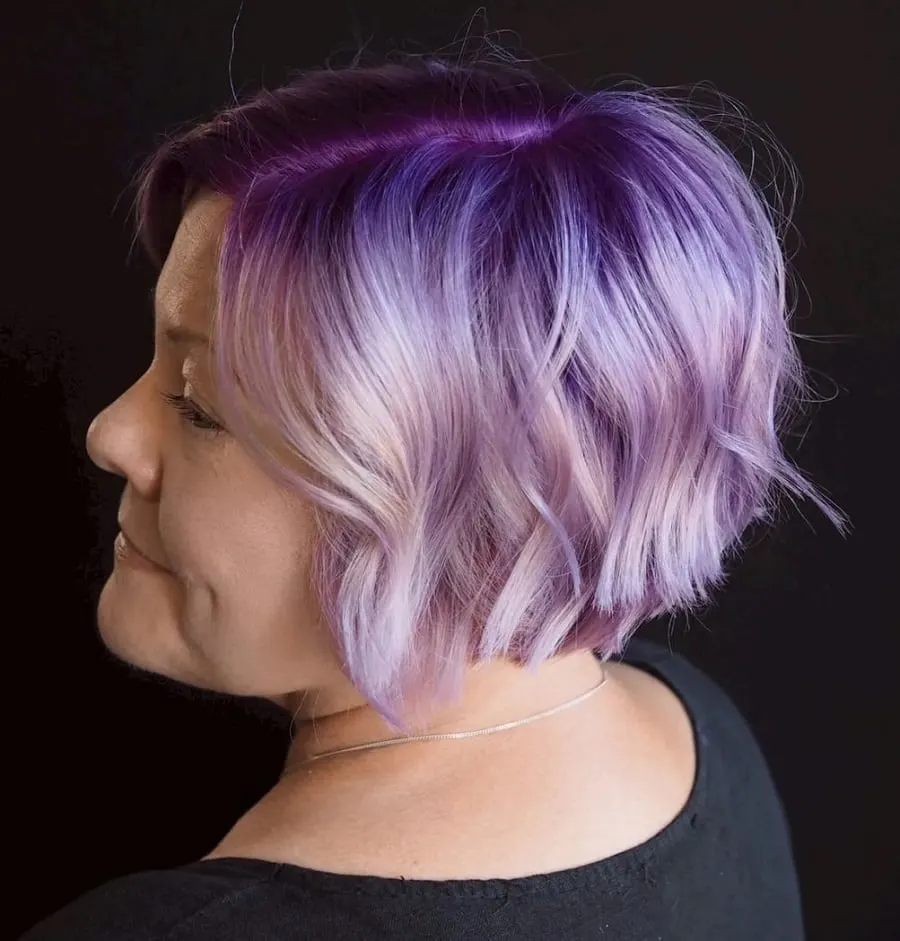 This funky layered bob hairstyle for over 60 is more of a choppy shag that elongates slightly towards the front. Play with different shades of purple keeping your roots the darkest while going lighter along the length. The look is high maintenance but worth the effort.
22. Feathered Layers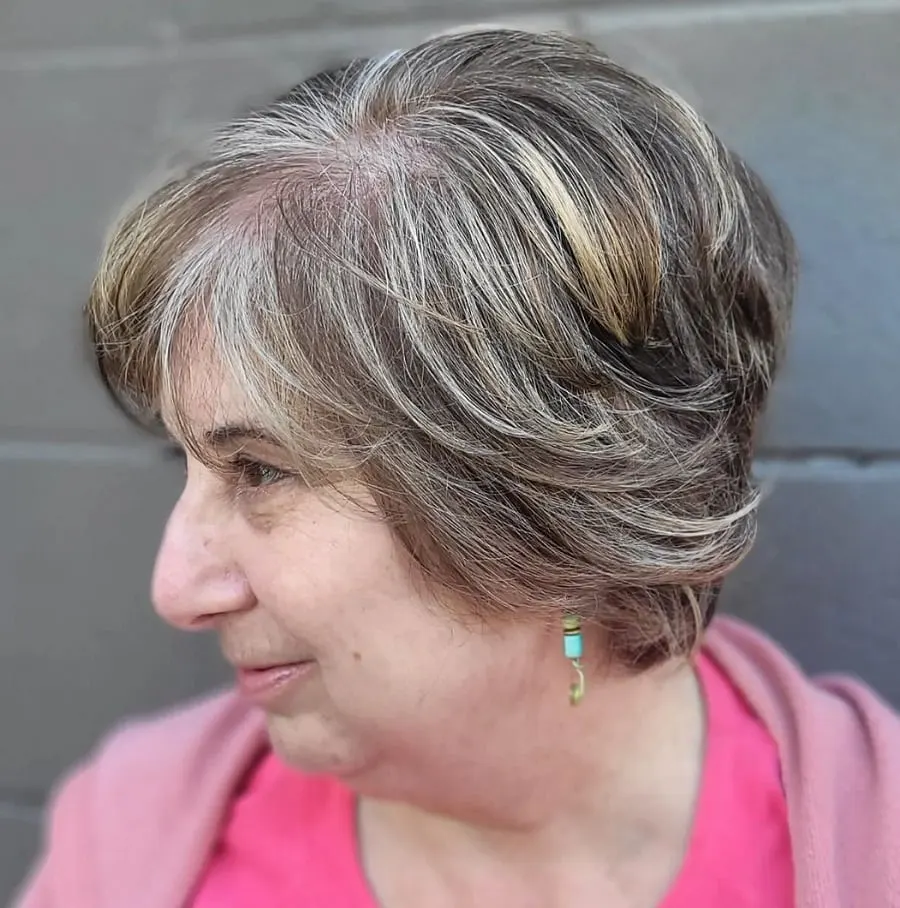 It would be unfair for senior ladies not to try a feathered version of layered bobs. The texture is focused on the tips making them look wispy while the hair looks fuller near the roots. Polish the 70's hairdo with a good blowout and see heads turn around you.
23. Swooped Ends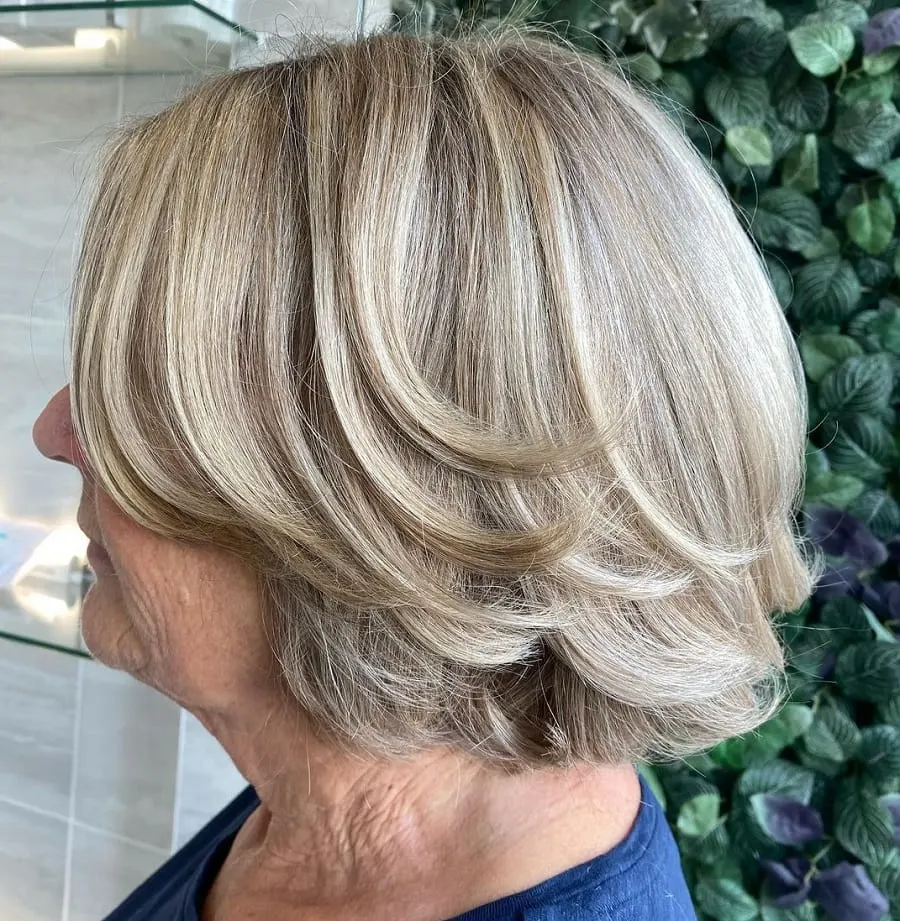 Another feathered bob haircut that will never disappoint. The layers start at cheekbone level and are swooped away from the face along with the medium-length bangs imparting some youthfulness to it. Haircut apart, the true trick lies in styling the tresses correctly.
The key to styling the above-mentioned layered bob hairstyles for women over 60 is using a barrel brush and hairdryer to achieve a voluminous finish. Try to work with your natural texture to avoid the use of styling products and tools as much as possible saving your hair from getting coarse and rough.