Short hairstyles are a senior woman's best friend. And when talking about cropped haircuts, pixies are loved by the most. They work with all hair textures and are ideal for setting your facial features on full display.
Choppy pixie cuts are a fabulous short hairstyle for women over 50. They are modern, stylish, and easy to maintain.
Choppy Pixies for Women Over 50
Hair tends to get thin when getting on in years. Adding choppy layers will not only help to achieve tons of volume and texture but also add some liveliness and edginess to your look.
Refresh your hairdo with the following choppy pixie cuts for over 50 to enjoy your golden years with style. These low-maintenance piece-y pixie cuts are easy to maintain and perfect for expressing your bold side.
1. Careless Blonde
Make that gorgeous blonde mane more noticeable by asking the hairstylist for plenty of layers that shorten seamlessly from the top toward the sides and back.
Keep the sideburns slightly long to accent an oblong face and use pomade to style the strands into a careless comb-over.
2. Feathered Pixie-Bob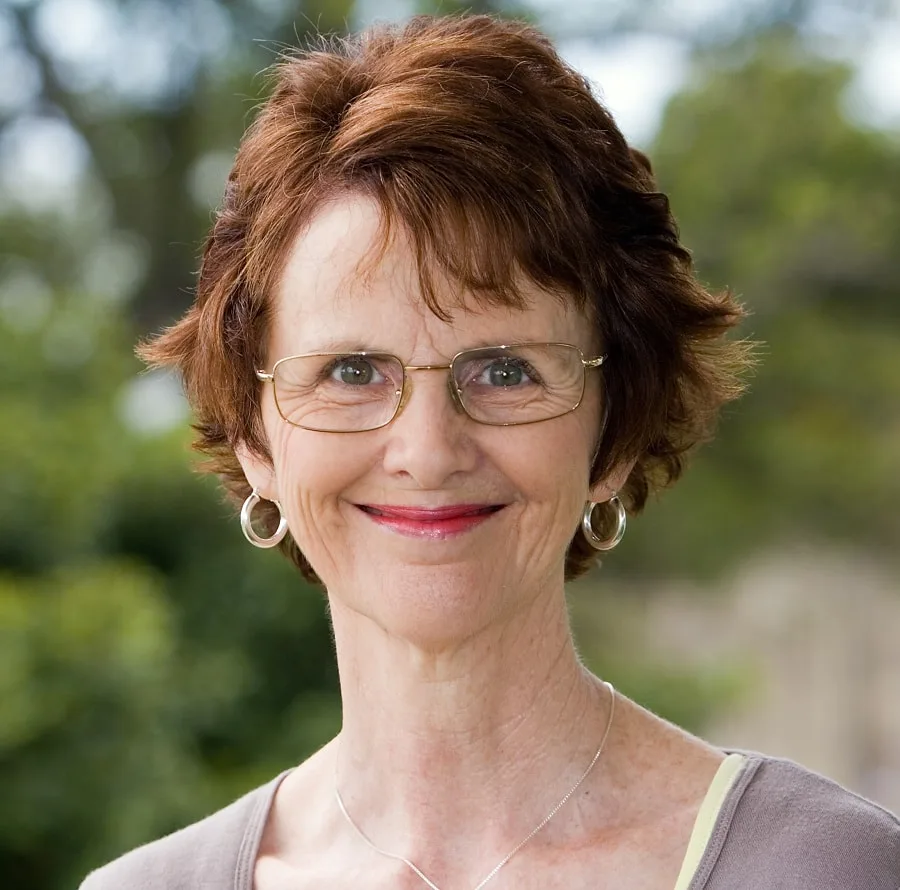 Women over 50 can get their choppy pixie cuts slightly feathered for a retro-chic appeal. Those who don't want to go too short all of a sudden can start with a pixie-bob without worry.
Build up the volume with a good blowout and accent the face with some cute side-swept bangs.
3. Textured Mushroom Cut
Pixie cuts are versatile and can be tailored to look more like a bob or mushroom haircut. Embrace those grays by opting for an undercut on the back and sides with the strands on top left long enough to fall over it.
Throw in a handful of texturizing layers and you won't be disappointed.
4. Cropped Chop with Baby Bangs
Use razors instead of scissors to take away the hair in an asymmetrical fashion. Go super short with a messy top that is a wee bit longer than the sides.
The wispy baby bangs are ideal to conceal a receding hairline while adding softness to the face.
5. Messed-Up Layers
When getting older, elaborate hair styling might not remain an option for many women. Choppy pixies are the best in this regard; they look the best when kept a little messed up.
Short blunt layers all over the head with unkempt bangs will be your best shot.
6. Casual Pompadour
Make a bold style statement by turning your edgy pixie into an effortless pompadour. Snip the sides uniformly with a long choppy top for a disconnected look.
Brush back all the strands using styling product on your fingers to make your round face appear a bit longer.
7. Outgrown Pixie
Choppy pixie cuts for over 50 don't need to be wild all the time. Snip those fine straight tresses into long gradual layers that fall down softly around the face.
This style is suitable to outgrow your short hair with style while those airy bangs will hide your forehead wrinkles.
8. Androgynous French Crop
Androgynous haircuts are ageless and timeless. Rock a super short genderless French crop by keeping the top slightly longer than the sides.
Brush all the strands forward or towards one side and that's it. Texture is the key to avoid a blunt look.
9. Natural Spikes
Senior ladies can make use of their thin straight locks to sport spikes all the time without the effort.
Snip the strands on top short enough to stand up on their own with tapered sides. Brush some tendrils forward on the forehead to look like wispy fringes.
10. Short Shag
This choppy pixie cut looks more like a shaggy bob. Make your mane appear fuller with lots of layers. The cropped top is coupled with long sides and an even a longer back to hug the face.
Brush the strands inward when blow drying to get the volume boost of your dreams.
11. Choppy Pixie with Vivid Streaks
Make sure your choppy pixie is one of a kind by adding some colored streaks all over the head or on the top only.
Opt for an unconventional hair shade like red for a change to turn around some heads. Those short layers flowing towards the sides on their own are just everything!
12. Wind-swept Quiff + Highlighted Front
Shed off a few years with a shaggy pixie featuring uneven blunt layers. Go for a deep side part and finger-brush all the strands towards one side to end up with a ruffled wind-swept quiff.
Highlight the front with an icy blonde tinge or any other shade of your liking.
13. Well-Defined Texture Top
Here's a choppy pixie cut for over 50 at its best. The layers on top create a feathery texture that is perfect to soften down a blunt square forehead.
The tapered short sides impart a slimming effect to the face. You can also switch them with an undercut for a more intense look.
14. Voluminous Crop
Pixies are all about building volume and body on a thinning mane. Consider getting a bixie to stay on the longer side.
The mini layers on top falling over the longer ones will help build height naturally at the roots making your tresses appear healthy. Don't skip the side-swept fringes.
15. Wavy White-Blonde Pixie
As mentioned before, pixies work with all hair textures and face shapes. In the case of wavy tresses, opt for an uneven chop with the strands curling close to the scalp.
Consider getting piece-y micro bangs to avoid a suffocated look. The white-blonde all-over hair color is yet another bold move.
16. Curly Glory
Flaunt those natural curls in all their glory after years of heat styling. Women over 50 can try getting an asymmetrical choppy pixie cut by keeping the layers significantly longer on one side of the face.
Use a good quality curl-defining product to keep those coils bouncing!
17. Seamless Taper
This short crop is all about the seamless taper with the strands reducing progressively in length from the top towards the back.
The hairstylist will cut layers that are barely distinguishable but will add a ton of texture to the hair. A hand-tousle and off you go!
18. Side-Swept Pixie
Short tresses can be styled in many ways. You can tease and tousle them for a carefree appeal or maintain a professional look by brushing them down neatly.
Recreate this style by going for a side part and slicking down those layers using a comb.
19. Salt and Pepper Beauty
50 and above is the best age to rock salt and pepper locks. Get silver highlights or black lowlights depending on the density of your gray hairs.
Again a classic pixie with a long top shortening towards the nape will make you look much younger for your age.
Related Topics
20. Forward-Brushed Wispy Fringes
Ladies who find a bowl cut with buzzed sides too wild can get a tapered snip instead. Brush all the hair forward to frame the face as wispy fringes and you will love the look.
Dark roots fading into frosted white tips are a must-try too!
21. Rock Star Pixie Cut
Bring out your inner rock star by using gel on the fingers to pinch those short strands on top of the head turning them into sharp spikes.
Tousle the hair for an unkempt look and slick down the sides for a contrasting effect.
22. Soft and Round
Thin fluffy curls look the best when kept short just as depicted here. Use a barrel brush to roll over all the strands towards the front while adding volume near the roots.
The bangs will help prevent an aging face from appearing too long and weak.
23. Face-Framing Short Layers
Choppy pixies for ladies over 50 come in many shapes and sizes but have a few things in common; a long top, short sides, and lots of texture.
Snip the strands at the front into a rounded shape to frame the face as shown above and you won't regret it!
These choppy pixie cuts for women over 50 require a lot of confidence to pull off. But they're still worth a shot. Go short progressively rather than getting a sudden chop to build up your credence with time. Grab a good-hold hairstyling paste to style your strands within a couple of minutes.