As women get older it can become harder to find hairstyles that suit them. This is especially true if they have a round face. In our latest list, we have chosen a wonderful selection of short hairstyles which are ideal for women over 50 with a round face. All of these are perfect hairstyles for women whose hair is starting to show some of the normal effects of age.
Best Hairstyles for Women Over 50 with Round Faces
There are several reasons why short hairstyles are considered suitable for round-faced women over 50. They help put your perfectly symmetrical features on full display, make those aging tresses appear healthy in spite of getting brittle and dry, and, above all, these cropped haircuts are easy to maintain and style!
1. Pretty Bixie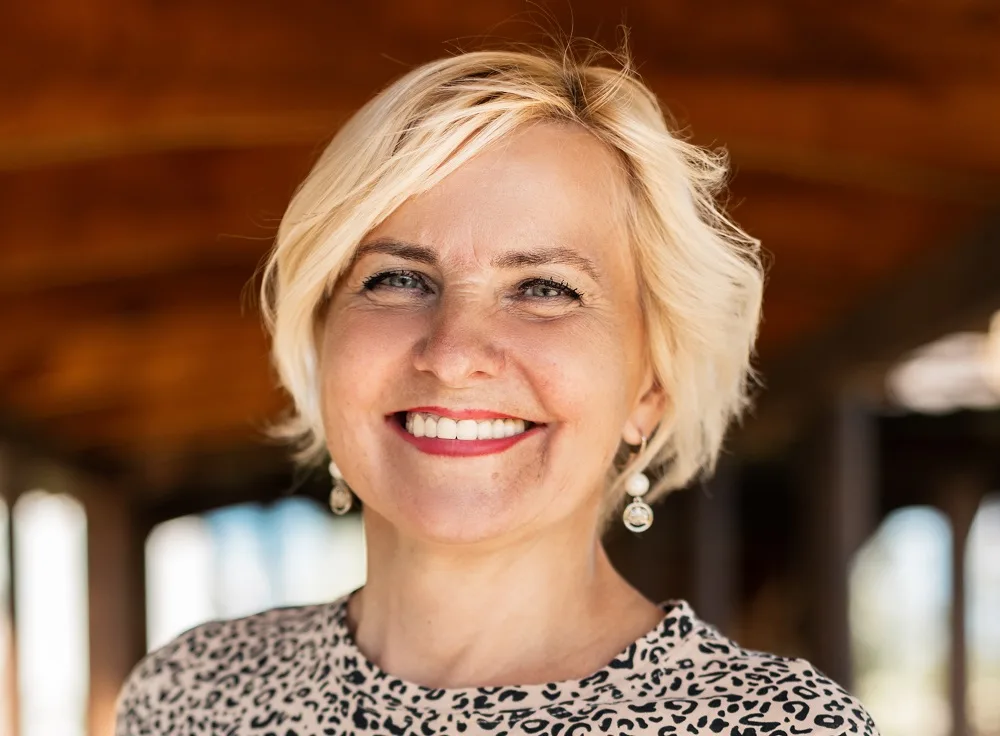 Covering the ears to create the illusion of length when rocking a short hairstyle on a round face can be your best way out.
A pixie-bob haircut displaying the features of both with soft beach waves is a must-try for over 50 women in this regard.
2. Flipped-In French Bob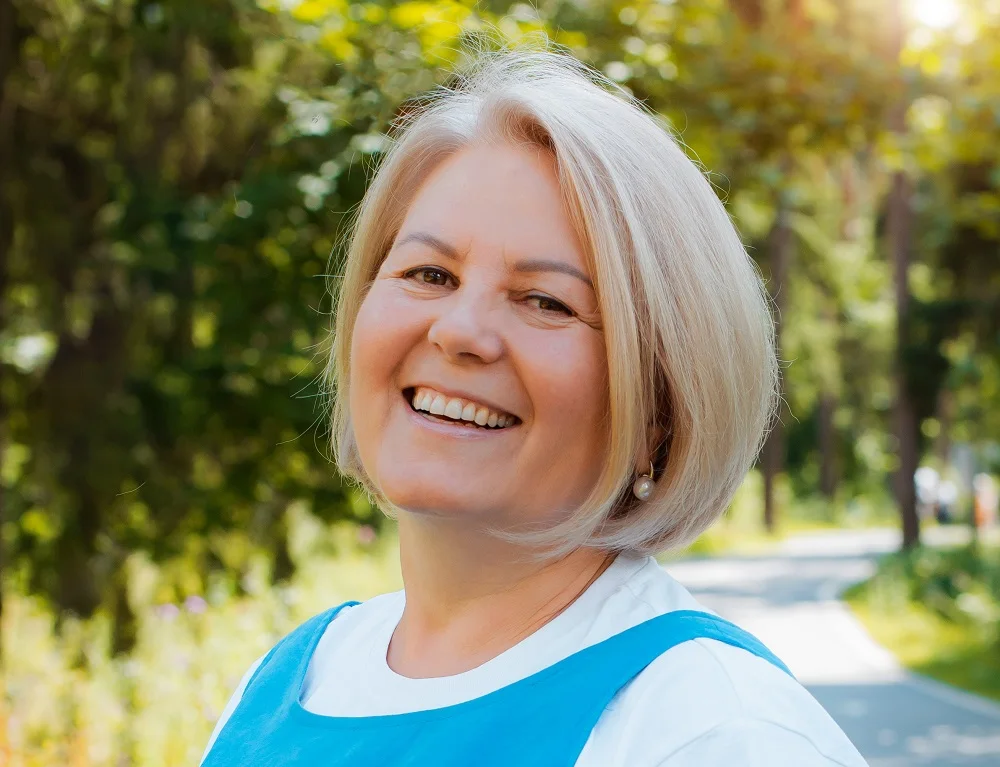 Ladies with round faces getting on in years can achieve a slimming effect by opting for any haircut that falls just below the chin.
Experiment with a cropped French bob and replace the usual bangs with a long face-framing fringe to make your face appear longer rather than wide.
3. Cropped Uni-Length Curls
Take advantage of those god-gifted curls to attain volume on the top that'll add up to the length of your short round face.
Ask for a uni-length chop close to the scalp and leave the rest to your bouncy kinks. Complete the glow-up with some highlights.
4. Long Buzz Cut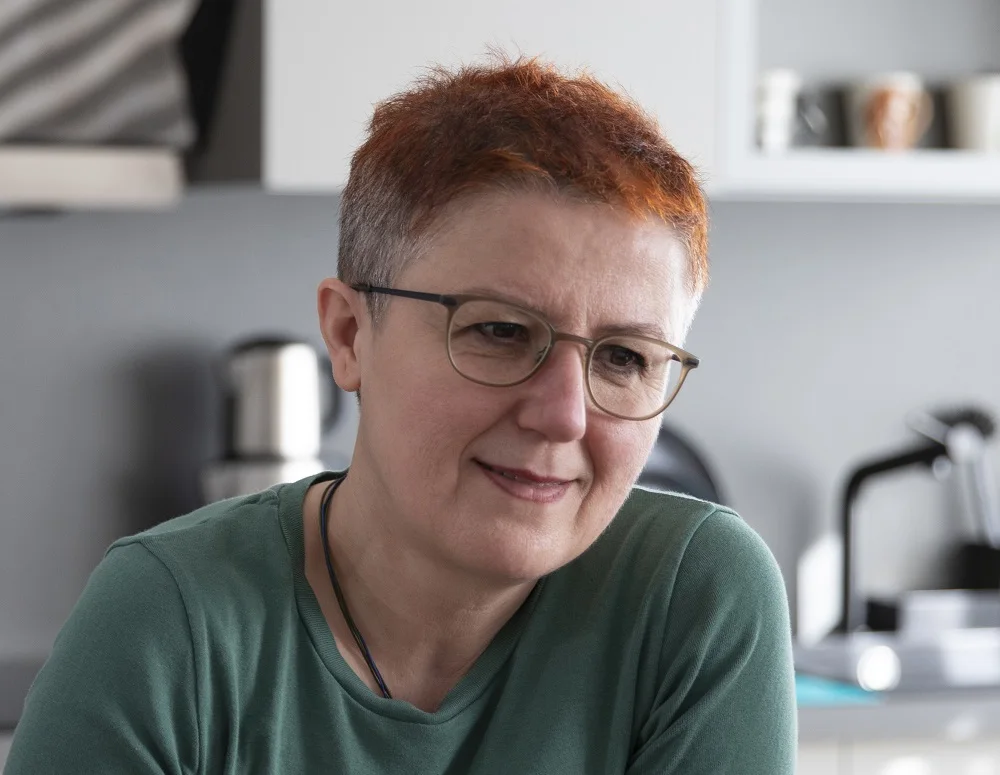 Although a buzz cut is commonly recognized by uniformly shaved/buzzed strands all over the head, you can customize it in several ways.
Take this look as an example featuring a long top with slightly shorter clipped sides. The disconnected hair color makes the face appear even smarter.
5. The Lob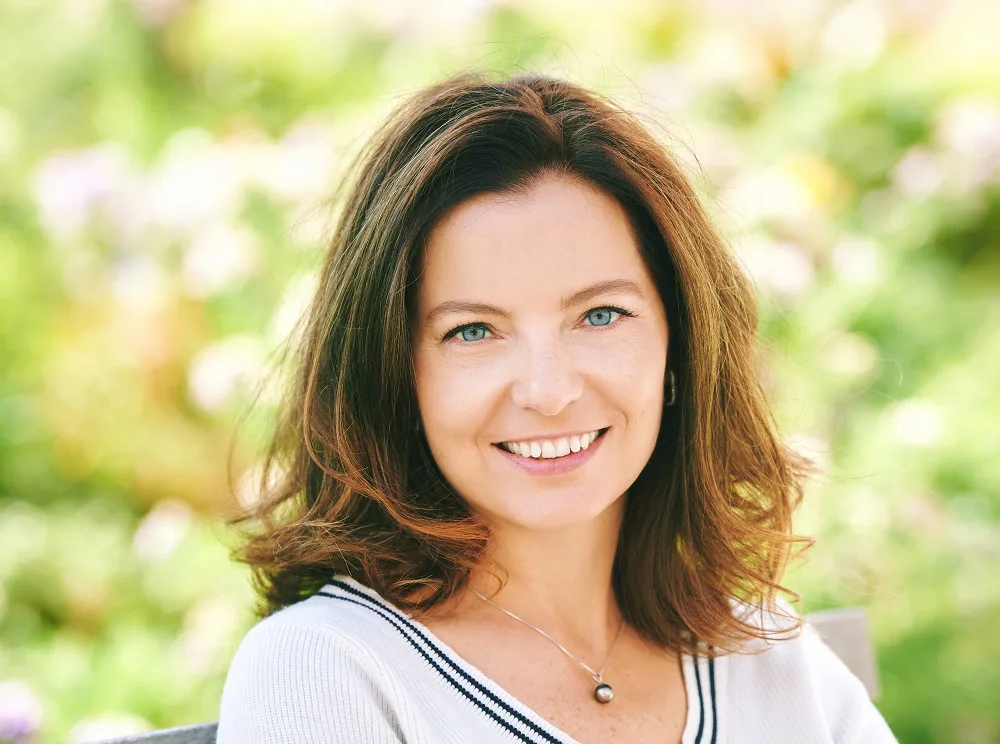 Lobs are one of the best short hairstyles for women over 50 with round faces as their shoulder-grazing lengths tend to drag down the face.
Accent those soft angles with plenty of layers and opt for an off-center parting to achieve a little asymmetry.
6. Sexy Pixie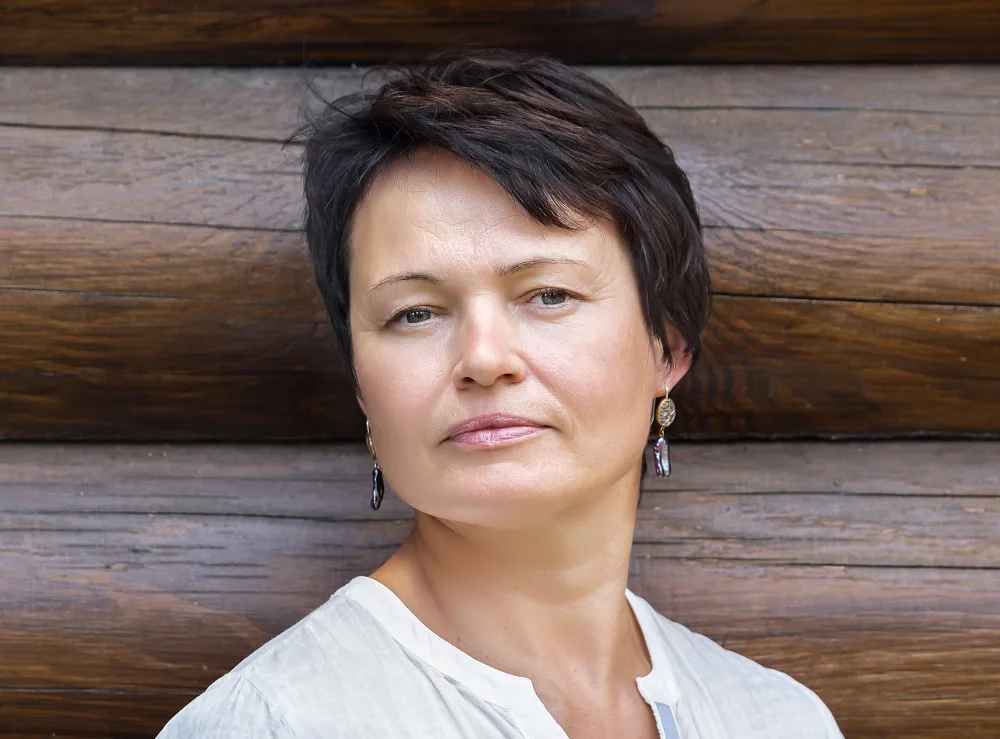 Pixies are probably the only risk-free cropped haircuts that won't make disc-shaped faces appear too broad. This pixie cut for round-face women over 50 is no exception.
Opt for texturizing layers that cover the ears and conceal your rounded hairline along with a deep side part to sharpen the look. A little finger-brushing and off you go!
7. Textured Bowl Cut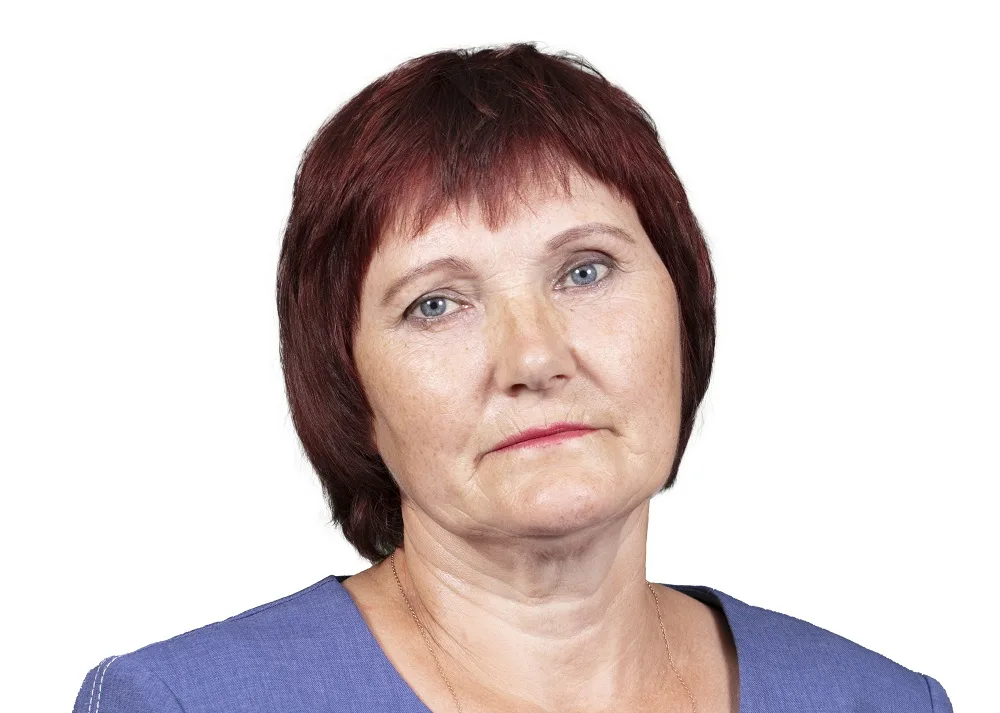 Bowl cuts are the go-to short hairstyle for senior women bored of traditional bob and pixie cuts.
Stay on the longer side by covering a wide forehead with wispy bangs that elongate on the sides towards the back for a mushroom head-like silhouette.
8. Silver Vixen Comb-Over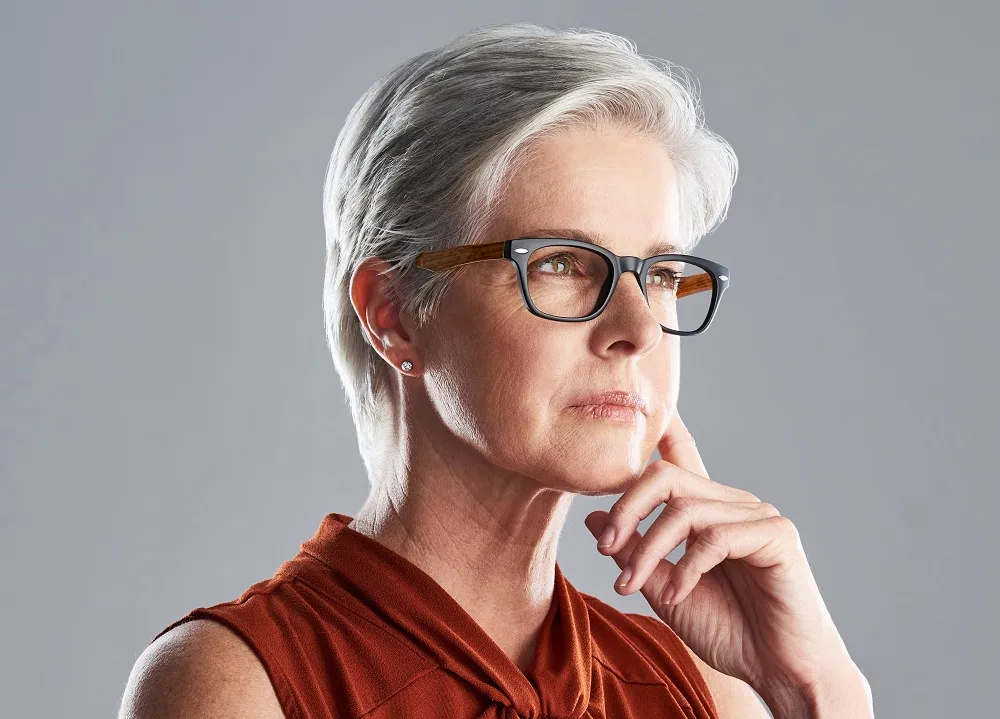 Ladies over 50 with angelic round faces can maintain a professional appeal with this simple yet super stylish short hairstyle.
Experiment with a long top that tapers towards the sides and back and comb up the strands at the roots before swooping them sideward. Done!
9. Side-Swept Curly Bob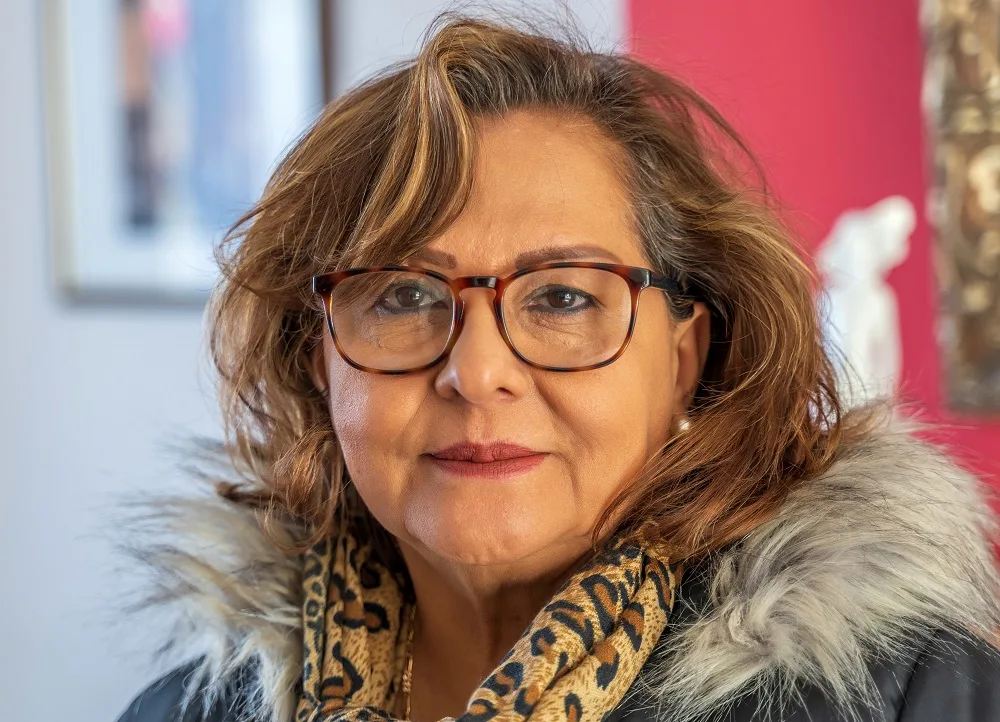 What's not to love about a curly bob?
Waves and curls are ideal to accent a circular face shape while creating a youthful appeal. Make use of your natural hair texture to end up with bouncy face-framing layers. Throw in some sun-kissed babylights too!
10. Pinned-Back Short Hairstyle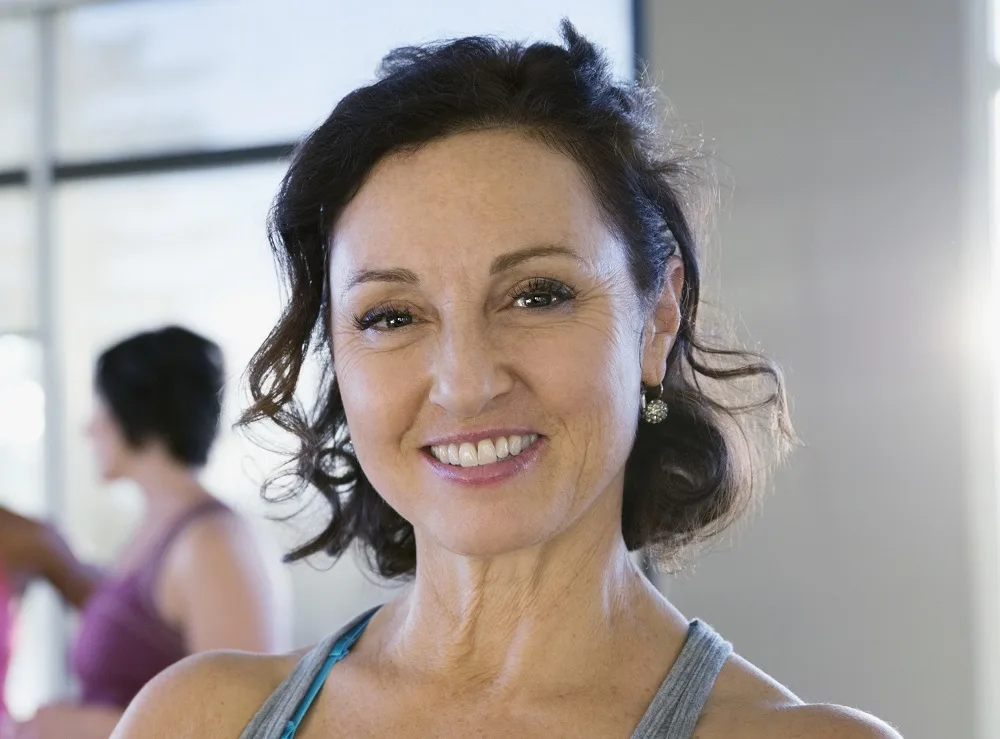 Pinned-back hairstyles are classy, elegant, and perfect to keep all the hair away from the face for a change.
Twist or braid back your front locks sparing a few chunks to accent the eyes. The slicked sides will create the illusion of a longer face.
11. Retro-Chic Pixie Curls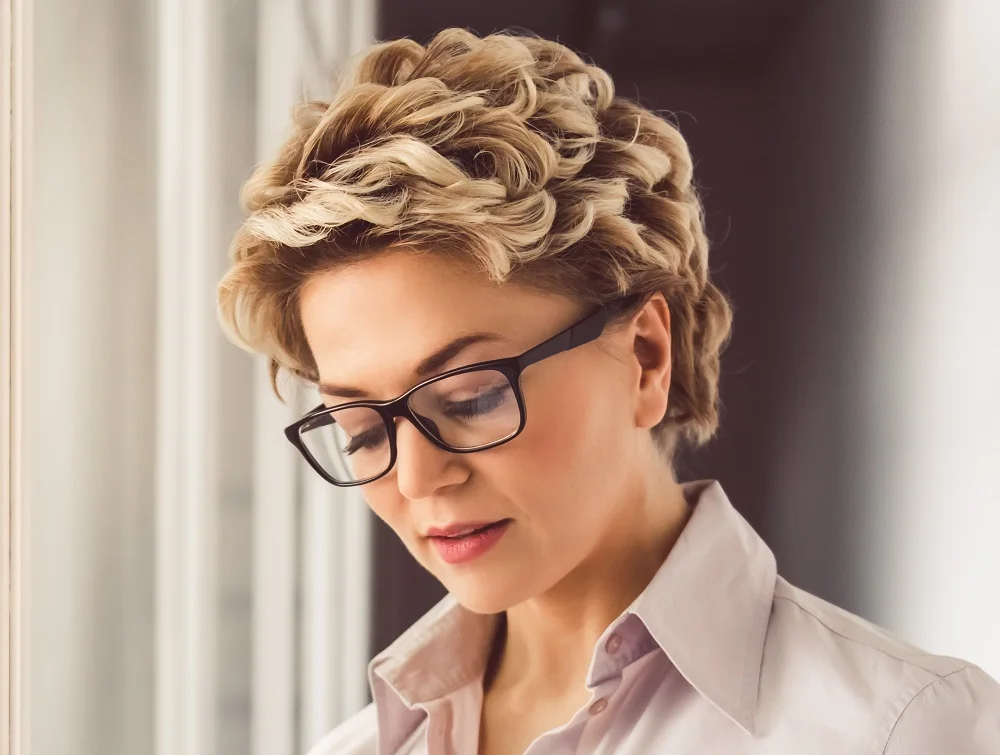 Add some bounce to a flat-looking pixie haircut by opting for retro curls. Use appropriate-sized heatless rollers or a thin curling wand to spice up your look.
The resulting volume at the roots and crown will instantly make your face appear more oval and less round.
12. Statement Parisian Cut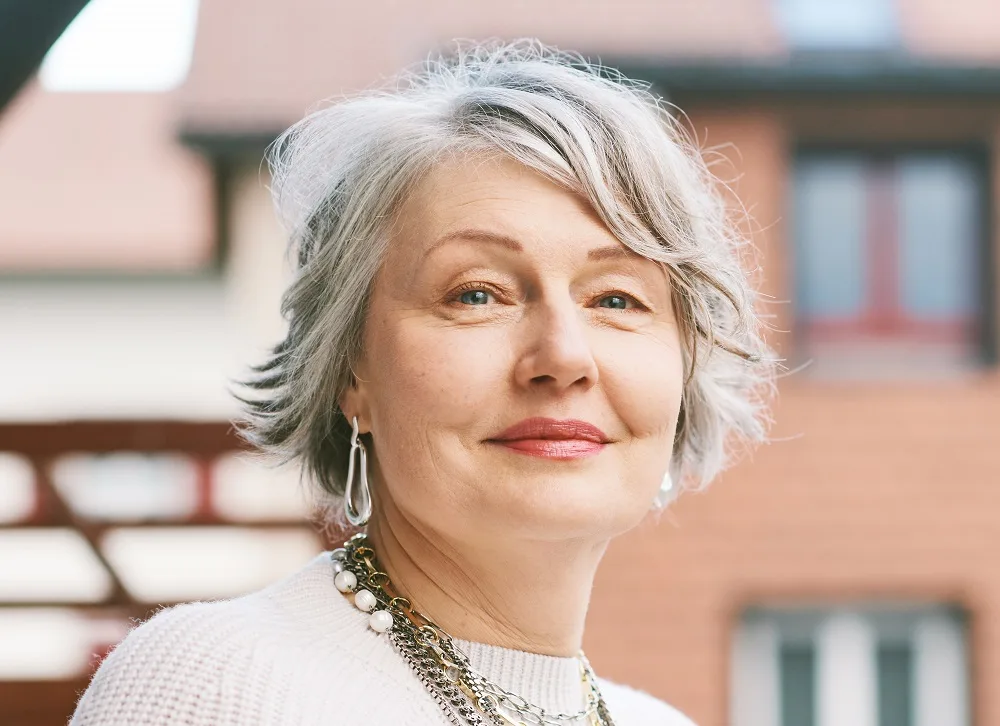 Maintain a Parisian charm with a chin-length bob and side bangs. Ask for a handful of chopped-up layers with blunt tips to make your thin mane look healthy and thick.
Finish off with loose waves and sea salt hairspray for a no-care vibe.
13. Wind-Swept Pompadour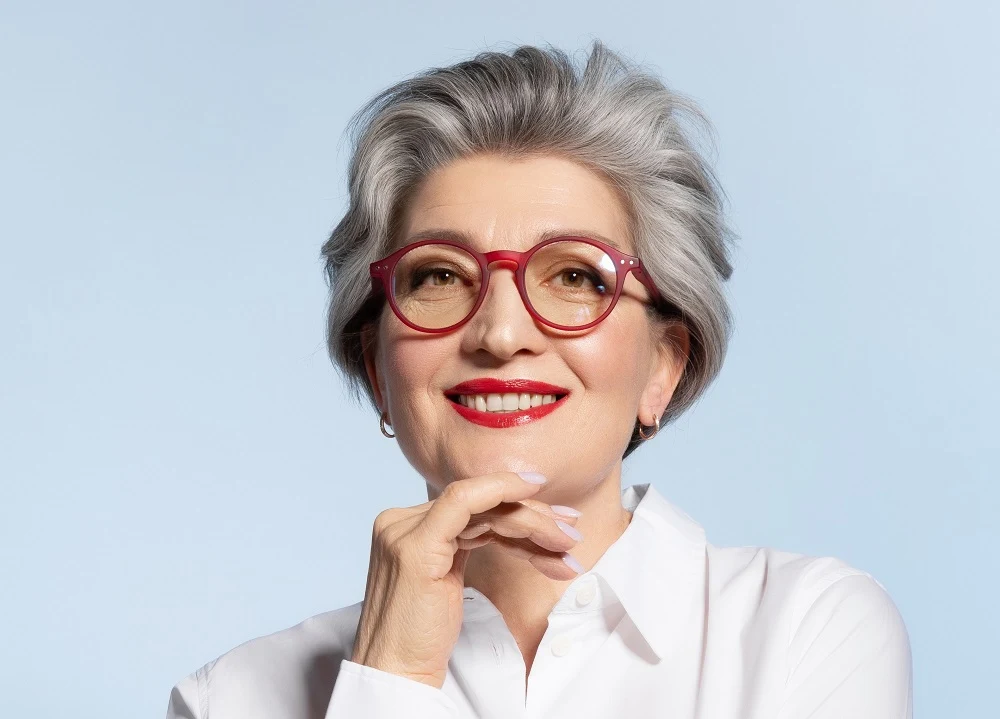 Pompadours are another short hairstyle for round faces over 50. They can be sleek and polished or soft and relaxed while looking equally stunning.
Brush back all the hair during a good blowout and allow the strands to settle down on their own. Voila!
14. Super Short Shullet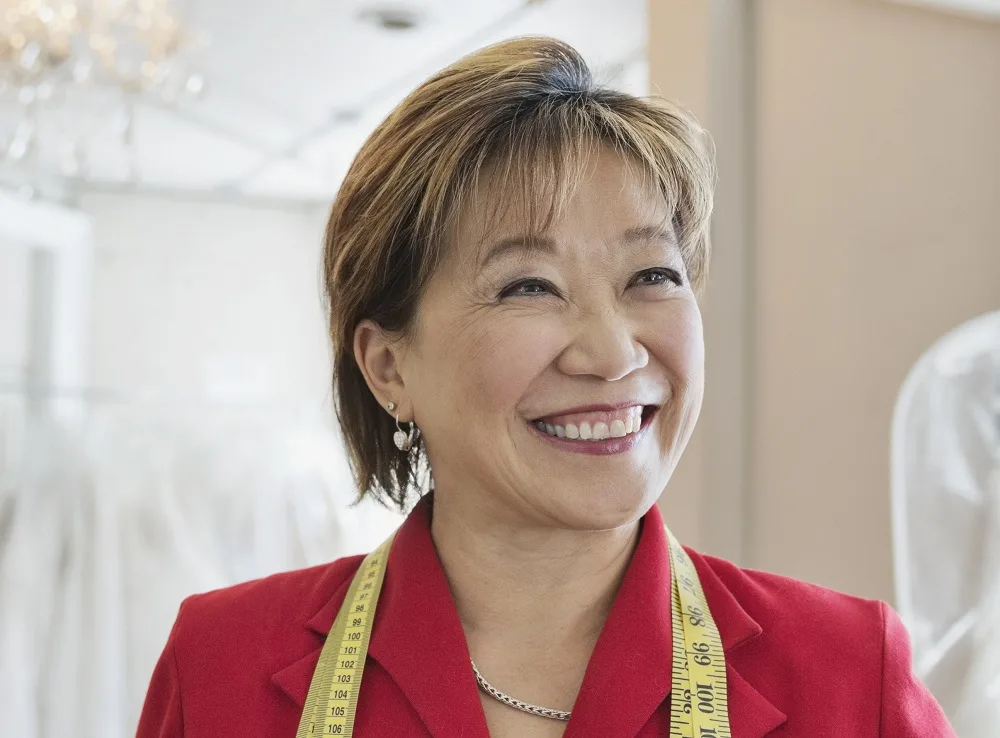 Modern mullets of today, also called shullets, are less rebellious and a little more sophisticated as compared to their traditional versions.
Wispy bangs, short top and sides, and a slightly disconnected tail at the back are all you need to ask for your rounded face.
15. Layered Kinky Tresses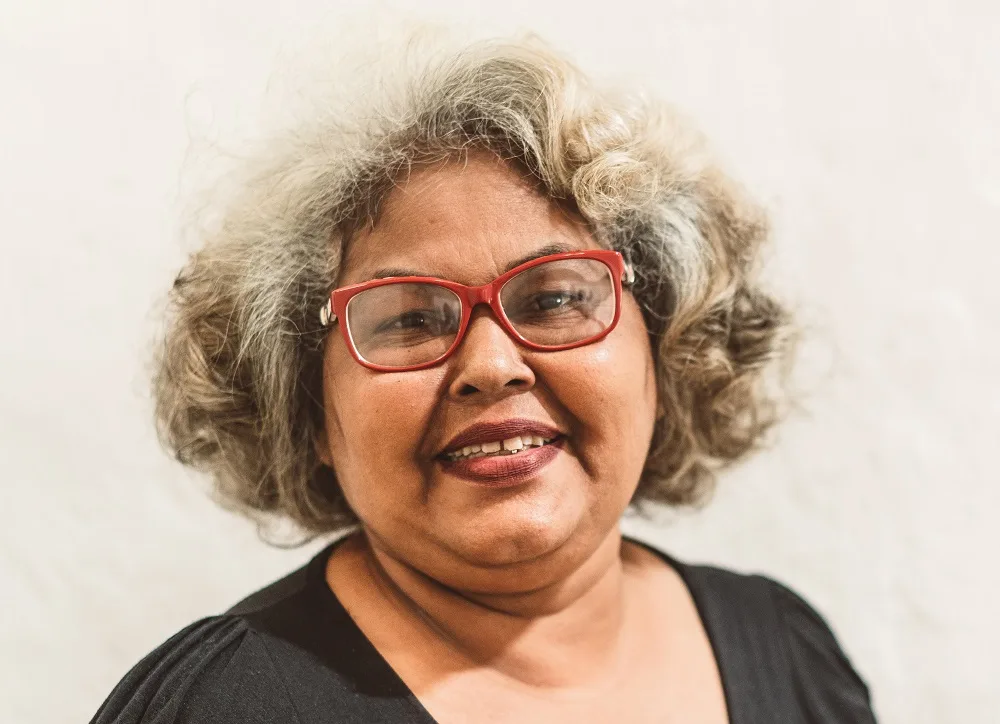 Look gorgeous even with a frizzy mane by sculpting it into a rounded bob with plenty of layering at neck level. Carve out a side parting to complement your round face.
The fluffier the hair gets, the better it looks! What more to ask for?
16. Electric Blue Elfin Cut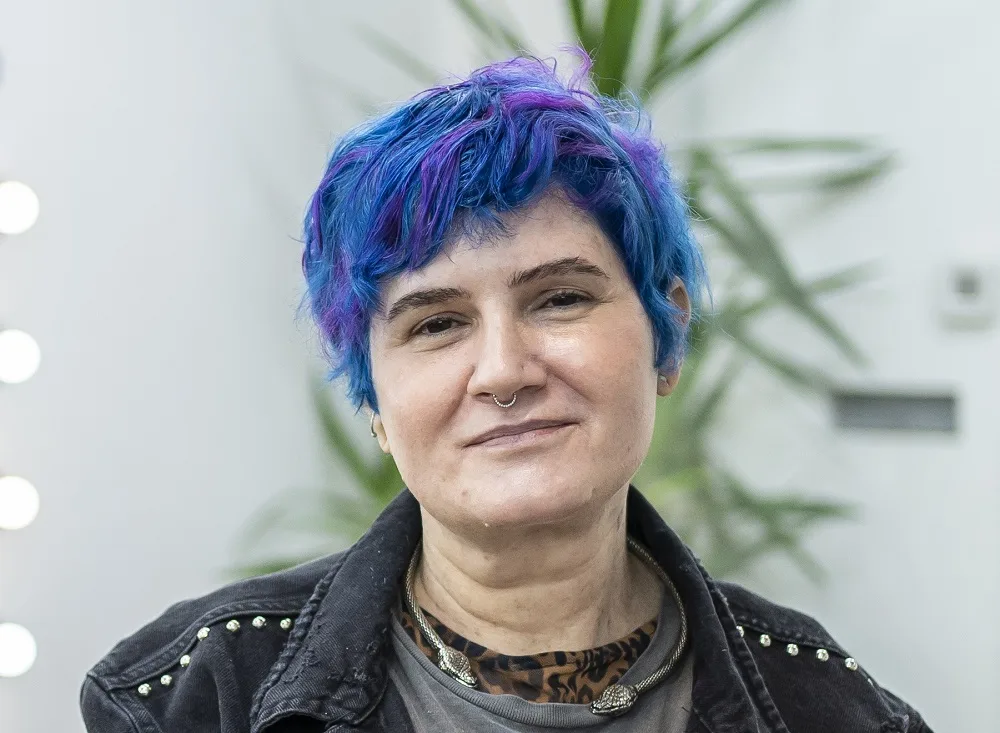 Shed off a few years by coupling a conventional haircut with a not-so-conventional hair color.
Go blue with hints of purple in between to make your elfin/pixie cut stand out from the rest. Achieve a slim-looking face with cropped bangs and long sideburns. Eye-catching!
17. Slicked-Back Curls
Round-faced women over 50 can allow their soft facial features to shine in all their glory with a slicked-back hairstyle.
Apply gel to wet hair, whether straight or curly, and brush it straight back away from the face. Allow the kinks to fall a little sideward for a little asymmetry.
18. Spiky Androgynous Hairstyle
Try an androgynous short hairstyle to express your wild side this year. Ask the hairstylist for a long top and neatly clipped sides with a refreshing light blonde all-over hair color.
Create spikes on top to end up with an oval face shape almost instantly.
19. Bobbed Salt and Pepper Hair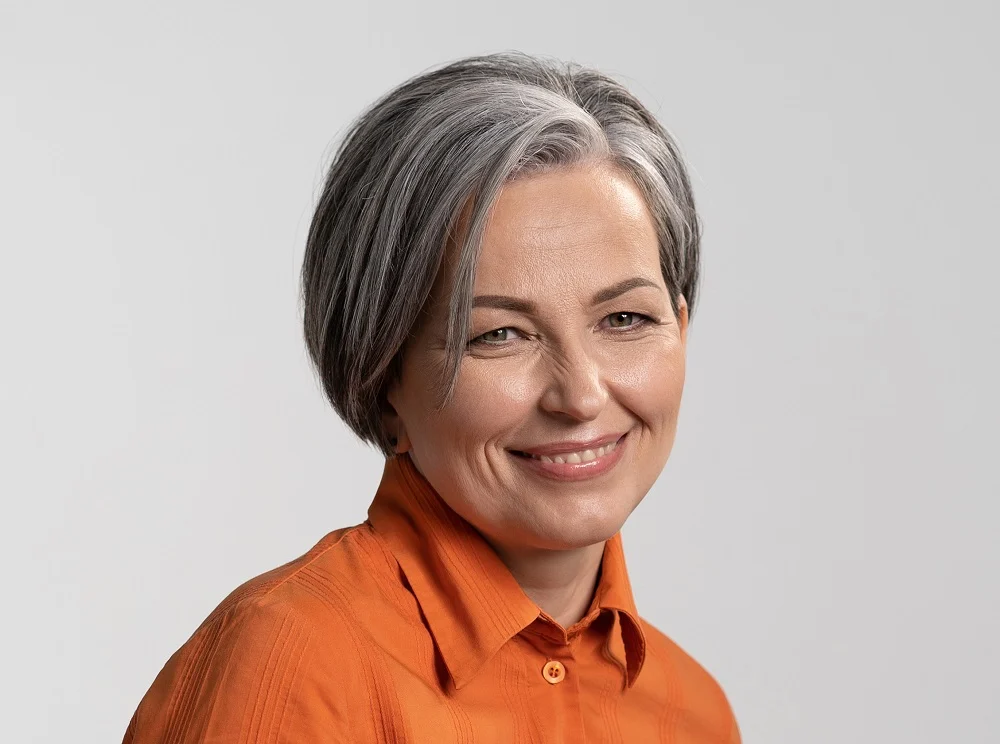 Be the stylish grandma everyone wishes to become one day with this short sleek hairstyle for round faces over 50.
Achieve a salt and pepper look with silver highlights or black lowlights and finish off with a softly rounded pixie-bob to complement your angelic features.
20. Shoulder-Length Frizzy Locks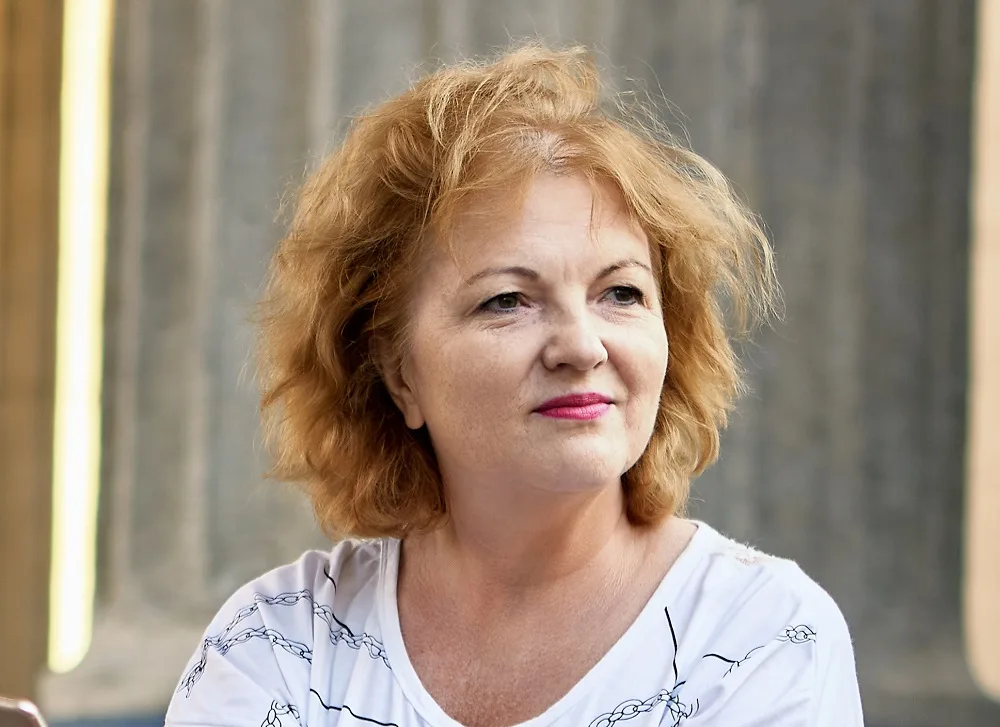 Frizzy thin tresses are all you may end up with after years of heat-styling. Breathe some life into them with a shoulder-length chop and layers to get the much-needed bounce and movement.
Scrunch the strands to achieve further volume and no one's ever going to know!
21. Basic Blunt Cut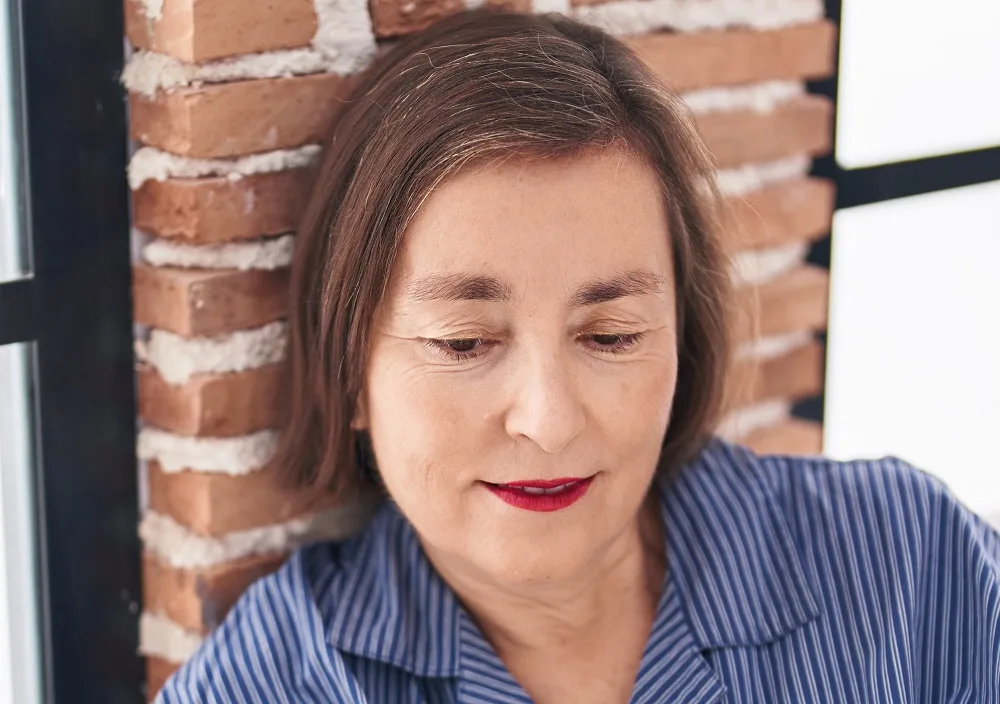 Balance out that circular face of yours with a dramatic blunt haircut with those uniformly snipped tips creating the illusion of thick tresses.
A deep side parting helps conceal a part of your wide round forehead. Also, try a brunette hair dye instead of going blonde for a change.
22. 70s Feathering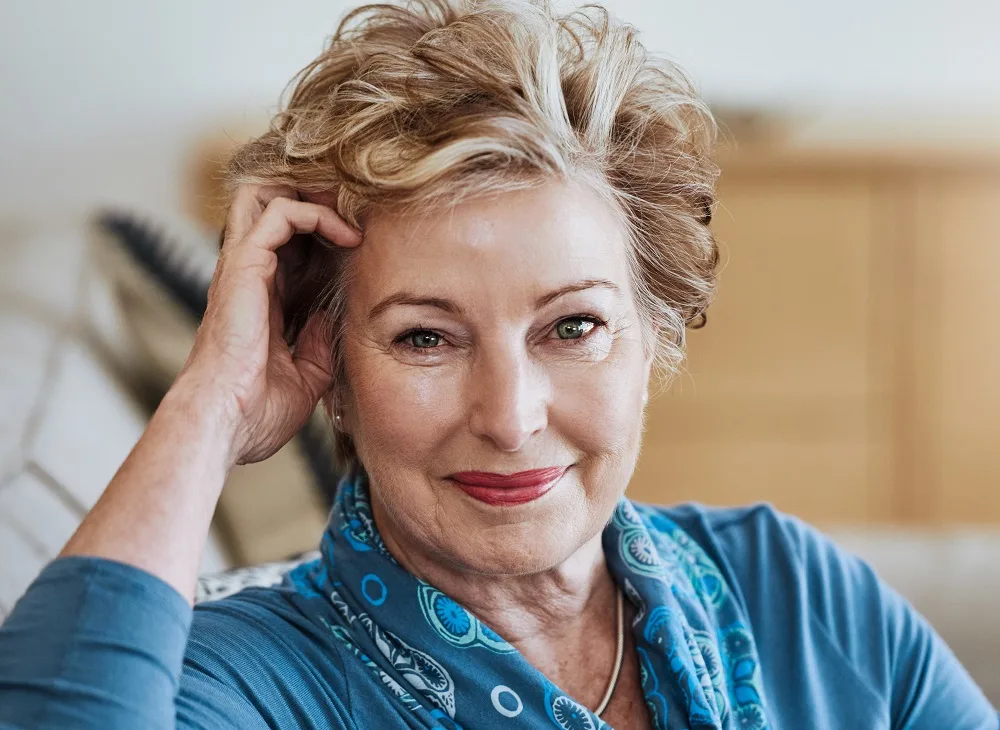 Feathered hairstyles are still going strong and the one depicted here is a must-have short hairstyle for round-faced women over 50.
It features volume at the roots with airy tips and chunky highlights creating an attention-grabbing light and dark interplay. A good blowout is a must.
23. Epicene Caesar Haircut
Take a break from regular hair styling with a gender-neutral Caesar haircut.
Couple a layered top with uneven baby bangs and even shorter sides. Finger-tousle the strands for a careless finish or style them into spikes. A tiny faux hawk won't disappoint too!
23. Short Thick Hairstyle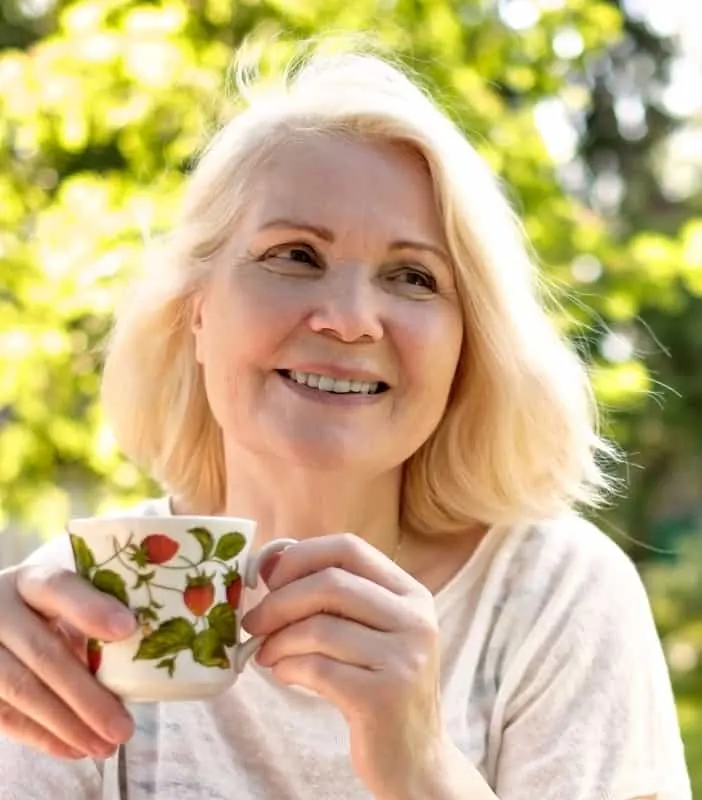 To tame your thick hair into a cute cut that will also give your face a youthful look, try a bob with a side part. There's plenty of body and you can show off your natural texture beautifully.
25. Short Curly Hair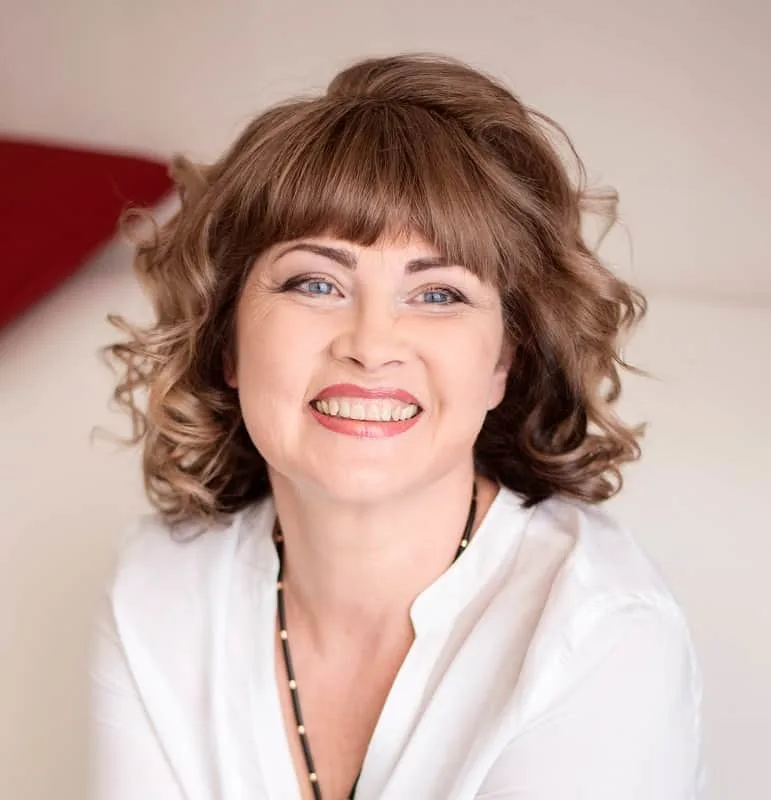 This brunette bob is full of curls and features straight bangs. It's a chic style whether your hair's texture is naturally curly or you take a few minutes to use a curling iron in the morning.
26. Short Thin Hair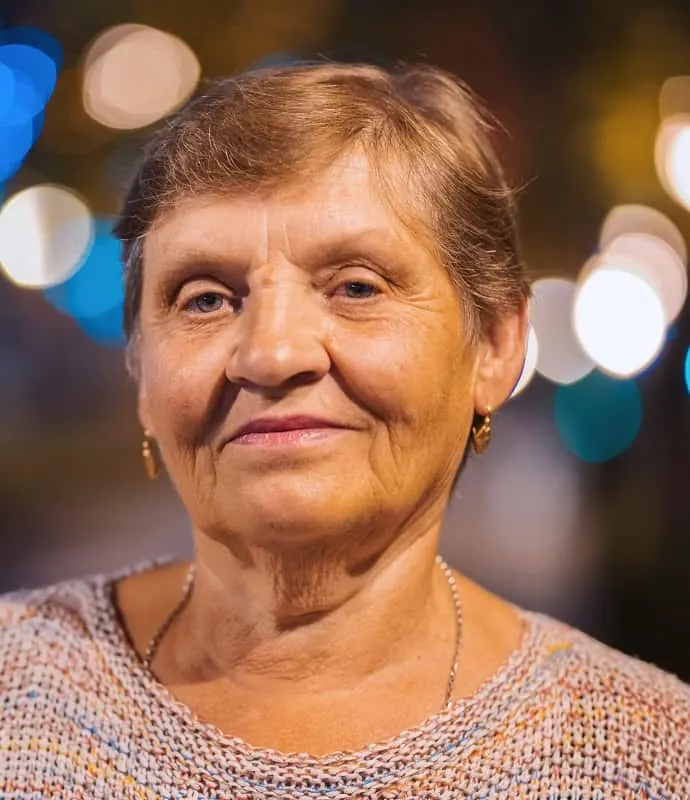 If your hair is on the thin side, you can still flatter your round face by having your stylist cut the hair into a pixie shape. This style is both low maintenance and sophisticated.
27. Short Hairstyle for Women with Glasses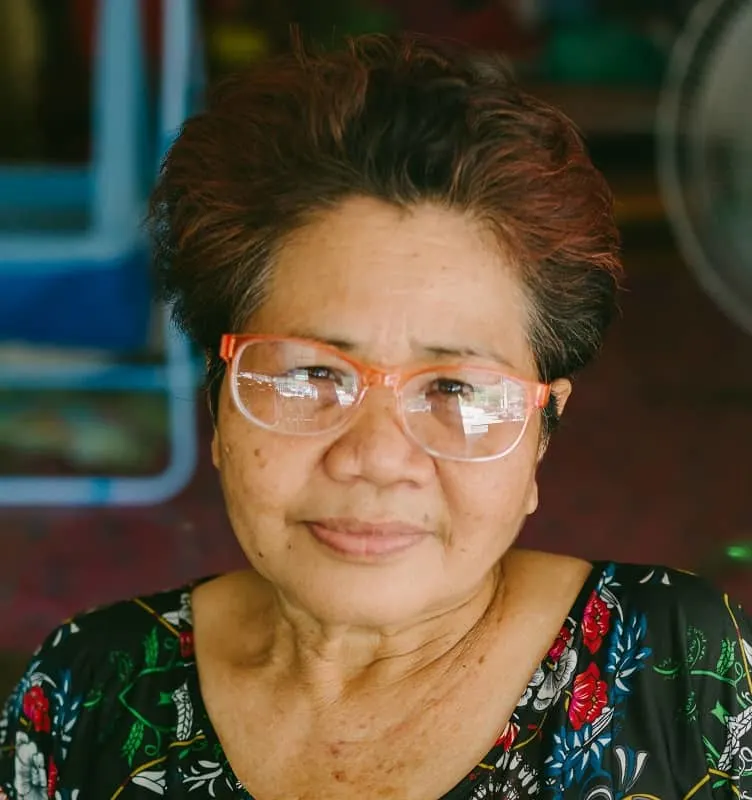 No matter your face shape, if you wear glasses, they usually help to frame your face into a square or rectangle shape. This thick hair is brushed up and styled with mousse to hold shape and texture.
28. Short Hair for Black Women Over 50
A long pixie mostly straight in texture is another flattering hairstyle for women with round faces and over 50 years old. Keep the bangs long to help frame a round or oval face.
29. Straight Short Haircut for Curvy Women
To avoid adding any more of a round shape to your already curvy face, keep the hair straight or with minimal body. A layered short haircut with side bangs is a flattering style.
30. Short Waves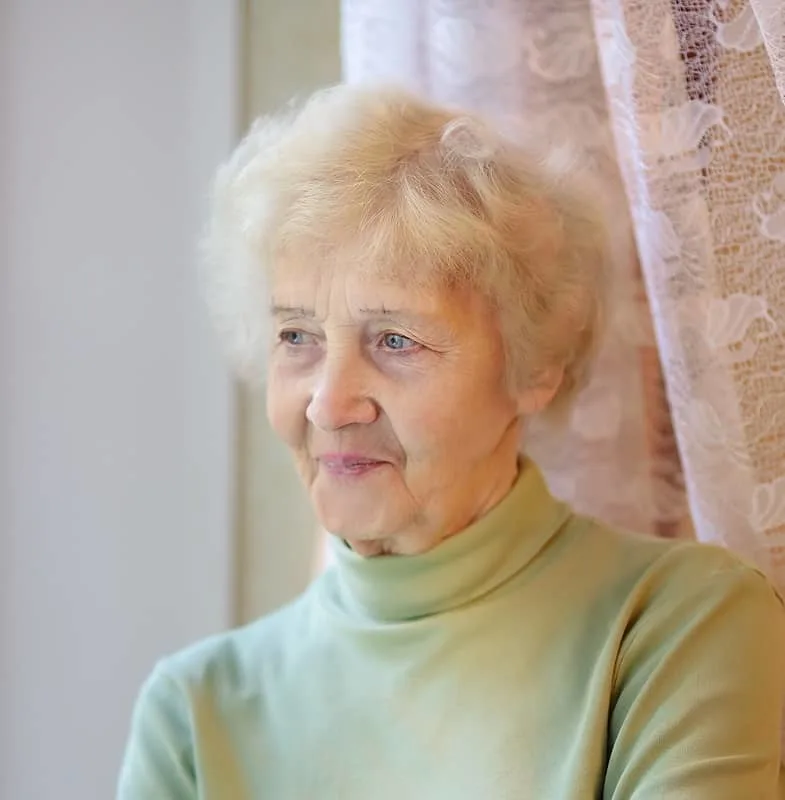 As women age, our hair tends to thin, but if you're one of the lucky women over 50 whose hair has kept its texture, show it off on a short style that will pack all the body up top. No styling needed for this one!
31. Short Ponytail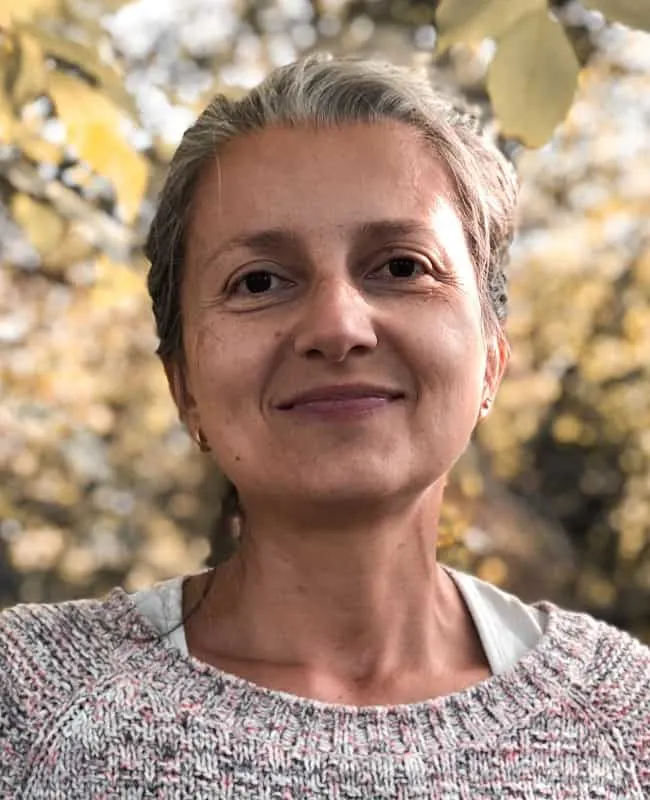 When you're feeling over wearing your hair down, gather up your short hair into a ponytail. Smooth it back to keep it neat and formal or encourage a slightly messier style for casual vibes.
32. Side Part Haircut for Short Hair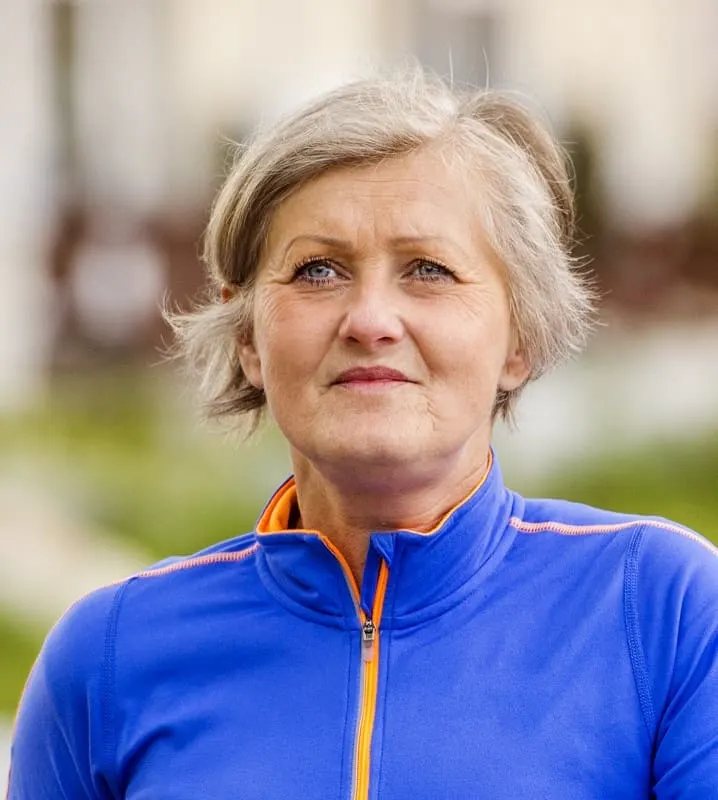 If you're the type to exercise often or you don't want to spend a lot of time on your hair, a short style with a piecey texture is perfect. Part it at the side for easy dimension.
33. Cropped Pixie for Women with Glasses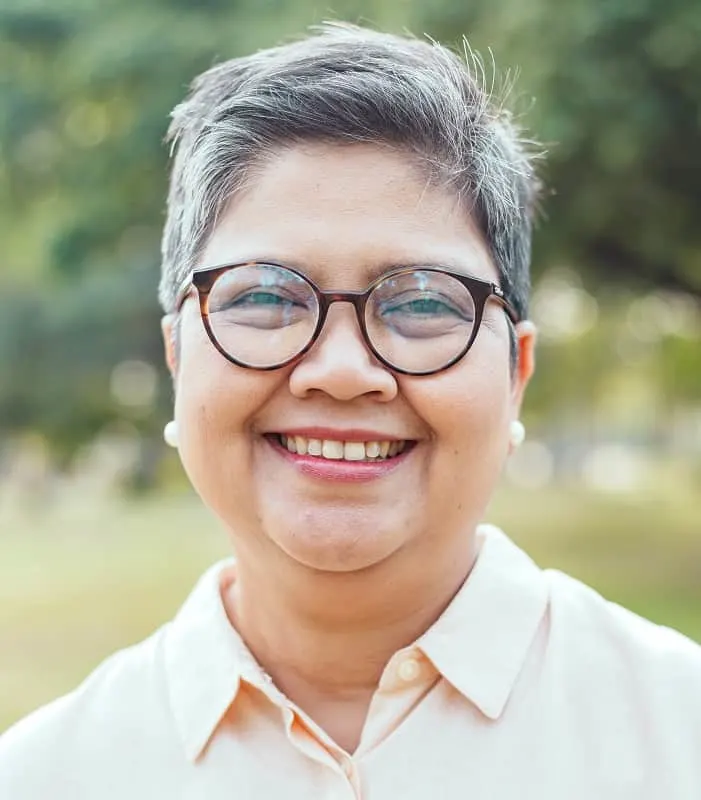 For the woman with a round or oval face who also wears glasses, a cropped pixie with salt and pepper hair coloring will flatter all of the above.
34. Short Messy Brunette Haircut
As if deep brown isn't already a flattering color for older women over 50, this slightly messy and wavy short hairstyle that reaches shoulders beautifully frames the round face.
35. Long Top Short Sides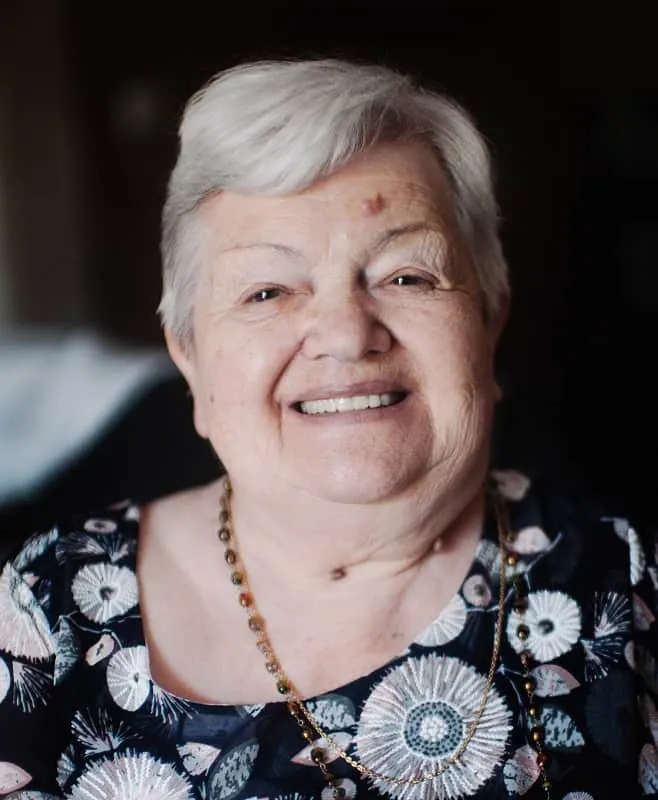 To make your round face appear more oval, ask your stylist to keep hair long on top and shortened on the sides. Keep the hair your natural color or play it up with something more fun.
36. Straight Hair with Piecey Bangs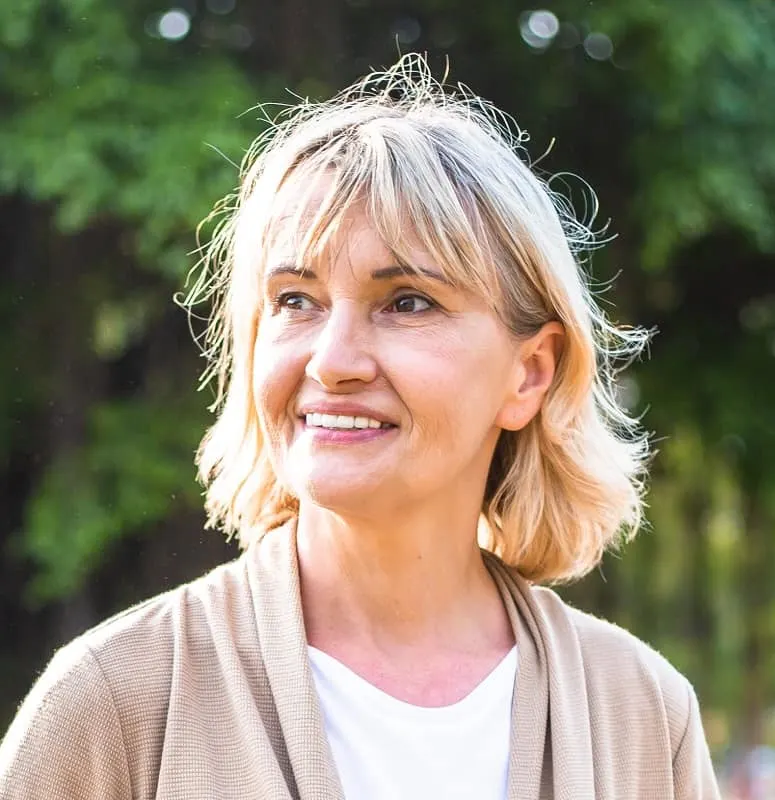 Another short haircut, this one features soft cut ends that touch shoulders and straight bangs that reach the eyebrows. Keep the bangs long to avoid a harsh look and disguise a round face.
37. Thin Short Hair for Asian Women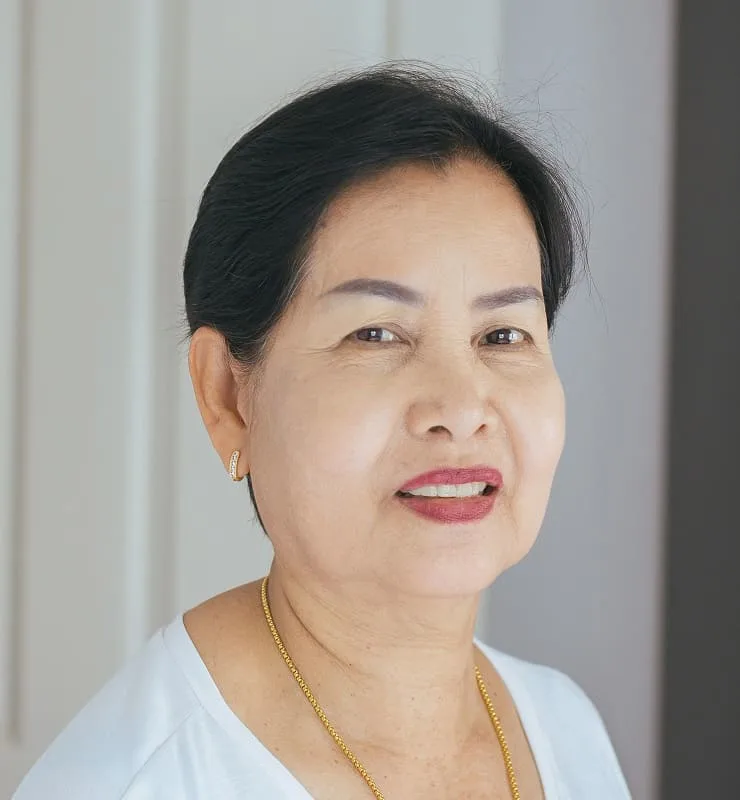 Asian women with round faces will love the way this short pixie keeps hair off the face. A cut like this is great for thin hair as it makes it appear thicker.
38. Short Thick and Wavy Hair
If your hair hasn't betrayed you by thinning out by the time you're 50 or older, show it off a short to medium-long hairstyle. A center part is all you need for timeless style.
50 Glamorous Hairstyles for Women Over 50
39. Feathered Bobs

Feathered hairstyles are an excellent choice for helping to open up your face. The curls also help to add lots of texture to your look. Light feathering of your bangs looks great on a hairstyle for women over 50s women with round faces.
50 Captivating Inverted Bob Hairstyles
40. Short Bob

For a really professional hairstyle, you can try wearing your hair in an asymmetric chin-length bob. This type of hairstyle looks great if you have strong cheekbones. The length of your hair will help to highlight your bone structure.
41. Layered Bob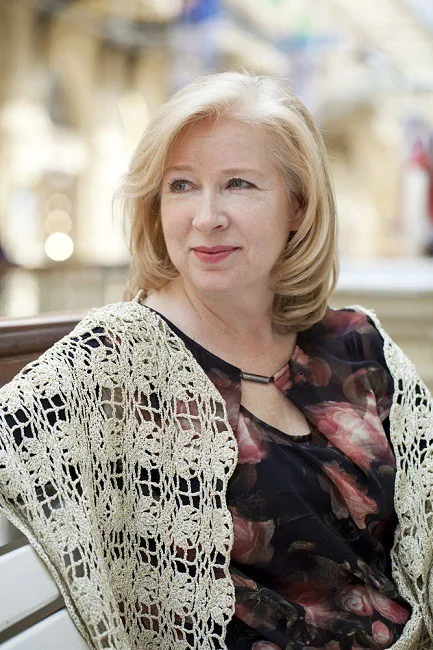 Layering can help to change the shape of your face. Ask your hairstylist to cut your hair into a style that really flatters your round face shape. The most flattering layers stop just below chin length.
Wispy and Blunt Bangs To Switch Up Your Style
42. Vintage Finger Waves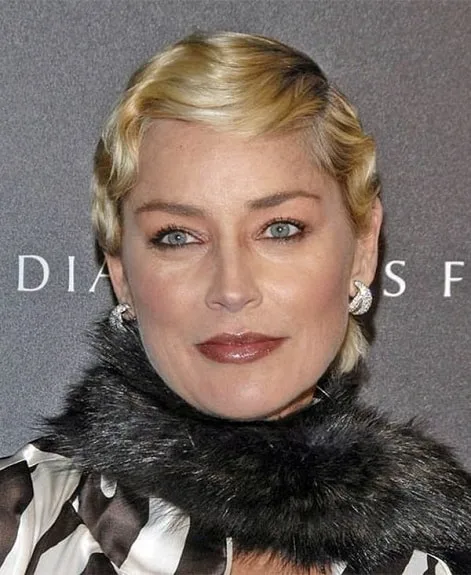 Finger waves are ageless and timeless and look the best on short tresses. The trick lies in creating S-shaped swoops using a comb, your fingers, and plenty of hair mousse.
Given the flatness of this hairstyle, your round face and soft angles are sure to get noticed!
Try out a few different styles to see which one suits you best. There are plenty of different options for short hairstyles for women over 50 with round faces. Just because your hair is beginning to age, it does not mean that you have to lose your sense of style and fun.