Crew cuts are one of the best options for moms when it comes to short haircuts for little boys. They count among the most low maintenance hairstyles because the hair in the back and on the sides is pretty short, while the top remains a little bit longer. There's no need for styling, only if you build a small pompadour that you can orient upwards or to one side.
Also, with the sides being tapered, you will gradually build the pomp, making it complement the front hairline. The haircut is ideal for men and boys of all ages: toddlers, little gents, and adolescents. If you want your young man to look stylish with no struggle, a crew cut for kids is what you are aiming for. Find out below the best hairstyles!
1. Short Crew Cut for Kids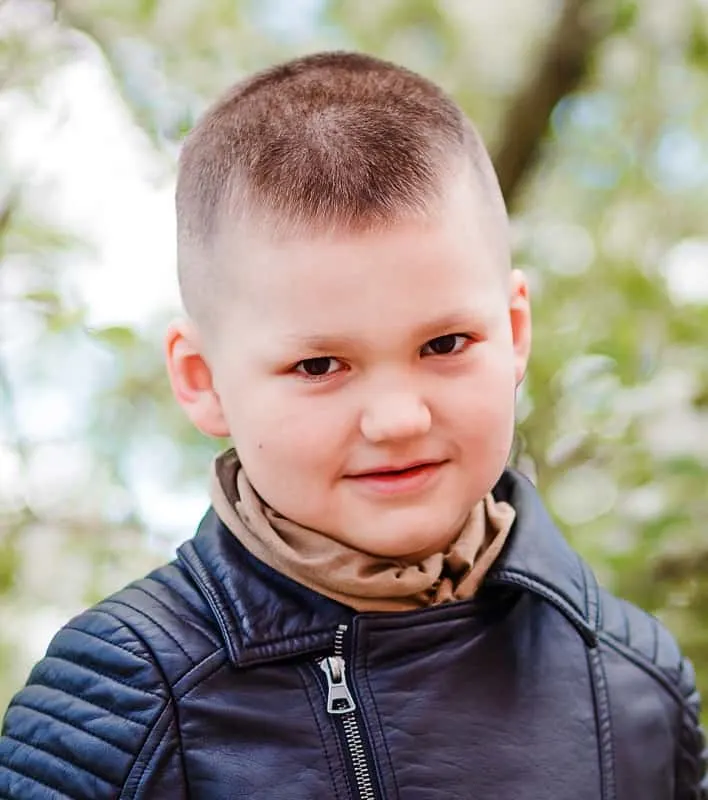 Use a fade cut for the sides and maintain the top hair just a little bit longer. Your little man will look stylish, and if he has a V hairline, this hairstyle will perfectly suit him.
2. Crew Cut with a Faux Mohawk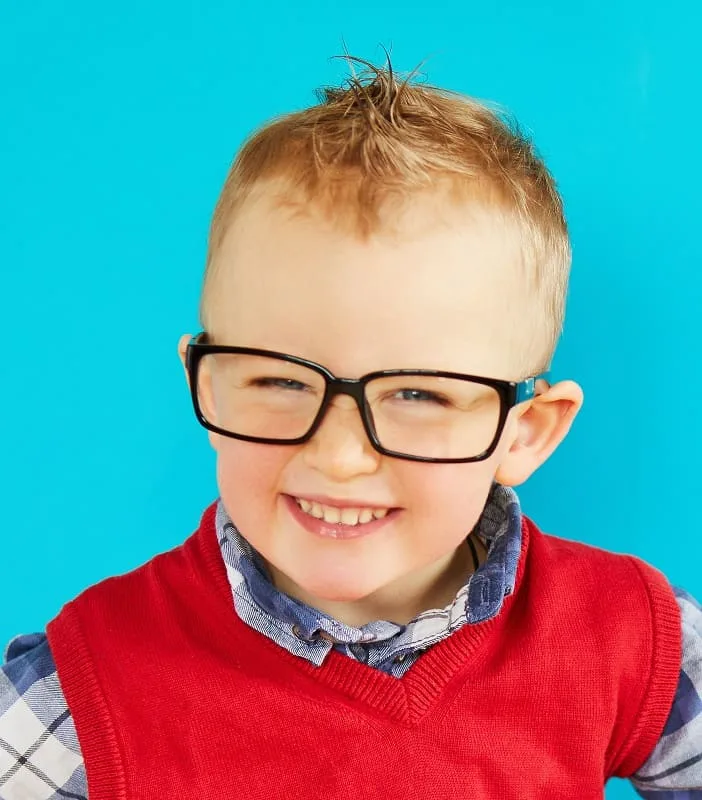 If your son adores crazy haircuts, it's about time to give him one like the above kid's crew cut. Keep the top hair longer, this way you'll be able to style a messy faux mohawk that will suit his look with glasses.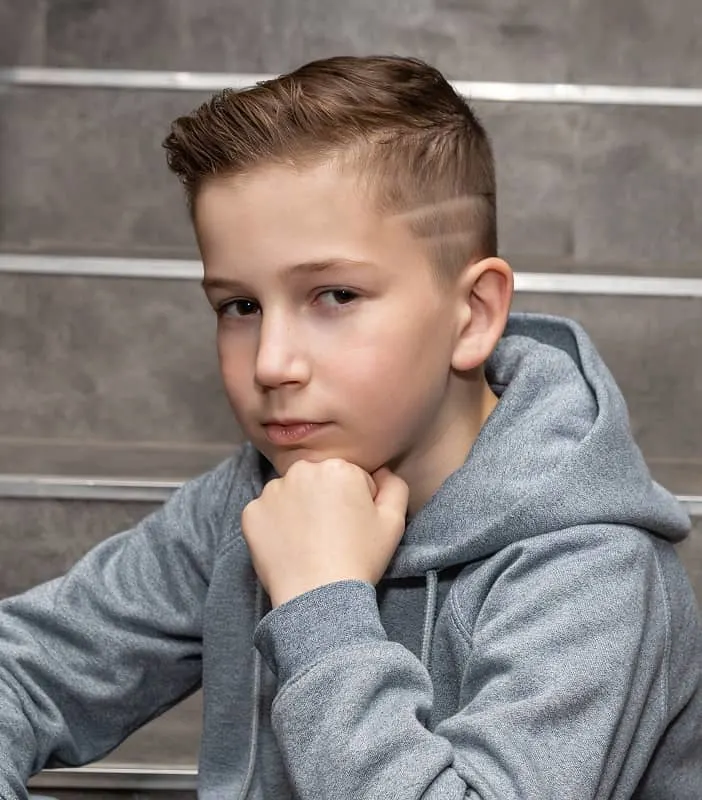 This kid's long crew cut will certainly suit boys that want to stand out. Build short pomp that's oriented upwards and slightly on one side and style a razored line design on one or both sides of the head.
4. Crew Cut for Toddlers
Toddlers that still have fluffy, puffy hair will look so cute with a short crew cut. You can do this haircut at home and style the hair with a trimming machine, using the clipper no.4.
5. Tapered Crew Cut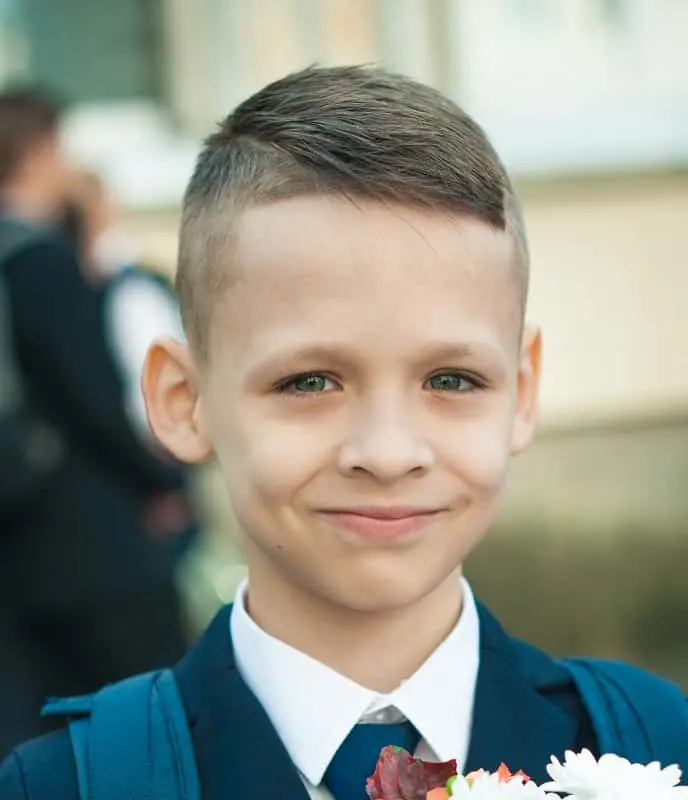 This kid's tapered crew cut will make your boy stand out in his first day of school. Go for a high fade on sides and style two parts on both sides of the head to highlight the longer top.
6. Side Part Crew Cut
To get this look, start by wetting the hair down. Next, use a comb to create a deep side part. Then, use scissors to trim the hair down to the desired length. Finally, use a brush to style the hair into place. This style is perfect for kids up to 10 years old.
7. Undercut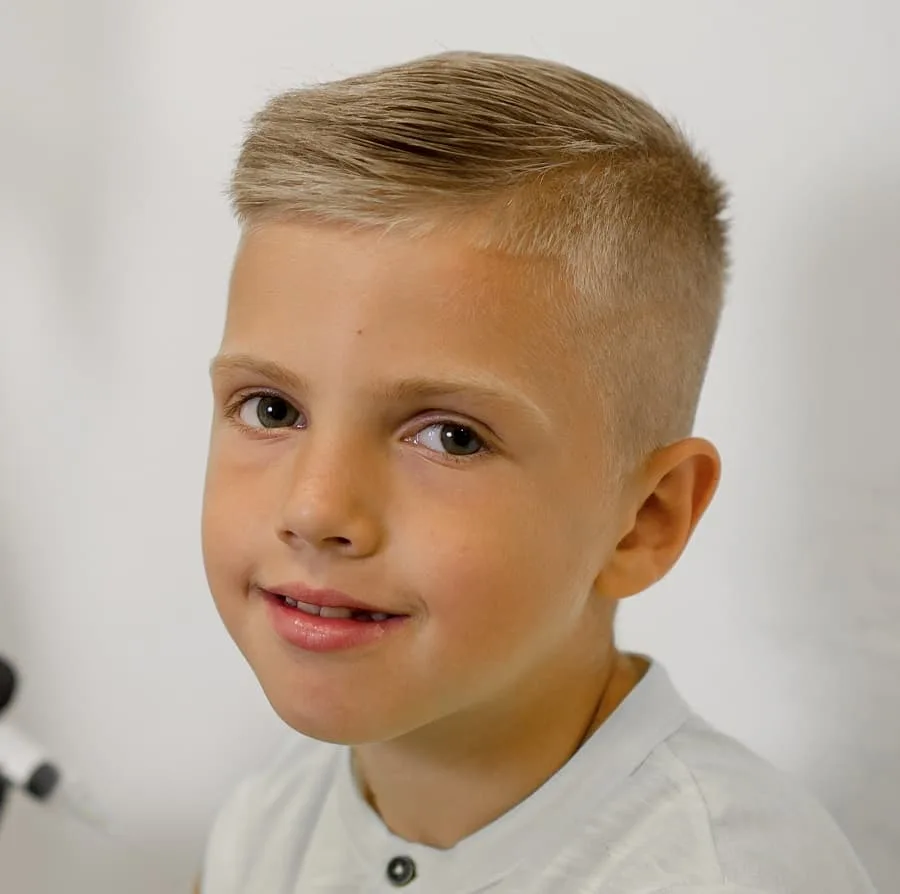 This style is a great option for kids who want a clean, stylish look. The undercut crew cut for kids involves fading the sides and back of the head, leaving the hair on top long. This style is easy to maintain and can be styled in a variety of ways.
8. Comb Over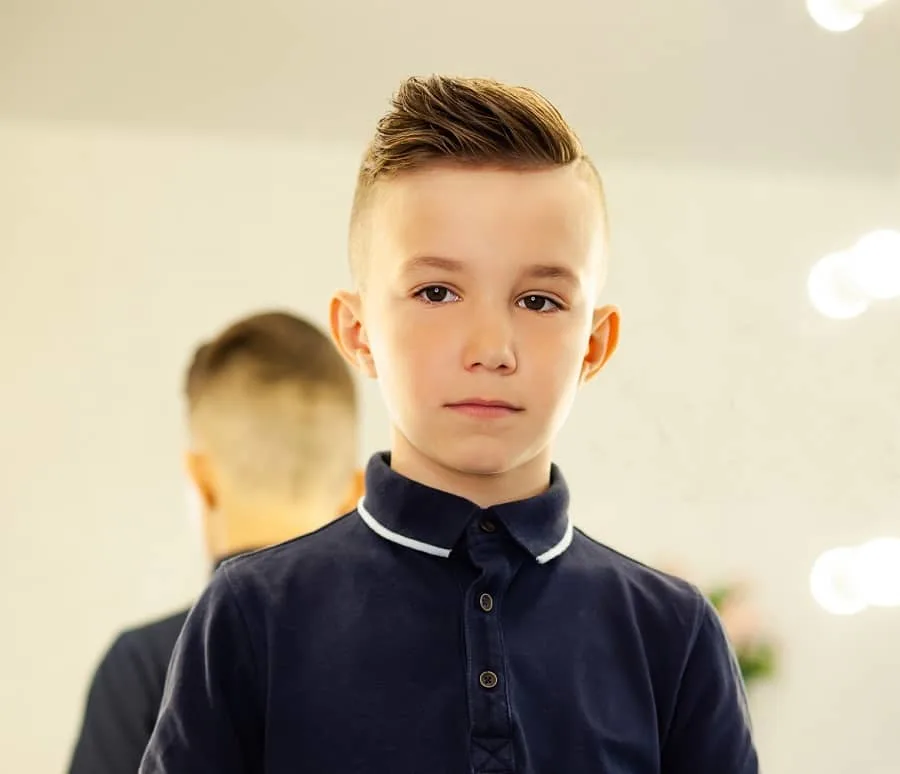 This haircut looks good on rectangular face shapes. This style requires shaving the sides while the top remains a bit longer than usual. To get the final look, use a small amount of hair cream to define the haircut and make it look neater.
9. Spiky Crew + Shaved Side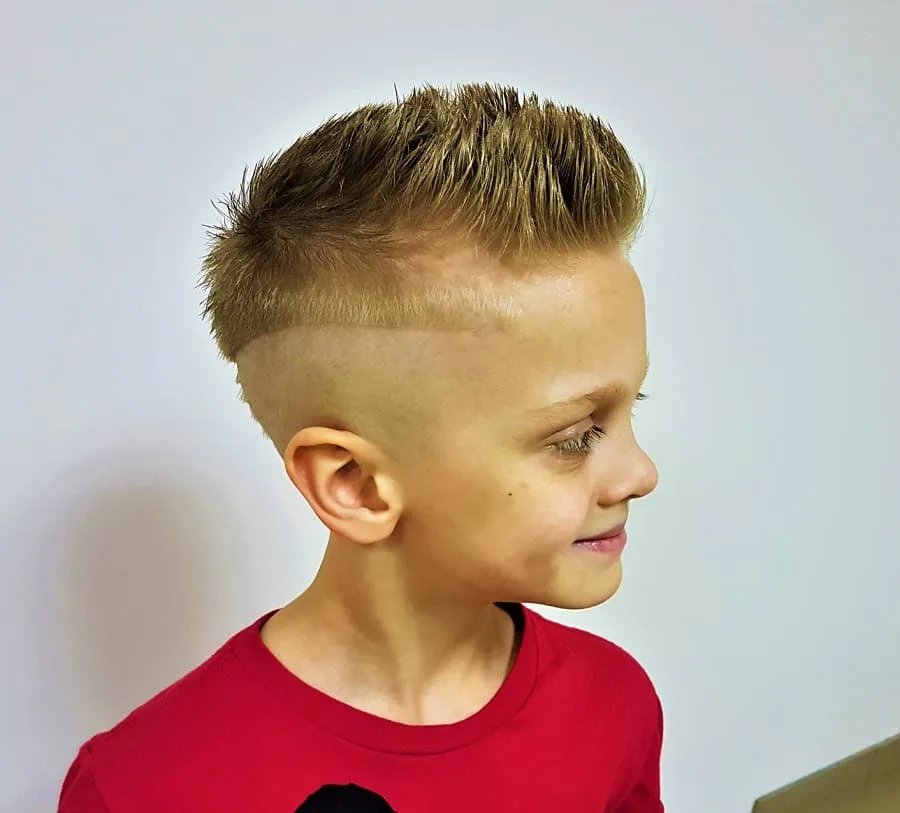 If you are looking for a funky style for your kid, try a spiky crew cut while the sides are shaved. The spikes side adds a modern touch to the traditional crew cut. The best thing about this hairstyle is that it's very easy to maintain, so you won't have to worry about your child's hair getting out of control.
10. Curly Cut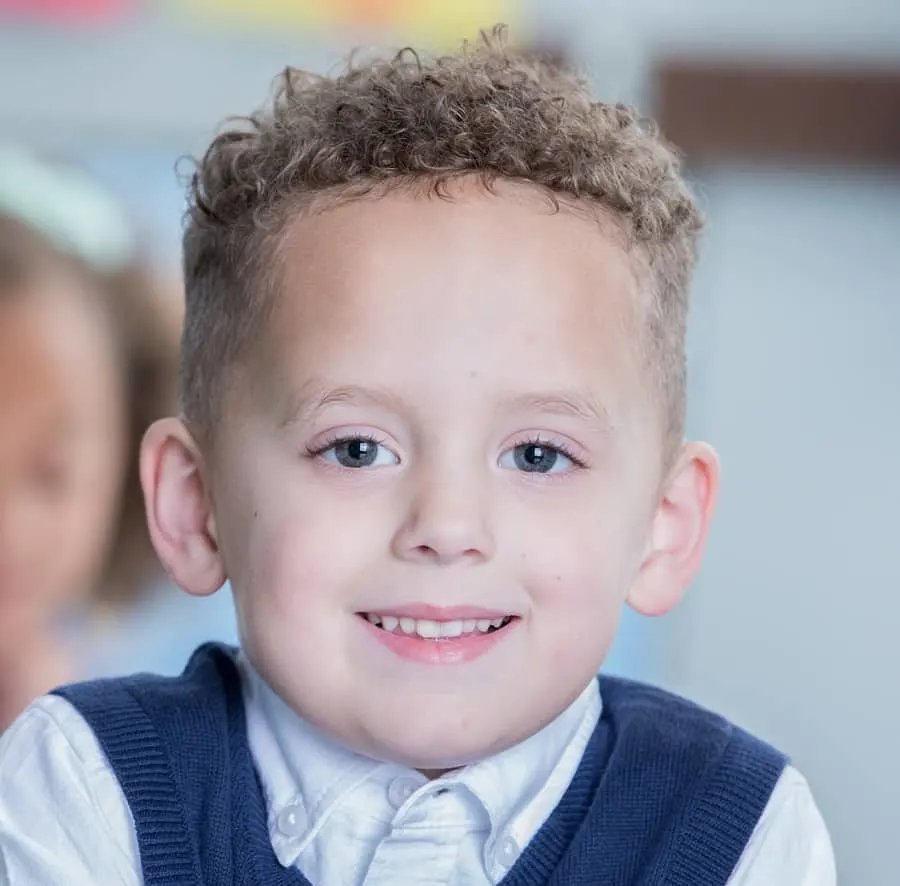 If your kid has curly hair and you don't want to keep it long or make it too short, a crew cut can be the perfect solution. Leave medium hair on the top while fading the sides with a scissor or trimmer.
11. Crew Faux Hawk
This hairstyle for your little guy is easy to style and maintain and can be dressed up or down depending on the occasion. To style this, start by applying a small amount of hair cream to the hair. Then, use your fingers to style the hair into a fauxhawk shape.
12. Scissors Cut
It is a sharp and stylish haircut that can be easily styled with spikes. To get the look, start by cutting the sides and back of the hair short, leaving the top long. Then, use a comb to create parts on the sides and spike the top using a gel or wax to hold the hair in place.
13. Short Hair + Design
This style is great for someone who is looking for low maintenance yet sophisticated style for their kid. Just cut the overall hair short and add a design on the sides. And your kid is good to go.
14. Flat Top Spike
It is perfect for those who want their kids to get noticed without worrying about their hair getting in their faces. To achieve this style, just brush back the hair and trim them medium with a flat top shape. The sides should be shorter than the top.
15. Classic Crew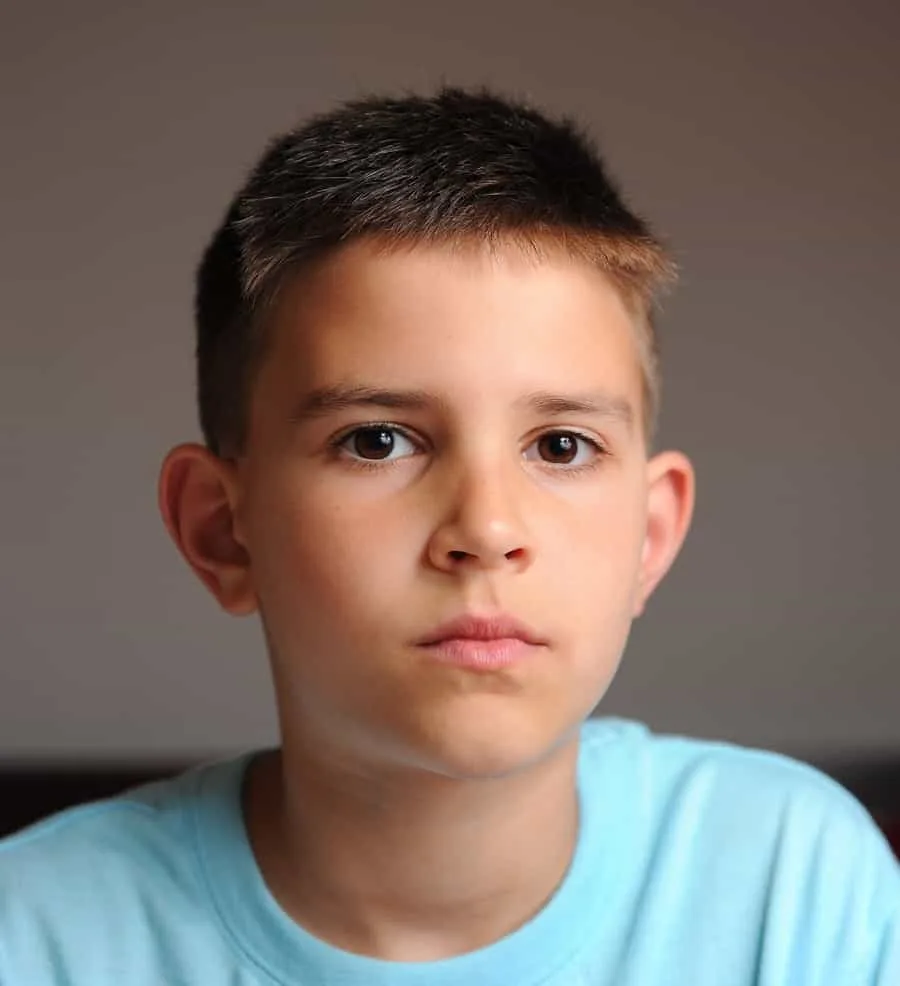 Looking to keep your kid stay cool in the summer heat? Try a classic crew. Start with clean, dry hair and use scissors or an electric clipper to trim the hair to the desired length. Be sure to use sharp scissors or clippers to avoid damaging the hair.
16. Thick Crew Cut
To achieve this look, wet the hair down with a spray bottle or wet brush. Use a small amount of gel or pomade to style the hair into place. Use a comb to help ensure all the hair is styled in the same direction. It looks best on a white boy with blonde hair.
17. Faded Crew
This playful and trendy style is perfect for kids who want to show endless possibilities. If the hair is already cut into a crew cut, simply use a comb to spike them. Use a sharp razor or blade to create a line across the forehead.
18. Messy Hair
For parents with young kids, cutting their hair can be a daunting task. And crew cuts are the savior. However, this specific style also needs some effort. That's why you can just keep the short hair messy without combing.
19. Crew Cut + Line
Start by cutting the hair on the top of the head short. Then, cut the hair on the sides and back of the head shorter. Finally, use the razor to create a sharp line on the side of the head. This line should be straight and level with the top of the ear.
20. Drop Fade
A drop fade with a crew cut is a sharp and stylish look for kids. To get this look, use a clipper to cut a vertical line from the ear to the nape of the neck. Next, use a razor on the forehead to get a sharp line. It is perfect for curly hair.
21. Crew Cut for Asian Kids
The key to this style is using a sharp scissor and cutting slowly. Also, use a comb to guide the scissor and cut evenly. This is a versatile style for any Asian kid.
22. Crew Cut with a Fade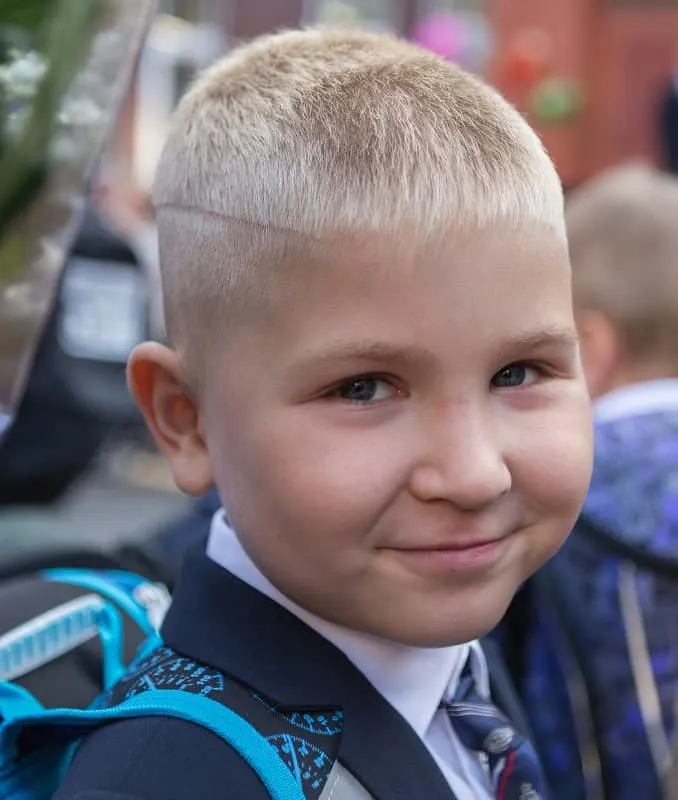 This hairstyle for little boys will beautifully highlight your son's top hair. Go for a fade on the sides and back, Disrupt it with a sharp line that will draw all the attention to the top.
23. Crew Cut with a Part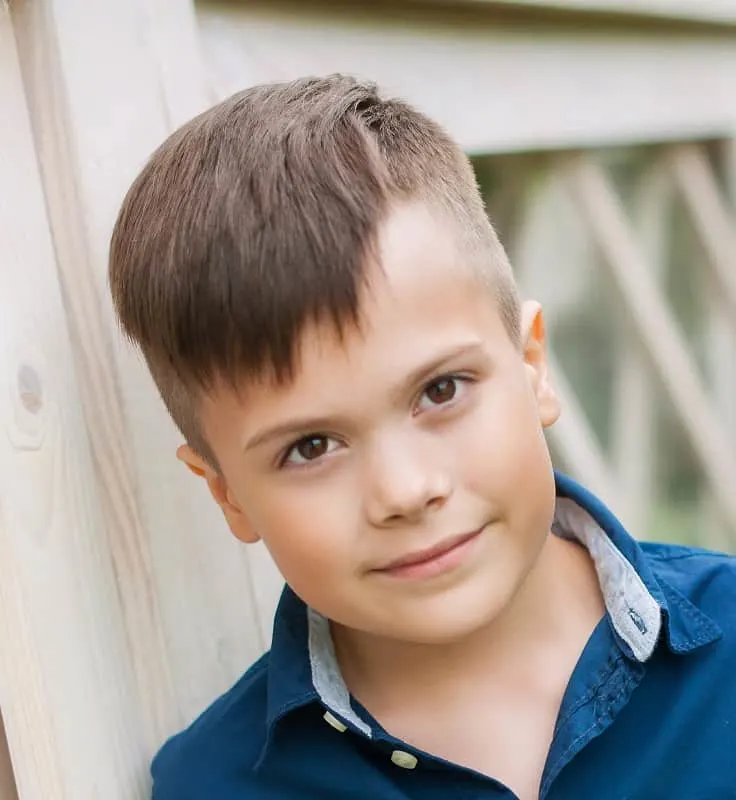 Go for a concise cut on sides and feather the top and bangs. Style a part on one side and spread the fringe on the forehead.
When creating a crew cut for kids, you should use a trimming machine, with no.4 clippers, or opt for fades for the sides and back. Maintain the top longer, feathered, lifted upwards, or just cut short. Your little man will look marvelous and confident, and you'll obtain a hairstyle that is so easy to recreate at home.