Crew cuts are one of the best options for moms when it comes to short haircuts for little boys. They count among the most low maintenance hairstyles because the hair in the back and on the sides is pretty short, while the top remains a little bit longer. There's no need for styling, only if you build a small pompadour that you can orient upwards or to one side.
Also, with the sides being tapered, you will gradually build the pomp, making it complement the front hairline. The haircut is ideal for men and boys of all ages: toddlers, little gents, and adolescents. If you want your young man to look stylish with no struggle, a crew cut for kids is what you are aiming for. Find out below the best hairstyles!
1. Short Crew Cut for Kids
Use a fade cut for the sides and maintain the top hair just a little bit longer. Your little man will look stylish, and if he has a V hairline, this hairstyle will perfectly suit him.
2. Crew Cut with a Faux Mohawk
If your son adores crazy haircuts, it's about time to give him one like the above kid's crew cut. Keep the top hair longer, this way you'll be able to style a messy faux mohawk that will suit his look with glasses.
This kid's long crew cut will certainly suit boys that want to stand out. Build short pomp that's oriented upwards and slightly on one side and style a razored line design on one or both sides of the head.
4. Crew Cut for Toddlers
Toddlers that still have fluffy, puffy hair will look so cute with a short crew cut. You can do this haircut at home and style the hair with a trimming machine, using the clipper no.4.
5. Tapered Crew Cut
This kid's tapered crew cut will make your boy stand out in his first day of school. Go for a high fade on sides and style two parts on both sides of the head to highlight the longer top.
6. Crew Cut with a Fade
This hairstyle for little boys will beautifully highlight your son's top hair. Go for a fade on the sides and back, Disrupt it with a sharp line that will draw all the attention to the top.
7. Crew Cut with a Part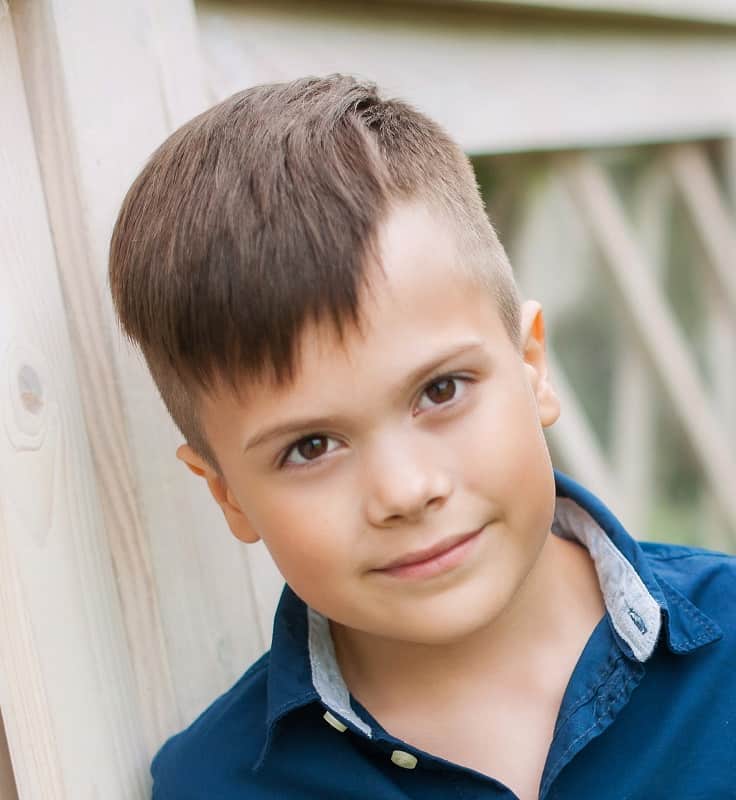 Go for a concise cut on sides and feather the top and bangs. Style a part on one side and spread the fringe on the forehead.
When creating a crew cut for kids, you should use a trimming machine, with no.4 clippers, or opt for fades for the sides and back. Maintain the top longer, feathered, lifted upwards, or just cut short. Your little man will look marvelous and confident, and you'll obtain a hairstyle that is so easy to recreate at home.