Every young boy wants to be chic and one of the best ways to do that is a kids Mohawk. This statement hairstyle is not only meant for adults. There are so many great, appealing styles to choose from that you'll be really surprised.
How to Cut Mohawk for Kids
Cutting a Mohawk for kids is not as hard as it sounds. The main factor is the length of the hair. Kids Mohawk haircut looks are characterized by hair that's longer in the top part and shorter on the side. After the child and you decide which hairstyle you'll exactly go for, make sure that the boy washes it.
If you'll be cutting it with scissors, it's much easier for the hair to be dry. Mark the width of the Mohawk in the top by doing a part on each side. It can range from very thin, to a wide style. Continue the two parts all the way to the back of the hair. The kids Mohawk can feature shaved sides, a low fade, medium, high fade, shapes, and more. Put the middle part of the hair up with a clip. Use a clipper or scissors to cut the sides to the desired length.
Once you're done, you can continue to the middle part. You will need to do this one with the scissors. There is an option to leave the back part of the middle section just the way it is or cut it as well. The center top part is usually the most confusing one, especially if you don't have experience.
Grab the scissors and begin from the most lateral parts. The side strands should be shorter and the middle ones should be younger. Work from the back to the front. Finish off by going through the Mohawk and cut with an angle for a layered look that also has more volume.
Watch The Following Video on How to Cut Mohawk for Little Boys
Cool Little Boy's Mohawk Styles
Here're some stylish kids Mohawk hairstyle ideas. You can choose one for your boy's next hairdo!
1. Classic Spiky Fohawk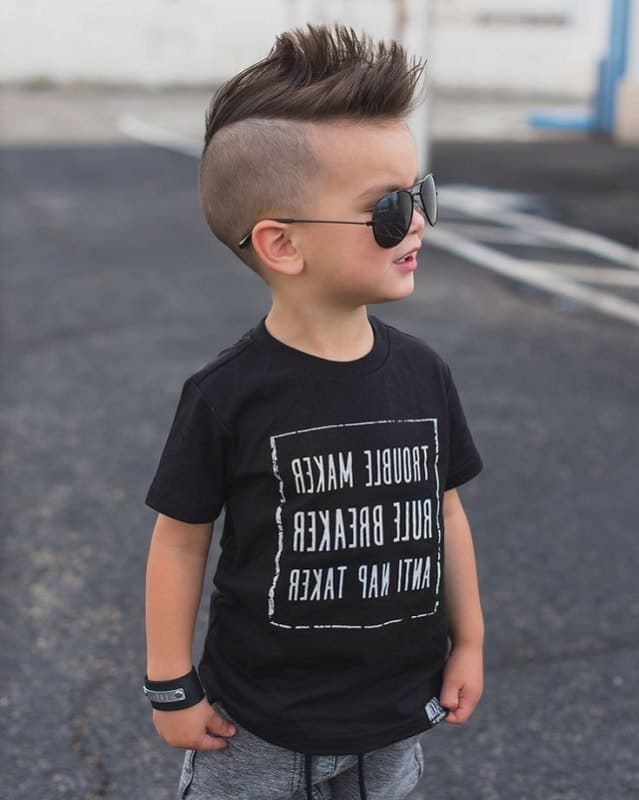 Classics are called that because they are a great fit for everyone. It doesn't matter if your kid is 5 or 15, the spiky basic Mohawk will make them so much cooler.
Ideal For: It's a fun look for all youngsters who know how to pull it off.
How to Style: To put the hair up, you can blow dry it with a brush and also use a strong hair product. Hairspray can be of big help as well.