There are tons of haircuts for blonde boys to express themselves and change their looks. Whether young men want to try out the latest trends or stick with tried and true classics, blonde boy hairstyles never do you wrong.
So, let's find out once and for all – do blondes have more fun?
Trendy Hairstyles for Blonde Boys
No matter whether you're into short or long blonde boy hairstyles, we get you covered. Styles always change, but the most promising hairstyles never go out of style. Let's check out the best haircuts and hairstyles for blonde boys that are trendy and fashionable.
1. Short Curls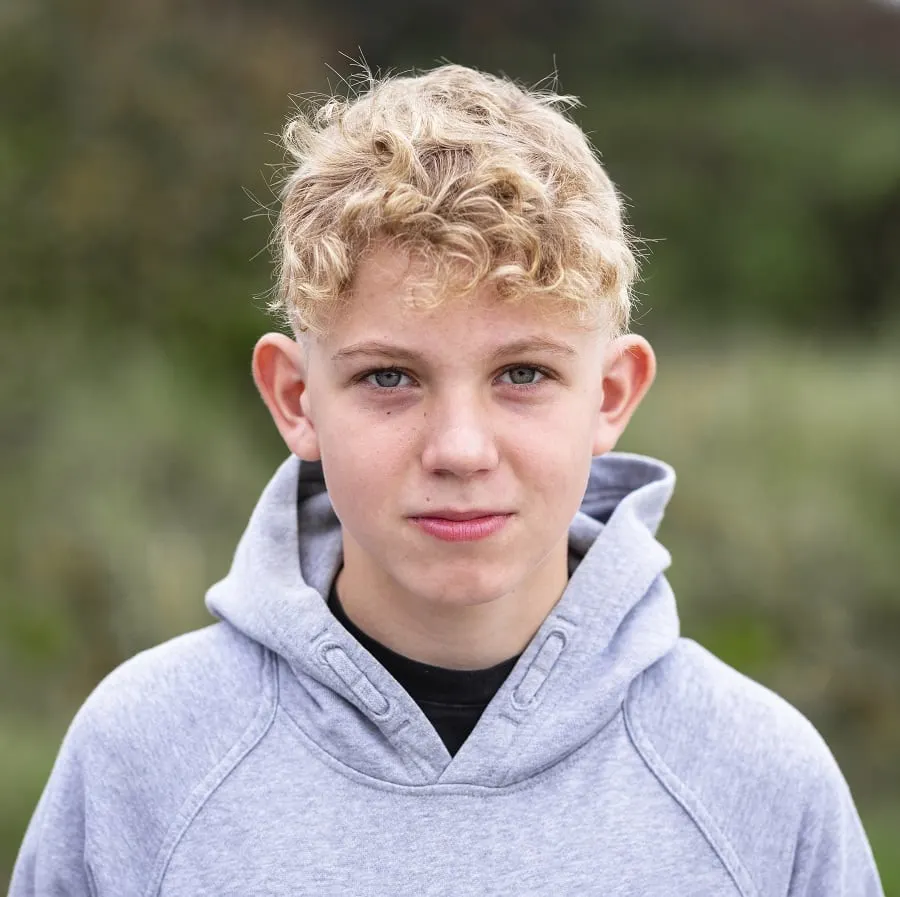 Short curls not only look great with dirty blonde hair, but it's an easy style to maintain. For teens who don't want to spend time on their hair, this look takes seconds to get and requires minimal effort.
To get this curly blonde boy look, use a curling product in the shower, scrunch it with a towel, and let it air dry.
2. Side Blown Undercut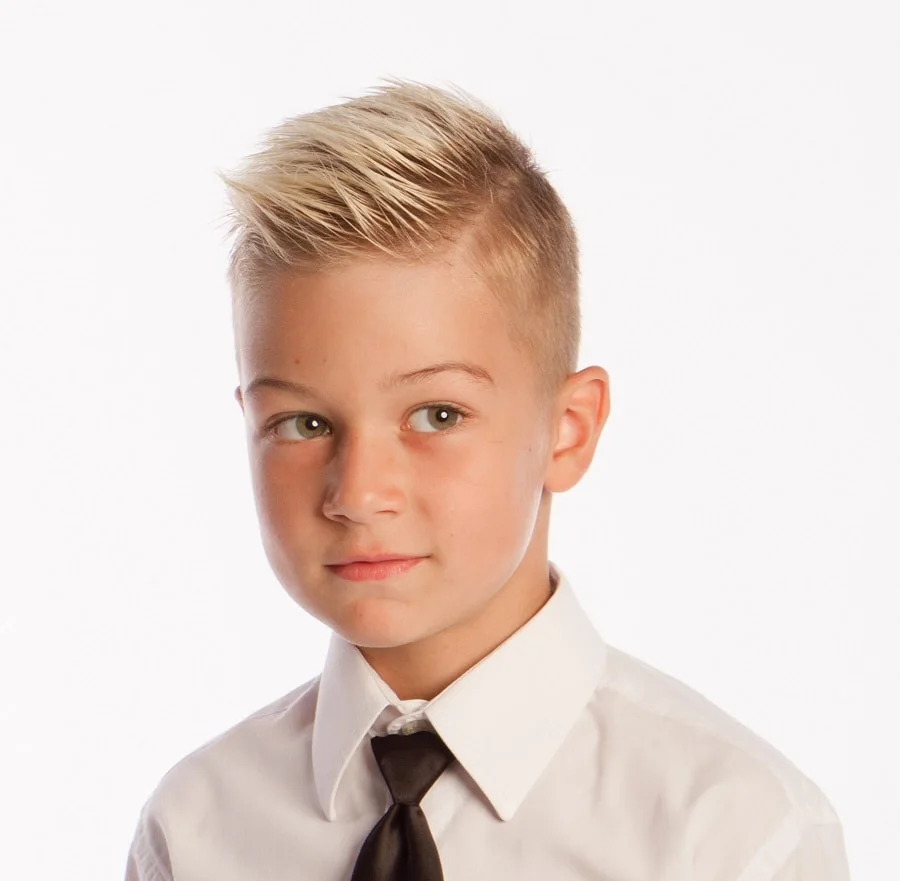 An undercut is a stunning look for any boy. To get this style, you keep most of your hair long and thick in the front while shortening the back and sides of your hair. Using a brush or your fingers, style the remaining hair upwards using hair gel.
3. Wavy Medium Hair
A wavy hairstyle for boys with blonde hair shows off your texture. Whether you decide to use a hairdryer or let it air dry, you will get volume and dimension, which adds to your wavy hair.
In addition, your waves create a messy and frizzy style that resembles a well-maintained bedhead.
4. Buzz Cut
Choosing a buzz cut means opting for a style that requires no styling products or additional time in front of the mirror.
A buzz cut goes well with any hair type, and you can trim the sides to suit your preference.
5. Man Bun With an Undercut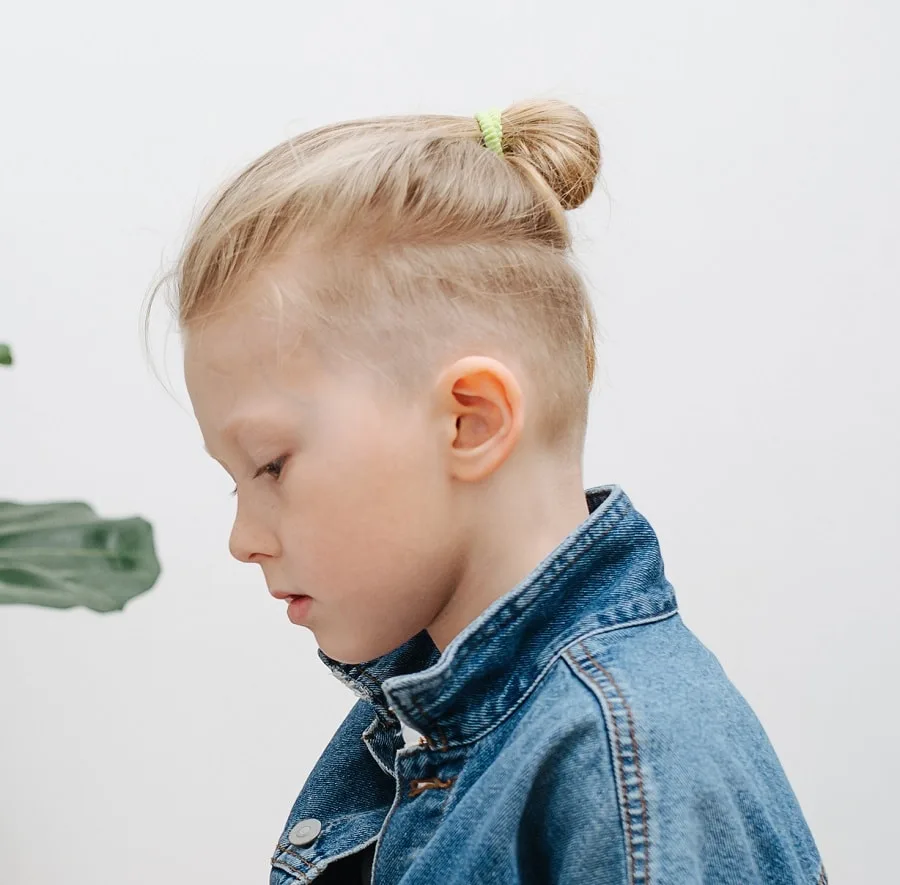 Man buns with an undercut give your blonde hair a sophisticated style. The undercut gives you less hair to maintain in the bun. The undercut peeks out to show off the style when your hair is in a ponytail.
6. Faux Hawk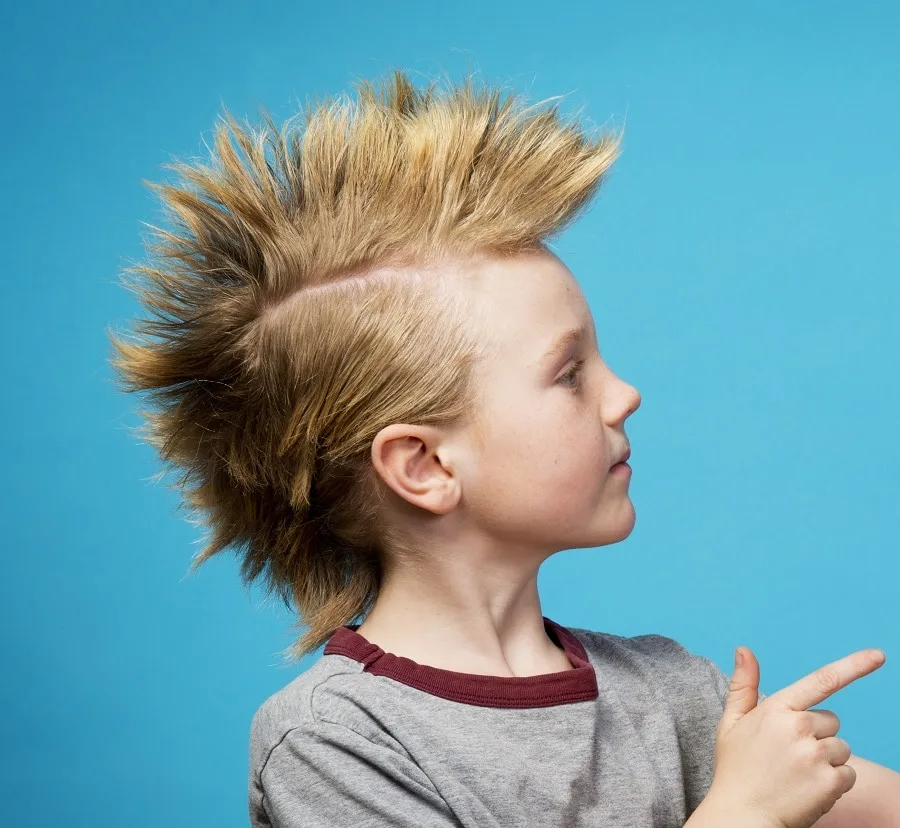 A faux hawk style is perfect for anyone hesitant about cutting the sides. You can make your faux hawk as wild as you want by leaving the hair on top as long as you wish.
Also, styling with gel will give you perfect spikes to finish the look. For blonde boys wanting a crazy hairstyle, this is a great bet to turning some heads.
7. Skin Fade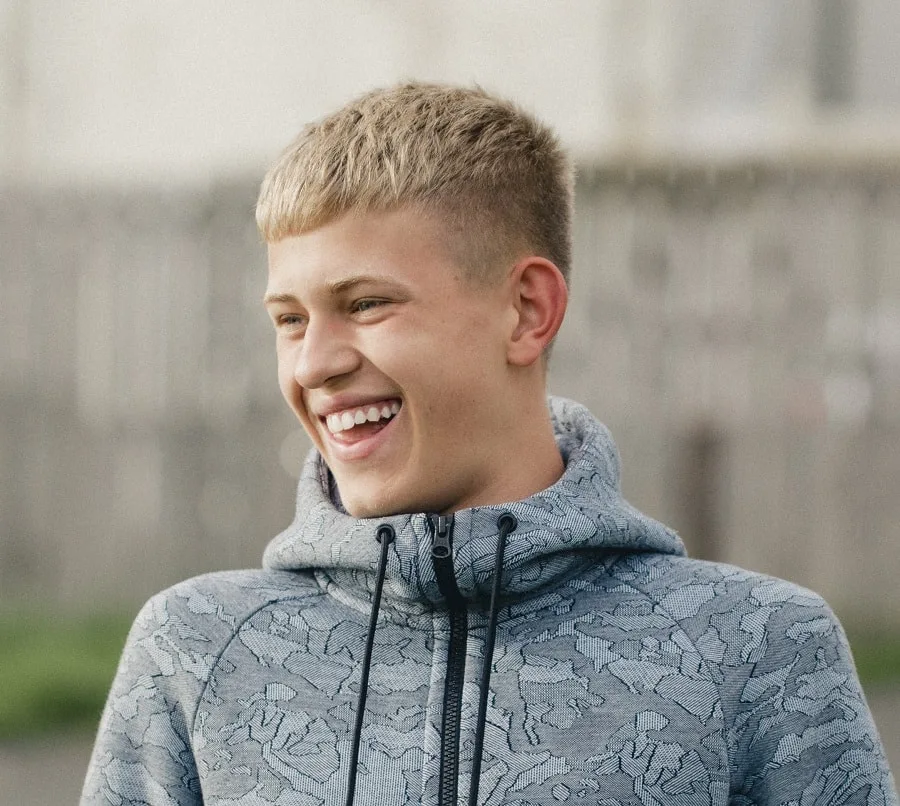 Skin fade haircuts for blonde boys keep the top part longer. This hairstyle reduces the length on the sides and can be used to introduce a number of styles.
The top of a skin fade haircut can be styled in any way you like and is ideal for all face shapes.
8. Tousled Hair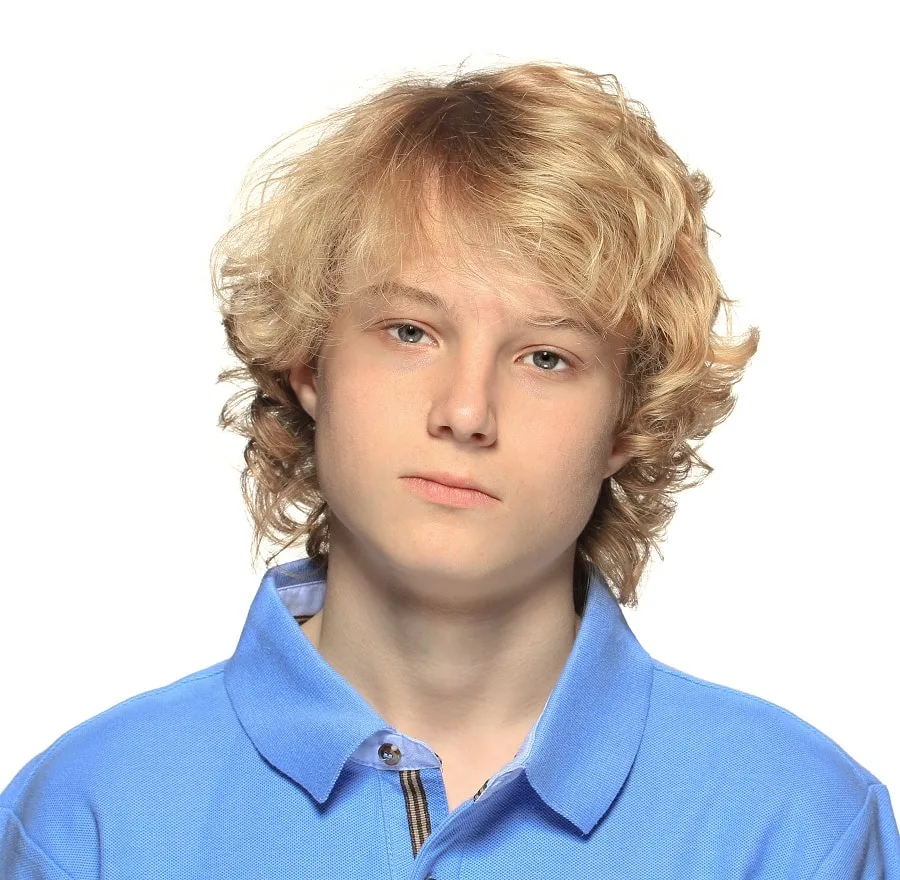 Tousled style is a hairstyle that is done by using a hairdryer. The overall look is messy, but that's how it's meant to look. Weaving your fingers through the waves tame the wild hair you made with your hairdryer.
9. Asymmetrical Spikes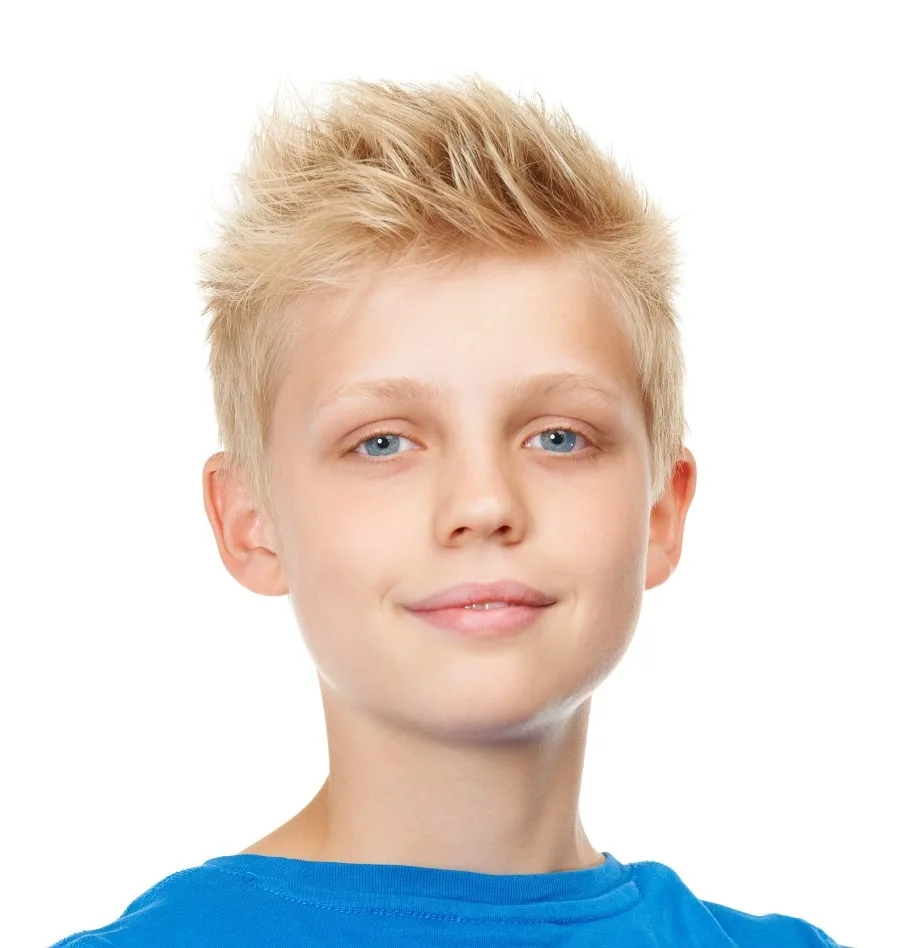 Asymmetrical spikes are always in style. Applying some hair gel to make your spikes takes a minute to solidify this hairstyle all day. Blonde hair paired with gel gives your hair texture and a mix of shades.
10. Curtain Hair
Curtain haircuts get more movement for those with naturally straight or semi-wavy hair. Dark roots with blonde ends show off the curtain style when your hair is parted down the middle.
You can sweep your hair to the side to achieve a more sophisticated look from the same hairstyle.
11. Shaggy Cut
A shaggy boy cut gives you a messy look while keeping your hair manageable on the sides and across your forehead. This hairstyle is also a great pick for school-going blonde boys.
It's been a famous style for boys and looks great with wavy curly hair. A side part adds neatness and less hassle when styling daily.
12. Bob Cut
A bob cut for short and medium-length hair is an option for any face shape and personality style. If you don't mind your hair in your face, you can have multiple styling options for the day.
Naturally straight hair and parting your hair in the middle gives you the classic bob cut. It's easy to maintain and doesn't require many products to achieve this haircut.
13. Top Long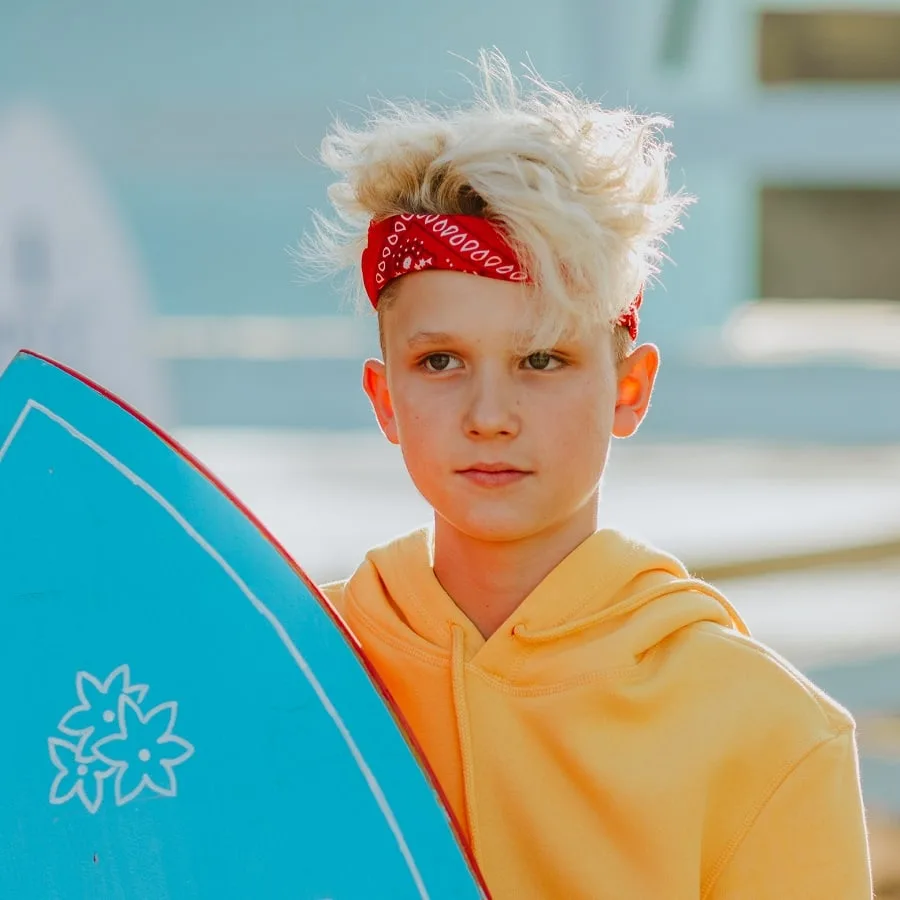 A top long blonde hairstyle allows for your hair to run wild on top. Whether you shave the sides or get an undercut, all the attention will be on the top.
Use a hairdryer to fluff the top and give yourself more volume. You can also pair the look with a bandana to hide the sides and give all the attention to your top long style.
14. Layered Haircut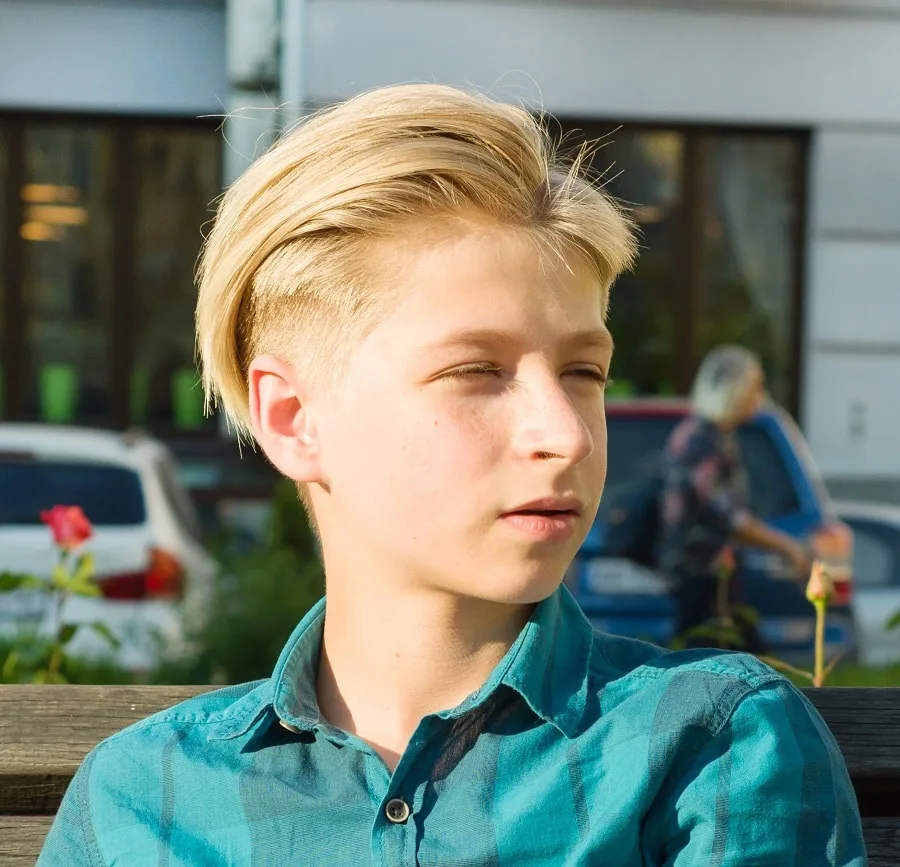 A haircut for many blonde boys that's easy to maintain is choosing layers of different lengths. With layers, you can easily style it with bangs or sweep it to the side.
You want to choose a length that flatters your teenager's blonde hair and length.
15. Dreadlocks
Dreadlocks have become popular for all hair and skin colors over the years. Having your blonde hair in dreads is an easy to maintain style that you can keep in place with a ponytail or headband.
Your dreads can be styled to any thickness you'd like that looks good with your face shape.
Final Thoughts
No matter the length of your hair, boys with blonde hair have the choice of many different hairstyles.
Our list has a haircut option for every blonde boy wanting a change. All of them are straightforward and easy to achieve – perfect for young boys who have more important things to focus on! These hairstyles never go out of style, so while they're easy to maintain, they give blonde boys a classy look, no matter their face shape.