It is always a lot of fun trying to play around with boy's hairstyle. Today there are plenty of options that you can try, but the challenge often is about how to balance comfort with styling.
This is exactly why long on top and short on sides haircuts for boys come into consideration. These asymmetric cuts instantly introduce a stylish and cute quotient. The variation in length also goes a long way in making it a manageable style for boys.
Best Long Top Short Sides Hairstyles for Boys
Here is a quick lowdown of some of the most stunning variation of boy haircuts that are short on sides and long on top.
1. Faux Hawk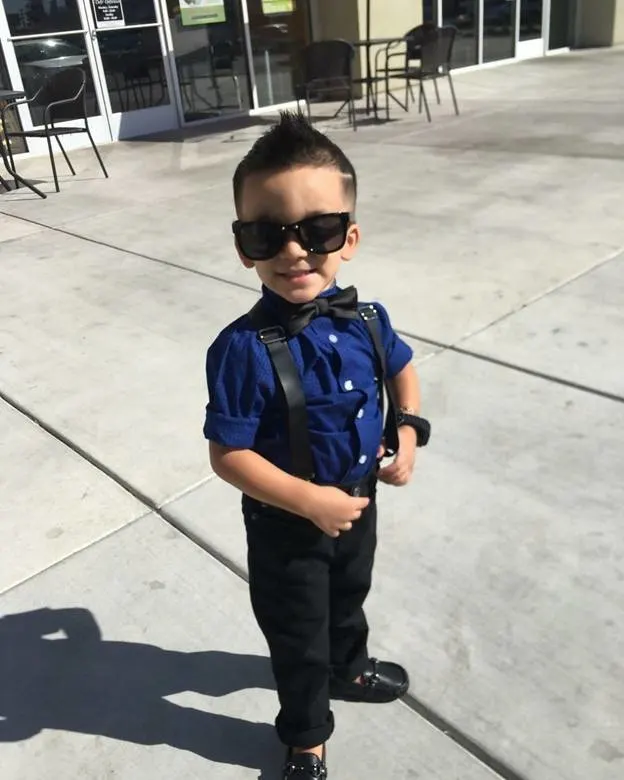 One of the most adorable long on top hairstyles for boys is faux hawk, it is quintessentially stylish and drop down gorgeous.
Doing up the little punk is always so much fun and invariably becomes hot with kids and adults alike. The fade on the sides gives the much-needed relief and comfort element you are looking for.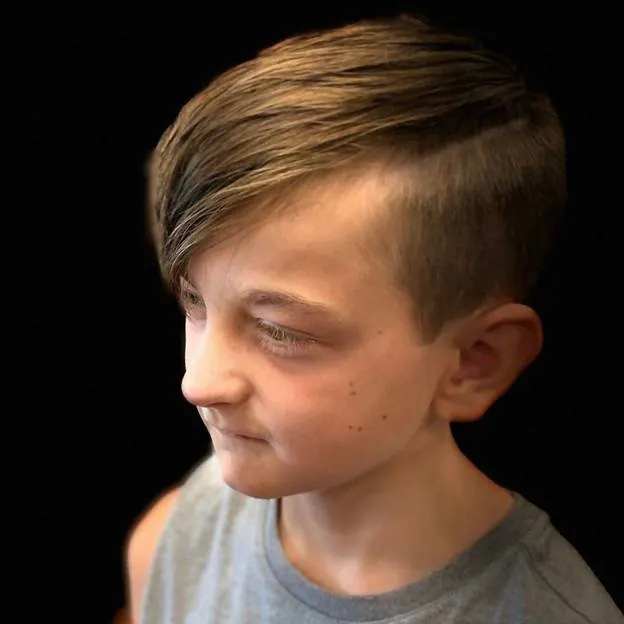 This is another interesting option when you are scouting for little boy haircuts which have longer top with undercut sides.
The versatility and the contrasts that it offers make it a top favorite. It is stylish and functional at the same time and a relatively easy to maintain too.
3. Comb Over with Undercut
The long hair on top combed neatly in this boy hairstyle and stayed beautifully in sync with the undercut sides.
This comb over for boys is a neat and extremely low maintenance style and can be easily combed in proper shape any type. You do not need a styling product either; this effect can be achieved even with wet hair or well-oiled hair.
Coolest Ways to Style Shaggy Hair for Boys
4. Slick Back Fade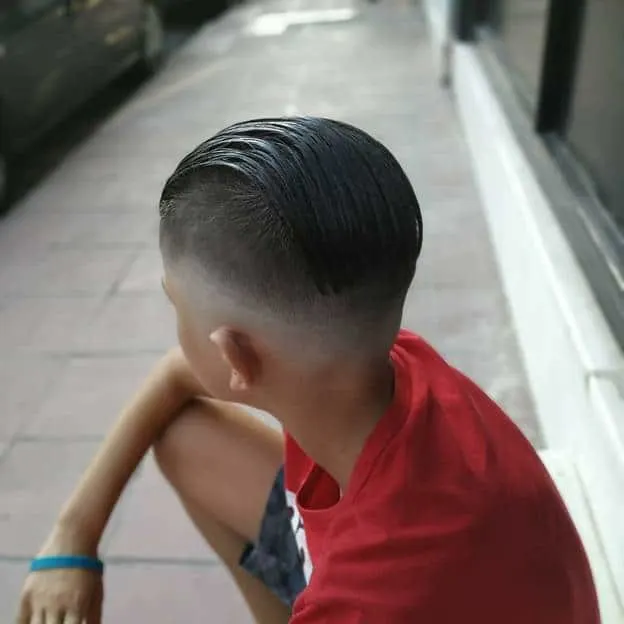 The faded sides bring out the contrast of the pomade quite prominently. The long top with short sides in this haircut work together to offer a striking impact.
It is both a stylish and efficient way to fashion and style long hair for boys. Even if they spend long hours in the sun or get wet in the rain, it is not a problem with this hair.
5. Angular Fringes on Top
This type of hipster boy haircuts that are long on top is ideal for those with thin hair. The angular fringes work beautifully to give you the illusion of volume.
It is a quintessentially adorable style that brings to light both the cute quotient as well as the styling genius in a creative short side combination.
6. Boys Curly Quiff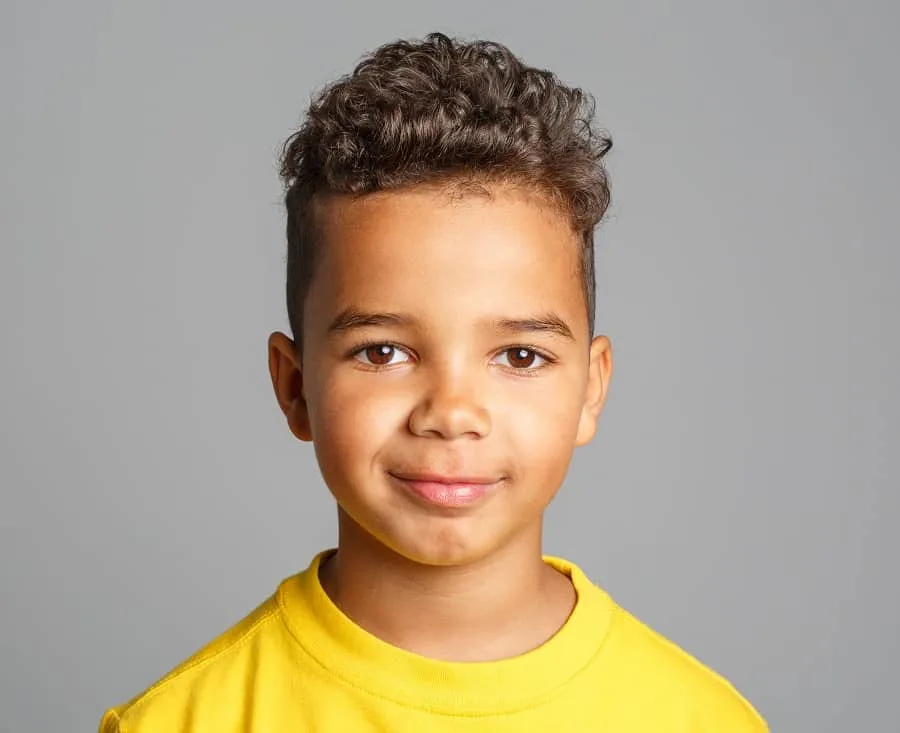 The quiff style looks perfect if your boy has natural medium curls. This style requires tapering the sides while the top remains longer. Use gel or wax on top to achieve a smooth finish, and make some curls using your finger.
7. Shaved Sides + Short Dreads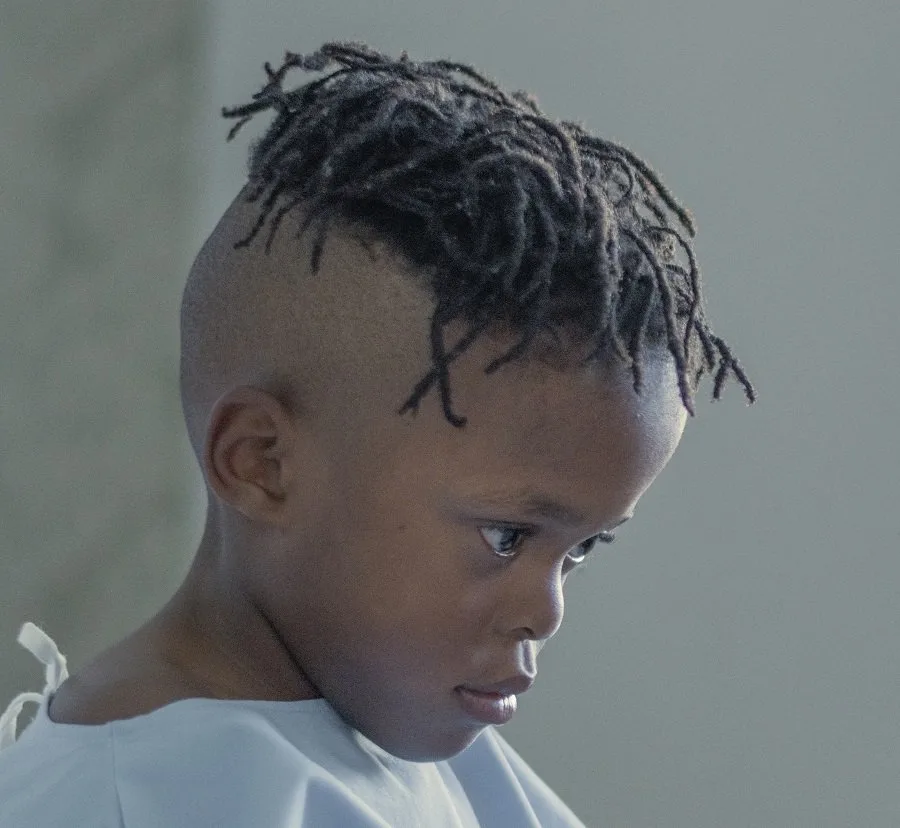 Shaving the sides of dreadlocks can give them a cleaner appearance and make styling them more manageable. To get this look, just shave the parietal ridge to the down while the long top dreads remain messy and hang down.
8. Undercut + Braided Pony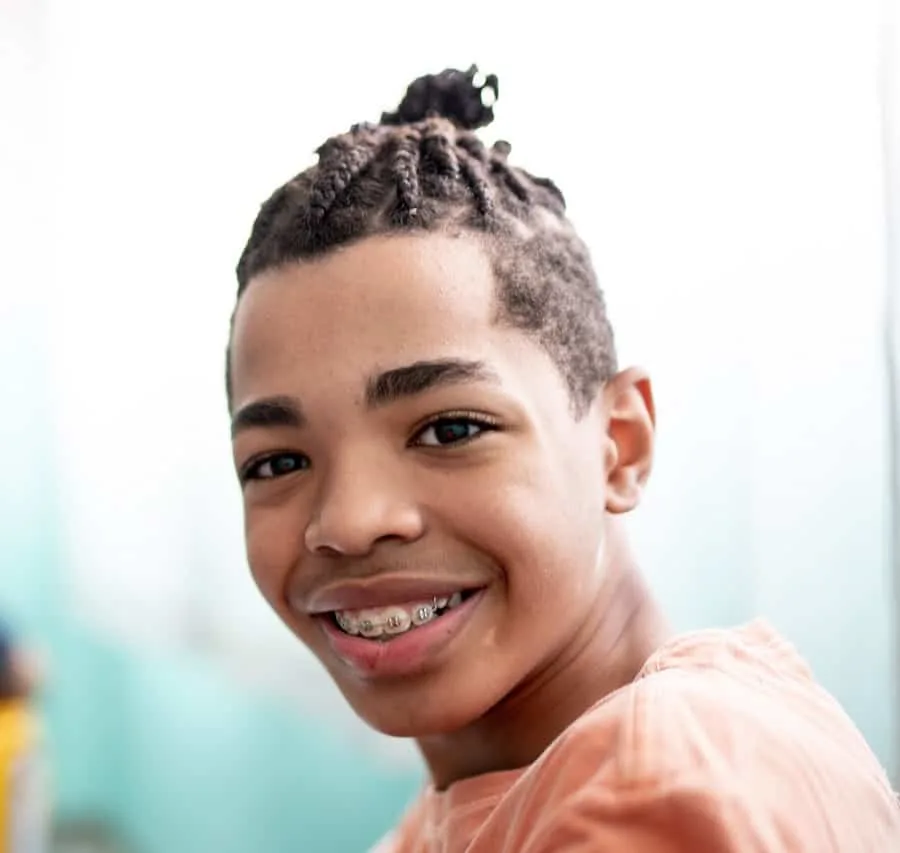 This style can add some definition to the curls. It involves making some braids on the top and trimming down the sides. Next, pull all the braids into a ponytail and secure them with a hair tie. It looks great on teenage boys.
9. Slick Back Top Ponytail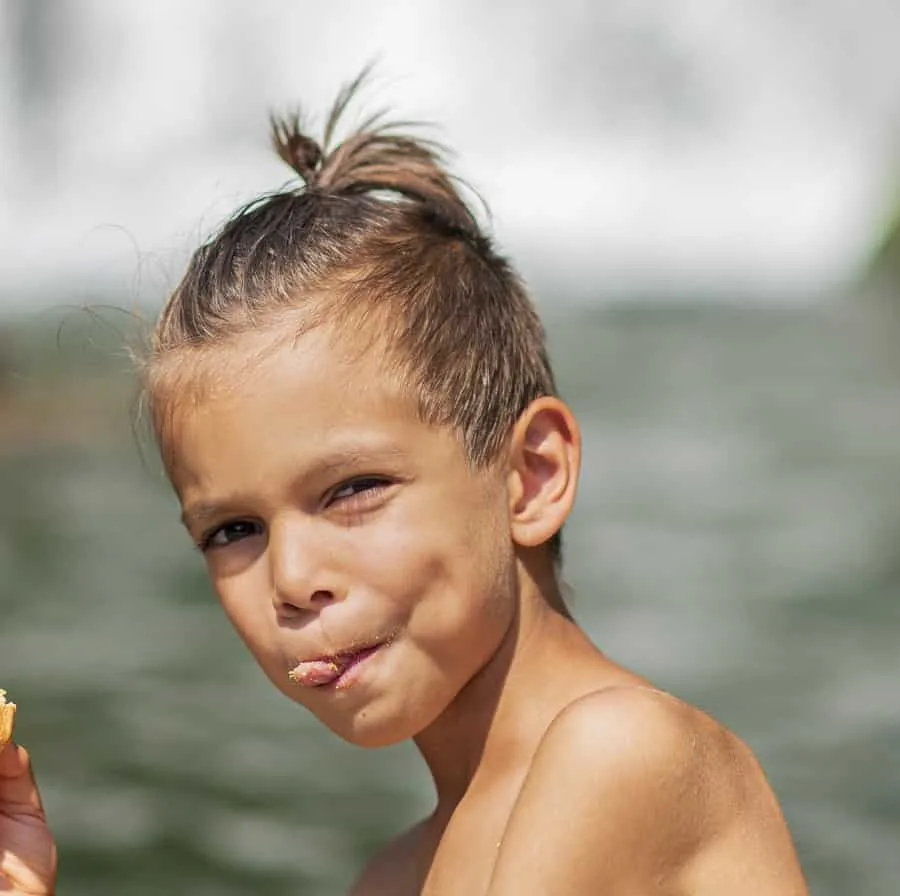 It will look your boy funky and polished. Start with wet hair and towel dry it. Next slick back the hair and make a ponytail on the crown of your son's head. However, make sure to cut the sides and back short using a scissor.
10. Curly Top
This style is low-maintenance and still manages to look great on afro hair. Let the hair grow for a few months and regularly comb to loosen the curls. Cut the sides short to focus on the top. Hence, your boy will get long-lasting curls on the top that are more bouncy than any other haircut.
11. Short Forward Sweep + Undercut
If you love the look of a modern, edgy hairstyle but are looking for something simple and chic for your little one, try out a short forward sweep with an undercut hairstyle. This look features short hair on the top of the head that is swept forward, combined with a disconnection or undercut on the sides and back.
12. Curly Frosted Tips
It is a great choice for boys with naturally curly hair. The top is left long and curly, while the sides are trimmed short. For a casual look, the hair can be allowed to air dry or tousled with fingers. This hairstyle is versatile and works well with a variety of face shapes and hair types.
13. Swept Crew Cut
The hair is first cut short on the sides and back to achieve the look, using clippers or scissors. The top is then combed forward and swept to the side, creating a soft fringe. For a more formal look, the fringe can be combed straight, and for a more casual look, it can be tousled.
14. Undercut Cornrow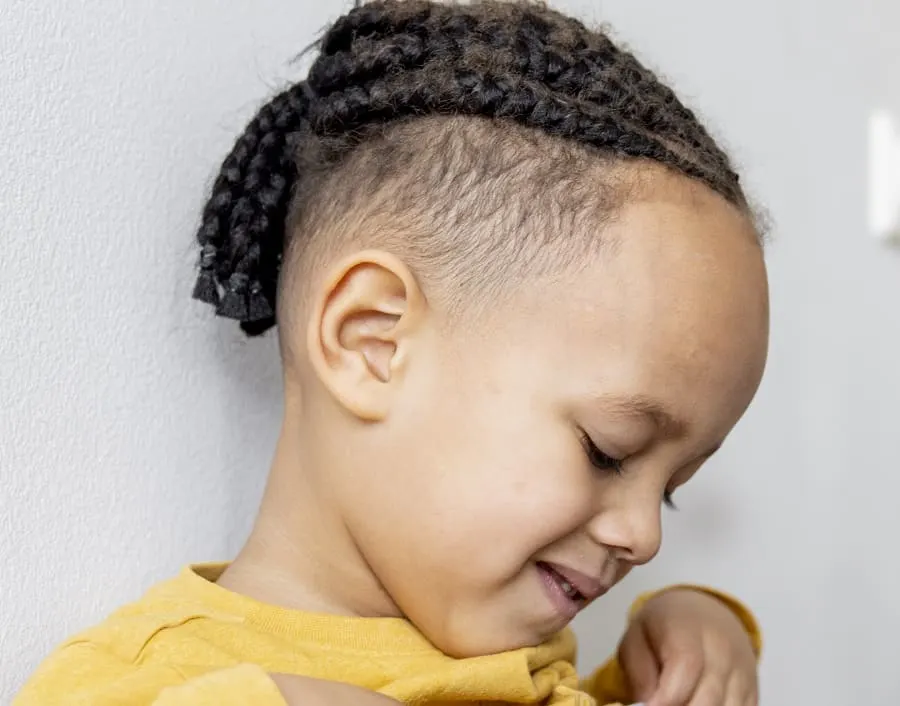 One popular way to wear the undercut cornrow is to finish it off in a ponytail. This can be done by braiding the hair down the back of the head and then securing it with a rubber band or hair tie. The result is a sleek and stylish ponytail that looks great on both boys and men.
15. Angled Sweep Over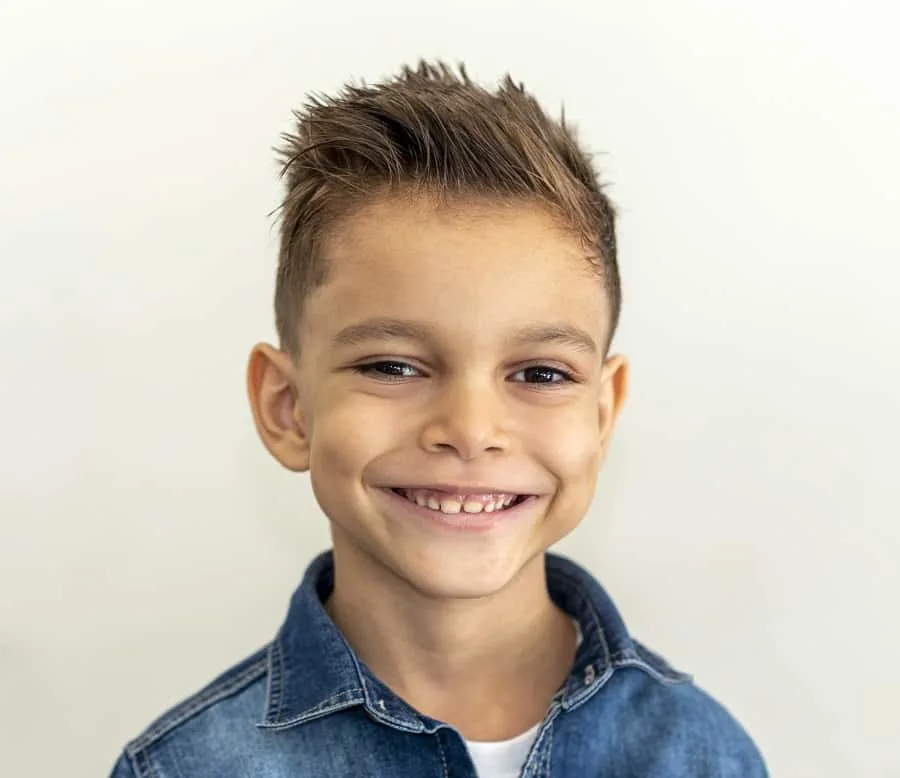 This look is achieved by cutting the hair on the sides short and keeping it long on top. The hair on top is then swept over to one side, giving the appearance of an angled fauxhawk. To maintain this style, boys will need to use a bit of pomade or gel will help to hold the hair in place and give it a bit of shine.
16. Curly Mohawk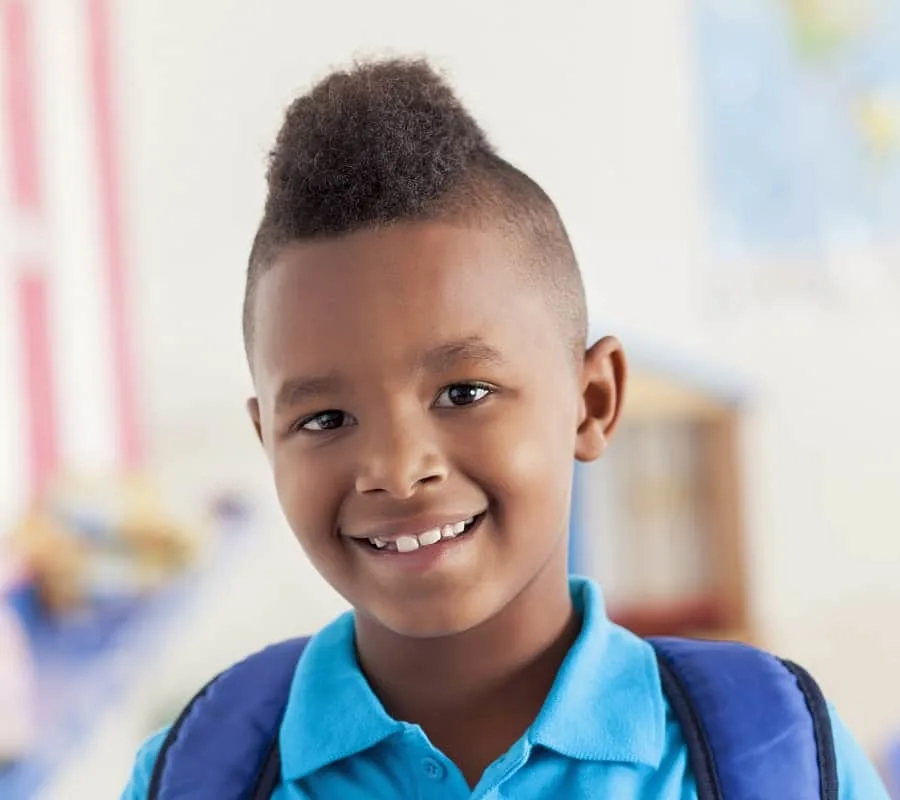 To style a Mohawk for boys with curly hair, start by trimming the sides of the head short, leaving a bush on top. The hair on the top of the head should then be brushed up.
17. Messy Faux Hawk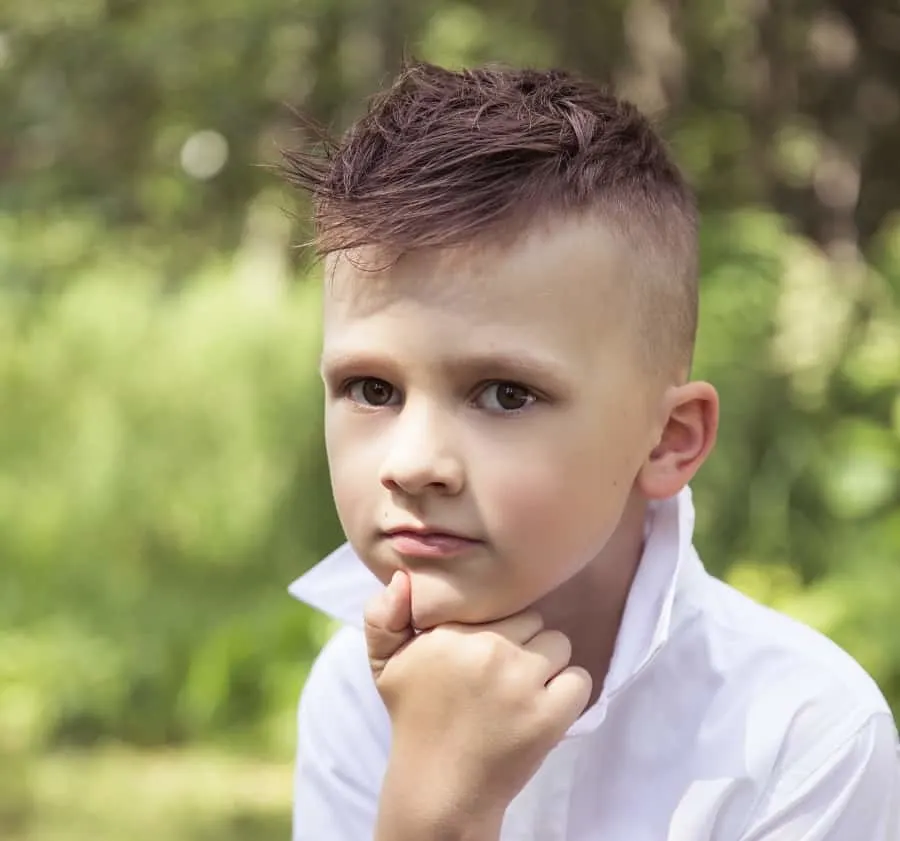 You can get this style to your son by applying a small amount of gel to damp hair. Then, use your fingers to push the hair up in the middle of the head, creating a small peak. Finally, use your fingers to imperfectly tousle the hair, giving it a messier appearance.
18. Wavy Curls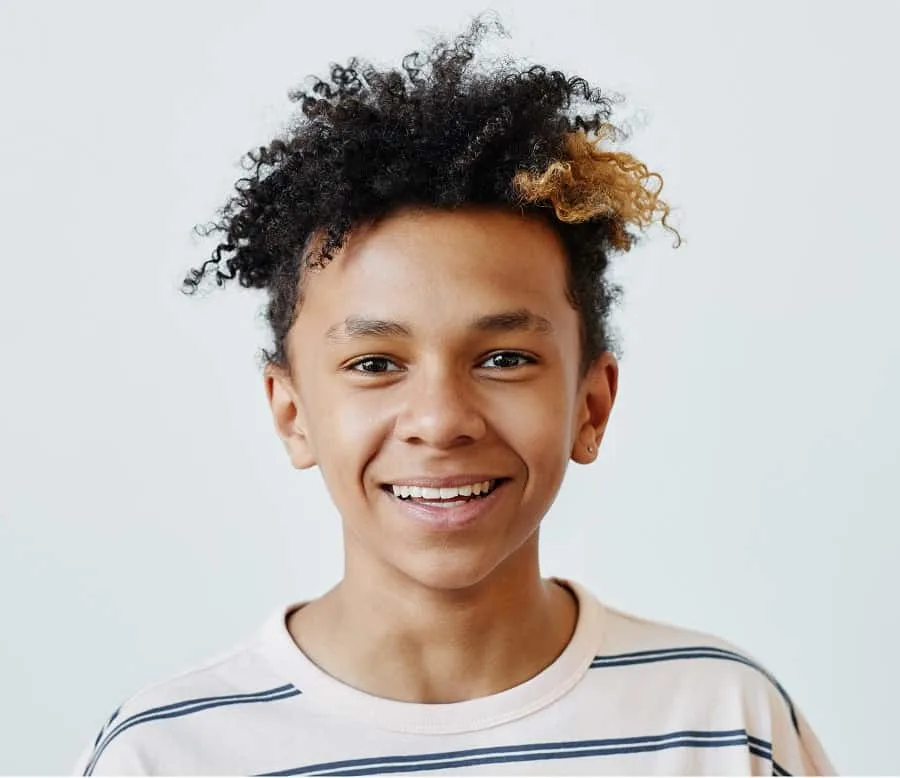 This style features curls that are twisted and turned into various shapes. The trimmed sides provide a clean, sharp look that is perfect for any occasion. You can even add some highlights to grab attention.
19. Shaved Sides + Afro Long Top
A close shave on the sides with a bit of hair left on top is a popular hairstyle for afro hair. To achieve this look, start by shaving the sides of your head close to the scalp. Then, just comb the remaining long hair on top.
20. Sticky Top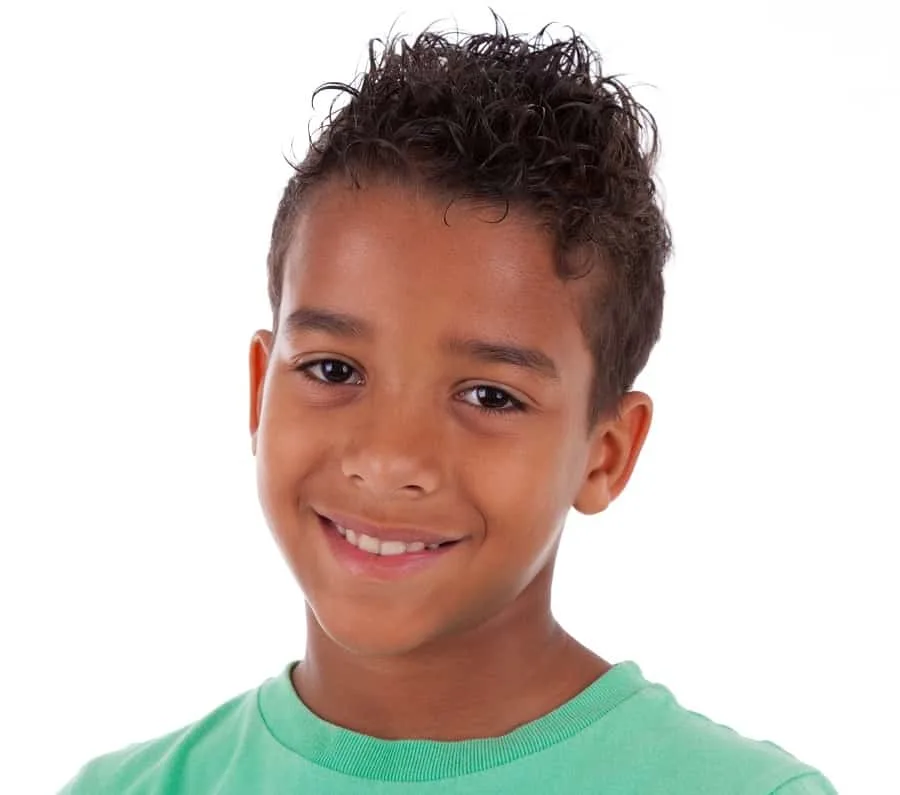 This wet, sticky, curly, and spiky hairstyle is perfect for boys with short sides. The look is achieved by using a styling gel or pomade to create spikes on the top of the head while the sides are kept dry.
21. Forward Spike + Design
The spikes add volume and dimension to the hair, while the short sides help to frame the face. Start by applying hair gel to damp hair. Then, begin to tease the hair at the crown of the head and comb forward. Finally, use a strong-hold hairspray to keep the style in place.
22. Blue Faux Hawk
The best thing about this hairstyle is that it can be styled to suit any occasion, whether your son is dressing up for a party or just going to school. To style a blue faux hawk, start by spraying your hair with a strong hold hairspray. Then, use your hands to gather hair in the center and make them spiky.
23. High Ponytail
The key to this look is the high ponytail, which creates a dramatic and elegant silhouette. The fades sides help to balance out the look and add a touch of playfulness. To get this look, gather your boy's hair into a high ponytail at the crown of your head, and then use a brush to smooth out any bumps or flyaways.
24. Rainbow Brush Over
Start with short, trimmed sides and then gradually increase the length as you move up toward the crown of the head. Then create a clean parting on the side of your head and use the brush to sweep the hair upwards and over to the angled side. Finish off by using a comb to give the hair a neat and tidy finish.
25. Cornrow Bun
This hairstyle involves cornrowing the hair into tight, small braids and then securing them into a bun at the back of the head. The result is a sleek, polished look that can be easily dressed up or down. Cornrow buns are also low-maintenance, as they require very little upkeep once they are in place.
26. Modern Mullet + Sharp Fade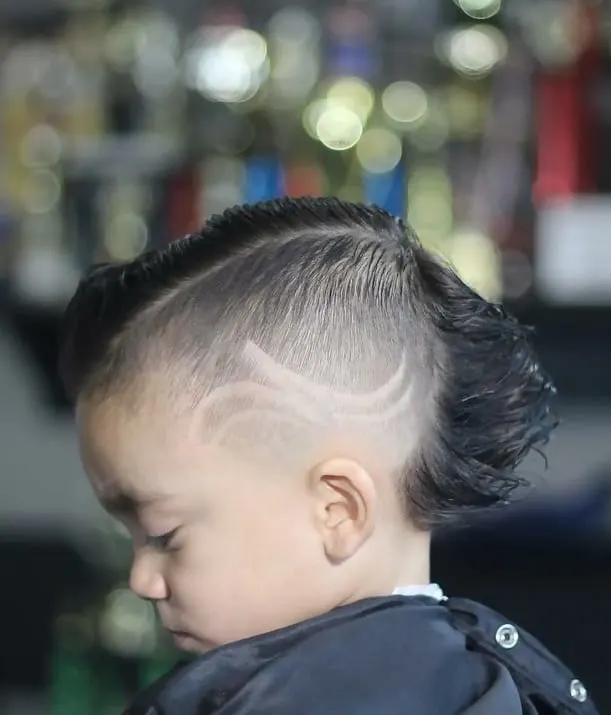 This long top short sides is not just adorable and cute but also comes across a subtly stylish option for boys. The designer lines further emphasize the brilliance of this style in a meaningful way. This is essentially a kind of style that is relatively hassle-free despite the complexity of the cut.
Outlandish Ponytail Styles for Boys to Rock
27. High Top Fade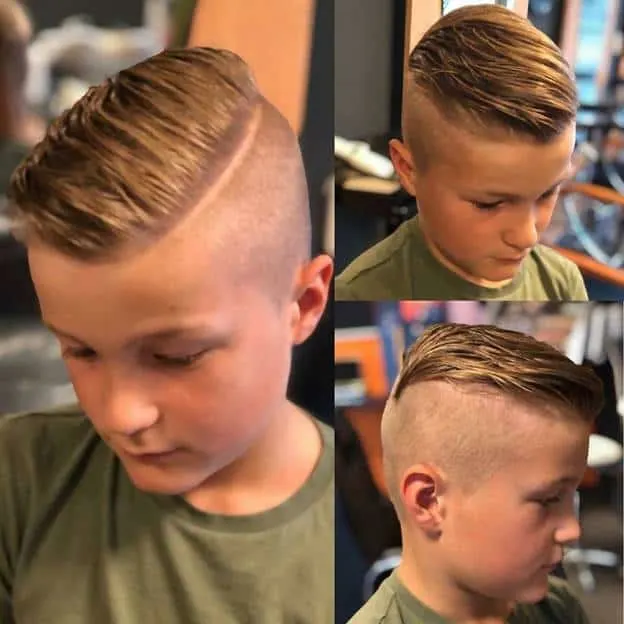 This tween boy haircut is all about application. It effortlessly introduces an immensely stylish look without inconveniencing your boy. The skin fade on the sides more than compensates for the long hair.
The glow of the blond hair goes rather well with the skin tone, and everything together makes for a stunning impact. It is cool, classy and absolutely attention-grabbing in every way.
28. Slick Back Hair + Hard Part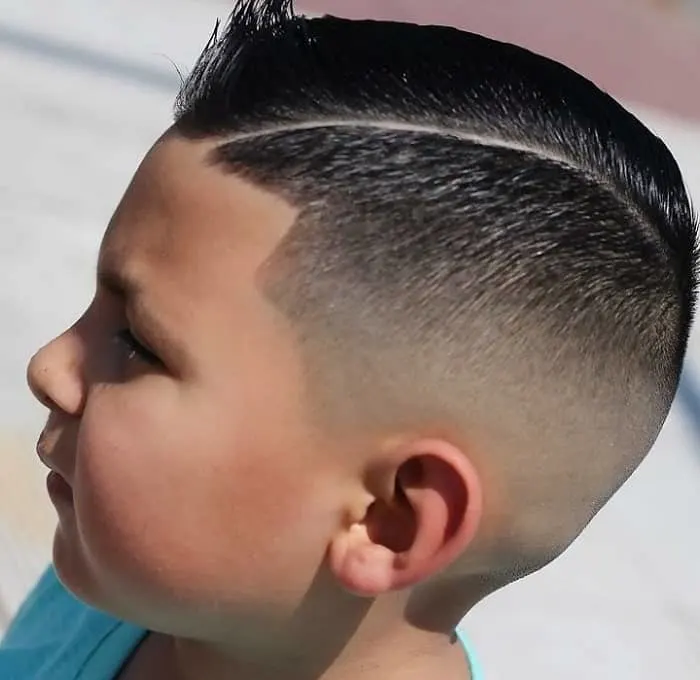 When you are discussing the different variants of the short sides haircut, this fade haircut for little boys is one of the absolute must include. It is cool, comfortable and terribly easy to maintain. This is a kind of hair that you can maintain in any type of weather and with absolutely all types of activities.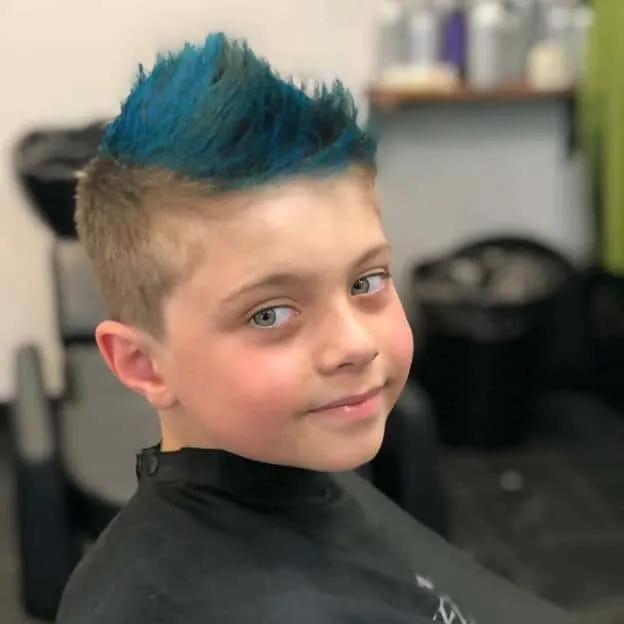 The moment you talk about haircuts for boys, some fun is a necessity, and this highlighted hairstyle for boys is all about some cool contrasts.
Must-try Medium Haircuts for Boys in 2023
30. Textured Layers on Top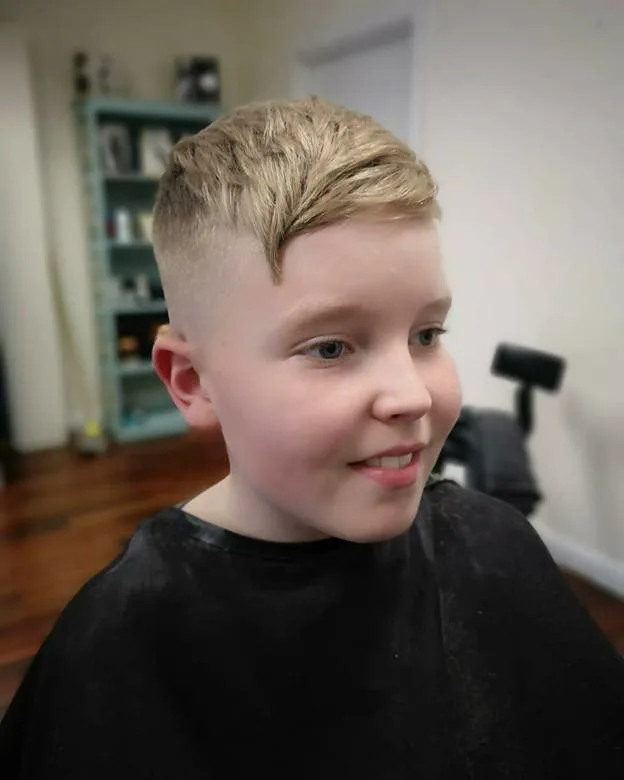 This is another comfortable and attractive long top haircut boys with shaved hair on the sides.
Whenever you look for long top and short sides boy haircuts, it is important to combine classic cuts with the comfort element.
Typically young boys spend many hours outdoors, and their comfort and impact of the prolonged sun's exposure on the hair are important considerations. Check our top styles and get a smart look for your boys.