It is always a lot of fun trying to play around with boy's hairstyle. Today there are plenty of options that you can try, but the challenge often is about how to balance comfort with styling.
This is exactly why long on top and short on sides haircuts for boys come into consideration. These asymmetric cuts instantly introduce a stylish and cute quotient. The variation in length also goes a long way in making it a manageable style for boys.
Best Long Top Short Sides Hairstyles for Boys
Here is a quick lowdown of some of the most stunning variation of boy haircuts that are short on sides and long on top.
1. Faux Hawk
One of the most adorable long on top hairstyles for boys is faux hawk, it is quintessentially stylish and drop down gorgeous.
Doing up the little punk is always so much fun and invariably becomes hot with kids and adults alike. The fade on the sides gives the much-needed relief and comfort element you are looking for.
This is another interesting option when you are scouting for little boy haircuts which have longer top with undercut sides.
The versatility and the contrasts that it offers make it a top favorite. It is stylish and functional at the same time and a relatively easy to maintain too.
3. Comb Over with Undercut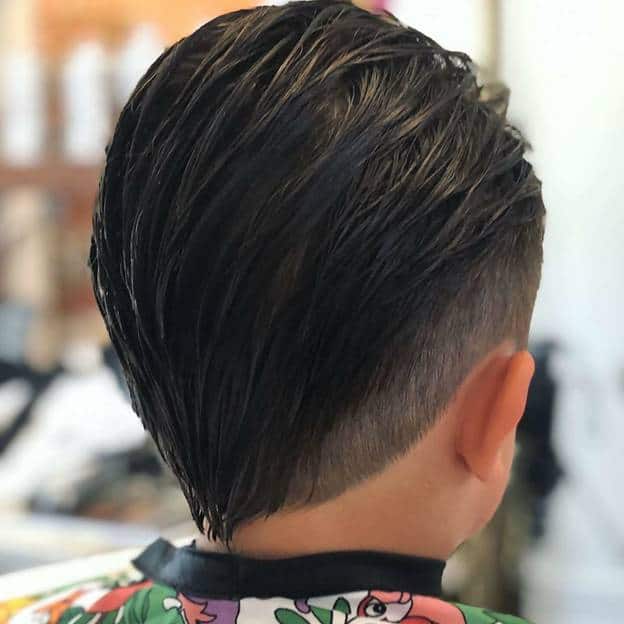 The long hair on top combed neatly in this boy hairstyle and stayed beautifully in sync with the undercut sides.
This comb over for boys is a neat and extremely low maintenance style and can be easily combed in proper shape any type. You do not need a styling product either; this effect can be achieved even with wet hair or well-oiled hair.
Coolest Ways to Style Shaggy Hair for Boys
4. Slick Back Fade
The faded sides bring out the contrast of the pomade quite prominently. The long top with short sides in this haircut work together to offer a striking impact.
It is both a stylish and efficient way to fashion and style long hair for boys. Even if they spend long hours in the sun or get wet in the rain, it is not a problem with this hair.
5. Angular Fringes on Top
This type of hipster boy haircuts that are long on top is ideal for those with thin hair. The angular fringes work beautifully to give you the illusion of volume.
It is a quintessentially adorable style that brings to light both the cute quotient as well as the styling genius in a creative short side combination.
6.
7.
8.
9.
10.
11.
12.
13.
14.
15.
16.
17.
18.
19.
20.
21.
22.
23.
24.
25.
26. Modern Mullet + Sharp Fade
This long top short sides is not just adorable and cute but also comes across a subtly stylish option for boys. The designer lines further emphasize the brilliance of this style in a meaningful way. This is essentially a kind of style that is relatively hassle-free despite the complexity of the cut.
Outlandish Ponytail Styles for Boys to Rock
27. High Top Fade
This tween boy haircut is all about application. It effortlessly introduces an immensely stylish look without inconveniencing your boy. The skin fade on the sides more than compensates for the long hair.
The glow of the blond hair goes rather well with the skin tone, and everything together makes for a stunning impact. It is cool, classy and absolutely attention-grabbing in every way.
28. Slick Back Hair + Hard Part
When you are discussing the different variants of the short sides haircut, this fade haircut for little boys is one of the absolute must include. It is cool, comfortable and terribly easy to maintain. This is a kind of hair that you can maintain in any type of weather and with absolutely all types of activities.
The moment you talk about haircuts for boys, some fun is a necessity, and this highlighted hairstyle for boys is all about some cool contrasts.
Must-try Medium Haircuts for Boys in 2022
30. Textured Layers on Top
This is another comfortable and attractive long top haircut boys with shaved hair on the sides.
Whenever you look for long top and short sides boy haircuts, it is important to combine classic cuts with the comfort element.
Typically young boys spend many hours outdoors, and their comfort and impact of the prolonged sun's exposure on the hair are important considerations. Check our top styles and get a smart look for your boys.