If you have curly brown hair and tired of the same old looks, try the blonde highlights. Most ladies are obsessed with curly hair, so this is the perfect time to rock one of these manes.
Blonde Highlights on Curly Brown Hair
Brown hairstyles with blonde highlights below are ideal for women with curly hair and super-versatile. You can flaunt them at special events, going out with the girls, or a romantic dinner. All you need is some free time on your hands and extra patience.
There are many options for curly hair colors. Here are some fresh ideas for brown curly hair with blonde highlights which are worth checking.
Curly Brown Hair with Ponytail
Your luscious brown curls with blonde highlights deserve to be shown off in a fierce ponytail. Take it up as high as possible to get that WOW effect. You can even leave some wavy tendrils in the front, to get that 90s-inspired look that every single celebrity loves at the moment.
Natural Curls
Finger curls are best among the curly brown hair with blonde highlights to help you stand out. This voluminous mane will take your appearance to a whole new level.
It is definitely messy, but even girls with the straightest hair can easily copy it. All you need is a pencil and a flat iron. These curls will have all eyes on you.
Retro Curls with Blonde Highlights
Curly brown hairstyles look stunning, so here is another amazing example of what's trending. Retro curls are all over Instagram and Pinterest. So why not give them a try and have the most glamorous mane at a special event this season.
You may also like blonde highlights on dark brown and red hair.
Every single hairstyle that you have in mind will look three times better when accessorized. Hair jewelry is already approved by all the major trendsetters. Now, it's your time to make a strong fashion statement and add it to your frizzy hairstyle.
Braid It Up
Who says that curly brown hair can't be upgraded with braids? This do is such a great way to show off your messy, vibrant curls.
The blonde highlights on these brown curls give the best finishing touch to the look. For all the gals who are consumed with braids, you can mix and match to get that Insta-approved boho style. Fishtail, French, Dutch, rope, pull through are just a part of the options to choose from.
Innovative hairstylists have found a way to put wavy and curly hair in an updo. This is actually the simplest blonde highlights on brown curly hair you will ever try. The best thing about it is that there aren't any rules you have to follow. It doesn't have to be perfect.
On the contrary, the messier- the better. When you need to attend a wedding, an updo will really compliment your elegant style.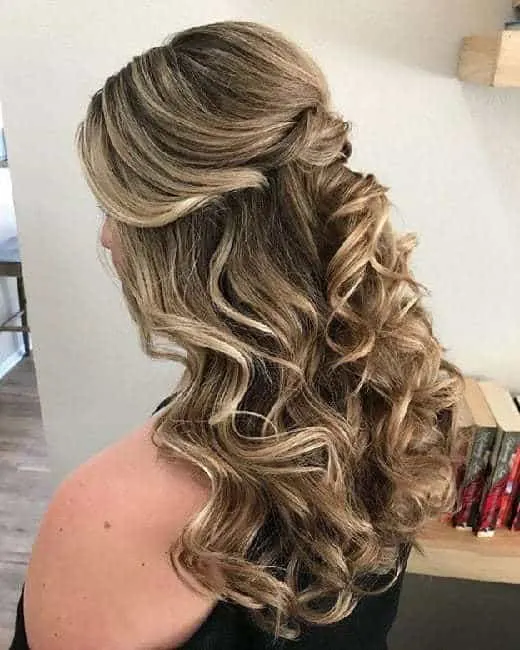 When you simply can't decide if you want to have your curly brown mane up or down, this is the way to go. Just like with the updo, ladies don't need to put too much effort into this brown curly hair with blonde highlights hairstyle. Add some twists and turns, and secure it with bobby pins. All it takes is 10 minutes.