When it comes to combining brown and blonde hair, there isn't a better combination than brown hairstyles with blonde highlights, and today, we've put together a list with 60 unique, great styles for you try on.
Brown Hair With Blonde Highlights
Before we start showing you these hairstyles, it's important for you to remember you should have or be planning to get highlights, otherwise, these blonde brown hairstyles won't look the same on you.
These are the most ravishing brown hairstyles with blonde highlights.
1. Go light
You don't have to go through a serious image change with blonde highlights on dark brown hair. A few dark blonde strands will be enough to brighten up your mane and polish your color.
2. Honey tresses
Brown hair might seem dull and boring but making blonde highlights can seem inappropriate for some girls. Keep your natural hair intact but add just a few honey blonde strands to create a bright look.
3. Balayage highlights
This is an impressive balayage you definitely want to copy. The top is dark brown and the bottom is blonde. Just look at how impressive the style is.
4. Platinum impact
Silver locks are in style but graying ahead of time is not what many girls will prefer. You can reach the same results by creating platinum blonde highlights on dark brown hair.
5. A glamorous zebra
Does looking like a zebra scare you off? It really shouldn't. If you are ready to keep your hair neat, so the stripes show, this highlighting method will make you look truly fantastic.
6. Brown Waves + Soft Blonde Highlights
This is a classic example of a hairstyle that can combine brown and blonde hair into one. Simply ask your stylist to give you very subtle highlights, then to part your hair down the middle and to curl it with a flat iron to achieve these soft waves.
These might make it seem like you have blonde brown hair since the braids will combine these two colors perfectly, but that's exactly the idea. Of course, you'll have to get the highlights first before asking your stylist to give you these dookie braids.
Another important thing to notice about this hairstyle is that your stylist should lay down your edges and not include them in the braids to give you a much more natural style.
This is another one of those blonde highlights ideas that helps your natural brown hair blend together really well while also giving more depth and volume to your natural curls.
To get this exact same hairstyle just remember to leave your natural hair shine and then put it up in a half ponytail and that's it!
If you really want your light brown hair to shine, you can put it in a high bun! To do this, make sure to style your hair back and then slowly curling it into a bun, then simply pull on your hair to make it 'puffy' and not so stiff.
Also, remember to leave little pieces of blonde highlighted hair hanging loose on the front part of your face to both frames it and to help you achieve much more of a careless, easy look.
This is another fun way to play around with that dark brown hair with blonde highlights contrast. First, separate your hair in two halves and braid each one until they reach your neck, then simply tie that up and let your hair fall loose, showing off your highlights!
You can slightly curl the bottom part of your hair for a little extra touch as well.
11. Sew-ins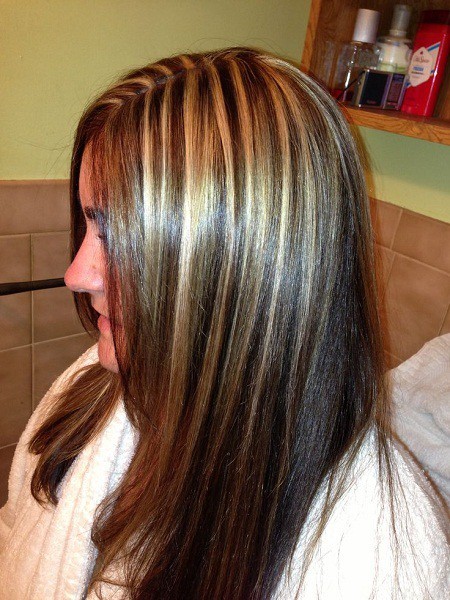 Sew-in hair extensions are a wonderfully easy way to create highlights without damaging your hair with dyes. You can either attach them on top of your locks or sew them in under the tresses.
If you really want to get that brown blonde effect where your blonde highlights mix extremely well with your natural hair color this big chunky single braid is for you! You can even accessories it with some hairpins for a more romantic look.
This is a classic example of what blondish caramel highlights look like on brown hair. All you have to do is ask your stylist to give you this type of highlights and to, later on, curl your hair with a very wide curling iron so you can get this 'wavy' effect as well.
The thing about short dark brown haircuts is that it really brings out the best of the blonde hair color since the two colors mix very well. Of course, you'll have to ask your stylist to make sure to not operate your natural color with the blonde highlights, since you still want it to shine through.
15. Sweet and sound
There are many ways you can use blonde highlights. One of them is to lighten up your overall color without making an obvious change. If your hair is dark brown, blonde highlights will do the trick easily.
16. Vibrant beauty
Contrasts are everything. Adding platinum blonde highlights to dark brown hair is a bold move. You'll love the extravagant turn your style will take. Get ready for some awestruck glances.
17. Classic Feathered Hairstyle
This women's feather cut is another classic that we love! To get it, you'll, of course, have to get the highlights first and then as your stylist to blow out your brown hair using a wide round comb while pushing your hair back to create the same style you see on the picture.
Many people don't like to get highlights on bangs because they think it won't look good, but it does! You just have to make sure the blonde highlights also reach out to your bangs just like in the picture so the overall short light brown hairstyle seems to put together and cohesive.
This particular hairstyle is for those who really want to show off their long brown hair. First, separate your hair, leaving the top on a ponytail and the rest hanging loose.
Then simply curly it using big curling roles, let them sit for at least 30 minutes and set everything with hairspray to make sure it will stick throughout the day.
To get this chunky highlights hairstyle we recommend you comb your hair back as if you're going to do a side ponytail, but instead of doing a ponytail simply put your hair in a low bun. Remember to leave some hairs out to create a much more 'careless' look.
If you want to recreate this blonde highlighted brown hairstyle you'll need to curl your hair with a big curling iron and then place hairpins to hold the wave in place. Use big metallic pins that won't break the wave but rather help maintain it more.
Let it rest for 30 minutes and remove the pins. When that is done use hairspray to finish it off and add a cute hairpin on either side of your head and you're done.
Another great and unique way to showcase your blonde highlights in brown hair is to give yourself a backward braid and top it off by tying the braid into a little bun at the top of your hair.
To get the French braids done you'd want to start braiding from the bottom of your hair to the top. Then, when you reach the top of your head simply make the bun. Don't be afraid to use hairpins or bows to give it an extra touch as well.
If you want to get that highlighted but don't want to go for any crazy hairstyle, this is the one option for you. You'll just have to let your hair fall straight and get some blunt bangs and you're ready to go.
Another great way to bring out the contrast of your brown with blonde highlights is to tie a little messy bun on the top of your head, making sure to use a bandana as a hair accessory and leave a couple of hair strands hanging loose as well to go with the 'careless' look.
This is a more classy version of ponytail hairstyle, and it really does show off your golden blonde highlights. Make sure to tie the ponytail with a ribbon so it looks fancier.
Believe it or not, highlights aren't exclusive for straight hair, and they can actually give your curly hair a really nice touch while also bringing a lot of natural light to your face, enhancing your natural features.
To get this short blonde highlighted hairstyle you'll have to cut really cut down your hair, but even more, you'll have to ask your stylist for an undercut on either side of your brown hair, so the only part that's really blonde is the top!
You can still get blonde highlights even if your brown hair is short! Simply ask your stylist to add some lighter touches here and there, and make sure to style it using hair gel to get this look!
Brown hair really looks the best when styled in a bob! Of course, you will have to ask your stylist to give you some subtle waves using a curling iron in order to make sure both colors are standing out.
Also, the bangs in this particular hairstyle are very important and should have a little bit touch of blonde as well so the whole haircut looks well put together!
This short brown hairstyle with blonde highlights is great because it helps to bring natural light to your face. To get, you can ask for regular highlights on your short haircut, just make sure one of those highlights fall right in the front part of your face.
Similar to the ones we have shown you before, this bob can also bring out the colors in your hair! But this time, instead of waving it or curling it, just remember to leave it completely straight.
To get this medium brown hairstyle with highlights you'll have to cut your hair down to your shoulders and get some blunt bangs across your forehead. Then simply slightly curl it and push out the front part to get this exact same look.
Also, don't forget to use a very thin comb to push and tease the top part of your hair and finish everything off with hairspray, otherwise the frizz on top won't hold on throughout the day.
Like we have been saying throughout this article, blonde highlights really do look amazing in brown curly hair! Especially with this medium haircut with chunky curls, since they will help you get even more depth and definition than before.
This is another very subtle haircut since there's barely any blonde highlights. You see, instead of getting highlights all over your brown hair, simply ask your stylist to highlight the two front pieces of your hair to frame your face and bring light to your haircut!
35. Short Bob + Subtle Blond Touches
If you're looking for a bold hairstyle, this one is yours. Ask for a regular short brown bob, but this time, the back part of your hair should be significantly shorter than the rest, and the blonde highlights should go mainly in the longer bits.
36. Different shades of brown
When you are considering blonde highlights on dark brown hair, think about different shades of brown. Alternate lighter and darker brown with blonde strands and you'll love the result.
37. Looming blonde
Enjoy the way your brown hair changes when you make overwhelming blonde highlights. Dye the top strands and leave the bottom natural. The overall effect is mind-blowing.
This is a very laydown style and it's very easy to get since all you'll need is to ask your stylist to give you regular highlights but this time, instead of straightening or curling your hair simply let your natural hair shine!
To get this copper brown hairstyle with blonde highlights you will have to curl your hair using a flat or curling iron and then setting it with hairspray. Then simply take two hair strands from the front part of your hair and push them back, holding them together with the hair bow!
Getting this hairstyle is very easy. You will have to blow dry your hair with a round comb and push it back while setting it with hair spray and then curl the rest of your hair with a curling iron.
41. Dark Hair with Blonde Highlights
When you are thinking about what to do with dark brown hair, consider making subtle red and blond highlights. You'll get an effect of amazing flames while not completely changing the color.
42. Blonde flames
Blonde highlights on dark brown hair will look truly amazing if you use the "flames" approach. Asymmetrical dyeing is a skill not all stylists possess. So look for a good professional.
43. Dark Brown Highlights
Playing around with brown highlights is fun even if your own hair color is rather light. Blonde brown locks will look perfect with a few brown highlights.
44. Hide them well
If you want to change your image every day, you can create amazing hidden highlights. They should be made beneath your hair below your ears. This way you can only show them when you want to.
45. Golden blonde
Golden blonde hue looks especially amazing with very dark brown hair. The contrast these two colors make will definitely leave you happy. Dye as many strands as you wish. There is no overdoing it.
46. Beige blonde hair extensions
If you want to change your image quickly, try using beige blond hair extensions with dark brown hair. You can kill two birds with one stone: get quick highlights and extend the length of your hair.
47. Caramel and gold
Caramel and golden blonde highlights look especially well on dark brown hair and suit dark skin tones. Blonde shades can give the face freshness and brightness it might be lacking.
48. Good color
Choosing the right shade of blond for your dark brown hair is not always easy. All depends on your goals. Extravagant women prefer obvious contrasts while others might want a more natural hue.
49. Sparkling beauty
If you want a bright and sparkling hair color, opt for such shades of blonde as honey and sandy. Mixed with brown they look especially sparkly.
50. Asymmetrical style
Asymmetrical hairstyles are getting more and more popular, so why not add some asymmetry with highlights? You can go as far here as your imagination will allow.
51. Classic approach
If you are not into extravagant images, you can use a classic approach when it comes to highlights. The more similar colors you decide to use, the better the result will be.
52. Highlighted bangs
When you are doing partial highlighting, pay special attention to the bangs. Just a few blonde strands on your fringe can completely change your image while saving you money on hair dye.
53. Light brown choice
If your hair is dark brown or black, blonde highlights might not be a good idea since the contrast will be too drastic. Use light or auburn brown in order to lighten up the look in the most natural way.
54. Leave the ends
This is an interesting approach to highlighting that you might want to check out. Leave the ends dark brown while highlighting just the top part of your tresses. The effect is amazing!
55. A blonde weave
If you want to diversify your hair color but dyeing is not an option, you can try a weave. Use blonde sew-in hair extensions to make an appearance of highlights. You'll love the way they look.
56. Add some red
When you are making blonde highlights on brown hair, you can add a little zest to your hairstyle by creating a couple of red or burgundy strands. Just make sure they blend in and don't look too outrageous.
57. A smart choice
Creating blonde highlights on dark brown hair is easy. What you need to make sure is that the colors match well. Ask your stylist to show you the options so you don't end up with an unpleasant surprise.
58. Ombre highlights
Highlighting just the lower part of your dark brown mane will surely make you look unique. Don't be afraid to experiment with the lightest shades of blonde. They look the best.
59. Bleach and mix
When you are creating blonde highlights on brown hair, you don't need to use the same shade of blonde for all of them. Your goal is to create a contrast and it's well achieved by mixing hues.
60. Start strong
If an ombre is not enough for you, you can make it even more impressive by adding blonde highlights. Burgundy top, dark brown bottom, and blonde strands make an amazing mix.
And that's it! There you have it, 60 fun, unique brown hairstyles with blonde highlights you can try and pick to use during this 2021. All very easy to do and to maintain, and if you already have blonde highlights, you're halfway there to get any of these cool hairstyles!