Blonde curly hair has made its way to the top in hairstyle trends, and it doesn't seem to go anywhere since women all over the world adore these graceful looks.
If you have straight hair and you are considering getting a perm, there are some things you should know before taking this step. Blonde curly hair requires a lot of time and care. Blonde tresses need plenty of moisturizing and hydration and a good hairdresser that knows how to style the curls.
Blonde Curly Hair Ideas
In case you already are a natural blonde, waves and coils are the next steps you need to follow for achieving a glamorous, stunning look. To help you get proper inspiration, we gathered here a vast gallery of images with the most impressive blonde curly hairstyles.
1. Platinum Blonde Curly Hair
Afro American coils have plenty of volume and with the proper haircut, you will get a hairstyle that is both stunning and easier to style. A blonde platinum color for curly hair is perfect if you want a bold look that will turn everyone's heads wherever you set your foot in.
2. Honey Blonde Curly Hair
Honey color shades make any curl stand out! Style a fabulous ombre that transits from your dark natural root color to the fabulous honey hue. Get a layered haircut that will make your coils have bounce and shine.
3. Blonde Curly Hair with Weave
Whenever you want to make a dramatic change, curly weaves are the winners. Sew the weave to your protective hairstyle and choose a stunning champagne blonde to dye the hair extensions. This way, you will not only prevent your natural hair from damaging, but you will also get the hairdo you craved.
These stunning coils already look impressive, but you can make them look even more fabulous with some blonde highlights. This way, you will give your curls high definition and a particular spectacular shine.
5. Long Blonde Curly Hair
A romantic soul like you needs a hairstyle to match her personality! A warm blonde ombre will make you look sun-kissed, and with some smooth waves, you'll master a diaphanous look. You can complete your look with vaporous dresses in pale pink shades.
6. Medium Blonde Curly Hair
When you have a pale skin tone, an astonishing dark caramel blonde color will make you look delicious. Style your hair on the back, and comb your curls to separate the curls and to give your hair dimension.
7. Blonde Curly Hair for Black Girl
Afro American hair has its personality, and it's not afraid to show it! Why tame it when you can take advantage of all this extraordinary amount of hair. Dye your hair into a caramel shade, and for the tips, use a bright blonde hair dye.
8. Ash Blonde Curly Hair
An ash blonde color is ideal for women with olive skin. Use a gray hair dye for the roots and smoothly transit to a gorgeous shade for the rest of your hair. A layered haircut will help you quickly arrange your outstanding coils.
9. Dirty Blonde Curly Hair
Your wedding day is getting close, and you have no idea what hairstyle to do? Split your bangs in the middle and knit two French braids on each side. Meet them in a low ponytail. Create stunning curls and fix them with hairspray. You want this hairdo to last for the entire event, don't you?
10. Strawberry Blonde Curly Hair
Achieve a surprising look with a mesmerizing strawberry blonde color. Choose a bright platinum blonde and create a few wide highlights for the tips. The two colors will beautifully blend, creating a stunning curly mane.
11. Blonde Balayage on Curly Hair
A balayage is a technique that gives you the possibility to pay rare visits to your salon. Keep your roots in their natural color, and gradually transit to a brown hue with ginger nuances. This way, you will have a mix of colors that will last for weeks, and you won't have to worry about dying your hair as you usually do.
12. Blonde Curly Ombre Hair
This low ombre is ideal for spring and summer. The sun tends to lighten your hair color, and if you choose this balayage, you'll get a natural look that you can keep the whole summer.
13. Blonde Kinky Curly Hair
3B curls have a lot of texture and volume and can create fabulous effects if you dye blonde caramel highlights. Toss your bangs on one side for an elegant romantic appearance.
14. Dark Blonde Curly Hair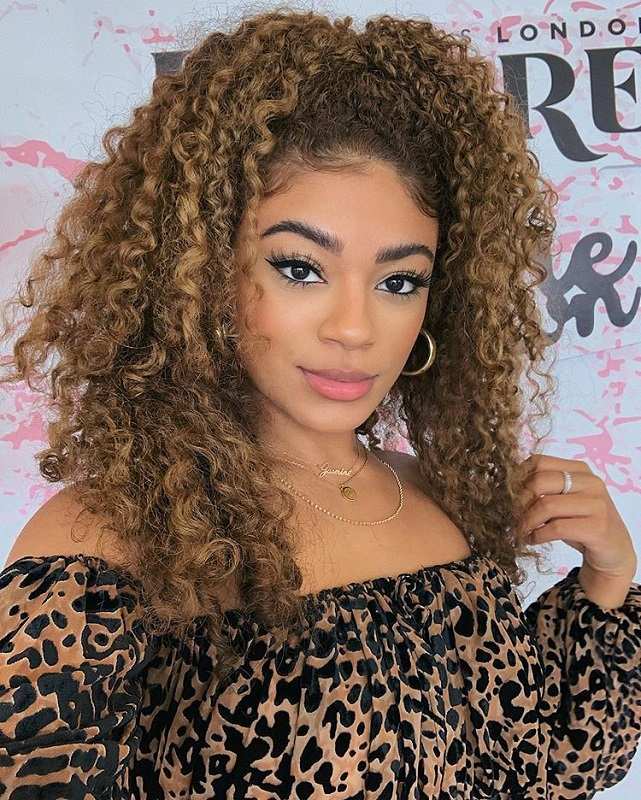 A ponytail for curly hair is one of the best ideas if you want a casual look that is perfect for office or school. Section your crown hair and pin it into a ponytail. Let the rest of your hair fall on your back.
15. Light Blonde Curly Hair
A sombre is a more faded ombre that can make real magic for your beautiful curly locks. The silver tented color will look ravishing, especially if you style a long bob haircut for curly hair.
16. Beach Blonde Curly Hair
Whether you are a bride or one of the bridesmaids, a long curly blonde hairdo will make anyone notice your outstanding locks. Pin your sideburns and bangs in the back and decorate those strands with shiny hair jewelry.
17. Blonde Curly Crochet Hair
Your blonde curly hair will look more than impressive if you choose crochet coils for your hairdo. Braid only the roots for the hairstyle and let the rest of the hair extensions fall on your back. Keep your base hair natural and pick a platinum blonde color for the curly strands.
18. Blonde Curly Braids
On each side, braid two Franch braids and pin them in a low ponytail. Use a thick strand to secure the pony and wrap it ant the base. Now slightly pull the edges of the braids to give them a volume. Use a curling iron to create waves for the cascading hair on your back.
19. White Blonde Curly Hair
Pale skin tone gorgeously matches a long platinum white bob hairstyle. Create a middle part for your bangs and use a spiral iron to curl your mane.
20. Blonde Curly Pixie
You can quickly transform a regular blonde pixie cut into a stunning curly hairdo. All you need is a curling iron, and you'll master a new fabulous look withing minutes. Your long strands will have texture and volume, and they will become a remarkable contrast for the short back hair.
21. Thick Curly Blonde Hair
If you are a lucky girl that has thick curly hair, you can play with your strands as much as you like. For example, you can pick a caramel blonde color and make a significant change that will suit you like a glove.
22. Curly Blonde Hair with Blue Eyes
When you have blue eyes, blonde locks will undoubtedly complete your look. You can look angelic if you choose a full bouncy curl that gives your strands high definition.
23. Blonde Curly Hair with Bangs
If you have a short teenage hairstyle, you can completely change it in just a few steps. All you need is a curling iron. Creating tight spirals is a perfect way to a striking hairstyle regardless of the shortness of your locks.
25. Professional curls
If you want to look magnificent with the least effort, you need to ask a professional hairstylist for assistance. You can experiment with blonde hair by adding light highlights in front and keeping the locks darker in the back.
Curly hairstyles with blonde hair look especially inviting if you go for natural shades of blonde. Most of the time you'll have a choice of dark hues, such as dark ash blonde, or honey blonde.
27. Playful curls
Taking out your curling iron or wand and start wielding it! You can arrange tight curls anyway you want to and they will still look perfect on your blonde mane. Modern curly hairstyles come in all shapes and colors.
Short Curly Hairstyles for Round Faces
28. Curly bob
Turn your simple a-line bob into a curly extravaganza. Either use a curling iron or ask for professional assistance. The tighter the coils are, the more interesting and special your hairstyle will look.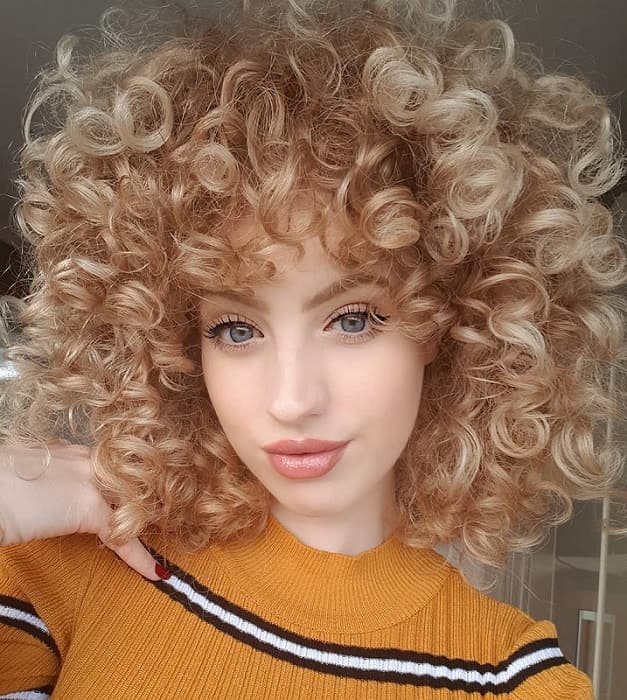 Blonde Highlights for Curly Hair
Make sure to take a look at the examples below to know which type of blonde highlight is perfect for your next hair transformation. There is an array of options for the blonde highlights curly hair you can choose from without ever being bored with your hairdo.
Ash Blonde Highlights on Curls
There is a new way to wear the ashy hair color. Whatever you do, don't forget to add some blonde highlights to it. Beauty bloggers are completely obsessed with this look, so why not give it a try.
Whenever you feel like your current hair color is way too boring, you can opt for this fabulous hue. The best thing about it is that you won't have to bleach your hair too much, unlike platinum or any other shade of blonde.
If you already have darker hair, all you have to do is schedule an appointment at the salon. They will take care of your mane and give you the prettiest highlights ever to the trendy dark ash hair tone. Curly hair is actually the perfect texture when it comes to this look.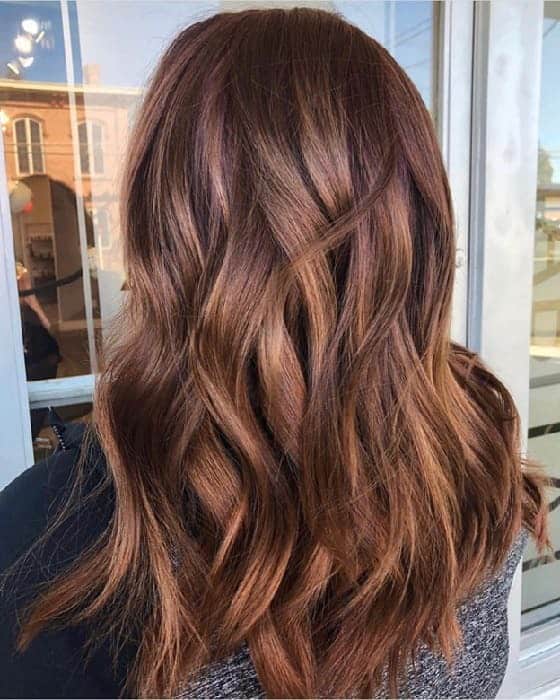 Red, fiery, hair tones are getting an upgrade this fall. The beloved autumn hue will appear so much more on trend once you add highlights. This way the mane will be fresher and cooler than ever. The highlighting technique will add a whole new dimension to the hairdo.
Many ladies doubt whether they should color their hair red or not. This style will completely convince you that the answer is 100% yes! It doesn't even matter which shade of red you are opting for. It can be a dark, rich wine, medium real red, or bronze. Soft curls with blonde highlights are a match made in heaven.
This tone of blonde will never be boring again thanks to the latest trend. When you elevate honey hues with brighter shades you get the best blonde highlights for curly hair. The frizzy moment is a must, so get ready to embrace your curls.
If you think that these light colors are not appropriate for fall, you are completely wrong. All types of blondes are already trending this season.
Ice Platinum
This cold hue is taking over Instagram at a fast pace. It does require a lot of attention, but once you get that ice platinum with blonde highlights on your curly hair, you won't trade it for anything else. Your new curly hairdo will be your best feature.
If hairstyles could speak, this one would say "WOW"! Think of a super icy mane that attracts attention in all the good ways. The length is not even important. Short, messy, wavy lobs are so versatile and easy to style.
Brown Curly Hair with Blonde Highlights
All brunettes with frizzy mane can enjoy this fabulous look. Double the fun by including highlights in several different shades of blonde.
This is actually the most common type of highlighting since a lot of brunettes want a change but are not bold enough to do a more dramatic one. That's why they decide to stick to the good old brown and add some lighter tones. Even the darkest range of brown tints will become red-carpet-ready when you add a final blonde touch.
You may also like blonde highlights on dark brown & red hair.
Blonde Babylights
Yes, babylights are a thing once again. Gals who are not ready for a dramatic change can opt for this do, which is ideal for curly hair at the same time. Even if you don't have those natural twists, you will want to recreate the full look when you see this picture.
The whole point of this coloring technique is that women get very gentle, subtle highlights that won't stand out too much from the natural hair hue. In other words, your curly mane will be sun-kissed in the middle of fall. It is all so elegant, glamorous and perfectly put together.
Curly hairstyles with blonde hair are exactly what you need when you are looking for a new way to arrange your locks. The most popular blonde shades and curling iron are waiting for you to make the right decision.