Why are so many people taking the plunge to color their hair pastel blue? Are they doing it to seek attention? Maybe they want to be seen as unique.
While many people may do it to get compliments or to just stand out in the crowd, there are a number of reasons people are daring to rock this color.
Why Pastel Blue Hair
Here are 6 reasons people are choosing pastel blue hair color.
Versatility with Style!
Pastel blue hair can give a traditional hairstyle a bit of flair, dazzling onlookers from the range and complexity of blue pastel tones within the locks of your hair.
From classic bobs and up-dos to brown and black ombre curls to side braids and box braids, the pastel blue color can take a hairstyle and raise it to the next level.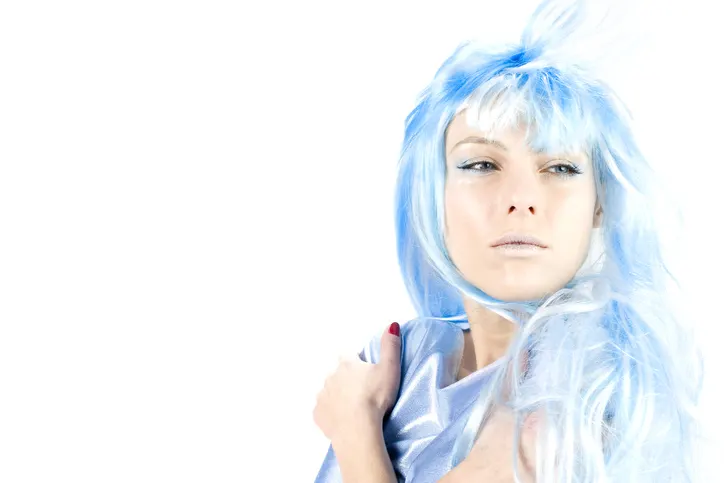 Trending Now: Pastel Blue Hair
Who wants to be left out of a trend? Pastel hair color is very popular these days and pastel blue has not been left out of the movement. Pinks, green, and, pastel blue have been trending upward for the last several years.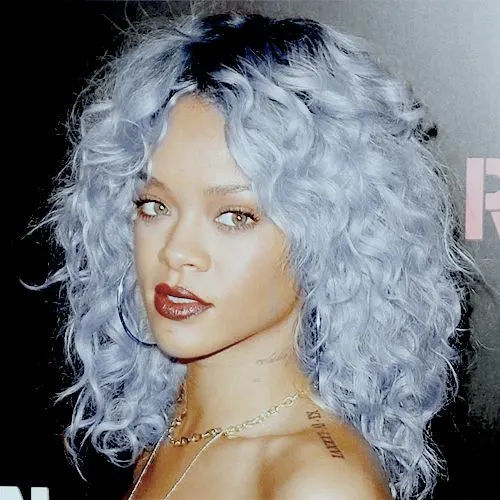 With celebrities and reality television stars like Nikki Minaj, Rihanna, Katy Perry, Demi Lovato and Kylie Jenner bringing pastel blue off of the red carpet and into mainstream society by way of sources like Instagram, pastel blue has been given fresh life!
Bucking the Trend!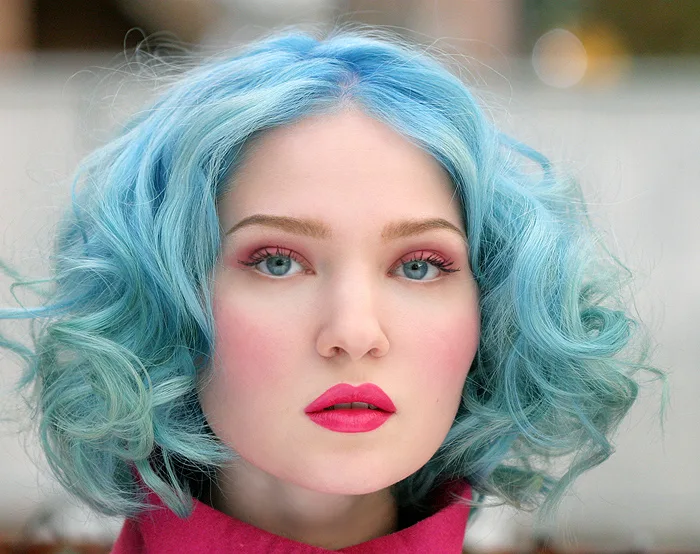 Not a follower or trendsetter? Perhaps pastel blue is not so trendy where you live?
As progressive as some areas of society may be about hairstyles and colors, there are still a few areas where pastel blue hair is considered to be bucking the trend.
Some may choose to wear pastel blue hair in an effort to deviate from social norms.
Freedom
Ever hear the phrase "freedom of expression" leveraged? Nothing professes an understanding of the freedom to be who you are like a brazen hairstyle or audacious hair color.
Women are kicking down the walls of normalcy to tell the world who they are and what they stand for with the color of their hair.
Whether they change it monthly or annually, they are using colors like pastel blue to tell their story, daring anyone to tell them they cannot wear their hair color.
Desire to Do Something Different
There's the freedom to be blue and there's the desire to simply do something different.
The desire to do something different with our hair can be the direct result of a relationship that has ended, the desire to have a fresh beginning, or the will to step outside of your comfort zone.
What better way to take a journey into a land of difference than wearing blue hair?
Evoking a Response
While some might be looking to gain attention with a daring hairstyle choice, there are those who are looking to evoke some sort of reaction from friends, family, or even complete strangers.
Still not convinced you should take the leap with one of your greatest personal accessories? The good news is that you never have to take a permanent leap with your hair.
There are a few hair dyes on the market that will bleed and rinse out of your hair faster than others so that you are not locked into your newfound blue hair for more than a couple of weeks.
However, if you are not a risk-taker, there are a number of pastel blue wigs on the market that you can easily don and take off when you're not feeling so into the blue.
Unique Pastel Blue Hair Color Ideas
1. Fun Faux Hawk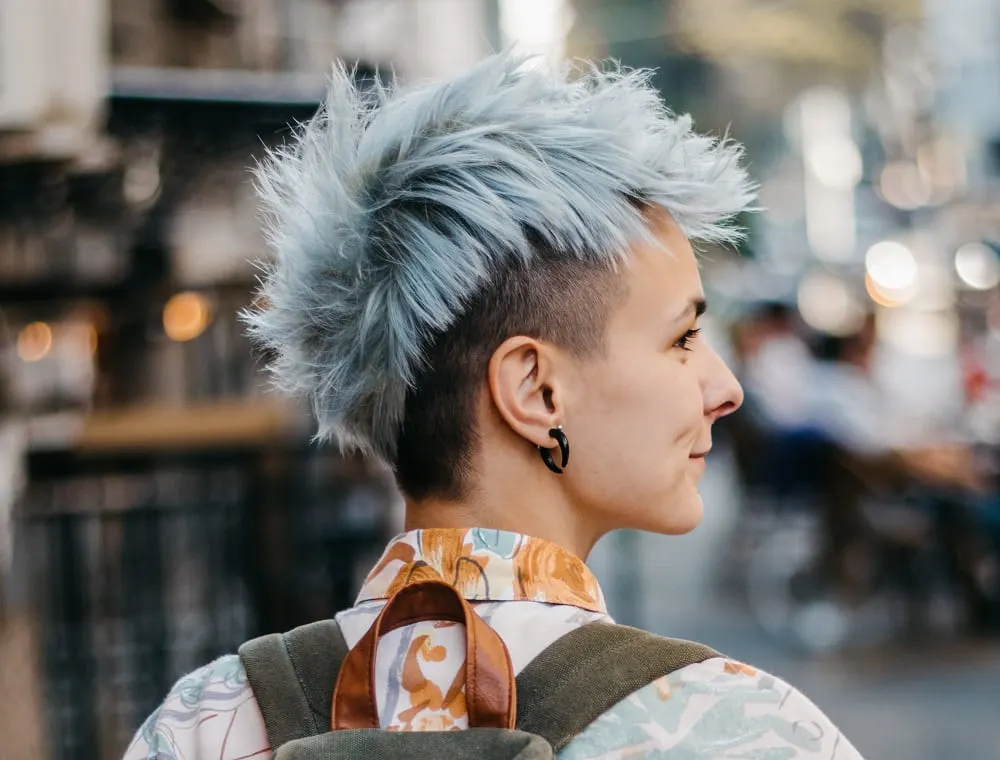 A faux hawk is already a bold style statement but it can be leveled up by coloring the top hair in a pastel blue to contrast with the darker buzzed sides extending to the nape of the neck. A hand-tousle with some wax is enough to style this messy look.
This two-toned look is easy to achieve. Get a middle-parted hime cut consisting of longer length at the back and cheek-length side locks. 2-3 inches from the roots are dyed black while the remaining in a pastel aqua blue tinge.
3. Pastel Aqua Blue Lob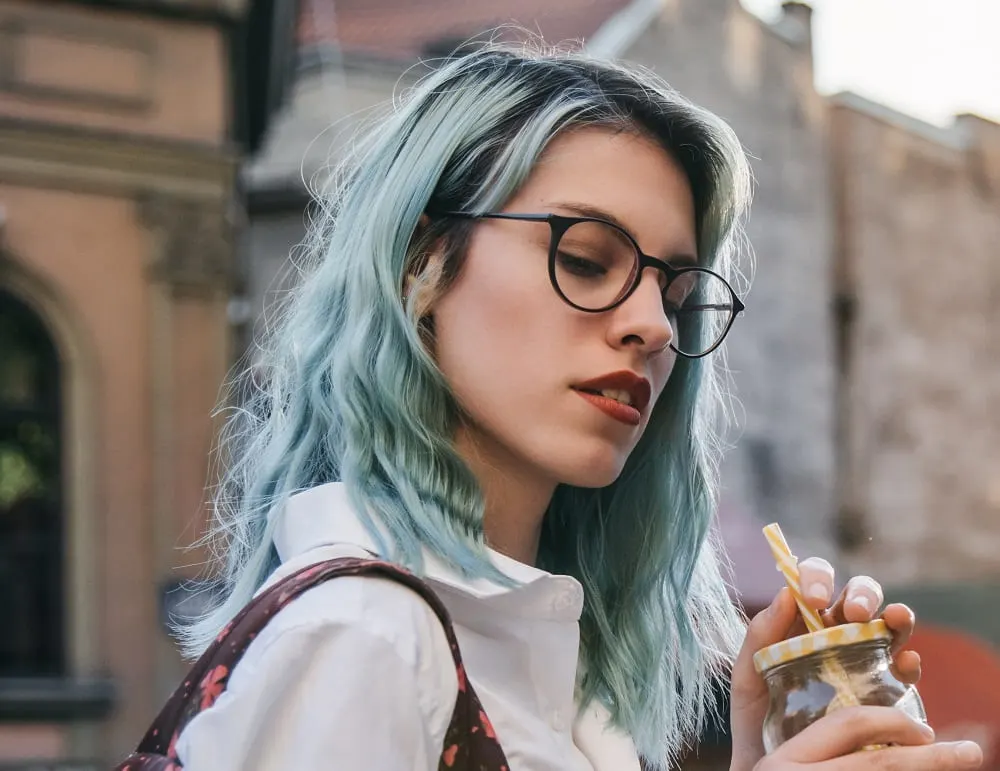 Rock pastel blue color with ease with this hairstyle. A shoulder-length wavy bob is bleached and dyed in a light blue shade. There is no need to worry about the emerging dark roots as they top off the style.
4. Adorable Bow Updo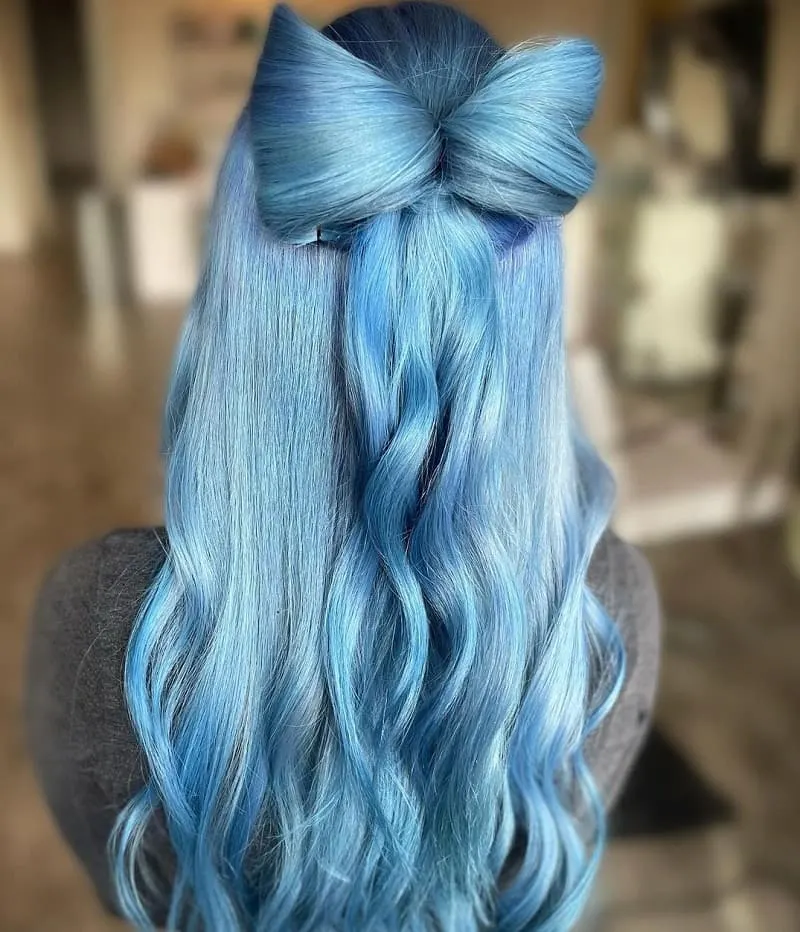 Show off your long pastel blue hair in a cute way. Half of the top strands are styled in a bow updo and secured with pins. Loose waves are added to the hair to create an adorable anime-inspired look.
5. Half Amber, Half Blue
Flaunt your half cool and half hot personality by rocking a warm hair shade with a cool one. The thin shoulder-length hair has layered bangs and is dyed half in an amber shade while the remaining half is painted in a light baby blue hue.
6. Icy Curls
Here is another reason why people are coloring their hair pastel blue. Bleach an outgrown curly pixie midway to the ends. Color the curly strands in a pastel blue which would stand out against the darker roots.
7. Chin-Length Blue Waves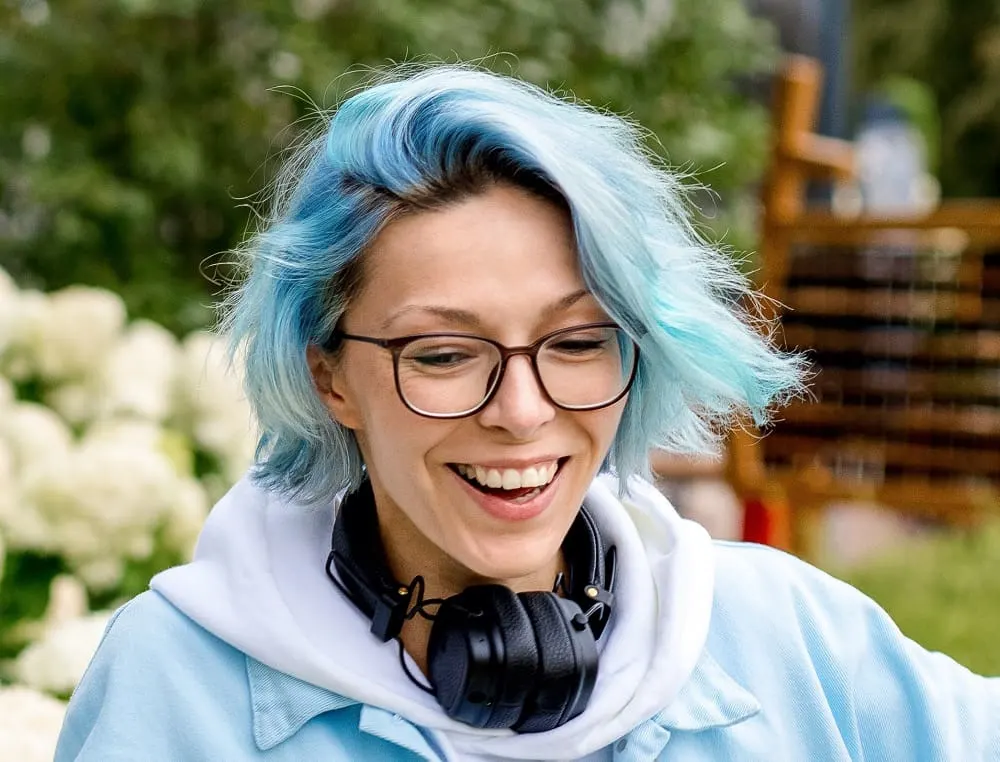 Looking for a laid-back hairstyle to rock a blue shade? Get a chin-length haircut with some layering to accentuate the waves.
Dye the hair with a slightly darker pastel blue color that merges into the pastel shade. Carry this tousled look with a deep side part.
8. Pastel Dutch Braids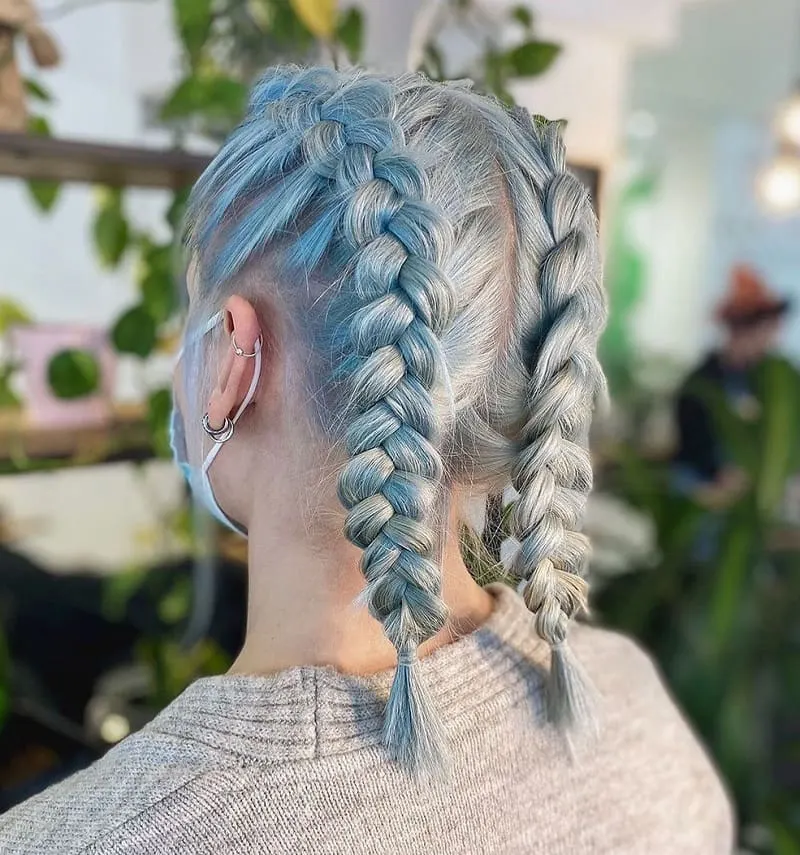 Add a modern touch to the elegant Dutch braids by dying the hair in a baby blue tint. The short hair is sectioned with a middle part and twined into two braids from the front to the back.
9. Futuristic Dreadlocks
Convert plain dreadlocks into the ones giving a peek into the future by dying them in a light periwinkle hue with powder blue strands in between. Leave the locks loose to keep all the eyes on you.
This look is a reason strong enough to color the hair in a pastel blue tone. A short pixie with a jaw-length fringe is dyed in a cool aqua blue shade. The platinum blonde babylights take this sleek look to another level.
11. Sleek Blue Ponytail
Make a brave move and dye your long straight hair in an icy blue color. Style it in a high ponytail with two loose fine frontal strands. Instead of swaying at the back, the long locks fall at the front on both sides.
An Ombre hair color looks fun all the time. The roots are kept pitch black that lightens into a shiny silver shade. A pastel blue hair color is added midway to the ends to complete the look. This carefree style is fit for Asian ladies.
13. Fun Bob with Bangs
A straight-cut bob with short blunt bangs can become boring and dull. Spice it up by painting the hair in a vivid aqua blue shade. This fun look will surely make you prominent from a distance.
14. Emo Hairstyle
Blue hair can be used to express an emo personality. The curly strands are dyed in a light slate blue tinge with natural roots. The funky loops at the front are created by pulling the strands halfway through the hair ties.
15. Electrocuted Look
Have a look at this hairstyle that is not for the faint-hearted. A short pixie is dyed in a faded blue shade and is spiked up to create an electrocuted look with contrasting sleek bangs. Top off the style with blue makeup.
16. Side Tousled
Give yourself another reason to go pastel blue with this hair look. The wavy locks are chopped into a jaw-length bob and dyed in a light blue color with darker royal blue patches in between. Tousle the hair on one side to cover the forehead and eyes.
17. Blue Flower
Although blue flowers are rare, create one using the hair! Dye the hip-length mane in an icy blue tint with platinum blonde highlights. Take the side strands and twine them into loopy braids. Twist them around to create a unique floral updo with white flowers.
18. Dreamy Appeal
This look is difficult to ignore. Blonde women can achieve it with ease by merging the light roots into the pastel blue color. Curl up the strands of the short bob covering an eye. A floral headpiece tops off the style.
19. Frozen Blue Updo
Recreate Lady Gaga's iconic red carpet look by dying the hair in a chrome blonde hue with frozen blue chunks peeking through. Roll up the hair at the top into an updo with a single curled-up strand sitting on one side.
20. Bold Fade
Go an extra length to create this bold faded haircut. The top is kept quite long to contrast with the shaved sides. Combine vivid royal blue roots with pastel blue hair that is back-combed and tousled on one side.
FAQs
How long can pastel blue hair last?
It generally lasts six weeks, but it can be longer or shorter depending on how you care for your hair. To extend the life of pastel blue hair, try washing your hair in cool or lukewarm water as infrequently as possible.
Can women with tan skin dye their hair pastel blue?
Absolutely! Your skin's undertone is more critical than how dark your skin is when choosing pastel shades.
Which skin tone is compatible with pastel blue hair?
Generally, cooler undertones work for more shades of blue than warmer undertones. If you're careful, you can get a shade that looks good with any skin tone.

Consider a richer pastel blue, such as aqua, if you have warmer undertones. If you have cooler undertones, a frost blue may look better.
Is pastel blue hair a warm or cool shade?
Pastel blue hair is almost always a cool shade. However, some shades are warmer than others. If you want a warmer pastel shade, stay on the side of aqua.
Does pastel blue hair require bleaching?
It depends! If you want pastel blue hair, you need to think about what color you're starting at. If your hair is a light to a medium shade of blonde, you will probably not need to bleach your hair.

Darker colors or hair that has already been dyed a vibrant color will need bleaching before switching to pastel.
What color does pastel blue hair fade into?
It depends on what other notes of color were in the dye. Cooler shades of pastel blue fade into a blue-gray or blonde color with time. Warmer shades typically have some green notes, and these become more pronounced as the blue fades away.
Is pastel blue hair color high maintenance?
Any pastel hair color will take more maintenance than a richer color. However, you can still do a good job maintaining your color if you are careful.

Try using products to style instead of heat, washing your hair in cooler water as infrequently as possible, and using color-safe shampoo.