Turquoise hair is having a moment. If you're not sure if this vibrant hair color is for you, keep reading to see some of the top reasons why women are choosing to go turquoise this year.
From its bright and bold shade to the fact that it's surprisingly low-maintenance, there are plenty of reasons to consider dyeing your locks in this eye-catching hue!
Exciting Turquoise Hair Color
Turquoise hair provides the freshest update. Sport this oceanic hue in pastel tones or create gorgeous ombre effects with colors both light and subdued.
Regardless of how you choose to wear your turquoise hair, we know you'll love this mermaid blue. Read on for the best turquoise hair color shades that are trending today.
1. Dark Turquoise
If your olive skin tone looks better when paired with dark hair, then you'll love this deeper tone.
You'll still have to strip your locks of its color first, but the effect of this dark mint color will make your features pop.
2. Pastel Turquoise
This pastel turquoise hair takes on a minty fresh hue that looks especially great on fair-skinned babes. All you really need are pink undertones to contrast with the coolness of this color.
3. Purple and Turquoise Ombre
Why not take your look to the next level and style purple and turquoise hair together? You'll need to enlist a professional to get the blend between colors just right, but we love this contrast on long hair.
4. Gunmetal Turquoise Ombre
If bright purple isn't your thing, perhaps this gunmetal turquoise ombre hair is more your speed. For the most natural effect, the darker, more neutral portion of hair should surround your face.
5. Rainbow Pastel on Blonde Hair
Much of the color is already stripped from light blonde hair, so adding in turquoise hair highlights is pretty easy.
Choose a rainbow pastel palette and finely paint on color for a soft and dreamy effect. The look is best on fair skin.
6. Short Turquoise Updo
Bright colors are fun, especially on closely cropped locks. Try this short turquoise hair updo with braids to reveal your face, enhance your natural beauty, and add interest to your beautiful turquoise locks.
7. Turquoise Braids
Fishtail braids look amazing and whimsical on long turquoise hair, especially if your hair has two tones. Silver-blonde adds beautiful light and shiny contrast to break up and brighten the length of long hair.
8. Tricolor Turquoise
Even bold color can fall flat, so consider a tricolor look for dimension. This turquoise green hair color uses platinum strands to bring this look to life. We love the way it looks with blue and green eyes.
9. Deep Turquoise
Skin with red undertones is best suited for deep and dark turquoise blue hair. Ask your stylist to deepen the turquoise color throughout the hair for tone that is as beautiful as the depths of the ocean.
10. Turquoise Balayage Fade
Give your blue hair that casual, grown-out feel that is so trendy today with a turquoise balayage hairstyle. It works well with dark roots with an ash toner over top to give hair the same cohesive cool tones.
11. Turquoise on Black Skin
Cool and bright turquoise hair color on black girl suits skin with warm undertones. Adjusting your blue color to suit your overall look is easy, but feel free to ask your stylist for the freshest contrast.
12. True Teal
Turquoise teal hair is grounded in green tones more than it is in blue. This works great for skin with yellow undertones. Medium length and wispy see-through bangs give this look loads of style.
13. Turquoise Dreadlocks
Why not incorporate turquoise dreadlocks into your punk style? Bright is fine, but this deeper turquoise has a greater grounding effect that is far more subtle.
14. Dark Gray Roots
If your natural hair is dark and cool, let those roots pop through for some edgy contrast. Ask your stylist for a dark charcoal toner to help brown hair blend in properly. This style works on long hair, but it's cooler on short locks.
15. Turquoise and Platinum Balayage
How dreamy is this mint, turquoise and platinum blend? Create an icy cool vibe on pale skin with pink undertones. Focus dramatic color on the lower half of the hair for a more elegant effect.
16. Denim Turquoise
Denim tones are all the rage these days. The style gives off the 90s and the slightly punk effect that looks extra fresh with short bangs. We adore the way it contrasts against pale skin with red undertones.
17. Aquamarine
Blue and green tones bring this aquamarine look to life. If you're considering something bold and playful, this two-toned combo may be your perfect look. Long hair seems to carry the dramatic color best.
The aquamarine color is a lighter shade than the turquoise one. Depending on the light, it may present some green tones, but it is important to add grey or ashy shades to keep the right dose between blue and green hair. This hairstyle is done on long hair, just in height where the locks begin.
19. Blonde to Turquoise Ends
The turquoise ombre on blonde is a very delicate look. It has a huge contrast in colors, and if it is not done properly, the look will not be good.
In this long blonde hairstyle, the color gradation is subtle, where the blonde transitions to turquoise without leaving any part green. The ends look like they have been dipped in color.
Dark blonde is a shiny and wonderful color suitable for turquoise ombre hair look on both long or short hairstyles.
This wavy shoulder-length hairstyle presents a look with a more pastel teal blue hair color that perfectly matches the dark blonde. Again, the ombre is high, and the outcome is wonderful.
21. Grey to Turquoise Ombre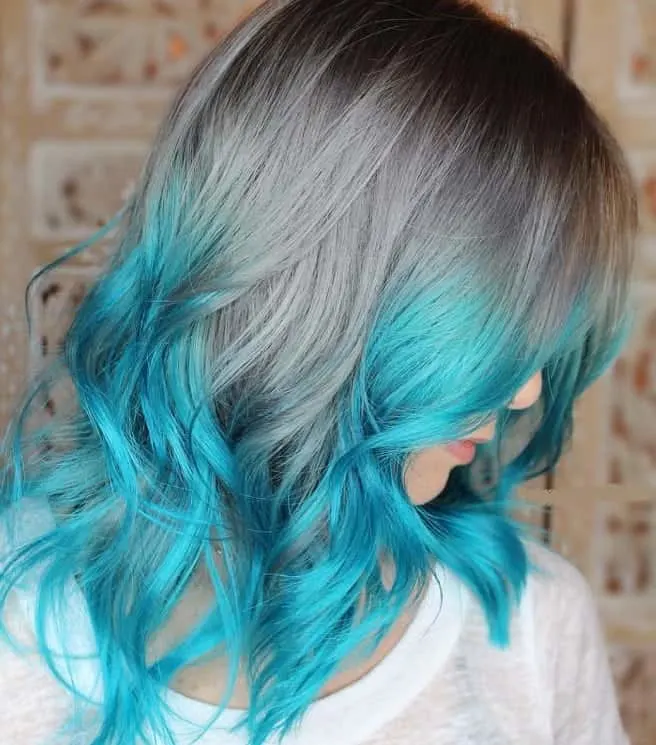 An eye-catching contrast is also achieved when the turquoise blue ombre is done on grey hair. This look will require a lot of bleaching.
The upper part of the hair is grey, even platinum, while the lower part is shiny turquoise. The best look to flaunt this hairstyle is in the old Hollywood waves. They will show the colors better than any other hairstyle.
How to Dip Dye Turquoise Ombre
Ombre dip dye is very flattering to look because even when the hair starts to grow, it still looks like it was done that specific way, intentionally. The difference between ombre and dip-dyed hair is so small that the only different thing is the final effect.
Dip dye is a contrast between the darker and lighter part or between the two hair colors, whereas the ombre gives a graduated and gradient effect.
Dip dying is more like a painting than coloring. The lines are free, subtle, like painting an art piece. The dye goes asymmetrically up the roots without precision and fine lines. The ombre comes as a finish to gradually connect the colors and present a nice and beautiful transition.
FAQs on Turquoise Hair
Which skin tone and hair type is perfect for turquoise ombre?
The turquoise ombre hairdo looks better when it is done on a darker base. This means that women with light hair and fair skin tone will not get the same result and effect as women with darker hair and tone.

Turquoise is a vibrant and appealing hair color that is deep and cool. The light base will present a strong contrast, while the darker one will look subtler and more suitable.

As for the hair type, it is better to be done on thicker hair because it can handle more treatments than thick hair.
Turquoise and teal – are they similar?
The colors are similar but not the same. Turquoise is more vibrant, shiny, similar to the aquamarine color. The teal hair is darker, deeper, and with ashy undertones.
When done right, turquoise hair color can look sumptuous. It's crucial to match your skin tone to the shade and tone of your turquoise and to create artful blends when incorporating more than one color. Follow those rules, and this electric color is all yours!