Double braids look impossibly chic and put together, but knowing what style to choose can be tricky. For those who are looking for a chic and put-together look, consider these two French braids, which work particularly well for black women.
Chic Double French Braids for Black Ladies
We have shortlisted 15 stunning two french braided black hairstyles to rock this season.
These gorgeous double French braids are sure to be eye catching since they are braided at an angle. Unlike other braids that come straight back from the face, these braids are at sharp angles to each other.
While they start out skinny and pointed, they finish as very thick and fat, making them visually interesting and appealing. They're a great option for black women of all ages to consider.
2. French Braids with Weave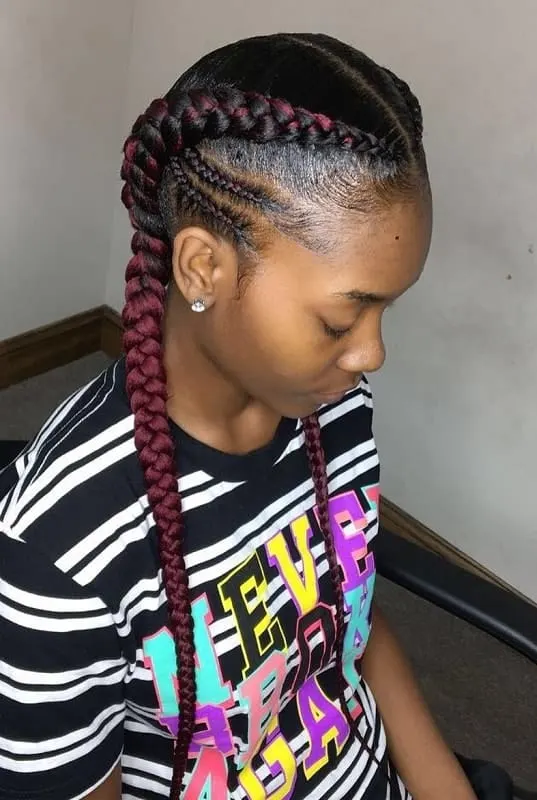 Two French braids for black hair can be made a bit different from the traditional or typical style thanks to the inclusion of red in the braids.
This makes the braids stand out from what other women are wearing. Since the red is included in the braid from the top all the way to the back, these braids are unique and just a bit different than some other ones that have colored tips.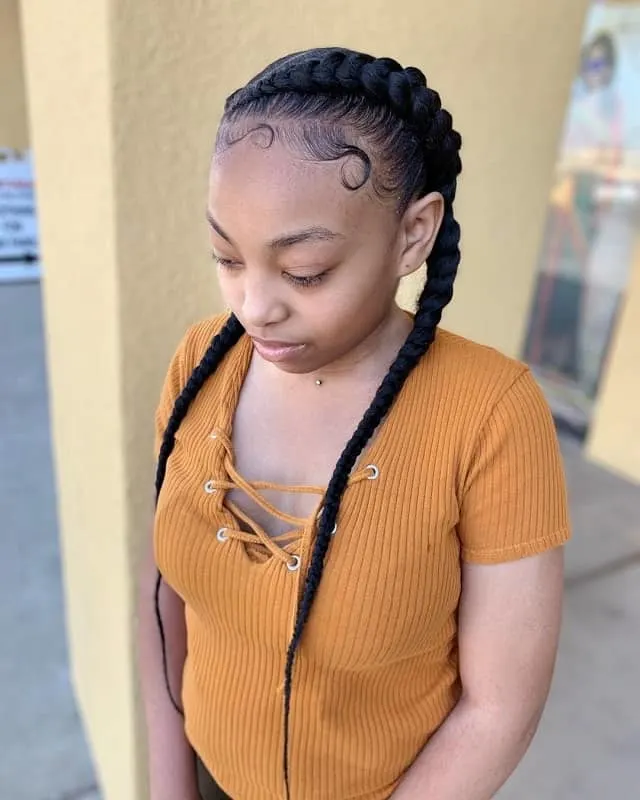 Swirls along the forehead are very attractive and make these black French braids eye-catching. They are braided at an angle, but the incredibly short hairs along the forehead won't easily be trapped by the braids.
That's why they are left alone and gently formed into swirls that rest on the forehead and temples. It's a unique double braided look for a daring girl.
An incredibly fat braid along the forehead sets this look for black women apart. Unlike other braids that pull the hair back from the forehead, this look has the hair braided along the front.
Then there are also two French Dutch Braids that extend down the sides of the head. Since they are very long, they can easily rest down the back or be pushed up and to the front of the body.
5. French Braids for Curls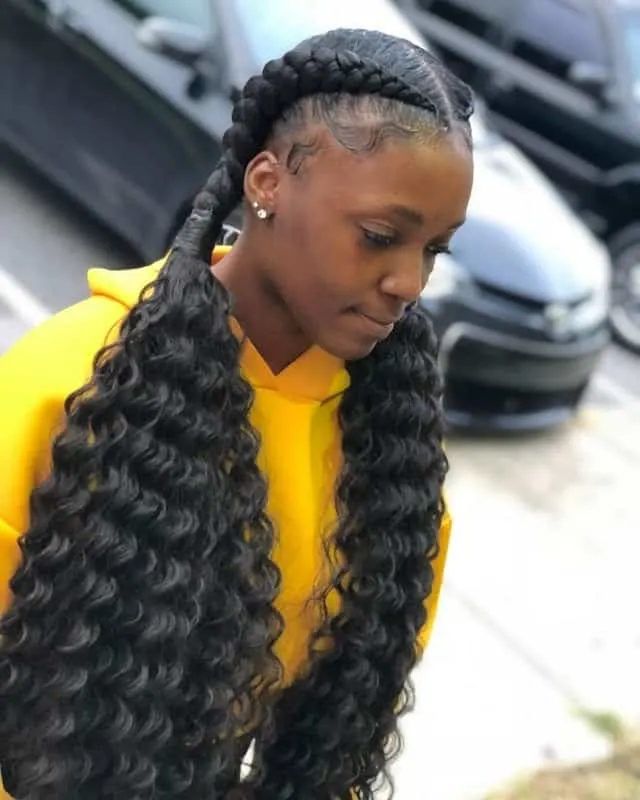 Black women who have a lot of thick hair look great with this two French braids style. The braids aren't braided all the way to the ends of the hair.
Instead, the ends are left loose and thick. Tons of waves cascade down from the shoulders, resulting in a fun style that is eye-catching and surprisingly easy to take care of.
6. Half French Braids
If you love wearing long wavy wigs, you will have all the length, texture, and volume you desire. Once you flawlessly glued the wig, do a middle part and style two French braids. Meet them in the back and secure them.
Also, to make sure your wig is properly masked, use a toothbrush and some hair gel to style those baby hairs.
7. Braided Space Buns
Braids can help you achieve a stunning hairstyle that your little princess will definitely adore. Do a zig-zag middle part and braid two French braids on the top.
Get all the rest of the hair up and roll these braids into two space buns. Decorate with two golden hair rings.
8. Side to Side Braids
If you want an exciting hairstyle for a black woman with two prominent French braids, then you gotta try this example.
Create a zig-zag parting that goes horizontally and starts your braids from one side, going to the other lateral.
Spare the top side and use hair gel to smooth down any flyaways or frizz around the hairline or parting.
9. Brown Ombre Braids
If you have a dark natural color, getting a warmer nuance will greatly suit your rich melanin skin. So maintain your roots as they are and add a stunning chocolate color.
Do a middle part and start creating your French braids, following the hairline. In the nape area, roll these braids into two low buns.
10. Unicorn Hair
If you have a long blonde or multicolored wig then you will love this hairstyle for black women with two French braids.
Use only front pieces and feed in the braid until you reach the ear level. Then switch to a regular braiding style. Wave your hair to gain more texture.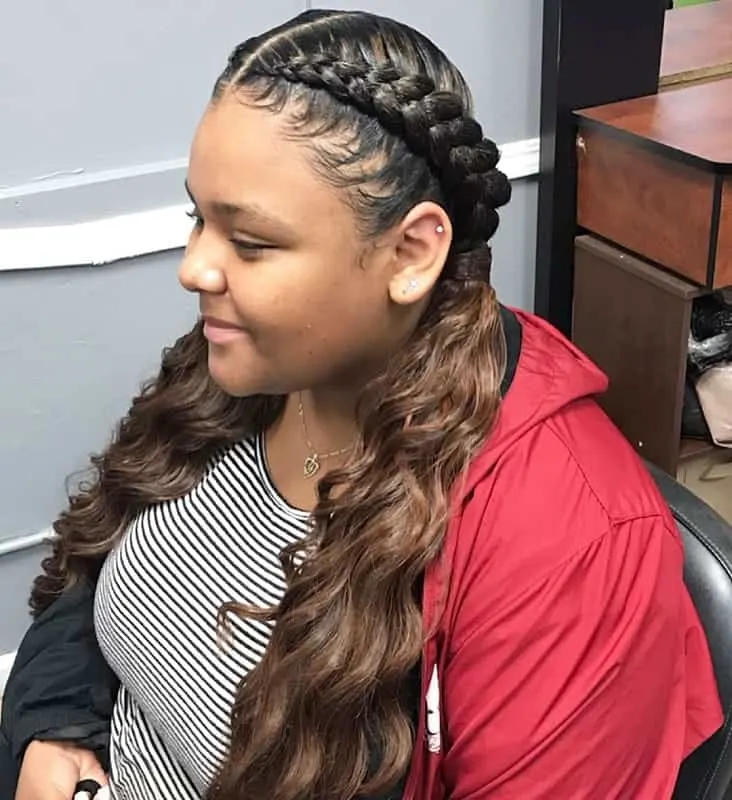 The strong middle part on this braid style helps to set it apart right away, and the twin braids help make it even more fun.
The braids are tightly woven to the head and start out small, gradually getting thicker towards the back of the head. The ends of the braids are loose in cascading waves that fall comfortably over the shoulders and aren't tied in place.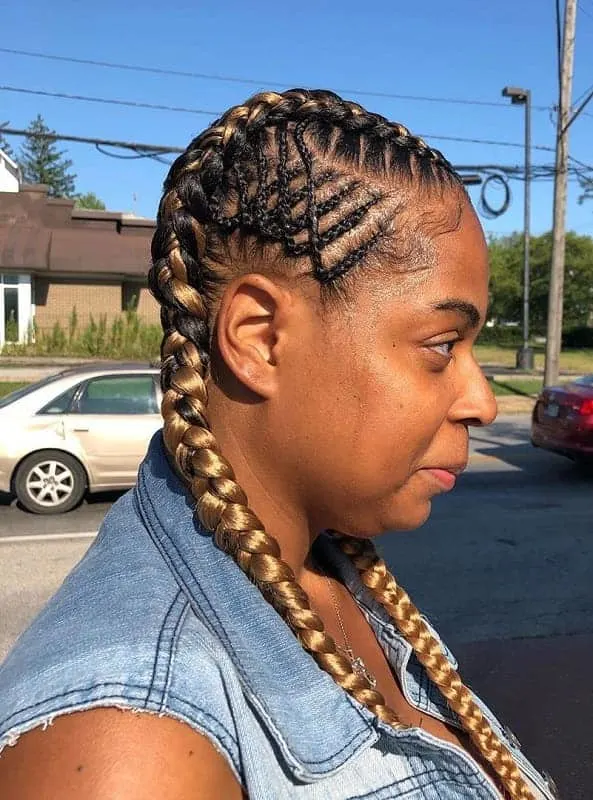 Double French braids on the top of the head look great when all of the hair on the side of the head is caught in smaller zig zag braids. These tiny braids must be perfect and have strong angles to look their best.
For a bit more interest in the style, women can have some blonde added to their black hair, which helps to add even more depth and makes the look fun.
Some Related Articles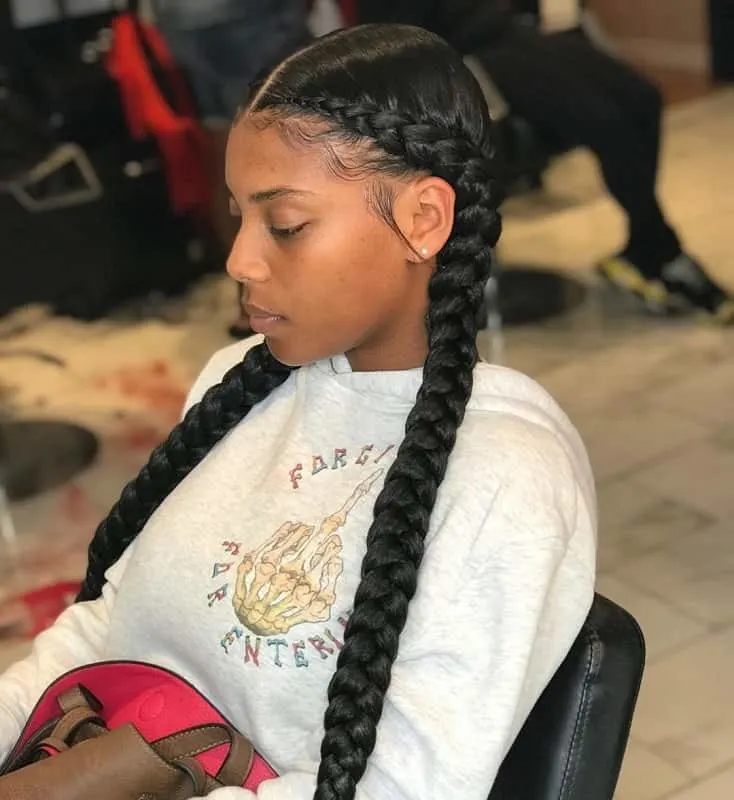 These two French braids for black hair are unique because they were not braided so that they would fall down the back. Instead, they are braided so that they curve around the ear and then can easily fall down the front.
Because they are incredibly thick, they look great, even though they do start out as smaller braids at the forehead. A strong middle part is key to a great finished look.
French braids look great in two-tone. The rich black color of this hair pops even more when it is paired with deep red. Rather than having the red run through the braids, the ends of the hair are dyed this fun color.
Since the double braids are gathered at the nape of the neck and then the hair is loose and curvy, it's a fun option for black women on the go.
Golden tips that start by being braided into the French style braids from the top are a lot of fun.
These two braids are thick and ridged and end at the back of the neck, where they connect and then the hair is allowed to cascade down the back or front. With plenty of movement and curl, it's a fun and exciting look.
Any of these 15 two-part French braid hairstyles are all great options for a modern and chic black woman. They're easy to do and look great for work, a date, or a night out with friends, making them bold and exciting ways to update your personal style.