A sew-in style gives women a lot of freedom with their hair. Styling a full sew-in with bangs allows women to change their hair in just a few hours drastically. This type of hair extension will enable women to change from short hair to long hair within a salon session. Because there is a lot of flexibility, women don't need to wait for months until their hair grows. This full sew-in with bangs styles list will give you all of the inspiration you need for your next new look.
Why You Should Choose a Full Sew-in with Bangs
A full sew-in style will allow you to completely change the length and the texture of your hair without waiting months for your style to grow. If you don't like the look, you can quickly change it back again by having the extensions taken out. There are many hair types and textures to choose from when looking at sew-in extensions.
Once the sew-in is in place, it can be cut and styled in hundreds of ways. This treatment will give you so many different options to try.
Lovely Soft Waves with Gorgeous Side Swept Bangs
Appealing Side Bangs on Long Hair Ideas
Sewn-in waves are a great choice to go for as they maintain their original pattern without much effort. The hair volume is prominently enhanced and is ideal for thin-haired women. The thick side-swept bangs covering an eye add a dramatic touch to the style.
Glamorous Chocolate and Caramel Hair with Extreme Side Bangs
Experiment with two hair colors rather than one to achieve this look. The chocolate and caramel hair combination is flawless and adds a glamorous shine to the face. The long thick swooped fringe along with the barrel curls completes this eye-catching look.
Side Parted Style with Big Soft Curls
For the women who want to carry a voluminous hair look, this hairstyle is all about the layers and bouncy curls. The side-swept puffy strands are cut with a lot of layering while the remaining extensions are curled for a lively look.
Two-Tone Caramel and Chocolate Hair with Bangs
This fun full sew-in bangs style combines caramel hair and chocolate strands emerging from the ear loops. The fringe is cut to frame the face while the remaining long hair is trimmed for a sleek look.
A bob haircut is timeless and is a great way to rock short hair with sewn-in extensions. The slanted haircut and the bluntly cut bangs grazing the eyes give this style a chic finish.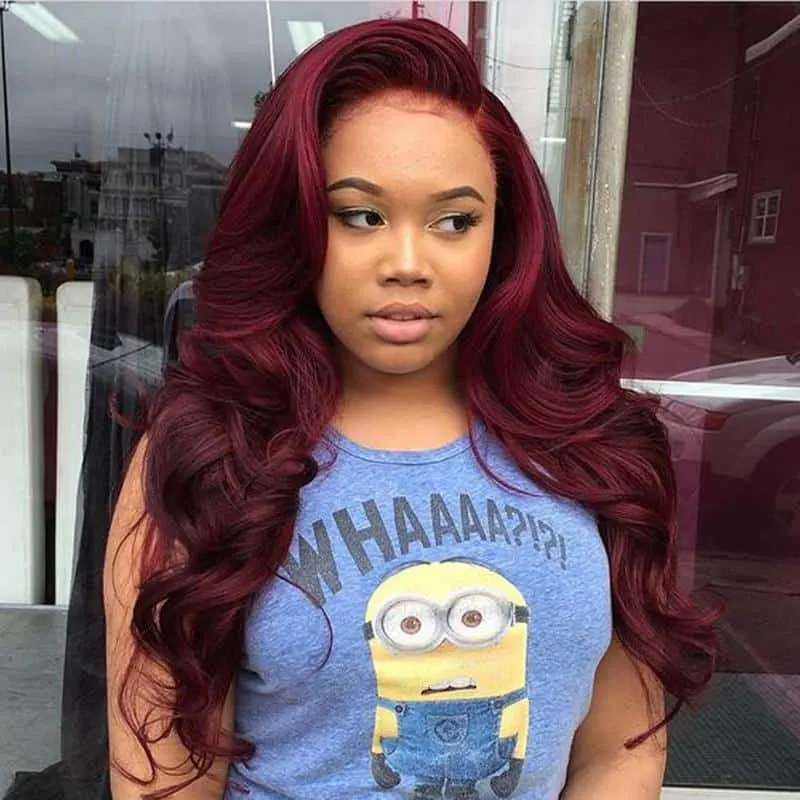 Highlight Your Hair with Red Highlights
Go big and bold by opting for a vivid plum hair color and getting large loose waves. Combine a lighter tone of plum with a darker one to create a dimensional look. The style is however incomplete without the swooped jaw-length side-swept fringe.
Side Swept Feathered Bangs
Sick of your flat front? Get feathered sew-in bangs covering one eye to turn around some heads and blow dry them to flaunt the textured ends. Add well-defined curls to the remaining long hair to amp up the look.
Glamorous Curls with Blunt Wispy Bangs
This hair look is vintage-inspired. The bangs are cut shorter than normal and cover a part of the forehead. Half of the hair is pinned-back while the remaining has glamorous curls. This look is ideal for ginger heads having a fine hair texture.
Thick and Wavy Long Sew-In Hairstyle
Micro bangs can be paired up with a long wavy sewn-in hairstyle for a retro look. The chunky blonde highlights contrast with the brown hair beautifully. This style is for women who want to carry a carefree punk look.
Curly Sew-In with Bangs in a Top Knot
Show off your natural hair texture while still getting a sewn-in. The longer strands are secured in a top knot while the choppy voluminous bangs at the front are left free to fall on the face giving a rock star appeal.
Soft Caramel Sew-In with Side Bangs
A jaw-length blunt bob cut is a classy way to try out a fun sewn-in with bangs. The honey blonde hair has a deep side part with the bangs reaching the nose tip. Some chic earrings will surely top off this look.
Long Length Sleek Hairstyle with Blunt Bangs
Reminding of the 90's fashion, this long and sleek look is easy to maintain. A warm blonde hue is added to the hair with darker strands peeking underneath. Finish off with eyebrow skimming sew-in bangs and trendy sunglasses.
Perfect Purple Hairstyle with Soft Curl
Go for a girly look by dying half of the sew-in style in a purple hue while the other half in a pink shade. Style the hair in a half bun with cute bangs reaching the eyes. The loose waves add a soft glam to the face.
Feisty Red Hairstyle with Side-Swept Bangs
This iconic hair look reminds us of Jessica Rabbit at a glance. The hair is dyed in a fiery crimson red color with a puffy layered front covering an eye. Hand-tousle the curly strands and the style is ready.
Classic Voluminous Hairstyle with Kinky Curls
Style Your Long Curly Hair with Bangs
Add lots of volume to the hair with this sew in style. The tight kinky curls give the hair strands a smooth gloss. Couple it with thick bangs covering the eyes for a mysterious appeal.
Girls who dream of long hair should think about getting a full sew-in with bangs. After a few hours at the stylist, you will reap the rewards. To completely transform your look, try a full sew-in with bangs. Your friends and family will love the new you!