It is impossible not to fall in love with a plum hair color in 2023! It is a sophisticated shade, and it can easily complement any skin color, so don't be afraid it won't suit you! This jaw breaking hue can work on anybody; you just need to find the best match for you.
Plum Hair Colors
Plum hair colors have a broad range, so if you love pastel colors, go for a lighter hue. If searching for something more subtle, a dark plum shade will give your hair just the right amount of fruity, juicy pinches.
Remember that this brilliant hue is on its way in becoming a hair staple so if you are a real fashionista who is not afraid to lead the trends, you can find below the best plum hair color ideas that you can pull off.
1. Dark Hair with Plum Highlights
Go for a dark plum hair and opt for more vivid highlights in the same shade. Curl your strands to jazz up your hair and to get a blend between retro and modern styles.
2. Vibrant Plum Purple Bob
A vibrant sombre plum purple hair is something that requires self-confidence, boldness, and some courage. If you have all of these, you are perfect for a brilliant dramatic change. Also, remember that a hair that has a blunt cut will always look thicker.
3. Pastel Red Plum Hair
As we previously mentioned, if you are going on the plum color rout, your hue options are limitless. Make a pastel plum red hair color and enjoy a breathtaking hairstyle.
4. Dark Plum Ombre
If you want a hairstyle that looks like a scene from a shampoo commercial, a plum ombre hair is something you need to get ASAP! Make some voluminous waves to obtain that particular juicy shine.
5. Plum Hair with Highlights
You can create a gorgeous blend by going for a plum brown hair with highlights. This choice will be really striking, and you'll receive all the compliments.
6. Plum Hair for Black Women
Plum hair color on black girls is something we'd love to see more often. In the sunlight, your hair will have a specific glow, and your coils will beautifully shine.
7. Light Plum Hair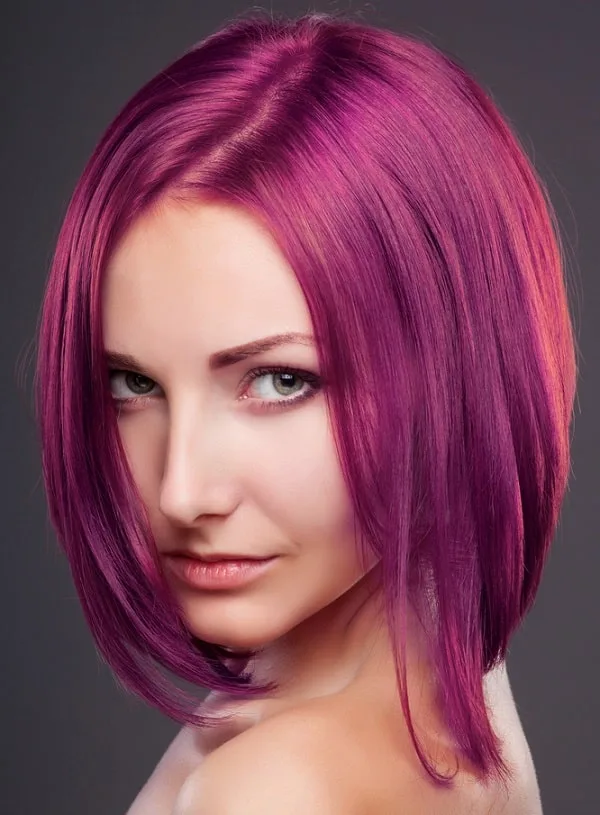 When you have pale skin with pink undertones, a light plum hair will fabulously suit you, and you'll get an eccentric look that stands out at any party or event. Also, get an inverted bob haircut to build some volume for the back.
8. Short Sleek Plum Hair
Go for a short bob with bangs tossed on one side and you'll have a gorgeous short plum hair. Use some foam or hair gel to get that sleek effect for the top.
9. Dark Plum Balayage
If you're not ready for a full transformation, you can go for something less vivid, a dark plum balayage hair. A long layered cut is ideal for Asian girls with rounded faces because it will create an elongated effect.
10. Brown Hair with Plum Highlights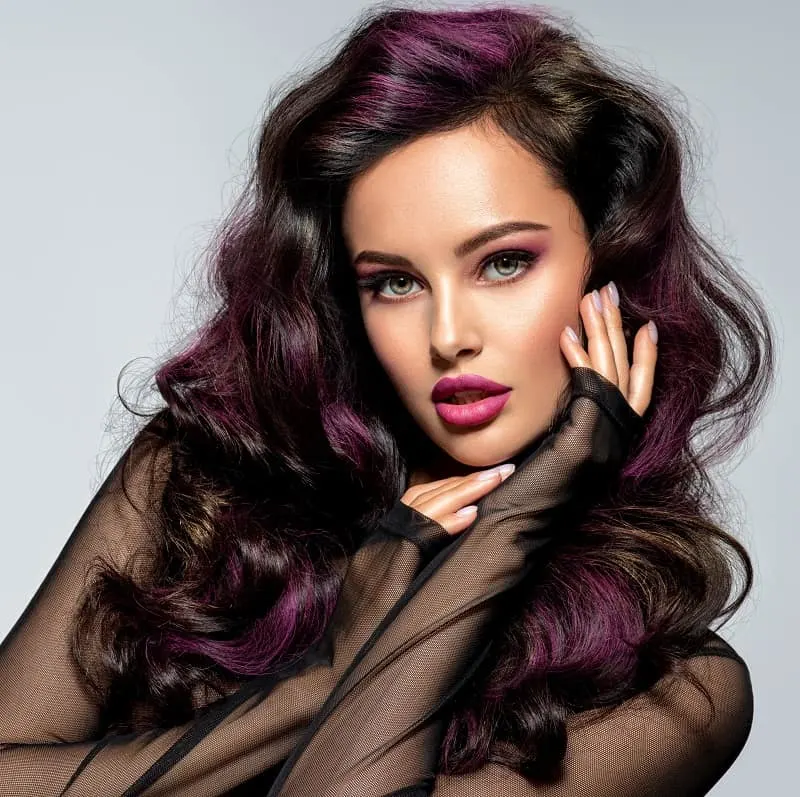 Give those fabulous rich curls some texture and shine with some chic plum hair highlights. Wear a make-up that uses the same tones as your strands and use black eyeliner to define your green eyes.
11. Plum with Purple Highlights
Even from the photograph, you can see the true plum hair color showing between streaks of brighter purple. Pure plum is so dark that it appears to be on the black spectrum. Seriously, take a close look at the plums in the grocery store the next time you're there.
12. Plum and Red-Violet
The highlights here are subtle but study the picture. Again, the base plum shade is so dark that it's nearly black. Thin streaks of reddish-violet run through, creating a kind of oxblood haze. A combination of crimson and purple is clever—the purple doesn't get lost, and the red doesn't take over. You can also try the burgundy plum hair colors.
13. Pastel Plum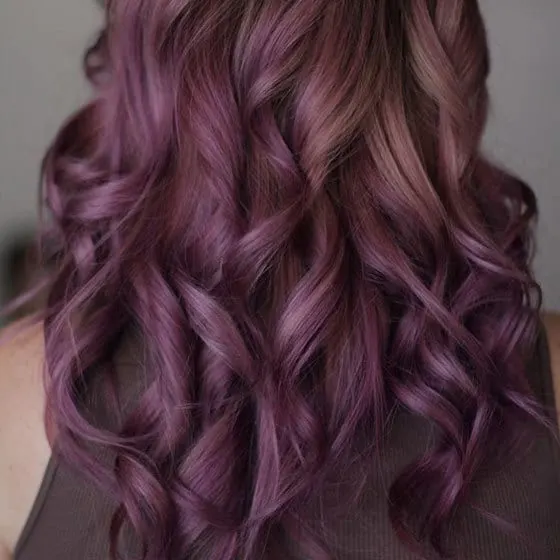 Plum on its own is a dark, dramatic hue. To get a more noticeable purple shade of plum, you have to go with a pastel. It's a gorgeous, vibrant color—kind of decadent, in a way.
14. Plum Wavy Hair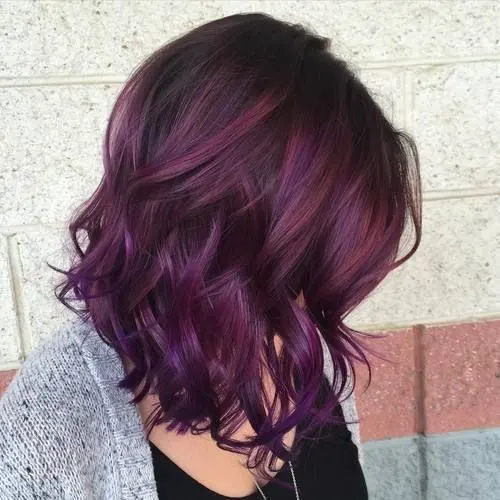 This is a streaky ombre, with highlights of purple that play peekaboo with the plum hair color beneath. There are a few lighter pieces of pastel plum woven through those wavy locks, as well. The entire coif is multidimensional, which is always a plus when you're playing around on the purple spectrum.
15. A Bit Brown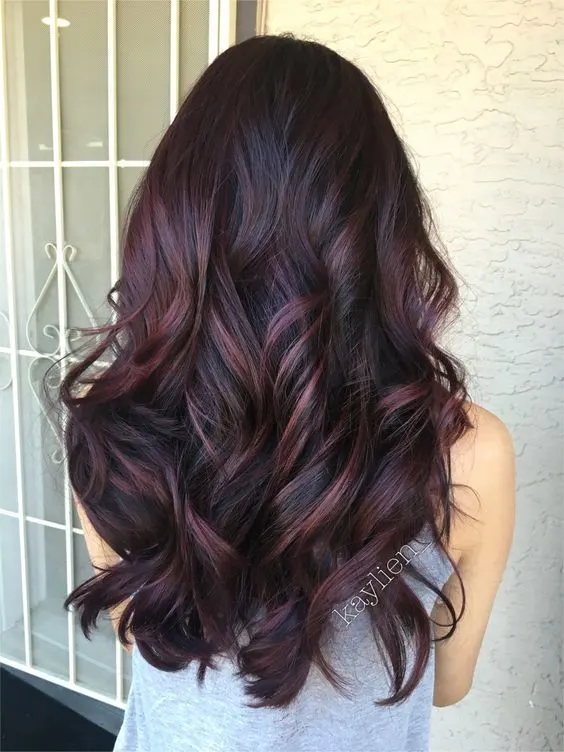 Plum with a brown base ends up looking decadent and delicious, as well. Because the brown base is extremely dark, a more pastel shade of plum is probably best for the streaks. You could also try the inverse—go for an all-over plum color, then introduce brunette streaks. Yea or nay?
16. Ombre on the Ends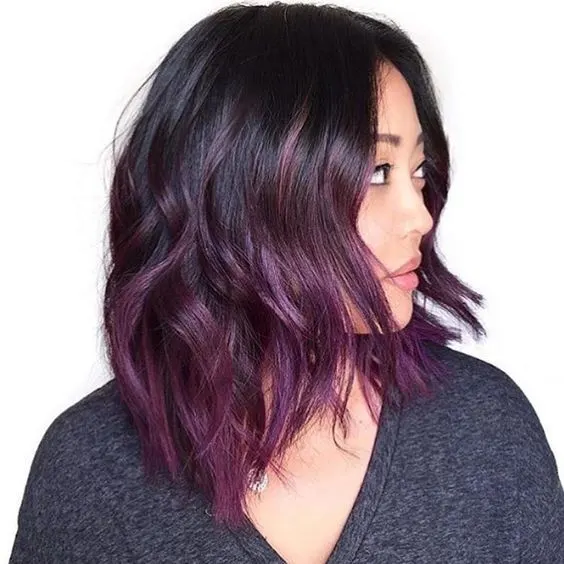 You don't have to go pastel to make plum show up on dark brown or black hair. Just a bit lighter is all you need. After bleaching your locks in preparation for the ombre, your stylist can simply rinse the plum dye out of your hair about five minutes before time's actually up, and that should result in a hue similar to this one.
17. Burgundy and Plum
Although it seems like Burgundy would clash with plum hair, we can see that it does not clash at all. Of course, the burgundy takes over, as the shade is wont to do, but the plum streaks lend a touch of goth glam that also tones down the powerful red hue.
18. A Shade of Electric
In its purest form, plum is often a more subdued color, particularly perfect for anyone who loves purple but doesn't want anything too over the top. For those of you who go gaga for OTT hair, then electric plum is the color for you. It's still not as blindingly bright as purple, but you can definitely see it from a mile away.
Best Blonde Highlights on Dark Brown and Red Hair
19. Plum at the Roots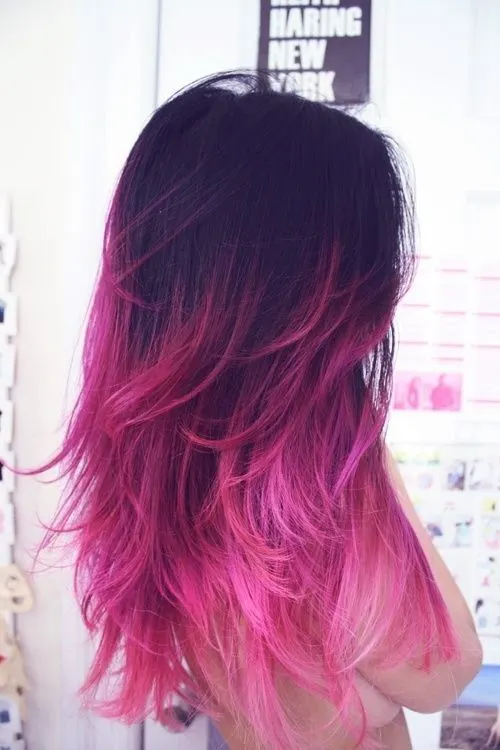 Ah, here's a complicated masterpiece. At a glance, it looks all pink, doesn't it? Raspberry fades to bubble gum fades to an icy blush. Look at the roots where the ombre begins, though. That's pure plum, friends.
20. Punk Meets Goth
We cannot get enough of this plum hair. The plum isn't the only color, as you can see. It's not even quite the central color, only because every hue works together. The icy gray base is flawlessly frosty, livened up by tendrils of lavender, bright purple, and plum.
21. Wine Roots
Can you think of a combination more luscious than wine and plums? We can't, either. In fact, right now we're craving a bowl of ripe plums and a big glass of Merlot. Just us?
22. Plum Oil Slick
You know the oil slick trend, right? Here's a take on it that utilizes shades of purple. There's some burgundy in there, as well, and a few raspberry highlights, but deep plum and dusty pastel steel the show.
Brown Hairstyles With Caramel Highlights
23. Born This Way
Plum hair color as subtle and nuanced as this one appears natural. The phrase "natural hair color" makes us think of blonde, brown, black, and red, but the multifaceted richness of this hue seems natural enough to us. Frankly, if the hair you wear looks as if it sprouted from your scalp looking the way it does, you know you're on the right track.
24. Super Pigmented
Is it just us or is this an exceptionally vivid shade of plum? It's still not as blindingly bright as purple, but that's a good thing. It's a bit warmer than Burgundy, as well, which enough blue tones that it won't leave you looking sickly and sallow.
Medium Layered Haircuts We Love
25. Dark as Dusk
Full disclosure: this is an edit from a Kylie Jenner fan who, somewhere out there, experiments with the infamous model's hair color. We're not mad at it. Although Jenner's never experimented with this pitch-plum hue before, at least not to our knowledge, she really should. It's rather becoming.
26. Oxblood Highlights
Remember the whole oxblood effect we discussed earlier? Well, painting oxblood highlights over a blackish plum hair color are the bee's knees. The streaks stand out unmistakably. No one's going to doubt you have highlights, but who cares?
27. A Dash of Violet
You'd be amazed at the mixes that an artistic, imaginative colorist can create for you. In this instance, a sprinkle of Violet combines with plum to create a breathtaking color. It falls somewhere between dark and light. It's kind of the brunette of plums—or the ash, maybe. There is a certain grayish undertone coming through.
28. Black Plum Hair
The darkness here is intriguing, and it works a treat. This is another plum based hue that appears all-natural. It's unlikely that anyone will ever be born with purple hair, but we can certainly imagine the world where no one blinks an eye at shades such as this one.
29. Vivid Plum
Black undertones barely peek through this plum hair, which is purposely pigmented and vivid. Leave it to Lana Del Rey, right? Frankly, you must wear white flowers in your hair at least once during your plum phase. Pics or it didn't happen—we want to see results.
30. Plum on Pitch
Talk about goth glam, huh? There's just something about deep plum streaks over black hair. Can you imagine how it looks in the sunlight?