If you are lucky enough to have a ginger beard, wear your glorious red beard proudly. Gingers have a world of options when it comes to their beard styles, but you should really choose a style that shows off your red facial hair, as many would consider it one of your best features.
Whether you are Auburn, strawberry blonde, copper-red or any other variation, rock your ginger beard with pride.
Ginger Beard Styles
Your red hair may be one of your sexiest features. Use it to your advantage by choosing a ginger beard style that shows it off.
#1: The Ginger Full Beard with a Shaped Mustache
If you opt for a traditional full beard with a shaped mustache, such as a handlebar or devil shape, you will call attention to your sexy ginger mustache. It's a great way to show off your personal style and show the world that you are proud of ginger.
Hairstyles for Full Bearded Guys
#2: The Full Beard with a Thin Mustache
So we aren't talking pencil-thin here, but pairing a full, neatly trimmed beard with a short thin mustache is a way to show off your handsome beard style. The focus is on the beard and it's glorious color and fullness. This look is in keeping with the "lumberjack chic" aesthetic so popular right now. We also suggest these faded beards as they really look attractive.
#3: A Coppery Red Beard with Coppery Coiffed Hair

Maybe your ginger beard is more coppery in tone. Accentuate it by pairing it with a very coiffed, pompadour-type hairstyle. This draws attention to your unique coloring, creating a style that is all you.
The Hot & Trendy Handlebar Mustaches in 2023
#4: The Natural Ginger Beard
Having red facial hair is so striking that it doesn't really require a flashy beard style to have a lot of bang. Choose a natural style and just let your ginger beard do its thing. This is an easy, low-maintenance look that still gives you a ton of pop and pizzazz.
#5: The Delightfully Dapper Ginger
A full, red beard can still look suave and dapper. Keeping your beard neatly trimmed is the key to this look, no matter what beard style you choose. Again, you don't need a complicated style when you are a ginger–the striking color of your beard can be the star.
#6: Thick and Long
Men with thick facial hair can grow out a long beard with bushy walrus mustaches covering the lips for a rugged appeal. Trim the sides of the beard regularly maintaining its shape while the shoulder-length blonde locks create a two-toned appeal. Finish off with a stylish low knot and a headband.
#7: Ducktail Shape
Resembling a duck's tail, this ginger beard style is the chicest among all. Grow the beard while trimming the sides and neck. Taper the chin strands into a pointy end and couple it with handlebar mustaches. A classic side-swept top with tapered sides finish off the look.
#8: Extended Goatee
A slight variation of the classic goatee, the extended goatee has facial growth expanding towards the jawline and neck hence the name. This debonair look is suitable for those with a patchy beard. Pair the style with a comb-over haircut and faded sides with no sideburns.
#9: Garibaldi Beard
This beard is simple yet awesome and is named after the Italian General Giuseppe Garibaldi who rocked it first. It has a round or square bottom suitable for guys who want to make their narrow chin appear broader. A long brushed-back top accentuates the unkempt style.
#10: Light Stubble
Considering the laid-back ones, flaunt your ginger hair with a short to medium facial stubble. Just let it grow for a few weeks without any maintenance and there you have it. Finish off with a layered curtain cut highlighting the natural wave pattern. Simple and Sexy!
#11: Short But Full
A very full but short and neatly trimmed beard is a good look for nearly any man with full facial hair. It looks sexy but still masculine, and the bright red hue takes the look up a notch.
Handsome Short Beard Styles of All Time
#12: The Mid-Length Outgrown Ginger Beard Style
Sometimes, we just need life to be easy. Let it go–your beard style, that is. Let it go, and let it grow into a messy but hip mid-length beard. This beard style is easy-peasy as it requires almost no effort, but the red color gives it a personality all its own.
Cool and Sexy Beard Styles to Try This Year
#13: Chin Curtain + Connected Mustaches
Full whiskers are not for everyone and here is when a chin strap comes in handy. The facial hair is allowed to grow along the jaw line only while the cheeks are kept clean. Combine it with connected mustaches and a classic side-swept quiff for a casual look.
#14: Traditional Stubble
Stubble beards are quite versatile and can be worn in varying lengths. This traditional one is suitable for office-going guys as it is smart and masculine yet the easiest one to grow. Though requiring weekly touch-ups, this beard looks great with a long tousled top.
#15: The Viking Look
Inspired by the sturdy Viking warriors who had the bushiest beards of all, here is a style that requires some time and patience. Let the facial hair grow several inches while trimming the sides into a nice round shape. Thick walrus mustaches complete the grizzly style.
#16: Bandholz Style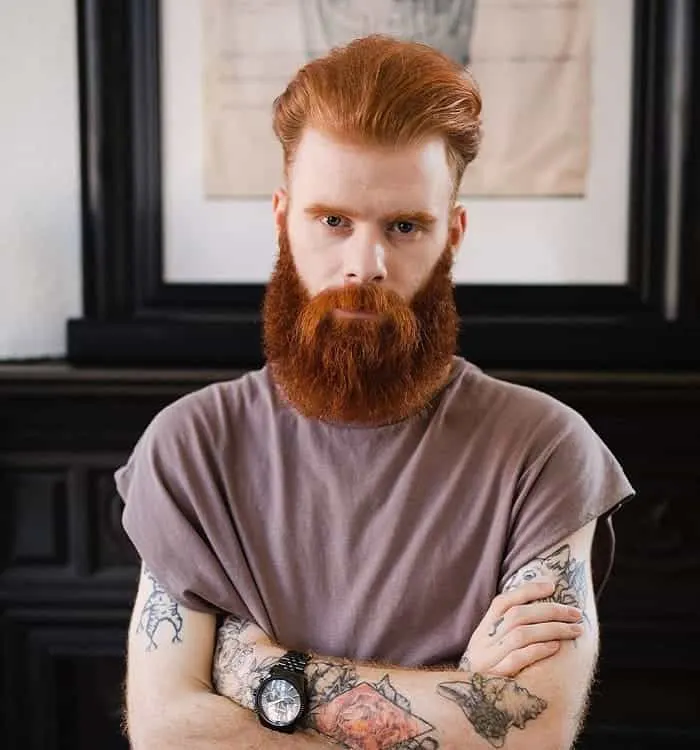 A ginger beard style like this will surely get you noticed from a distance. Associated with the interesting story of Eric Bandholz, the beard is kept healthy by grooming the edges. The gunslinger mustaches covering the lips and slicked back puff spice up the look further.
#17: Circle Beard
The circle beard never goes out of style and is often sported by many stars like Brad Pitt and Johnny Depp. It is characterized by a goatee with connected mustaches and a soul patch while the remaining face is neatly shaved. Classy and chic!
#18: Long Hair with Short Beard
Redheads can flaunt those natural ginger tresses by going for a layered shoulder-length haircut. Accentuate the hairstyle with a short yet full beard and mustaches for a rugged masculine appeal. Keep the look neat by shaving or trimming the neckline regularly.
#19: Chin Puff
Express your wild personality with a bold style statement. The chin puff is achieved by letting the hair grow long on the chin area only shaving the remaining face. Complete the look with a spiky mohawk fading towards the sides and triangular-shaped sideburns. Done!
#20: Dutch Beard
Last but not the least, this old-school style beard is seldom seen these days but is sure to turn around some heads. It is connected to the sideburns covering the ears and spreads out along the sides and bottom. Keep in mind that a Dutch beard does not have mustaches.
No matter the shade of ginger, a ginger beard always looks amazing. Let these handsome styles help you nail down your own look.