Are you tired of spending hours styling your hair just to end up with a dull and boring look? Well, we'll let you in on a hairstyle that's low-maintenance yet stylish at the same time. It's none other than the gray pixie cut!
With this edgy, sophisticated, and fuss-free hairstyle, you can step out of your home with a fool-proof fabulous hairstyle with little to no effort needed!
Stylish Gray Pixie Haircuts
If you're ready to bring your hair's A-game and unleash your inner rockstar, here are some of the best gray pixie cuts that you can try:
1. Shaggy Platinum Pixie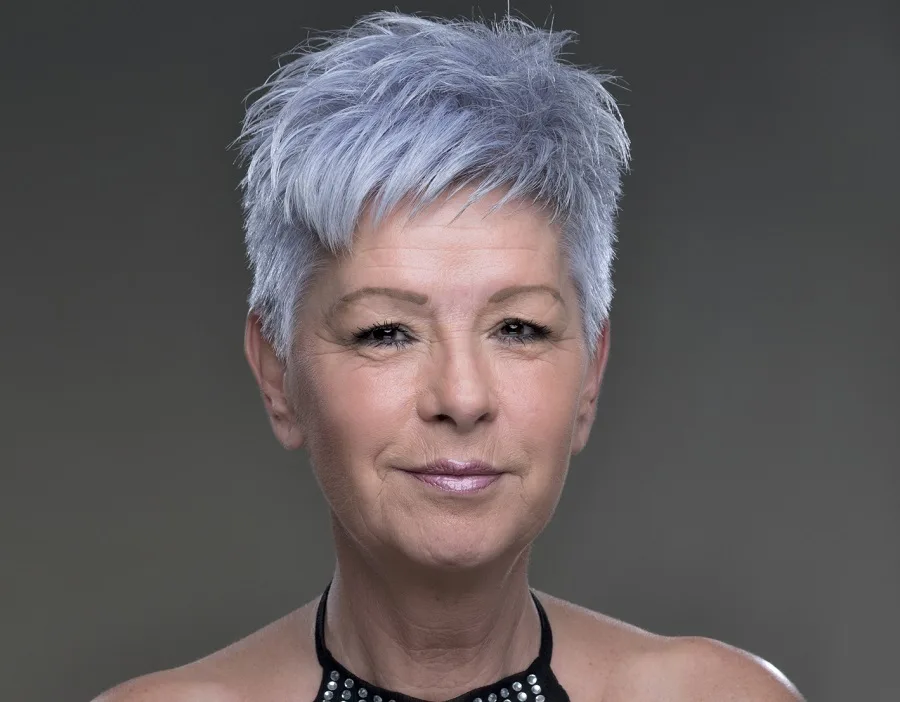 Let's start the list with this beautiful platinum pixie that's equally groovy as it looks glamorous. This daring hairdo combines the sophistication and playfulness of shaggy layers with the sophisticated edge of the platinum shade, giving you the best of both worlds.
The pixie's tousled layers and choppy fringe can make thin hair look voluminous while giving your beautiful face the framing layers it needs.
2. Ashy Gray Faux Hawk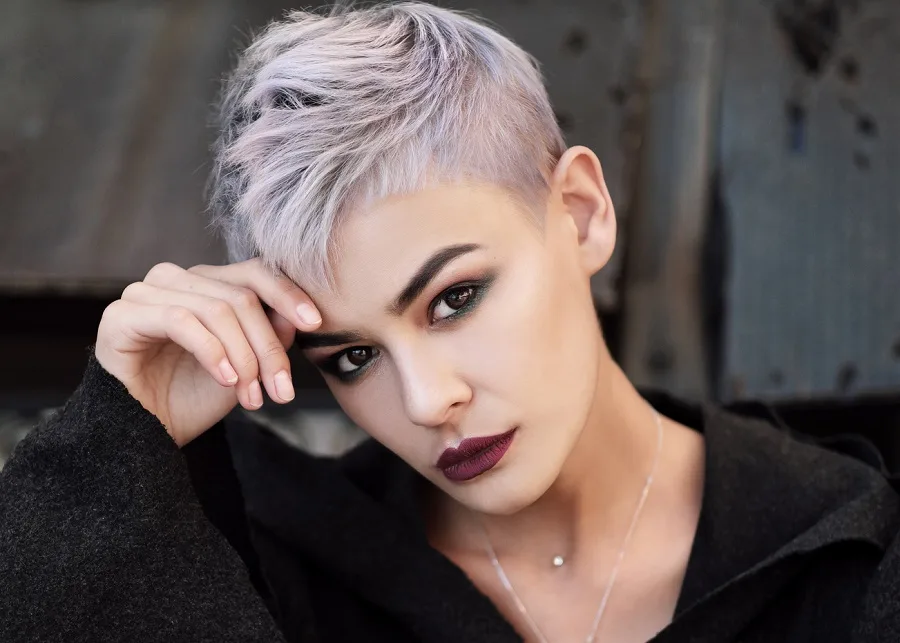 If the short length and playful layers of pixie aren't enough for you, you can even take your fashion-forward hairdo with a subtle faux hawk in the middle.
This eye-catching addition is the best option for unleashing your inner rebel chic. On the other hand, the ashy gray hue adds a mysterious touch to the overall look.
3. Gray-Blonde Textured Spikes
For women with thin hair, here's the best gray pixie cut you can try. The upward spikes will give your hair added height and volume while the textured ends will definitely make your hair a whole lot thicker.
Add in the gray-blonde shade and you get a pixie cut that's both edgy and sophisticated.
4. Icy Short Pixie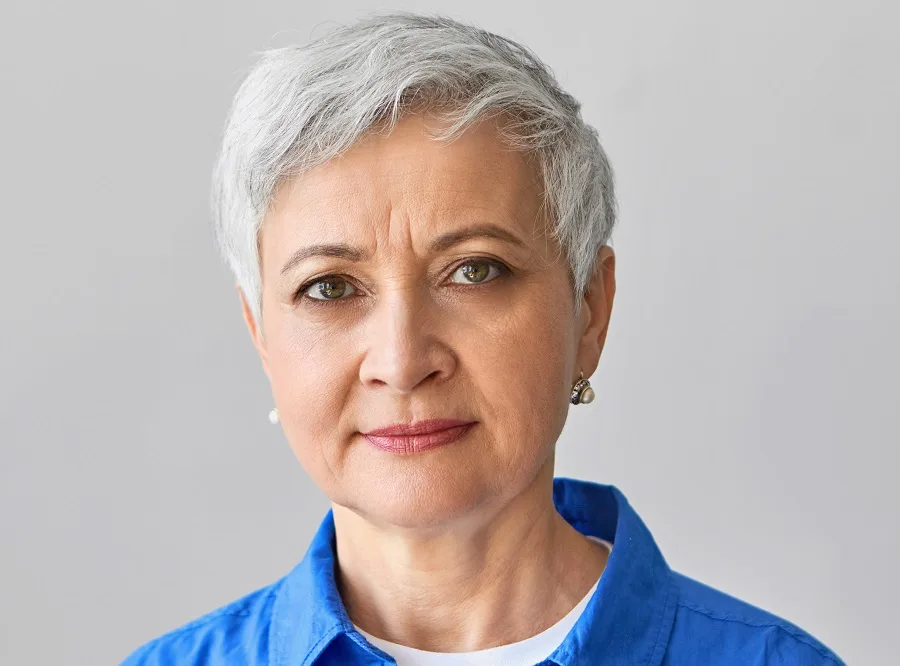 Dealing with thinning hair is not an easy feat, but the good news is there's one easy solution that can solve this issue: this side-parted pixie. With the side part, you can swoop all your hair to one side to create the illusion of fullness and volume.
And if you're tempted to cover up your greying hair, don't! The icy shade is the perfect color to bring out this cut's edgy side.
5. Silver Spikes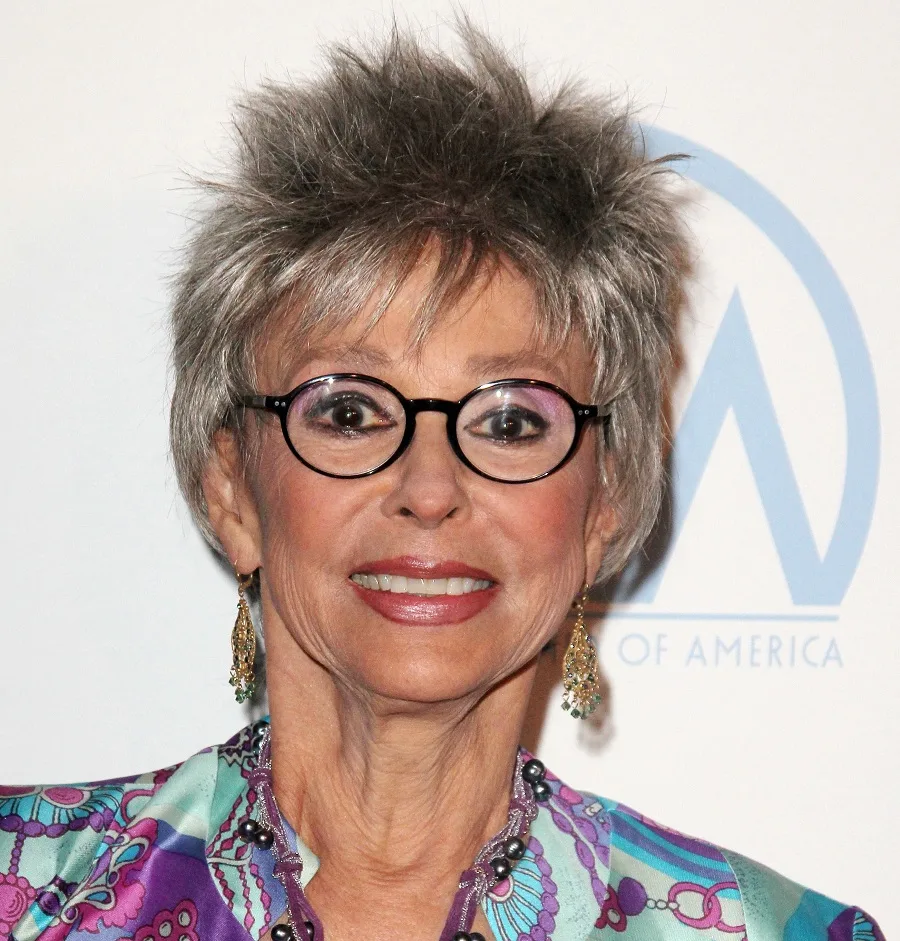 Now, here's a fun and playful gray pixie cut that defies age stereotypes! From its long spikes down to its eye-catching silver shade, this hairstyle definitely makes a statement.
It has fun and playful sharp spiky layers and a sophisticated metallic silver shade, making it the best fit for an older woman who wants to embrace her unique sense of style.
6. Pixie with Undercut
In this hairstyle, you got a mischievous pixie complemented with a dazzling shade of gray. As if that's not enough, you can make it even more daring with an edgy and unique undercut that perfectly shows off your gorgeous face tattoos.
With all these elements combined, your hairstyle will be an embodiment of how fearless you are and how creative you can get when you put your mind to it.
7. Salt and Pepper Micro Pixie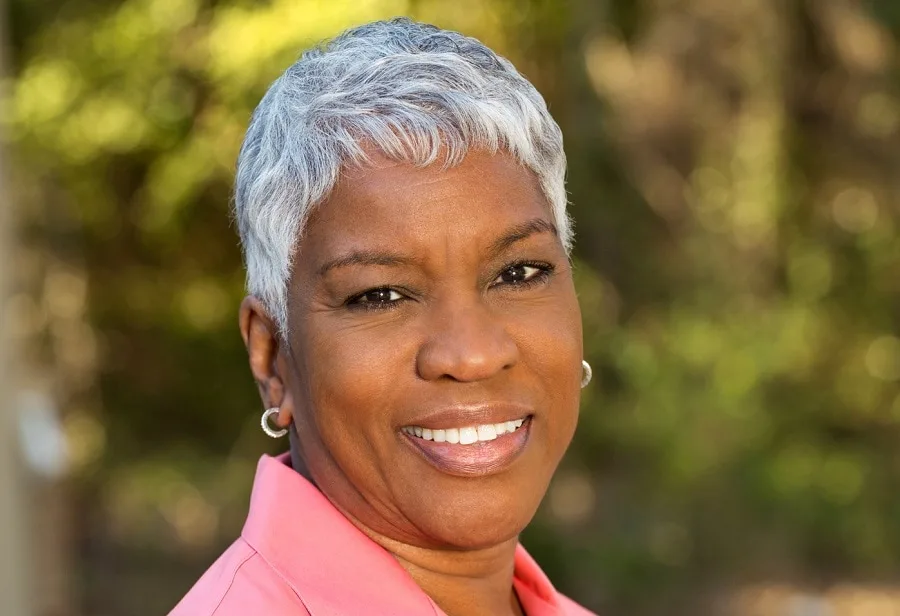 Who says older women can't have a modern hairstyle? This salt and pepper micro pixie will definitely prove you wrong.
Keep your hair as it is for a naturally elegant look and let the short length show off your fun and playful side. Stylish as it is, this short hairstyle is actually quite easy to maintain and requires minimal upkeep.
8. Brushed Up Quiff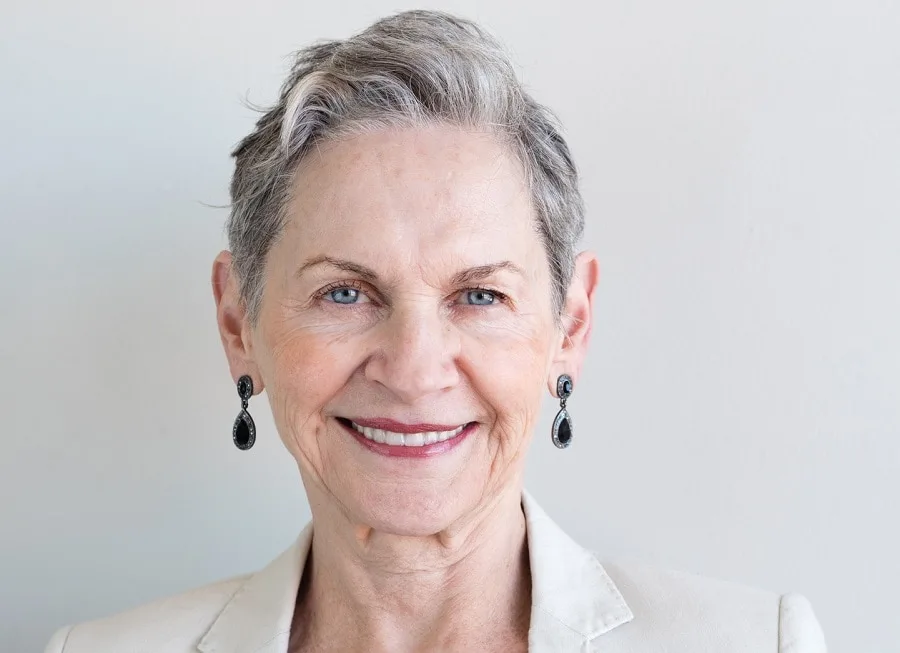 Don't know what to do with your thinning hair? No problem! We've got one of the best gray pixie cuts for you—this quiff style!
The brushed-up hairstyle adds volume and height to your overall look, giving you the boldness and confidence to walk with your head (and hair) held high.
9. Short Pixie + Fade
If you're not afraid to show off your bold and fearless side, this is the daring 'do for you. The ultra-short spiky pixie haircut unleashes your inner rockstar, while the striking gray color shows everyone how incredibly fearless and stylish you are.
On the other hand, the faded sides add a touch of coolness to this already edgy hairstyle.
10. Sleek Piecey Pixie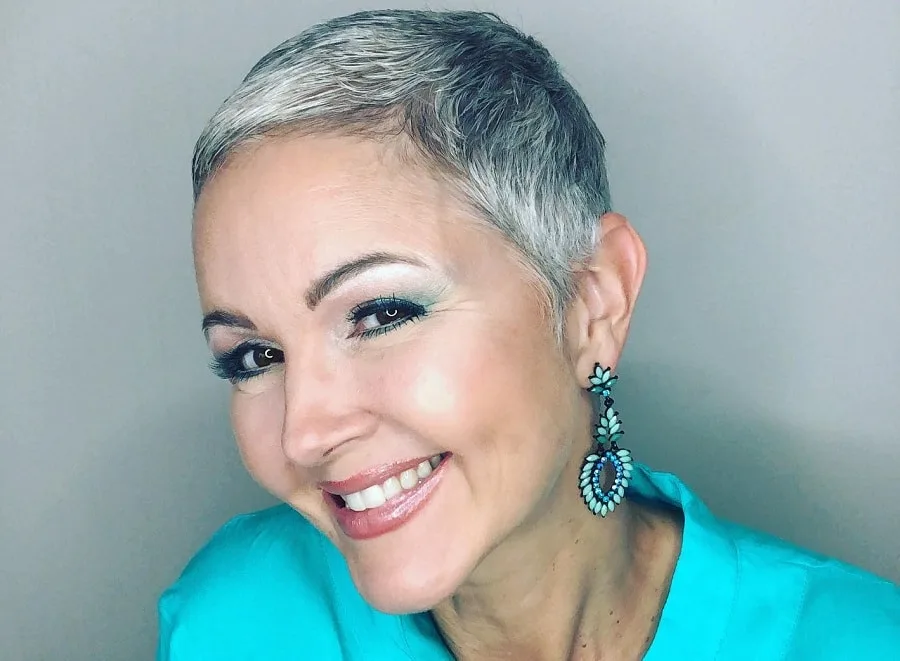 Not everyone has the perfect face shape to go with a sleek short pixie. But if you have an oval face shape, you have every license to sport this sleek and stunning hairstyle in all its wispy glory.
11. Side Swoop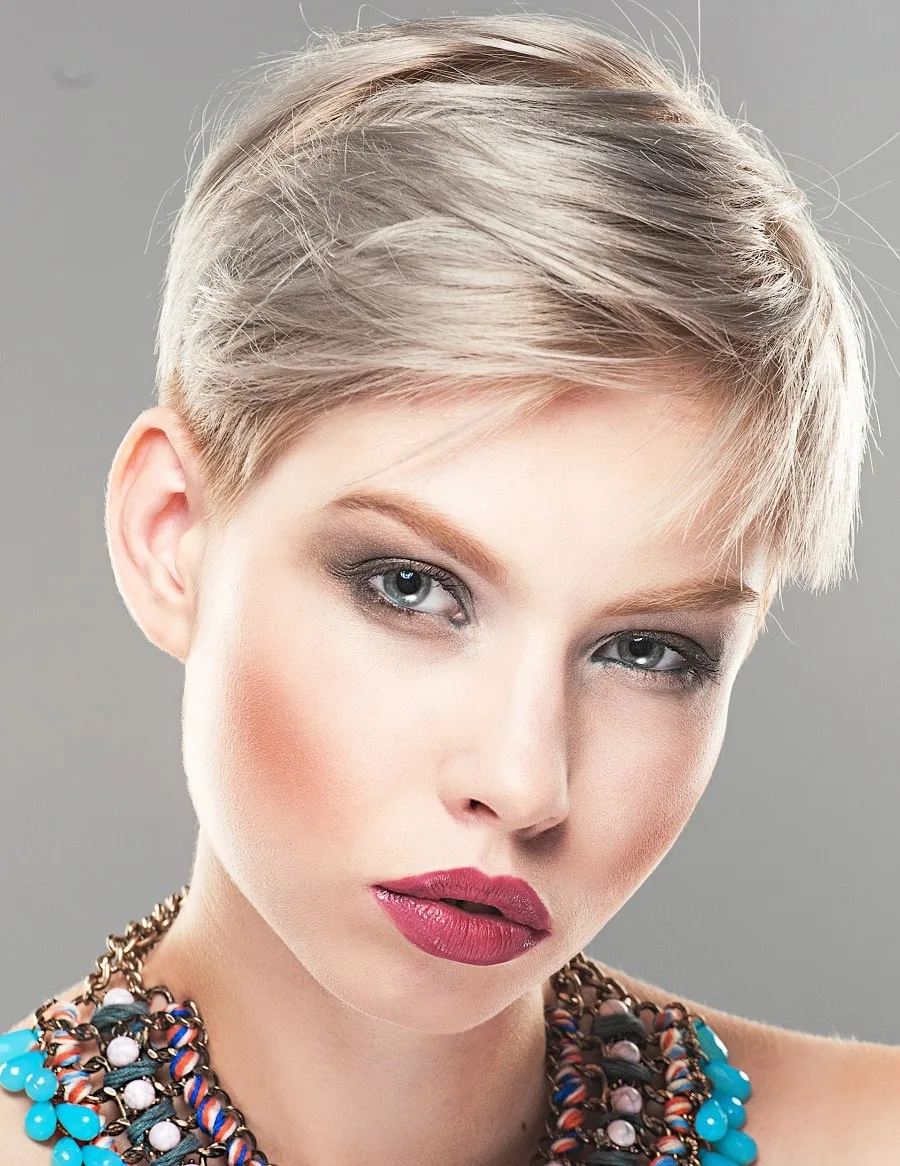 With a side part, you can create a sassy and daring pixie cut that means business. Not only does a side-part suit all face shapes, but it also gives you an opportunity to explore different styles. You can sweep it to the side for a more feminine look or spike it up to give it an edgy touch.
12. Curly and Messy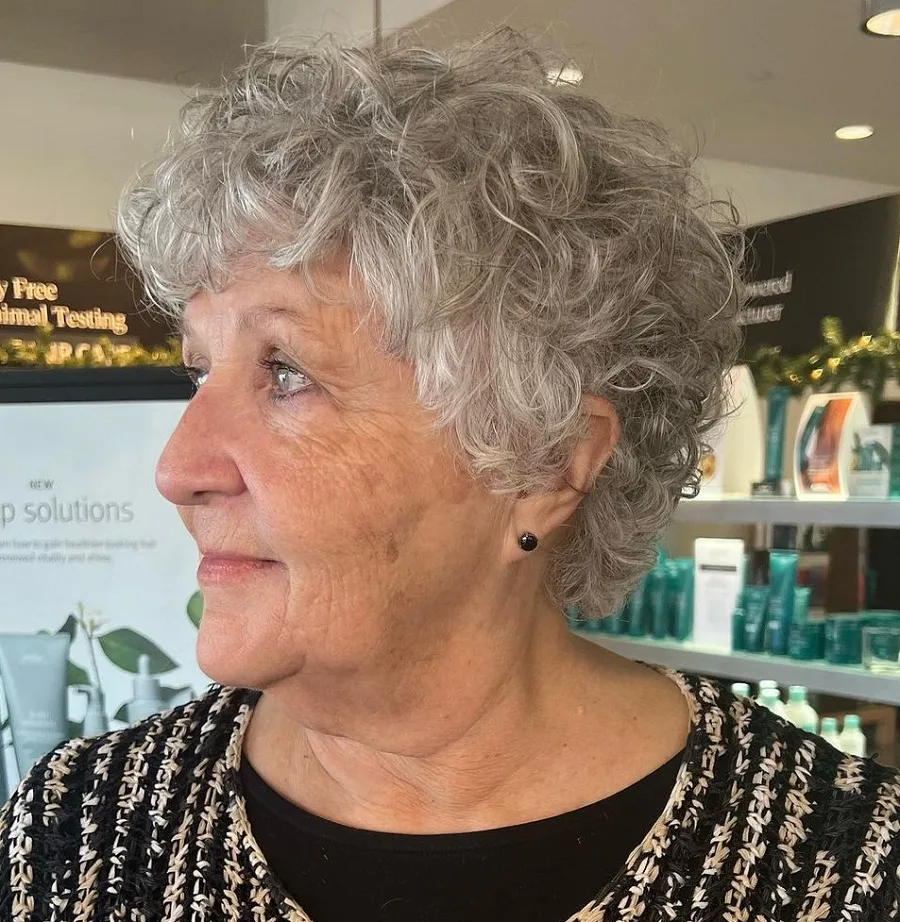 Even if you're already older, the messy hair vibe can still work for you. The bouncy curls and lots of layers can turn your fine hair into a voluminous one. Keep the top longer so you can still enjoy a subtle fringe that will frame your face beautifully.
13. Textured Pixie
Take some years off how you look with this stylish textured pixie cut. The layers upon layers of texture add dimension and depth to your hair while also giving it a playful yet feminine vibe.
Sporting this attention-grabbing hairstyle is truly one of the best power moves a woman can ever take.
14. Sandy Blonde Spikes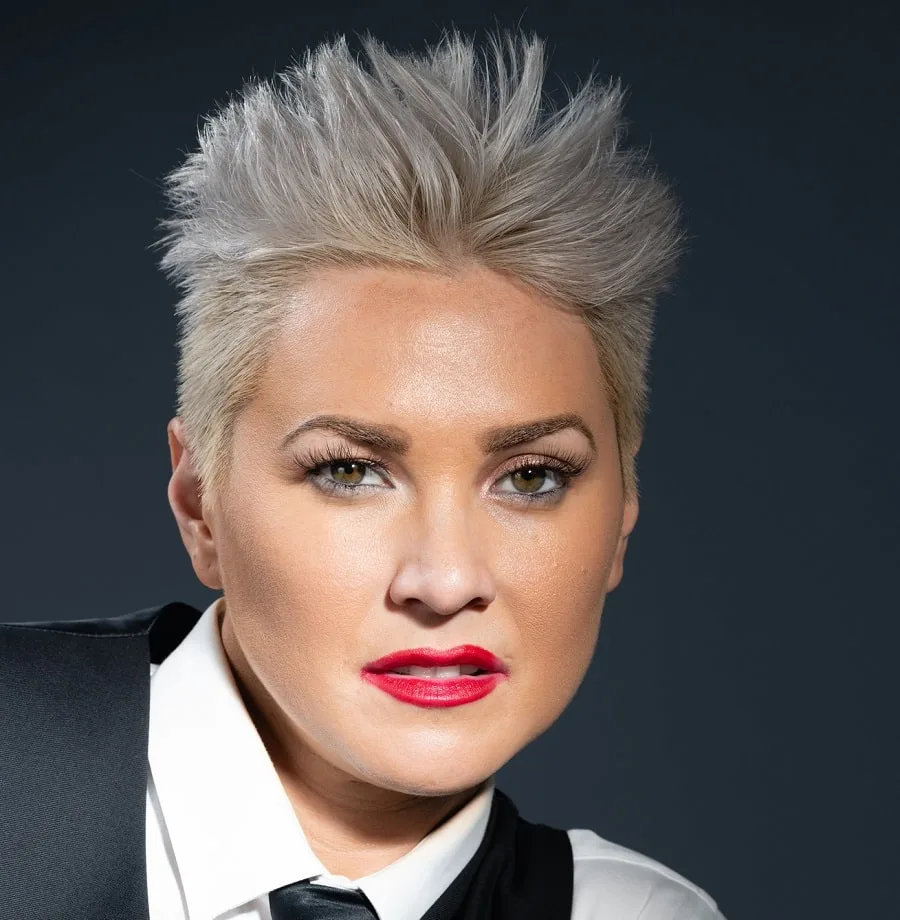 Here's a hairstyle that's edgy and yet highly sophisticated. The soft spikes give you an edgy yet feminine vibe while the perfect combination of the classic gray and the youthful sandy blonde shades creates a look that's both timeless and trendy.
15. Pompadour Pixie
Now, this is a look that "literally" stands out from the crowd. The voluminous pompadour gives the overall look a retro glam vibe. At the same time, it also gives you added height and also boosts your hair volume.
16. Gray + Black Angled Bixie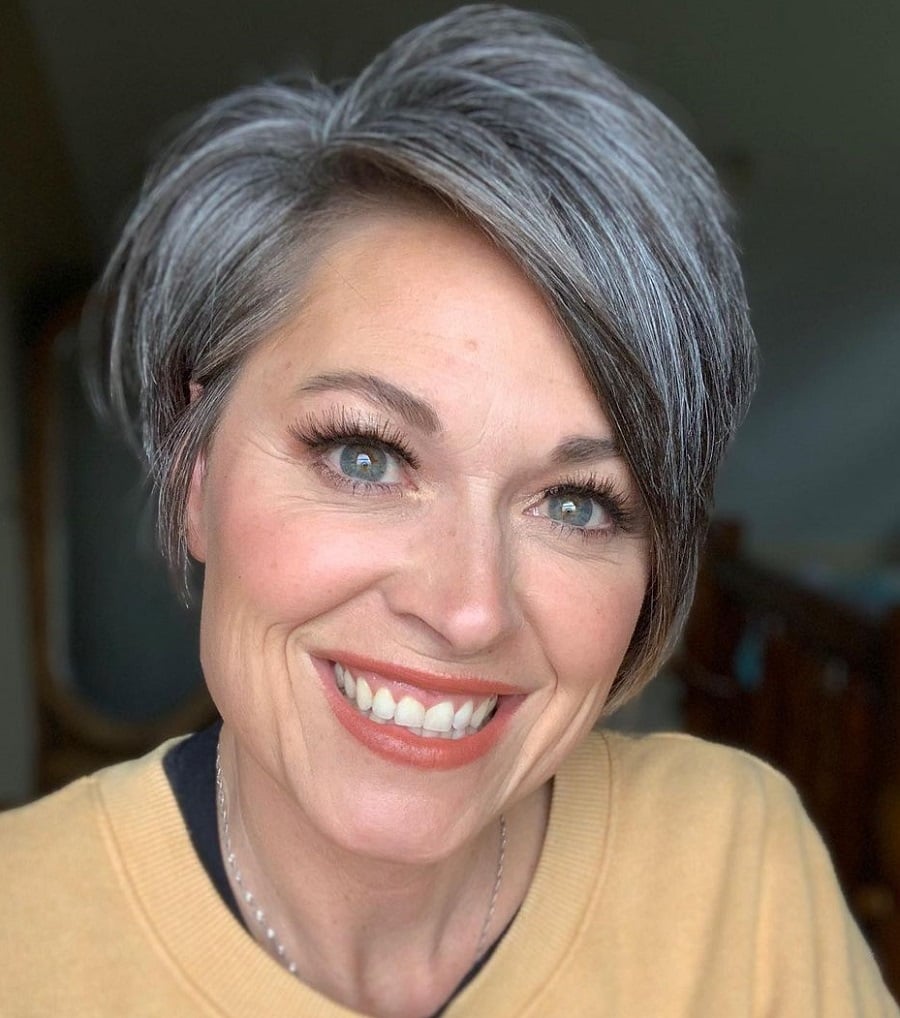 If you want a hairstyle that will give you that polished look without too much effort, try this angled pixie bob. The angled shape gives the short hairstyle a more structured and sophisticated touch, so you can look your best every time and anytime!
17. Pixie with Black and Purple Highlights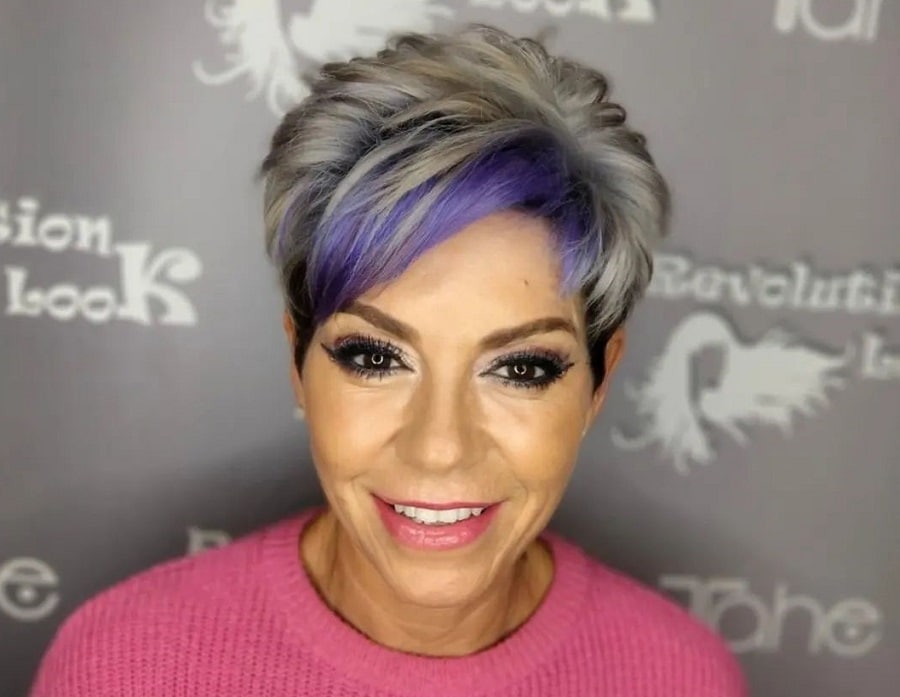 There's no better way to transform your plain pixie cut from drab to fab than by adding a pop of color to it!
In this case, you get to brighten up your gray tousled layers with a purple money piece highlight that instantly frames and brightens your face.
18. Messy Gray Pixie with Long Bangs
The best thing about pixie cuts is you can keep them as messy as you want them to be and they will still look polished. The long bangs with pixie will perfectly frame your face and highlight your best facial features.
The gray pixie cut may seem intimidating, but it's actually quite a hairstyle that requires minimum effort but will give you maximum style. Not only that, but it's also quite versatile since you can customize any of these pixie cuts to suit your face shape and personal style.