Although all face shapes are beautiful, oval ones are the most versatile as they go perfectly with a number of hairstyles. Such faces are slightly longer than their width missing any sharp angles. They can be imagined as an inverted egg with the forehead and cheekbones vaguely wider than a rounded chin.
There are various short haircuts that flatter oval faces but it is needless to say that pixie look the best. These haircuts divert all the focus on your best features and are easy to style but require significant maintenance.
Without further ado, check out the following sexy pixie cuts for oval faces!
Pixies for Oval Faces
Whether you are an ultra-modern fashionista or a sassy lady with guts these pixie hairstyles are just what you need.
1. Tousled Quiff
Pixies make one of the best messy hairdos that are in full trend right now. The hair on top is layered and tapers towards the back and sides. Tousle the strands using some styling product resulting in soft spikes that tilt slightly towards one side creating a gorgeous feminine quiff.
2. Out-Grown Pixie
Contrary to common belief, pixie haircuts can be long and can look equally sexy when styled appropriately. This one works best with straight hair and is giving some mushroom cut vibes with ear-length strands along the sides and blunt bangs at the front. The pastel pink hair color is just striking!
3. Feathered Texture
This pixie cut is ideal for oval faces with big foreheads. A lot of movement and body can be observed thanks to the texture created with feathered layers. Opt for uneven bangs that elongate on one side for a funky asymmetrical look that won't be ignored. A good blowout is all you need afterward.
4. Extra Long Top
When talking about pixies, a long top with short sides and back come to mind. Following this very image, you can go a little extra by opting for a jaw-length top and buzzing the sides or pinning them back for a faux pixie look. Curl the strands and let them fall over on one side.
5. Purple Shag
Opt for a cropped shag by asking the hairstylist for a mane full of uneven layers with neatly trimmed sides. This cut will look the best when hand-tousled for the tendrils to spread everywhere with a barely-there side part. Play with lavender and lilac tones and you won't regret it.
6. Brushed-Back
Following all-time iconic bob haircuts, pixies are the most sought-after hairstyle by elderly women. It's quite reasonable as these cuts are effortless to style and add some youthfulness to the face. Brush back that fluffy top putting your beautiful oval face on full display.
7. Pixie Bowl Cut
Whether you believe it or not, pixie bowl cuts do exist and here is one to assure you. It is more of a cropped bowl cut with the strands falling barely above the ears with an undercut at the back. Let those bangs cover the forehead or pin them back whenever you want.
8. Asymmetrical
Those who find perfectly aligned hairstyles boring can add some edginess to their look by getting an asymmetrical chop. The hair is significantly longer on one side compared to the other and shortens towards the back much like a graduated bob. Straight-haired ladies should definitely give this style a shot.
9. Highlighted Front with Shaved Sides
Black women can balance out their oval faces with this playful pixie cut that won't disappoint. The sides are shaved with long curls at the front working as bangs that shorten gradually towards the back. Lighten the fluff at the front by choosing any color you want or just go for a caramel blonde nuance.
10. Headband Look
Pixies look cute when paired with a headband. There are so many colors and styles to choose from when it comes to hairbands. You can also try various other hair accessories like pins, clips, and fancy combs to keep those bangs away for a change.
11. Color Pop
Feathered bangs look flattering with short haircuts like pixies and bobs. Frame your oval face with a textured fringe and sweep it on one side across the forehead. Now that you are already at the salon, experimenting with an unconventional hair color like this blue one won't hurt!
12. Perfectly Layered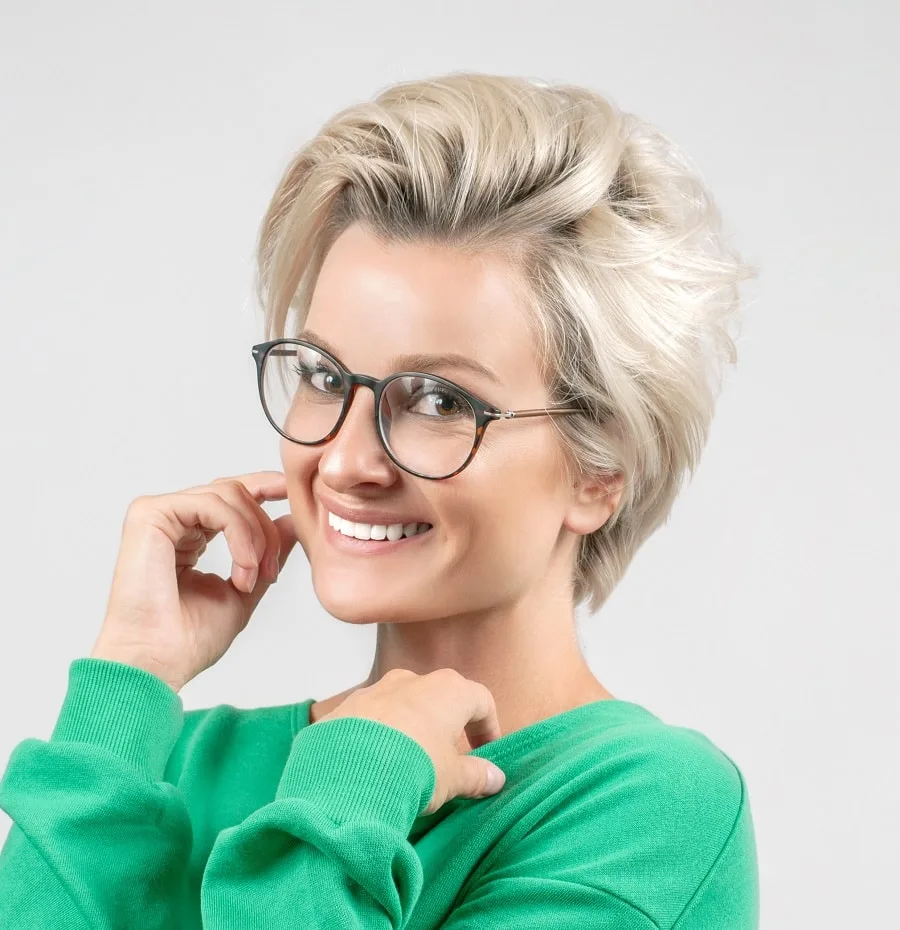 Those who wish to stay on the longer side can consider getting a bixie. It couples the rounded shape of a bob with the shortness of a pixie and hence the name. The key lies in getting a perfectly layered mane to avoid a flat look. Time to try some shadow roots too!
13. Bang It Up
Pixie cuts for oval faces, or rather any face shape, are incomplete without some bangs. Although long side-swept ones covering an eye look effortlessly chic, you can also sport curtain bangs, wispy bangs, or any other type of fringe depending on your choice. Don't forget to add a little texture.
14. Coifed Curls
Curly beauties! Prevent your oval faces from appearing too narrow by chopping those curls into a rounded long pixie featuring some wispy bangs at the front, short sides, and a fuller top. Keep the hair bouncing with a suitable curl-defining leave-in conditioner.
15. High Volume
Create a voluminous hairdo with short layers. Roll the strands inward with a barrel brush when blow-drying the tresses focusing on developing some height on top of the head. Sweep the bangs slightly on one side and you are all done.
16. Crown Layers
Crown layers are suitable for thin locks as they prevent the hair from looking limp and lifeless. Play with different textures by keeping the layers confined to the top only and tousling them to contrast against those smooth sides. Add some playfulness with short asymmetrical bangs and voila!
17. Side-Swept
Office-going ladies can keep it workplace-appropriate with this hair idea that works wonders for straight hair. The long top tapers softly towards the sides and back. Carve out a chic side part and brush the strands neatly using a little styling paste for a sleek finish. Classy!
18. Shattered Chop
Choppy chunks of hair on top falling over the shorter sides with roughly styled side-swept bangs are what set this shattered pixie apart from others. Given the unevenness that is the ultimate target here, this style can be recreated at home. You can also lighten the top for a two-toned appeal.
19. Cropped Cut
Buzzed sides may make an oval face appear slimmer than before but they don't look bad at all. The top is layered and combed over to one side for a boyish appeal. Finger-tousle the hair and get ready to rock the world.
20. Natural Pixie
Another pixie cut for oval-faced African-American ladies who want to take a break from their natural fluff. Keep the top extra short with even shorter sides for a clean look. How about taking the style to another level with a shaved side design? Worth a shot!
Pixie cuts prevent oval faces from appearing too long or lean. They are also ideal to add volume or remove excessive bulk from thin and thick hair, respectively. Discuss your daily routine and styling associated with each pixie haircut with your hairstylist before coming to a decision.