Pixie bob haircuts are more versatile than the regular pixie because your strands are longer, and you can style them in various ways.
When we're talking about pixie bob, the main advantage is that they save you a lot of time whenever you go out. Whether you are going to a party, at the office, or just to grab a cup of coffee, these pixie bobs are so low maintenance that you won't spend more than 10 minutes styling your hair. Isn't that great?
Another characteristic that makes this an excellent choice is how easily you can adapt this hairdo to any outfit. It can quickly become a hairstyle for rebel girls or elegant for true ladies.
How to Cut Pixie Bob
Step 1: Work with damp hair since this way you will easily cut it to your shoulder length. You can cut your hair in any way (messy, wavy, uneven) since you will style it additionally later on. If you have super long hair tie it in a ponytail and cut it underneath the hairband.
Step 2: Use the comb and pull the hair in order to get a V-shape around the middle of your hairline. Separate the front and the back part of your hair with the rat-tail comb and then comb the hair through on both sides while making a versatile cut.
Step 3: Cut the sides on the top and blend your hair by combing it upwards and then snip it little by little. Many women prefer a fluffier top since it leaves an illusion of a fuller hairline, and it also looks like a bob cut.
Step 4: Do an undercut down the lower portion of your hair. You can use a razor or a shaving machine to get a defined portion. This cut will also create an illusion of a fuller hairline.
New Ideas of Pixie Bob Haircuts
We have 30 of the coolest pixie bob haircuts for bold women to rock their short hair. Have a look and you might get short hair inspiration for you.
1. Pixie Bob for Black Women
A curling iron can help you style a smooth bounce for your pixie bob, and with some hairspray, you can forget about your hair getting dull during your busy day. This messy but elegant look is suitable for all sorts of events and outfits.
2. Asymmetrical Pixie Bob
Asymmetrical pixie bobs have tons of layers in the back to give that area plenty of volume. Keep your bangs on one side and use a dark hair dye. Create green and blue low fade highlights to show off your rebel personality.
3. Pixie Bob Braids
You can easily style a pixie bob hairstyle by just braiding one of your sides. Keep your long bangs on the other side and tousle your hair close to your roots if you want it your crown hair to get some dimension.
4. Layered Pixie Cut Bob
If you crave more volume, a pixie bob can provide you that! Style a middle part for your bangs, layer your hair, and you'll get that creamy texture and dimension for your crown hair. A blonde grain color it's also ideal for this fabulous hairstyle.
5. Stacked Pixie Bob
If you are an eccentric young lady, create a black color base and an electric purple topcoat hair dye. Layers will make your colorful strands beautifully blend with the darker shades, and the look will unquestionably draw all the eyes on you.
6. Inverted Bob Pixie Hairstyle
A long inverted bob pixie hairstyle will look tremendously cool if you style thin blonde champagne highlights. For the bangs, dye two bright strands close to your scalp for better framing.
7. Curly Pixie Bob
A pixie haircut will make all your curls tighter and bouncy. When cut short, curls tend to keep their natural shape. Also, going from a long hairstyle to a shorter one will make your ringlets healthier.
8. Pixie Bob Haircut for Round Face
When you have a round face, you need a hairstyle that frames it. A medium pixie bob with blonde highlights and bangs flipped on one side is perfect because it will make your cheekbones look less prominent.
9. Pixie A-Line Bob
Whenever you want a stunning appearance, this A-line pixie bob should be your first option. Create an undercut on one side and some thin textured blonde highlights. Keep your base and root color in a dark hue.
10. Medium Bob Pixie
To recreate this hairstyle, you need a pixie bob with long bangs swept and tousled on one side. Create some layers to gain some volume and use a bright pale ginger color to dye your locks.
Side bangs will enhance your eyes & your facial features, as well as your makeup. Women who want to stand out wherever they go will love this short pixie bob cut. It is very airy and is the perfect choice for younger women who love attention.
12. Textured Pixie Bob Cut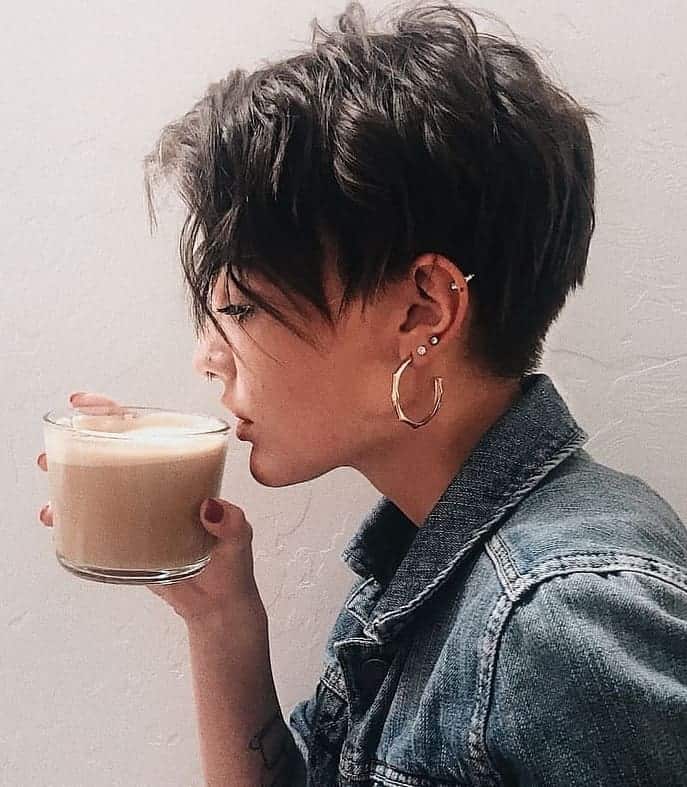 This textured & defined pixie bob looks very rock-chic and has a fierce vibe to it. If you match it to your earrings, studs, jewelry, or any other bold item you will love the finished look! Mean & powerful, and who wouldn't want that?
13. Pixie Bob with Long Wavy Bangs
This bangs on the pixie bob cut look very playful and will suit women who prefer unique cuts the best. If you are in your 20s and you want something different, make sure you get this hair-do.
If your hair is naturally thick try to embrace that fullness by getting this pixie bob haircut. It is seamlessly emphasizing the top portion while leaving you with a lot of volume + styling possibilities.
Moms who are always on-the-go or businesswomen will love this cut. It is business at the front, with a lot of playful highlights! You should get pixie bob and slay it when working, and simply enjoy a bunch of compliments that are headed your way.
16. Wavy Pixie Bob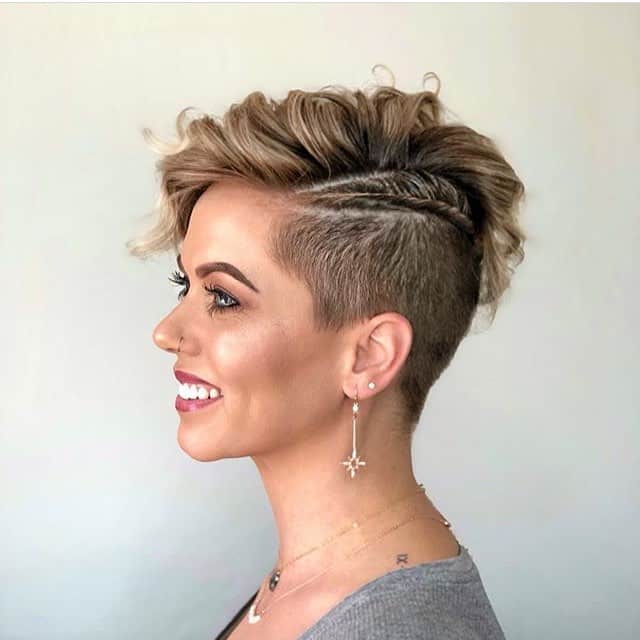 This is a relatively long bob with some pixie elements and super twist strands. If you are still in school or if you are quite young know that this hairstyle will look the best on you.
17. Voluminous Blue Pixie Bob Cut
If you are all about color, fun, and playful styles then this blue pixie is calling out your name! This long pixie bob style will look the best on women who have blue eyes, and who are not afraid of color.
18. Dark Brown Fluffy Bob
Even virgin hair and chemically untreated hair can look great, as long as it is super sleek such as this pixie bob cut! Simply pair it up with your stud earrings and enjoy that smart and all-natural vibe.
This is a very fierce & sleek hair which not that many women can pull off. The undercut sides are very bold and attention-seeking, which means that you should always pair them along with some bolder makeup. If this sounds like you are your personal style make sure you embrace this pixie bob look!
This light blue hair mixed with a back fade detail looks unique and so Instagramable! If you are someone who posts fun & unique designs, and you are all about that look know that this short pixie bob is ideal for you.
21. Rose Gold Pixie Undercut Bob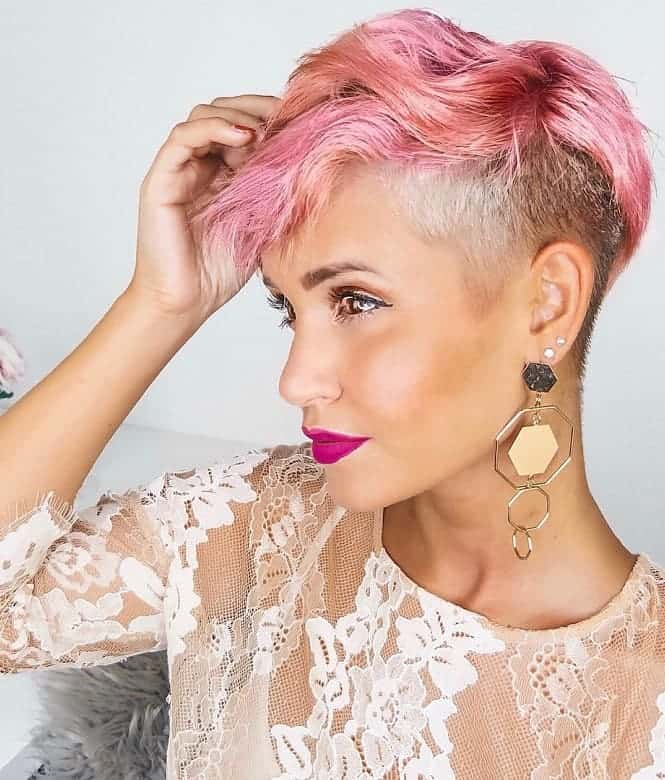 This pixie bob haircut with longer bangs will transform oval faces symmetrical, and the rose gold ombre hair will leave you with an ideal look for your head shape! These bangs are also super easy to style, and you shouldn't be afraid of incorporating them into your everyday get-ready routine.
Super short & thin hair can look fuller once styled in a pixie bob way. If your hair is naturally thin & brittle simply make sure you emphasize the top portion by adding a lot of hair gel or hairspray to get a fuller outcome.
23. Pixie Bob with Long Bangs
Super long bangs are easy to style due to their versatile options. Also, they are great at hiding some minor imperfections, such as scars or wrinkles on older and more mature skin.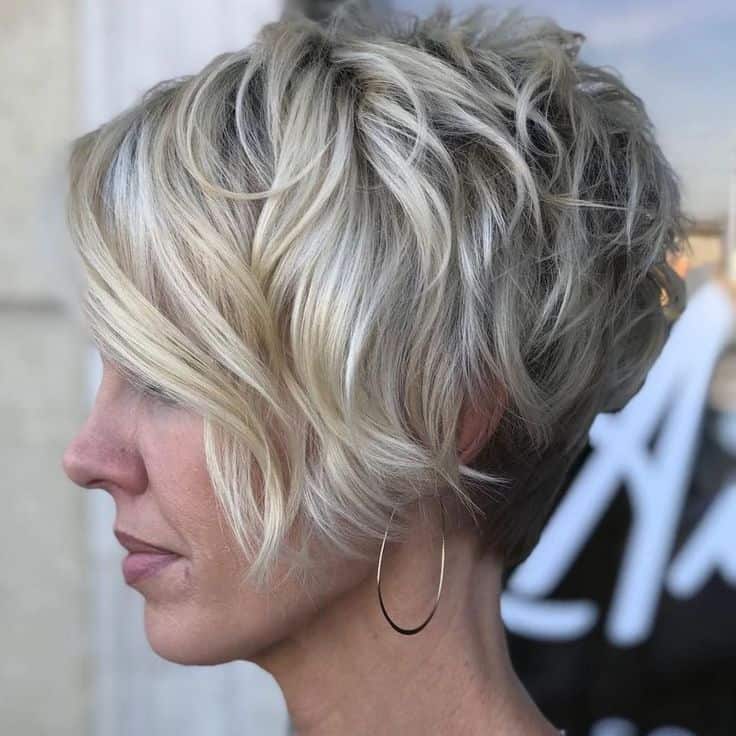 This pixie bob haircut looks ideal for a wedding of some sort, don't you think? If you are off to a wedding, your prom, a huge birthday party, or any other similar formal event, know that you can get your pixie bob looking this cute and playful, ideal for women of all ages.
If you don't love mono colors you can get a set of bleached highlights to spice up your entire hair-do. This long pixie bob is great for business women, or those women who prefer elegant and easy-to work with options.
Short pixie bob haircut can look great on everyone, so no reason to stay away from it! If you are a minimalistic woman, you love simple options, and you don't want to invest a lot of time each morning when getting ready; get this short bob. It is sleek & unique, just like you!
These fluffy & side swept bangs can be curled up or ironed straight, based on your preference. They are not too long, which means that they won't cover the entire portion of your face, but they will come in handy every once in a while once you try to step up your hair-game.
28. Rainbow Colored Bob Pixie
If you are a color fanatic then this rainbow inspired pixie bob haircut will make you fall in love! It is bold, and so unique, and you better make sure you have a trustworthy hairdresser once you decide to change your entire appearance with this hair cut.
29. Pixie Bob with Red Side Bangs
These side swept bangs will transform square face shaped women into round & oval-shaped gorgeous beauties. If you want to have a symmetrical face, this bangs on pixie bob cut will give you a well-rounded look, while taking only 10 minutes of your styling time!
Lastly, if your hair is super fine & you are not too sure how to style it why not just get a pixie bob haircut? It will look a lot fuller than you are used to, and will look super spikey, formal, and ideal on those who love and prefer simplicity over length and inches and inches of hair.
FAQs on Pixie Bob
What Is The Difference between Long Pixie Bob vs Short Pixie Bob?
A long pixie bob may leave you with more styling options, and it is very versatile. Many women prefer it because it is fun, and very playful looking. However, if you prefer some low-maintenance hairstyles and you live for shorter hair, you should get a short pixie bob.
Q. How Long Does It Take to Grow Out Pixie?
Pixie hair is quite short, which means that it may take you several months to grow out of it. If you prefer shorter hairstyles, and you don't feel like coming back to longer hair, you will enjoy and should get a shorter pixie. However, in case you end up changing your mind and you go back to growing out your hair, be prepared and patient since it may take you over 3-4 months to get to a long bob cut.
Are Short Pixie Bob and Pixie Cut Same?
These two are quite similar in terms of length, but not really when it comes to the upper portion around the top part of your head. A pixie cut is very short, often spikey, and has a rocker-chic vibe, while a pixie bob will have a lot more volume and definition around the forehead area. Women who have thicker hair naturally may enjoy the pixie bob a lot more, while those who have thin hair and who can't grow out a fuller outcome will enjoy a regular pixie cut.
Tired of constantly blow drying your long, dry & frizzy hair? If so, how about you try out any of these 30 pixie bob haircuts? These will take away only 5 minutes of your styling time each morning, and will look flawless with minimal effort.
Women prefer them for their working hours since they believe that these cuts are sleek, professional, and office-friendly, while others love them for hot & humid areas.