Hawaiian hairstyles embody the natural beauty of their surroundings. These looks are characterized by soft waves, beachy, salt-licked texture, and loose braids. The idea behind every Hawaiian hairstyle is creating hairstyles that can move in the island breeze.
Hawaiian Hairstyles for Women
Of course, many Hawaiian hairstyles just wouldn't be complete without a beautiful flower (or many)! We have 25 perfect ways to style your hair in a Hawaiian fashion for every occasion, so let's take a look!
1. Hawaiian Short Hairstyle
You don't need to have mermaid level locks to wear a beautiful Hawaiian hairstyle. In fact, all you need is texture with a little wave so it blows in the breeze. Plus, a little flower accessory won't hurt. Tuck it behind one ear or pull hair into a braid crown or side braid and secure with your favorite blossom.
2. Long Hawaiian Hairstyle
Give off the ultimate Hawaiian surfer vibe with long, beachy locks. You can achieve this texture with a day at the beach, or spritz wet hair with salt spray and scrunch hair here and there as it dries. As for a braid, a fishtail plait or a loose, pulled out braid both have major island vibes.
3. Hawaiian Curly Hairstyle
Stick straight hair just won't do for Hawaiian styles. Naturally curly babes have the advantage here, but you can always create wavy texture if need be. Use your favorite hot tool and plenty of texturizing spray to create perfectly 'undone' curls.
4. Hawaiian Hairstyle with Flowers
What would a Hawaiian hairstyle be without a gorgeous flower crown? One or two blossoms are suitable for any occasion, even simple ones, but flower crowns are for the bigger moments in life. When choosing the right flowers, think bold colors or soft whites.
5. Hawaiian Braided Hairstyle
Braids are perfect for Hawaiian hairstyles. For the active Hawaiian babe, braids pull hair back for outdoor activities. Overall, braids are beautiful, even if they are meant for style alone. Braid all of your hair in your favorite style or create one romantic plait and secure with your favorite tropical flower.
6.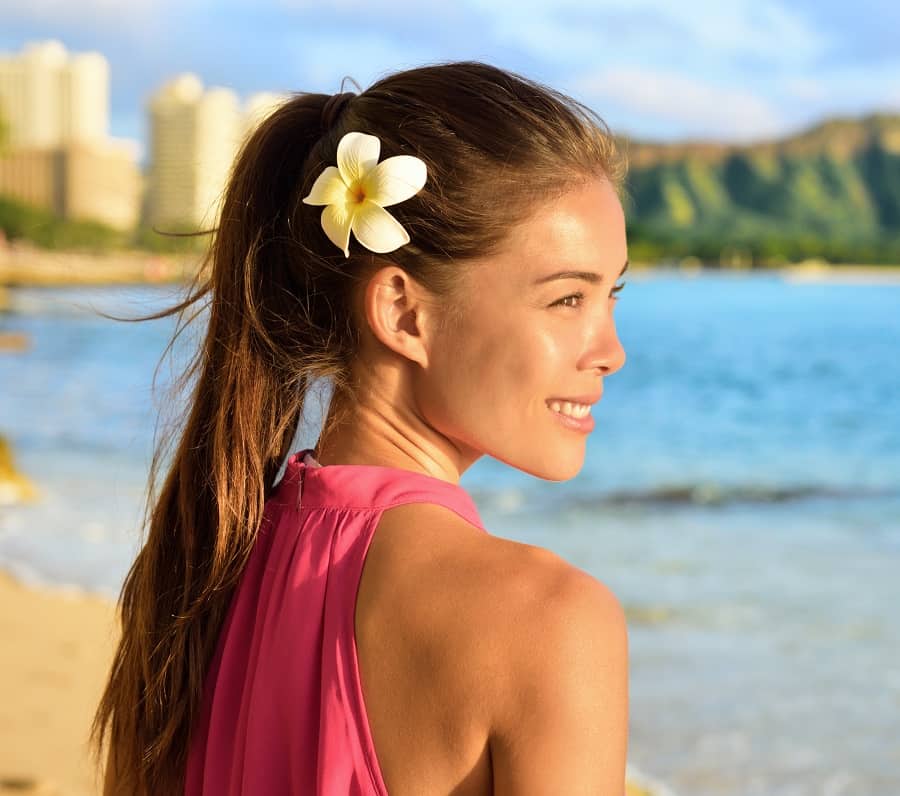 7.
8.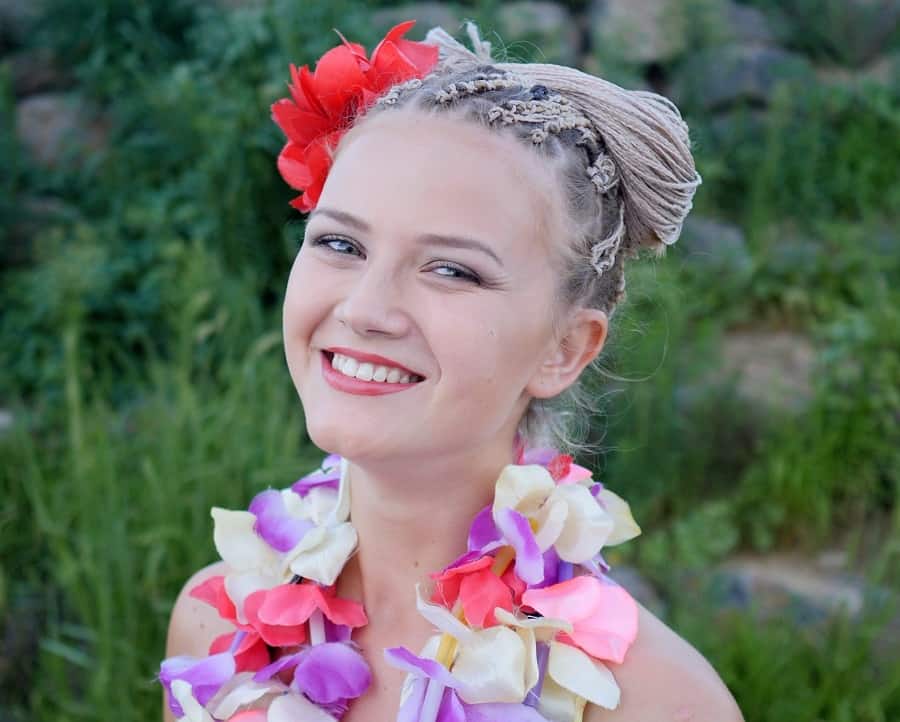 9.
10.
11.
12.
13.
14.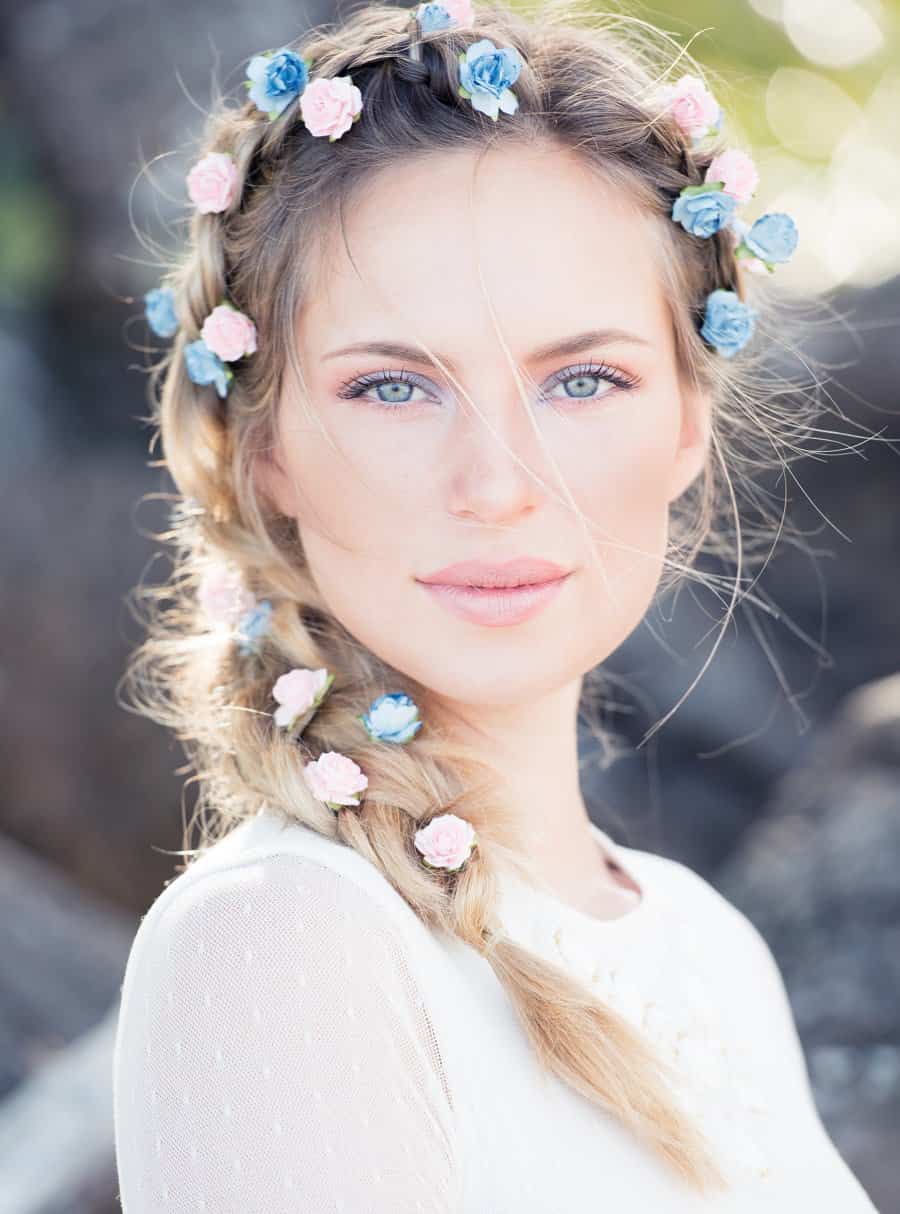 15.
16.
17.
18.
19.
20.
21.
22.
23.
24. Hawaiian Wedding Hairstyle
Hawaiian wedding hairstyles should appear soft and effortless. Create long, soft waves on your wedding day and add a double braid crown for interest. Every Hawaiian style needs a flower, even bridal looks, right? Add a large, gorgeous blossom at the back of the head or off to one side.
25. Hawaiian Hairstyle for Kids
Even young girls know how stunning a simple floral hairstyle can be. Give kids wavy tresses and pin hair back over one ear. It wouldn't be a Hawaiian hairstyle without a flower, so let them choose their favorite blossom.
FAQs
Here are the most commonly asked questions regarding Hawaiian hairstyles.
Why do Hawaiians usually have long hair?
There are several reasons why Hawaiians usually have long hair. One of them is that traditionally Hula Dancers were not allowed to cut their hair. Older Hawaiian beliefs said there was power to a person's hair, and it's possible that long hair was once related to having a powerful position in society.
Can you do a Hawaiian hairstyle if you have short hair?
You can incorporate Hawaiian elements into your hairstyle if you have short hair. While your hair won't meet the traditional requirements, your hair will still look very nice and put together. You can add waves and texture to your hair and weave braids or traditional flowers into your hair as long as your hair is at least chin-length.
What's the flower that Hawaiians wear in their hair?
Hawaiians typically wear any flowers that are traditionally put into leis. Some popular choices are orchids, hibiscus, and plumerias.
How do Hawaiians take care of their hair?
Many Hawaiians use coconut oil to care for their hair. Constant exposure to the sun, salt, and water can damage the hair. The fat in coconut oil does a great job of counteracting this damage.
Additionally, some Hawaiians use local fruits to help keep natural moisture in their hair.
As you can see, Hawaiian hairstyles are beautiful and artful but should always appear effortless. Even if you spend a lot of time creating your perfect look, make it seem as if you picked a flower and added it along the way.