Hawaiian hairstyles embody the natural beauty of their surroundings. These looks are characterized by soft waves, beachy, salt-licked texture, and loose braids. The idea behind every Hawaiian hairstyle is creating hairstyles that can move in the island breeze.
Hawaiian Hairstyles for Women
Of course, many Hawaiian hairstyles just wouldn't be complete without a beautiful flower (or many)! We have 25 perfect ways to style your hair in a Hawaiian fashion for every occasion, so let's take a look!
1. Hawaiian Short Hairstyle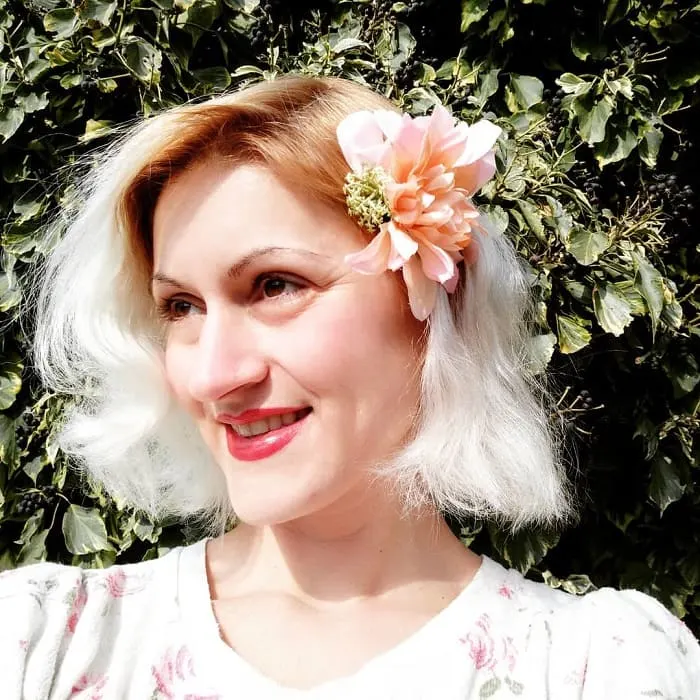 You don't need to have mermaid level locks to wear a beautiful Hawaiian hairstyle. In fact, all you need is texture with a little wave so it blows in the breeze. Plus, a little flower accessory won't hurt. Tuck it behind one ear or pull hair into a braid crown or side braid and secure with your favorite blossom.
2. Long Hawaiian Hairstyle
Give off the ultimate Hawaiian surfer vibe with long, beachy locks. You can achieve this texture with a day at the beach, or spritz wet hair with salt spray and scrunch hair here and there as it dries. As for a braid, a fishtail plait or a loose, pulled out braid both have major island vibes.
3. Hawaiian Curly Hairstyle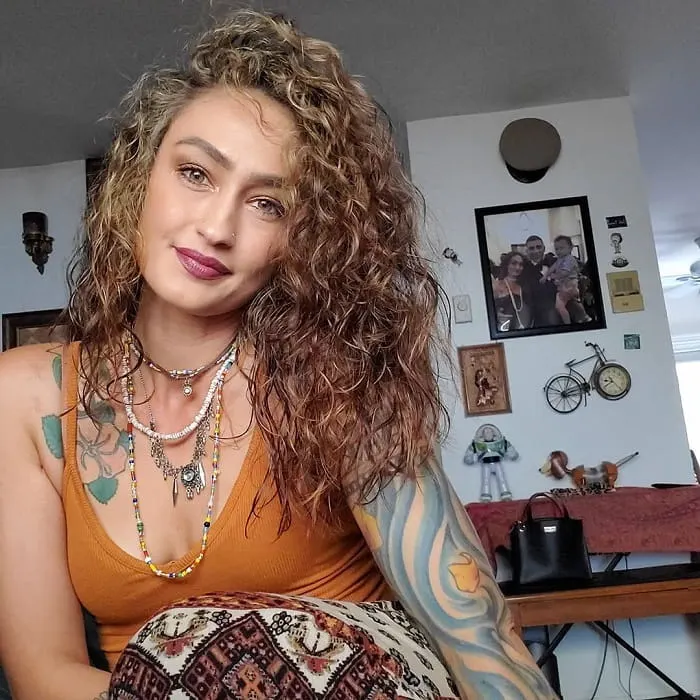 Stick straight hair just won't do for Hawaiian styles. Naturally curly babes have the advantage here, but you can always create wavy texture if need be. Use your favorite hot tool and plenty of texturizing spray to create perfectly 'undone' curls.
4. Hawaiian Hairstyle with Flowers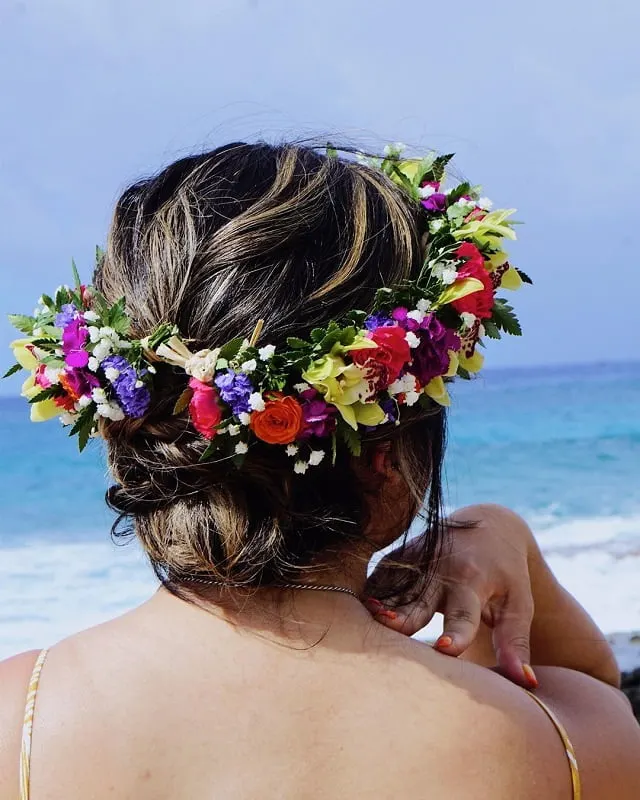 What would a Hawaiian hairstyle be without a gorgeous flower crown? One or two blossoms are suitable for any occasion, even simple ones, but flower crowns are for the bigger moments in life. When choosing the right flowers, think bold colors or soft whites.
5. Hawaiian Braided Hairstyle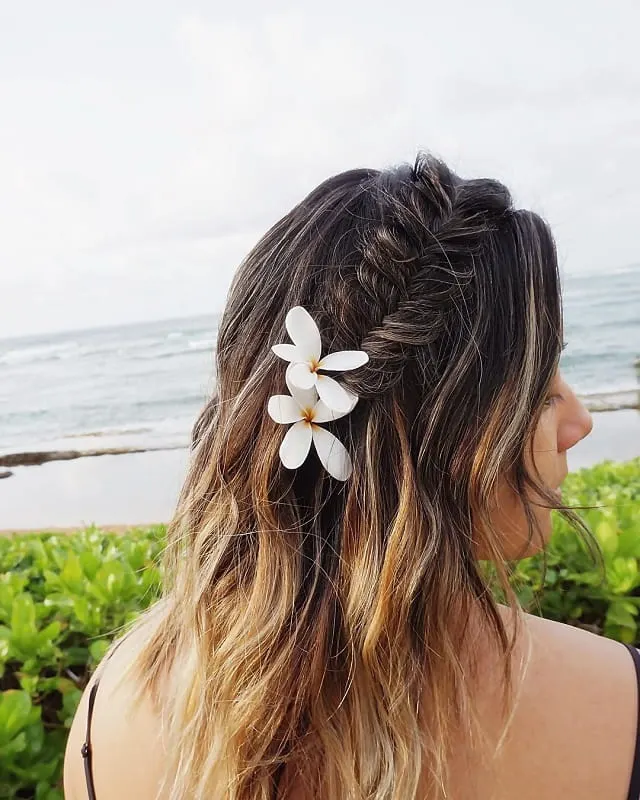 Braids are perfect for Hawaiian hairstyles. For the active Hawaiian babe, braids pull hair back for outdoor activities. Overall, braids are beautiful, even if they are meant for style alone. Braid all of your hair in your favorite style or create one romantic plait and secure with your favorite tropical flower.
6. High Ponytail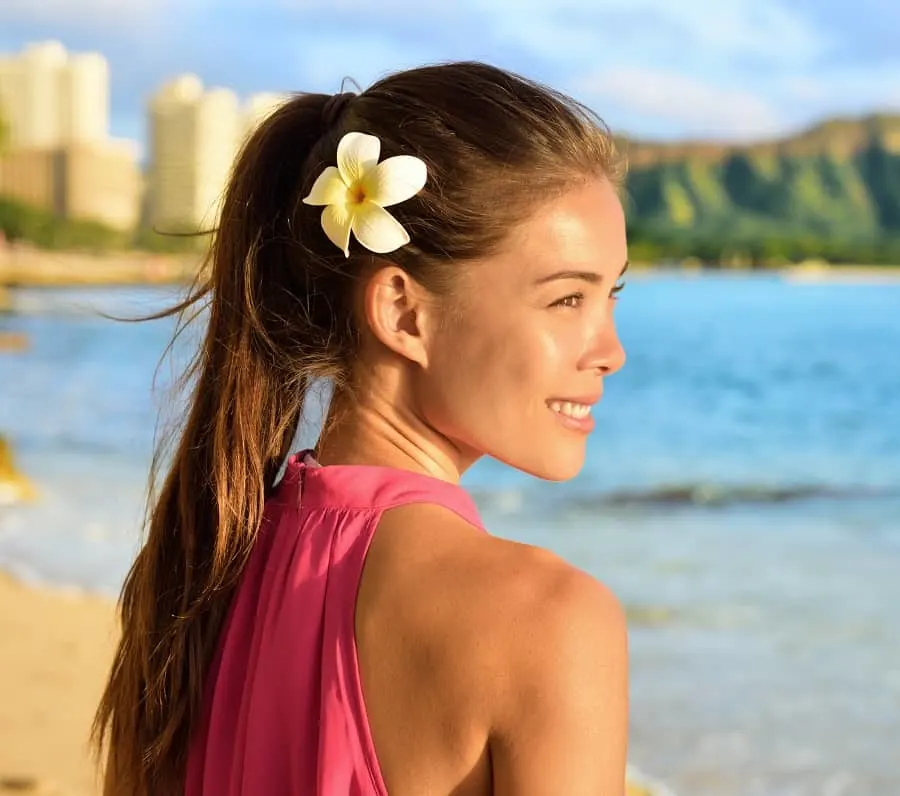 Enjoy a day at the beach with a simple hairstyle. Slick back the tresses in a high ponytail and top off with a flower without fretting about the flyaways as they add up to the carefree look. Wrap a chunk of hair around the base of the ponytail for a chic finish.
7. Rope Twist Braid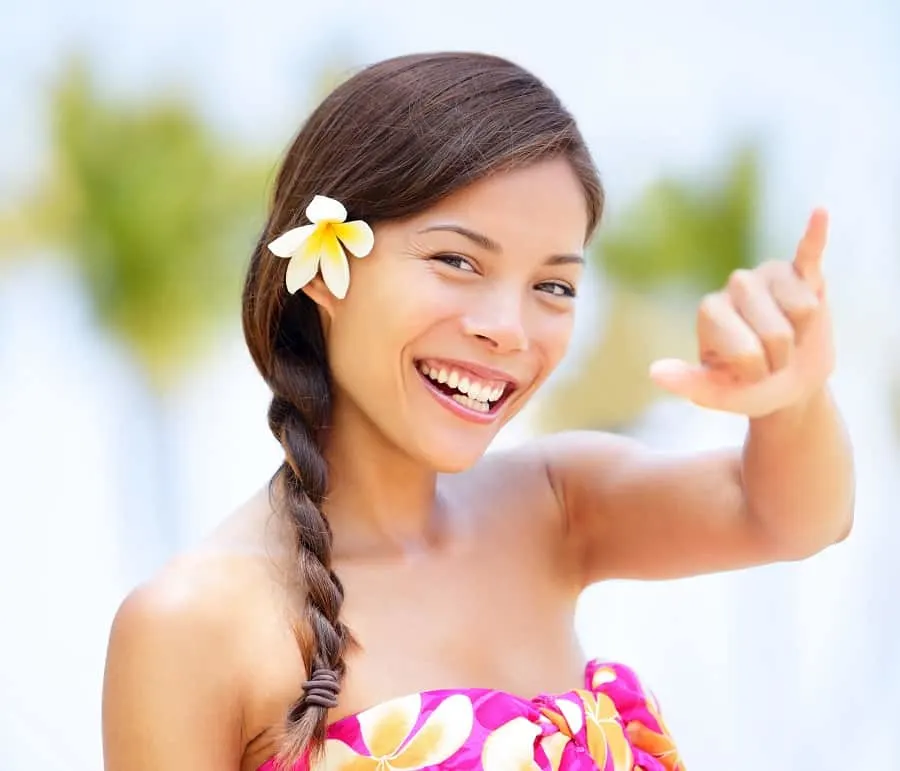 Tame the hair by dividing it into two sections and twisting each section clockwise to the ends. The twists are wrapped around each other in the counterclockwise direction and secured with a hair tie. There you have it, a rope twist braid dangling on one shoulder. This look is however incomplete without a flower.
8. Micro Braids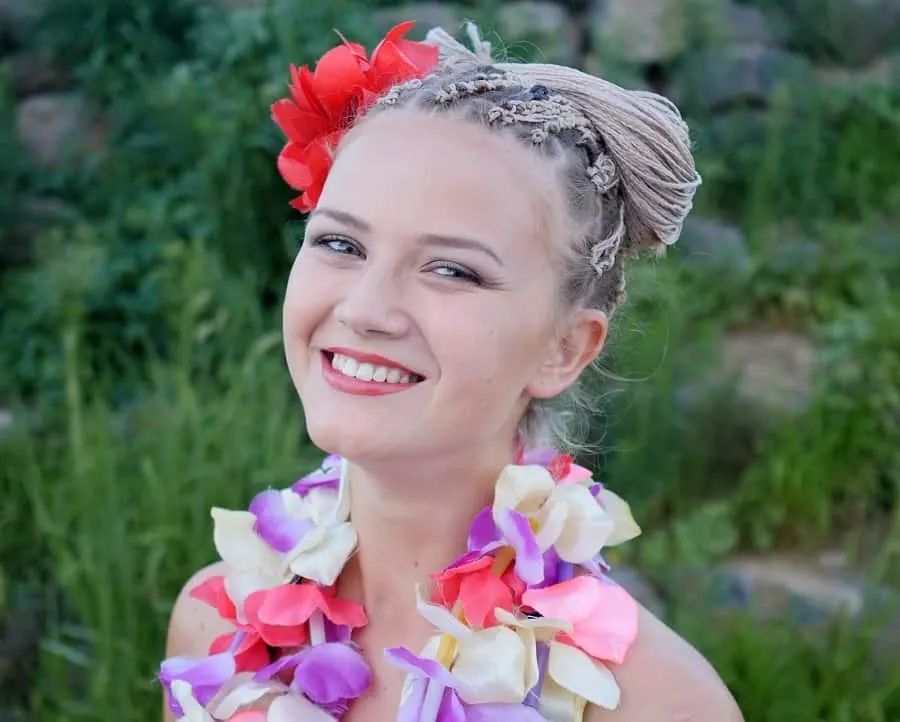 Micro braids are ideal to protect the tresses from any damage and humidity. The hair is partitioned into tiny sections and plaited down the ends while incorporating blonde extensions. Wrap the braids around in a bun with a flower on one side of the head to recreate this style exactly.
9. Gorgeous Fluff
Natural kinky curls are a plus when it comes to Hawaiian hairstyles. Tease the curls all over the head creating a gorgeous fluff with a subtle side parting. Top off with plumeria flowers on one side. This look is low-maintenance as the messier it gets the better it looks.
10. Floral Headband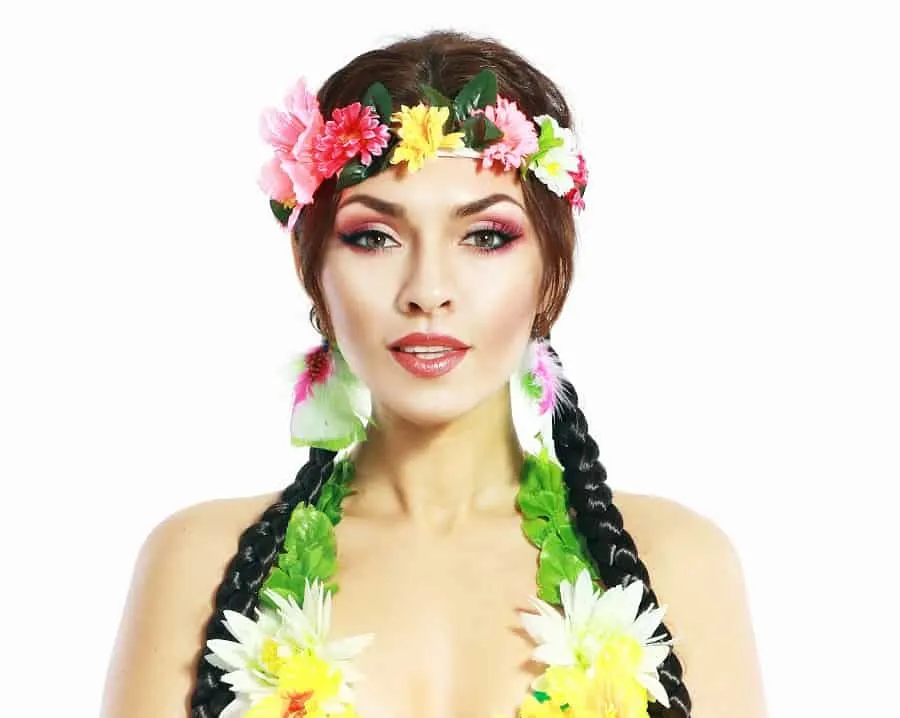 Nothing gives off tropical vibes more than a floral headband. Ladies with long and medium hair can style it in two pigtail braids to fall forward at the front while the short-haired ones can use extensions for a similar effect. Spice up the look with a floral bikini and earrings.
11. Simple and Stylish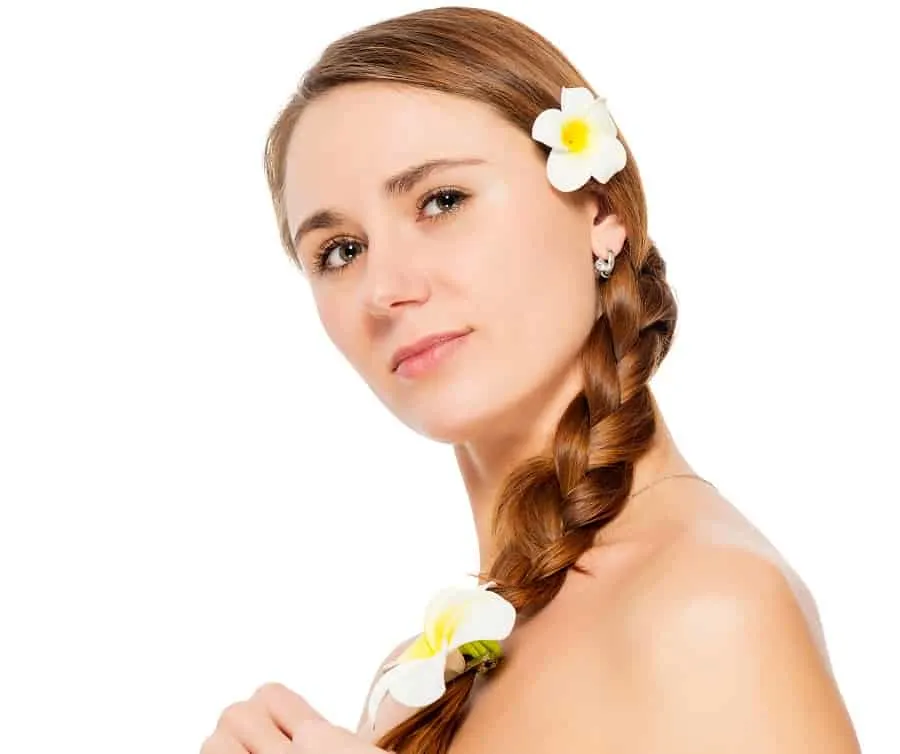 Why complicate a hairstyle when a simple look like this does the job? Tousle the hair on one side with a middle or side part and plait it to the end. Tuck a flower behind one ear and another one on the hair tie. Easy breezy!
12. Short Locks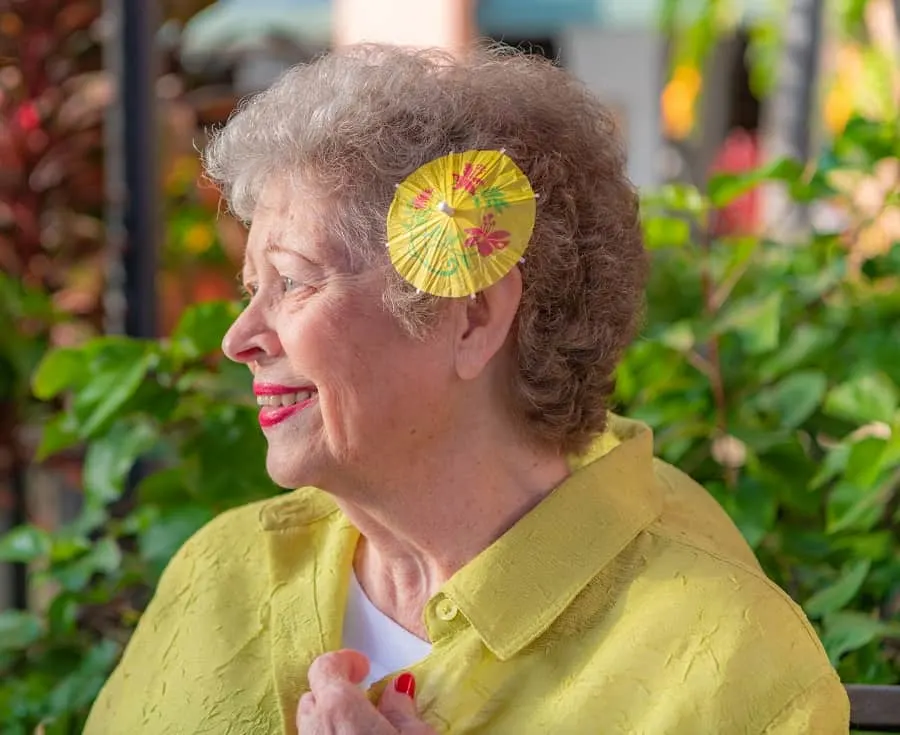 Short haircuts are easy maintenance making them ideal for women over 50. The fluffy curls are cut short all over the head with a few falling on the forehead. Finger-tousle the strands and amp up the look with a cute little cocktail umbrella tucked behind one ear.
13. Hawaiian Bun
Ladies with long tresses can keep them away from the face with a bun. Slick back the hair in a high ponytail and wrap it around into a bun sitting on the top of the head. Use an ample amount of hairspray for a sleek appeal and don't forget the flowers!
14. Dreamy Appeal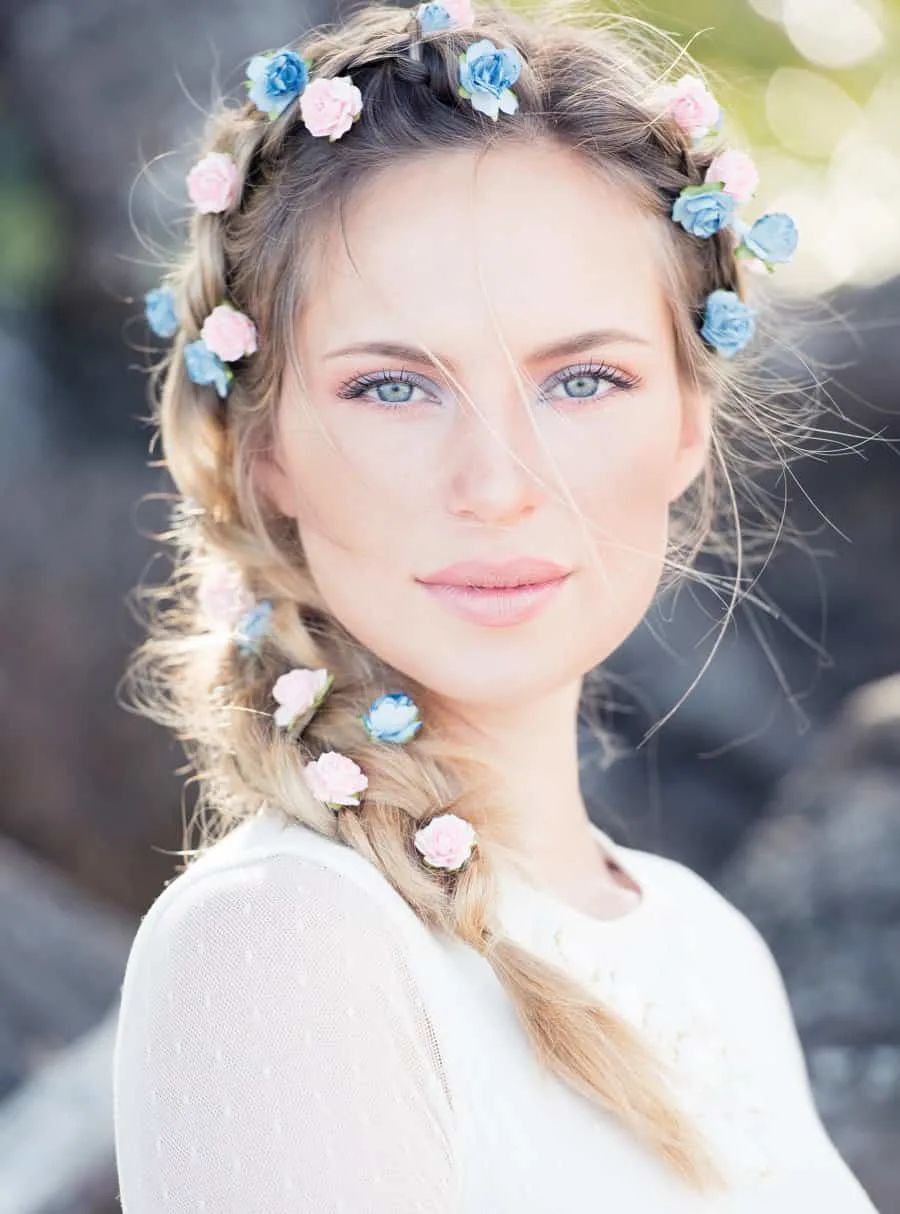 Dreamy and romantic, this hairstyle is sure to turn around some heads. The side-parted front is plaited intricately while the remaining hair is styled in a side braid. The key to achieving this exact look lies in the tiny roses matching the outfit. Add as many as you can fix on the head.
15. Funky Box Braids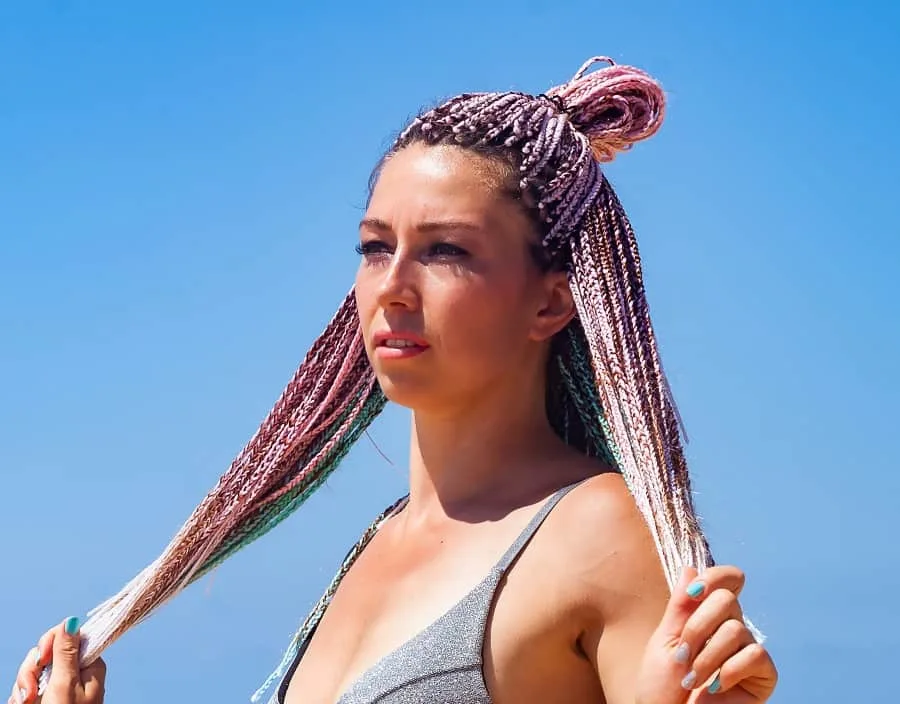 Here is another exotic Hawaiian look to rock on the holidays. Box braids are a protective hairstyle that is sure to attract some attention. Plait the hair while incorporating pastel pink and blue extensions for a cool appeal and flaunt them with a half-up hairstyle.
16. Half-Up Style
A style that never gets old. Brides and bridesmaid can recreate this classic half-up half-down hairstyle for their on-the-beach wedding. Add soft curls to the hair and secure half of it in a loosely twisted updo while the remaining dangles at the back. Gorgeous!
17. Add Some Flowers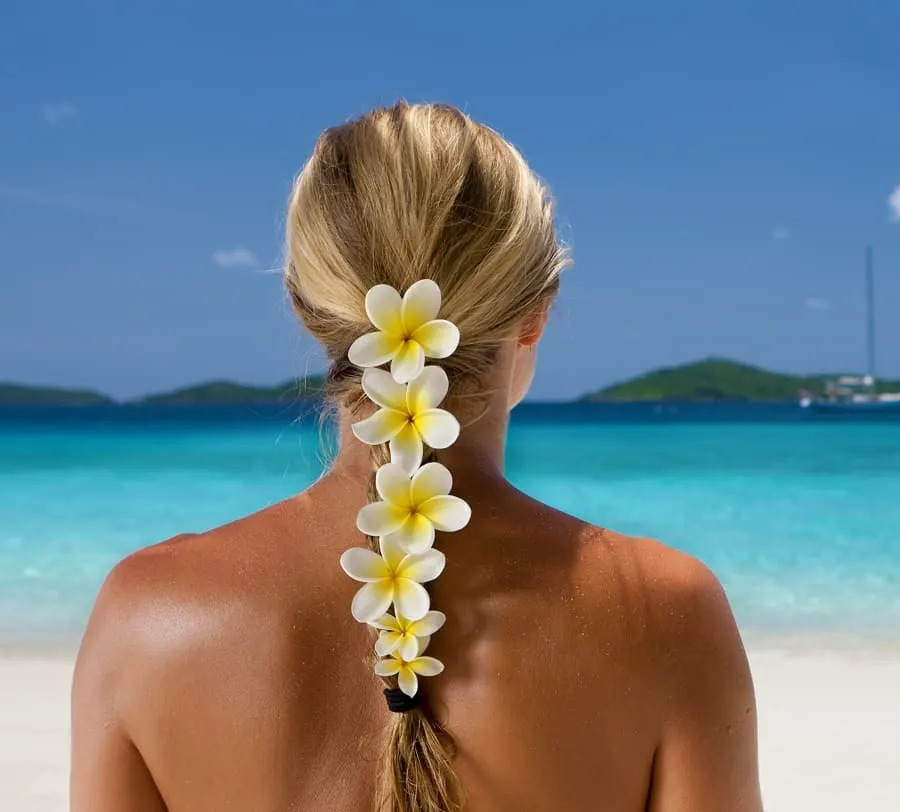 What's a Hawaiian hairstyle without flowers? Entwine the locks in a simple braid at the back and add as many white plumeria flowers along the length as possible hiding the braid completely under them. Fix the flowers with pins and off you go.
18. Chic Pixie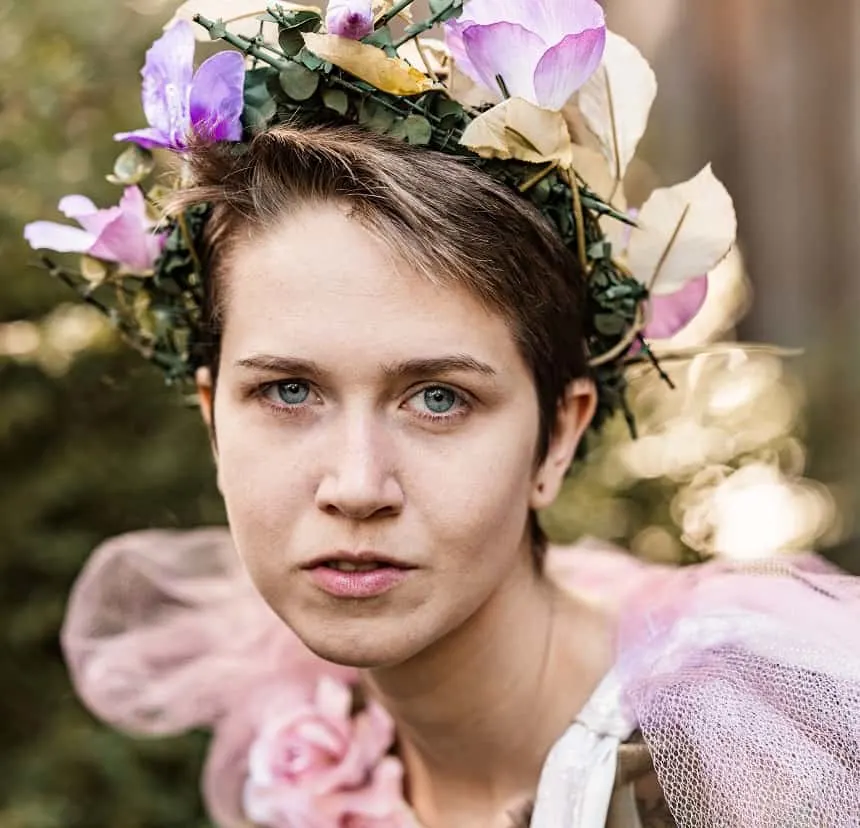 The shorter, the better. Straight-haired ladies can start their holidays with a fresh pixie haircut. Ask the hairstylist for a layered side-swept top that tapers towards the sides. Sport a floral hairband for an exotic touch. Can't get any easier!
19. Elegant Updo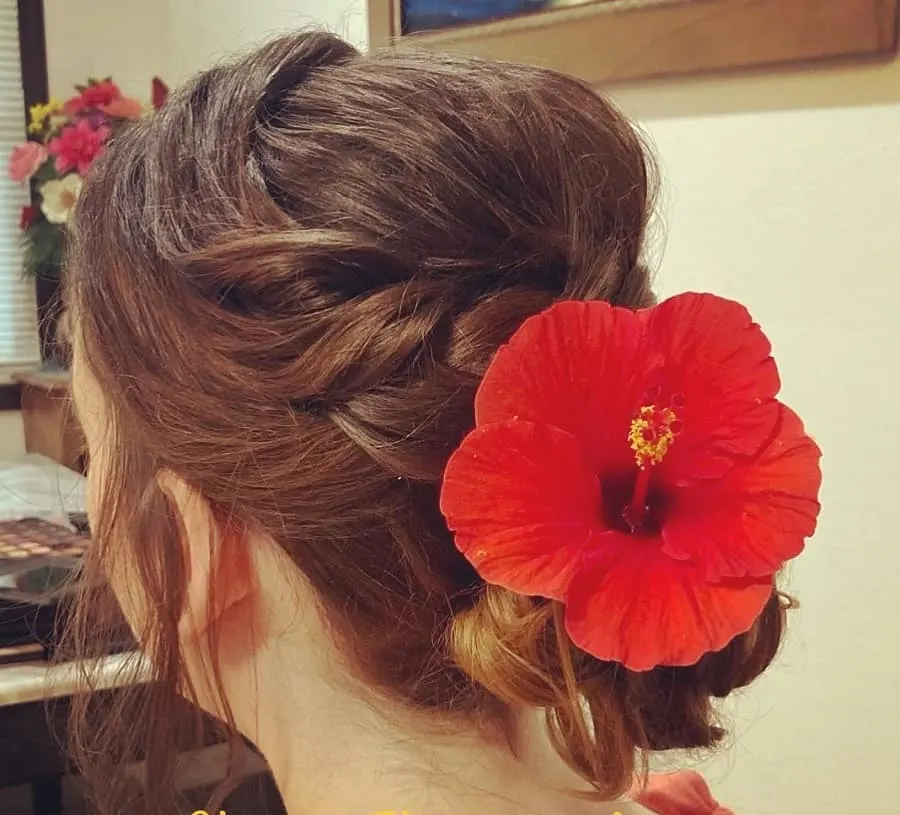 Keep it elegant with this updo hairstyle. Tease the crown region to create a puff while the side locks are braided and pinned at the back. The remaining hair is gathered in a bun. Pull some strands loose to frame the face and again don't forget the flower.
20. Plaited Front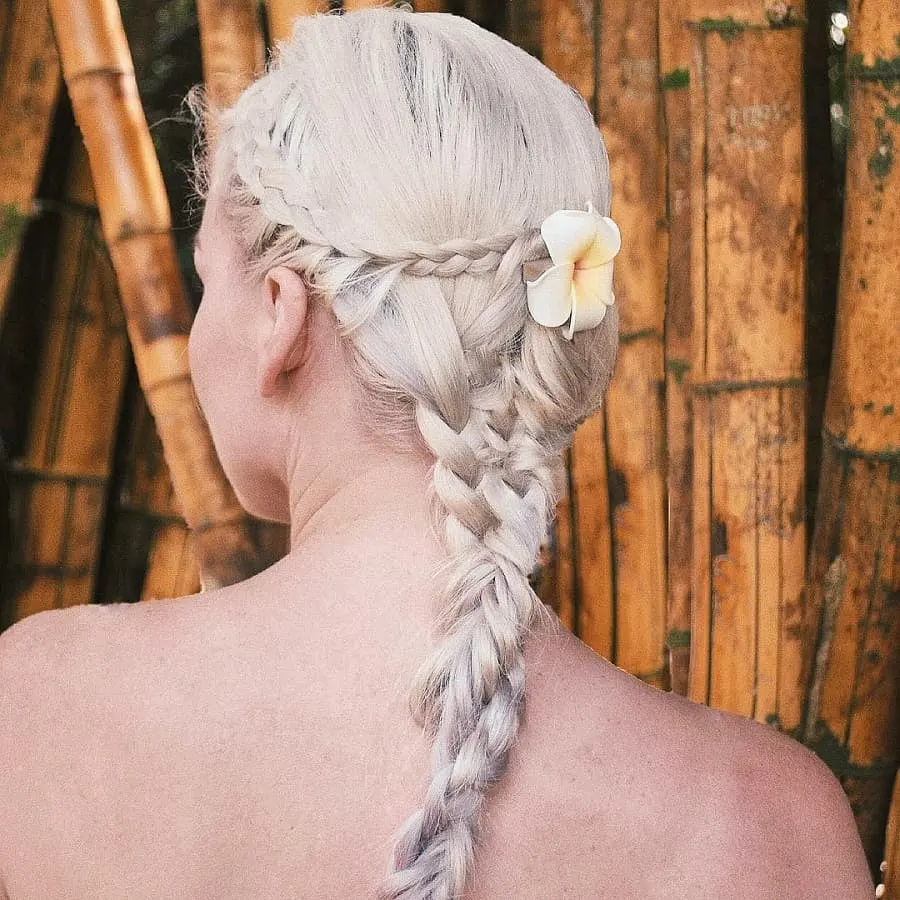 Prevent the hair from getting into your eyes and mouth by plaiting the front tightly and securing the braids at the back. Section the remaining hair and style it into two braids that are wrapped around each other to complete the look. Tada!
21. Multiple Ponytails
Check out this funky hairstyle that is ideal for little ladies to enjoy their beach days. Section the hair and secure it in tiny ponytails all over the head. Grown-ups can also recreate this look that is perfect for all hair types to flaunt their short locks with confidence.
22. Vibrant Dutch Braids
Classy and timeless, Dutch braids are perfect for any occasion. Make jaws drop wherever you go by choosing the brightest aqua green hair extensions while braiding the hair. Level up the look with thin cornrows above the ears on both sides. Eye-popping!
23. Ginger Layers
Enjoy the sea breeze with your locks on the loose. Try this coppery ginger hair shade, if not natural, and layer the hair to fall at different lengths with long face-framing bangs. Finish off with a Hawaiian lei, a flower on the head, and loose curls and you are ready for the beach.
24. Hawaiian Wedding Hairstyle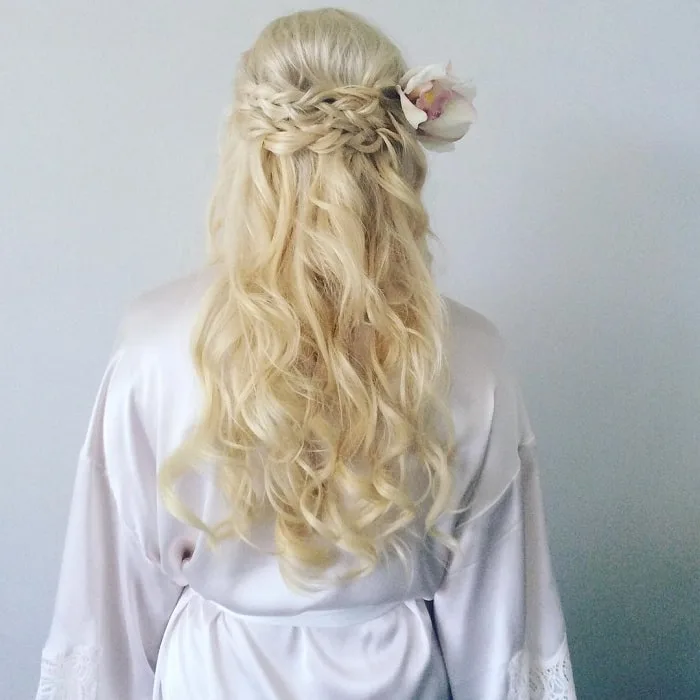 Hawaiian wedding hairstyles should appear soft and effortless. Create long, soft waves on your wedding day and add a double braid crown for interest. Every Hawaiian style needs a flower, even bridal looks, right? Add a large, gorgeous blossom at the back of the head or off to one side.
25. Hawaiian Hairstyle for Kids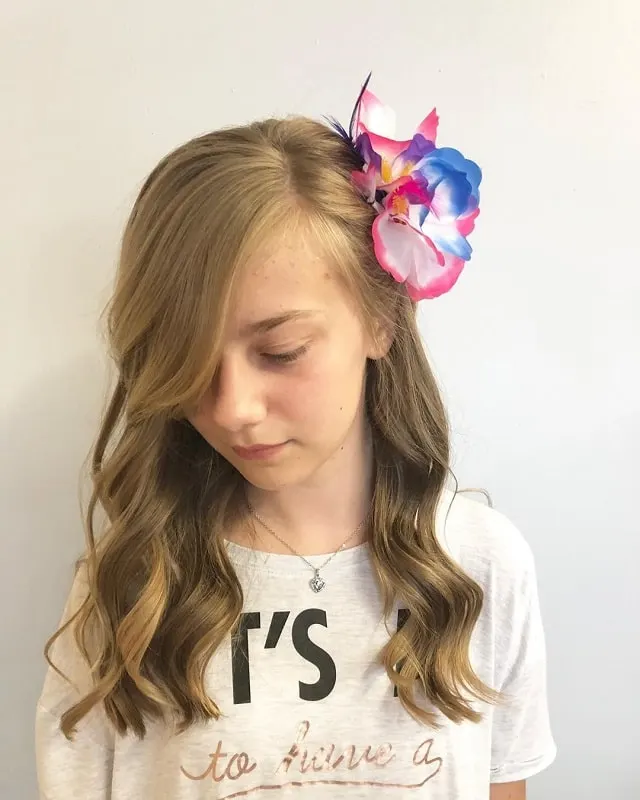 Even young girls know how stunning a simple floral hairstyle can be. Give kids wavy tresses and pin hair back over one ear. It wouldn't be a Hawaiian hairstyle without a flower, so let them choose their favorite blossom.
FAQs
Here are the most commonly asked questions regarding Hawaiian hairstyles.
Why do Hawaiians usually have long hair?
There are several reasons why Hawaiians usually have long hair. One of them is that traditionally Hula Dancers were not allowed to cut their hair. Older Hawaiian beliefs said there was power to a person's hair, and it's possible that long hair was once related to having a powerful position in society.
Can I do a Hawaiian hairstyle if I have short hair?
Yes, you can incorporate Hawaiian elements into your hairstyle if you have short hair. While your hair won't meet the traditional requirements, your hair will still look very nice and put together.

You can add waves and texture to your hair and weave braids or traditional flowers into your hair as long as your hair is at least chin-length.
What's the flower that Hawaiians wear in their hair?
Hawaiians typically wear any flowers that are traditionally put into leis. Some popular choices are orchids, hibiscus, and plumerias.
How do Hawaiians take care of their hair?
Many Hawaiians use coconut oil to care for their hair. Constant exposure to the sun, salt, and water can damage the hair. The fat in coconut oil does a great job of counteracting this damage.

Additionally, some Hawaiians use local fruits to help keep natural moisture in their hair.
As you can see, Hawaiian hairstyles are beautiful and artful but should always appear effortless. Even if you spend a lot of time creating your perfect look, make it seem as if you picked a flower and added it along the way.